Finly Alternatives
Business travel to different parts of the world is glamorous and appealing. However, unless there is extensive planning and a significant bit of coordination at the back end of things, these trips can quickly become forgettable!
Finly offers a travel and expense management solution that promises to make finance leaders and their teams productive. Focusing on providing the best technology to help businesses scale up quickly and efficiently, Finly equips them with the right tools for better decision-making.
However, why restrict yourself to just Finly when there are other similar or better alternatives you can choose from? You may consider a faster onboarding process, a lower budget, or a better user experience. How do you pick the best for your organization?
Read our crisp guide as we shed light on some excellent Finly alternatives you can consider.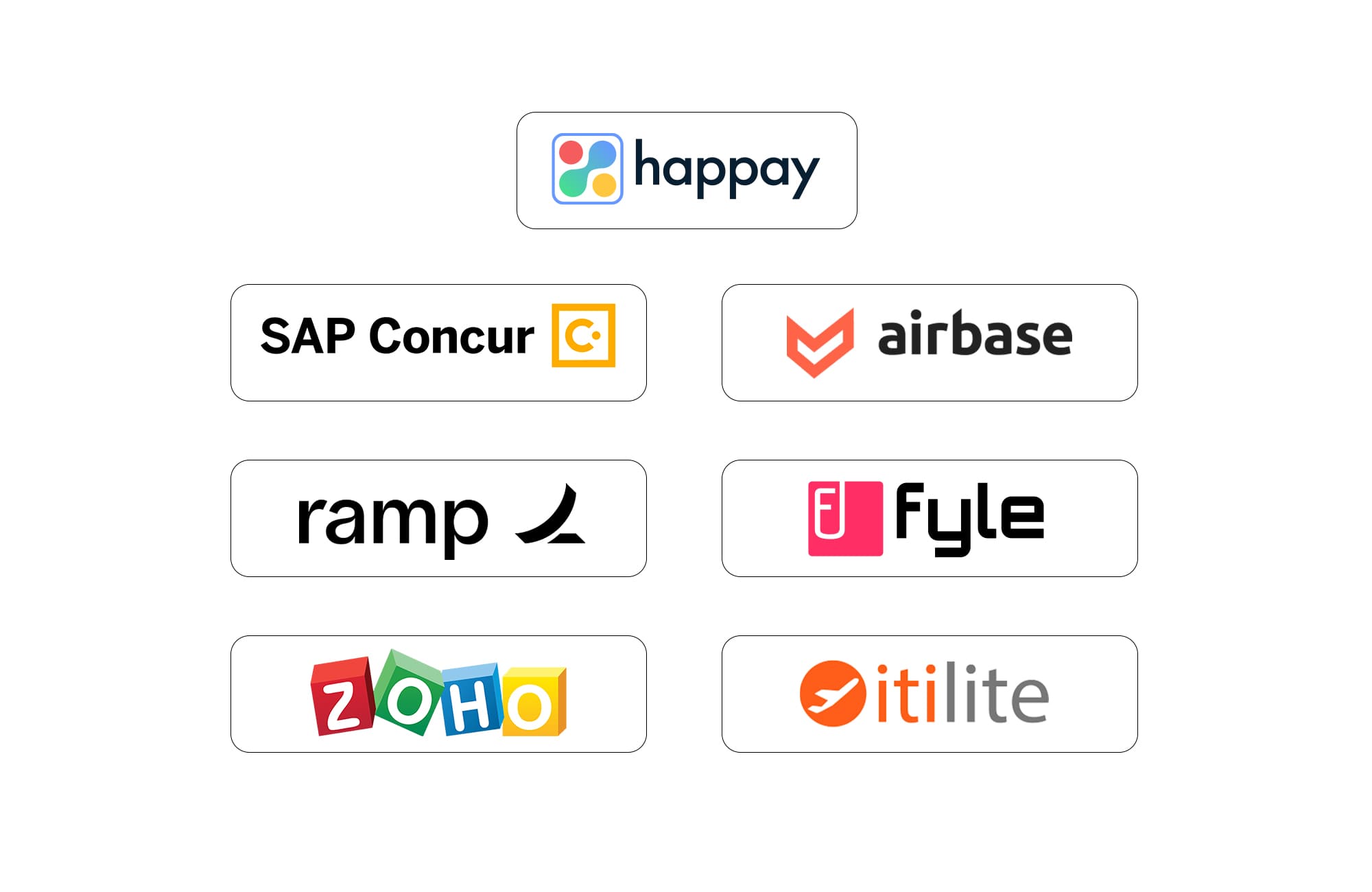 At a glance (Comparative Table of all alternatives)
Travel and expense management tools differ in features, design, user experience, etc. Here's a quick look at the top 7 Finly alternatives you may consider.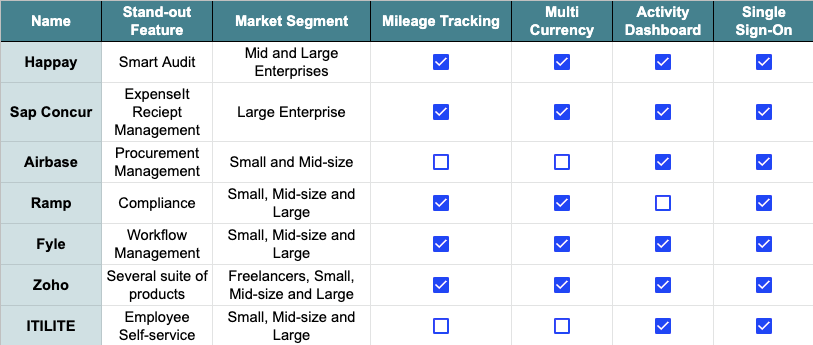 Top 7 Finly Alternatives and Competitors
Happay features a highly-flexible all-in-one platform, offering a superior employee experience and 100% visibility into your T&E spend. The unique features that Happay offer come from a complete travel, expense, and CTA stack. The completely customizable solution introduces robust pre-spend controls reducing your T&E spending by driving responsible spend behavior among your employees.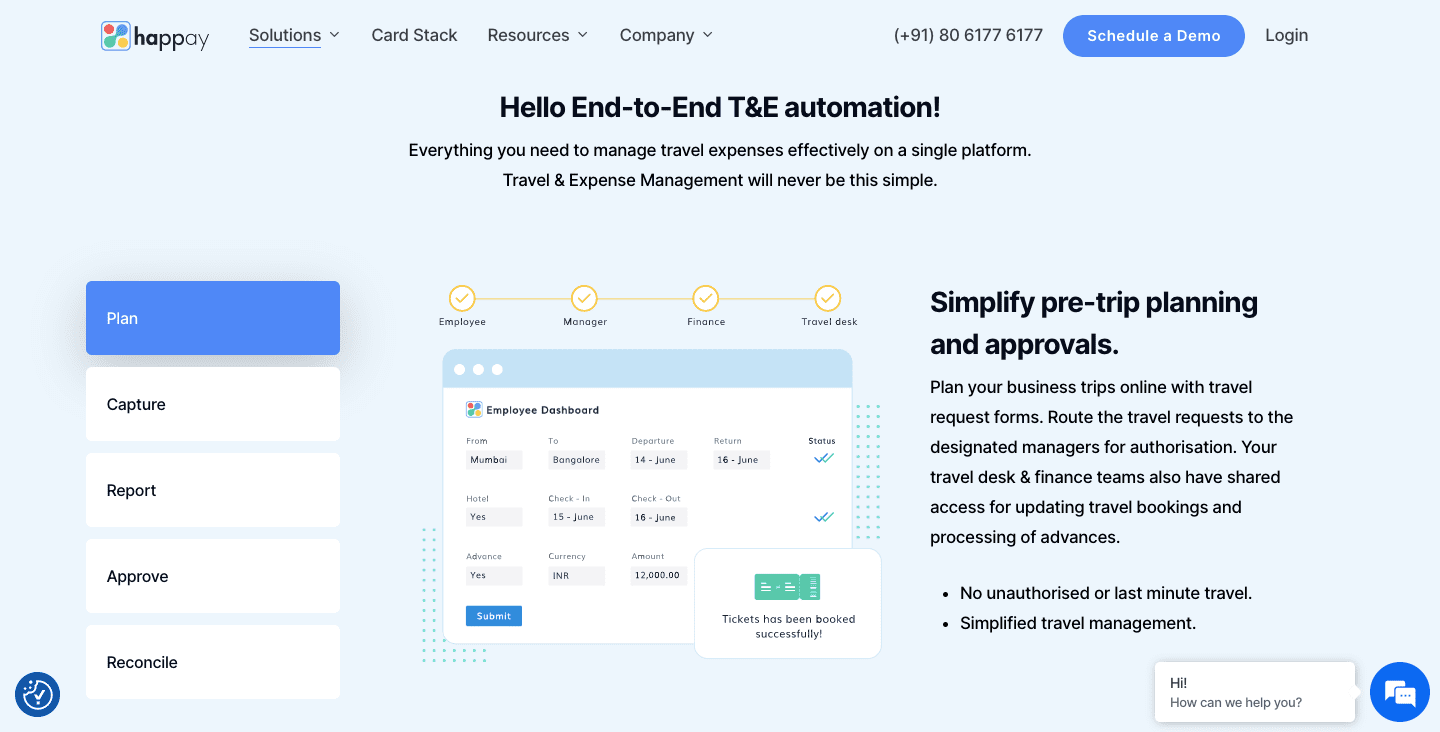 1.1 Noticeable Features
A modern, completely user-friendly UI experience.
Travel bookings are a breeze, as bookings are fast and contactless. You can make all travel-related bookings in one go.
Improve your pre-spend control with the pre-spend violation alerts and missed savings features.
You can capture and track expenses at the source (web/mobile- email, SMS, Xpendite, mileage tracker).
A superior GST returns module helps you with hassle-free claims with the input tax credit.
ReconX helps auto-reconcile in one place and gives you over 40 data points from 10+ sources.
Happay Analytics gives you visibility on everything that matters- spend, policy violations, travel bookings, Spend categories, etc.
1.2 Finly Vs. Happay
| | | |
| --- | --- | --- |
| Features | Happay | Finly |
| | Ranked by G2 as the top choice for expense management. | – |
| Real-time Corporate Credit Card Integration | Yes | No |
| | Yes | No |
1.3 How does Finly fare against Happay?
Broadly, Happay has a clear edge in this comparison. With 5500+ clients across 40+ verticals, Happay caters to mid-size and large corporates. Finly's clientele majorly consists of SMEs and start-ups.
Happay's Artificial Intelligence-based OCR capabilities fare better than Finly despite needing some work on its capabilities in multiple languages. Further, Happay connects smartly with your ERP, HRMS, and accounting tools using API technology.
1.4 FAQs About Happay
1. What is unique about Happay's travel and expense management solution?
Happay offers end-to-end travel and expense management, petty cash, invoice processing, and fleet Xpress solutions.
2. What kind of customer support does Happay offer?
Happay provides on-premise training and dedicated account managers for onsite, remote or personalized help. Further, they also provide 24/7 phone, email, and chat-based customer support services.
Also, Read: 10 Best Expense Management Software
Airbase was founded to address workflow and payment challenges associated with non-payroll spend. The main features include bill payments, expense reimbursements, and corporate cards. Modern and customized features include digitizing Accounts payables with a comprehensive platform for bill payments.

2.1 Noticeable features
It offers advanced controls for card-based spend.
Corporate cards, checks, ACH (Automated clearing house), international transactions, or vendor dealings can all be accomplished through a common platform.
Airbase provides multi-subsidiary and multi-currency support for all payments.
Business purchases are cross-referenced using a three-way match. The invoices in Airbase are checked against the POs and verified against the receipts in Netsuite.
The Airbase system ensures you reimburse your employees by directly crediting their bank accounts.
2.2 Finly Vs. Airbase
| | | |
| --- | --- | --- |
| Features | Airbase | Finly |
| 1. Pricing | Free (basic plans) | Quote-based |
| 2. Tax reclaim of expenses and maximizing the tax benefit for the organization | Yes | No |
| 3. Time and Expense tracking | No | No |
2.3 How does Finly fare against Airbase?
Airbase performs marginally better against Finly as the major pros are its ability to automate the AP Accounting of your organization and unifying payment methods (physical and virtual corporate cards, ACH transfers, and other payments) under a single platform. Finly and Airbase cater to small, medium, and large businesses.
2.4 FAQs About Airbase
1. What are Airbase payments?
Airbase is a complete spend management platform offering three products accounts payable, corporate credit cards, and expense reimbursement solutions, all in one software.
2. Is Airbase a credit card or a charge card?
Airbase offers several corporate credit card options, such as prepaid or virtual cards. You could also use your card on the Airbase platform.
Also, Read: 10 Best Travel Management Software
With Concur Expense, Travel, and Invoice processing solutions, Sap Concur hopes to integrate, simplify, and automate expense data, travel experience, and workflows to manage and control costs while increasing visibility into your expenses. It offers a T&E solution to improve efficiencies in T&E management, and the productivity of CFOs and their finance teams. It also lowers compliance and control costs.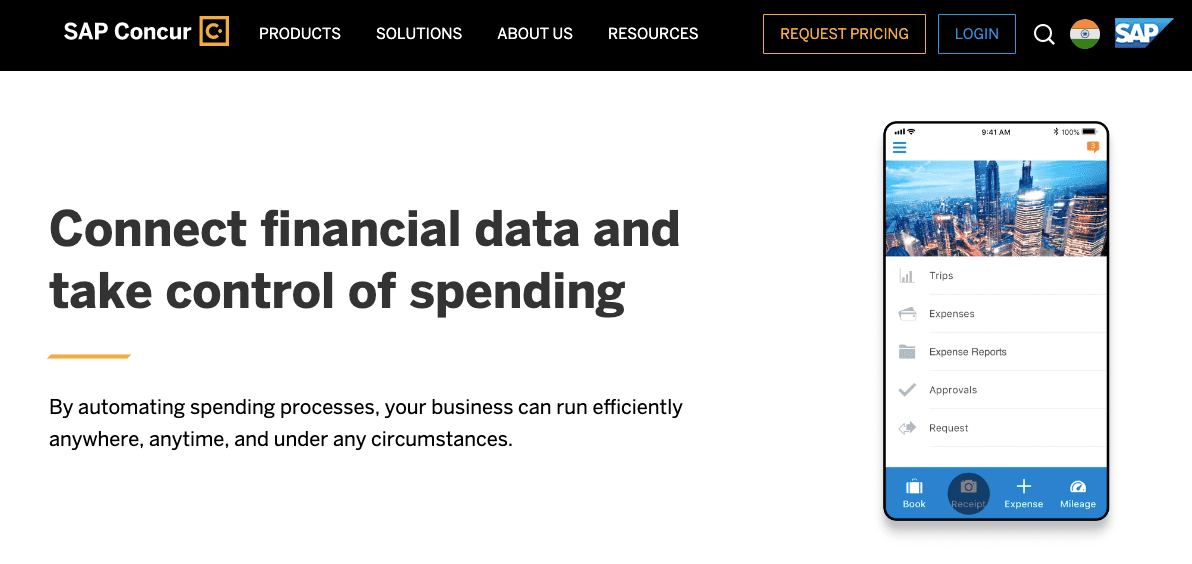 3.1 Noticeable features:
Capture and submit expenses on the go and use ExpenseIt to populate the reports with e-receipts automatically.
Integrates cleanly with your ERP to give you a complete financial picture.
SAP's travel system allows employees to change reservations and get travel updates.
SAP's feature also helps keep traveling employees safe and meet your duty of care responsibilities.
3.2 Finly Vs Sap Concur
| | | |
| --- | --- | --- |
| Features | Sap Concur | Finly |
| | More in USA, UK and Canada | India and USA |
| Real-time corporate credit card integration | Yes | No |
| | Yes | No |
3.3 How does SAP Concur fare against Finly?
A distinguishing factor between the both is that SAP Concur has a presence worldwide with small, medium, and large enterprises as its customers. Further, if integration is a significant concern for you, the vote will undoubtedly swing SAP Concur's way as it offers many more integrations and customizations.
3.4 FAQs About Sap Concur
1. What is SAP Concur Expense?
Sap Concur Expense is an expense management software solution that promises to automate your spend. You can capture expense information from multiple sources and make business decisions based on accurate and real-time data.
2. IS SAP Concur an ERP?
SAP Concur partners with several ERP companies such as Quickbooks, SAP ICS, Netsuite, and others to ensure expense and financial transactions are posted into your ERP systems quickly and accurately.
Also, Read: 5 Best SAP Concur Alternatives and Competitors
Ramp, a US-based company, offers corporate cards and complete expense management software. Ramp is a good Finly alternative as it offers simple and easy expense automation solutions such as bill payments, account integrations, corporate cards, and expense management.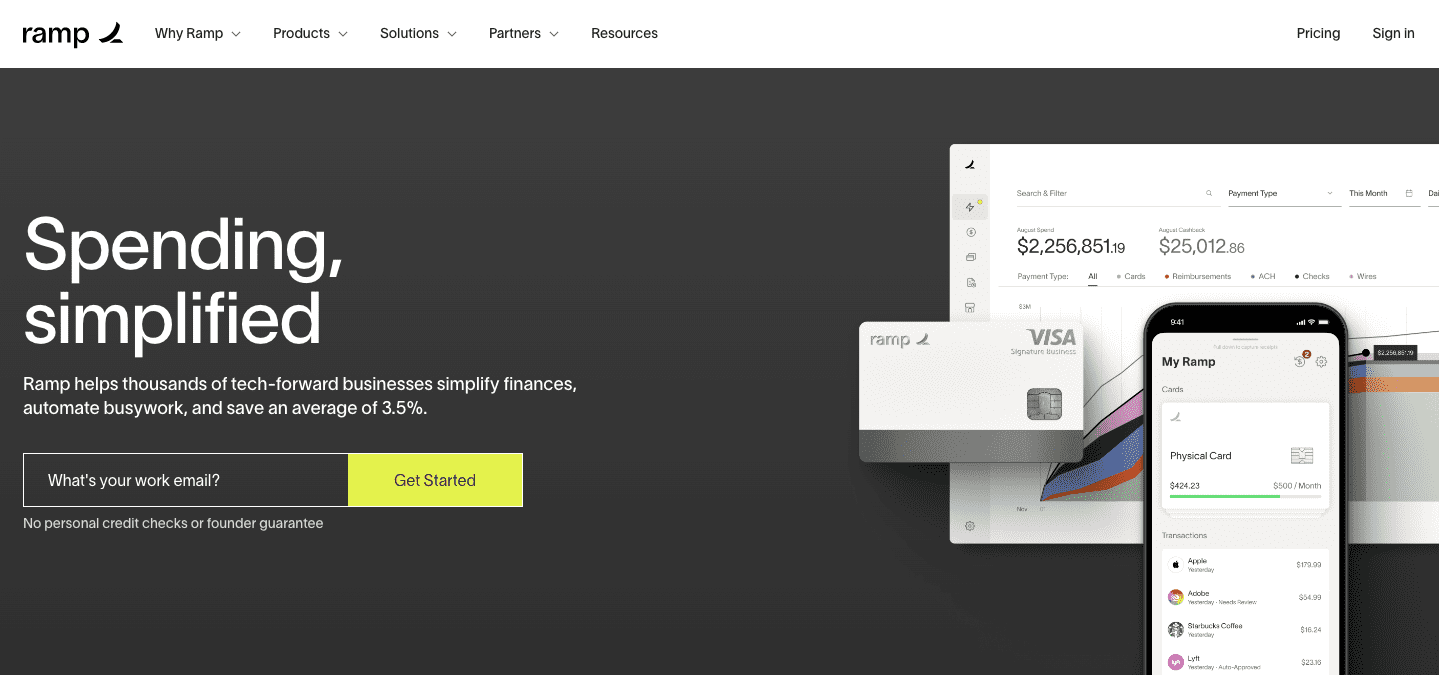 4.1 Noticeable features
Zero-touch Expense feature allows you to save several person-hours every month by automating the expense workflows.
Policy approvals and spend guidelines are easier to enforce as Ram completely digitizes this part of the workflow.
You can set up spend limits easily as you can pre-approve expenses or issue benefits based on individual cases.
One of the other noticeable features is their credit card integration which gives you a clear picture of cleared and pending expense transactions.
Ramp's integration with Lyft, Gmail, and Amazon Business allows them to offer an intelligent and automatic collection of expense receipts vide SMS or email.
4.2 Finly Vs. Ramp
| | | |
| --- | --- | --- |
| Features | Ramp | Finly |
| Pricing | Free | Visit website for a custom quote |
| Corporate credit card integration | Yes | No |
| Real-time auto receipt scan | Yes | Yes, Assisted OCR, TAT of 1 day |
4.3 How does Ramp fare against Finly?
Ramp's advantage over Finly is the availability of unlimited physical and virtual corporate cards. Using these cards, you can block or restrict spending to a specific vendor. Finly provides the comfort of accessing your cards, policies, and transactions through the Finly Mobile app- Android and IOS.
4.4 FAQs About Ramp
1. Is Ramp an accounting software?
Ramp is not just an accounting software but offers other solutions such as expense management, credit cards, bill payments, and reporting.
2. What are Ramp payments?
Ramp's spend management system helps you to capture, track, and control expenses efficiently and effectively.
Also, Read: 10 Best Receipt Scanner Apps for Receipt Management
Fyle offers a modern expense management software platform that promises to change how you manage your expenses. The software works great for your employees, finance teams, and other stakeholders. From capturing expenses with a single click to automatic compiling and submissions to efficient reimbursements, the expense management process promises to become more streamlined and accurate.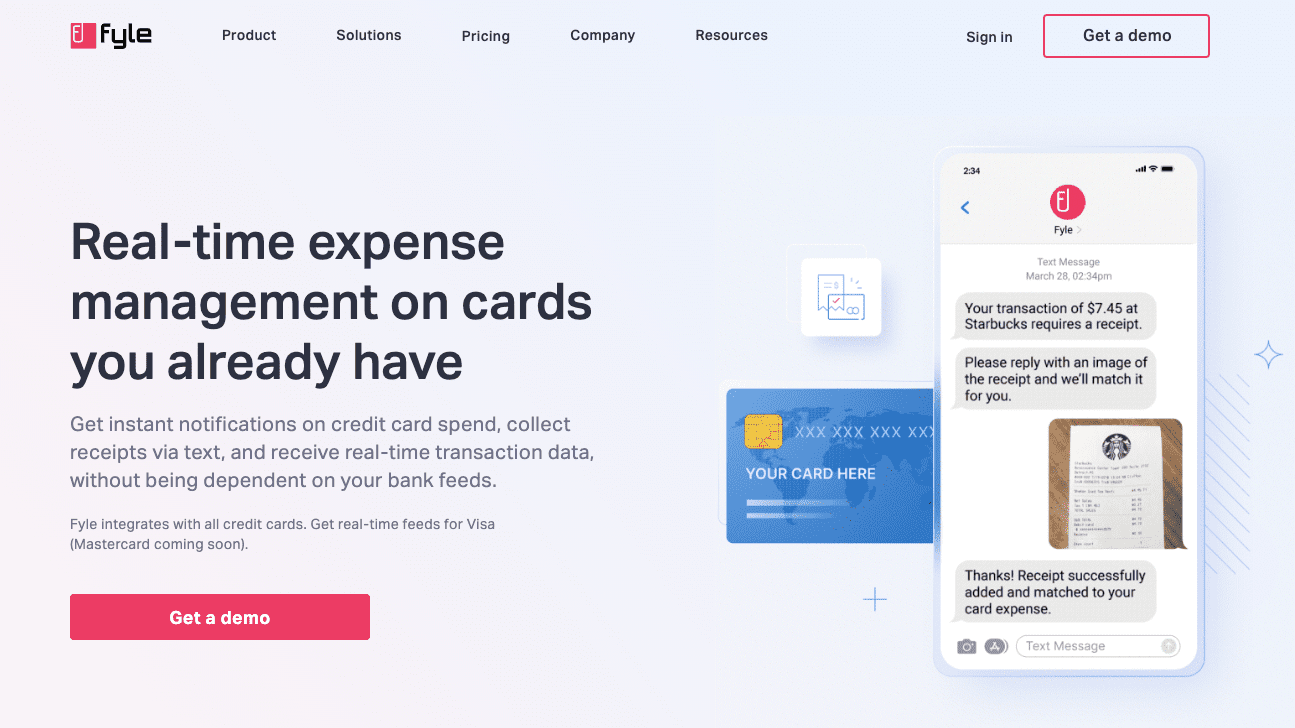 5.1 Noticeable features
Fyle's software ensures quick and easy capture and submission of expense information.
You can set up approval workflows across cost centers, departments, and geographical locations. The process of approval or seeking clarifications becomes quick and straightforward. Managers or approvers can use any channels such as Teams, Slack, Gmail, a web app, or a mobile app.
Fyle has partnered with Dwolla to ensure organizations in the US can directly credit their employees through the ACH network (bank-to-bank transfers).
Fyle also offers features that can reduce payment delays by automating your per diem and mileage tracking.
5.2 Finly Vs. Fyle
| | | |
| --- | --- | --- |
| Features | Fyle | Finly |
| Direct bank credits through ACH | Yes | No |
| Corporate Card Integration | Yes | No |
| | No | Yes |
5.3 How does Fyle fare against Finly?
Finly's advantage is that they offer prepaid corporate cards, whereas Fyle does not. However, for setting up and customizing complex approval workflows and quick reimbursement cycles, Fyle does edge past Finly.
5.4 FAQs About Fyle
1. Is Fyle an expense management app?
Fyle is an expense management software solution that helps you digitize the capture, recording, management, and reconciliation of business spend.
2. Does Fyle integrate with Quickbooks desktop?
Fyle has multiple integrations with accounting systems, and Quickbooks is one of them.
Also, Read: A Guide to Spend Management
Zoho is most well-known for its CRM product. However, they have a range of products such as Zoho CRM, Mail, Desk, Workplace, and One. Each of these products helps you streamline a specific functionality. While small businesses mostly prefer Zoho, it offers efficiencies in managing multi-level workflows, and built-in policy checks mid-size and larger enterprises need.
With Zoho expense, you can record, report, and reconcile business expenses quickly and efficiently, error-free too.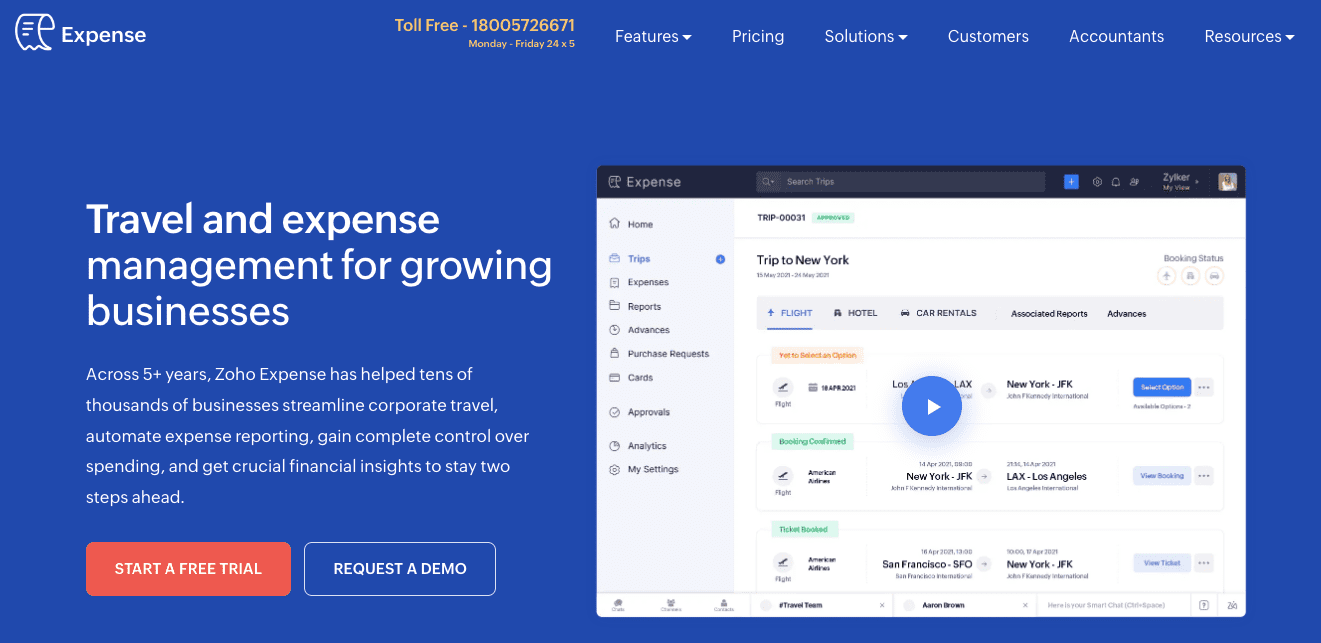 6.1 Noticeable features
The Autoscan feature allows you to capture receipts with a single click. It automatically adds this to an expense account.
Zoho Expense allows you to customize your approval workflows. You can automate your approvals irrespective of whether they are multi-level or linear.
Zoho's auditing feature organizes your data to give you insightful reports and better analytics.
Zoho offers another feature: the option to create Per Diem rates per your organization's policies.
6.2 Finly Vs. Zoho
| | | |
| --- | --- | --- |
| Features | Zoho | Finly |
| | Yes | No |
| | Yes | No |
| | Yes | No |
6.3 How does Zoho Expense fare against Finly?
Zoho Expense's plus points are the product bundles it offers and several features that it offers above and beyond what Finly offers. For instance, while Zoho offers a corporate credit card, Finly does not. Further, if you are looking for platforms offering dashboards, configurable workflows, customizable fields, and reports, Zoho certainly fares better than Finly.
6.4 FAQs About Zoho
1. What are expenses in Zoho books?
Organizations incur various expenses such as travel, lodging, and day-to-day expenses. You can categorize these as expenses in Zoho books.
2. What is the difference between expenses and bills in Zoho?
When you have paid for some goods or services on behalf of the business, it is an expense. On the other hand, an expense is recorded as a bill when you must pay for an expense only at a later date.
Read More: A Guide to Travel Expense Reimbursement
7. ITILITE
Like others, ITILITE offers a travel and expense management platform. Travel planning and booking, expense capture, approvals, reporting, reimbursements, and analytics are part of the software platform.
Hoping to offer a more intuitive and integrated platform, ITILITE attempts to solve travel and expense management challenges faced by small, mid-size, and large organizations. The travel and expense management software features AI-based analytics, automated employee reimbursements, customized reporting, and more.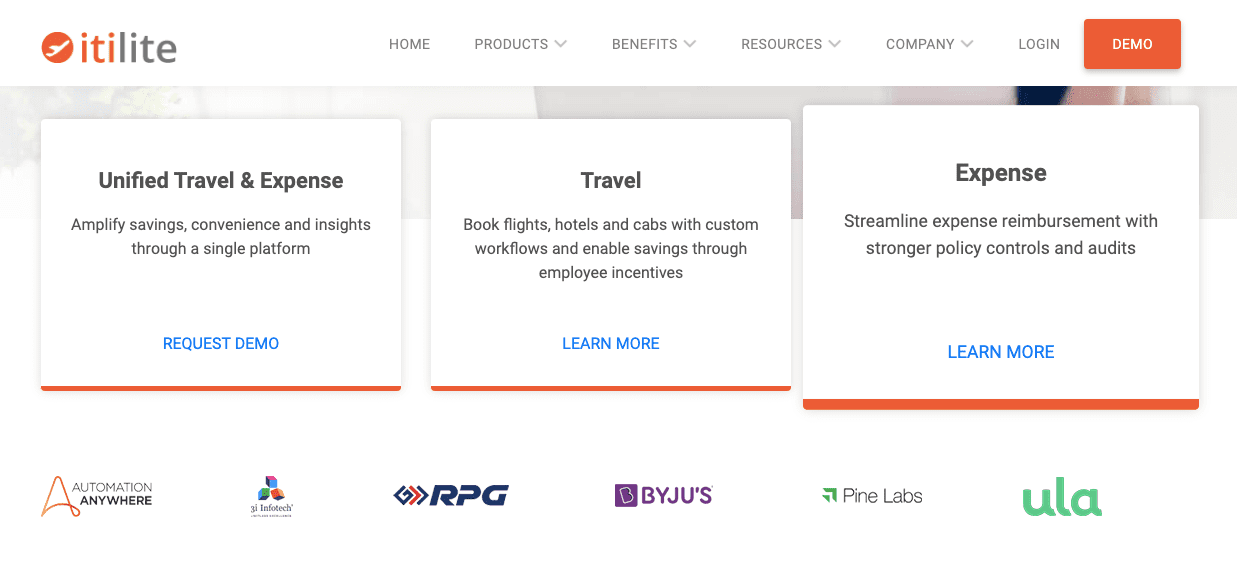 7.1 Noticeable features
ITILITE's features ensure you can file card-based (personal or corporate) expenses faster.
You can create GL-based categories with ITILITE's integrations allowing an easy flow of information from the platform to your ERP system.
You can view duplicate entries, weekend spends, and out-of-policy claims. Smart features flag the entries before they enter the system.
You can incentivize your employees to stay cost-conscious using ITILITE's platform.
Real-time audit is possible as reconciliations are automatic and quick.
ITILITE provides 24*7 help for their customers through emails, chat or calls.
7.2 Finly Vs ITILITE
| | | |
| --- | --- | --- |
| Features | ITILITE | Finly |
| Travel booking management and Single Sign-On | Yes | No |
| Unlimited GL_based categorizations/groupings | Yes | No |
| Real-time analytics, notifications, and alerts | Yes | No |
7.3 How does ITILITE fare against Finly?
ITILITE offers slightly more in terms of travel management, online booking tools, and third-party integrations. For instance, the platform encourages cost-saving measures by allowing you to incentivize your employees when they choose lower-price fares. Finly seems to fare better in Vendor and workflow management.
7.4 FAQs About ITILITE
1. Is ITILITE a product-based company?
ITILITE offers travel and expense management software that you can use to digitize your expense management.
Also, Read: Travel and Expense Automation
The importance of travel and expense management software for stakeholders in your organization
1. Speeds up expense processing time
One of the most significant advantages of using travel and expense management software is that it reduces the time you take to process business travel expenses and reimburse your employees.
Too many people, long-winding processes, and tons of back and forth make the process time-consuming. Further, there is a more considerable risk of human errors or fraud, which automation can easily avoid.
2. Lowers costs
Automation can lower costs for organizations in several ways. For instance, with expense management systems, it is possible to consider paperless offices. You can capture business expenses as images are saved and sent to managers or the finance department for further processing. Managers can approve online, and finance teams can monitor and process claims in the system.
3. Productivity improves
Imagine if you could save several hundred person-hours by switching to an expense management platform! Whether it is authentication of business expenses or reconciliation, travel and expense management. Such a process change automatically contributes to better productivity as your teams can focus on other important tasks on hand.
4. Workflows are more structured
With the introduction of expense management systems, you will find that your processes are more structured. Also, since data is now available in real-time, you can monitor and control them far better than when you were stuck with data entry and manual processes that lack visibility.
5. Employee experience is better
The most frustrating aspect of business travel is saving the expense receipts and ensuring you put them together for an expense claim. Automating will remove the most significant pain point for employees, making the process easier and pain-free.
6. Proactive and confident decision-making
One of the most significant plus points in automating your expense management is access to valuable data. The software systems record data from every transaction and arrange them into customized reports. It is a far more proactive approach to decision-making and gives you better control and visibility over your expenses.
Read More: What is Spend Analysis?
What pain points must a software solution address?
1. Manual verification of expenses
The larger the organization, the more expense claims. It is no surprise that finance teams dread month-end reconciliation. Expense management software assures speed and accuracy, whether long threads of emails between employees, managers, and the finance teams can get extremely frustrating. Expense management software must address this concern as it can instantly erase the stress associated with the process.
2. Human errors
A challenge that naturally ensues from manual processes is the problem of errors. It may not seem so when it is just a few errors. However, when the number of transactions increases and you couple it with a deadline, it can become stressful.
3. Complex or ambiguous expense policies
Often, the biggest challenge is not the manual process but the need for more effort in creating a simple yet comprehensive travel and expense policy. Unclear policies make it difficult for employees to follow the expense policies, resulting in more out-of-policy claims.
Any expense management software system must be able to address this challenge. By building the policies into the architecture of an expense management system, any out-of-policy expenses or claims will be flagged off or rejected even before it proceeds to the next stage.
4. Challenges of a growing organization
manual processes can't scale up as efficiently as automated solutions. Imagine the pressure of hiring additional people as quickly as possible so your finance team can meet the monthly deadlines. Apart from the pressure of hiring, you must also worry about the extra costs.
However, a well-designed expense management system can scale up quickly, allowing you to focus on business strategy and decision-making.
Read More – What is Petty Cash Management?
About Finly
What is Finly?
Finly's inspiration was a simple idea to provide better insights into business expenses while encouraging a proactive spend culture within organizations. In time, they have built tools that help finance leaders and their teams access spend data in real-time.
Now a cloud-based expense management company, Finly helps better expense management through quick data capture using OCR, automatic report generation, quick approvals, and easy employee expense reimbursement. The software ensures easy integration with your existing setup, so all the information and entries are directly exported to the accounting software.
What Finly can do for your organization?
The latest technology, combined with seamless integrations, promises a simple and easy transition from manual to automated expense management. Here are a few things Finly can do for your organization.
Finly promises to improve employee productivity by ten times. For instance, Finly's mobile app captures receipts, which you can combine with prepaid cards (EbixCash).

If your business is scaling, you can consider
Travel desk automation- automatic travel booking as employees make travel arrangements.

Three-way matching, where you can match advance requests, expense reports, and settlements.

Fine analytics and reporting features give sharp insights into your organization's expenses.
Finly Finance software is a set of a comprehensive suite of solutions that provides a complete view of the company's finances.
FAQs
1. What is Finly IO?
Finly offers solutions to automate your bookkeeping, control, and gain visibility over business expenses and your accounts payable function. Besides expense management, Finly offers vendor payment, budget management, and E-procurement solutions.
2. What does Finly do?
Finly is more well-known for its procurement and accounts payable automation solutions. Scalable and intelligent, these solutions, coupled with expense management systems, offer organizations a great suite of products.
Also, Read: 10 Best Expense Reporting Software
Finding the best Finly Alternative for your organization
1. Tax and GST-readiness
When choosing travel and expense software, your concerns about tax and GST readiness are genuine and valid. In this regard, Happay is a great Finly alternative. Here's how it can make a massive difference.
Happay's self-booking tool pushes GST details when booking, ensuring you record GSTIN details well in time.

Automatic and accurate GST capture on expenses eliminates manual entries and recalculation of GST at the time of audit.

Happay helps you stay on top of GST invoices and capture 100% vendor details.

Forget painstakingly long information compiling as you can get GST-ready reports whenever you are ready to file.

Transaction report reconciliations are now faster as Happay provides consolidated GST invoices.
2. Price
Your budget and the price of a product have a huge role to play when you are finding a Finly alternative. For instance, you can either subscribe for a free trial or those that offer basic features for free. However, such free trials or subscriptions are rarely suitable for mid-size or large enterprises where customizations are critical.
3. Geographic needs
If you are looking for a Finly alternative, you must consider your vendor's geographical location. Finly's headquarters are located in India. Largely they have clients in India and the USA. So, if your organization has a footprint worldwide, you may want to consider a Finly alternative with customers worldwide.
4. Customized solutions
Another critical aspect to consider before looking for Finly alternatives is understanding whether you need customized solutions. Generally, the larger and more complex the organizational structure, the more the need for a customized solution.
While this may be a general rule of thumb, you must assess your individual needs before considering a Finly alternative that gives you this option.
5. Real-time analytics
One of the most significant advantages of moving from manual expense management to automated spend management is that your workflows are more structured, saving time and costs for your organization.
However, if you are looking for a Finly alternative, look for solutions that allow you to build your travel and expense policies into the system. It will help to bring down the number of non-compliant claims. Customizable solutions also allow you to
6. Corporate Credit Card
Corporate credit cards can ease much of the pain you feel in expense management. If you are looking for a Finly alternative, make sure corporate cards are a part of the deal. For instance, you can sign up for Happay cards quickly.
With customizable limits and budgets, you can fund the cards and control the usage of funds by setting daily/weekly/monthly limits. You can restrict their use to specific POSs, ATMs, or online portals. You can get spend visibility with smart analytics in any format.
Featuring a cloud-based platform, you can track card usage, and manage and control it using a mobile device. Expense management on the go!
Conclusion
Finding the right expense management software for your business is more than picking the top-ranked vendor. In this case, finding a Finly alternative is about finding a solution that offers all the non-negotiable features you need in the software.