Introduction to vendor management
Vendor management is like assembling a puzzle. You need to put the right vendors together and ensure they fit. It creates a fantastic supply chain, ultimately contributing to business growth.
As pieces of a puzzle interlock with each other to produce a coherent picture, vendors work in sync to ensure seamless operations. As a vendor manager, you should maintain this sync by creating a robust management process.
Many organizations have implemented a vendor management systems to keep up with the ever-changing symphony of managing supplier relationships.
What is vendor management?
Managing vendors is the art of initiating, maintaining, and optimizing relationships with external suppliers or service providers, commonly referred to as vendors. It ensures a company's vendors meet its requirements, deliver quality products or services, and maintain competitive pricing.
An effective vendor management process helps reduce costs, mitigate risks better, streamline operations, and ensure peak vendor performance.
Quick Read: What is an Invoice: Meaning, Purpose, Types, Elements & Format
What is the vendor management process?
A vendor management process is a comprehensive method to manage vendor relationships. Several critical steps in the process help you drive value, quality, and service from your vendors.
Vendor identification, contract management, performance management, vendor risk management, vendor relationship management, vendor payments, and review are fundamental steps of a standard management process.
Types of vendor management
Since there isn't a universal classification of the types, we can categorize vendor management based on the nature of the relationship or engagement levels.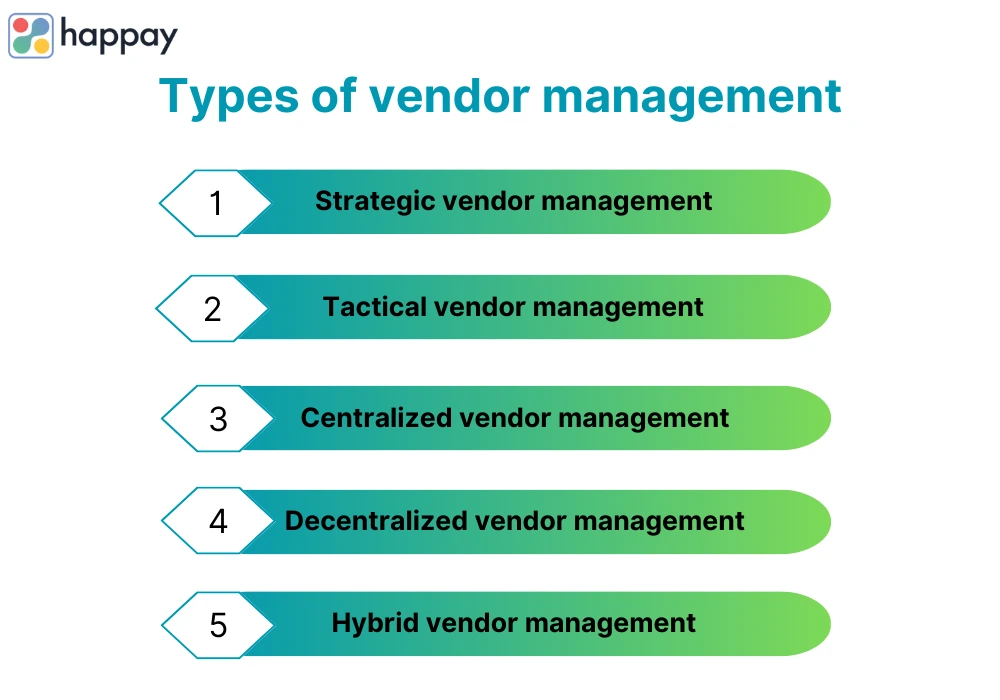 Strategic vendor management involves forming long-term relationships with key suppliers that significantly impact the organization's success. These relationships are based on trust, collaboration, and mutual benefit, focusing on continuous improvement, innovation, and shared goals.
Tactical vendor management focuses on short-term, transactional relationships with vendors. It emphasizes cost control, contract compliance, and execution of day-to-day operations efficiently.
Centralized vendor management offers better control, consistency, and visibility across the entire organization but may lack the flexibility and responsiveness needed for specific business units or departments. In centralized processes, a single department or team oversees vendor relationships.
Decentralized vendor management delegates the responsibility of managing vendor relationships to individual business units or departments within the organization. This approach provides greater flexibility and responsiveness to the business needs of each unit but may lead to inconsistencies and inefficiencies across the organization.
Hybrid vendor management combines centralized and decentralized elements, allowing organizations to balance control and flexibility. For instance, certain strategic vendors might be managed centrally, while individual business units or departments manage more specialized or regional vendors.
An ideal approach depends on an organization's size, structure, industry, and strategic objectives. Enterprises may adopt different approaches based on the team's requirements and goals.
Quick Read: 7 Types of Invoices for Your Business with Format
Why is vendor management important to your business?
With an effective process, businesses can better control costs and ensure overall success.
Let's explore its need in detail.
An effective process with vendors ensures businesses can negotiate better rates, payment terms, and discounts, minimizing costs and better profitability. Your teams can review and compare vendor offerings while identifying cost-saving opportunities.
A vendor management process allows you to ensure the product or service quality meets the organization's standards. Keep an eye on deliverables and check for their quality.
It's advisable to set performance criteria and monitor vendor performance. Giving constructive feedback from time to time encourages vendors to deliver better quality. Feedback loops are crucial. It can improve work quality as well as prevent the brand's reputation when the vendor delivers subpar work on behalf of your company.
Vendor relationships are often dipped in risks like supply chain disruptions, compliance issues, or financial instabilities. With a good vendor management process, you can effectively mitigate these risks, ensure business continuity, and minimize any negative consequences.
Benefits of vendor management process in your organization
Vendor management offers several benefits to businesses.
Here are a few to get the ball rolling.
Improved efficiency and performance. Businesses can effectively streamline operations by optimizing vendor performance. It includes reducing lead times, improving responsiveness, and ensuring effective collaboration between the organization and its vendors.
Innovation and competitive advantage. Strong vendor relationships can lead to increased collaboration and knowledge sharing, driving innovation to enable businesses to stay ahead of the competition. Vendors can provide valuable insights, industry expertise, and access to new technologies or business processes that can help businesses differentiate themselves in the market.
Enhanced communication and collaboration. Effective vendor management fosters open and transparent communication between businesses and their vendors, leading to stronger relationships and better alignment of business goals and expectations. It results in improved collaboration, faster issue resolution, and a more proactive problem-solving approach.
Scalability and flexibility. As businesses grow and evolve, your vendor's needs may change. A well-managed vendor base allows businesses to scale their operations, quickly adapt to new requirements, and respond to changing market conditions more effectively.
Responsibilities as you manage your vendors
A vendor manager's role is to orchestrate and optimize the interactions between a company and its external suppliers, ensuring a harmonious and mutually beneficial partnership.
A vendor manager actively searches for potential vendors, assessing their capabilities and alignment with the organization's requirements. As a vendor manager, you should design and finalize contractual agreements encompassing pricing structures, delivery schedules, quality parameters, and dispute-resolution mechanisms.
You should foster amicable and long-lasting connections with vendors. When vendor relationships are driven by trust, rapport, and open communication, it makes collaboration easier and more effective. Tracking vendor performance and providing constructive feedback are fundamental responsibilities of a vendor manager.
Some projects can have operational bottlenecks, financial vulnerabilities, or legal compliance challenges. A manager should proactively pinpoint potential threats and implement risk mitigation strategies.
Quick Read: Purchase Order and Invoices: Definition and Differences
Vendor management process flow chart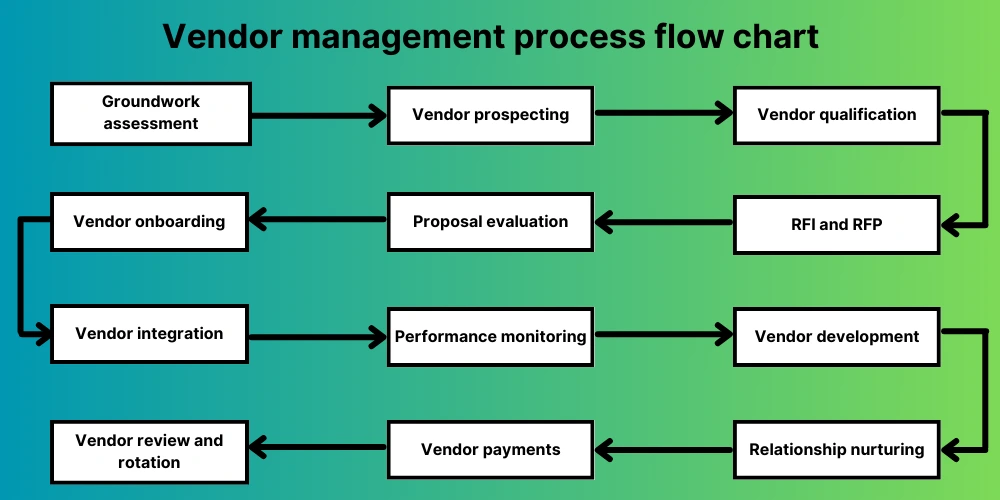 What are the steps involved in the vendor management process?
The steps in the vendor management process may differ from company to company. They are based on your internal processes and the approach you choose.
Here's a common procedure for managing vendors; you can tweak it per your organization's requirements.
Groundwork assessment: Before selecting vendors, assess your company's needs, budget constraints, and organizational culture. Identify gaps and areas of improvement to establish a foundation for vendor selection.
Vendor prospecting: Develop a diverse list of potential vendors by conducting market research, consulting industry-specific networks, and leveraging referrals from trusted sources. This process opens up several options for your organization.
Vendor qualification: Evaluate prospective vendors based on industry experience, quality of products or services, scalability, and their compliance standards. You can implement a standardized scoring system to perform objective comparisons.
RFI and RFP: Create customized Request for Information (RFI) and Request for Proposal (RFP) documents to collect essential information and proposals from shortlisted vendors. These documents should be comprehensive, clear, and structured for efficient comparison.
Proposal evaluation and contract negotiation: Review proposals using a predefined set of criteria, and negotiate to arrive at mutually beneficial terms. Consider incorporating performance-based incentives and establishing key performance indicators (KPIs) during this stage.
Vendor onboarding: Once a vendor is selected, develop an onboarding plan to ensure a smooth transition. It includes signing contracts, setting up payment methods, providing necessary documentation, and establishing communication channels.
Vendor integration: Seamlessly integrate the vendor into your organization's processes and systems. You should train staff, share data, implement software, and decide on project timelines and deliverables.
Performance monitoring: Continuously evaluate vendor performance using KPIs, customer feedback, and other relevant metrics. Schedule regular check-ins and meetings to discuss progress, address issues, and identify improvement areas.
Vendor development: Support the growth and development of vendors by offering constructive feedback, sharing industry insights, and recommending resources or training opportunities. This will contribute to a stronger, more sustainable vendor relationship.
Relationship nurturing: Maintain open lines of communication with vendors and foster a culture of collaboration. Engage in regular networking opportunities, celebrate shared successes, and address challenges as a unified team.
Vendor payments: Ensure your vendors are paid on time without delays and clear their invoices based on pre-decided timelines. If vendors have to wait for several days or consistently follow up, it may impact your relationship with them.
Vendor review and rotation: Periodically reassess vendor relationships to ensure that they continue to meet your organization's evolving needs. Consider rotating vendors, if necessary, to stimulate competition and drive innovation.
Best vendor management practices
Best practices will foster strong, efficient, mutually beneficial relationships with your vendors.
1. Ensure crystal-clear communication
Establish open and transparent communication channels with vendors to foster collaboration and trust. Share expectations, provide feedback, and address issues promptly to ensure a smooth and effective relationship.
You must communicate the organization's expectations and business objectives for each vendor relationship. It can include performance criteria, quality standards, and delivery timelines. Use written communication when you let vendors know about performance criteria, quality standards, and delivery timelines, as it helps to document everything.
It helps vendors understand their roles and responsibilities and enables them to align their efforts with the organization's objectives.
2. Provide consistent feedback to improve vendor performance
Track and evaluate vendor performance using key performance indicators (KPIs). Monitoring performance helps identify areas for improvement and ensures that vendors consistently meet or exceed expectations. Timely feedback to your suppliers and vendor will help them improve their offerings and better match your organization's delivery standards.
You should periodically review and evaluate vendor performance, contract terms, and alignment with the organization's needs. It can include renegotiating contracts, renewing agreements, or terminating relationships that no longer serve the organization's best interests.
3. Promote sustainable practices and mitigate risks
Vendors must adhere to ethical and sustainable business practices, such as fair labor practices, environmental responsibility, and regulatory compliance. This minimizes potential risks and aligns the organization's supply chain with its corporate social responsibility goals.
You should proactively assess and mitigate potential risks and implement contingency plans and backup strategies to control operations' disruption or address any unforeseen challenges.
4. Adopt a management system
A vendor management system helps you centralize vendor information, contract information, performance data, and other relevant details. You get better visibility, control, and analysis of existing vendor relationships. Strong relationships lead to better collaboration, increased innovation, and improved overall performance.
With a centralized database of all vendors, you can involve multiple stakeholders from different departments like procurement, finance, operations, and legal in the process. It helps to keep everyone on the same page and seamlessly work toward achieving the organization's goals.
Quick Read: Procurement KPIs Guide: Top 10 Metrics to Measure Your Success
Challenges in vendor management
Improper vendor management can present several challenges for organizations as they navigate complex supply chains and strive to maintain productive relationships.
First, the process of identifying and selecting vendors can be challenging. It involves extensive research, evaluation, and negotiations to choose the best vendors for your organization.
As your organization scales, there will be more and more vendors to manage. Coordinating and managing relationships with multiple vendors can be time-consuming and complex, mainly if they provide overlapping or complementary products and services.
You might face tracking and performance monitoring challenges if you lack a centralized system. The amount of scattered data can increase. However, without a system, it can shy away from delivering actionable insights.
You can also face challenges finding the right balance between cost savings and procuring high-quality products and services. Focusing solely on cost reductions can lead to compromised quality, while prioritizing quality may result in higher expenses.
Automate your vendor management process
To automate the vendor management process, implement a centralized digital platform that streamlines vendor information, communication, and documentation. Utilize artificial intelligence (AI) and machine learning algorithms to analyze vendor performance metrics and risk factors, enabling data-driven decision-making.
Establishing automated workflows for key processes, such as vendor onboarding, contract management, and invoice processing, is advisable. Additionally, integrate systems like ERP, CRM, and procurement software to ensure seamless data exchange and real-time visibility.
Regularly evaluate the effectiveness of the automation to identify areas for continuous improvement, and consider utilizing chatbots or virtual assistants to enhance vendor communication and issue resolution. This approach will optimize the process, reduce manual labor, and improve overall efficiency.
Tools and technologies to manage your vendors
Vendor management tools offer a holistic solution to end-to-end vendor or supplier management. It's advisable to use a comprehensive tool for better scalability.
Below are some tools and technologies common in organizations.
Vendor management software (VMS): VMS platforms centralize vendor information, track performance metrics, and facilitate communication. Examples include QuickBooks Online, SAP Feildglass, and more.
Enterprise resource planning (ERP) Systems: ERP systems like Oracle, Microsoft Dynamics, and NetSuite often have built-in modules for vendor management, which integrate seamlessly with other business functions.
Contract management software: Tools such as ContractWorks, Icertis, and Agiloft help automate contract lifecycle management, from drafting and negotiation to signing and renewals.
eProcurement software: Platforms like Procuzy, Procurify, and Tradogram streamline purchasing processes, vendor selection, and purchase order management.
Supplier risk management software: Tools like RiskMethods, Supplier.io, and SupplyShift provide insights into vendor risk factors, enabling businesses to mitigate potential issues.
Data analytics and reporting: Advanced analytics tools like Tableau, Microsoft Power BI, and Looker help organizations visualize and analyze vendor data, driving informed decision-making.
Document management systems (DMS): DMS platforms like M-Files, Laserfiche, and DocuWare store and organize vendor-related documents, ensuring easy access and version control.
Communication and collaboration tools: Platforms like Slack, Microsoft Teams, and Asana facilitate real-time communication and vendor collaboration, improving overall relationship management.
Artificial intelligence (AI) and machine learning: AI-driven technologies enable predictive analytics, chatbots, and virtual assistants to enhance the management process.
Integration tools: Middleware and API integration solutions like MuleSoft, Dell Boomi, and Zapier ensure seamless data exchange between different systems used in the process.
Quick Read: 12 Best Invoicing Software [Paid+Free] in 2023
Best vendor management software
The choice of the best vendor management software is based on the organization's needs and requirements. Let this guide on the top 5 vendor management software help you find the best tool perfect for your organization and its internal processes.
Below are some of the popular tools on the market.
Happay's invoice management makes it easier to streamline vendor payments through several facilities like direct account transfer through RTGS or NEFT. It provides unsecured credit lines and pool accounts and doesn't rely on payment gateways to process payables.
QuickBooks Online is a cloud-based accounting system that simplifies the handling of suppliers and their transactions. It assists companies in managing taxes, invoicing, GST computations, vendor contract statuses, and a plethora of other features through an accessible web application.
Airbase combines authorization, bookkeeping, and payment processes to facilitate seamless management of vendor transactions. This platform provides an intuitive procurement journey, significantly enhancing the effectiveness of your supplier management operations.
SAP Fieldglass optimizes handling external workforce and service providers. This powerful solution streamlines processes, enabling organizations to gain better visibility and control over supplier relationships.
PRM360 simplifies supplier interactions and negotiations. Its comprehensive features empower businesses to strengthen their procurement process and make more informed decisions related to their vendor relationships.
Percoro streamlines procurement and supply chain processes. Its robust capabilities allow organizations to enhance efficiency, improve supplier collaboration, and make more informed decisions throughout their procurement journey.
Read More: 9 Best Vendor Payment Management Software
How does Happay assist your company with vendor management?
Happay is a cloud-based expense management platform primarily focusing on streamlining and automating travel and business expenses. It also offers an invoice module that helps streamline vendor payments. The software provides exceptional features like same-day reconciliations to pay vendors on the same day.
You can schedule invoices in advance to avoid missing any payment with Happay's invoice management solution. The software helps you save as much as 39% in late payment-related costs, 36% in cost per invoice, and 38% in compliance-related costs.
Happay provides a comprehensive expense management system with a user-friendly interface and robust features and simplifies tasks such as tracking vendor payments, monitoring contractual obligations, and streamlining communication channels. It lets you capture, store, and manage vendor invoices digitally, eliminating manual paperwork and improving efficiency. You can process invoices with greater accuracy and speed, which can help maintain positive relationships with your vendors.
The platform provides customizable approval workflows, ensuring appropriate stakeholders review and approve all vendor-related payments. It minimizes potential fraud and ensures compliance with company policies.
Happay's expense management features can help your company track and manage vendor-related expenses, improve invoice processing, and provide insights into spending patterns, contributing to better vendor relationships and cost management.
FAQs
1. What is meant by vendor management?
Look for vendor management meaning; it refers to establishing, maintaining, and optimizing business relationships with external suppliers or service providers. This process involves selecting suitable vendors, negotiating contracts, setting expectations, monitoring performance, and ensuring effective communication. The goal is to achieve the best possible value, service, and quality from vendors while minimizing risks and costs associated with these relationships.
2. What is the role of vendor management?
The role of vendor management is to establish, maintain, and optimize relationships with external suppliers or vendors that provide a company's goods, services, or resources.
3. What are the skills of vendor management?
When managing vendors, professionals need communication, negotiation, relationship building,  analytics, project management, problem-solving, risk assessment, and financial acumen.
4. What is the difference between vendor management and procurement?
Vendor management and procurement are distinct functions within an organization's supply chain management process. Vendor management primarily focuses on building, maintaining, and optimizing relationships with vendors or suppliers to ensure they meet the organization's quality, delivery, and cost requirements. On the other hand, procurement is acquiring goods, services, or works from external sources at the best possible cost, quality, and delivery terms to meet the organization's needs.