Introduction to audit software
Companies are faced with complex regulatory requirements and the need for robust internal controls.
Auditing is an important process that helps measure current policies and optimize them for companies to stay ahead of the curve. As a result, the demand for efficient and accurate audit processes is high.
This is where audit software solutions come into play, revolutionizing how these processes are executed and optimized.
Audit software leverages cutting-edge technology to streamline audit workflows, automate repetitive tasks, and provide comprehensive insights into an organization's financial health, compliance status, and operational efficiency.
In this article, we'll look at the best auditing solutions in 2023 and cover audit concepts comprehensively.
List of best audit software
Best audit software – Explained in Detail
There are many auditing solutions in the market. Continue reading to find out the top 10 solutions in the market.
AuditBoard's audit management solution empowers teams and actively involves them in every aspect of a business with a connected risk framework. It includes a centralized data repository that aggregates company risks, controls, policies, frameworks, and issues.
This robust solution is springboarded by a range of formidable platform functionalities, including collaboration, automation, workflows, business intelligence tools, and an integration layer.
Seamlessly combining AuditBoard's unified core with purpose-built platform capabilities, companies can establish a resilient and dynamic foundation that propels risk management efforts.

Features
Sort audit by type
Dashboards
Audit trail tracker and notifications
Templates and forms
Checklists
Validation rules
Pros
Highly customizable reports
Webinars to help learn the solution
Intuitive to use
It helps link between work steps
Cons
One G2 user states that the linking functionality is difficult to understand
Another G2 user says that the lack of integration with Microsoft tools offsets the product capabilities
Pricing
AuditBoard's pricing information is unavailable. Get in touch with them to know more.
Reviews
AuditBoard is rated 4.7/5 based on 545 reviews.
Conclusion
AuditBoard has been classified as a "Momentum Leader" on G2 in the Spring  GRID report.
Quick Read: 10 Best Workflow Management Software
Workiva is a cloud-based auditing solution. It helps manage and report business data that helps manage and report business data.
It provides companies with tools to streamline and simplify critical processes such as reporting, compliance, and risk management, and enables collaboration. With Workiva's platform, companies can centralize and automate data collection and analysis.
Workiva is trusted by different industries, letting them enhance efficiency, transparency, and compliance in their daily operations.

Features
Multi-format, real-time audit reports
Real-time data updating
Audit checklists
Audit planning
Auditing, journal entries, and distribution
Quality management
Pros
Reduces time spent on SEC filings
Best-in-class filing solution
Great way to track audit tasks
Cons
A G2 user states that the solution does not allow copy-pasting abilities
Another G2 user says that the solution has general bugs and glitches
Pricing
Workiva has not revealed its specific pricing information available. You can get in touch with their team to learn more.
Reviews
Workiva is rated 4.5/5 based on 384 reviews.
Conclusion
Workiva is one of the top 10 solutions on G2 under the "Audit Management Software" category and has been rated a Leader. 
Quick Read: 10 Best Workforce Management Software
Thoropass is a comprehensive compliance solution designed to simplify the process for businesses. With a combination of intuitive software, guidance, and monitoring,
Thoropass seamlessly integrates into your operations, ensuring readiness to pass any audit with exceptional results. Trusted by many companies, it offers a robust compliance automation platform, expert services, skilled auditors, and an extensive partner ecosystem, supporting your compliance requirements throughout your business journey.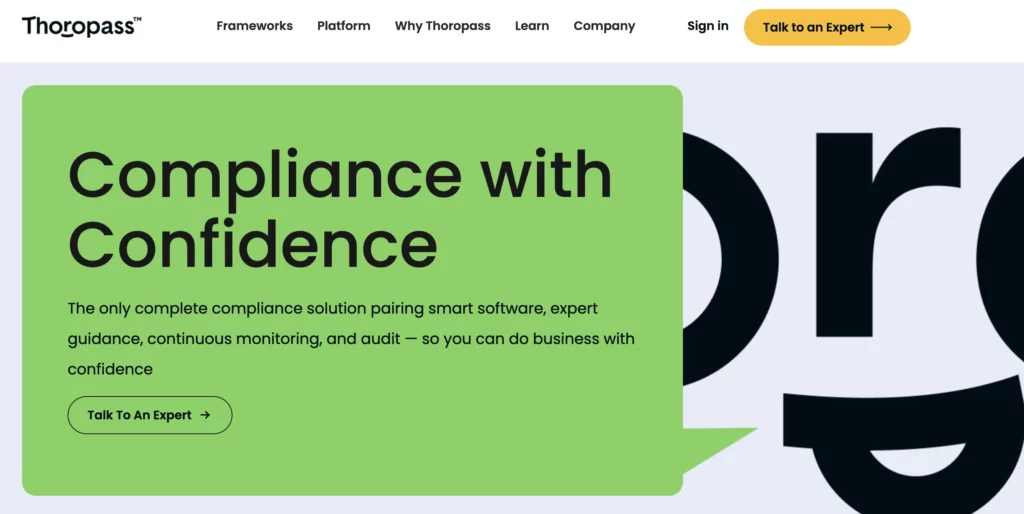 Features
User access control
Audit monitoring and management
Ready templates for questionnaires
Policy enforcement
Pros
Easy to manage audit processes
Helps achieve security compliance
Easy to get started and use
Cons
A G2 user states that the ready to made templates aren't relevant for every use case
Another G2 user says that the policy document editor interface could have been better
Pricing
You have to get in touch with Thoropass's team to know more about their pricing.
Reviews
Thoropass is rated 4.7/5 based on 180 reviews.
Conclusion
Thoropass is a G2 leader under the "Audit Management Software" category.
Quick Read: 10 Best Business Management Software
TeamMate+ audit platform helps auditors and audit leaders by providing an all-inclusive audit management system that streamlines the audit workflow.
Trusted by professionals in audit and controls across a wide range of industries, from global financial institutions to local government agencies, TeamMate offers purpose-built solutions that amplify the capabilities of audit teams.
Whether it's conducting assessments, planning, fieldwork, engaging with auditees, generating reports, or tracking and following up on issues, TeamMate+ provides the flexibility and functionality required to excel in the internal audit profession.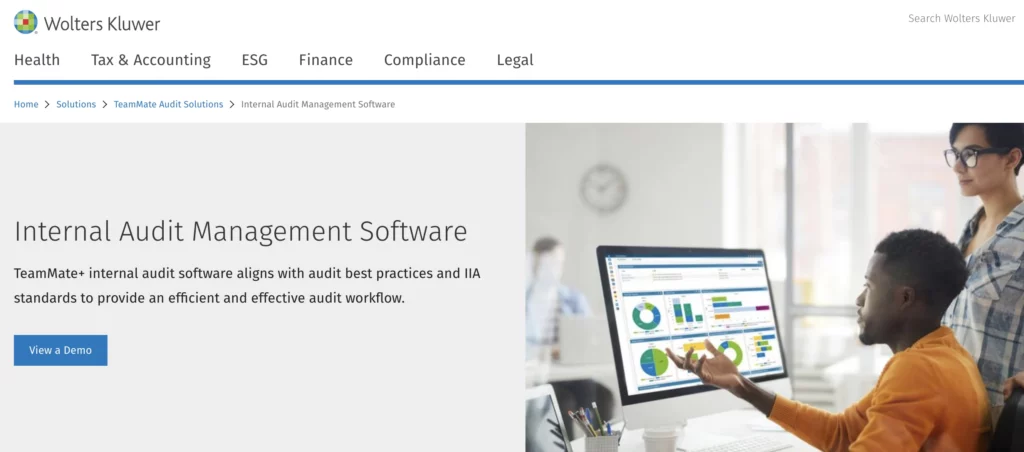 Features
Internal audit management
Audit workflows
Data-driven analysis
Benchmarking
Mobile app on Android and iOS
Pros
Great audit workflows
The solution has great customization capabilities
Easy to use
All modules available in one window
Cons
Pricing
Their pricing information is unavailable online.
Reviews
TeamMate+ is rated 4.1/5 based on 66 reviews.
Conclusion
TeamMate+ is also a G2 leader under the "Audit Software"  category. 
Quick Read: TOP 8 Enterprise Software Solutions
Fastpath empowers organizations to efficiently manage and automate the critical processes related to access governance and security. It ensures a swift implementation and deployment, allowing businesses to derive immediate value from its robust capabilities.
With its comprehensive features, it instills confidence by ensuring that the right individuals have appropriate access to pertinent information, all for legitimate purposes. Fastpath helps you navigate the complex landscape of access governance and security with ease and peace of mind.

Features
Automated provisioning
Policy management
Self-service
Compliance audits
User access and role management
Pros
Easy to use
Seamless integration of the solution
Great training and post-implementation support
Cons
Pricing
Fastpath's pricing information, like most in this list, is unavailable online.
Reviews
Fastpath is rated 4.7/5 based on 82 reviews.
Conclusion
Fastpath is rated one of the fastest to implement in the G2 Spring GRID report. 
Quick Read: 10 Best ERP Software in 2023
Strike Graph is an advanced audit management platform that simplifies and streamlines time-consuming compliance processes, empowering stakeholders to achieve and maintain adherence to industry standards and frameworks easily. The platform specializes in automated compliance management, with a focus on SOC 2 compliance.
With Strike Graph, organizations can assess their compliance posture, proactively identify gaps, and implement necessary controls to meet the stringent requirements of SOC 2 and other relevant frameworks. The platform is available web-based and on-premise as well. It serves as a centralized solution, facilitating efficient management of compliance documentation, tracking progress, and fostering seamless collaboration among team members.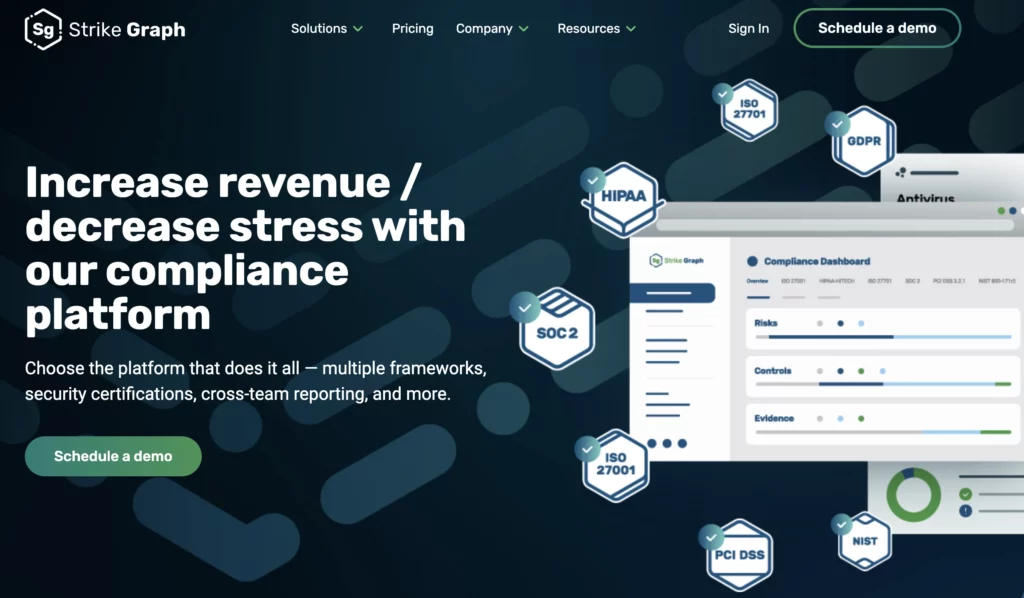 Features
Compliance monitoring
Asset life cycle management
Comprehensive audit
End-to-end data governance
Auditing and workflow management
Risk-based classification
Pros
Excellent implementation and service
Helps achieve compliance smoothly
Reliable and efficient solution for auditing and compliance needs
Cons
Pricing
Strike Graph offers three plans, Prepare, Achieve, and Sustain, but the actual cost isn't specified.
Reviews
Strike Graph is rated 4.8/5 based on 66 reviews.
Conclusion
Strike Graph is a Momentum Leader according to G2's Spring Report and is one of the top 10 solutions under the audit software category.
Quick Read: 10 Best Project Management Software
LogicManager is an advanced audit tool that empowers organizations to efficiently manage risks, ensure regulatory compliance, and drive operational excellence. With a range of integrated modules and functionalities, LogicManager offers comprehensive support for all aspects of risk and compliance management.
Organizations can centralize their risk and compliance activities, fostering seamless collaboration, streamlined data management, and enhanced reporting across departments and business units with the solution.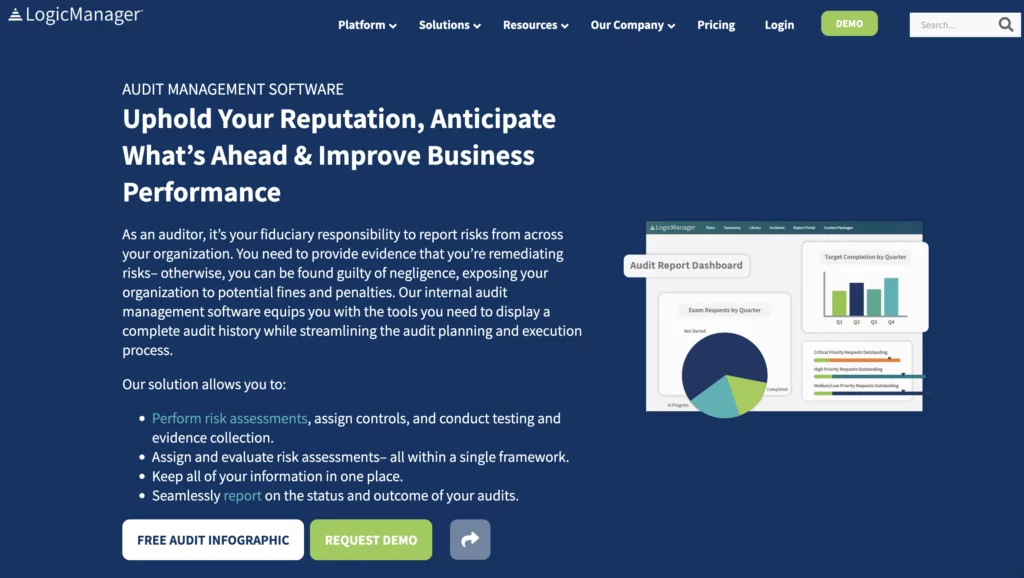 Features
Content library and real-time updates
Asset tracking
Risk identification
Goals monitoring
High security and privacy
Pros
Easy to configure and use
Plan and report customizability
Easy to personalize according to specific needs
Cons
Pricing
Their pricing information hasn't been made available online.
Reviews
LogicManager is rated 4.5/5 based on 50 reviews.
Conclusion
Logic Manager is a Leader according to G2's Winter Report from 2022.
Quick Read: 10 Best Human Resources (HR) Software
Manufacturers rely on EASE to actively administer, conduct, and analyze a wide range of plant floor audits and inspections. It is an audit management tool that ensures safety protocols, Gemba Walks, implementing 5S practices, and beyond, EASE seamlessly combines simplicity and efficiency, providing valuable insights to uncover the complete operational picture.
EASE stands as the go-to solution for manufacturers, delivering unparalleled efficiency, cost savings, and insights to optimize plant floor operations and drive continuous improvement.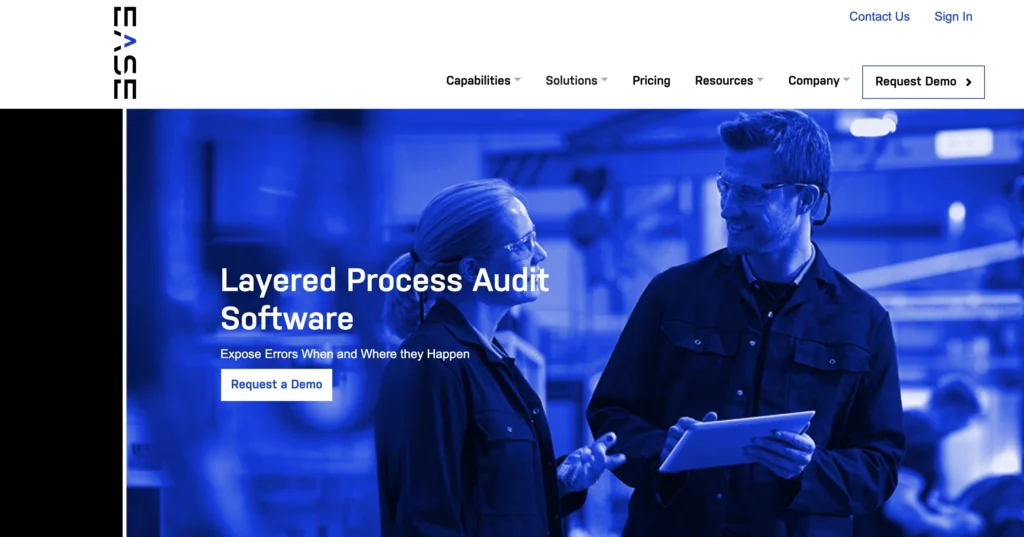 Features
Conformance records
Document controls
Reports and analytics
Mobile application
CAPA framework capability
Pros
Audit labor time and cost reduction
Good user experience
Innovative mobile app
Recurring multi-layer audit
Efficient issue tracking and management
Cons
Pricing
Their pricing information is unavailable.
Reviews
EASE is rated 4.6/5 based on 139 reviews.
Conclusion
EASE is a Leader according to G2's Spring Report from 2023.
Quick Read: 8 Best OCR Software and Tools
LogicGate Risk Cloud is a comprehensive SaaS-based platform that empowers organizations to effectively manage and mitigate risks across their enterprise. It provides a centralized and integrated solution for risk management, letting companies proactively identify, assess, monitor, and mitigate risks.
The LogicGate Risk Cloud platform offers a range of functionalities and modules that facilitate efficient risk management practices. It allows organizations to define and assess risks, establish risk mitigation strategies, and implement controls to mitigate potential threats.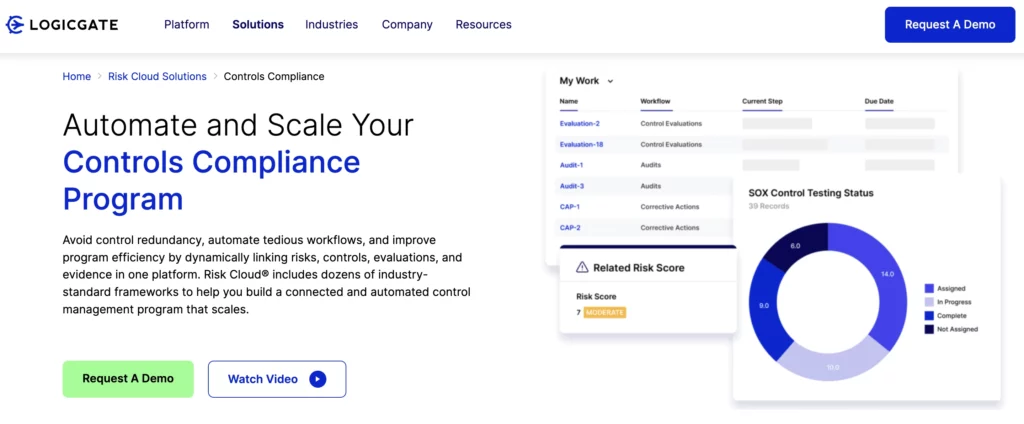 Features
Workflow automation
Risk process streamlining
Process design and repository
Sharing permissions
Accessibility on mobile devices
Pros
Great implementation and support
Highly customizable according to organization needs
Cons
Pricing
Their pricing information is unavailable.
Reviews
LogicGate Risk Cloud is rated 4.6/5 based on 138 reviews.
Conclusion
LogicGate Risk Cloud has been rated one of the Best ROI providing solutions on G2.
Quick Read: 10 Best Expense Management Software and Tools
Pulse revolutionizes the way businesses across various industries achieve their EHS compliance and quality control goals by providing cutting-edge cloud-based software. By digitizing inspections, Pulse empowers organizations to streamline their processes and gain real-time, insightful data to inform future policies.
The mobile app offers seamless functionality in offline environments, ensuring uninterrupted operations. With Pulse, companies can generate comprehensive reports that empower employees to engage in action planning, fostering safety management.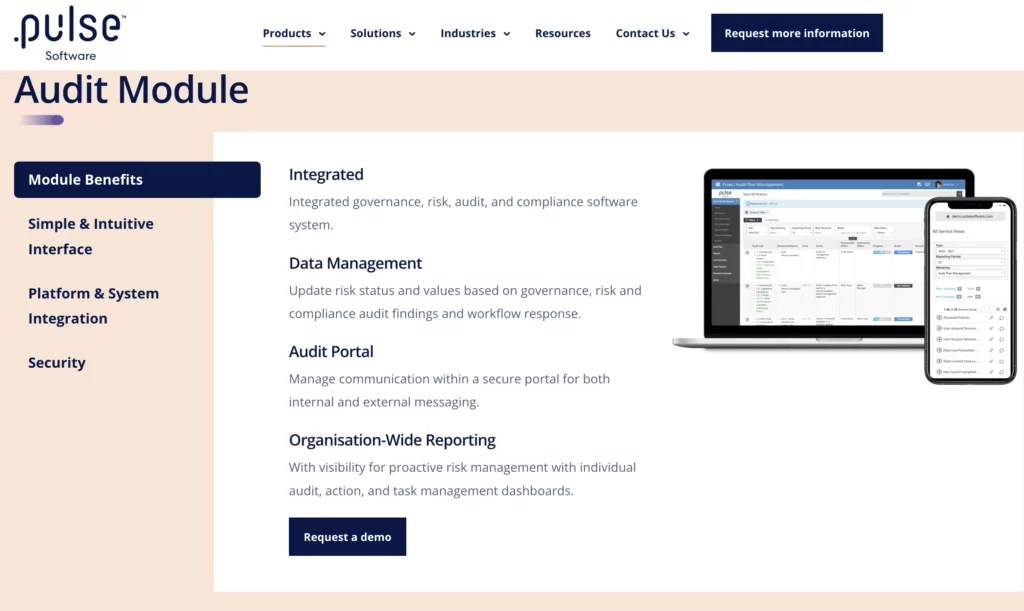 Features
Job hazard management
Sustainability management
Corrective actions, metrics, and workflows
Mobile access
API-based Integrations
Pros
Has multiple databases that help perform actions seamlessly
Helps complete tasks on time
Cons
Pricing
Their solution has a free forever option, and its paid plan starts from $12 per user.
Reviews
Pulse is rated 4.7/5 based on 95 reviews.
Conclusion
Pulse has been rated one of the High Performers according to the Spring 2023 G2 GRID report. 
Suggested Read: 10 Best Travel Management Software
What is audit software?
Audit software helps auditors perform different tasks in their specific auditing process.
It helps automate and streamline the process, improve efficiency, and boost its accuracy.
Most of the best auditing solutions include features such as data import, integration, workflows, and data analysis functionalities.
These software tools are specifically built to meet the unique needs of auditors, and using this solution, they can enhance their effectiveness, optimize the process, and ensure accurate and reliable auditing results.
Who needs audit software?
Audit software can be used by companies that have auditing needs and requirements. This includes accounting firms, internal audit departments within organizations, financial institutions, regulatory bodies, and government agencies.
In particular, it supports and benefits companies that handle data in large volumes and ones that have complex auditing needs.
With an auditing solution, these companies can coordinate accurate audits and ensure compliance. Additionally, they can make more informed decisions.
Types of audit software
Here are the different types of audit software depending on various needs:
General-purpose audit software
Data analysis software
Audit management software
Continuous auditing software
Benefits of using financial audit software for accurate financial reporting
An auditing solution provides many benefits in terms of improved financial reporting. 
Here are some of them:
Increased accuracy
Enhanced efficiency
Improved compliance
Better data integrity
Streamlined collaboration
Customized reporting
Audit trail and documentation
Key features to look for in an audit software
Some of the critical features you need to look for in audit software:
Data import and integration
Automated audit workflows
Data analysis capabilities
Reporting and documentation
Collaboration and teamwork
Risk assessment and management
Compliance and regulatory support
Audit trail and security
Mobile access and remote auditing
Scalability and integration
Also, Read: 10 Best Finance Software for Personal and Business
Benefits of using audit software over traditional manual methods
There are many benefits to using auditing software compared to following traditional, manual methods.
These are some of them:
1. Improved efficiency
Audit software automates many manual tasks, such as data entry, calculations, and report generation. This saves time and reduces human errors, allowing auditors to focus on higher-value activities.
2. Improved accuracy
Audit software performs calculations and analyses with a high degree of accuracy, minimizing the risk of errors or inconsistencies that can occur with manual methods.
3. Better data analysis
The solution can process and analyze large volumes of data quickly, enabling auditors to identify patterns, trends, and anomalies.
4. Standardized processes
With auditing software, you can standardize templates, and checklists and have workflows. This promotes uniformity across audits and facilitates easier review and comparison of results.
5. Better collaboration
Audit software often includes features that enable collaboration among audit team members. It allows for real-time sharing of information, documentation, and progress tracking.
How to choose the right audit software?
There are many auditing solutions in the market. You need to choose one that strikes the right balance between addressing your needs and taking care of your business processes.
Here's how to choose the perfect audit software for your company:
1. User-friendliness
While evaluating solutions, consider their user interface and intuitiveness. Go through whether it's easy to navigate, perform tasks, and how well it generates reports. User-friendly software reduces the learning curve for your team and enhances productivity.
2. Ability to analyze data
See whether the solution can analyze data effectively, including how well it can handle large data volumes. Strong data analysis features provide valuable insights for you and help identify risks and improvement areas.
3. Security
Does the software have security measures? This is a question you need to consider since your auditing data is sensitive and needs to be protected. Make sure that the software adheres to regulations and industry compliance standards, such as GDPR and SOC-2.
4. Cost
Consider the total cost, including licensing fees, implementation costs, and any ongoing maintenance or subscription fees. What will the potential return on investment be? Consider that as well. The auditing software needs to be both cost-effective and reduce your overall effort.
5. Scalability
Check whether the auditing software can scale with your organization as it grows. As you scale, you need to handle larger and more complex audits. Also check whether the solution can integrate with your existing systems, such as financial software or data repositories. Seamless integration reduces data transfer issues and enhances efficiency.
How to implement audit software in your organization?
Implementing audit software in your company can be a long process.
Here are some steps you can follow to implement it successfully: 
Gather needs

Identify your requirements and objectives to implement an auditing solution in your company. Spot where you require automation and software for the most value and address any pain points or inefficiencies in your current audit workflow.

Research solutions

Go through solutions and find the one that aligns with your company's needs. Consider features, functionality, ease of use, compatibility, scalability, and cost

Plan and prepare for implementation

Have an implementation plan in place with the steps, timelines, training, and resources you require. 

Data migration

If you have existing data or templates, determine the process for migrating that data to the new software. Make sure the software integrates with existing systems and databases.

Configure the system

Configure the settings, user permissions, and workflows to align with your desired processes and reporting needs. Customize any templates, checklists, or reports as well. 

Training and adoption

Plan and provide extensive training for your team on using the software for their benefit. Offer hands-on training sessions, online tutorials, and user guides or documentation if available. 

Get feedback

Test the audit software for different situations to ensure its reliability, accuracy, and compatibility. Gather feedback from your team as well during this process and make adjustments according to what they feel.
Conclusion
Audit software is required for auditors striving for operational excellence and compliance. With its power, auditors can unlock new levels of efficiency, accuracy, and value. As technology continues to advance, audit software will undoubtedly play an increasingly pivotal role in shaping the future of auditing, driving innovation, and empowering auditors to meet the evolving demands of the companies' landscape.
FAQs
1. What is audit process?
An audit process is the review of a company's financial records, procedures, or other aspects of its activities. Its importance is to assess the accuracy, completeness, and reliability of data in financial statements, or any other relevant document. Either internal auditors conduct audits or external ones.
2. What are the 4 methods of auditing?
The four methods of auditing are:

1. Financial audit 
2. Operational audit
3. Compliance audit
4. Information systems audit
3. What is audit software in CAAT?
Audit software is a specific software used by auditors to facilitate and automate various audit tasks. CAATs allow auditors to analyze large volumes of data quickly and with accuracy. It helps boost the efficiency and effectiveness of the audit process.
4. Which software is used for auditing?
Companies use spreadsheet programs like Microsoft Excel, dedicated audit management systems, and data analysis tools such as ACL and IDEA for auditing.
5. What is the best audit software for CA firms?
Some of the best audit software that CA firms use include CaseWare IDEA, AuditFile, and Thomson Reuters Checkpoint Engage.
6. What software does Deloitte use for audit?
Deloitte has its proprietary audit software called Deloitte Audit, which combines advanced functionalities. to enhance the efficiency and effectiveness of its auditing process.
7. What software does PwC use?
While specific software usage may vary depending on client needs and engagement requirements, PwC has its proprietary audit software called Aura.
8. What is the best audit software for medium-sized businesses?
According to G2, AuditBoard is the best audit software for mid-sized companies. 
9. What software do auditors use?
Auditors use a range of software tools, including spreadsheet software like Microsoft Excel, dedicated audit management systems, data analysis tools like ACL and IDEA, and specialized auditing software developed by audit firms themselves.
10. What audit software does KPMG use?
KPMG has its own, in-house proprietary audit software called KPMG Clara.