What is e-invoicing software?
E-invoicing software is a superhero in the business world. It helps companies streamline their invoicing processes and save valuable time and money. What's more, it automates the process of creating, sending, receiving, and processing invoices electronically between businesses. 
With an e-invoicing software there are no chances of manual data entry mistakes and costly errors. Additionally, using e-invoicing software, businesses can create and send invoices in a standardized electronic format, making the entire invoicing process faster, easier, hassle-free and more accurate.
The benefits of an e-invoicing software does not stop here. It also offers features such as invoice tracking, automated reminders for overdue payments, and integration with accounting software. All these features make managing your finances a breeze, freeing up more time to focus on growing your business.
Read More: What is an Invoice and their Purpose, Types, Elements & Format
List of best e-invoicing software 
After analyzing multiple e-invoicing software, we have shortlisted the 6 best e-invoicing software.
Here's the list: 
6 Best e-invoicing software – A detailed analysis
Here's the detailed analysis of the 6 best e-invoicing software we had shortlisted: 
SAP Ariba is a cloud-based procurement and supply chain management platform that helps businesses connect and collaborate with suppliers, manage contracts, and automate procurement processes. 
It helps businesses of all sizes, from small businesses to large enterprises. With the help of SAP Ariba, businesses can streamline their procurement processes, reduce costs, and improve supplier relationships.
Procurement solutions offered by SAP Ariba's allow businesses to manage their entire procurement process, from sourcing to payment. What's more, the platform provides tools for managing contracts, automating procurement workflows, and analyzing procurement data.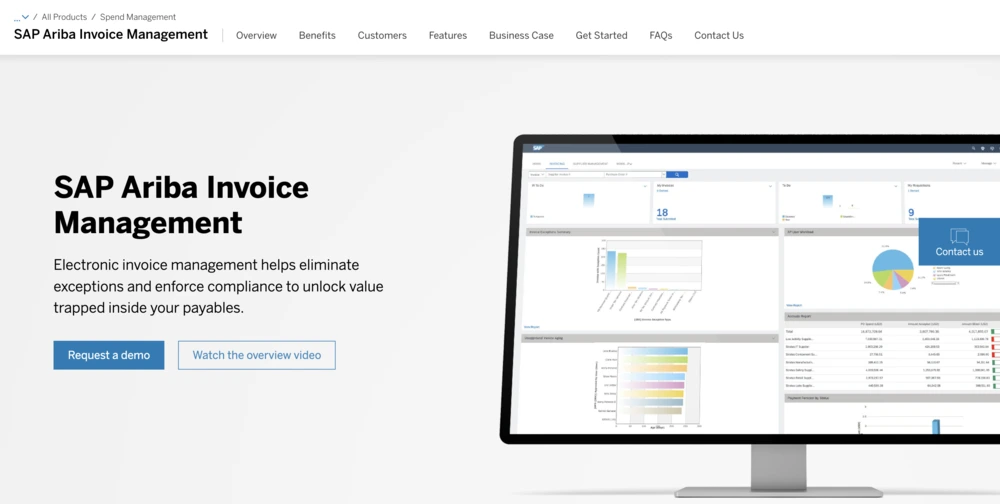 Features
Procurement management
Spend management
Contract management
Sourcing management
Supplier management
Invoice management
Inventory management
Analytics and reporting
Collaborative workflows
Mobile access
Electronic signature
Integration with other enterprise systems
Compliance management
Pros and cons of SAP Ariba:
Pros
Helps businesses streamline procurement processes and reduce costs
Improves supplier relationships by providing tools for onboarding, performance tracking, and risk management
Offers a range of solutions for businesses of all sizes
Provides real-time visibility into procurement data, enabling businesses to make more informed decisions
Offers collaborative workflows, enabling stakeholders to work together more efficiently
Provides mobile access, allowing users to manage procurement processes from anywhere.
Offers integration with other enterprise systems, such as ERP and CRM
Cons
Can be costly for small businesses
Requires a certain level of technical expertise to set up and maintain
May have a steep learning curve for some users
Some users felt the user interface was difficult to navigate.
SAP Arbia pricing
According to Softwareadvice, SAP Ariba does not have a free version and does not offer a free trial. However, SAP Ariba's paid version starts at US$50.00/month.
Quick Read: TOP 10 Procurement Software Solutions
Avalara is a cloud-based tax compliance software that helps businesses manage their sales tax, VAT, GST, and other tax obligations. This software provides a range of solutions for businesses of all sizes, from small businesses to large enterprises.
Using Avalara, businesses can automate tax calculations, filing, and remittance, reducing the risk of errors and compliance issues. What's more, Avalara offers a range of integrations with other business software, making it easy to manage tax compliance across multiple systems.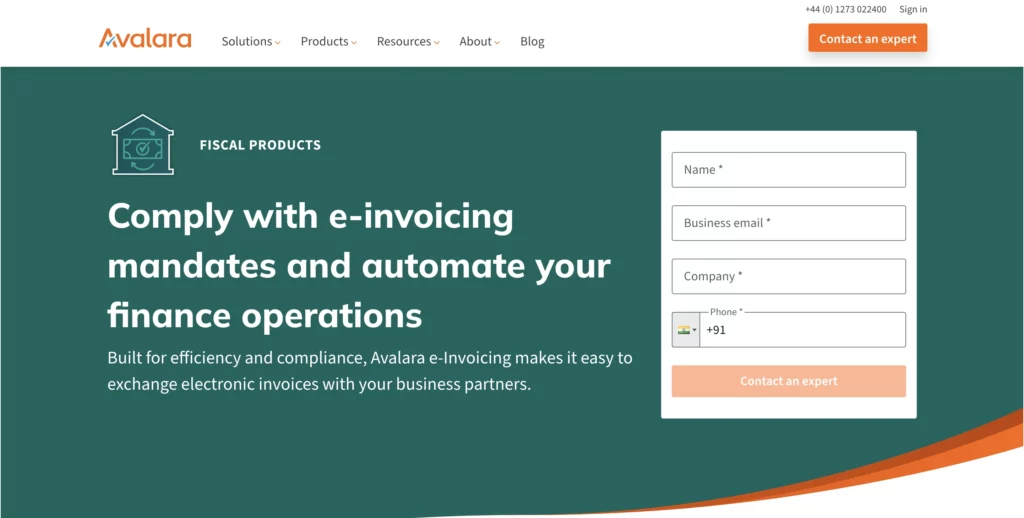 Features
Sales tax automation
VAT and GST compliance
Excise tax management
Tax document management
Tax return preparation and filing
Product taxability determination
Tax exemption management
Address validation and correction
Jurisdiction assignment and mapping
Real-time tax calculation
Tax reporting and analytics
Integration with other enterprise systems
Pros and cons of Avalara
Pros
Helps businesses automate tax compliance processes, reducing the risk of errors and compliance issues
Provides a range of solutions for businesses of all sizes
Cons
The pricing based on usage and volume of transactions. This means small businesses cannot afford it
Steep learning curve
Avalara pricing
Many Avalara products use volume-based pricing models designed to scale with your business. 
Quick Read: 10 Best ERP Software
Zycus is a source-to-pay procurement software solution that offers a range of solutions designed to help businesses streamline their procurement processes and achieve greater efficiency and cost savings. 
It offers solutions for spend analysis, supplier management, contract management, e-sourcing, e-procurement, and invoice management. Their solutions are used by businesses of all sizes, from small and medium-sized enterprises to large multinational corporations.

Features
Spend analysis
Supplier management
Contract management
E-sourcing
E-procurement
Invoice management
Customizable workflows
Supplier onboarding
Supplier risk management
Pros and cons of Zycus
Pros
Comprehensive suite of procurement solutions
Highly configurable
Cons
According to some users, Zycus' invoicing solution can be complex and requires significant training and expertise to effectively use it.
The pricing is on the higher side, this means smaller organizations will not be able to afford them
Zycus pricing
Check out their website for pricing details 
Quick Read: 9 Best Vendor Payment Management Software
Coupa is a cloud-based spend management platform that helps businesses control their spending and streamline their procurement processes. What's more, with Coupa, you can automate purchasing, invoicing, and expense management, gain real-time visibility into your spending, and optimize your procurement decisions.
It offers a range of procurement solutions, including spend analysis, supplier management, contract management, e-sourcing, e-procurement, and invoice management. The platform also includes customizable workflows, supplier onboarding tools, and real-time data analytics to help you make informed procurement decisions. Additionally, Coupa provides mobile accessibility, so you can manage your procurement processes on-the-go.

Features
Invoice management
Spend analysis
Supplier management
Customizable workflows
Contract management
E-sourcing
E-procurement
Pros and cons of Coupa
Pros
Comes with a comprehensive features set
Easy user interface
Offers real-time data analytics
Comes with multiple integrations
Cons
It has a steep learning curve
Limited customizations
Coupa pricing 
Check out the official website for more pricing related data. 
Quick Read: 12 Best Invoicing Software
Comarch is a comprehensive software suite designed to support business operations in areas such as finance, accounting, and inventory management. It offers access to a range of tools and features that can help streamline your processes and improve your overall efficiency in your company.
With Comarch, you'll be able to manage your finances more effectively, with tools for managing invoices, payments, and expenses. You'll also be able to track your inventory, manage your supply chain, and access real-time data analytics to help inform your decision-making.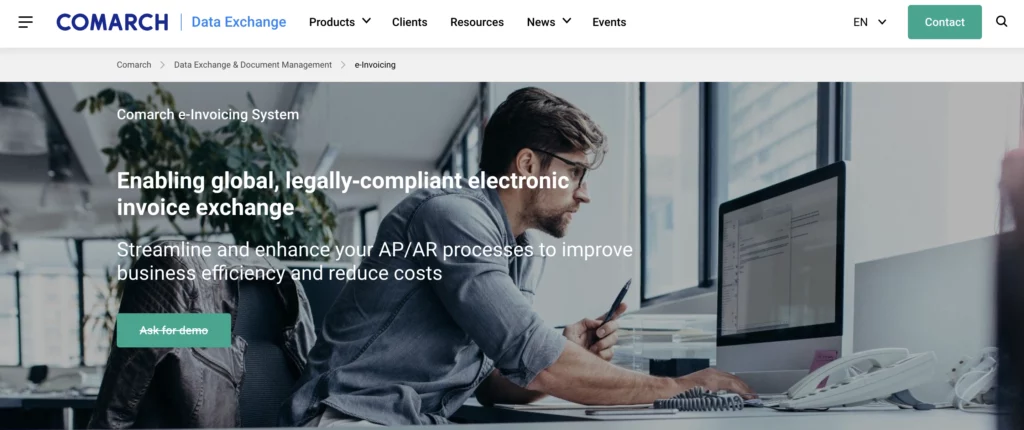 Features
E-commerce integration
Mobile accessibility
Customizable workflows
Finance management
Inventory management
Real-time data analytics
Multi-currency support
Security and compliance
Pros and cons of Comarch
Pros
Customizable workflows
Real-time data
Cons
Steep learning curve
Higher cost
Comarch Pricing
Check out their website for detailed pricing information
Quick Read: 10 Best Finance Software
Corcentric is an end-to-end procurement provider that helps businesses optimize their financial and operational performance. It offers a suite of software solutions and consulting services designed to streamline procurement, accounts payable, and accounts receivable processes. It helps businesses reduce manual tasks and errors, increase efficiency, and gain better visibility into their financial data.

Features 
Procurement automation
Accounts payable automation
Accounts receivable automation
Contract lifecycle management
E-invoicing and payments
Working capital management
Data analytics and reporting
Pros and cons of Corcentric
Pros
Customizable solutions tailored to meet each business's unique needs
Streamlined procurement, accounts payable, and accounts receivable processes
Improved efficiency and reduced manual tasks and errors
Advanced data analytics and reporting capabilities
Cons
Difficulties in integration and implementation
Corcentric pricing
Contact the Corcentric sales team for detailed pricing. 
Quick Read: 10 Best Accounts Payable (AP) Software
What is e-invoicing?
E-invoicing, or electronic invoicing, is the practice of sending and receiving invoices electronically rather than on paper. It's a digital alternative to traditional invoicing methods that can help businesses streamline their invoicing processes and save time and money.
What is e-invoicing under GST?
E-invoicing is a system of invoicing that has gained popularity in recent times. It is an electronic way of generating invoices and sharing them with relevant parties. Under the GST (Goods and Services Tax) regime, the government of India introduced e-invoicing to enhance tax compliance and ease of doing business.
Previously, on September 20, 2019, the GST Council declared that e-invoicing would be required for B2B transactions for companies with a yearly turnover of Rs 500 crores or more starting from October 1, 2020. Later, this requirement was extended to companies with an annual turnover of Rs 100 crore or more, effective from January 1, 2021. Currently, all businesses with a yearly turnover of Rs 10 crore or more are mandated to generate e-invoices for their B2B transactions.
E-invoicing under GST is a structured system that generates and validates invoices in a standardized format, and it is integrated with the GST Network (GSTN) portal.
Read More: Everything You Need to Know About E-Invoicing Under GST
What is the difference between traditional invoices and e-invoices?
An invoice is a document that lists the products or services provided by a business and the amount due for those products or services. Traditionally, invoices are created on paper and sent through mail, email, or fax. However, with the development in technology, businesses have shifted to e-invoicing. It is the process of sending and receiving invoices electronically over the internet.
The key difference between traditional invoices and e-invoices is the mode of delivery. Traditional invoices are sent through physical mail, while e-invoices are transmitted through the internet. It automates the process of invoice creation, delivery, and payment, saving businesses time and resources.
E-invoicing reduces the risk of errors and fraudulent activities, and improves transparency in the invoicing process.
Suggested Read: Difference Between Invoice and Bill
Features of e-invoicing software and pain points they solve
To make your accounts payable process more efficient, it is crucial to select an e-invoicing software that can effectively address the challenges you face.
1. Accounting integration 
A crucial feature to consider when selecting e-invoicing software is its integration capability with your existing accounting system. For your accounts payable department to achieve its goals collaboration with the accounting department is vital. Accounts payable handles invoice processing, while accounting utilizes the data generated by AP operations to provide insights into your business finances.
Without integration between your AP software and accounting tools, managing your bookkeeping effectively will be challenging. The ability to share data between departments and tools is critical to ensure accurate financial reporting and forecasting. Therefore, it's important to choose an e-invoicing software that seamlessly integrates with your accounting software stack.
2. Invoice archiving 
The accounts payable process starts when a supplier sends an invoice for payment. To process these invoices, your AP team must categorize them and collect supporting documents, including purchase orders and delivery notes, to verify and file them for payment. Without tracking this paper trail, your team could waste time searching for old documents, causing delayed payments and late fees.
To solve this problem, invoice archiving stores these documents and provides automatic access to the information they contain. By eliminating this issue, your payables team can process invoices more efficiently, allowing for early payment discounts to be utilized.
3. Compliance 
Ensuring the security and compliance of your supplier and customer data is crucial when choosing an electronic invoicing software. This includes storing accounts payable data for the minimum period mandated by financial authorities, collecting signatures through a secure and compliant protocol, and managing supplier data through a vetted security protocol.
An ideal e-invoicing solution should offer features such as secure and compliant digital signatures, proper storage of invoices, and adherence to applicable regulations. Even if an invoicing tool has advanced features, failing to comply with regulations could result in legal trouble. Therefore, it's important to prioritize compliance when selecting an electronic invoicing software.
4. Reporting and auditing 
To analyze your accounts payable process, you need an electronic invoicing software with extensive reporting tools. With proper reporting, you can visualize your accounts payable data and identify which supplier relationships have been the most helpful and where your budget dollars have been going. This helps you determine what's working and what's not, allowing you to make changes to improve your AP process.
When selecting an e-invoicing solution, ensure it offers robust analytics and auditing to help you interpret your accounts payable data. Having all your data presented on a single page allows stakeholders to easily visualize how it connects and make informed decisions to improve your AP process. By utilizing an electronic invoicing software with reporting tools, you can achieve a streamlined and efficient accounts payable process.
5. Tax compliance 
It's usually more convenient to keep track of your tax obligations at the point of sale instead of waiting until tax season to calculate how much you owe. When considering an electronic invoicing software, make sure it includes features to help you accurately allocate and track your tax burden.
For example, some states require the collection of sales tax from customers at the point of sale. Failing to do so could result in tax evasion charges. Therefore, any electronic invoicing software you choose should be fully tax compliant to ensure you're in compliance with the law.
Benefits of e-invoicing software 
Let's glance through some of the benefits of using e-invoicing software: 
1. Save time and costs 
E-invoicing eliminates the cumbersome paper-based invoicing process, and frees up your employees from these tedious activities. This allows the company to focus on its core business instead of complex support processes, such as accounting. Recipients benefit from automated invoice data transfer, which eliminates manual invoice processing.
2. Reduce material costs
E-invoicing software helps in reducing the material costs associated with paper, printing, and enveloping.
3. Faster processing and faster payments 
Typically the payment periods for invoices begin after receiving receipt of the invoice. Since an electronically sent invoice is immediately available to the recipient payments can be made in a timely manner.
4. Reduction of errors
The automation of invoicing processes has helped in eliminating the manual errors that are committed while inputting the data.
5. Simplification of archiving 
Companies must comply with legal regulations and store invoices for future tax audits. Storing paper invoices long-term can be risky due to potential damage and loss. Electronic invoicing enables easy integration into electronic archiving systems with secure backups and data mirroring
6. Access e-invoice from anywhere 
Thanks to the internet, e-invoices can be accessed from anywhere, anytime. And you can send them while on the go and access via any web browser.
Quick Read: 9 Best Vendor Payment Management Software
Challenges in implementing e-invoicing software
Here are some of the challenges you might encounter while implementing e-invoicing software in your company: 
1. No compelling use case
Implement an e-invoicing software only when there's a compelling business use case in your organization. Before you pick a solution ensure you calculate the expected costs, ROI (Return On Investment), payback time and calculate your current costs for invoice processing.
You don't want to implement it just for the sake of it, instead only choose an e-invoicing software when it's absolutely necessary.
2. No clear plan
Having a solid plan is crucial for success. Without a clear plan in place, it can be difficult for everyone involved to know where to start. To create a workable plan, it's important to first identify several key components such as:
Making an inventory
Analyzing the current situation of e-invoicing
Reading about the solutions available
3. Selecting wrong solution
Choosing the appropriate provider for your needs is of utmost significance as it avoids the inconvenience of frequently changing providers, which ultimately leads to a squandering of time and resources.
Thus, it is crucial to select a solution that is compatible with your goals and has a long-lasting effect. The solution should integrate smoothly with your existing operations and be user-friendly for your business associates to implement.
4. Complications with onboarding
In addition to the challenges of onboarding trading partners who are not yet equipped to send or receive e-invoices, there can also be issues with those who already have their own e-invoicing solution.
This aspect is often disregarded as most trading partners are typically small to medium-sized businesses without e-invoicing capabilities. Nevertheless, it is important to recognize that difficulties can arise with larger partners as well.
5. Not convincing internal changes of team 
Aside from the task of bringing trading partners onboard, it is crucial to ensure that all internal teams are also ready and willing to embrace the change. This involves getting your IT team, accounting team, EDI team, and other stakeholders within the organization accustomed to a new process, which requires a significant shift in their usual behavior.
Consequently, it is reasonable to anticipate resistance, as human beings tend to be resistant to change by default.
Is invoicing software safe?
Invoicing software is safe to use as long as it is from a reputable provider and necessary precautions are taken. The primary concerns are the risk of cyber threats and the potential for human error or fraud. To minimize these risks, it is recommended to use software that is encrypted, secured with reliable firewalls and antivirus software, and kept up-to-date with the latest security patches.
Why choose Happay invoicing software?
Happay invoicing software is a cloud-based solution that simplifies the entire invoicing process. It allows businesses to create customized invoices, track payment status in real-time, and set up automated payment reminders.
The software integrates with various payment gateways, enabling businesses to accept payments through multiple channels. Additionally, it provides expense management and financial transaction tracking capabilities. Happay invoicing software is a user-friendly and comprehensive tool that streamlines financial management processes for businesses.
Suggested Read: 10 Best Expense Management Software
FAQs
1. Which software is best for e-invoice?
There are several e-invoicing software options available, and the best one for you will depend on your specific business needs and requirements. Before zeroing in on an e-invoicing system read up on the options available in the market.
2. What is the price of tally e-invoice software?
Tally.ERP 9 is an accounting software that offers e-invoicing capabilities, and its pricing depends on the specific version and features you require. 

Tally.ERP 9 Silver, which is the basic version, is priced at around $630 for a single user. The Gold version, which supports multi-user access, is priced at around $1,890.
3. What does an e-invoice software do?
An e-invoice software is a tool that enables businesses to create, manage, and send invoices (B2B invoices) electronically. It replaces the traditional paper-based invoice process, making invoicing faster, more efficient, and more secure.
4. What is the difference between e-invoice software and other billing software?
E-invoice software is specifically designed to manage the invoicing process electronically, while other software may have broader functions and features. 
5. Is it legal to use e-invoice software?
Yes, using e-invoice software is legal in most countries around the world. In fact, many governments are actively promoting e-invoicing as a way to reduce the environmental impact of paper-based invoicing and to streamline financial processes for businesses. What's more most of theses e-invoice generation and e-invoice portals offers the best data security.