Modern businesses rely on external vendors for various services and products. Their services are crucial to an organization's day-to-day operation, making them pivotal in any company's success.
A Vendor Management System (VMS) is a software platform that enables companies to efficiently manage vendor relationships, from initial onboarding to ongoing performance tracking and payment processing.
In this article, we will explore the key benefits of implementing a VMS, its features, and best practices for selecting and implementing a VMS tailored to your organization's unique needs.
What is vendor management system?
A vendor management system (VMS) is a software platform that helps organizations manage vendor relationships more efficiently. It centralizes all vendor-related information, helps businesses onboard new vendors, manages their performance, and makes timely payments.
A Vendor onboarding process, contract management, purchase order (PO) management, invoice processing, and reporting are critical features of a vendor management system. Any vendor management platform can automate several manual tasks, helping companies reduce human error and save substantial time.
With a vendor management system, organizations are better equipped to control costs and enhance the efficiency and productivity of vendor management workflows, finance, or admin teams.
Benefits of a vendor management system in your organization
A vendor management system rolls out several benefits for an organization, such as:
Centralizes all vendor information:  To streamline the process, a VMS centralizes all vendor-related activities, including vendor onboarding, contract management, performance tracking, and payment processing.
Increases efficiency:  Automation powered by a VMS saves a massive chunk of the team's time managing administrative tasks manually.  
Save costs: A VMS enables organizations to negotiate better pricing and contract terms with vendors, identify cost-saving opportunities, and reduce the risk of overpayments or duplicate payments. 
Ensure compliance: Compliance with regulatory requirements and internal policies is vital to building secure businesses with solid principles. A VMS enforces compliance by storing and tracking vendor contracts and compliance-related documents.
Improves vendor performance: A VMS tracks vendor performance metrics such as delivery times, quality of goods or services, and customer service responsiveness. With spend analytics, organizations can identify top-performing vendors and take corrective action for underperforming vendors, ultimately improving overall vendor performance.
Features of a vendor management system
Below are some of the key features of a Vendor management system.
Vendor onboarding: VMS adds vendors to the system with their address details and provides an easy way to link invoices and purchase orders. This feature allows for better cost-benefit analysis and creates a comprehensive vendor network.
Data analysis: VMS provides exporting capabilities for transaction data, enabling ad-hoc reporting and analysis. This feature allows for easy data backup, error detection, and spending pattern analysis through the dashboard.
Employee engagement: VMS helps improve employee engagement and productivity by shifting their focus from redundant data entry tasks to more value-added activities like data analysis, product ideation, and vendor outreach.
Strategy: VMS offers predictive analytics, helping finance departments and team managers allocate vendor budgets effectively. This feature supports the strategic implementation of spending policies and approval tiers, preventing impulsive spending or poor vendor decisions.
Integrations: VMS can be integrated with popular accounting software like Xero, Quickbooks, and Netsuite, enabling seamless data transfer for accounting purposes and reducing the need for manual data entry.
Risk assessment and compliance: VMS enables quick error correction and risk assessment by making vendor data readily available. You can minimize fraudulent and repeat transactions to streamline your auditing processes and make compliance management more efficient.
Payment automation: VMS allows organizations to set up automatic recurring payments for vendors, reducing the burden of manual labor and ensuring timely payments. Payments can be linked to budgets and approval policies to control expenditures.
Vendor management system process flow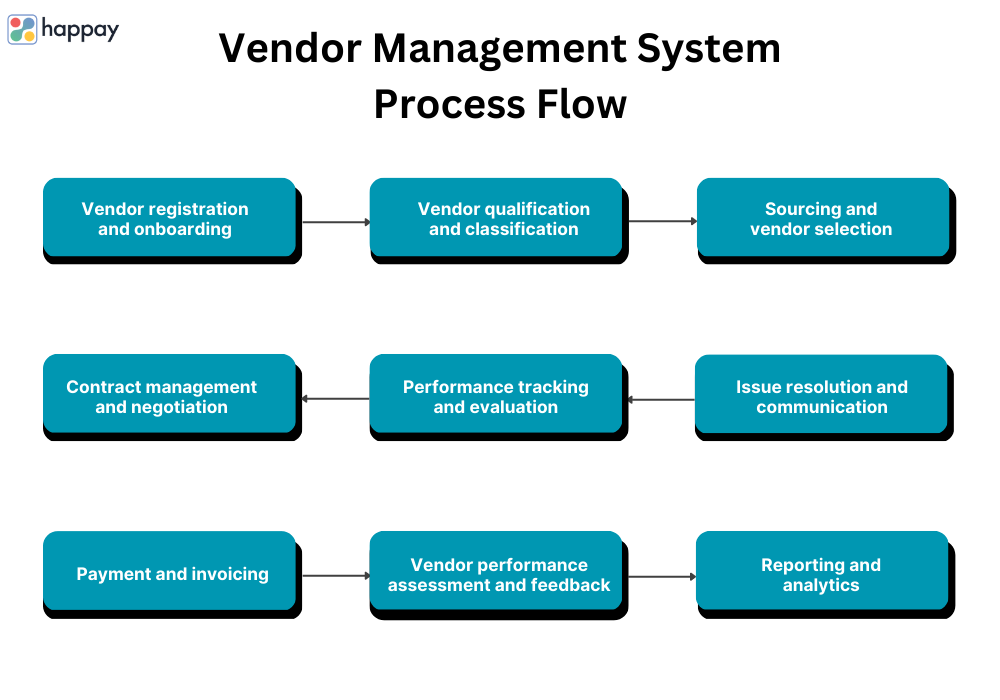 How does a vendor management system work?
The workflow of a vendor management system is unique to organizations based on their internal processes. Below are a few standard steps that are the same in all organizations.
1. Vendor registration and onboarding
Vendors sign up or are invited to join the VMS platform. They're encouraged to complete their profiles, providing relevant information about their services, rates, experience, certifications, and contact details.
Depending on the organization's requirements, vendors may undergo a background check, verification, or certification process in this step.
2. Vendor qualification and classification
Vendors are classified based on service offerings, locations, performance metrics, or other relevant factors. You may assign a risk rating or performance score based on historical performance, compliance, or financial stability. You can organize them into tiers or preferred supplier lists in this step.
3. Sourcing and vendor selection
Project managers or procurement teams create job requisitions or requests for proposals (RFPs) in the VMS. The system matches suitable vendors based on specified requirements, or procurement teams can manually search for and select vendors.
Next, invite vendors to submit proposals, bids, or quotes for the requested service. Procurement processes evaluate and compare vendor submissions and select the best-fit vendor for the project.
4. Contract management and negotiation
Selected vendors and the organization negotiate contract terms, including the scope of work, timelines, deliverables, pricing, and payment terms. Contracts are drafted, reviewed, and executed within the VMS, ensuring you have a central repository for all vendor contracts.
You can also manage any necessary amendments, extensions, or renewals within the system.
5. Performance tracking and evaluation
Project managers or procurement teams track vendor performance against the contracted terms and deliverables. Vendors may be required to submit periodic progress reports, invoices, or proof of work.
The VMS system can monitor performance metrics, such as on-time delivery, quality, and adherence to budget.
6. Issue resolution and communication
Vendors and the organization can communicate and collaborate within the VMS platform, ensuring the organization has a centralized and transparent communication channel. Issues or disputes can be raised, addressed, and resolved within the system, helping to minimize disruptions and maintain a strong working supplier relationship.
7. Payment and invoicing
Vendors submit invoices through the VMS, which the organization then reviews and approves. Approved invoices are processed for payment, with relevant financial data recorded in the system for future reference and reporting. Vendor payment management software makes sure payments happen on time.
8. Vendor performance assessment and feedback
The organization assesses the vendor's performance upon project completion, providing feedback and ratings. Vendors can use this feedback to improve their services, while the organization can use it for future vendor selection decisions.
9. Reporting and analytics
The VMS platform allow organizations to generate reports and analyze vendor performance, expenses, contract compliance, and risk management data. This data can guide strategic decision-making, identify cost-saving opportunities, and optimize the organization's overall vendor management process.
This process flow may vary slightly depending on the specific VMS platform and the organization's requirements. However, the general stages of vendor management remain consistent.
5 TOP vendor management system
QuickBooks Online
Airbase
SAP Fieldglass
PRM360
Percoro
TOP vendor management system – Explained in Detail 
1. QuickBooks Online
QuickBooks Online is an accounting platform that makes managing vendors and their payments easier. It helps businesses to manage tax, invoices, GST calculations, the status of vendor contracts, and much more through a cloud-based application.
TOP features of QuickBooks Online
Below are some notable features of QuickBooks Online.
Inbuilt GST feature helps you ensure compliance effortlessly
Customized reports make it easier to know the present status of vendor contracts and payments and track progress in real time
Ability to add documentation to almost all transactions has proven beneficial for users to keep a trail of information to back every decision
Multiple-user mode allows more than one user to work on the system collaboratively
Recurring payments help to pay recurring invoices for utility bills and some vendor payments
Pros and cons of QuickBooks Online
| | |
| --- | --- |
| Pros | Cons |
| Invoices can be processed and paid instantly | No notifications are sent when invoices are paid. (G2) |
| Robust integrations with several financial tools | Syncs with major financial institutions only (G2) |
| Extremely user-friendly interface | Needs to be more consistent in training its support personnel. (G2) |
Pricing
QuickBooks Online offers custom pricing for your business's unique needs. Contact the Quickbooks team to get a quote for your vendor management needs.
Quick Read: 12 Best Invoicing Software
2. Airbase
Airbase brings approvals, accounting, and payments together to help you quickly manage vendor payments. The platform offers a guided procurement experience and increases the efficiency of your vendor management process.
Top features of Airbase
Below are some notable features of the Airbase platform.
Quick transaction update shows payment transactions when made, unlike other systems that take days to populate them on the system
On-demand reimbursements make it faster to upload and scan receipts or invoices
Expense tracking automatically captures and categorizes all expenses, making it easier to reconcile accounts
Integrations with multiple payment options add convenience to day-to-day operations
Virtual cards, especially recurring ones, are easy to generate for vendor payments
Pros and cons of Airbase
| | |
| --- | --- |
| Pros | Cons |
| Easy to use and flexible tool | iPhone app tends to be finicky (G2) |
| Single sign-on (SSO) makes deployment and administration easier | Might face some issues in getting SSO up and running (G2) |
| Intuitive and powerful interface | Can't change a payment method once a one-time virtual card is selected (G2) |
Pricing
Airbase offers three plans, Standard, Premium, and Enterprise, suitable for companies with varying headcounts. You can contact the team for a quote based on your requirements from the systems in the vendor management process.
Quick Read: 11 Best Billing Software
3. SAP Fieldglass
SAP Fieldglass provides a cloud-based vendor management system to manage the contingent workforce and procurement efficiently. It helps users get more visibility into vendor payments, create reports and dashboards, and effectively track vendor activities.
Top features of SAP Fieldglass
Below are some notable features of SAP Fieldglass.
Centralized information on all vendors makes tracking their progress and effectively handling payouts easier
Configurations help users to customize functionalities as per their requirements
Access controls allow administrators to set robust security controls over who can access information
Reporting capabilities enable users to convey rich insights using several available fields
Pros and cons of SAP Fieldglass
| | |
| --- | --- |
| Pros | Cons |
| Centralizes all vendor information | Needs functionality to track what company assets vendors have, like PCs, monitors, etc. (G2) |
| Strong access features and security mechanism | Additional reports are not on demand (G2) |
| Well laid out and easy to navigate | The user interface is a little confusing (G2) |
Pricing
SAP Fieldglass pricing is available on request. Every organization has unique needs, and SAP offers competitive pricing based on those. Contact the SAP Fieldglass team to get a free quote.
Quick Read: 10 Best Expense Management Software
4. PRM360
PRM360 caters to organizations' procure-to-pay requirements while managing all individual processes involved in vendor management. The software automates quotations, validates them, and facilitates online bidding. It uses approval workflows to expedite invoice payments, making the process much faster and more efficient.
Top features of PRM360
Below are some notable features of PRM360.
Catalog and contract management make it easier to issue orders to vendors
Vendor portals enable vendors to participate in auctions and invoice submissions
Invoice management allows invoice processing in ERP post-validation and approval
Workflow management configures workflows in the entire vendor management lifecycle
Pros and cons of PRM360
| | |
| --- | --- |
| Pros | Cons |
| Vendor bidding process is well organized | UI design needs improvement (G2) |
| Simple user interface and easy-to-adapt system | Needs more dashboards and analytics (G2) |
| Highly customizable platform | Needs improvement in loading performance of the application on slow internet (G2) |
Pricing
PRM360 pricing is available on request. Contact the PRM360 team for a quote based on your unique requirements from a vendor management system.
Quick Read: TOP 10 Procurement Software
5. Percoro
Percoro offers a procurement and vendor management solution that automates error-prone manual work in purchasing, approvals, and vendor payments. The software enables businesses to reduce expenses and manage vendors efficiently.
Top features of Percoro
Below are some notable features of Percoro.
Purchase orders are generated by Percoro and automatically sent to suppliers.
Approval workflows expedite the approval process and make it 90% faster.
Reporting provides accurate information to ensure optimal financial and operational decisions.
Integrations sync data with your ERP or accounting systems.
Pros and cons of Percoro
| | |
| --- | --- |
| Pros | Cons |
| Great user experience | Expense module isn't integrated with QuickBooks (G2) |
| Easy to use and intuitive functionalities | There is a risk of errors with a growing system (G2) |
| Super helpful support team | OCR doesn't support Hebrew (G2) |
Pricing
Percoro offers two plans, Small and Large. Small is suitable for less than 20 users and is priced at $35 per user per month. The large plan is suitable for more than 20 users. Its pricing is available on request. You can get in touch with Percoro to get a quote.
Quick Read: 10 Best Spend Management Software
How to choose the right vendor management system?
When selecting vendor management software, it's important to consider several key factors. These include essential features such as vendor onboarding, contract management, purchase order management, invoice processing, performance tracking, and reporting. Integration is also crucial for smooth data flow between systems, and customization options should be available to meet specific needs like custom workflows, reports, and notifications.
Scalability is necessary to accommodate an organization's evolving requirements, like vendor count or transaction volume. Security measures are essential for safeguarding sensitive vendor data and ensuring compliance with data privacy regulations.
The VMS solution provider should offer reliable and responsive vendor support, including technical assistance and training. Lastly, the cost of the VMS should align with your organization's budget and pricing preferences. Consider the subscription fees, implementation costs, and ongoing maintenance expenses while comparing VMS vendors.
How does Happay help in the vendor management system?
Happay is a business expense management solution that can streamline financial operations, including vendor management. While it might not be a dedicated vendor management system, it offers several features to help businesses manage their vendor relationships more efficiently.
Some of these features include:
Digital payments: Happay allows businesses to make quick and secure digital payments to vendors, ensuring timely and accurate settlements. This can help maintain a healthy relationship with vendors and avoid potential conflicts arising from late or incorrect payments.
Expense tracking and categorization: With Happay, businesses can track and categorize their expenses by vendor, which makes it easy to monitor spending patterns and identify potential areas for cost reduction or negotiation. 
Customizable approval workflows: Happay enables businesses to create and implement customizable approval workflows, ensuring that the appropriate personnel authorizes vendor-related expenses. It reduces the risk of fraudulent or unnecessary payments and maintains proper control over vendor spending.
Integration with Accounting and ERP systems: Happay can be easily integrated with popular accounting and ERP systems, allowing businesses to automate updating vendor records and financial transactions. It maintains accurate records and simplifies the reconciliation process end-to-end.
Reporting and analytics: Happay's reporting and analytics features can provide businesses with valuable insights into their vendor expenses, such as top vendors by spend, average payment cycles, and more. These insights can help businesses make informed decisions about their vendor relationships and identify opportunities for improvement.
Bottom line
A VMS can be an essential asset for businesses aiming to enhance their vendor management operations. A VMS can facilitate vendor onboarding, manage purchase orders, process invoices, and generate reports, among other vital functions.
Moreover, it can give organizations increased visibility and control over vendor spending, contributing to cost reductions and fostering stronger vendor relationships. When selecting a VMS, evaluating factors such as features, integration capabilities, customization options, scalability, security, vendor assistance, user experience, and pricing is crucial.
Organizations can refine their vendor management procedures and accomplish their strategic objectives by meticulously choosing and deploying a VMS that aligns with their unique requirements.
FAQ's
1. What are the types of vendor management systems?

There are two main categories of Vendor Management Systems (VMS):

1. Internal VMS: An Internal VMS is a custom-built system developed and maintained by the organization. In this model, the organization fully controls the system's development, customization, and upkeep. 

2. External VMS: An External VMS is a third-party system supplied by a vendor or service provider. In this arrangement, the organization delegates the management of its vendor program to a VMS provider. The VMS provider takes responsibility for the system's development, customization, and maintenance, while the organization oversees the vendor relationships.
2. What are some vendor management system examples?

There are many examples of vendor management systems (VMS) available in the market, and some of the popular ones include QuickBooks Online, Airbase, SAP Fieldglass, PRM360, and Percoro. 

3. What are the vendor management processes?
Vendor management processes are a series of steps that organizations use to optimize their relationships with suppliers, service providers, and contingent labor. It includes onboarding, verification, sourcing, performance tracking, payments, performance assessment, and reporting.
4. What is the role of vendor management?
The role of vendor management is to effectively manage and optimize an organization's relationships with its external suppliers, service providers, and contingent labor force. The primary objectives of vendor management are to ensure high-quality products and services, reduce costs, mitigate vendor risks, and maintain a competitive edge.
5. How do I set up a vendor management system?

Setting up a Vendor Management System (VMS) involves several steps to help your organization streamline its vendor management processes. It includes several business processes like defining objectives, assessing the organization's needs, researching, developing an implementation plan, establishing roles and responsibilities, configuring VMS, migrating existing vendor data, training your team, onboarding new vendors, and monitoring and optimizing the system.
6. What are the three pillars of vendor management?

The three pillars of vendor management are relationship management, performance measurement and management, and risk management. Relationship management involves building strong, collaborative relationships with vendors to foster great partnerships. Performance measurement and management focuses on monitoring, evaluating, and improving vendor performance based on predefined metrics and key performance indicators (KPIs). Risk management involves identifying, assessing, and mitigating risks associated with vendor relationships.