What is spend analytics?
Procurement is an integral part of any business. Unless you understand it well, you cannot hope to improve it; this is where spend analytics comes in.
Spend analytics in procurement is about understanding the procurement spend process, collecting, processing, and studying the procurement data to make business sense.
The goal is to lower costs, improve supplier relationships, and increase business efficiencies.
An enormous amount of data extraction, analysis, and presentation gives you an in-depth and intuitive insight into the working of your business. Some of the things you must understand before we proceed.
Expense data from numerous vendor/supplier contracts (goods and services purchased for the business) is called spend data.
Spend analytics software uses spend data to arrive at visual and meaningful information presented in the form of charts, analyses, and diagrams.
Spend management is the collection and management of the spend data.
The procurement process is a critical part of businesses, and spend analytics can offer in-depth analysis or predictions depending on your requirement.
Suggested Read: What is Spend Analysis?
Why is spend analytics important?
Spend analytics helps organizations convert purchase-related information and data into cost-saving opportunities. The primary goal is to understand your expenses and spend using patterns derived from data generated from transactions.
Using this, the analysis gives you KPIs that can help you to strategize better. It offers deeper insights into the business's purchase trends, supply management, and procurement process. Such analyses allow you to measure and benchmark the flows and progress against peers and your competition.
Differences between spend analytics and spend analysis
| | |
| --- | --- |
| Spend Analytics | Spend Analysis |
| Analytics is the system that collects, processes, and analyses the procurement data of a business. | The analysis is a term that is used interchangeably with analytics. The sole difference is the emphasis on particular research, use case, or a specific project |
| The main goal is to optimize the procurement process as purchase data is analyzed intricately (by studying buying patterns). | The goal is to identify areas in the procurement process to lower costs, improve sourcing strategies, and decrease expenses. |
| Invoices are the primary data source. However, other documents available in business databases are also good data sources. | The spend data sources could be ERP systems, accounting systems, HRMS, and so on. |
Implementing spending analytics
Considering the buzz analytics is getting in the business world, businesses may want to jump on the bandwagon sooner rather than later. The process of implementing spend analysis software must be well-researched, and an involved one. To rush into it would mean you do not understand and use the solution's full capabilities.
A successful implementation requires that you have an objective in mind, gather the requirements from all the stakeholders in the business, and plot out the collaborations as you structure the implementation. It is essential to begin by understanding the end, which is the outcome of such an implementation.
To successfully analyze the procurement process, you must begin by gathering and processing historical data. Suppliers, products, quantities or units, prices, and payment terms data offer a peek at past performance while providing a basis for future performance.
Some things that you must address at this stage
Product/service
Number of times an order is placed
Quantity of product purchased
List of suppliers, agreements, and payments
Quality and time for delivery of products
Comparison of data over the years
Also, Read: A Guide to Manage and Reduce Business Spending
Benefits of spend analytics
The procurement function in a business has always been important. Their quick responses to urgent needs of the company, reviewing and prioritising spending, and juggling complicated supply chains to ensure a regular supply of products, have yielded significant results. Spend analytics or the spend analysis process, acts as the perfect support system for improving efficiencies in the procurement function of any business.
It addresses several key questions that organisations must answer.
Does the business have visibility over its spending?
Can you identify business risks and opportunities?
Is the business's infrastructure capable of tracking initiatives to mitigate risks while leveraging opportunities?
How effective is your procurement process?
Here are some of the benefits that spend analytics brings to your business.
1. Visibility
Spend visibility is very important for stakeholders of a business, especially for financial leaders. This allows you to make smarter decisions based on real-time data. Spend analytics brings a certain level of transparency into business expenses and will enable decision-makers to make more confident decisions for the business.
As a CFO, access to purchasing patterns in visually appealing charts or reports is invaluable. Most spend analytical tools are custom designed to suit business requirements and are extensive enough to offer dynamic visualisations, filters, and other drill-downs that allow even the minutest scrutiny. With such sharp insights, your finance team can genuinely say goodbye to manually generated reports.
2. Leveraging opportunities
Sourcing managers or those in control of the procurement process always look for tools to help them meet their cost reduction goals. A deep dive into the data gives sharp insights into the existing methods, suppliers, and contracts. Such scrutiny can help recognise and take advantage of opportunities that can help improve the business's productivity.
So, the spend analytics that focuses on procurement and purchasing data gives valuable insights that allow you to lower costs, negotiate better terms, consolidate suppliers, and fine-tune contracts.
3. Managing and mitigating risk
Suppliers are an integral part of any business, and their credibility and financial performance directly impact your business. Employing spend analytics to study your vendors ensures that you are taking steps to mitigate and control risk. Based on their performance, financial leaders can opt for better supplier management techniques or come up with alternate plans.
Further, understanding your vendors means that you can nurture strategic relationships to gain from better pricing and payment terms.
4. Streamlined and effective workflows
Well-structured workflows lead to better standards across the business. In the case of several business units, an insightful yet straightforward comparison between them can lead to better strategies.
Strong spend analytics can also help you assess your business's performance in the market. Human errors will be a thing of the past as superior documentation, streamlined processes, and insightful real-time data becomes a benchmark for your business.
Quick Read: Expense Management Workflow
Spend analytics process
The process of initiating and completing spend analytics is like any other process. The following six steps can help give you an accurate and detailed spend analysis of the procurement process.
Identify Sources of Data
Consolidate Data in a Centralised Location
Make your Data Error-free
Group and Categorise by Supplier
Analyze
Repeat Periodically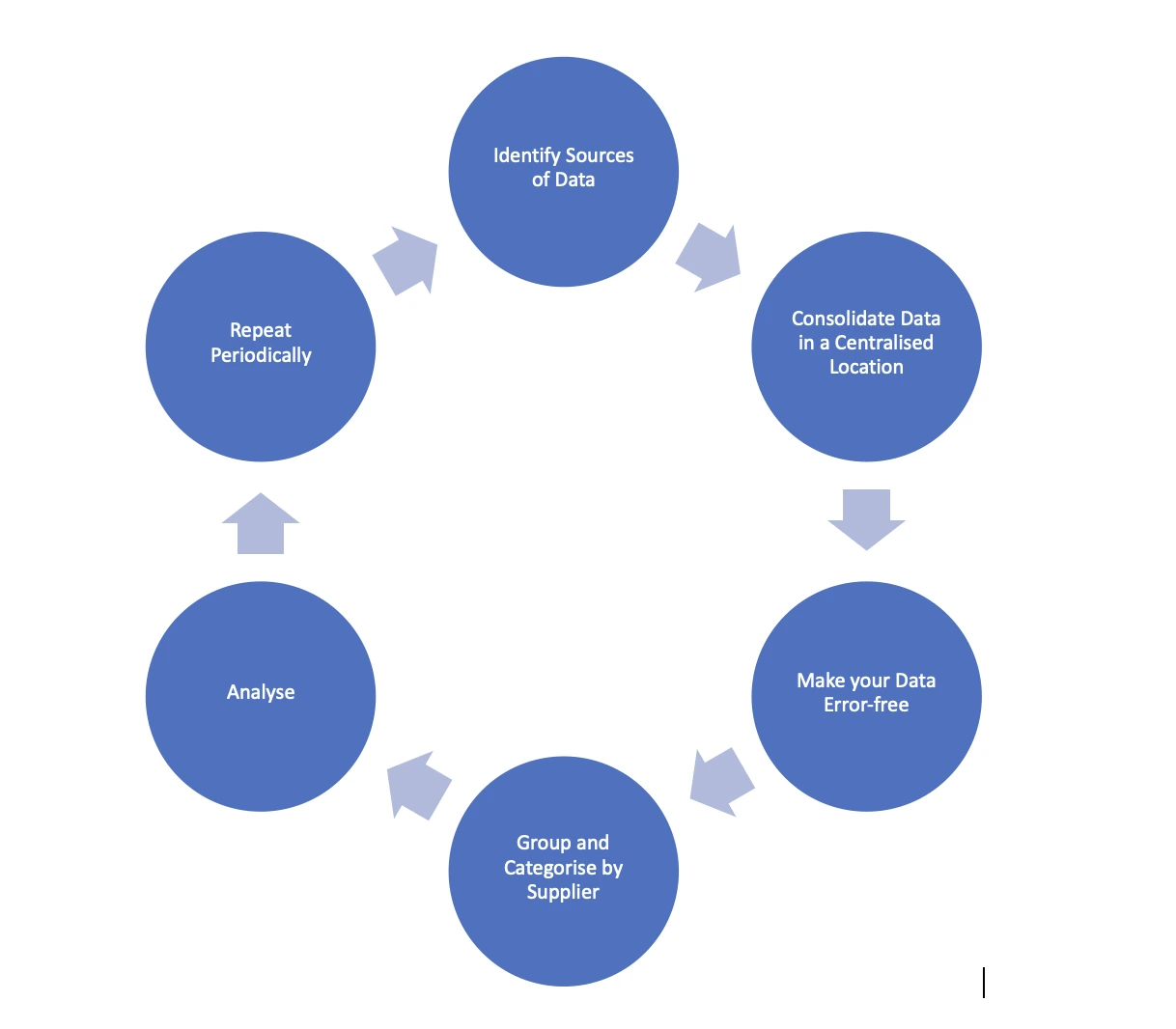 Spend analytics dashboards
Dashboards are interactive platforms that give users an intelligent, structured, and customized view of information. In the case of spend analytics, it provides an interactive and informative view of the procurement process of your business. These platforms could be web-based or linked to mobile phones so that access is quick and easy.
Some of the features that make these dashboards an exceptional ally for the CFOs and the finance teams are:
Dashboards offer the convenience of managing and accessing data quickly.
Interactive visualizations are a crucial advantage when it comes to using dashboards.
Unique reports, advanced and customized searches, and filters offer the convenience of instantly accessing precisely what you need.
Recommended Read: How to Form a Successful Procurement Plan?
Data you can obtain from the spend analytics dashboard
The procurement spend analytics dashboard serves the purchase manager as it helps to track, measure, and enhance the purchasing process. The KPIs generated for this purpose include
The procurement reports that the dashboard is valuable across the business, for all stakeholders. The extremely interactive dashboard offers intelligent and actionable reports that allow you to view all the relevant data on a single platform.
Top KPIs for spend analytics
Key performance indicators or KPIs are standards or measurable standards of performance for a certain period, or for a specific objective. For spend analytics, KPIs may be defined in many ways as it is unique to each business. Different industries, sizes, annual growth or spend, geography, and numerous other factors will dictate the correct KPIs for your business.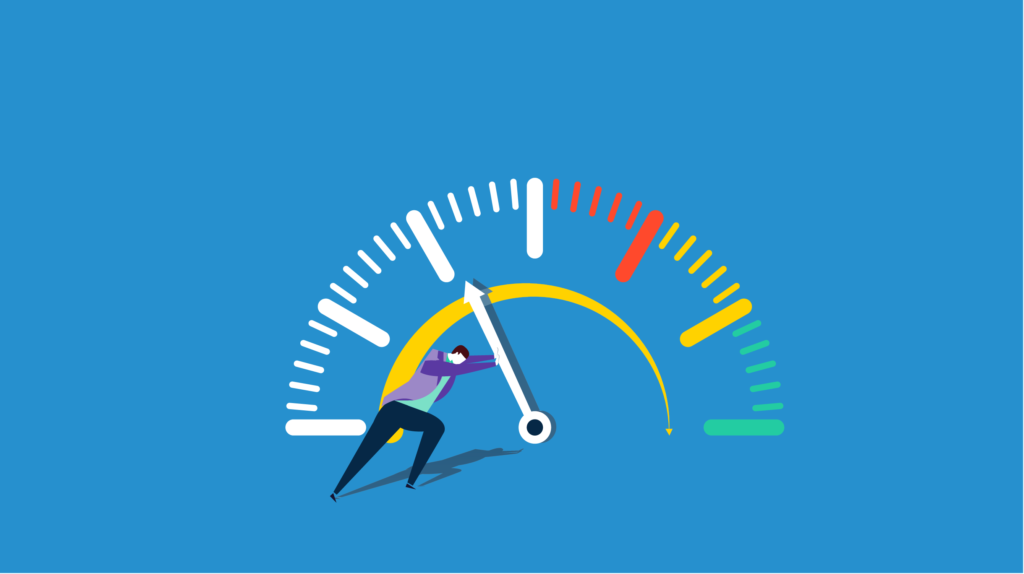 Image Credit: g2.com
However, here are some of the more common KPIs regarding procurement spend analytics.
Measuring savings – This can easily be accomplished by defining a goal for percentage savings for a certain period.
Lowering costs – The focus of this KPI must be to identify unnecessary expenses. Is it possible to discontinue the order of certain products and services (those that were previously ordered)?
Total Spend – This will measure the procurement spend percentage that forms a part of the total spend of your organization. This may be a little tricky to achieve unless you pay close attention to direct materials, indirect materials, or MRO (maintenance, repair, and operations).
Maverick Spend – When your business purchases goods or services from suppliers out-of-contract or a non-preferred vendor (may be due to several reasons such as non-availability of such products or services), you do not get the benefit of negotiated discounts. Therefore, this is an essential KPI for the procurement department.
Purchase Price Variance – This KPI measures the difference in price that you expect to pay and the actual cost of the products or services (at the time of purchase).
Contract Price, Compliance – This KPI monitors the contract price (whether the agreed-upon price is being maintained) on both the buyer and supplier sides.
Supplier Performance and Management – Supplier performance and management are both extensive categories. Several KPIs can be used to record and track the performance of the suppliers.
Suggested Read: What is Strategic Sourcing?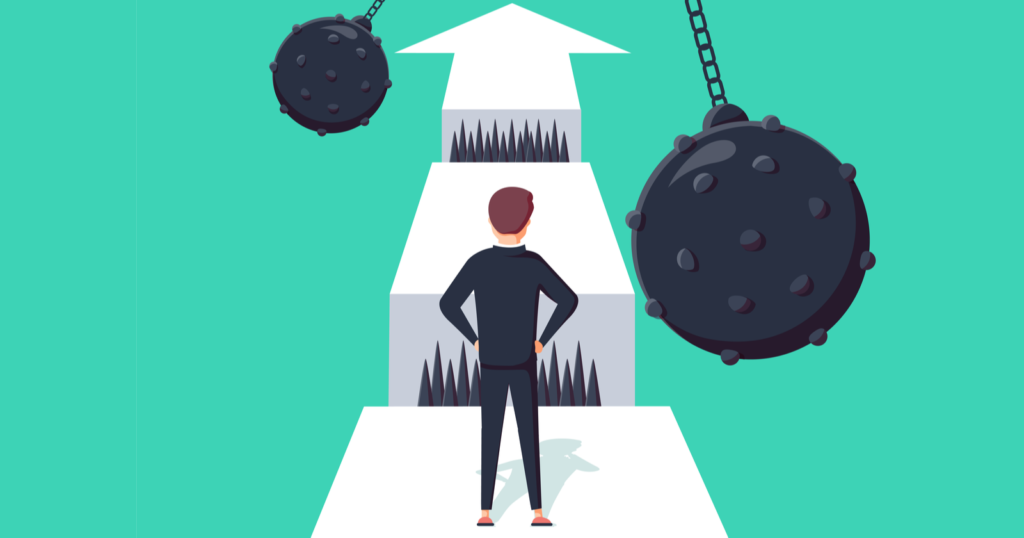 Image Credit: searchenginejournal.com
Spend analytics challenges for procurement teams
Spend analytics can play a very vital role for procurement teams. When implemented appropriately, it can offer a ton of savings in cost and efficiencies across the business. However, procurement teams can often face innumerable roadblocks in the process. Here are some of those.
1. Not equipped with the required resources
The successful implementation and use of spend analytics require some level of commitment from your business and its employees. These days, most spend analytics software is self-reliant, requiring little or no support. However, it is essential to have IT capabilities in-house. You must consider that your business may not have the capabilities to support the same.
2. Preparing the data
Gathering data for analysis forms the first stage of the spend analytics process. However, the next step is undoubtedly more critical. Refining and cleansing the data ensures that any inconsistencies or error in the data is resolved before the final analysis stage begins.
In this stage, manual processes may exacerbate the problem rather than fix it. So, if most of the processing in your business is manual, the challenge may be more significant.
3. The problem of automation
One of the disadvantages of digitization is that businesses tend to digitize based on the requirement. Unfortunately, these systems that help the various functionalities of your business do not talk to each other well (silos).
For spend analytics, this can cause significant problems. As the procurement teams gather data from various systems, roadblocks such as inconsistent or inaccurate data, usage of non-standard formats, errors, and non-cooperation from departments can cause delays. This may lead to erroneous spend analytics results.
4. Intimidation factor
The word analytics is always mentioned with a certain amount of apprehension. Technology can be pretty intimidating when you do not know how it works. This can present a challenge because even if the analytics is implemented, users may resist using them.
Also, Read: What is Expense Management?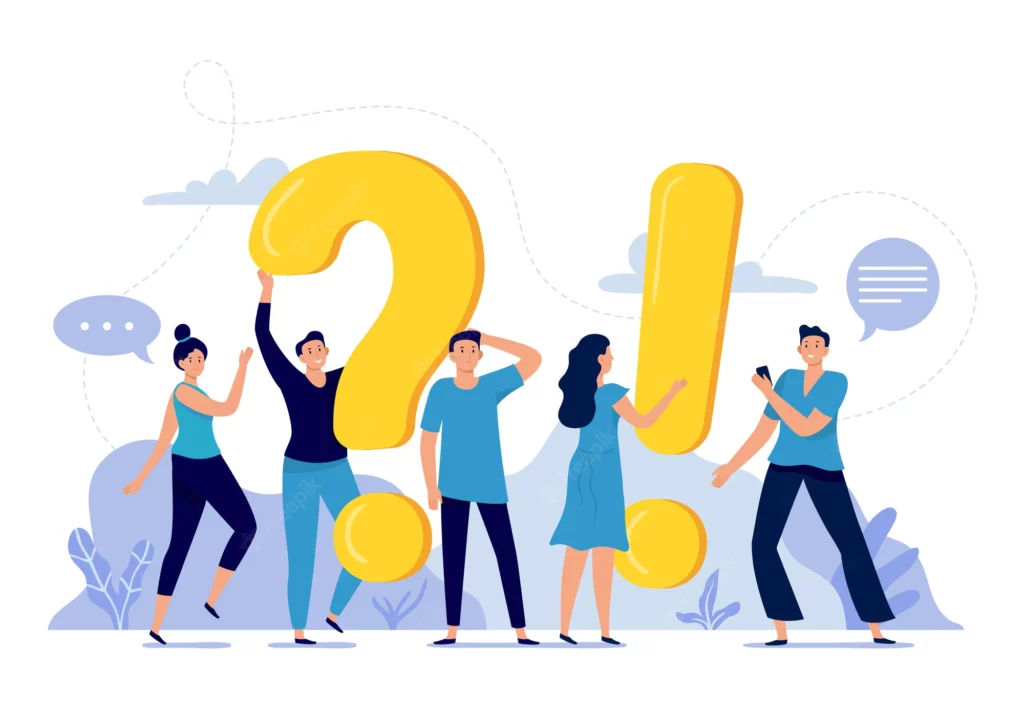 Image Credit: freepik.com
Right questions to ask in spend analytics
Customized automation always works the best because businesses have unique requirements. However, with spend analysis, there are a few basic questions that all analysts must ask.
Here are the right questions to ask.
What is your business purchasing and at what price?

Who are the main purchasers in your company?

Do you have details of your primary or main vendor?

Can you compare your spending over the years?
The main goal of such a process is to understand the flow of money through the organization.
Optimizing procurement spend analytics
Generally, spend analytics software is designed to do the grunt work. However, if the data is not entered or captured correctly, it can affect the final results too. Here's how to optimize the analysis.
Ensure the data sources are complete, accurate, and comprehensive (all possible sources).
You must collate all the data and extract it to a centralized location.
Data must be cleansed and made error-free
Ensure data is classified and there are no incomplete or missing fields.
Classify, organize, and categorize data by following a standard classification system.
Conclusion
Are you looking for a perfect way to solve the spend analysis conundrum? We at Happay can show you exactly how you can overcome this challenge. Call Happay and schedule a demo with us.
Spend analytics – FAQs
1. Why is spend analytics important in procurement?
Spend analytics offers visibility into the process of procurement. Your business can identify areas where the methods may improve or lower costs.
2. What are the four stages in procurement spend analytics?
The four processes in spend analytics are identification, collection and cleanse, categorisation, and analysis.
3. What is tail spend in procurement?
Tail spend refers to insignificant or one-off expenses in business. While the spend is only 20% of the total spend, it forms 80% of the transactions in the business.