Strategic sourcing is a vital discipline for organizations where procurement meets innovation. It has the power to transform supply chains into strategic powerhouses. In an era where rapid advancements are hallmarks of a reliable service provider, the significance of sourcing decisions cannot be overstated. The ability to optimize costs and drive efficiencies has made strategic procurement a game-changer.
This guide explores how strategic sourcing goes far beyond traditional cost-cutting measures. We'll also uncover sustainable practices that will elevate your strategic sourcing game. So, let's get started.
What is strategic sourcing?
Strategic sourcing is a disciplined approach to the procurement lifecycle, and it goes beyond buying goods or services. It involves a comprehensive strategy to evaluate and select suppliers delivering the best value to an organization. The strategic procurement method aligns decisions with broader business objectives to optimize costs, reduce risks, and drive long-term relationships.
For example, consider a retail company seeking to enhance its online presence and customer experience. Through strategic means of sourcing, they can evaluate potential e-commerce platform providers, keeping in mind functionality, scalability, and pricing. Strategic selection of a partner who aligns with their long-term growth strategy will help the company achieve a competitive edge.
Read More: Sourcing vs Procurement 
Importance of strategic sourcing
Strategic sourcing has become a cornerstone of modern procurement practices. Adopting a strategic approach to sourcing plans allows organizations to gain several benefits. Let's explore its significance in detail.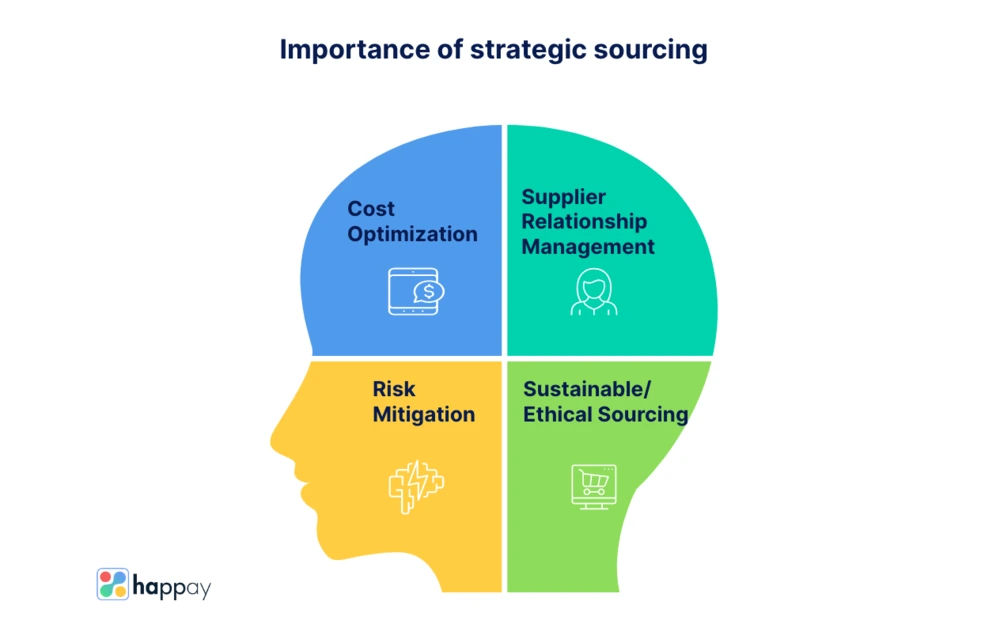 Cost optimization
A study revealed that top-performing companies achieve an average of 21% lower labor costs. Procurement automation and strategic decision-making are, without a doubt vital aspects of their operations. Organizations can reduce expenses and improve their bottom line by negotiating better purchase prices and identifying cost-saving opportunities.
Supplier relationship management
Strategic means of sourcing foster mutually beneficial relationships with suppliers. According to a survey by Deloitte, effective supplier collaboration can significantly contribute to cost reduction. Nurturing strong partnerships allows organizations to access innovation and reliable delivery. It leads to improved product quality and enhanced customer satisfaction.
Risk mitigation
Effective strategic sourcing mitigates supply chain risks and enhances resilience. The disruption caused by the COVID-19 pandemic served as a wake-up call for many organizations. A report by McKinsey revealed that 73% of companies experienced disruptions in their supplier market. Implementing strategic practices like diversifying suppliers and conducting thorough risk assessments allows organizations to minimize the impact of unforeseen events.
Sustainable and ethical sourcing
With increasing awareness and consumer demand for sustainability and ethical practices, strategic method of sourcing plays a pivotal role in ensuring responsible supply chain management. For example, furniture companies can resort to sourcing wood in compliant ways to contribute to a more sustainable future.
Here's a quick read on: Procurement KPIs Guide: Top 10 Metrics to Measure Your Success
How is strategic sourcing a game-changer for organizations?
Such methods are revolutionizing the way you approach and execute procurement. A strategic mindset allows organizations to unlock benefits that elevate their competitive advantage. Strategic means of sourcing enable organizations to optimize costs, drive significant savings, and enhance profitability. Furthermore, it empowers businesses to identify suppliers and get better purchasing power.
Sourcing strategically also fosters long-term supplier relationships. It protects against supply chain disruptions by forecasting risks and developing robust contingency plans. Embracing strategic methods of sourcing helps organizations navigate the dynamic business landscape and secure a pathway to long-term success.
Read more: Top 10 Procurement Solutions in 2023
Objectives of strategic sourcing
A set of well-defined objectives drives a perfect strategy for sourcing. Let's explore them in detail.
Getting value for money
The goal is to secure the best value for money while maintaining or improving quality. Organizations can analyze spending patterns, identify cost-saving opportunities, and leverage negotiation strategies. It helps them drive down expenses and enhance their financial performance. 
Forming mutually beneficial relationships
Strategic means of sourcing aim to nurture mutually beneficial relationships with suppliers. Building strong partnerships fosters collaboration and ensures a reliable supply chain process. Effective supplier relationship management enables organizations to tap into supplier expertise and enhance product quality.
Overcoming potential risks
Organizations can proactively address potential disruptions by conducting risk assessments and implementing robust contingency plans. The objective is to enhance supply chain resilience and minimize the impact of natural disasters like pandemics.
Ensuring quality and performance
Organizations can select suppliers based on stringent criteria, conduct rigorous evaluations, and set clear performance expectations. These activities ensure suppliers consistently meet or exceed quality standards and delivery timelines.
Prioritizing sustainable and ethical practices
Organizations can contribute to a sustainable tomorrow by prioritizing suppliers who adhere to environmental, social, and governance (ESG) standards. Organizations can align procurement practices with broader corporate social responsibility goals and meet the evolving expectations of conscious consumers.
Quick read: How to Form a Procurement Plan
Benefits of strategic sourcing
Let's delve into some key benefits of the strategic method of sourcing:
Cost savings
Leveraging market knowledge, analyzing spend categories data, and engaging in strategic negotiations enable organizations to optimize their procurement processes. The result is lower costs and increased profitability. Strategic means of sourcing enable businesses to extract maximum value from their supplier or vendor relationships and make informed decisions to drive long-term savings.
Supplier collaboration and innovation
This methodology fosters collaboration and innovation with suppliers by nurturing strong relationships leading to better vendor management. Organizations can tap into the expertise and capabilities of their suppliers to enhance product quality and increase efficiency. Suppliers become strategic partners and bring fresh ideas to contribute to the organization's competitive advantage.
Risk mitigation and resilience
The volatile business landscape demands proactive risk management, and strategic methods provide the tools to mitigate supply chain risks. Organizations can reduce their vulnerability to disruptions by diversifying suppliers and conducting thorough risk assessments. It enables organizations to navigate challenges and maintain business operations with minimal disruption.
Enhanced supplier performance
With the strategic method of sourcing, procurement professionals set clear performance expectations for suppliers and actively manage their performance. Monitoring key performance indicators (KPIs) and conducting regular evaluations are proven ways to drive supplier accountability. Focusing on performance improvement leads to higher-quality products and enhanced customer satisfaction.
Sustainable and ethical practices
In today's socially conscious world, strategic ways of sourcing play a crucial role in promoting sustainability and ethical practices. Organizations can meet regulatory requirements and appeal to socially responsible consumers by prioritizing suppliers who align with ESG standards.
Here's a quick read on: 10 Best Analysis Software
Key elements of strategic sourcing
Successful strategic sourcing requires a structured approach incorporating key elements to maximize its impact. Let's explore them in detail.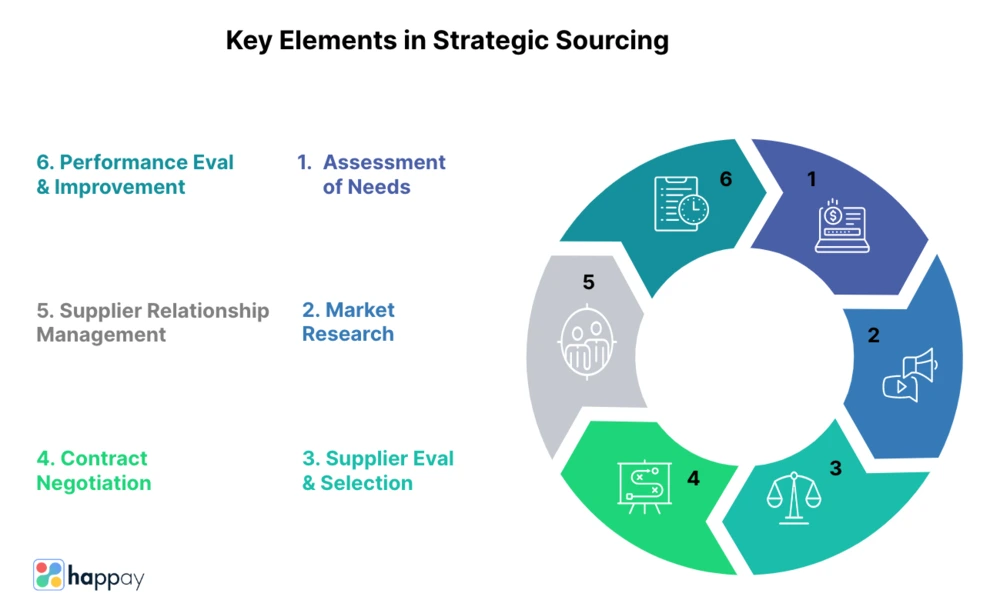 Assessment
Before embarking on any sourcing initiative, organizations must comprehensively assess their needs. It sets the foundation for effective decision-making throughout the sourcing process.
Market research
Organizations must gather intelligence on supplier capabilities, industry trends, supply market dynamics, and pricing structures. The information empowers organizations to make informed decisions and negotiate favorable terms.
Supplier evaluation and selection
Organizations must establish robust evaluation criteria to assess potential suppliers objectively. Key factors include supplier capabilities, quality standards, financial stability, and track record.
Contract negotiation
Effective negotiation aims to achieve favorable terms and conditions that align with organizational objectives. It addresses pricing, delivery schedules, service level agreements, and risk allocation.
Supplier relationship management
Effective supplier relationship management involves clear communication and regular performance evaluations. Organizations must strive to foster long-term partnerships based on trust and shared goals.
Performance measurement and improvement
Organizations must establish performance measurement systems that track supplier performance against agreed-upon KPIs. The data enables organizations to identify areas for improvement and drive supplier accountability.
Read more: What is Spend Analytics in Procurement
Seven steps of the strategic sourcing process
The strategic ways of sourcing provide organizations with a structured framework to optimize procurement decisions and achieve desired outcomes. Here are the seven steps involved in the journey:
Identify sourcing needs
The first step requires a thorough assessment of current requirements and future demands. Doing this activity allows organizations to lay the groundwork for strategic decision-making.
Conduct market research
Organizations must gather relevant information about the market and potential suppliers. There is also a need to assess market trends, supplier capabilities, pricing structures, and industry dynamics.
Develop sourcing strategy
Organizations can develop a sourcing strategy based on the insights gained from market research. The strategy outlines the supplier selection, negotiation, and contract management approach. It also defines key objectives and performance metrics to guide the sourcing process.
Supplier evaluation and selection
Factors like supplier capabilities, track record, financial stability, and quality standards are considered in this step. The evaluation process helps organizations select suppliers delivering the desired value and quality.
Negotiate contracts
This step involves defining terms and conditions that align with business goals and protect the organization's interests. Pricing, delivery schedules, service level agreements, and risk allocation are key aspects addressed during contract negotiations.
Implement and manage contracts
It involves effectively communicating contract terms to relevant stakeholders and monitoring compliance. Regular performance evaluations and issue resolution are vital for successful contract management.
Continuous improvement
The strategic sourcing process does not end with contract implementation. This step focuses on enhancing procurement processes and sourcing effectiveness through evaluation and refinement.
Quick read: What is Source-to-pay (S2P): Meaning, Process, Steps and Benefits
Strategic sourcing cycle
The strategic sourcing cycle is an iterative process that organizations follow to manage their sourcing activities effectively. It encompasses all the stages involved in a strategic sourcing cycle, from identifying sourcing needs to contract management and performance evaluation. The cycle begins with analyzing the organization's requirements and conducting market research to identify potential suppliers.
Throughout the cycle, organizations actively manage supplier relationships, monitor performance, and seek opportunities for continuous improvement. The sourcing cycle is an ongoing process that ensures organizations optimize their procurement decisions and drive value throughout the sourcing journey.
Examples of strategic sourcing
Let's explore two examples of how sourcing in a strategic manner can drive value and deliver tangible results:
IT infrastructure
Organizations today rely heavily on robust IT infrastructure for their operations. Strategic ways of sourcing play a crucial role in ensuring the availability of reliable and cost-effective IT solutions.
An organization planning to upgrade its data center infrastructure can employ strategic practices to evaluate and select vendors offering the best performance, scalability, and cost efficiency. Leveraging the principles of strategic methods of sourcing can help the organization achieve an optimized IT infrastructure.
Raw materials procurement
Industries reliant on raw materials, such as manufacturing and construction, can leverage strategic tools of sourcing to secure the best suppliers for their needs. For example, a furniture manufacturing company can employ strategic principles like seeking sustainable raw materials for production. Capitalizing on these principles will allow the company to ensure a consistent supply of ethically sourced raw materials.
Learn more: Centralized Purchasing
Best practices in strategic sourcing
Strategic sourcing is most effective when organizations follow these best practices that have proven to deliver optimal results.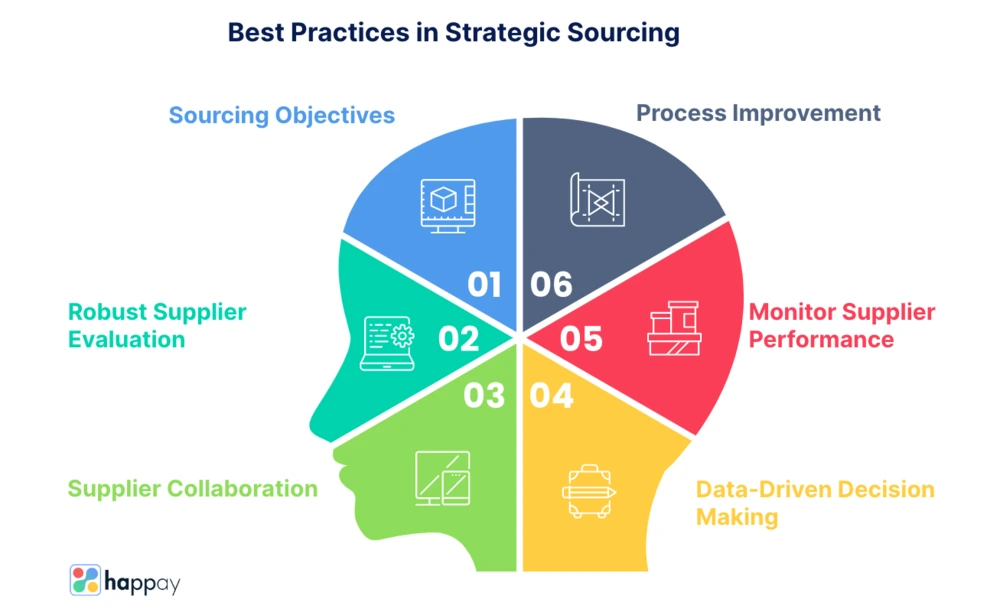 Clearly define sourcing objectives
Clearly articulating the objectives is crucial for aligning procurement efforts with business needs. Organizations can provide a clear direction for their sourcing initiatives by setting specific, measurable, achievable, relevant, and time-bound (SMART) objectives,
Conduct robust supplier evaluation
Thoroughly evaluating potential suppliers against predetermined criteria helps you select the right partners. Factors such as capabilities, track record, financial stability, and alignment with organizational values must be considered.
Foster collaboration with suppliers
Building collaborative relationships with suppliers is key to unlocking innovation and driving mutual success. Actively engaging suppliers in problem-solving and seeking their input can improve product quality and enhance supply chain efficiency.
Embrace data-driven decision making
Leveraging data and analytics to drive decision-making enhances the effectiveness of strategic ways of sourcing. Organizations should invest in data analysis and reporting capabilities to gain insights into spend management and supplier performance. It enables informed decision-making and supports continuous improvement.
Regularly monitor supplier performance
Establishing performance metrics and conducting regular evaluations ensures suppliers meet agreed-upon standards. Monitoring key performance indicators (KPIs) allows organizations to identify areas for improvement and drive supplier accountability.
Continuously improve processes
Regularly reviewing and refining sourcing processes helps identify inefficiencies and areas for enhancement. Encouraging feedback and seeking innovative solutions drive ongoing process optimization.
Stay abreast of market trends
Organizations should invest in market intelligence and keep a pulse on industry developments. It enables proactive decision-making and ensures the organization stays ahead of the curve.
Quick read: 10 Best Spend Management Software for Enterprises
Challenges in strategic sourcing
While the strategic method of sourcing offers numerous benefits, organizations often face the following challenges that can hinder its implementation:
Supplier identification and qualification
Identifying and qualifying suitable suppliers requires thorough market research, supplier evaluation, and due diligence. The challenge lies in finding suppliers that meet the organization's requirements and align with its values and long-term objectives.
Managing supplier relationships
Building and managing strong supplier relationships is crucial. However, maintaining effective communication, addressing conflicts, and ensuring mutual alignment can be challenging. Organizations must invest time and effort in fostering collaborative relationships to maximize the value derived from supplier engagements.
Data management and analysis
Such sourcing methods rely heavily on data to drive decision-making. However, organizations may face challenges in collecting, managing, and analyzing large volumes of data. Ensuring data accuracy, integrity, and security requires robust systems and capabilities.
Balancing cost and quality
Achieving the right balance between cost savings and product/service quality is a perpetual challenge. Organizations must carefully evaluate cost-saving opportunities without compromising on quality or customer satisfaction.
Risk management
Strategic methods of sourcing involve inherent risks like supply chain disruptions, regulatory changes, or supplier failures. Managing and mitigating these risks is essential for maintaining business continuity. Organizations must develop comprehensive risk management strategies, including contingency plans and alternative supplier options.
Internal alignment and stakeholder buy-in
Gaining internal alignment and securing stakeholder buy-in can be challenging, especially in complex organizations. Different departments and stakeholders may have varying priorities, making it crucial to establish clear communication channels and foster cross-functional collaboration.
Changing market dynamics
The business environment is dynamic, and market conditions can change rapidly. Organizations must stay abreast of market trends and regulatory changes that may impact their strategic initiatives. Adapting to these changes requires agility and a proactive approach.
Learn about: What is P2P Cycle: Procure-to-Pay Process, Challenges & Benefits
Strategic sourcing in the digital age simplifies the purchasing process
Strategic means of sourcing in the digital age have revolutionized the purchasing process, simplifying it in ways previously unimaginable. With the advent of digital platforms, organizations now have access to streamlined procurement tools.
These digital solutions enable organizations to evaluate and connect with suppliers, significantly reducing the time required for manual sourcing methods. Furthermore, digital platforms provide real-time data and analytics, empowering organizations to make data-driven decisions and negotiate favorable contracts.
Best strategic sourcing software
When it comes to strategic sourcing software, several reputable options are available in the market. These software solutions offer robust features to streamline and optimize the procurement process. Some of the best software options include:
SAP Ariba
SAP Fieldglass
PRM360
Coupa
Workday
RFP360
Precoro
Procurify
Keelvar
aPriori
Each of these solutions offer unique features and capabilities to support strategic ways of sourcing, supplier management, contract management, and analytics. Selecting the best software depends on specific organizational needs, budget, and desired functionalities. Your organization can evaluate these options to find the software that aligns with your procurement objectives.
Quick read: Vendor Management System (VMS): Benefits, Features & TOP Systems
Future trends in strategic sourcing
As the business landscape continues to evolve, strategic method of sourcing is poised to undergo significant transformations. Here are some future trends expected to shape the sourcing landscape and drive procurement success:
Advanced analytics and artificial intelligence
These technologies enable organizations to analyze large volumes of data and uncover actionable insights to make data-driven decisions. AI-powered tools can automate tasks and optimize procurement processes to enable greater efficiency.
Digital transformation and automation
Organizations are increasingly adopting digital platforms and automated solutions to streamline procurement workflows and enhance supplier relationships. Robotic process automation (RPA) and machine learning are expected to eliminate manual tasks and drive efficiency.
Sustainable and responsible sourcing practices
With growing societal and environmental concerns, organizations emphasize sustainable and responsible sourcing practices. Ethical considerations, environmental impact, and social responsibility are becoming integral factors in supplier selection and evaluation.
Supply chain resilience and risk management
The COVID-19 pandemic showcased the importance of supply chain resilience and risk management. Future trends in strategic means of sourcing will prioritize building robust and agile supply chains capable of withstanding disruptions. To ensure business continuity, organizations will invest in risk assessment, contingency planning, and supplier diversification strategies.
Collaborative supplier networks
Organizations are increasingly forging strategic partnerships with suppliers and creating collaborative supplier networks. These networks foster innovation and joint problem-solving. Collaborative supplier networks facilitate closer collaboration to drive mutual growth and success.
Here's a quick read on: Vendor Management System (VMS): Benefits, Features & TOP Systems
Bottom line
Strategic sourcing empowers organizations to optimize their procurement processes and achieve long-term value. Organizations can enhance operational efficiency, mitigate risks, and foster innovation. Understanding the key elements, following best practices, and addressing challenges allow organizations to harness the power of strategic methods of sourcing and gain a competitive edge.
Organizations can also expect to achieve procurement excellence and meet their objectives. With the right knowledge, tools, and strategies, organizations can unlock opportunities for growth and success in a dynamic business landscape.
FAQs
1. What is the meaning of strategic sourcing?
Strategic sourcing is a systematic and proactive approach to procurement that focuses on identifying and selecting suppliers based on predefined criteria and long-term goals. It involves analyzing the organization's needs, conducting market research, evaluating suppliers, negotiating contracts, and managing supplier relationships.
2. What are the different types of sourcing?
There are several types of sourcing, including:

1. Direct sourcing
2. Indirect sourcing
3. Global sourcing
4. Single sourcing
5. Outsourcing

3. What are the 4 pillars of strategic sourcing?
The four pillars are:
1. Spend analysis
2. Supplier relationship management
3. Contract management
4. Continuous improvement
4. What are the five principles of strategic sourcing?
The five principles include:
1. Clearly defined objectives
2. Thorough market research
3. Rigorous supplier evaluation
4. Effective negotiation
5. Performance management
5. What is the difference between strategic sourcing and procurement?
Strategic sourcing is a subset of procurement and focuses on the strategic aspects of sourcing activities. It involves a proactive and systematic approach to identifying, evaluating, and selecting suppliers based on predefined criteria and long-term goals. 

Procurement, conversely, encompasses the broader process of acquiring goods and services, which includes requisitioning, purchasing, contracting, and supplier management.

6. What is the difference between strategic sourcing vs tactical sourcing?
Strategic sourcing is a proactive, long-term approach that aligns procurement decisions with organizational goals. Tactical sourcing, on the other hand, is more reactive and short-term in nature. It addresses immediate sourcing needs, often driven by urgency or operational requirements.