Virtual CFO
When a company is in its growing phase, they need to take control of its finances effectively.
The best way to do that is with a chief financial officer (CFO), who can oversee the financial planning, financial reporting, and strategy. They can help optimize cash flow, reduce expenditures, increase profits, and aim toward growth.
However, companies cannot hire one full-time if they don't have the budget.
What if a company needs a solution that bridges this gap and provides the same expertise without the high costs? That's where a virtual CFO steps in.
A virtual CFO provides financial management services to businesses on an outsourced basis, part-time, or on a retainer.
In this article, you'll learn about virtual CFOs, what they do, the benefits of hiring them, how to become one, and more.
What is a virtual CFO?
A Virtual CFO provides CFO-level services to a company on a part-time or project basis.
Companies hire VCFOs as consultants or on a contract instead of employing a traditional CFO full-time.
Businesses receive financial services from this interim CFO, including financial planning, analysis, cash flow management, budgeting, forecasting, risk management, and financial reporting.
They also assist businesses with strategic business planning, fundraising, and M&As.
Also, Read: What is budgeting in business?
What does a virtual CFO do?
A virtual chief financial officer performs some or all the duties and responsibilities of a full-time one.
Here's a list of some roles and responsibilities of a virtual CFO:
Prepare and analyze financial statements and reports
Provide financial guidance and plan strategically
Manage cash flow and budgets
Optimize financial systems and processes
Comply with tax laws and regulations
Manage a company's finances, handle risks, and find opportunities for growth
Monitors payables and receivables
Virtual CFO vs. CFO
While the two roles are the same, the difference between a CFO and a virtual CFO primarily lies in their employment status.
Here's a comprehensive list of their differences:
| | |
| --- | --- |
| Virtual CFO | CFO |
| A remote financial expert who provides financial advice and support to a business part-time or project-based | An in-house employee who is hired full-time and handles a company's financial operations |
| More cost-effective than a traditional CFO since they only work on specific projects or a limited amount of time | An in-house CFO requires a full-time salary, benefits, and office space |
| More flexible since they work remotely, project-based or temporarily | Less flexible since they are committed to a full-time role |
| Often have a wide range of expertise since they work with multiple clients, across industries | They are equally knowledgeable but may have specialized knowledge about a specific industry or company |
| Cannot always provide immediate support since they are not on-site | Can provide more hands-on support since they are readily available |
When does a company need to use a virtual CFO?
There are various situations in which companies need to outsource CFO services.
For example, say there's a startup, and a company does not have the resources to hire for a full-time CFO role. Here, they can outsource CFO services and reap similar benefits.
Here are some more situations when companies need to hire or consider hiring a virtual CFO:
1. Lack of dedicated finance teams:
If a company does not have a dedicated finance department or lacks the expertise to manage it effectively, they can hire a virtual CFO. In these cases, VCFOs can provide financial guidance and help make informed business decisions.
2. Non-requirement of a full-time team:
Hiring a full-time CFO can be expensive, especially if a company does not require a full-time finance team. A virtual CFO provides financial services at a reduced cost.
3. Temporary need:
During specific instances such as an M&A, restructuring, or fundraising, a company can consider hiring a temporary CFO to manage things financially.
4. Time management
If a company focuses on other areas of its business and does not have the time or resources to manage its finances effectively, a virtual CFO can take care of it.
5. Expansion
If a business needs to develop more complex financial management systems, such as during an expansion, a virtual CFO can help navigate them.
Also, Read: CFO's Guide to Identify and Prevent Expense Fraud
Benefits of hiring a virtual CFO
The benefits of using a virtual CFO are many, ranging from flexibility to the unique experience and expertise they bring to the table.
Here are some benefits of hiring a virtual CFO:
Flexibility: Companies can adjust the time and type of work they need from a virtual CFO according to their needs. They also don't have to worry about providing an office space or additional perks.
Diverse experience: They come with a wide range of expertise since they work with multiple clients and industries. Outsourced CFOs can bring advice and successful methods from different industries and circumstances to a company.
Robust network: Virtual CFOs have a strong network of contacts and resources they can leverage for a company's benefit. They can connect them with financiers, lenders, experts, and other professionals that help with business growth.
Credibility: They help enhance the credibility of a business by providing professional financial management services.
Teamwork: A virtual CFO can perfectly fit into an existing team without hassle. They know how to work with distinct personalities and styles.
Delegation: Companies can offload tasks that are overwhelming or distracting for them.
Suggested Read: 9 Expense Management Best Practices for CFOs
How to become a virtual CFO?
Becoming a virtual CFO is not different from the requirements of being a regular one. You still need the same educational and experience qualifications along with the skills.
Let's look at what qualifications you need to be a virtual CFO and how to offer services.
What are the qualifications to be a virtual CFO?
To become a virtual CFO, you need to have the following qualifications:
1. Education
The minimum requirement in terms of education is a bachelor's degree in accounting, finance, or business administration. A master's is preferred. It is helpful to have a professional certification like CMA.
2. Experience
You need to have finance, accounting, and first-hand experience in preparing and interpreting financial statements, reports, analyses, forecasts, budgets, and cash flow projections. It helps if you have worked in different industries for different clients.
3. Skills
You need to have financial management, data analytics, planning, and reporting skills. It helps if you have strong communication, decision-making, collaboration, and problem-solving skills. You need to work independently, flexibly, and creatively.
4. Technology
A VCFO's tech stack is like that of a conventional one. You need to use cloud-based accounting software and other tools that help automate tasks, generate reports, analyze data, and more. You should also be comfortable using communication channels as per your client's preference.
Recommended Read: 10 Best Business Budgeting Software
What are virtual CFO services?
Agencies that either have an in-house team of experienced CFOs provide virtual CFO services ready to offer their expertise. With assisted virtual CFO services, companies don't have to find one manually.
Companies can also hire virtual CFOs online with excellent reputations or one that personally contacts them.
Some common services that virtual CFOs provide are:
Crafting accounting policies: These services provide accounting policy frameworks to ensure clearly defined accounting and management practices
Financial advice: Virtual CFO services help steady the monetary aspects of a business. By implementing proper financial processes and a keen eye on financial data, a virtual CFO service helps companies focus on more important aspects of their business
Auditing support: Virtual CFO services provide end-to-end auditing support
Compliance support: Virtual CFOs work towards meeting important compliances such as the IPR laws, Contract Act and more
Accounting services: These services help businesses take charge of accounting initiatives and draft and file financial statements on time. They also help with documenting income tax returns and GST filing
Cost and debt management: A virtual CFO assists companies to limit their expenses and handle debts to prevent potential financial problems
Benefits of virtual CFO services
The benefits of virtual CFO services are many for small businesses and SMEs.
Let's look at some of them:
Accounting records: Virtual CFOs help in maintaining accounting systems and records and help companies stay on track with accounting standards
Budgeting: VCFOs help with budgeting to ensure proper cash flow
Financial analysis: Virtual CFOs help with financial risk management, financial forecasts, and more, which leads to business growth
Profitability: Virtual CFOs ensure optimal resource usage to reduce wastes. They bring internal control and plan and execute strategies to improve the overall business productivity
Cash flow projections: These services help draft a plan for cash flows based on the financial position of a company
KPIs: Virtual CFOs constantly track and analyze key performance indicators according to the current market situation and the financial condition of the company. This helps with accurate forecasting.
Also, Read: What is Embedded Finance?
How to offer virtual CFO services?
Once you meet the on-paper requirements of a VCFO, you still need to market yourself the right way.
Here are some tips on how to offer virtual CFO services:
1. Decide what services you will offer
Choose what services you want to offer, such as bookkeeping, compliance, tax preparation, or more. You can create different packages or levels of service based on client needs.
2. Decide on the pricing
Decide how much you will charge for the services. Use different pricing models, such as hourly, fixed, retainer, or more, depending on what works for you.
3. Market your service
The next step is to promote your services to prospective clients. Use different marketing strategies, such as referrals, social media, or even newsletters. If you have existing clients, get feedback and put them up on your social media profile as testimonials.
How much does a virtual CFO service cost in India?
According to AmbitionBox, the average annual salary of hiring a full-time CFO for a business is between ₹10 lakhs to ₹101 lakhs. $144,830. This does not include the total compensation for them, which includes bonuses, RSUs or stock options, and other benefits.
In contrast, a virtual CFO's cost depends on the time and responsibility, because the role is flexible.
Keeping that in mind, the cost is lower than having a full-time CFO on the payroll. A VCFO costs between ₹35,000 to ₹10 lakhs per month.
These costs could be higher or lower based on specific needs.
Quick Read: 10 Common Types of Financial Frauds and Prevention
Best virtual CFO services
You can make use of virtual CFO services to take your finance function to the next level.
Here are some of the best virtual CFO service providers today:
Whizconsulting provides bookkeeping services to businesses worldwide. They aim to streamline accounting, payroll, and tax calculation for many businesses, be it start-ups, SMEs, or even larger businesses. They have a team of experienced CFOs, chartered accountants, and CPAs who can handle various financial tasks.
CFO Bridge offers a wide range of plug-and-play services tailored for different business objectives, such as virtual CFO services, financial and strategic planning, transaction advisory and structuring, working capital management, and more.
CFO Bridge has a team of experienced CFOs who have experience in various industries.
GI Outsourcing offers a comprehensive range of services, including bookkeeping, management accounts, SMART services, statutory accounts, payroll, taxation, and cloud consultancy. They have a team of industry experts and accounting specialists that deliver high-quality work on time.
Dynamic CFO Services provide a team of highly experienced professionals with lots of experience in various domains. They have rich corporate experience and good exposure to interacting with international clients. They also offer a wide range of advisory services.
Setindiabiz is a company that provides a complete suite of tax, IPR, and compliance services to companies. It has an online platform that offers over 300 professional services, including virtual CFO services for startups and small businesses.
Other services include company registration, GST filing, income tax return filing, trademark registration, FDI compliance, ROC compliance, and more.
Also, Read: 11 Best Billing Software in India
Top Important tools every virtual CFO needs
From expense management systems to financial modelling software, here are 5 tools every virtual CFO should use: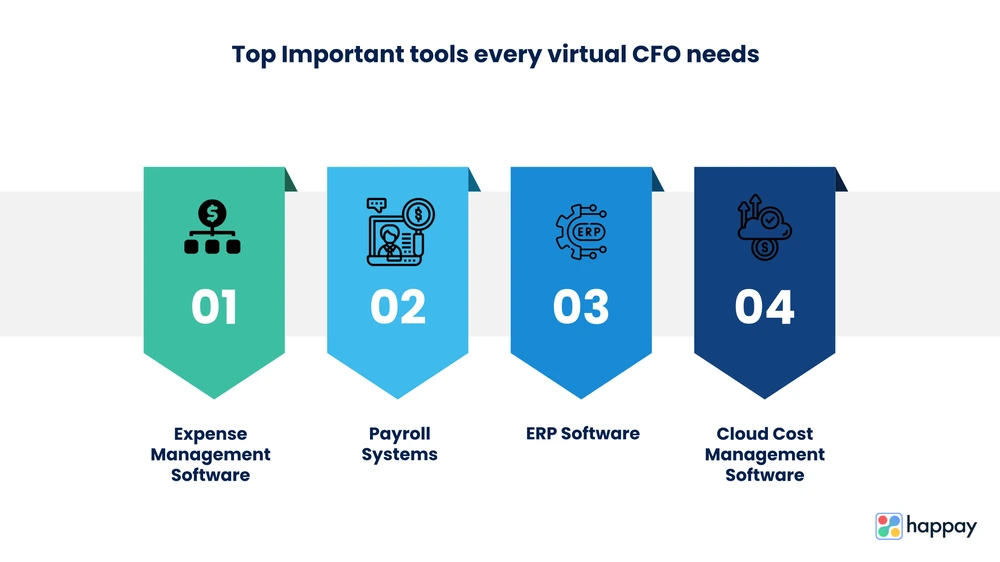 1. Expense management software
A virtual CFO can use expense management software to manage and track company expenses. It streamlines the expense entry process, making it easy for employees to submit reports for approval. Virtual CFOs use the software to monitor employee spending, track expenses, and ensure adherence to company policies and budgets.
Leader in the category: Happay
Happay is a great solution for virtual CFOs to use as it centralizes everything expense related, including communication and information, on a single platform.
With Happay's all-in-one solution, a virtual CFO can:
Access expense information with Happay Xpendite. It ensures that expenses are captured accurately at the source, without the manual work of getting data from different places
Track expenses and ensure they comply with policy rules with detailed audit trails and auto-check potential instances of fraud that usually happen with duplicates, inflated claims, restricted items, and falsified information with Smart Audit
Ensure all data is in a single place with Happay ReconX, which helps integrate with multiple systems for seamless data capture for accurate and faster reconciliations
Suggested Read: What is Expense Management?
2: Payroll systems
Payroll management systems help virtual CFOs oversee employee compensation and ensure compliance with laws and regulations. It lets them track employee attendance, calculate hours, and process payments. Payroll systems also help virtual CFOs manage employee benefits such as health insurance, retirement plans, and more.
Leader in the category: Cloudpay
CloudPay unifies global teams and processes. It provides global payroll systems and offers payroll data analytics and reporting. CloudPay also offers CloudPay NOW, a global earned wage access solution, with a mobile app that lets employees drill down their earned wages and access financial management guidance.
3. ERP software
ERP solutions let virtual CFOs manage and integrate financial processes throughout the organization. Virtual CFOs use the software to track sales, purchase, and expense transactions, and monitor financial performance in real-time.
NetSuite lets virtual CFOs automate critical financial processes such as accounting, billing, and invoicing. It offers real-time analytics and reporting, providing virtual CFOs with accurate and updated data to make informed decisions.
4. Cloud cost management software
This software helps virtual CFOs manage and optimize their cloud spending. They can track and monitor cloud usage, identify cost-saving opportunities, and enforce cost controls. It also provides insights into how cloud resources are utilized and lets virtual CFOs allocate costs to different departments or projects.
Leader in the category: ProsperOps
ProsperOps provides a simple, fully automatic cost optimization service for Amazon Web Services (AWS). It maximizes your savings and minimizes term and commitment risk. AWS usually makes up 60% of the bill and is one of the largest line items in a company's cost structure.
ProsperOps automatically helps save money with temporary commitments that adapt dynamically to usage changes in real time.
Conclusion
Businesses can make a huge difference to their team by hiring a virtual CFO to optimize their financial strategies while saving big on costs.
Virtual CFOs bring lots of experience and expertise to the table, providing businesses with the insights to make informed financial decisions that drive growth and profitability.
Also, by leveraging technology and cloud-based tools, virtual CFOs can work seamlessly with businesses from any location, providing real-time financial reporting, analysis, and strategic planning.
FAQs
1. What does a virtual CFO do? 
A virtual CFO performs financial management services for businesses remotely, rather than being physically present in the office. They handle the finance function with tasks such as financial planning, budgeting, cash flow forecasting, and reporting.
2. Who needs a virtual CFO? 
Small to medium-sized businesses that need financial expertise but lack the resources to hire a full-time CFO benefit from the services of a virtual CFO. Similarly, startups and businesses with rapid growth benefit from virtual CFO services.
3. How much does it cost to have a virtual CFO?
The cost of a virtual CFO depends on factors such as service scope, business size, and experience. However, it typically ranges from ₹35,000 to ₹10 lakhs per month.
4. Can a practicing CA be a virtual CFO?
Many practicing chartered accountants offer virtual CFO services to businesses as part of their consulting practice, provided they possess the skills and experience in financial strategy and management.