What is the expense management process? 
Not all superheroes wear capes. Some love numbers and take care of finance in enterprises. They are called CFOs. And their supervillain- suboptimal expense management processes. 
Remember, every hero needs help. After all, no one can save the world, in this case, a company, single-handedly. You don't have to worry. We're here for you as a resourceful sidekick. Here's all you need to know about the expense management process. What's more, use our nine expense management best practices that will transform you into a super CFO.
What is the expense management process?
The expense management process involves various steps like expense claim filing, approval, reimbursement, etc. It is different depending on the size and type of business. However, these steps are common to all systems. 
1. Purchase or spending: The employee pays for service on the behalf of the company. For example, while on a business trip, the employee covers the cost of meals and becomes eligible for reimbursement. 
2. Expense claim filing: The employee has to create an expense report that details purchases and business expenses. The report lists the date, purchase details, and the reimbursable amount. 
3. Approval: The expenses filed for reimbursement need approval from the managers and sometimes the finance team. If they do not get the approval, the reimbursements cannot get through. This step is crucial as it safeguards the company against expense frauds like receipt duplication, overstatement of expenses, etc. 
4. Audit: Auditing expense reports is the next step in the process. It includes the verification of receipts and brings various errors and frauds to attention. 
5. Reimbursement: In the final step, post-approval, the employee receives the amount spent.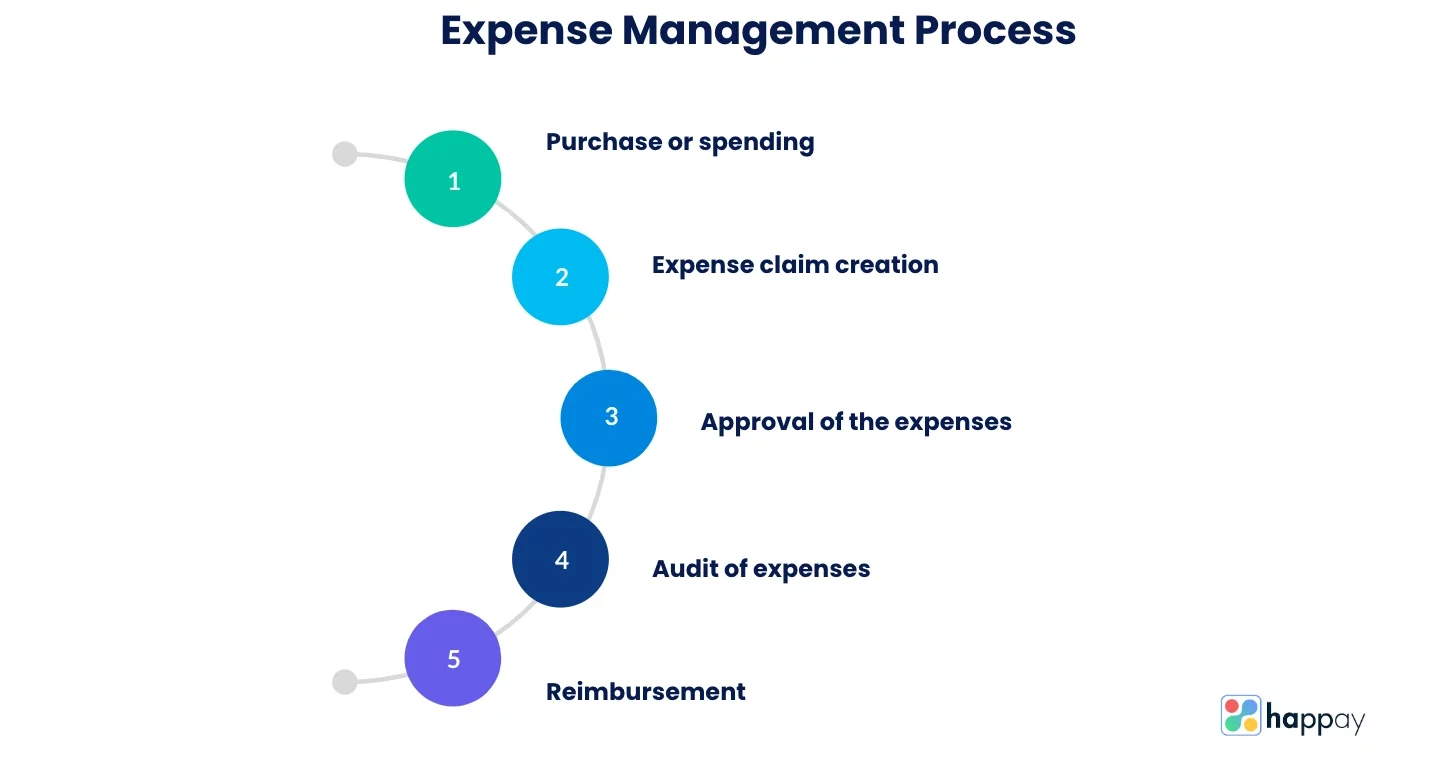 What are expense management best practices? 
Expense management is the system that facilitates the processing, reimbursement, and audit of expenses made by employees. Numerous employee-initiated expenses including travel and entertainment costs require multi-step approvals, validation, and audits. These processes exhaust many financial resources. 
Expense management best practices help you ensure that the use of these resources is optimal. With streamlined processes, you can maximize the firm's savings.
According to the Global Business Travel Association, it takes about 20 minutes and $58 on average to process one expense report. Sadly, over 19% of reports submitted by business travelers have errors and it takes an additional 18 minutes per report to correct them. 
Now that is a lot of time lost just on reports- and we have not even considered the time it takes to create the reports in the first place. 
This is where expense management best practices come in. They help safeguard you against several avoidable challenges like cost leakages, expense frauds, etc. 
Why do you need best practices for expense management? 
Managing expenses in an organization is no simple task. The entire process is tedious and needs a great deal of human effort and financial resources. Add to this the process of tracking expenses and forecasting future spending. Sounds mind-boggling, right? 
Yes, you can solve most of these issues using an expense management system like Happay. However, to make the spend management system in your firm robust and error-free, you need to follow some best practices. 
9 best practices for expense management
Here are the nine top expense management practices for CFOs and business owners.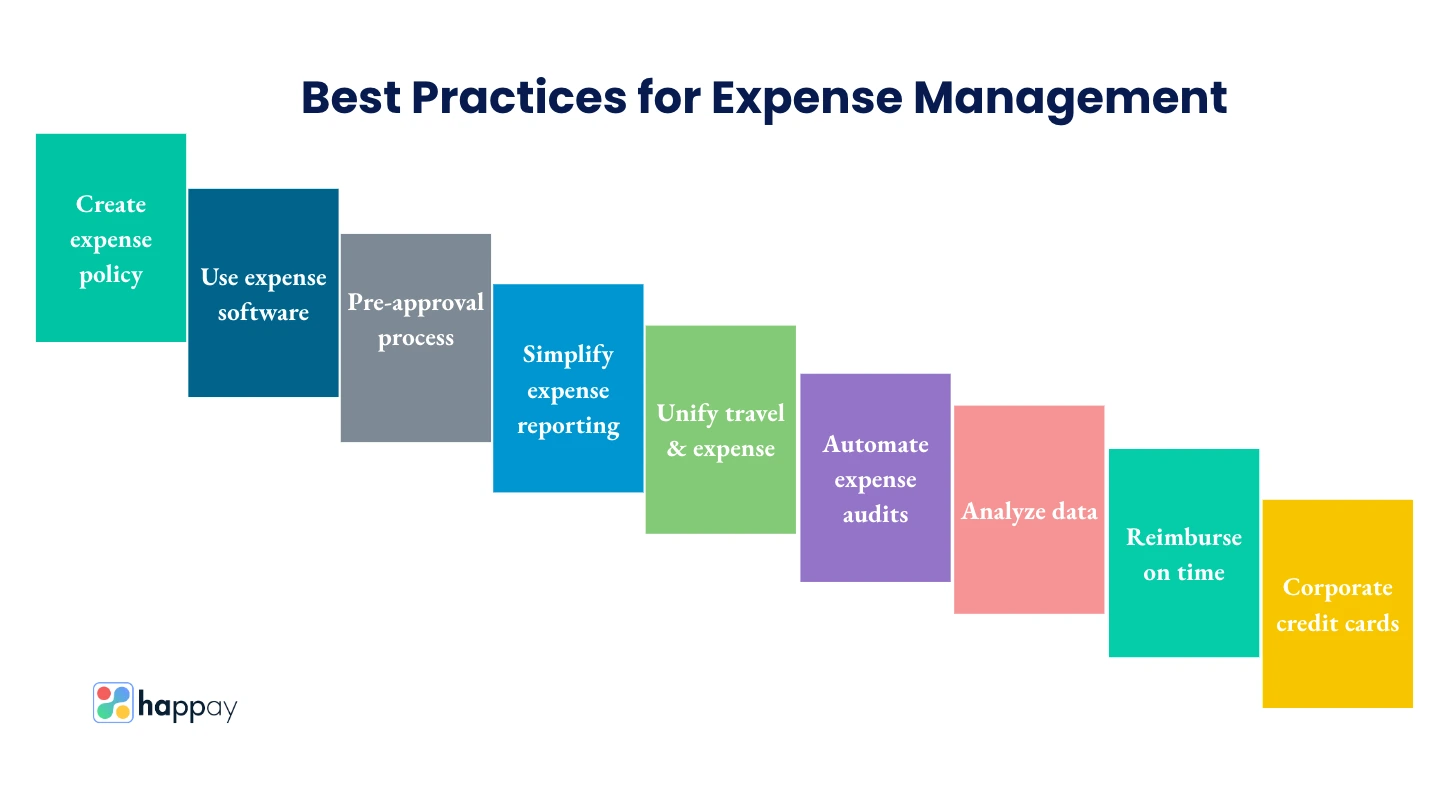 1. Create an expense policy 
By implementing an expense reimbursement policy in your workplace, you can have greater control over employee spending in your organization. A good expense policy will clearly define what kind of expenses are permissible under the company policy, and it will also have details on non-policy-compliant expenses. 
Another significant advantage of implementing a company-wide expense policy is it will make the reimbursement process simple. A well-defined and automated expense policy will help your finance team to approve or reject expense reports quickly. 
This means less effort for the finance team and quicker reimbursement time for employees – a win-win situation for all. 
2. Use an automated expense management software
Manual expense management processes are often error-ridden and cumbersome. Some businesses and large companies still rely on tons of paperwork and spreadsheets to manage expenses in their organization.
Employees often find expense reporting frustrating and time-consuming in organizations where manual expense management methods are followed. What's worse, your finance team will drown in a sea of paperwork. 
To eliminate all these hassles, use expense management software to automate and streamline the expense management process. 
Also, on expense management software, employees can file an expense report using a mobile device without breaking a sweat, with just a few clicks. And the finance team can reimburse employees for policy-compliant expenses quickly. 
Furthermore, expense management software will help track your expenses in real time. You can use this feature to know if you are on track and use the data from the system to forecast future budgets. 
3. Implement the pre-approval process
It does not matter if your organization is using an automated expense management system or sticking to the manual method to process expenses. By mandating pre-approvals, you can drastically reduce out-of-policy spending. 
For example, employees need pre-approval from their managers before they purchase flight tickets and hotel reservations. This way, the chances of expenses not complying with your policies getting approved are significantly less. 
4. Simplify the expense reporting process
Ensure the expense reporting process in your firm is simple and easy to follow. Some companies still follow the traditional method, where employees must manually fill out countless forms for reimbursement. 
Another major issue that employees face is the responsibility of collecting and safeguarding bills, receipts and tickets. Therefore, make sure you pick an expense management system with automation features like optical character recognition (OCR). 
5. Unify travel and expense in one place 
Did you know business travel is the reason for 70% of enterprise expenses? Having two separate software for them can lead to poor vendor management, money leakages, lack of data visibility, etc.
Therefore, the smartest thing would be to have it under one single platform. Choose a unified T&E system that will create a hassle-free experience in booking and expense management for your employees, approving managers and finance team.
6. Enable automated expense audits 
If your firm approves a significant amount of expense reports regularly, non-policy-compliant expenses could also be reimbursed. How do you solve it: for regular audits, install expense management software that can help you audit all your expenses. 
A spend management system with an automated auditing feature can help you find fraudulent claims, duplicate bills, and others. Thus allowing you to eliminate cash leakages completely. 
7. Reimburse on time 
Reimbursing your employees on time plays a major role in boosting their morale. In most cases, while they are on a business trip, employees spend the money out of their pocket. 
That is why delays in reimbursement can make them feel frustrated, and this can have an adverse impact on their productivity. Therefore, have a mechanism in place that allows you to reimburse quickly after expense reports are filed. 
8. Analyze data
As they say, data is the new oil. But if unrefined, you cannot use it. Use an expense management system like Happay that gives you real-time spending data. What's more, you can also use the data obtained from the expense management system to understand spending categories, behavior, expense patterns, etc. 
9. Use corporate credit cards
Allocate corporate cards to frequent travelers. Doing so allows you to track expenses, set spending limits, and disburse money without a hassle. This way, you can eliminate the cumbersome expense filing, reporting, and reimbursement process. 
Furthermore, there are many rewards and offers that corporate cards provide, and companies can make use of them. 
Issues that expense management best practices solve
1. Expense frauds- A report by the Association of Certified Fraud Examiners claims that expense reimbursement fraud accounts for 11%of fraud in large businesses and 21% in small businesses.  Expense management best practices like using corporate cards, automating expense reports, enforcing expense policy, etc. increase spend visibility and reduce the risk of fraud. 
2. Loss due to errors- Manual processes are always prone to human error. Automation is a best practice that can solve this problem. It also ensures the centralization and standardization of data which further decreases the likelihood of errors and data contamination. 
3. Confusion and unclear communication- Manual expense management processes require constant back and forth. The best practices mentioned above don't just speed up the processes, but also reduce the time otherwise wasted on communication. They also ensure more transparency in the reimbursement process. 
4. The financial burden on employees- Delayed reimbursements often mean that the employees have to bear the brunt of a business expense for longer than they should. This deters them from going on business trips in the future. A few best practices like corporate credit cards and automated reimbursements help avoid this.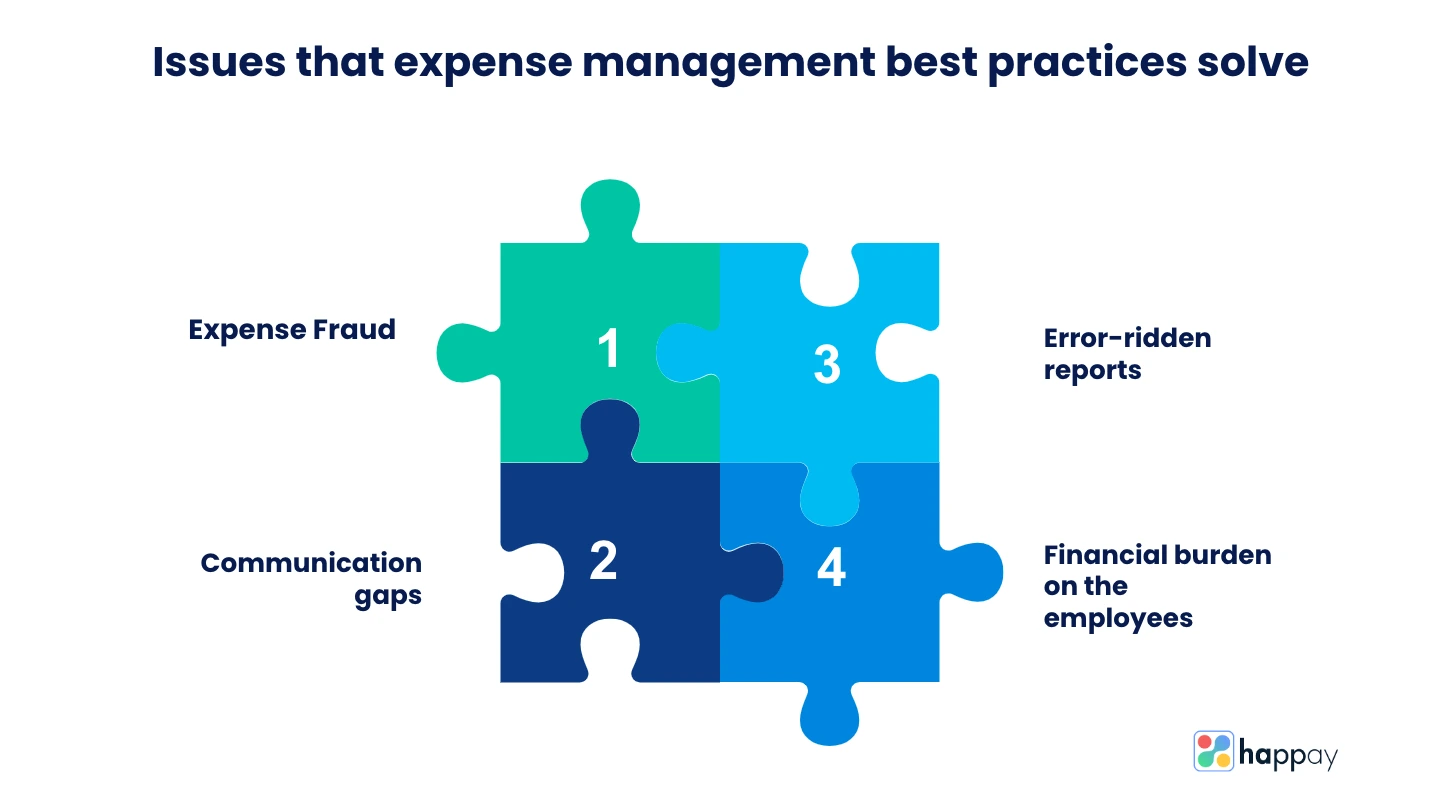 Let Happay take your expense management troubles away
Happay's travel and expense management platform is an end-to-end solution for all expense management issues. It lets you integrate expense management best practices within your processes through automation and AI. 
Here are the most lucrative features that Happay offers-
Fully automated expense filing process with automated receipt capture and single-click submissions.

AI-based smart auditing that maximizes expense policy compliance.

Workflow automation and real-time status updates help speed up approvals and improve the employee experience.

Captures data from multiple data points for prompt and efficient reconciliation.

Smart analytics supplement data for budget forecasting and help you make the right financial decisions. 
Schedule a demo with us today to learn more about how the product can empower your expense management system. 
Expense management – Frequently asked questions
How do you manage your expenses?
Installing an expense management system like Happay is the way to go to manage expenses efficiently in any organization. You can now use expense management software to make the expense reporting, tracking, and reimbursement process error-free.
What is an expense management tool? 
An expense management tool is a software that simplifies most of the expense reimbursement process by automating it. Faster reimbursement, no paperwork, easy expense reporting process are some of the benefits of using an expense management tool. 
Why is expense management important? 
Expense management is vital to manage expenses, reimbursing money to employees, and ensuring employees comply with the company's expense policies.