Zoho Expense alternatives
Planning a business trip but not looking forward to work associated with it? Are you tired of saving the travel bills and ensuring they reach the finance department? How long is it before you see the reimbursement credit? Is the reimbursement an online payment or do you get a cheque?
A travel and expense management platform can relieve these woes while giving you more visibility and control over your expenses. Zoho Expense is an expense management software that gives you these advantages.
Zoho Expense offers several features to ease your expense management woes. However, you must consider other Zoho Expense alternatives before you pick the best one for your organization.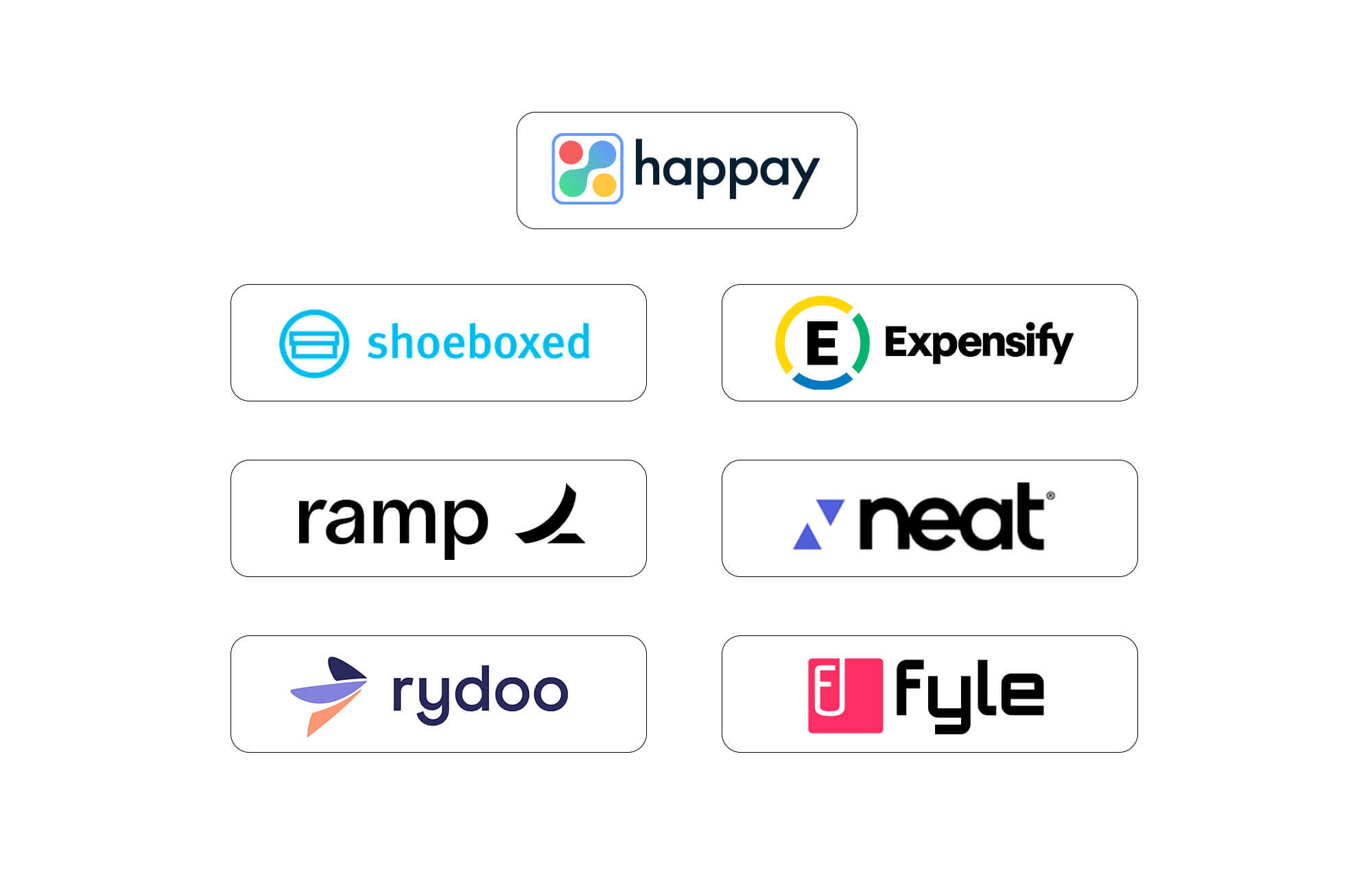 A quick look at Zoho Expense alternatives and competitors
| | | | | | | |
| --- | --- | --- | --- | --- | --- | --- |
| Software Name | Best For | Free Trial | Time & Expense Tracking | Compliance Management | Configurable Workflows | Corporate Card |
| Happay | Mid-size, and large enterprises | Custom pricing | Yes | Yes | Yes | Yes |
| Sap Concur | Freelancer small, mid-size and large enterprises | Free trial | Yes | Yes | No | Yes |
| Expensify | Freelancer small, mid-size and large enterprises | Free trial | Yes | Yes | Yes | Yes |
| Shoeboxed | Freelancer,small, and mid-size companies | Custom pricing | No | No | No | No |
| Neat | Freelancer and small businesses | Free trial | No | No | No | No |
| Rydoo | Mid-size and large enterprises | Free trial | Yes | Yes | No | No |
| Fyle | Small, mid-size, and Large, companies | Free trial | Yes | Yes | No | Yes |
7 Best Zoho Expense alternatives and competitors
Happay offers a new-age solution to an age-old problem.
As a Zoho Expense competitor, Happay, as a saas company, impresses with strong tech that is new-age, UX-focused, and completely future-ready. With several large enterprises as customers, present in 18+ countries worldwide, they are known to have been one of the few to launch a complete and integrated Travel & expense management platform.
Happay features an extensive and robust product profile, including Happay cards that help you with petty cash management, employee tax benefits, digital subscriptions/payments, and fleet Xpress. All these products serve to ease the expense reporting process.
1.1 Feature snapshot
Here are some top features that finance teams love
a) Budgeting module
Happay helps CFOs and their teams to improve their spend management while giving them complete control over their money. Most importantly, it allows you to monitor budgets at scale. For instance, you can define custom spend limits for departments, cost centres or any other category. Another fantastic advantage of the feature is creating a budget master with seamless API integration with SAP.
b) GST module
The GST module empowers your employees to capture accurate GST breakups at the time of expense filing without any manual calculations.
c) Forex module
The Forex module helps you handle international travel like a pro. Forex procurement, currency conversions, and automated gain/loss calculations are easy with the international T&E management feature.
d) Smart Audit
The Smart Audit feature helps you reduce expense verification time by 80% and reimburse your employees in 5 days or less. The AI-powered expense auditing feature helps to auto-flag spend anomalies such as duplicate, amount/date mismatched, and prohibited item claims.
e) Policy engine
OCR technology helps to capture expenses accurately. Further, when policies are built into the system's architecture, it feature allows you to customize policy checks based on business logic and complexity, allowing quick action on expense reports.
f) Per Diem calculator
This feature allows hassle-free allowance transfers to on-site employees, saving you a ton of time. So, no more sending Per Diem allowances manually every day!
1.2 Zoho Expense/Happay 
Name
Pros
Cons
Zoho Expense

The pricing model is great for small businesses, and the setup was relatively easy and quick.

Helps track expenses easily.

GST calculations are manual

The support services take a lot of time to resolve issues.

Happay

The User-friendly interface and automatic GST calculations are rated as the best.

Approval and reimbursement turnaround times are faster.

According to the user reviews, the mobile app does not support an offline feature currently.

If added, a downloadable notes section could be an added advantage
1.3 Top industries represented
Name
Happay
Zoho Expense
Industry represented (Top 2)

Hospitality

Financial Services

IT and Services

Computer Software
1.4 Impressive feature
The GST module is certainly bound to make your team's life easier. Among numerous other benefits, using Happay's GST return module promises to get all your GST data in one place. So you can claim input tax credits accurately and quickly. Further, you can save up to 5% of your travel spending by automating the GST claims as your ITC claims are more spot on.
1.5 FAQs
a) What is Happay software?
Happay is a cloud-based travel and expense management software that helps mid-size and large enterprises capture, track, and manage their expenses effectively. Using AI and ML technologies, it automates expense management processes. They also offer Corporate credit and travel cards. 
b) How do I use Happay expense app?
First, you must download the Happay expense app. Alternatively, you can download it to your computer and use the several features that streamline your expense management. You can create and submit expense reports, request travel advances, claim reimbursements, and track mileage. You can also link your Happay corporate card post, which your expenses will be auto-captured in the app.
Also, Read: 7 Best Finly Alternatives and Competitors
Sap Concur is another Zoho Expense alternative that you may consider for a cloud-based travel and expense management solution. Apart from enabling users to automate the expense management process, it helps to streamline the business expense capture, tracking, recording, and reconciliation process. 
The main goal of using an expense management software system is eliminating the manual element in the workflows, speeding up the process, saving costs, and eliminating errors. SAP Concur also promises you better control over the compliance and costs associated with expense management.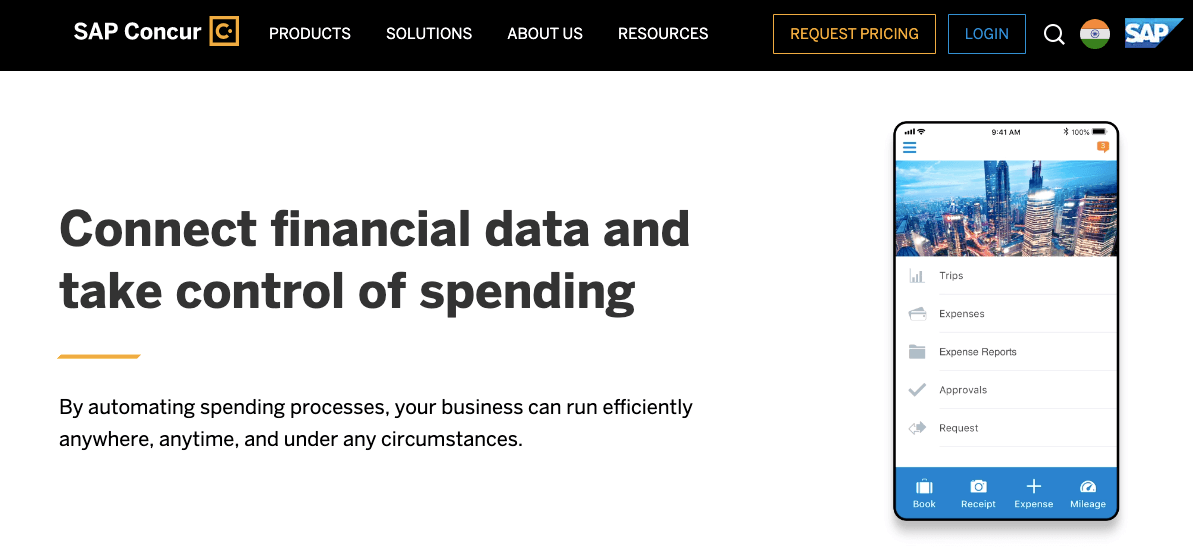 2.1 Feature snapshot
As one of Zoho Expense's competitors, here are SAP Concur's most essential features.
SAP Concur's travel solution features offer numerous advantages, including providing comprehensive data about the travel (traveller, location, and other critical travel-related numbers), all available centrally.

Concur's online booking tool provides the latest corporate travel trends.

SAP Concur's automation gives you access to reports and valuable insights into your travel spend.

Use SAP's features to stay policy compliant.

SAP's expense management solutions ensure you can track all your business expenses centrally.

It allows for automatic capture and easy enforcement of travel and expense policies.

SAP promises easy and quick reimbursement cycles.
Quick Read: 5 Best SAP Concur Alternatives and Competitors
2.2 Zoho Expense/SAP Concur
Name
Pros
Cons
Zoho Expense

The mobile app integration and the chrome extension work very well

It makes capturing and tracking expenses easy.

Support services need to be quick as there is a delay in addressing issues

Recording the name of the merchant is challenging as the software insists on changing it.

SAP Concur

The Sap Concur mobile app is well appreciated for the ease-of-use.

The payment process is a lot more streamlined since the user has switched to SAP.

Users seem to feel that the interface is old and messy, making the entry of information a problematic process.

Some users feel the app freezes when it analyzes information.
2.3 Top industries represented
Name
SAP Concur
Zoho Expense
Industry represented (Top 2)

IT and Services

Computer Software

IT and Services

Computer Software
2.4 Impressive feature
SAP Concur's most impressive feature is the simplicity of the mobile app. It allows you to configure easily while giving you access to all features on the mobile device.
2.5 FAQs
a) Is Happay better than SAP Concur?
SAP Concur has been in the market for a while, but Happay brings a modern, high-tech, and user-friendly approach to travel and expense management. While SAP may impress in market presence, Happay steps ahead in terms of offering automated features such as Google Maps-based mileage and route tracker.
Quick Read: SAP Concur Reviews: Pricing and Features
As a Zoho Expense alternative, Expensify hopes to ease the time-consuming and tedious expense capturing, tracking, and maintenance process. As opposed to employees scanning receipts, logging individual business expenses, itemizing the fees and taxes, and categorizing the same, Zoho Expense reporting software does it with a click of a button.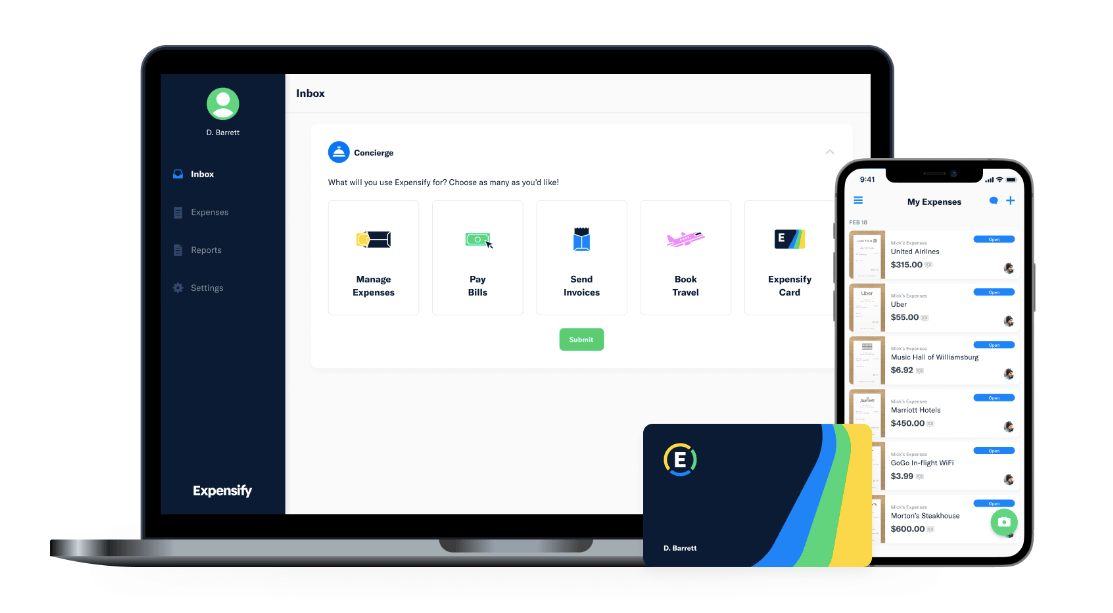 3.1 Feature snapshot
The Expensify app is easy-to-use, allows users to submit expenses and track their claims easily and effectively.
SmartScan feature reads the receipts accurately and logs the details into your existing system. You can also email the receipts to Expensify to have them coded and logged into your account.
You can customize approval workflows and expense policy rules according to your organization's structure. It lowers the number of non-compliant expense claims.
You can import other transaction information, such as corporate card-related ones, easily as Expensify links to your bank account. GPS-based tracking is also possible with the Expensify app.
Using a web dashboard; you can customise the expense categories. So, when employees submit expenses, the system classifies them automatically. 
Expensify offers a feature called ExpensePoint to send and receive money through Venmo. You can also use the same to connect to other apps, such as Uber, Lyft, etc., to allow for automatic receipt information imports.
The Expensify app is available in the App Store and is compatible with iPhone, iPad, and iPod touch. An Android version is also available.
3.2 Zoho Expense/Expensify
Name
Pros
Cons
Zoho Expense

Users feel that Zoho Expense app is simple and concise to use.

It integrates with Zoho email easily, making the entire process quite seamless.

The assistant icon that accompanies the app is confusing for users.

The design is not easy to remember and looks like hieroglyphics.

Expensify

The plus point is the design which is seamless and intuitive.

Users say they have saved time with the Smartscan feature.

Some users have entities in the USA and EU. Expensify does not support these locations.

Users feel that the design could be improved by making the entries editable.
3.3 Top industries represented
Name
Expensify
Zoho Expense
Industry represented (Top 2)

Computer Software

IT and Services

IT and Services

Computer Software
3.4 Impressive feature
The most impressive feature of Expensify is the app is intuitive and easy to use. Overall, the app's ability to scan and read the information is impressive. The Mileage and GPS tracking features are an additional plus point.
3.5 FAQs
a) Who are the typical users of Expensify?
Expensify caters to several user categories in the market, such as freelancers, startups, small businesses, mid-size, non-profit organizations, and large enterprises.
b) What level of support does Expensify offer?
When you sign up for Expensify, you can support in one of the following ways.
1. Phone
2. Email
3. Help desk
4. Chat
5. FAQs/Help forums
6. Knowledge Base
Read More: 10 Best Expense Management Software
Considering that Shoeboxed works slightly differently compared to other expense management software vendors, it makes for an excellent Zoho Expense Competitor. Shoeboxed is a cloud-based document management service that helps you capture, organize, categorize, and maintain receipts, business cards, and other important business documents.
Small businesses and Entrepreneurs find Shoeboxed valuable as it allows them to stay organized while maximizing their tax deductions. Converting physical documents to digital versions streamlines the workflows and makes employees far more efficient.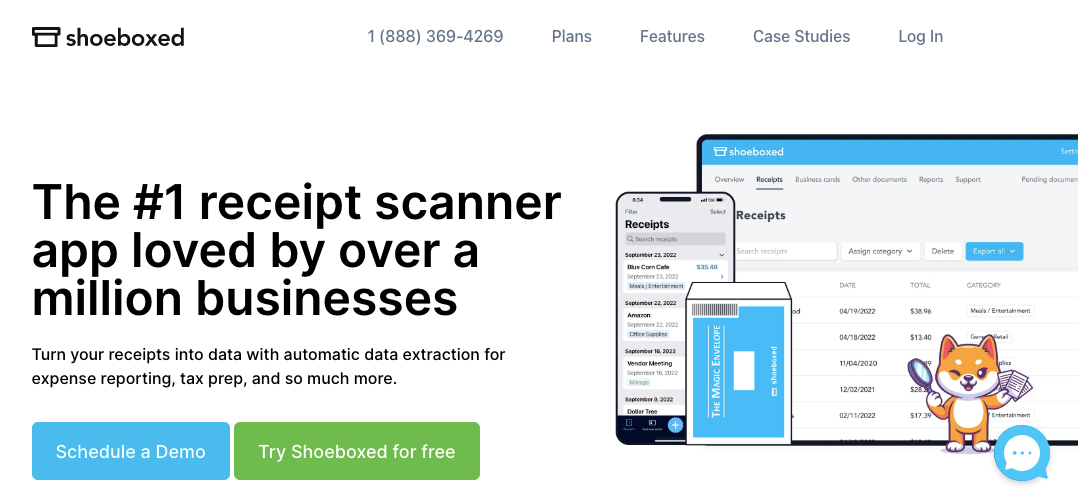 4.1 Feature snapshot
You can capture and track expenses in any one of the following ways.

Shoeboxed offers a pre-paid envelope service. You can scan and send the receipts to them. They will take care of the manual data entry.

Shoeboxed's mobile app allows you to capture your receipts on the go.

You can email the receipts to a Shoeboxed email address, and the data will automatically reflect in your Shoeboxed account.

Using a laptop or a desktop, you can upload, drag and drop proof of expenses and other documents into your Shoeboxed account.

You can also create individual sub-accounts for your employees so they can access and manage their data.

You can generate employee expense reports to manage and reimburse your employees efficiently and on time.

Shoeboxed plans offer unlimited users for teams of any size and unlimited online storage.
4.2 Shoeboxed/Zoho Expense
Name
Pros
Cons
Zoho Expense

The price points and the ease of use are rated high by users.

The setup was quick and easy.

Users complain about the cumbersome process of taking pictures of receipts and then emailing the same to themselves.

According to some users, the time taken to address issues is a con.

Shoeboxed

Users appreciate the helpful attitude of the customer service and the live chat feature.

Outsourcing manual data entry is a relief for several users.

Users do not appreciate the quality of receipt uploads- blurred images add to the work.

The mismatch or additional reconciliation of envelope numbers is frustrating for users.
4.3 Top industries represented 
Name
Shoeboxed
Zoho Expense
Industry Represented (Top 2)

Non-Profit Organizations

Consumer Services

IT and Services

Computer Software
4.4 Impressive feature
Shoeboxed may be a great Zoho Expense alternative if you are a small business and prefer outsourcing expense capture and tracking. You can send the physical receipts to Shoeboxed. The information and data appear in your Shoeboxed account automatically, which you can access immediately.
4.5 FAQs
a) Who are the typical users of Shoeboxed?
Generally, non-profit organizations, small businesses, public administrations, and mid-size enterprises are users of Shoeboxed.
b) Is the Shoeboxed app free?
You can subscribe to the free plan that Shoeboxed offers. The app is available on the Google and Play stores in IOS and Android versions. 
Also, Read: 10 Best Travel Management Software
As a Zoho Expense alternative, Neat offers small businesses and entrepreneurs a more accessible and efficient way for accounts payable teams to manage their bookkeeping, payments, and expenses. They provide a cloud-based solution allowing you to capture, track, manage and reconcile all your financial transactions centrally.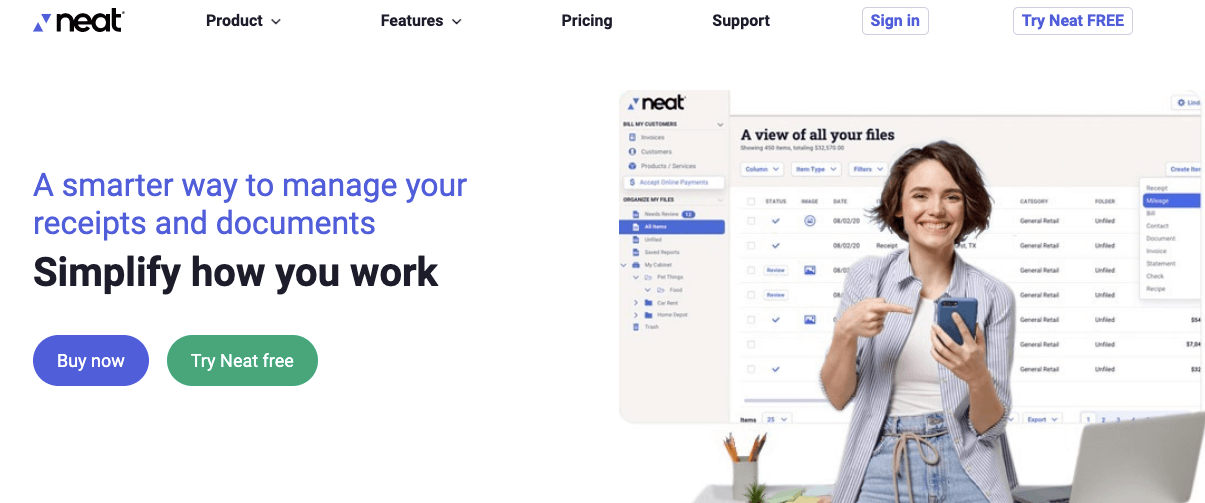 5.1 Feature snapshot
Here are a few attractive features that may appeal to you.
Neat offers real-time visibility into spend, sales figures, income tax, and expenses. It also enables you to capture, file and report these numbers more efficiently.
Neat's features make collaborations more manageable and effective, as you can share files, information, and comments without lengthy and bulky emails.
Neat's technology extracts important information and transforms it into digital and usable files. While access is undoubtedly far better, it categorizes the information according to your business needs to suit your requirements.
No more manual data entries, as Neat helps you to scan receipts and other essential business documents using your mobile devices.
5.2 Zoho Expense/Neat
Name
Pros
Cons
Zoho Expense

Users find the overall experience good as the multi-support platform and app are simple and easy to use.

The features are not complicated, and users can understand and use them efficiently.

As per some users, the reconciliation of bulk reimbursement is a little tricky and messy.

With regard to automatic reimbursements, users find that it supports only a few banks.

Neat

Users feel that the ability to scan, classify, and assign categories to each document is really good.

The cloud-based service ensures information is backed up safely.

Some users dealt with data loss and were disappointed with Neat's response and support.

Loss of scans during the conversion from a previous software to Neat was disappointing.
5.3 Top industries represented 
Name
Neat
Zoho Expense
Industry represented (Top 2)

NA

IT and Services

Computer Software
5.4 Impressive feature
Neat is a safe and exceptional Zoho Expense alternative if you are looking for an all-in-one business accounting or bookkeeping software. It removes the guesswork and manual effort involved in putting together numbers, reconciling, and reporting them. So, no more spreadsheets, handwritten notes or receipts, and manual invoice settlement.
5.5 FAQs
a) How much is Neat per month?
Neat, a primary document management platform, is available for $200 per month. On the other hand, you can experience the features for free by signing up for the 14-day free trial.
b) Can I use Neat for free?
Yes, the Neat Basic plan is free, but you can access only limited features.
Quick Read: 11 Best Billing Software for Your Business
Rydoo is a complete expense management platform and is a great Zoho Expense alternative. Real-time capture and management of expenses are possible with the Rydoo expense tracking app. Further, you can speed up the entire process as the approval and reporting process is also quicker and in real-time.
Business travelers can take advantage of Rydoo's smart technology as employees can book their travel through mobile devices. Whether through the web or the app, Rydoo provides simple solutions to tackle your expense management woes.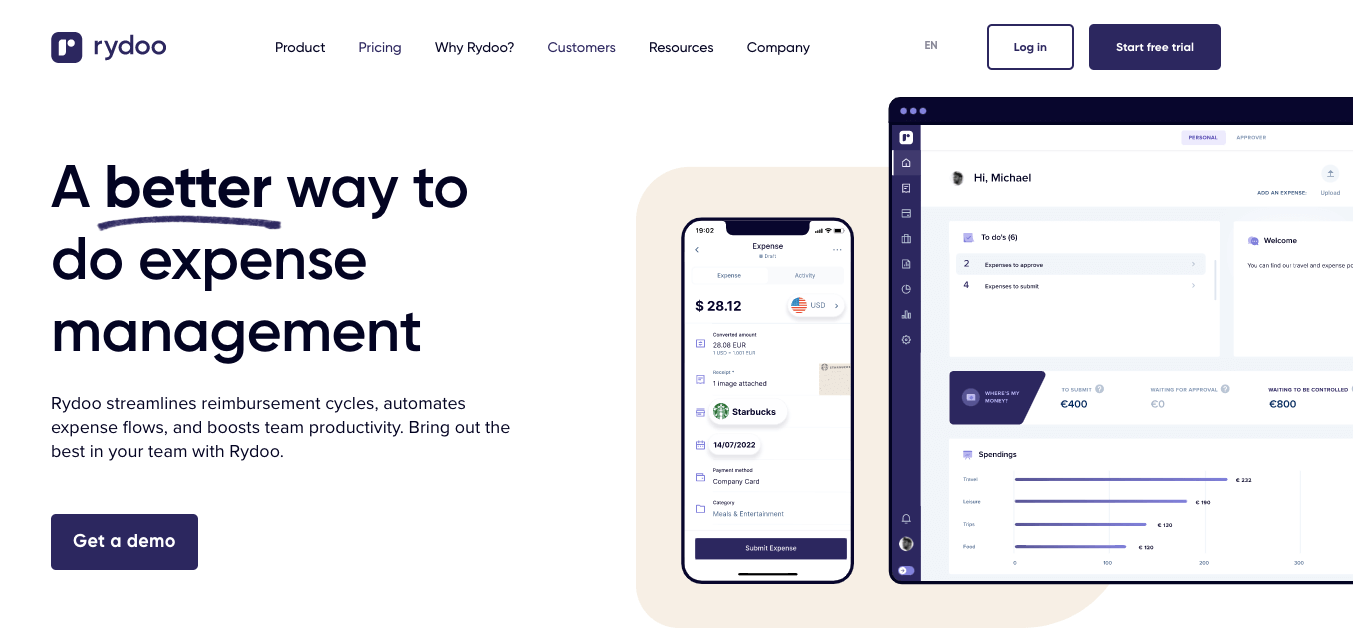 6.1 Feature snapshot
With Rydoo's digital expense tools, you can instantly approve and reject expense claims. Automated approvals save time and cost for your organization. 
Your travel and expense policies will finally begin to count as the software throws up warnings of non-compliance. You can manage or reject non-compliant expense claims with reasons suitable for you. 
Easy scan allows employees to quickly snap a picture of receipts and create expense reports immediately.
You can manage daily allowances and meal deductions using Rydoo's features. 
Rydoo offers pre-set dashboards, or you can customize them based on preferred projects, branches or employees. It helps in making more intelligent business decisions.
Based on data recorded by the system, you can discover partnership opportunities with your preferred merchants or renegotiate outdated deals. Rydoo's insights give you leverage to strike the right deals for your organization.
6.2 Zoho Expense/Rydoo
Name
Pros
Cons
Zoho Expense

The simplicity of the app's design is a plus, as every time an expense is scanned; it becomes a Zoho expense.

Users appreciate that Zoho's app is bug-free and features a solid interface.

Users would prefer an option toad expenses without automatically adding them to an expense report.

Users find the pricing a little high.

Rydoo

The design and the features are pretty straightforward, making it easy for users.

The "recently used" category helps people to seed up the expense submission process.

Some updates to the system result in extra steps to complete the process.

The predictive spelling or the auto-correct is not as effective as users would like.
6.3 Top industries represented
Name
Rydoo
Zoho Expense
Industry represented (Top 2)

Other Industries

IT and Services

IT and Services

Computer Software
6.4 Impressive feature
Rydoo as Zoho Expense's competitor impresses with its third-party integrations. ERP and accounting software integrations such as Xero, Quickbooks, Oracle and SAP ensure that the expense management system is adaptable.
6.5 FAQs
a) How does Rydoo work?
Formerly called Xpenditure, Rydoo offers a cloud-based software solution for travel and business expense management. You can use the web-based platform or the mobile app to scan images of your receipts and record, track and manage them.
b) Is Rydoo free?
You can sign up for the 14-day free trial period. However, this provides access to some basic features. You can sign up for other plans and pay monthly or annually to avail of additional features.
Also, Read: 10 Best Expense Reporting Software Systems
Fyle expense management solutions are a great Zoho Expense alternative. With an all-inclusive platform that promises to streamline your expense management workflows, employees, finance teams, and CFOs can breathe easier. The features Fyle offers allow employees to submit expenses using their everyday apps, such as Gmail, Slack, and Teams.
Fyle mobile app also promises to improve employee experience as users can now quickly snap pictures of receipts and other expense proof, submit and track them online quickly and effectively.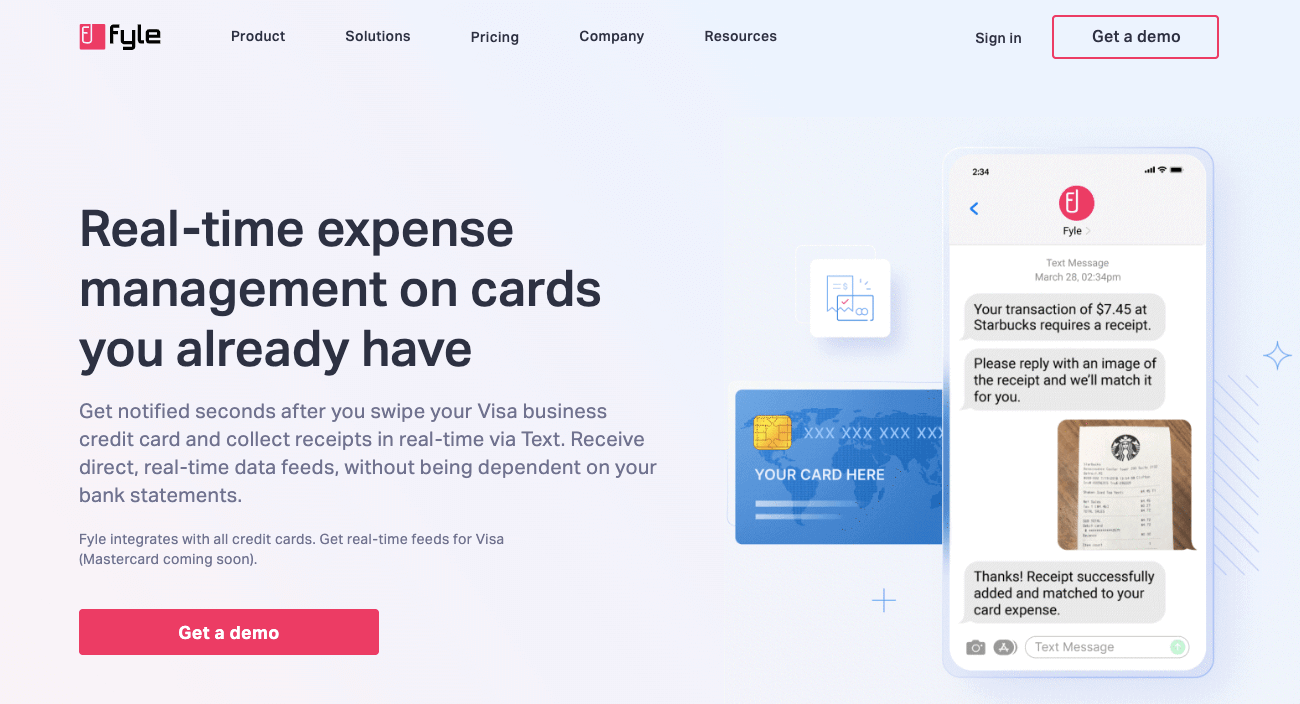 7.1 Feature snapshot
Let's take a closer look at the features to see how it rates as a Zoho expense competitor.
Tracking expenses is easy as the expense form contains all relevant expense data. It can be customized to include categories critical to your enterprise.

Google Maps-supported feature allows for mileage tracking of your employees out on the road.

Paper receipts can be converted to images and submitted through any of the Gsuite apps.

Fyle integrates seamlessly with accounting software such as Xero. Such integration allows for information to flow easily into your existing accounting systems.

You can quickly identify spending patterns, risks, and opportunities with the Fyle software's insights.

An auto-match feature allows the system to match expenses with the corresponding corporate credit card.
7.2 Fyle/Zoho Expense
Name
Pros
Cons
Zoho Expense

Users like the ability to create multiple expense reports along with multiple expense types.

Users also like the feature where the expense report is converted to a pdf file for easy access.

The functionality of the app in offline mode is a big challenge.

Fyle

The accessibility and the ease-of-use are plus points.

Users appreciate the ease with which they can view past and current expenses.

Users have trouble with the AI-based auto-fill feature.

Some users feel that the UI experience is a bit clunky.
7.3 Top industries represented
Name
Fyle
Zoho Expense
Industry represented (Top 2)

Other Industries

Computer Software

IT and Services

Computer Software
7.4 Impressive feature
Fyle's intelligent policy engine assures that however complex your policy rules are, you can automate them with ease. The system immediately highlights policy violations so you can prevent them before it becomes an issue.
7.5 FAQs
a) Is Fyle an expense management app?
Fyle hopes to solve the challenge of handling business and travel expenses manually. You can use the expense management software solution on the web or mobile app. 
b) What is Fyle AI?
Fyle uses Artificial Intelligence to capture and read expense receipts. The information is extracted and recorded into your system for further processing and analysis.
Read More: 6 Best Travel & Expense Software
How to choose the best Zoho Expense alternative for your organization?
1. Expense capture
When choosing a Zoho Expense alternative, consider the expense capture process. For instance, Happay is mobile-optimized so that you can file expenses from anywhere, anytime. Further, mileage and time tracking features are also available.
Focusing on employee experience, Happay provides the easiest and most effective way to capture business expenses. A quick picture of the receipt, a few details, and the expense are recorded. No more saving receipts and no more physical paperwork!
2. Travel booking platform
Consider using a self-booking platform when considering a Zoho Expense platform. For instance, Happay Travel gives you "One Platform" to access and book flights, hotels, and cabs. You can also view workflows, GST reconciliations, CTA payments, etc., on one platform. 
Imagine
Empowering your employees to self-book their travel.

Saving up to 20% on your trips plus travel cost.

Access to a unified view of your T&E solution.

Being able to view all your vendors(preferred) on a single platform.
3. GST filing and reconciliation
GST filing and reconciliation is critical when you rank the possible contenders for the right expense management software. Happay as a Zoho Expense competitor, offers valuable features. For instance,
It automatically feeds your organization's GSTIN at booking time. It ensures Airlines and Hotels file GSTR1 precisely.

Your vendor's GSTIN is automatically captured when employees file expenses using Happay's SmartScan Technology.

GST break-up is auto-calculated after choosing a percentage. It eliminates additional effort by your finance teams during audits.

Happay auto-reads all travel invoices from a central email ID

It auto-generates an error-free GST report giving you 100% accurate Input Tax Credit data.
4. Expense approvals and policy compliance
The most critical and time-consuming part of expense management is expense approvals and policy compliance. Happay's customizable software allows you to configure business rules/expense policies.
So, the system manages it quite effortlessly, whether it is triggering the right deviational workflow for approvals, notifications of pending approvals, or status updates. On the other hand, Happay's Smart Audit flags off violations, fraud, and manual errors such as duplicate, inflated, or restricted claims.
5. Integration
You must consider the integration capabilities of the prospective Zoho Expense alternatives. Unless the system integrates well with your existing systems, the effort to automate your expense management may be futile.
For instance, Happay integrates with over 30 applications across ERP(Enterprise Resource Planning), HRMS (Human Resources Management System), Travel Agencies, Cab Services, and Credit Cards. With the applications communicating with each other easily, you can take advantage of real-time updates from a single source of truth.
6. Corporate card payments
Have you considered using corporate cards for various business and travel expenses? Well, it should be one of the factors you consider as you evaluate a Zoho Expense Alternative. Here, Happay offers several options.
A unified employee expense card – This is a single card (integrated with travel and expense management solution) for all expenses, making it easy to get real-time spend visibility, ensure policy compliance, and reconcile expenses.
Petty cash Management with cards – With petty cash cards, you get end-to-end control of your petty cash. Fund distribution, spend visibility, expense filing, approvals, violations, cash reversals, budgeting, and reconciliation is now easily possible with Happay's corporate cards.
Also, Read: Petty Cash Books – Types, Formats, Pros and Cons
Mistakes to avoid when choosing expense software
1. You opted for a readymade solution.
Small businesses and freelancers may get away with using a readymade solution. In fact, they may also benefit from using the free plan (which restricts the usage to certain basic features). However, it is best to consider a customised expense management solution if you are an enterprise looking to solve unique challenges your organization faces.
2. You did not have the "integration" discussion.
Avoiding a discussion about integration is another mistake you must avoid at all costs. Integration with your existing systems (Accounting, HRMS, CRM) is critical and plays a vital role in the success of your digital transformation. So, make sure you ask how well the prospective expense management solution integrates with your existing setup.
3. You did not consider that your organization is growing.
Another grave mistake organisations commit is investing in solutions that solve their immediate problems. You must consider that your organization is growing and will continue to do so in the future. So, always ask your vendor about scalability.
4. Your decision is based on another's success story.
What worked for one may be a complete disaster for another. Your employees' challenges, processes, and organizational culture are entirely unique. So, find a solution that fits the same. Do not try to insert a circle into a square peg!
5. You thought it was your decision alone.
It may seem like only CFOs and finance teams worry about expense management. On the contrary, a well-designed expense management solution can contribute to every part of your organization.
Make sure you bring all the stakeholders together to sit in on demos and Q&A sessions with vendors. It will help avoid major pitfalls when you pick the right expense management solution for your organization.
Also, Read: A Guide to Choosing the Right Expense Tracking Software
About Zoho Expense
1. What is Zoho Expense?
Zoho Expense is a travel and expense management solution that promises to streamline your expense capture, tracking, recording and reconciliation process. Further, they assure better control and visibility over your expenses. 
They have a presence in many countries and offer both a web-based platform and a mobile application. Zoho's solution fits into your existing workflows to seamlessly integrate with all other applications.
2. How can Zoho Expense contribute to your organization?
Zoho Expense offers multiple features that can help you at every stage of your expense reporting. For example,
Receipt management – You can auto-scan receipts, track them, and store a digital version easily for your ready access.
Expense management – You can automate the process and enable digital management of all expenses, such as multicurrency, per diem, non-billable and billable expenses. 
Corporate card reconciliation – You can connect all your corporate cards while automating the reconciliation of expenses using these cards.
Pricing – Zoho Expense offers several plans, so you can pick the one that serves you best. You can choose between

Free Plan– This is more suitable for small businesses and freelancers.
Standard– ₹99 per active user per month, billed annually. This plan is ideal for growing enterprises.
Premium– ₹199 per active user per month, billed annually. This plan is more suitable for global enterprises with a high volume of expenses.
Enterprise– ₹299 per active user per month, billed annually. This plan is more ideal for enterprises requiring a customizable solution.
Suggested Read: Zoho Expense Reviews: Pricing, Features, Pros and Cons
Conclusion
Whether it is Zoho Expense or a Zoho Expense alternative, pay attention to features that are vital to your organization. Ask for demos, schedule meetings with all stakeholders and ensure you get clarity on how the prospective solution will work for your organization.
FAQs
1. What is Zoho Expense used for?
Zoho Expense offers an automated solution for expense management. You can capture images, record, track, and reimburse business expenses without manual intervention. With several pricing plans, you can pick the plan that suits your organization the most.
2. Is Zoho Expense included in Zoho Books?
The business expense entries you process through Zoho Expense can be posted automatically in Zoho Books. However, they are different products in a suite of products offered by Zoho.