Zoho Expense reviews
Zoho Expense simplifies and streamlines your expense management. Whether it is expense capture, recording, approval, tracking, or reconciliation, Zoho Expense promises to transform it for you.
Further, you can enjoy complete control over spending, speed up your reimbursement cycle and benefit from sharper financial insights. Zoho offers web-based and mobile app-based solutions that are bound to make your expense management smarter and more efficient.
Suggested Read: 7 Best Zoho Expense Alternatives and Competitors
Zoho Expense features
1. Receipt management
The Autoscan feature allows you to automatically capture information on receipts and forward or import them in bulk or otherwise. It ensures you have digital records and no expenses are untracked.
2. Expense tracking
As part of expense tracking, Zoho expense offers accurate mileage tracking, which you can add to your expense management system through Android, iPhones, or through Apple watches too.
3. Corporate card reconciliation
You can connect corporate cards to the Zoho Expense management system, so your reconciliation processes are faster. You can automatically match your expenses, separate personal expenses, and reconcile business expenses easily.
4. Direct feed integration
Direct Feed Integration ensures that all your corporate card feeds (information) can be picked up directly from the source (VISA, Mastercard, and Amex), eliminating the middlemen and errors.
5. Expense report automation and management
With Zoho Expense, you can automate expense report submissions. Users can add expenses automatically, apply for cash advances, download expense reports, etc., without manual effort.
6. Customized approval workflows
Whether custom, non-linear, or multi-stage approvals, Zoho Expense ensures that everything is managed digitally, with minimal manual effort.
7. Compliance and audit
Zoho Expense is GDPR compliant, ISO certified, and offers dedicated editions for several countries. Now, you do not have to worry about compliance laws. Further, whether it is policy violations, duplicate entries, or fraud, easy access to digital records ensures you are always audit-ready.
8. Better control over policies, expense rules, and budgets
Zoho allows you to customize policies for different departments, cost centers, or according to any other criteria that work for you. You can also set expense limits based on your business requirements. Further, you can create budgets for expense types and categories. You can control spend and warn or block users from creating an expense out of budget.
Suggested Read: A Comprehensive Guide for Travel and Expense Policy
Zoho Expense feature-based user reviews
Zoho Expense offers multiple features that can help you at every stage of your expense reporting.
1. Expense submission, management, and reimbursement
Users on Trust Radius find that Zoho Expense has streamlined its expense management. It has gone from using time-consuming spreadsheets to easier digitized versions.
Pros
The ease of use, straightforward expense tracking process, and speed are plus points. Another user on Capterra appreciates the simple and intuitive user interface. The customizability of Zoho Expense is another feature that they like.
Cons
User notes that integrating with the Justworks HR platform is challenging. Another user on Capterra mentions their inability to categorize expenses in advance works as a con as this delays the uploading of receipts and expenses.
Must Read: 10 Best Expense Management Software
2. Receipt management
A user compares the original traditional process of preserving and submitting receipts to the current workflow, where receipts and the relevant information is automatically loaded into the system.
Pros
What works is that it is straightforward and offers good functionality. The auto-scan feature works well and integrates seamlessly into Zoho Books.
Cons
Users would prefer more options when choosing payment methods. Also, they would appreciate more room for customization (especially since some departments need different categorizations).
3. Accounting
One user details the conveniences of using Zoho Expense. The onboarding process takes a while, especially the parameters, protocols, accounts, and user details. However, it helps to train your end-users effectively. Further, Zoho Expense is an affordable expense reporting system that integrates with QuickBooks Desktop.
Pros
The user appreciates the feature that alerts users or approvers of a duplicate charge.
Cons
According to the user, one of the challenges is that whenever users upload files to QuickBooks, the entire chart of accounts is uploaded back into Zoho. Users fail to fix it despite using several attempts by the IT Department. They spend time clearing the active list constantly.
Future read: 9 Best Accounting Software for Small Business
4. Mobile app
Users note the ease of use when it comes to working with Zoho Expense report systems. The easy uploads on mobile or desktop, along with the easy integration, make expense management a less cumbersome process.
Pros
A user on G2 appreciates the simplicity that Zoho Expense brings to the receipt capture process. They note that this has helped in bringing down the printing costs too.
Cons
The user mentions that while the process has become more straightforward, the flow is confusing. They also need help as sometimes the receipt upload feature in the mobile app hangs. Another user speaks about glitches when scanning images from an iPhone. Also, they mention that you cannot import scans from other camera apps (for OCR).
A user on G2 is disappointed that users must log into the website to add credit/debit cards. It is impossible to do so through the mobile app.
5. Transition and integration
A user on G2 notes that using Zoho Expense is a step up from an archaic and unsustainable process of using spreadsheets alone. Scanning and maintaining records is far easier for those working remotely than traditional methods.
Pros
Zoho Expense is cloud-based and, therefore, has helped users manage expenses on the fly. The user appreciates the mileage tracking feature and its ease of use.
Cons
The user mentions that switching between Zoho CRM and Zoho Expense is unpleasant. Further, they note that during the transition from the trial version to the actual version of the Zoho Expense, the information did not transfer.
6. Functionality
A user on Capterra signed up for Zoho Expense, hoping to capture and integrate their expenses with Zoho Books.
Pros
The user liked the ease with which they could capture and link their expenses with Zoho Books. They also appreciated the approval and reimbursement features as the associated administrative work became much more manageable. Another user mentions that the portal is easy to use on mobile and desktop.
Cons:
The user felt that Zoho Expense is a bit tricky to use as a beginner. While the jargon used is not straightforward, leading to confusion about where you must log receipts. It resulted in incorrect and duplicate entries. As per another Zoho Expense review, a user felt that Zoho Expense must make the webpage a little lighter as it takes too much time to load.
A user on G2 does not appreciate that the app does not work if the user does not have an internet connection. They must wait until they can connect before uploading receipts and expenses.
Zoho Expense pricing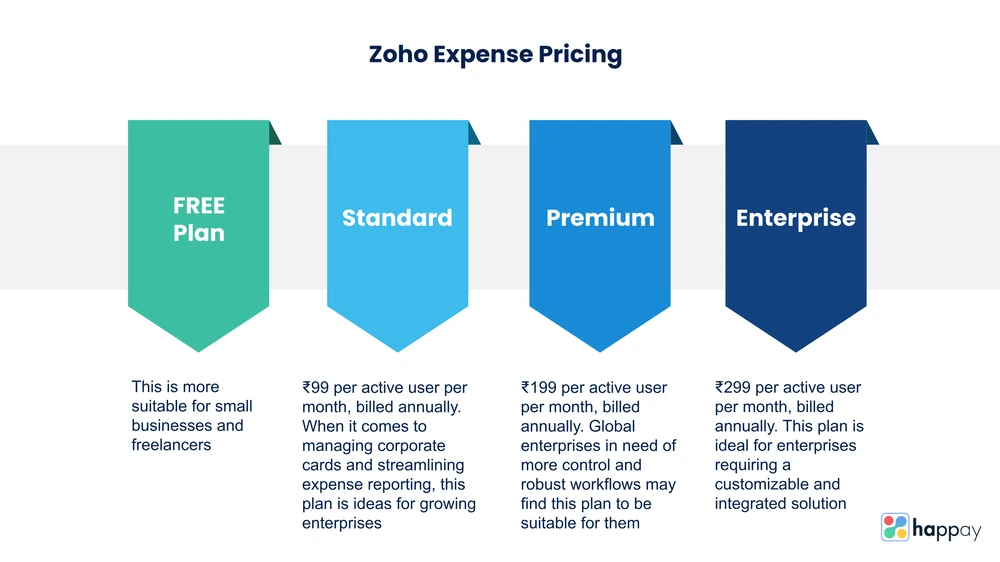 Zoho Expense offers several plans and you can pick one that serves you best. You can choose between
Free Plan

This is more suitable for small businesses and freelancers

Standard

₹99 per active user per month, billed annually.

Premium

₹199 per active user per month, billed annually.

Enterprise

₹299 per active user per month, billed annually.

Up to 3 users

5GB receipt storage

Multi-currency expenses

Project and customer tracking

Integration with accounting

Everything in the free plan is included in the standard plan.

Minimum three users and unlimited maximum users

20 receipt auto-scans per user

Corporate card reconciliation

Cash advances

Access delegation

Multi-level approvals

Basic audit trail reports

Features in the standard plan are included in this plan

Minimum 3 users and unlimited maximum users

Autoscan receipts

Purchase request

Advanced approvals

Per Diem automation

Any advanced customization

Everything in the premium plan is included in this plan.

TMC (Travel management companies) integrations

ERP integrations

Single Sign On

Dedicated account manager

Advanced audit trail reports
7 Best Zoho Expense alternatives
About Zoho Expense
Born as AdventNet in 1996; they initially provided network management services. It was rechristened as Zoho Corporation in May 2009. Founded by Sridhar Vembu and Tony Thomas, their global headquarters are situated in Chennai, India. As an umbrella company, Zoho Corporation supports three different divisions that cater to three different markets.
Zoho Funding
Zoho Corporation is privately funded and continues to be privately owned.
In 2017, Zoho Corporation launched Zoho One, featuring over 40 applications in an exhaustive suite of products. Zoho Books (Accounting Software), Zoho workplace (Enterprise Collaboration Platform), Zoho Survey (Customer Experience Management Tool), and Zoho Expense (Expense Management) are just a few of the applications in this comprehensive suite of products.
Zoho Expense, born in 2015, offers expense management solutions and is a part of the finance suite of products and services offered by Zoho. Besides streamlining business travel processes, Zoho Expense automates expense capture and management.
Zoho Vision
As a web-based and mobile application, Zoho Expense provides solutions to minimize manual processing and reduce non-compliant and fraudulent claims. Further, the expense tracking software lends insights into business expenses leading to improvements in overall financial health, business productivity, and cash flows.
Conclusion
Zoho emphasizes product refinement and customer experience rather than marketing or selling. Zoho Expense is popular among startups, unicorns, and small and medium enterprises as it offers effortless integration with your existing processes. Ensure you compare Zoho's features and your organization's requirements before you pick Zoho Expense for your expense management.
FAQ's
1. How much does Zoho Expense cost?
Zoho offers support pricing plans categorized as basic, classic, and premium. The basic and classic plans are free of charge, but the services are limited. The premium plan is available at ₹4000/month | ₹40000/year or 20% of the License fee, whichever is higher.
2. How much is Zoho per year?
Zoho offers free (0), standard (₹99 per active user/month billed annually), premium (₹199 per active user/month, billed annually), and enterprise (₹299 per active user/month billed annually).