Expense Reimbursement
Akash: Hi! Are you in the accounts department? What's with the spreadsheet?

Suraj: Considering I hate this, I can never be a good accountant! It's just a tracker I have created for all the reimbursements due from my past business trips.

Akash: Seriously? This many? Why the delay?

Suraj: Well, if I could figure that out….!
There is a steady increase in demand for automated expense reimbursement software solutions. 
A study by Juniper Research suggests that as "hybrid working" increases, the risk of expense fraud grows. Such an increased risk drives the demand for T&E management solutions. The study notes that the overall revenue generated by expense reimbursement software is bound to increase from $8.7 billion in 2022 to $16 billion in 2027 globally.
What is expense reimbursement software?
Gone are the days when excessive paperwork, extra-long email threads, night-long reconciliations, and sneak attacks by month-end statements were considered the norm!
Change the status quo with an expense reimbursement software that tackles expense management from start to finish. You can simplify and streamline the workflows as you automate the entire travel and expense process, you can simplify and streamline the workflows. 
Access to real-time data transforms how you look at expense capture, recording, reporting, approvals, and reimbursements. Reimbursement frequencies and transparencies improve while the organization's overall efficiencies increase.
Read on as we help you understand expense reimbursement software better and help you find the best solution for your organization.
Quick pick – Top expense reimbursement software
Are you trying to find the best expense reimbursement software for your organization? 
After a detailed study of over 50 players in the T&E market, we present this list of the top 10 expense reimbursement software vendors. Before deep diving into each of these vendors and what they offer, here is a comparative table that gives you a quick look at their best features and essential details.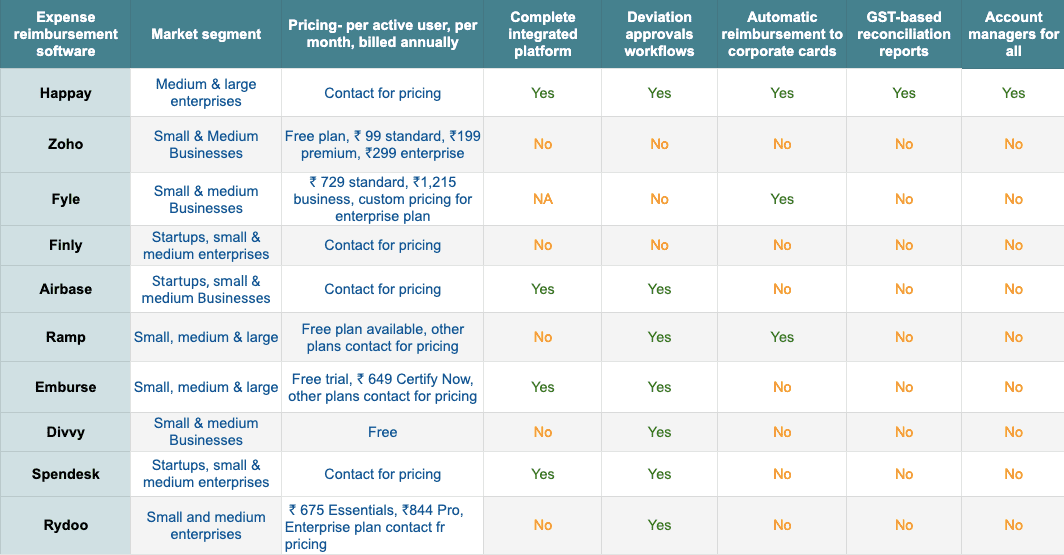 10 best expense reimbursement software analysis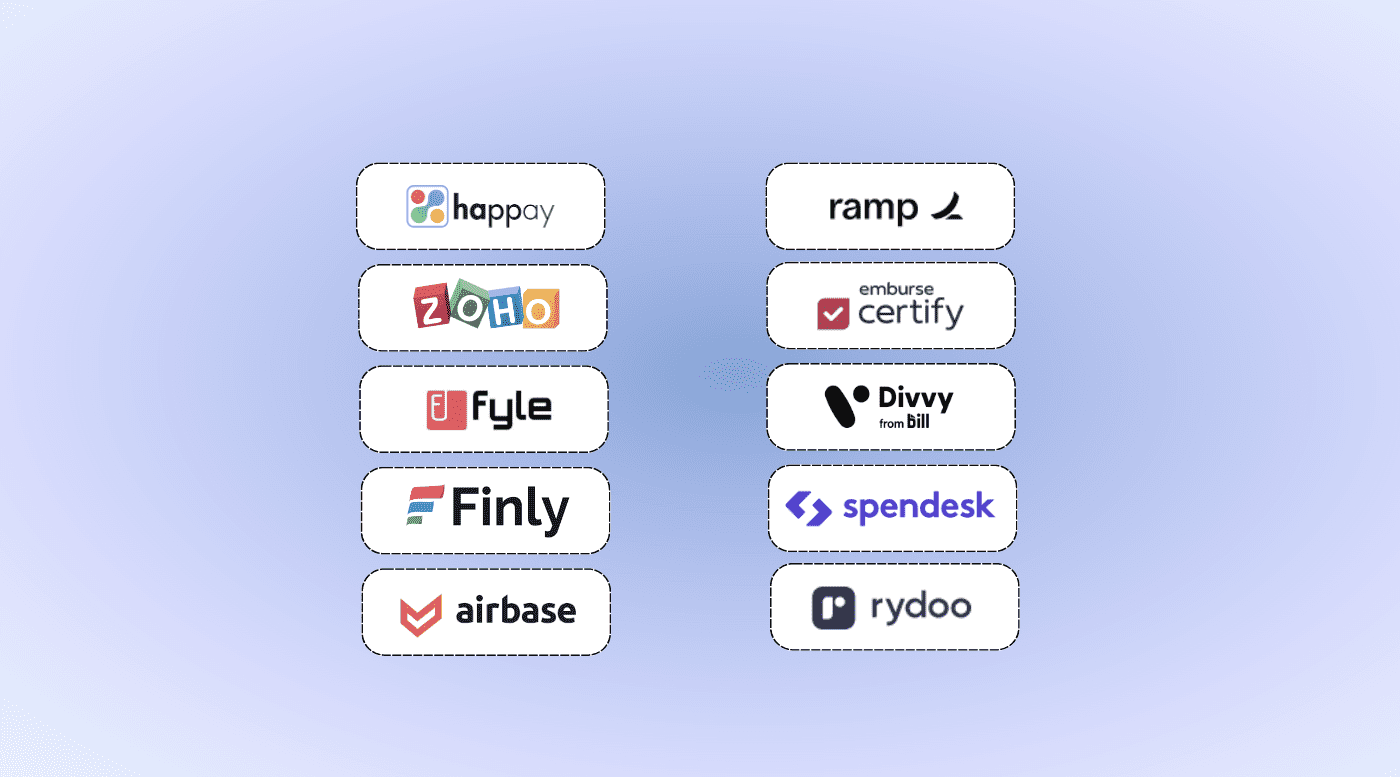 Happay offers a comprehensive, flexible, integrated travel and expense management platform. In fact, they are the only company to provide a travel, expense, and payment stack together. Multiple milestones, awards, and achievements in the last ten years make Happay a clear winner in this category. 
Happay has a global presence in over 18 countries, including Singapore, the USA, the UK, and UAE. Their travel and expense reimbursement software is not only mature but scalable. It offers an exceptional solution for challenges such as employee experience, spend visibility, reduction of travel costs, and agile processes.
Features

Pros

Cons

1.

All-in-one platform offering travel, expense, integration & analytics, GST, and corporate cards. 

1. All-in-one suite with exceptional support through dedicated account managers.

1. More suitable for mid-size and large enterprises.

2. Real-time status updates on expense reimbursements

2. Reconcile expenses within a day and reimburse within 5-6 days.

2. Currently does not support offline features.

3. Supports multi-layered and deviational approval workflows

3. Exceptional back-end reports (custom categories) give sharp insights into expense

4. Xpendite relies on sources for expense information as this prevents data contamination.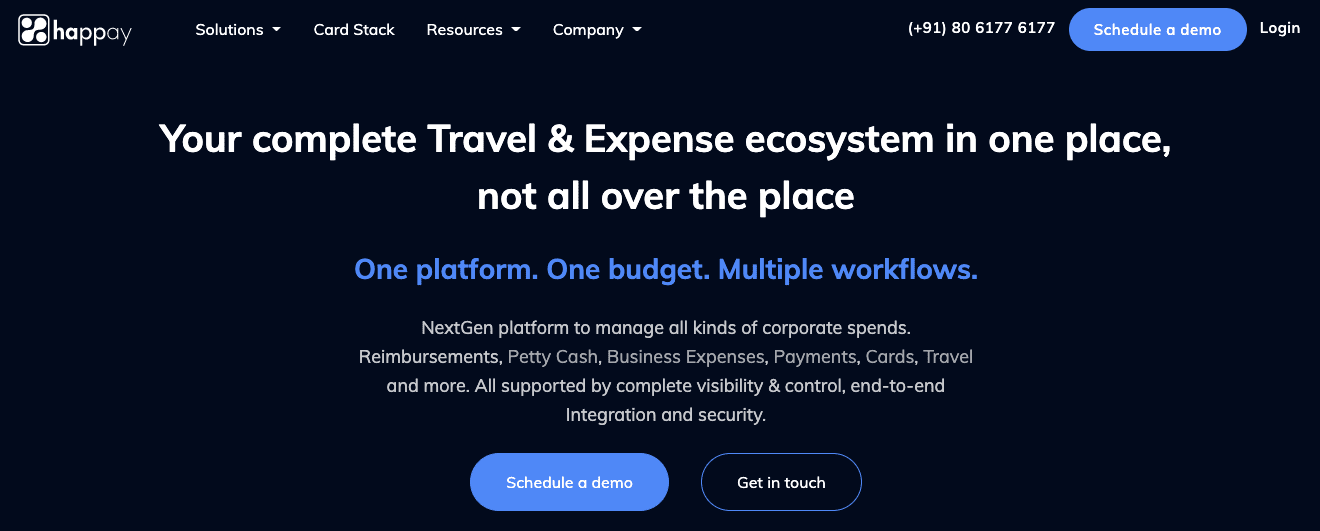 What stands out: Happay's unique Smart Audit feature offers AI-powered expense auditing. It automatically flags spend anomalies, allowing you to identify 
Duplicate bills

Amount mismatches

Prohibited item claims,

Date mismatches.
Smart Audit helps you to reduce your expense verification time by 80% and reduce your reimbursement turnaround time to just five days. 
Suitable for: Medium and large enterprises
Zoho expense is one of the many software solutions the company offers to those looking to streamline their expense reimbursement process. Whether it is auto-capturing expenses, approvals, or reimbursements, Zoho expense tackles the automation with ease.
Not only can you reduce the time taken to process expenses, but the effort and hidden costs associated with expense report processing come down dramatically too.
| | | |
| --- | --- | --- |
| Features | Pros | |
| 1. Zoho offers several small-business-based software solutions. | 1. The Zoho dashboard is intuitive and does a neat job of organizing your expense reports.  | 1. Some users complain about being unable to integrate their Credit card feed. |
| 2. Apart from a free version (for up to 3 users), Zoho offers a free trial to use the app completely. | 2. The app offers reminders or suggestions to include receipts (pictures) you may have excluded from the expense report. | 2. There is a steep learning curve for those using the expense reimbursement software app. |
| 3. Zoho offers a "bulk add expenses screen" to add and organize multiple expenses on a single page. | 3. When the approver is unavailable, the Zoho app allows you to delegate the approval to another manager. | 3. Users feel that the app is not user-friendly. |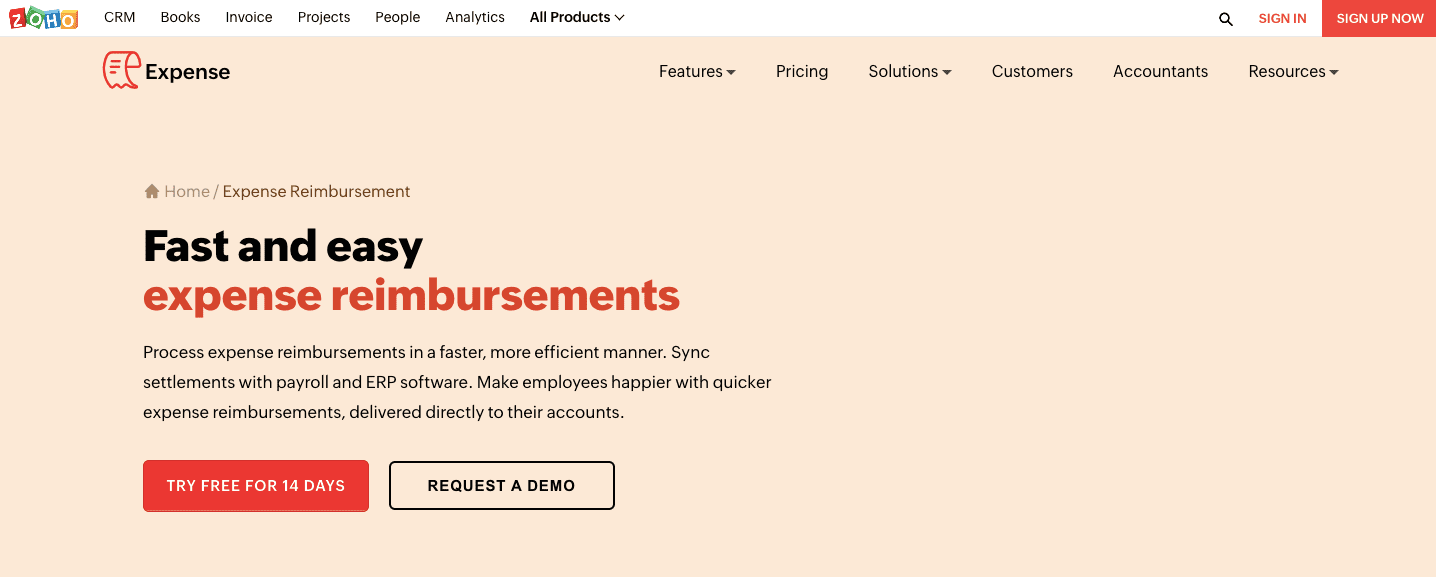 What stands out: Besides Zoho Expense, they offer CRM, Online Surveys, Accounting, and several other products. Since Zoho Expense is just one of the many products they offer, they can provide superior integration capabilities.
Suitable for: Small and medium businesses
For expenses or invoices, Fyle makes capturing, recording, and managing them easy and efficient. To automate the expense reimbursement process, Fyle uses a data extraction engine that works across G-suite and outlook to capture vital information in the invoices and bills. 
Employing Machine Learning, the software ensures that information is extracted and recorded accurately. Further, you can customize the software to ensure that your expense workflows are incorporated appropriately. 
| | | |
| --- | --- | --- |
| Features | Pros | |
| 1. You can submit expenses using regular apps such as WhatsApp, Outlook, and SMS. | 1. There is no need for manual intervention as you can reconcile credit card transactions automatically. | 1. The in-built "Intellisense" feature has a limited capacity to recognize and remember entries. |
| 2. Fraud detection is easier as expenses are marked with a risk score (predictive analysis). | 2. Using Fyle's intelligent software you can automate any complex workflow. | 2. The expense report file may be only uploaded one at a time; it does not allow multiple uploads. |
| 3. Fyle is a credit card-based spend management platform helping you track and reconcile credit card transactions. | 3. The expense reimbursement software offers multi-country and multi-organizational setups. | 3. Users don't feel there are enough expense categories for various business expenses. |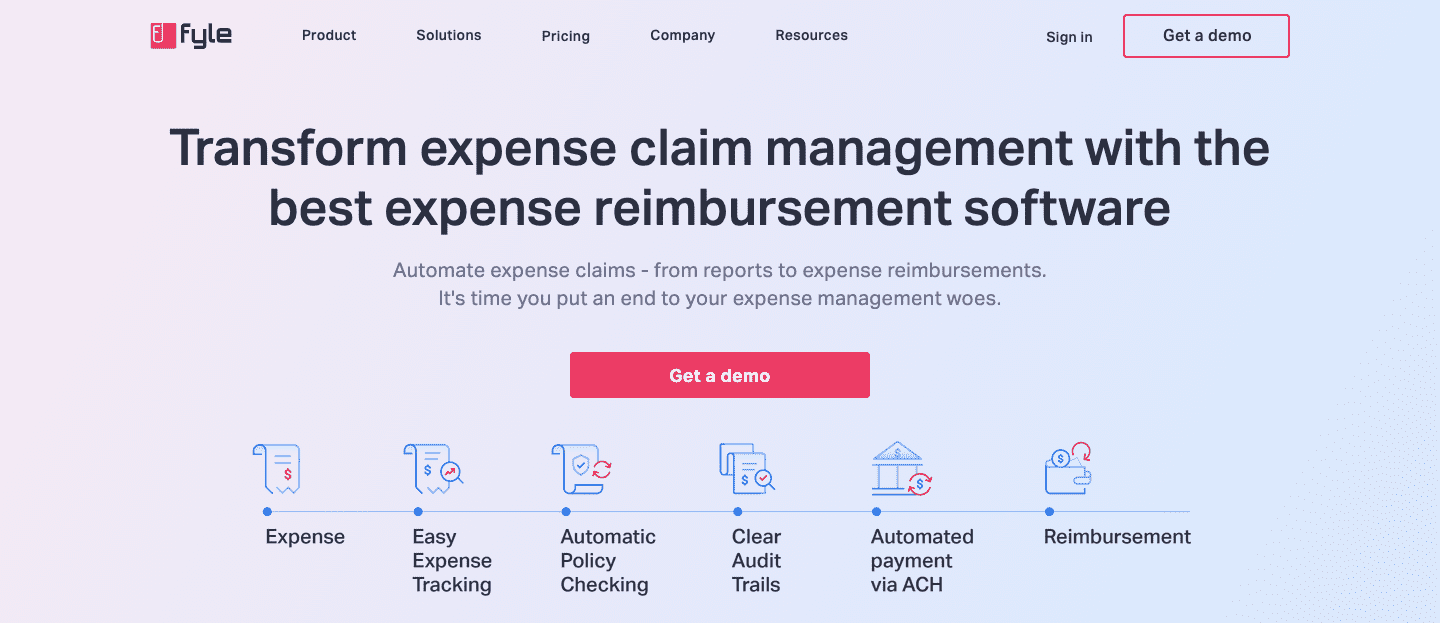 What stands out: The feature that stands out as a plus point is the direct reimbursement facility that Fyle offers to employees (vide ACH-US only).
Suitable for: Small and medium businesses
Finly offers a corporate card-based expense management solution for those looking to automate their expense reimbursement processes. The software platform focuses on accounts payable and the need for visibility and control. Besides e-procurement, vendor payments, and a budget management software solution, Finly offers a scalable and intelligent expense management system.
Automation equips finance professionals with access to real-time data and insights relating to business spend. It enables them to analyze and track critical metrics while being better equipped to make growth-related business decisions.
| | | |
| --- | --- | --- |
| Features | Pros | |
| 1. The prepaid card and OCR technology used in the software make expense submission a breeze. | 1. Finly offers a completely intuitive experience. | 1. Users feel let down that the software does not allow them to process payments directly from the system. |
| 2. There is a three-way matching of advance requests, expense reports, and expense reimbursements. | 2. Users appreciate the real-time and easy integration with the accounting systems. | 2. Users quote the inability of the software to process payments in international currency as a con. |
| 3. It integrates well and easily with most accounting systems. | 3. Users praise the software for its ease of use and customization capabilities. | |

What stands out: The reconciliation process is quick and effective. Users who spent long hours reconciling invoices and expenses claim that Finly's software solution has eased both time and effort.
Suitable for: Startups, small and medium businesses
Combining accounts payable, corporate cards, and expense reimbursements, Airbase provides a complete expense reimbursement software solution. It promises to give your business a consistent and easy experience. 
While these products could be employed individually, the entire suite of products helps you scale expense processing challenges easily and effectively. So, whether it is expense capture, recording, tracking, approvals, reporting, or spend management, Airbase's expense management solution promises to resolve them all. 
| | | |
| --- | --- | --- |
| Features | Pros | |
| 1. Complicated manual processes are replaced with an automated expense reimbursement system | 1. Expense approvals are a breeze as managers or approvers need to just click on the request to proceed further. | Users are disappointed with the cash management feature. The time taken for a payment to be reflected in the available balance is five days |
| 2. The central focus of the features is on credit card-based spending, vendor payments, and employee reimbursements | 2. Expense capture is definitely a pro as employees can take pictures of the receipts, and attach them immediately or later. Airbase automatically populates the expense reimbursement details. | 2. The time lag reported for direct bank transfers (ACH) is also long leading to disappointed vendors. |
| 3. Airbase offers packages with functionalities and features that solve today's problems, along with options for when you scale up. | 3. The airbase system automatically processes payment for approved expenses. It is paid directly into the employee's bank account. | |

What stands out: Airbase's virtual credit card feature stands out prominently. Vendor management is certainly more manageable and more effective as employees can use virtual cards for external vendor payments.
Suitable for: Startups, small and medium businesses
Ramp offers both a cloud and card-based expense reimbursement solution. With virtual corporate cards, you can track and manage expenses efficiently. Besides, you can also identify areas that could benefit from changes or additional controls. 
Ramp offers several features that can help transform manual or semi-automatic workflows plaguing your organization's expense reimbursement processes. So, whether it is expense capture, employee expense reports, receipt submissions, or travel and expense reimbursement, Ramp has something to offer.
| | | |
| --- | --- | --- |
| Features | Pros | |
| 1. As you capture expenses, Ramp reviews, flags, or approves each and every item. | 1. The receipt capture feature also sends a reminder text to the user to ensure that the expense is captured. | 1. The absence of a person or an accounting manager seems to be counted as a con. |
| 2. Reimbursements are quick as even international expenses are paid out quickly. | 2. The convenience of generating cards for vendors or employees is certainly a plus point. | 2. Some users are unable to add Ramp to Apple Pay, and hence must use other cards for payment. |
| 3. Expense accounting improves as Ramp categorizes and reconciles intelligently. | | |

What stands out: Ramp offers a free plan that includes all major features, such as corporate cards, expense management, payments, and accounting automation. Most small companies and startups may find that the free plan covers most of what is required; large enterprises will need to contact them for customized plans.
Suitable for: Small, medium, and large enterprises
If you are looking to optimize your spend, then Emburse Certify may be a good choice for you. With intuitive expense management, accounts payable, and travel automation, Emburse hopes to reduce the manual effort that goes into supporting growing organizations. 
Time-saving automation, better control over expenses, spend visibility, and customer support are what they rely on to simplify your expense reimbursement system. Offering a broad range of integrations and a smooth and seamless design, Emburse Certify hopes to improve your expense reimbursement process.
| | | |
| --- | --- | --- |
| Features | Pros | |
| 1. Expense tracking software is intuitive and may be customized. | 1. OCR capabilities are impressive | 1. An extra charge for ACH (Automated clearing house) reimbursements. |
| 2. Mobile application is intuitive and well-designed. | 2. Mobile report submission is superior | 2. Integrations other than Quickbooks may present a challenge. |
| 3. They offer a free trial along with competitive self-service plans.   | 3. The mobile app is well-designed | |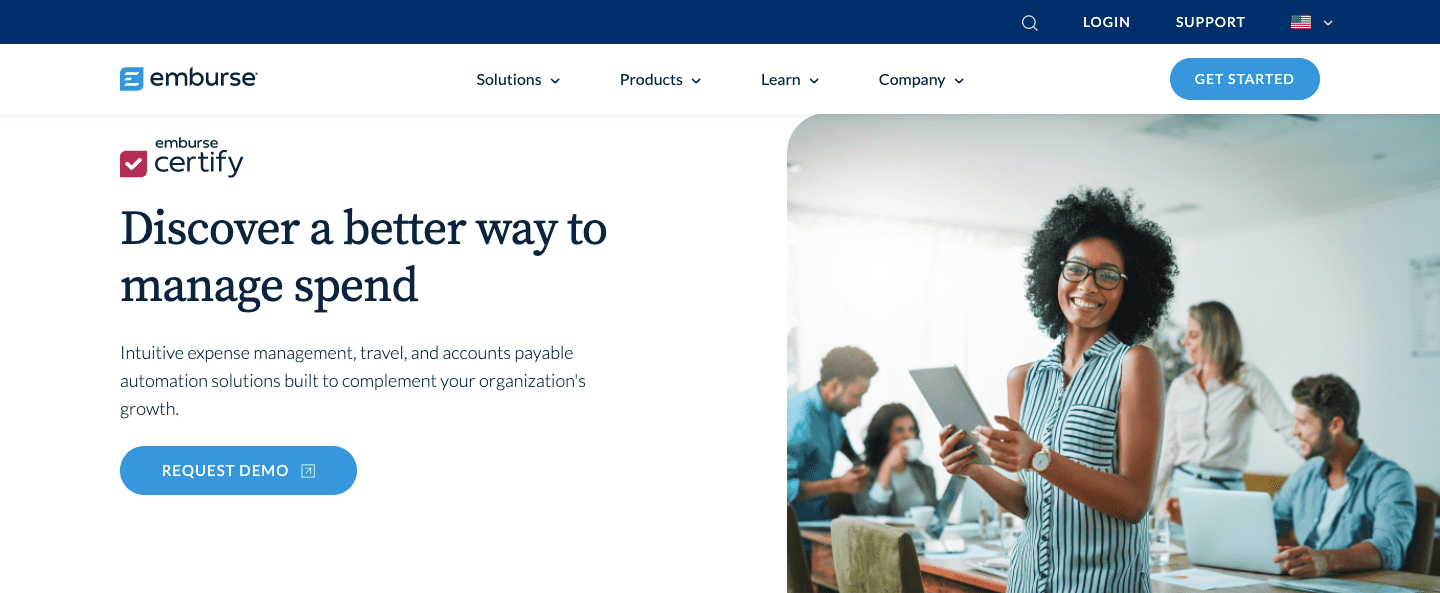 What stands out: what stands out as great features of Emburse is the intuitiveness of the app and the customization features. While these features may be only available for large enterprises, these features offer a better experience for both employers and employees.
Suitable for Small, medium, and large businesses 
Offering a smart card and seamless expense reimbursement software, Divvy hopes to transform your expense management process. Replacing the error-ridden, painstakingly slow manual processes with automation can lend enormous savings in time and cost for your organization. 
Divvy differentiates itself from others by offering you a customized expense management system. With Divvy cards, you can control access to funds safely and securely. Also, spend visibility improves as you access all the data in real time.
| | | |
| --- | --- | --- |
| Features | Pros | |
| 1. Divvy offers physical and virtual corporate credit cards for fast processes and even quicker reimbursements | 1. The app and the web interface are well-appreciated for their extensive features. | 1. Remote customer support seems to be frustrating for users. |
| 2. The software is designed to be compatible with several software solutions to ensure business continuity. | 2. Spend visibility helps to allocate and monitor budgets. | 2. Default settings seem to annoy users as they interfere with the speed at which you can categorize different expenses.  |
| 3. Divvy offers a cool and uncluttered dashboard, giving you access to insightful data for better decision-making. | | The learning curve presented a challenge for users. |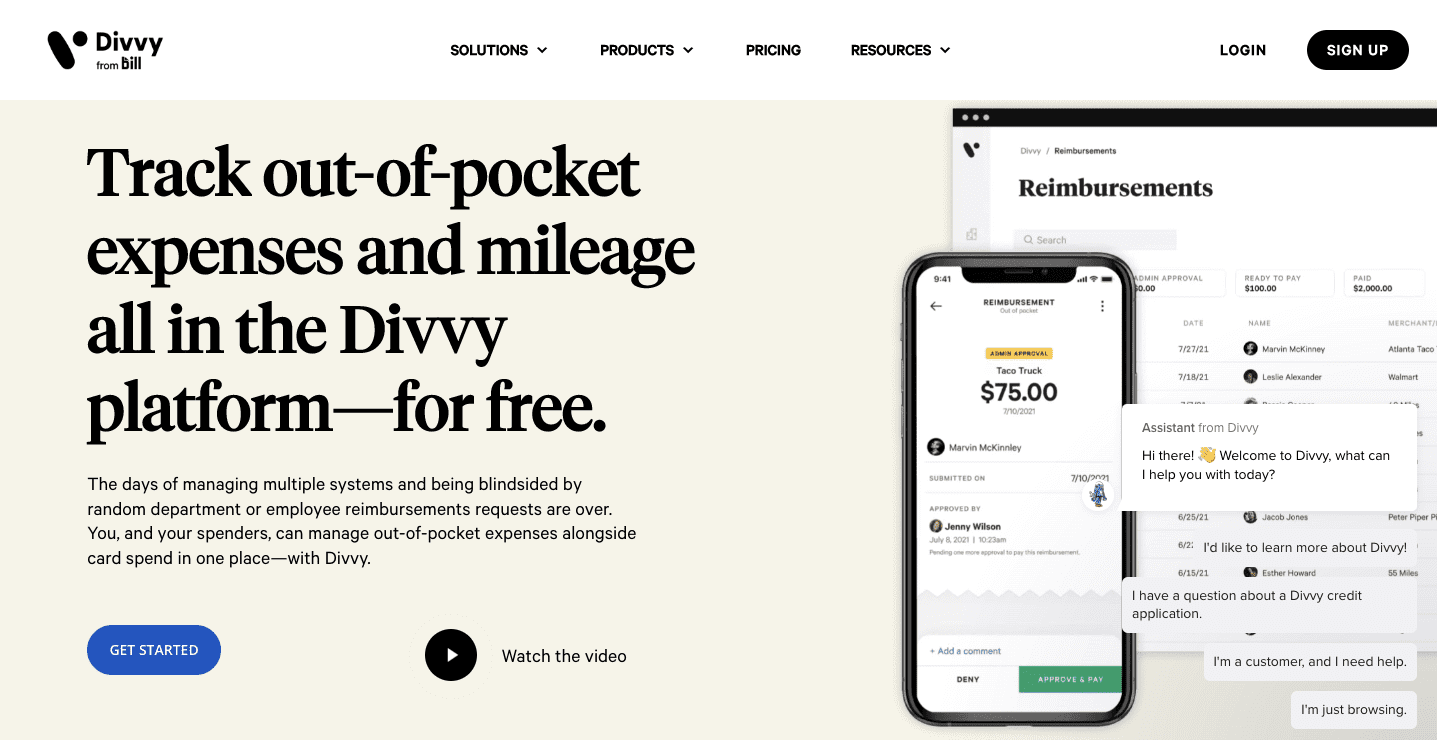 What stands out: Divvy is a 100% free expense management platform. They offer features to help you track and manage expenses and payments, budget, and ultimately eliminate manual expense management. However, you may add extra or premium features (for a price) may be added to this plan.
Suitable for: Small and medium businesses
Promising a complete expense reimbursement software solution, Spendesk gives you numerous features that will help you shift from manual to automated processes. Among other features, Spendesk helps you track expenses, in real-time, across the organization. It ensures you control your spending and budgets.
With a single view of relevant expenses, Spendesk's dashboard ensures you have complete visibility over spend across your organization. Also, the software ensures you save time as you can export payments and receipts easily to your accounting tools.  
| | | |
| --- | --- | --- |
| Features | Pros | |
| 1. They feature an all-in-one spending solution | 1. Users list the easy-to-use interface as a plus point. | 1. Company credit cards bear personal information, and users prefer company information to be listed instead. |
| 2. Spendesk relies on designing simplistic software solutions so the end-user has a good experience. | 2. The expense scanning function works very well. | 2. Users feel Spendesk needs more merchant arrangements which affects the options for users. |
| 3. They promise 100% spend visibility. | 3. Users rate the slack integration as an added advantage. | 3. Spendesk cards are not accepted in some places, and users are never sure about acceptance, especially in foreign countries. |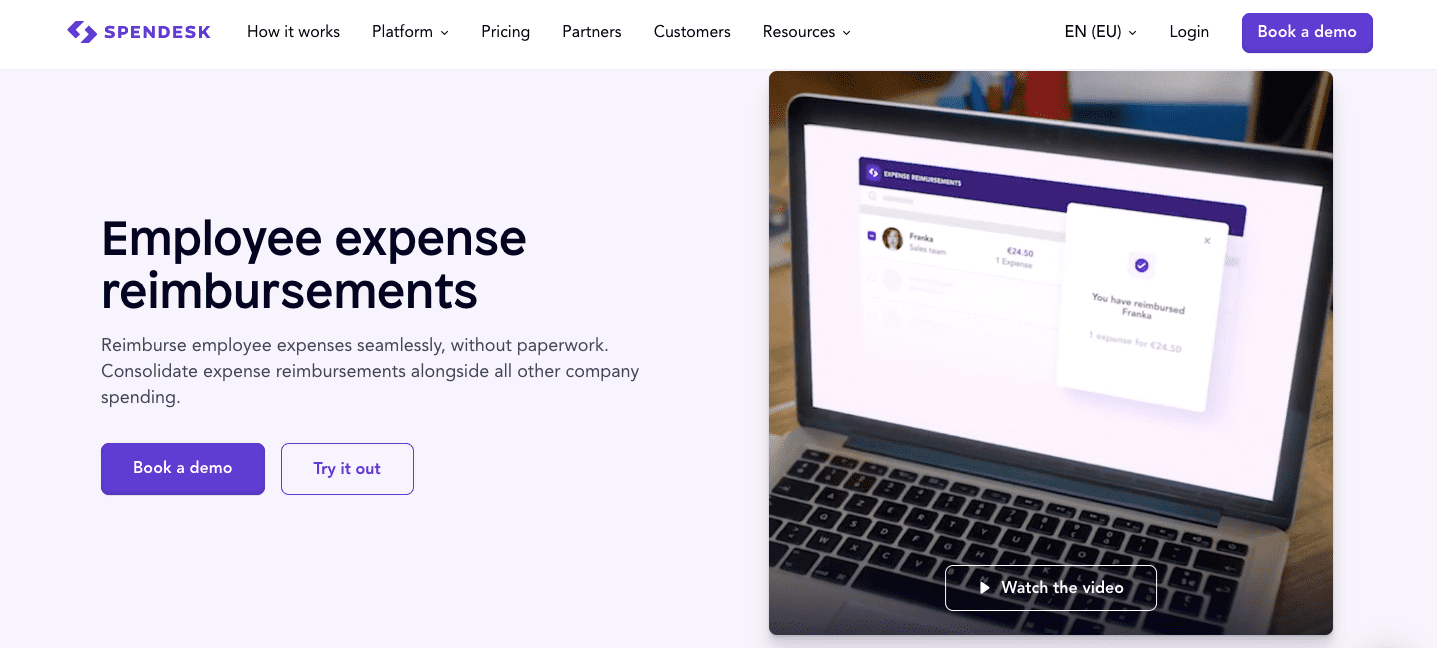 What stands out:  Spendesk insists that the expense reimbursement software solution is just a three-step process. You begin by signing up for a Spendesk plan and loading your unique wallet. Second, you define your terms, policies, and card limits that may be individual to your organization. Thirdly, you can use the Spendesk app to request funds and pay or file expense reports.  
Suitable for: Startups, small and medium enterprises
Rydoo combines travel services and expense tracking to offer a modern expense reimbursement software interface. It helps you to tackle the entire expense workflow from submission to reimbursement quickly and efficiently.
Since being rebranded as Rydoo (earlier Xpenditure Small Business), they have a global presence and are making an impression in financial digitization. Offering several plans such as Team, Growth, and Enterprise, Rydoo hopes to cater to every segment in the market. 
| | | |
| --- | --- | --- |
| Features | Pros | |
| 1. Rydoo features a web dashboard that invites you to either book travel or record expenses. | 1. Users appreciate the convenience of tracking the approval. | 1. Users feel the names for the approval stages need to be clarified. The similarity in the terms confuses users. |
| 2. It offers a range of integrations, including Lyft, Uber, Slack, and SAP(among others).  | 2. Users appreciate the expense capture, submission, and mileage tracker app. | 2. Whenever the account or page is reset, the information is lost, leading to extra work to retrieve the same  |
| 3. It offers international expense tracking with OCR scanning. | | |

What stands out: Rydoo is a Europe-based company, and therefore, it is undoubtedly suited for organizations (specifically SMBs) around Europe. However, considering the various pricing options, free setup, and ease of use, it is a great value proposition.
Suitable for: Small and medium-growing enterprises
4 ways to speed up the expense reimbursement process
If employees are worried about collecting receipts, filing the expense report, and the reimbursement due from the last travel trip rather than preparing for the business trip, it is time to change things around!
A few simple changes can make a massive difference to this cumbersome and slow expense reimbursement process. 
Here are a few questions to ask yourself.
1. What's stopping you from automating?
Automation is the easiest and most effective way to handle problems associated with the expense reimbursement process. Whether it is delayed reimbursements or cumbersome processes, you can overcome them by digitizing the travel and expense process. 
A well-designed (preferably customizable) expense reimbursement software can smoothen the expense capture process by employing OCR technology. The design incorporates your expense approval process and policies to ensure that non-compliant expenses (even at the pre-booking stage) are flagged off, and notifications are sent to appropriate managers.
Your finance team can rest easy as compliance and reconciliation efforts are reduced to a bare minimum. Strategizing and decision-making are a whole lot easier as you have access to real-time data and insightful reports based on the same.
2. Do you have a clear and comprehensive travel and expense policy?
A travel and expense policy is a foundation for the expense management process. So, if you want a smoother expense reimbursement process, then you must work on your policies. It must be comprehensive yet simple to understand. 
Follow this up by ensuring that you communicate these policies well (during onboarding and periodically) so employees are aware of the guidelines. 
3. Why are employees submitting their expense reports late?
Have you ever tried to find out if the reimbursement process is delayed because the employees submit the expense reports late? If that is the case, it may be time to address those issues first. A feedback system across the organization may help you understand the problems and opportunities to manage them
 For instance, dreading the process of accumulating receipts and submitting them may be forcing employees to put off the process. Here, employing expense management software that automates the expense capture process may take care of the challenge for you. 
4. Do you need to re-examine your expense approval process?
How many days does it take for approvers/managers to approve/reject an expense? What happens when the manager is traveling? How complicated is the approval workflow? If you would like a quicker expense reimbursement process, then these questions must be answered. 
You can begin by understanding the challenges in the current expense approval workflows. Automation provides an easy solution here. For example, Happay's expense management software allows you to configure different, simple, or multi-level workflows based on your business logic.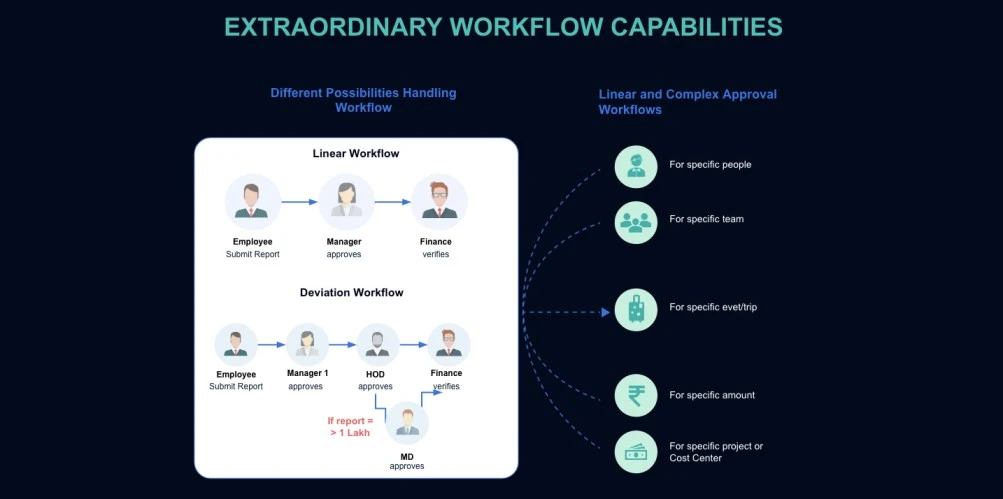 Choosing the right expense reimbursement software
1. One size "does not" fit all
It is important to remember that every business has unique requirements. So, make sure you don't get swayed by the "best" in the market. 
Please do your due diligence as you talk to vendors about the features they offer. Apart from regular features, you must ask if you can customize the expense reimbursement software to suit your specific needs.
2. Ask- what does the software offer?
71% of CFOs surveyed in a PWC CFO survey said they spent their most significant time collecting and consolidating information. 
If that is so, you need software that reduces your burden. Make sure you ask prospective vendors how efficiently the expense reimbursement software collects, tracks, reports, and analyzes information for you.
3. Does the expense reimbursement software integrate with your existing software?
If the systems don't integrate, then it is going to be a future challenge in the future for you!
The expense reimbursement software must work well and effectively with your existing systems. Whether it is CRM, HRMS, or your accounting software, ensure the vendor assures you about the integration and any possible challenges. 
Read also – A Guide to Travel Expense Reimbursement Process
Conclusion
Choosing the right expense reimbursement software for your organization is an important decision. Besides considering your current pain points and future objectives, the budget and current capabilities play a significant role before selecting the right automation solution. 
Happay offers a solution where everyone wins big in your organization. Whether it is the CHRO, CFO, employees, or the travel/admin team, we can assure you an excellent employee experience, efficient processes, robust internal controls, and 100% T&E data visibility.
If this excites you, schedule a demo with us.   
FAQs
1. What software can I use to track my expenses and invoices?
Happay offers a comprehensive and integrated platform that can help you track your travel and expenses. Happay also offers Invoice digitization software that digitizes the approval and payment process.
2. What are the best applications for business expense tracking?
Business expense tracking is easily possible by using Happay's expense tracking app. You can download the app by using this link.
3. What is the importance of expense reports?
Expense reports are critical as employees can list business travel expenses in a single form. On the other hand, employers can process these expense reports in a standard format. 
4. Which is the best expense reimbursement software?
Happay stands out as the best among its peers because it provides a complete and integrated platform (Travel Booking Section, Expense Management, Integration, Analytics Section, GST, and Corporate Cards).