Travel and expense management
According to Statista, 80% of corporate travel managers believe that a standard system of measurement would positively impact corporate travel. 
Are you struggling to manage travel and expenses in your company? If you are looking for the best travel & expense software that will give you greater control over travel and expenses, you are in the right place. In this post, we bring you the six best travel & expense software out there. 
Before we get to the list, we are first breaking down what is travel and expense management software, when you should use one, and what to look out for in the software. Read on to know more. 
What is travel and expense management software? 
Travel and expense management software is an all-in-one T&E management system that allows you to track travel and expenses under one single platform. 
From travel booking and managing traveling employees to creating expense reports, you can now control all this using a unified travel and expense management system.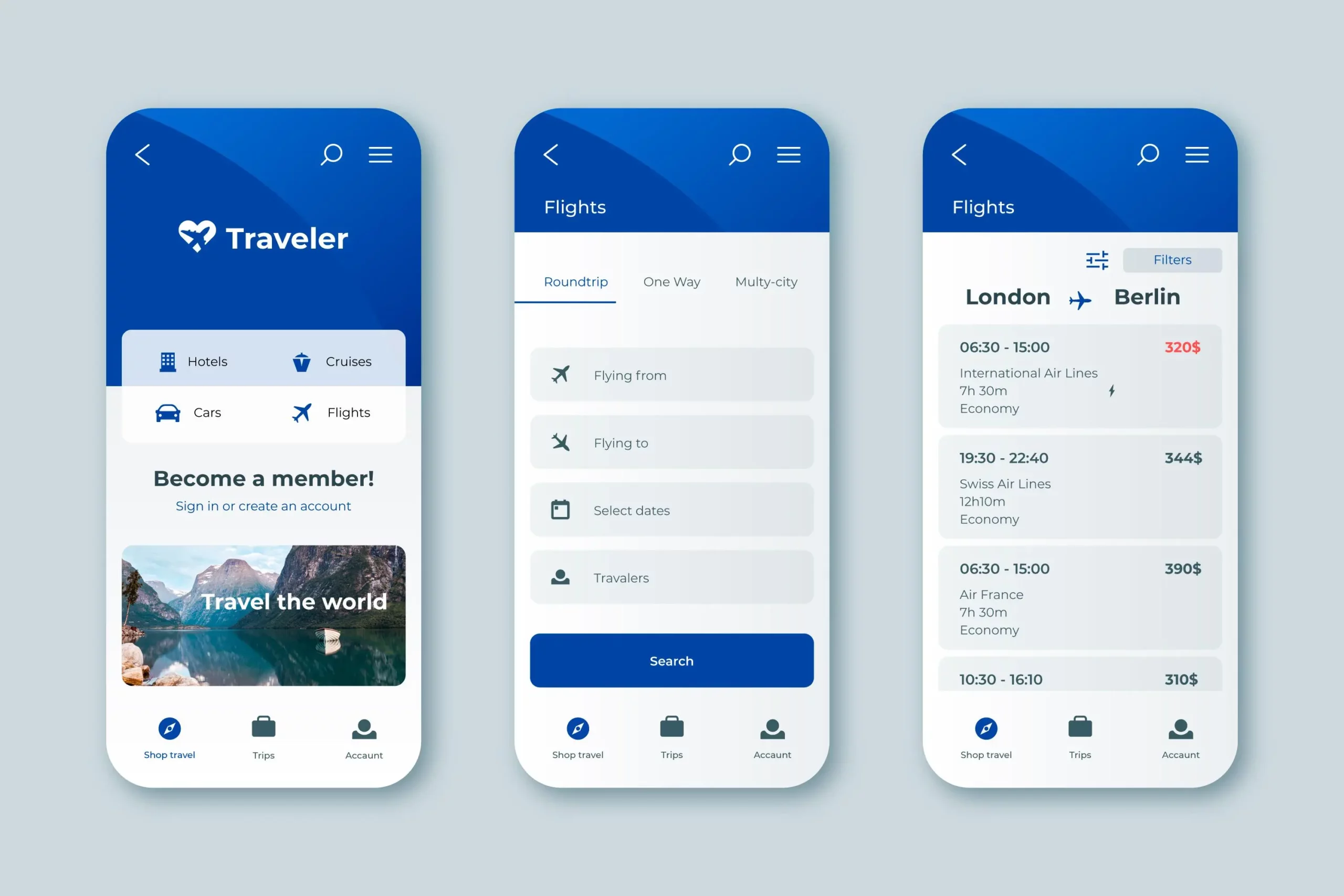 When should you use travel and expense management software? 
If your company faces the below-mentioned problems, it is high time you start using travel and expense management software:
1. Your firm is spending a lot on business travel
If you don't have travel and expense software in place, you can easily spend too much on business travel and never know about it. That is why T&E software allows you to track your business travel expenses and save tons of money by finding better deals and negotiated rates. 
2. Business travel reporting is a painful process
Manual or traditional business travel reporting is a hassle for your employees and finance staff. What's more, studies suggest that unorganized travel expense reporting can affect the morale of your employees.
Switch to a travel and expense management solution that can organize business travel, tracking, and monitoring in your firm and offer your employees a better experience.
3. Business travel is inefficient and confusing
Is the present business travel system in your company confusing and flawed? Remember, an inefficient business travel system can lower your employee's confidence while or before traveling. 
Therefore, choose a travel and expense management solution that will streamline corporate travel from start to finish in your organization.
What should you look out for in T&E software?
Before choosing travel and expense management solutions, you must know what features you should look for. Ensure the software you choose has the following features:
1. User-friendly 
Pick a T&E software provider that is user-friendly and easy to use. That is because hard-to-use and complicated software will force you, employees, to commit mistakes. Therefore, by implementing user-friendly software, you can eliminate many such errors.
Make sure you choose an intuitive and modern solution that can make the lives of travel managers and employees easier. 
2. Multiple user profiles 
In large enterprises, different employees have different roles. This means not all of them must have the same access.
For example, business travelers in your firm will just use the travel reporting feature of the software, whereas the finance team must be able to access all expense data to match the numbers, and finally, the finance heads must have a complete view of the whole process. 
So, choose a T&E management solution that allows you to have multiple user profiles. 
3. Travel policy integration and compliance
Choose a software that allows you to integrate the company's travel and expense policy. This way, you can ensure that all travel and business expenses comply with your company's policy. 
4. A seamless reimbursement process
In any organization, the priority must be reimbursing your employees. For the employees to work efficiently, businesses must reimburse the employee on time. 
T&E software can help you speed up your firm's expense reporting, tracking, and travel expense reimbursements.
5. Automate approval workflow and reporting
By setting up automated approval workflows, you can speed up your corporate travel process from start to finish. Choose expense travel and expense management software that automates approval workflows and customizes them according to your firm's needs.
6. Seamless integrations 
Always choose a travel and expense management system that will offer a variety of third-party integrations. Here are some of the integrations you must look out for: 
Accounting integration

Time-tracking tools 

HRMS 

ERM tools
Read also – 10 Best Expense Management Software
Things to consider when choosing the T&E management software
1. Auto-scanning of receipts
Auto scanning in T&E software can simplify your expense reporting process. Your employees will no longer have to worry about lost receipts and manually record expenses. Most software comes with an in-built OCR (Optical Character Recognition) that will extract the key details like the merchant/vendor name, date, and amount to create an expense. 
2. Email receipts forwarding
Using this feature, your employees can just forward their electronic receipts to the email address provided by the travel and expense management system, and the system will automatically create expense transactions for those receipts.
3. Credit card integration
Provide corporate credit cards to employees who go out on business trips to use. This can improve spending transparency, prevents overspending, and reduces fraudulent expenses. What's more, you can set card spending limits according to the budget. 
4. Advanced analytics
Most efficient T&E expense management systems provide a wide range of real-time analytic reports on expense reports, reimbursements, policy violations, and more. Using these data, you can track every single penny spent and get insight into all travel expenses. 
6 Best travel & expense software in the market
1. Happay
Happay is a unique integrated travel and expense management platform. Happay offers the travel, expense, and payments stacks together – the only company to provide this.  
With a global presence in over 18 countries, including Singapore, the USA, the UK, and UAE, Happay is a market leader in India. Happay's travel and expense reimbursement software is not just mature but also scalable. Here are some of the unique features of Happay T&E management software: 
Integrated self-booking tool

Enterprise-grade security

AI-powered expense filing

Unified employee expense card

Business tool integration 

Complex approval workflow

GST compliance

SAML-based single sign-on
The software offers the best employee experience spend visibility, helps reduce travel costs, and makes the process agile. Schedule a demo today and check out other unique features of Happay.
2. TravelPerk 
TravelPerk is a business travel management platform used to book and manage corporate travel. Moreover, Travelperk integrates with other popular expense management tools such as Rydoo and Circula. 
Some of TravelPerk's features include:
Multiple user profiles for travel booking

Company policy compliance 

Third-party integrations 

Customer support with a 15-second response time

In-depth reporting and insights 
TravelPerk's travel management solution is easy-to-use and fastens your firm's travel booking and managing process.
3. Fyle 
Fyle is an expense management software that allows businesses to efficiently manage the expense and reimbursement process. Fyle with TravelPerk integration offers seamless travel expense reporting. What's more, Fyle also provides accounting and employee data integrations. 
Here are some of the main benefits:
Manage receipts and business travel details 

Save or submit digital expense reports 

Set travel compliance aligned with your business

Credit card management software
4. SAP Concur
SAP Concur is an all-in-one travel and expense management software that efficiently automates travel and expense processes. From booking hotels, airline tickets, or cabs to tracking business-related expenses, SAP Concur has it covered. 
Some of the main benefits of SAP Concur are: 
Control and reduce 

Improve policy compliance 

Integrate multiple solutions

Mobile optimized 
However, SAP Concur is a legacy system and does not offer the modern features that most new-age T&E software provides.
Read also – 5 Best Sap Concur Alternatives
5. Zoho expense 
Zoho Expense offers expense management and corporate travel solutions to businesses of all sizes. Zoho can effectively help manage travel and expenses from large enterprises to small businesses. 
Here are some of the significant benefits of Zoho expenses: 
Corporate travel booking and automated expense reporting for each trip

Notifications and alerts regarding travel and expense updates or change

Real-time spend visibility 

Analytics for better travel and expense management
One main drawback of Zoho expense is its main offering is expense management. Therefore the corporate travel module is not comprehensible when compared to other T&E systems like Happay. 
6. Emburse certify 
Emburse Certify is an expense management software with in-booking travel tools or a third-party integrated travel management system.
Using Emburse Certify, you can swiftly deliver expense reports, organize accounts payable, and efficiently manage invoices all on one platform.
Here are some of the benefits of Emburse Certify software:
Time-saving automation 

Better control over expenses 

Greater spend visibility

Efficient customer support 

A broad range of integrations

Seamless design

The faster expense reimbursement process
Read also – How to Choose the Right Expense Tracking Software?
Why Happay is the best travel & expense management software
Happay is a modern, intuitive, cloud-first, and mobile-first, expense management solution. This state-of-the-art expense management system will automate employee and business expense processes, eliminate expense fraud, reduce manual error, and get complete policy compliance in your organization. 
Here are some of the unique features of Happay: 
Auto-capture expense details from multiple sources. Using Happay's superior OCR feature, the employee can easily auto-capture spending from physical receipts.

Auto-flag policy violations, potential frauds, and manual errors 

Timely notification to approvers

A state-of-the-art mobile app using which employees can submit expense reports anytime, anywhere. 

Capture 100% GST data and generate automatic and accurate filing-ready reports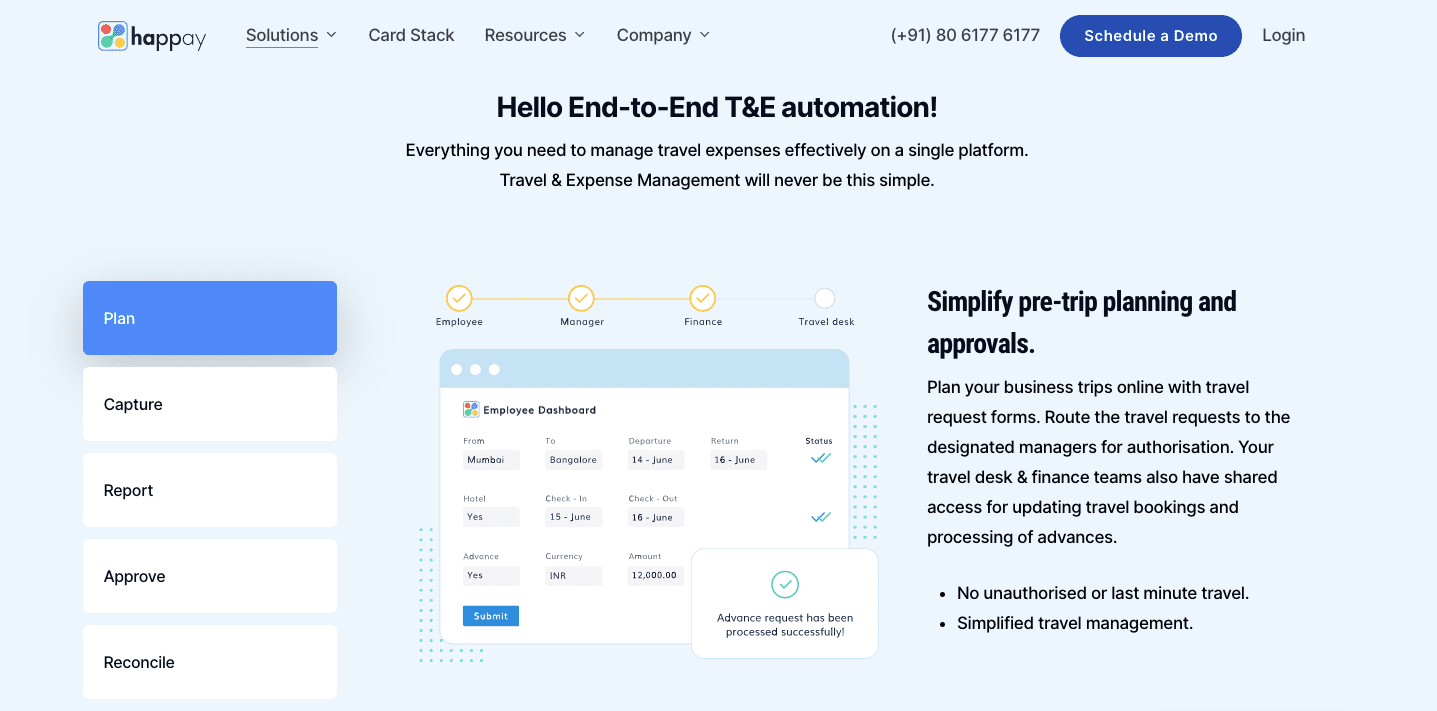 Travel & expense software – FAQs
1. What is the best software for expenses? 
There is multiple expense management software in the marketplace today. However, if you are looking for the best software for expenses, then Happay is your best bet. 
2. What is travel and expense processing? 
Travel and expense processing is the process of reporting and managing travel and business-related expenses in a firm.
3. What is expense management software? 
Expense management software is an application that automates and simplifies expense management in an organization. You can now use expense management software to manage travel bookings, automate expense reporting, fasten the approval process and reimbursements, and track expense claims in real-time.
4. What is the easiest way to keep track of expenses? 
Expense management software is the easiest way to track expenses in an organization. Expense management software like Happay will allow you to track expenses in real-time efficiently.