Imagine that your most critical overseas clients are about to switch to your competitors. You need to send your best salespeople to win them back urgently. In a rush, you email your head of sales to tell him you need volunteers from the team. He responds by saying that all the team members are reluctant.

True or False: None of the employees volunteered because they are lazy and do not care about the company. 

Answer: False. It's not the employees who are the problem. It's your corporate travel management system.
What is corporate travel management software? 
A corporate travel management software automates critical business travel tasks like bookings, expense claims reports, approvals, etc. Market Research Future says that corporate travel management software's market size is estimated to reach 17.4 billion USD by the end of 2030.
Due to the staggering demand, numerous business travel management solutions have emerged. However, only a select few platforms are the best. And amongst the best players, only one or two might fit your needs exactly.
Our team studied over 40 most well-known business travel management software to make the selection process easier for you. Here are our top 10 picks.
Table of top 10 corporate travel management software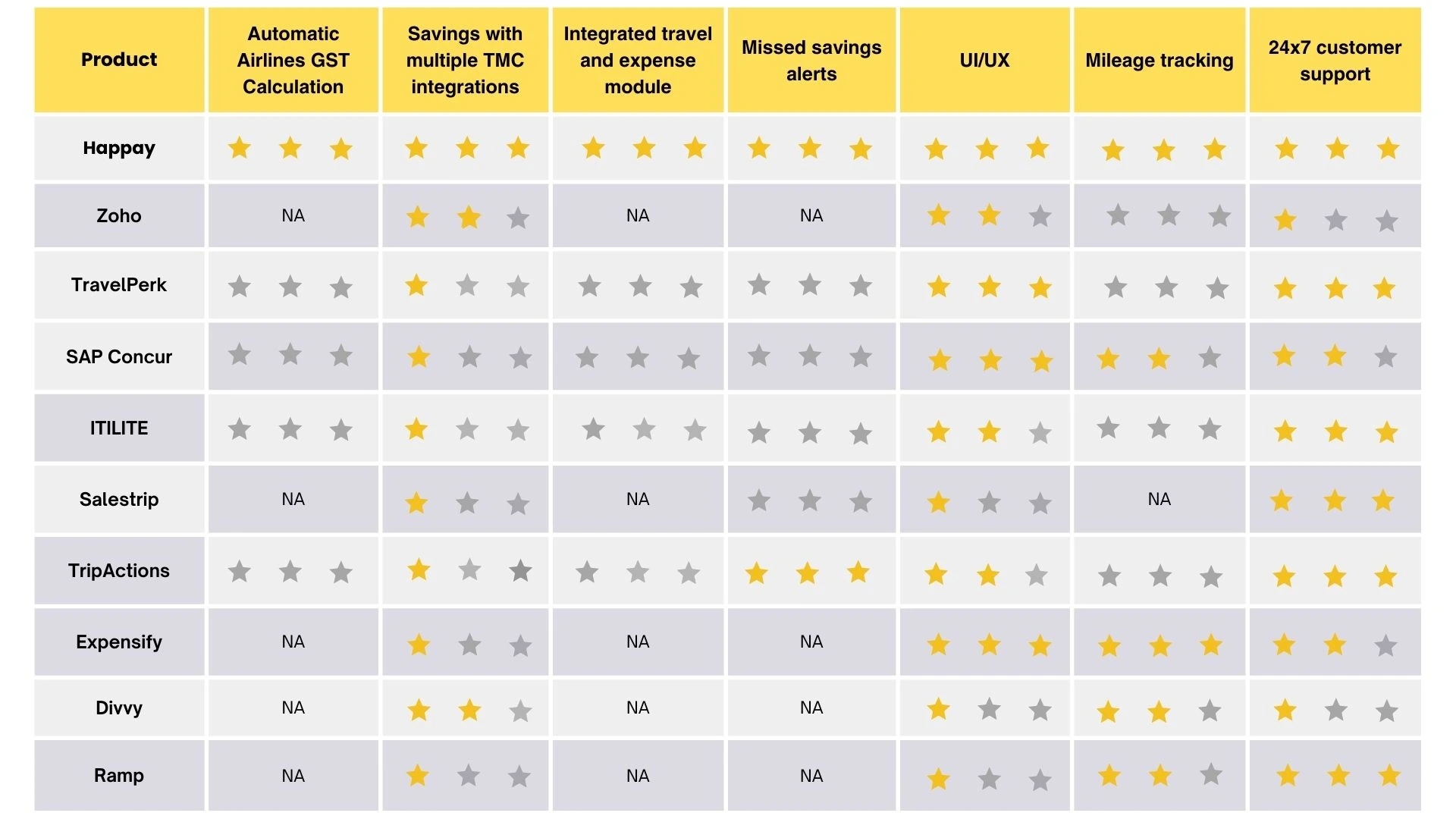 10 Best corporate travel management software and systems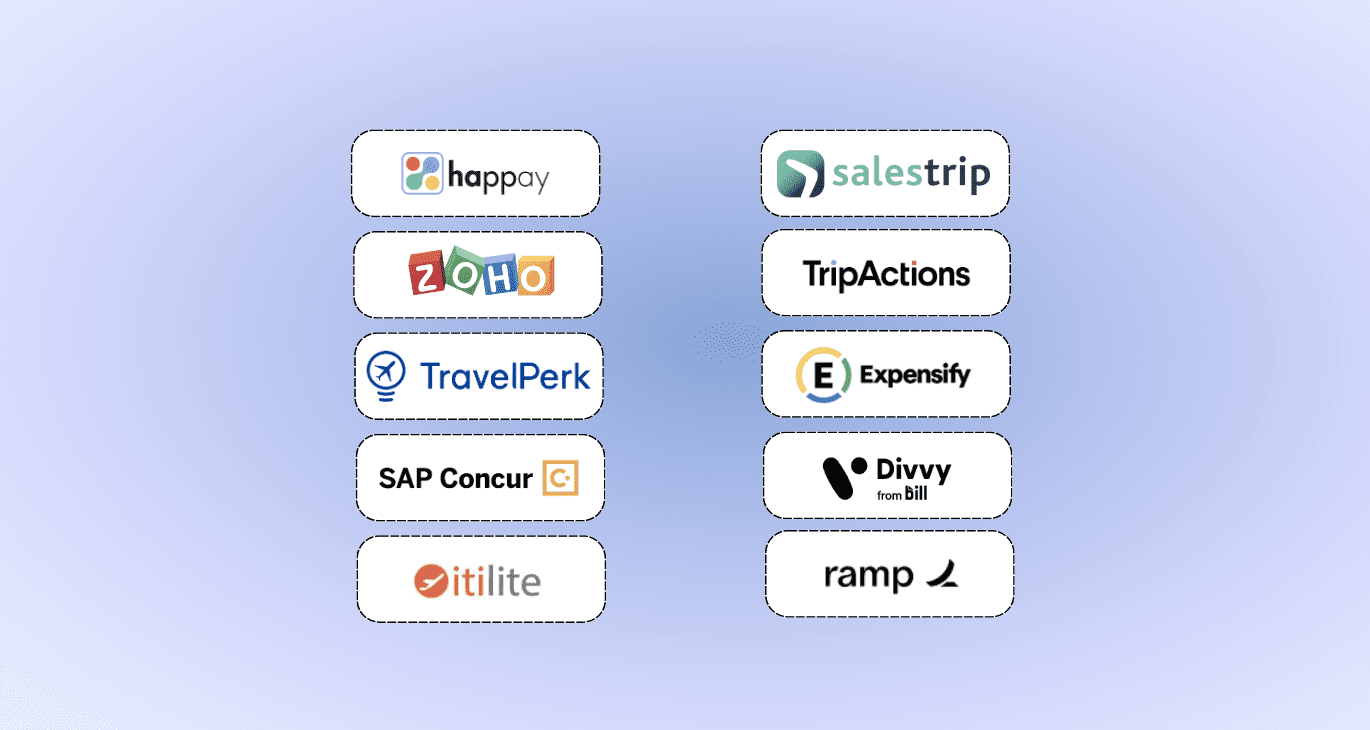 1. Happay
Happay is a fully-integrated travel, payments, and expense management software that can be customized according to your needs. The service providers work with your team to curate an expense policy that best suits your business' vision of expense management.
Happay supports every stakeholder in the expense management process. Its unique features, like Smart Audit, GST compliance, real-time analytics, etc., help finance officials detect bottlenecks in the system and eradicate them.
On the other hand, its employee-centric features, like the self-booking tool, automatic receipt capture, and automatic expense claim creation, give employees control over their business trips.
The platform offers in-depth analytics and organization-wide control to executives and business leaders, giving them complete control over business spending. They get the latest data at their fingertips which in turn helps them make more informed business decisions.
Top services offered
Automatic GST calculation
Automated expense filing
Deviation workflows
Automated policy compliance checks
Comprehensive reports and analytics
Unique features
Smart Audit
Automated GST compliance
Petty cash management module
Integrated self-booking tool
Benefits
Employees get reimbursement in as few as five days which contributes to employee morale
Significant reduction in policy violations
Reduction in expense verification time
Decision-making gets accelerated for employees
Reported challenges
The Happay mobile app does not have an offline feature
2. Zoho
Zoho expense is an expense claim software that helps businesses streamline spending by providing features like expense report management, expense reporting automation, receipt management, etc.
Top services offered
Expense report management
Receipt management
Simplified approvals
Expense auditing
Advanced customization (premium plan)
Advanced audit trail report (enterprise plan)
Benefits
Report filing becomes easier
Zoho simplifies the expense approval process and saves time
Increase in expense policy compliance
Reported challenges
According to this G2 review, the platform's frontend sign-on process is suboptimal.
Another G2 review states that the GPS feature is challenging to use.
3. TravelPerk
TravelPerk is a unified corporate travel management platform that offers travel booking, management, travel cost control features, etc. They have an easy-to-use interface that provides transparency to both travel managers and traveling employees.
Top services offered
Travel management reporting
Online booking software
VAT recovery
Travel risk management
Carbon emission control
Benefits
Complete control of all business travel
An easy change in travel bookings and higher refund on cancellations
Increased savings
Reported challenges
According to this G2 review, the rebooking process is tedious and inefficient.
The platform does not show or highlight the cheapest options, according to this G2 review. 
4. SAP Concur
SAP Concur is an integrated travel, expense, and invoice management platform. Its automation features streamline expense recording, reimbursement, auditing, etc. SAP Concur is a cloud-ready solution with various features offering customizability. You can program it from the ground up to suit the exact needs of your business.
Top services offered
Expense tracking
Accounts payable module
Smart categorization
Benefits
Resource optimization
Improved employee satisfaction
Complete spend transparency
Reported challenges
According to a G2 review, the platform's user experience could be better.
Another G2 review says that the customer support by the team could be more satisfactory.
5. ITILITE
ITILITE is an integrated corporate travel management platform that reduces travel spends while increasing employee satisfaction. It uses automation to streamline travel policy implementation and strengthen audit procedures.
Top services offered
Expense report creation
Digital receipt management
Automated policy compliance
Auto receipt capture
Benefits
Personalization of the platform makes deployment easier
Streamlined approvals and automated workflows save time and increase organizational efficiency
Advanced data analytics supplement financial decision-making with crucial information
An easy booking process ensures a better experience for employees
Reported challenges
This G2 user faced a problem with the quality of accommodation booked through ITILITE because of an unclear feedback/review section
This G2 review states that the cost of various booking options is higher than other public aggregator websites for the same options.
6. Salestrip
Salestrip is a business travel and expense management solution on Salesforce. It allows employees to explore various options and book their trips on the platform without depending on external sites. It integrates the pre-trip travel management process and lets users submit, manage, approve, reject, and monitor reports.
Top services offered
Benefits
Instant and accurate travel insights
Cloud-ready architecture is accessible from everywhere
Reported challenges
According to this G2 review, you cannot submit multiple expense reports at once
7. TripActions
TripActions is a corporate travel management tool that helps manage travel bookings, corporate cards, itineraries, etc. TripActions is an AI-powered cloud-ready platform that works with seasoned travel professionals to give travelers a satisfying travel experience.
Top services offered
Real-time visibility of expenses
Automatic reconciliation
Reporting and analytics
Benefits
Access to exclusive reduced travel rates
Itinerary management becomes easy
Scaling the platform is easy
Reported challenges
According to a G2 review, public platforms sometimes show lower fare options than TripActions
A few users, including this G2 user, also face issues with unsatisfactory customer support.
8. Expensify
Expensify is a travel and expense management app with a unique virtual travel assistant feature. You can book flights, hotels, and taxis simply by chatting with the virtual assistant.
Top services offered
Virtual travel assistant (Concierge)
Automatic receipt capture
Smart categorization
Benefits
On-the-go expense reporting
Paperless expense management helps avoid errors
Improved employee experience
Reported challenges
A G2 user said that the user interface was confusing.
Another G2 user mentioned that uploading bulk invoices on the platform was challenging.
9. Divvy
Divvy integrates expense management with business cards to streamline the expense reporting process and increase real-time spend visibility. It accelerates expense reporting, increases policy compliance, and saves hours for all users.
Top services offered
Automatic receipt capture
Automated approval workflows
Card integration
Receipt management
Mobile support
Benefits
Access to an exhaustive repository of expense history
Complete transparency in employee spends
It makes it cheaper to cancel or change bookings
Reported challenges
According to this G2 review, the customer support at Divvy was subpar
According to this review, the app is not very user-friendly.
10. Ramp
Ramp is a corporate travel and spend management platform that simplifies travel management by optimizing the reimbursement process. Its credit card integrations and smart categorization of expenses make travel expense management more organized.
Ramp's travel management system is fully automated and ensures corporate travel policy compliance. It sends real-time alerts to managers if employees incur out-of-policy business expenses.
Top services offered
Policy compliance alerts
Integration with Lyft for receipt auto-capture
Expense reporting automation
Benefits
Hands-free expense reporting
Real-time insights into travel expenses
Easy accessibility from any location
Reported challenges
According to this G2 review, there are some issues in the receipt capture module.
Different types of corporate travel management processes
Multiple strategies enable efficient corporate travel management. However, in the volatile business world where corporate travel is consistently on the rise, an automated, fully-streamlined process is necessary.
Here are a few ways in which most companies manage their corporate travel.
1. Corporate travel management software
Corporate travel management software automates the travel management process and streamlines communication. It lets travelers capture receipts and bills with their phone cameras and automatically creates expense reports. It digitizes all spend and travel data which makes audits and analyses easier.
2. Corporate credit cards
You can opt for corporate credit cards to manage business travel spending and other expenses if you want to track transactions in real-time. Corporate travel cards allow employees to pay directly for expenditures and minimize the hassle of expense claim creation.
3. In-house administrative team
Some organizations have a travel administrator or manager who makes travel arrangements for the employees. Sometimes the human resources team takes up that role.
4. Corporate travel agencies
Corporate travel agencies charge a small fee in exchange for travel planning. They employ professional travel agents who are experts in travel management and know how to get businesses the best deals.
Happay's corporate travel management platform combines the benefits of all four methods. Happay has a travel expense card that tracks all expenses in real-time.
The platform also integrates with travel management companies to bring you the best deals, automates and streamlines the entire reimbursement process with the help of AI, and is a self-booking tool, so you don't need a dedicated travel admin.
Why using corporate travel management software is the best decision
As discussed above, corporate travel management software combines the best features of all the resources at our disposal. Let's look at a few direct benefits they offer.
1. Fewer expense frauds – Expense frauds cost companies a large chunk of their revenue. According to a study by ACFE, a typical organization loses 5% of its annual revenue due to fraud.
2. Faster reimbursements – A corporate travel management software automates the most time-consuming expense reimbursement process: from expense creation to approval to validation. This significantly reduces the time required to process reimbursements.
3. Easier travel planning for employees – Corporate travel booking software that offers the self-booking feature help cut down on needless communication (email back and forth and lengthy phone calls). It also allows travelers to be in control of their travel experience.
4. Policy compliance – You can program your travel management software to automatically flag policy violations. This can effectively increase policy compliance and safeguard you against cost leakages.
5. Process transparency – Manual expense management processes are highly opaque, and employees cannot track how far along their reimbursement is. Some travel and expense management software like Happay allows employees to track the progress of their expense claims.
How to choose the best corporate travel management software for your business? 
1. Identify your needs
Make a list of expense management functions that most require optimization. Conduct an audit of current processes to identify bottlenecks in the system and keep them in mind when you begin your research.
2. Prioritize your needs
Choose five top-priority functions to focus on from the list you made in the first step. You can even categorize your needs into stages like non-negotiable, necessary, and somewhat important but not a deal-breaker.
3. Analyze your expenses and create a budget
Before looking for the perfect travel and expense management system, you must decide what you can afford. Analyze your purchasing power and the market rates for popular platforms. Then create a monthly or annual budget for the corporate travel management software.
4. Shortlist expense management software based on your requirements
Go through the above list and pick 3-4 platforms that best match your needs. Read about the features and benefits of these platforms in detail and then make your decision. You can even talk to the teams of these platforms and discuss the products in detail.
Remember to check the software's integrability and compatibility with your existing accounting and ERP systems. Incompatibility issues can set you back in your processes.
How to use corporate travel management software?
1. Create or review your company's travel expense policy – Review your existing travel and expense policy and modify it, keeping the software's features in mind. Streamline workflows and revise the travel rules.
2. Program the travel management software – Work with the travel management software provider to program the platform according to your policy. Automate the relevant parts of the reimbursement and reconciliation process.
3. Educate the users and stakeholders- Help the employees understand how the new platform works and what they need to do to get the most out of it. Adopting new technology can be challenging, so be open to questions.
4. Implement the platform and take feedback- Once you deploy the platform, actively look for issues to tackle. Take frequent feedback from your team in the first few months and modify the software to make it optimal.
How much does a corporate travel management software cost?
The price of deploying corporate travel booking software in your business can be as low as $5 per user per month. It increases with the number of employees you have, the integrations you opt for, and the customizations you need. However, the costs can significantly differ depending on the service provider.
For example, Zoho's plan ranges from $8- $12 per month for each active user, and Concur travel charges $9 per report. There is no upper limit for the services as it depends on the size of your company.
Optimize travel with Happay travel and expense management software
Happay's corporate travel management software offers a lucrative self-booking tool that cuts the red tape and saves you time, money, and effort. It has already helped more than 7000 clients across 40 industries.
Here is why Happay is the superior spend management solution in the market.
It captures expense data from multiple data points and improves expense reconciliation.
100% spend visibility reduces the scope of committing expense fraud.
Travel becomes easy when employees don't have to keep track of every single receipt because of Happay's automatic receipt capture.
Missed savings alerts help you save all the money that would have been overlooked.
Happay's self-booking flags all bookings that are not compliant with the travel and expense policy.
Get in touch with Happay and Schedule a demo
FAQs
1. How do you organize business travel with the help of corporate travel management software?
To organize business travel with the help of corporate travel management software, pick the software that best suits your business needs. Corporate travel management software helps you automate business travel. Work with the service provider to optimize the platform according to your company's travel policy and educate your team on how it functions.
2. Is the corporate travel management software market still growing? 
The travel management software market is growing steadily, with a predicted compound annual growth rate of 10.5%.
3. Why is the corporate travel management software market still growing? 
Business travel is returning to normal after the pandemic. There has also been an increase in mobile users, making cloud-based mobile platforms more accessible. Companies are also expanding their operations at an increasing rate to different countries and cities. These can be a few reasons the corporate travel management software market is rising.
4. Who uses corporate travel management software?
Corporate travel management software benefits all levels of the corporate hierarchy. People who can use travel management software are company employees, administrators, managers, finance officials, executives, etc.
It gives employees more control over their travel experience and makes the reimbursement process faster.
It gives managers more control over approvals and saves time otherwise spent on approval-related communication.
It equips the finance team with tools that make expense reconciliation easier. It also helps them quickly identify expense frauds and errors. The dashboards and reports make financial analyses easier.
Travel management software can provide an in-depth and accurate overview of organization-wide business spending to company leaders and C-suite executives.