Why look for alternatives to RazorpayX?
The rapid digital adoption has taken the corporate world by storm, and modern commercial cards integrated with spend management software have disrupted the corporate payments industry. The myriad players on the market are vying to have the edge over the others.
Razorpay offers a product suite that is comprehensive and diverse, covering a range of financial services such as payroll software, neobanking, an e-commerce payment gateway, invoice and TDS automation, and so on. The RazorpayX Corporate Card is a part of the RazorpayX product offering. Today, RazorpayX is one of the leading corporate payment solutions in India.
It is, however, important to note that Razorpay is a converged payment solution that caters to both B2B and B2C sectors. With such a vast scope and reach, streamlining corporate payments is not Razorpay's single-minded focus. It is therefore worthwhile to look at the most prominent commercial payment solution providers in India, the strong competitors of RazorpayX.
Quick Read: 5 Best SAP Concur Alternatives and Competitors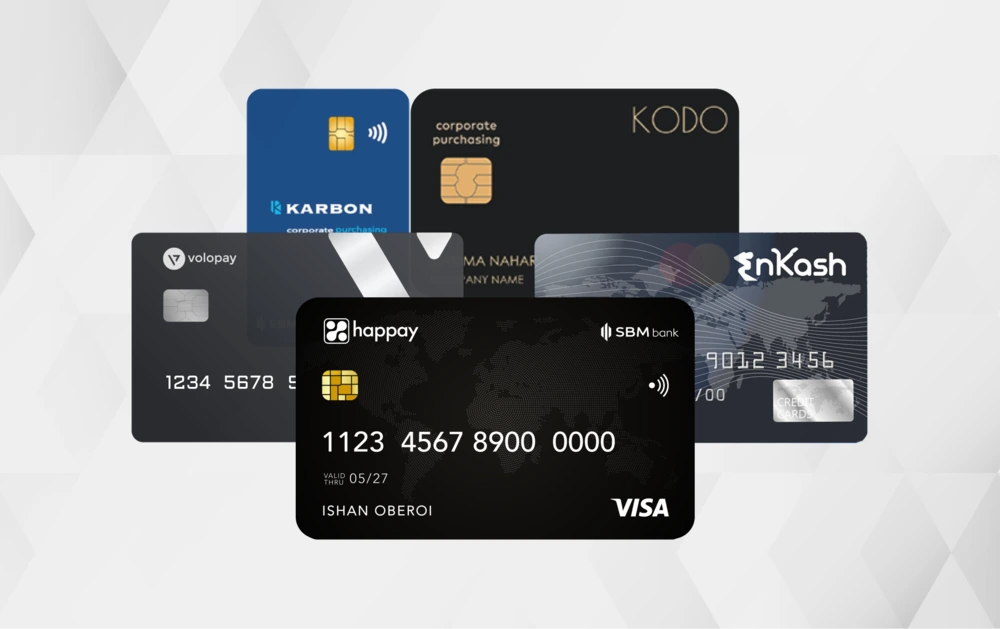 RazorpayX Corporate Card competitors
Streamlining corporate payables has been a major pain point for startups and enterprises alike. Opting for the right corporate payment solution is pivotal to optimizing corporate payments. Managing business spend to ensure effective spend control is a mammoth task, and modern corporate credit cards offer the much-needed visibility into business spending.
The fast-evolving Indian B2B payments ecosystem has seen the emergence of several corporate card players, such as Happay, Razorpay, Karbon Card, Kodo, Enkash, Volopay, and so on. This growth spurt is likely to continue, as the commercial card market is projected to grow at a CAGR of 8.5% by 2028.
RazorpayX alternatives – A competitive comparison table
Corporate Credit Card
Card Pricing
Forex Charges
Credit Limit
Merchant Locking
Reward Type(s)
Mobile App
24*7 Support
Happay
EPIC

Joining fee: 0;

Card fee: 0;

Annual fee: 0

Lowest

1%+

GST

High/




Scalable

Yes

(~8000 vendors)

Direct Cashback

Android+

iOS

Yes




(AI chatbot)

RazorpayX

Card and annual fees:

₹

3000

1.99%+

GST

Dynamic




(up to

₹

20 lakh)

No

Credits/




Discounts

Android+

iOS

Yes

Karbon
Card

Joining fee applicable

1.5%+

GST

High

Yes

Credits/




Cashback

No

No

Kodo

Card fee: 0;

Annual fee: 0

2.25%+

GST

High

No

Perks/

Cashback

Progressive web app

No

Enkash

Set-up/service fee applicable

Applicable

Dynamic

No

Credits/




Discounts

No

No

Volopay

Fee: $50 to $800/mo

1.6%+

GST

High

Yes

Cashback

Android+

iOS

No
Top 5 RazorpayX Corporate Card alternatives & competitors
The RazorpayX Corporate Card has a wide user base, which has effectively established its credibility in the Indian market. However, RazorpayX competitors have also been making their presence felt. Here's an in-depth insight into the most prominent RazorpayX alternatives.
Happay offers a comprehensive suite of fintech solutions for complete spend management. The EPIC Corporate Credit Card is an unsecured B2B payment solution that simplifies and streamlines corporate payables. The mobile-first EPIC Payment Solution is one of the most robust and secure corporate payment platforms in India.
With minimal paperwork and a faster processing time, businesses can sign up for Happay EPIC within hours. The comprehensive EPIC Card dashboard presents CFOs with an overview of all expenses and payments in real time, together with an in-depth insight into each spend.
Happay EPIC can be seamlessly integrated with accounting and finance apps to offer end-to-end spend visibility to the accounts team. All transactions being automatically reconciled, employees are exempt from the cumbersome reimbursement process.
Preset card limits ensure optimal fund utilization, effectively allocating budgets to employees, teams, and projects. Virtual cards help automate and secure subscription management, cloud-based payments, and recurring expenses.
Happay EPIC's spend management system has expanded to incorporate fund transfer to vendor bank accounts. With advanced analytics and actionable insights, Happay EPIC's unified payment solution streamlines all payments, boosts cash flow, and optimizes working capital.
Also, Read: 7 Best Zoho Expense Alternatives and Competitors
1.1 EPIC Card features
AI-driven technology for complete spend control

A smart dashboard with macro and micro visibility

Accessibility on the go with Android and iOS mobile applications

A credit period of up to 45 days

ISO 27001 certification, PCI DSS compliance, and 256-bit SSL encryption

Dedicated physical and unlimited virtual cards

Single-use burner cards for safer online transactions

Virtual cards enabled with merchant locking

Advanced spend analytics and custom reports

Real-time customer support with advanced chatbot features

Toggle on-off feature to lock/unlock cards

Preset card limits for budget allocation and tracking

Customizable cards that support name embossing

Third-party integrations: Quickbooks, Tally, SAP, Oracle, Microsoft Dynamics NAV, and iON
1.2 EPIC Card pros
No joining fee, card fee, or annual fee

12%

–

14% overall savings

A high credit limit, which can be scaled based on credit utilization

Smoother international transactions with no forex markup from Happay's end

Direct cashback rewards

rather than complex reward points

Automatic reconciliation and reduced expense fraud

ERP integration for ease of use and better accuracy

Customer base: SMEs and enterprises
1.3 EPIC Card cons
User expectations per

a G2 review

: notification on exhausting card limit

User expectations per a G2 review

: a more lively UI design
Read More: 10 Best Expense Management Software
Without the hassles of endless paperwork or the burden of pledged security, Karbon Business offers corporate cards and other payment solutions. Karbon's corporate card enables real-time spend monitoring and tracking, with the provision to filter transactions by merchant, type, or data.
The dashboard provides effective spend control and visibility to the admin and finance teams, the CFOs, and the management. Detailed insights into company and employee spending can be easily accessed. The spend limit of any card or account can be modified by the admins.
Karbon's corporate card can be used to make seamless business payments. Multiple cards can be issued to a business for effective expense management. The complex reimbursement process is eliminated with the use of this card. With this RazorpayX competitor, users can block a merchant and prevent them from forcefully auto-debiting recurring payments.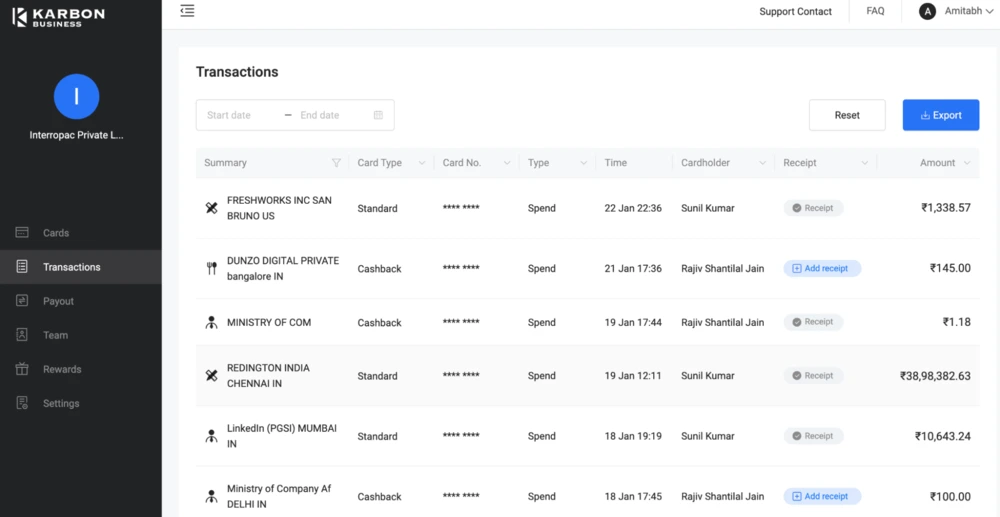 Image Credit: karboncard.com
2.1 Karbon Card features
Three variants: standard, cashback, and booster
A user-friendly, customizable dashboard
Receipt archive to upload and store receipts
Easy card lock/unlock feature
Merchant blacklisting
Admin control to add/remove employees
Responsive customer support
ISO certified, PCI DSS compliant, and SSL encrypted
Third-party integrations: Freshworks, Hubspot, Segment, and AWS Activate
2.2 Karbon Card pros
Merchant discounts and cashback rewards
Single KYC
Customizable card labels
Flexible credit limits
WhatsApp receipt upload and auto-match
2.3 Karbon Card cons
No mobile application
Limited customer support features
A relatively high foreign transaction fee of 1.5%+GST
Also, Read: 10 Best Receipt Scanner Apps
Kodo provides complete expense management, simplifying and streamlining corporate expenses. The Kodo Card offers real-time spend control and visibility to the finance team using a single dashboard. With a bird's-eye view of all spending and effective control, finance and admin teams can better optimize cash flow.
Multiple cards with tailored spend limits are issued to business owners, simply with an eKYC and without any collateral. Unlimited virtual cards can be used for effective subscription management, preventing SaaS waste and budget overshoot.
With advanced filters and statistics, spend analysis becomes simpler and more accurate. With this RazorpayX alternative, it is easier to ensure policy compliance and eliminate expense fraud. Besides, Kodo Pay can be used to make bank transfers and UPI payments from the dashboard.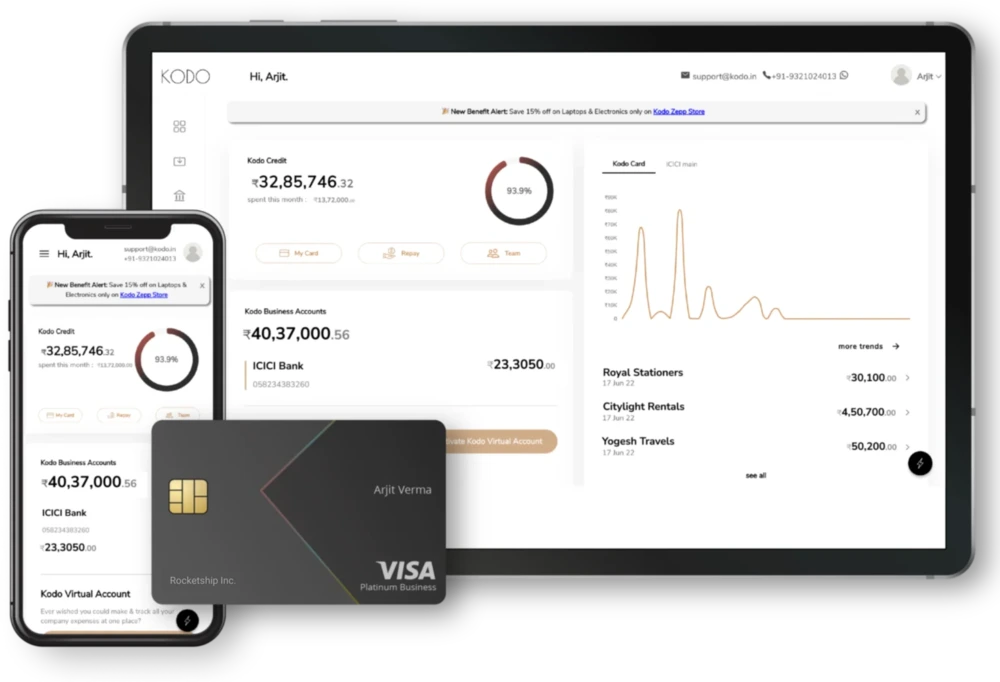 Image Credit: kodo.com
3.1 Kodo Card features
Limit-based cards

The option to lock/unlock and block cards

Single-click alerts for missing receipts

Daily, weekly and monthly credit, with a maximum credit period of 38 days

Custom tags to categorize and sort transactions

Automated expense filing

Third-party integrations: Segment, Zoho, Freshworks, Twilio, and Exotel
3.2 Kodo Card pros
Multiple cards for employees

Receipt management in real time

Granular spend limits

Easy global payments

Some cashback offers and perks

Conversion of large expenses into no-cost EMIs
3.3 Kodo Card cons
Lack of a high-performance mobile application

Limited customer support features

No merchant locking feature available

A relatively high foreign transaction fee of 2.25%+GST

No ISO certification, PCI DSS compliance

, or SSL encryption
Also, Read: 10 Best Travel Management Software
With a centralized expense management platform, Enkash helps companies optimize spending and cash flow. Businesses get access to multiple cards with dynamic credit limits and customized approval workflows.
Digital KYC and collateral-free credit makes for quick, hassle-free onboarding. This RazorpayX alternative provides card management modules for effective card and expense management. Virtual cards can be deployed for SaaS, digital ad, travel, and other spending.
The dashboard provides live updates to all stakeholders for real-time spend visibility and smarter spend control. Businesses can get minute spend details across teams, levels, and functions.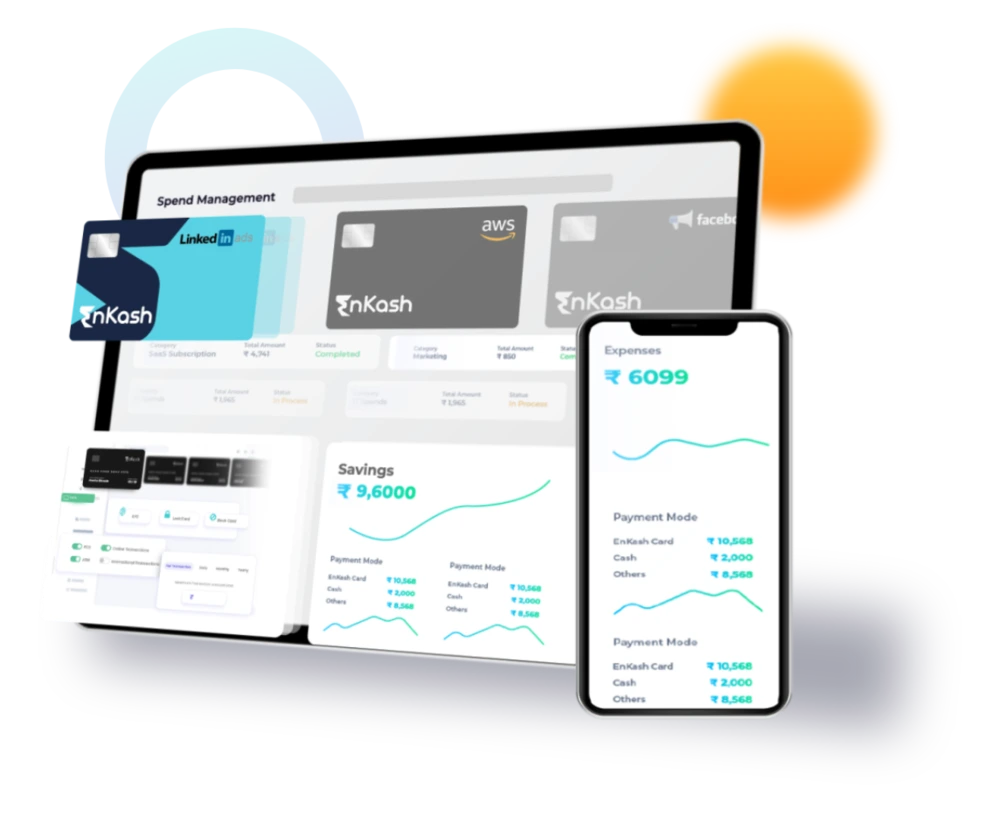 Image Credit: enkash.com
4.1 Enkash Card features
One-click payment processing

Predefined follow-ups for pending payments

Easy expense reporting

Flexible billing cycles

Disposable virtual cards

for safer online transactions

Real-time transaction notifications

ERP integration for smoother finance processes

PCI DSS and SOC 2 compliant

Access to real-time data for data-driven

reconciliation

Third-party integrations: Quickbooks, Tally, SAP, and Oracle
4.2 Enkash Card pros
Reduced expense fraud and out-of-pocket expenses

Customized modules

Discounts and credits

on multiple platforms

Customer base: small businesses, mid-market, and enterprises
4.3 Enkash Card cons
Limited customer support features

No mobile application (Android or iOS)

No merchant locking feature available

Not ISO certified
Quick Read: The Business Guide to Corporate Travel Management
Designed for startups and modern businesses in India, the Volopay Corporate Card offers effective business expense tracking with proactive spend control. Designated approvers can approve fund load and reload, enabling expense tracking in real time and eliminating the need for reconciliation.
Without any personal liability, the Volopay Card ensures easy onboarding. Besides physical cards, businesses can create multiple virtual cards to make SaaS and other online payments seamlessly and securely. Vendor-specific virtual cards help streamline vendor payouts. Bulk payouts can be managed from a single dashboard.
The use of Volopay Corporate Card improves cash flow visibility and management. With complete spend visibility, keeping tabs on business expenses becomes easier. This RazorpayX competitor eases the reimbursement process and receipt management.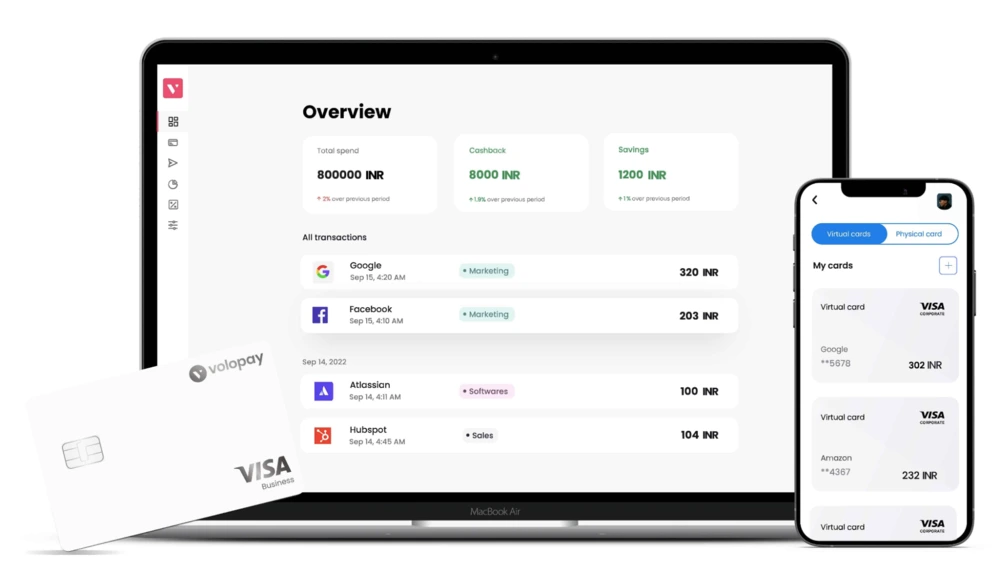 Image Credit: volopay.com
5.1 Volopay Card features
Flexible credit cycles

Dynamic expense reporting

A smart mobile application

Burner cards for enhanced security

ERP integration for syncing payment data in real time

Blocking or freezing individual employee cards

Multi-currency wallet for quicker international payments

Individualized spend limits on employee cards

Bank-grade security encryption

Third-party integrations: Quickbooks, Netsuite, and Xero
5.2 Volopay Card pros
Reduced expense fraud

Automated recurring payments

A high credit limit

Better policy compliance and quick reconciliation

Personalized cards with respective company logos
5.3 Volopay Card cons
Relatively

high pricing

, based on spending

Relatively high

forex charges

of 1.6%+GST

Limited customer support features

No PCI DSS compliance or SSL encryption for enhanced security
Also, Read: 7 Best Finly Alternatives and Competitors
Benefits of using corporate credit cards
When opting for a corporate credit card, it is important to understand the role these credit instruments play in a business. A business looking for a corporate card that is best suited for its needs must take into account some essential functionality.
Per a Credit Lyonnais Securities Asia (CLSA) report, the Indian digital payments industry is slated to grow three-fold to $1 trillion by 2026. A robust corporate payment solution is an enterprise's growth partner that transforms financial processes, enabling performance maximization, cost-effectiveness, and better cash flow visibility.
With rapid technological advances and the changing financial landscape, CFOs are now embracing a finance function that is predictive, adaptive, and high-performing. Modern corporate credit cards, which are a type of credit card that banks issue to businesses, have thus emerged as the instrument of choice for most businesses.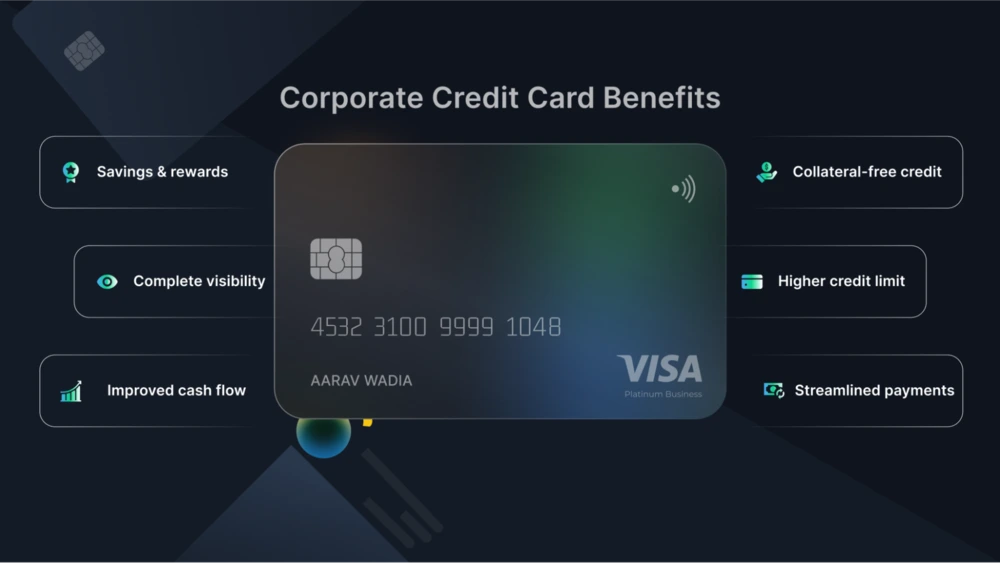 Employers can assign these corporate cards to their employees to streamline business expenses and mitigate expense fraud. Corporate credit cards are also a convenient credit instrument for employees who often endure the painstaking reimbursement process. With advanced analytics and actionable insights, corporate cards help effectively streamline spend reporting and management.
Modern corporate cards offer higher credit limits than bank cards and business credit cards. A line of credit helps improve cash flow management. Besides, expenses such as SaaS subscriptions, web hosting, and online ads can be made efficiently with corporate credit cards. Virtual cards and single-use cards enable enhanced security in online transactions.
Parameters to choose the best RazorpayX alternatives
Rather than diving into the first RazorpayX alternative they come across, businesses should weigh all the major options available on the market. Here's a set of parameters that can help businesses determine which RazorpayX alternative works best for effective spend management.
1. Higher credit limit
Unlike personal credit cards and business credit cards, corporate credit cards offer a higher credit limit to businesses. A line of credit benefits businesses by improving their purchasing power and cash flow.
When picking a corporate credit card, a company must ensure that the corporate card provider offers a higher credit limit, with the option to increase the limit upon request. Some RazorpayX Corporate Card alternatives offer high credit limits, which can be scaled depending upon a business' turnover and credit utilization ratio.
2. Higher savings
Corporate cards enable efficient cash flow management and operational efficiency with real-time insight into expenses, efficient curbs on unauthorized spending, and optimal fund utilization. These cards also help automate expense reporting.
Additionally, some RazorpayX alternatives offer better forex benefits and other savings, discounts and cashback offers with multipliers, and exclusive deals from technology partners—all of which translate into a positive cash flow.

Also, Read: High ROI with Corporate Credit Cards
3. Collateral-free credit & digital onboarding
The age-old practice of pledging collateral to secure a bank credit card has often proved detrimental to a business' financial health. Therefore, while choosing a RazorpayX alternative, an unsecured credit line must be absolutely non-negotiable.
The longer processing time associated with corporate credit cards has been a major pain point for businesses. It is therefore imperative to opt for a card that ensures quick onboarding without the hassles of elaborate paperwork. Digital onboarding is the way forward.
4. Greater control and visibility
With the integrated spend management software, corporate credit cards enable real-time visibility into spending with live updates. Companies can use actionable insights to exercise effective control over business spending.
5. Enhanced security
A RazorpayX Corporate Card alternative must provide advanced security features, with security compliance and encryption. ISO 27001 certification, PCI DSS compliance, and SSL encryption are essential to any debit card or credit card product in order to ensure safe card transactions and safeguard cardholders' personal data.
The use of virtual cards is known to mitigate card fraud, and single-use burner cards provide greater data protection. Vendor-specific virtual cards offering merchant locking and blocking features add another layer of security.
6. High-performance mobile app
Corporate credit cards integrated with spend management software being a rather recent disruption, not many RazorpayX competitors have a mobile application. For better productivity, it is important to choose a RazorpayX alternative that has a highly functional mobile app, both Android and iOS versions.
7. Advanced features
When selecting the RazorpayX alternative that is best suited for a business, looking for advanced features is a prerequisite for success. Some corporate credit card providers stand out with features such as spend analytics, card lock/unlock, merchant locking, and add-on cards.
8. Integration with third-party apps
Corporate cards with robust ERP integrations can easily detect and flag any fraudulent expense claims, ensuring negligible policy violations. Seamless integration with third-party accounting and finance applications, such as Quickbooks, Tally, SAP, Oracle, etc., ensure ease of use and better data accuracy.
9. Real-time customer support
The best RazorpayX alternative must offer live support around the clock. No customer grievance should go unaddressed. Be it via email, phone, or chat, robust customer support ensures nothing falls through the cracks. A chatbot is also a handy, new-age feature that guarantees 24*7 accessibility.
10. Cashback rewards
Unlike the RazorpayX Corporate Card that offers different types of credits and discounts, some of the RazorpayX alternatives provide cashback rewards. Businesses often find the process of redeeming credit points complex and unprofitable. Cashback rewards are easier to comprehend and avail. Several RazorpayX competitors also provide discount offers on multiple platforms.
Quick Read: EPIC corporate rewards program
https://www.youtube.com/watch?v=UhsH5h8nkv0&list=PL-L5ATXfCRugNbsO6JmUJFHn_VPEIS5Mi&ab_channel=Happay
RazorpayX overview
The RazorpayX product offering includes RazorpayX Payroll for payroll management and the RazorpayX Corporate Credit Card, which is a credit card issued to businesses for streamlined business payments. RazorpayX comes with API technology for complete automation.
With an easy onboarding process and a dynamic credit limit, RazorpayX offers a line of credit without the need for pledging any security. When used effectively, the RazorpayX Corporate Card helps enhance the purchasing power of businesses while shortening the cash cycle.
The RazorpayX Corporate Credit Card ensures complete spend control and visibility. The dashboard helps track spending practices, with the option of sorting the card spending by employee, department, or vendor. The RazorpayX mobile application provides ease of use to CFOs, admins, human resources, and employees alike.
Setting up recurring payments and subscriptions using RazorpayX enables smoother transactions. Virtual cards can be used for more secure online payments. The integration with the RazorpayX banking hub and the Razorpay payment gateway eases the payments process.
Also, Read: 11 Best Billing Software for Your Business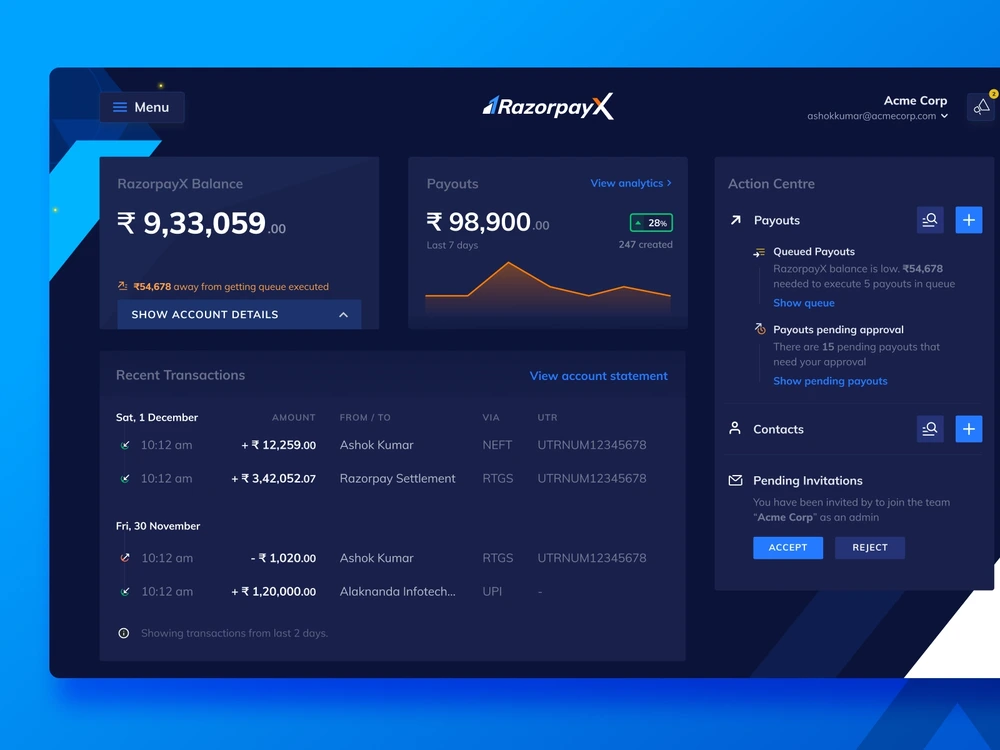 Image Credit: dribble.com
1. RazorpayX Corporate Card features
Limits set on cards, expense types, and users

A 45-day credit period

Toggle cards on or off for better spend control and security

A user-friendly interface for ease of use

A functional mobile application (Android and iOS versions)

Preloaded add-on cards for employees

A suitable approval workflow for larger expenses

ISO 27001 certified and PCI DSS compliant

Card lock/unlock feature

Third-party integrations: Quickbooks, Tally, and Zoho
2. RazorpayX Corporate Card pros
Personalized spending limits on individual cards

Greater visibility to keep expense fraud at bay

Auto-repayments using the payment gateway

Easy international card payments and ATM withdrawals

Better policy compliance and easy reconciliation

Credits and discount offers on a wide range of platforms

Customer base: small businesses, mid-market, and enterprises
3. RazorpayX Corporate Card cons
A card fee and annual fee of INR 1499 each

Credit limit capped at INR 20 lakh

No merchant locking feature available

A relatively high foreign transaction fee of 1.99%+GST

No SSL encryption for enhanced safety

User expectation per

a G2 review

: improvement in UI desired
RazorpayX alternatives – FAQs
1. Who are the competitors of RazorpayX?
RazorpayX is one of the leading corporate credit cards and is a popular choice for several companies. However, the corporate credit card market has several established and budding players, which may be a better fit for the specific needs of a given organization. 

RazorpayX faces stiff competition from leading corporate cards such as Happay EPIC, Karbon Card, Kodo, Enkash, and Volopay, among others. Some of these RazorpayX alternatives offer higher credit limits and lower prices.
2. Why is Happay EPIC a good alternative to RazorpayX?
The EPIC Corporate Credit Card is an enterprise-grade payment solution that offers effective spend control and enhanced security with 256-bit SSL encryption. Happay EPIC comes at no fee, charges a low foreign transaction fee, and offers a high credit limit.

With Happay EPIC, users get access to the new-age, single-use burner cards that can be effectively used for secure online transactions. Vendor-specific virtual cards come equipped with the merchant locking feature.
3. How is Happay EPIC different from RazorpayX?
While EPIC is a card payment solution, RazorpayX is a vast product offering that includes the payroll software RazorpayX Payroll and the RazorpayX Credit Card. Happay EPIC, on the other hand, is a dedicated B2B payment solution that offers a corporate credit card and a vendor payment solution. 

Happay EPIC comes at no card fee, while the RazorpayX Card comes at a card fee of INR 1499. The EPIC Card charges a foreign transaction fee of 1%+GST, with no forex markup, while the RazorpayX Card charges a foreign transaction fee of 1.99%+GST.
4. Is RazorpayX free?
Razorpay charges a card fee of up to INR 1499 and an annual fee of INR 1499 on the RazorpayX Corporate Card. For all payments made after the due date, which is 20 days after the bill is generated, late payment and interest charges are applicable. Additionally, a transaction fee of 1.99% is charged on each overseas card transaction.

a) Interest Rate on Cash Transactions: 48% p.a.
b) Interest Rate Charges: 36% p.a.
c) Overlimit Fee: INR 500
d) Physical Statement Fee: INR 100
e) Card Replacement Fee: INR 500
f) Late Payment Fee: INR 1000
g) Surcharge Fee: 1%

Source: razorpay.com
5. How much does Razorpay charge per transaction?
Razorpay charges an interest on all card transactions. The total interest rate on the total amount withdrawn using the RazorpayX Corporate Credit Card is 48% p.a.
6. Does RazorpayX charge GST?
For all fees and charges levied on the RazorpayX Corporate Card, goods and services tax (GST) is charged as per the applicable rates.