What is corporate credit card reconciliation?
Simply stated, corporate credit card reconciliation refers to checking and verifying the transactions in the company card statements against the company ledger accounts. This is mainly done to ensure that the transactions are valid and accurate.
Any discrepancies that arise during the process must be addressed and resolved as quickly as possible. This is an essential step in the process of finalizing the accounts of a company. The periodicity-fortnightly, monthly, or others is unique to every business.
Types of credit card reconciliation
Credit card reconciliations are of two kinds:
1. Statement-based reconciliations
Statements usually come when you have made purchases through a corporate credit card. This means that you must match expenses made on behalf of your organization against the entries in the credit card statement. The number of reconciliations will depend on the number of corporate credit cards in circulation at any time.
2. Merchant service reconciliations
Merchant service reconciliations are when your customers pay you through a merchant account provider. This is the income side of your business, and since the merchant provider is only an intermediary, it is important to reconcile these transactions as soon as possible.
Also, Read: 5 Best Corporate Credit Cards in India
Why is corporate credit card reconciliation important?
Credit card statements allow you to crosscheck your expenses. Numerous businesses or people pay their dues without a second glance. This can be a huge mistake as this may lead to bigger problems later on.
Ideally, your finance team must authenticate the expenses against the company's internal records as soon as organizations receive the credit card statements. It may be simpler to take care of any discrepancies at this point rather than later.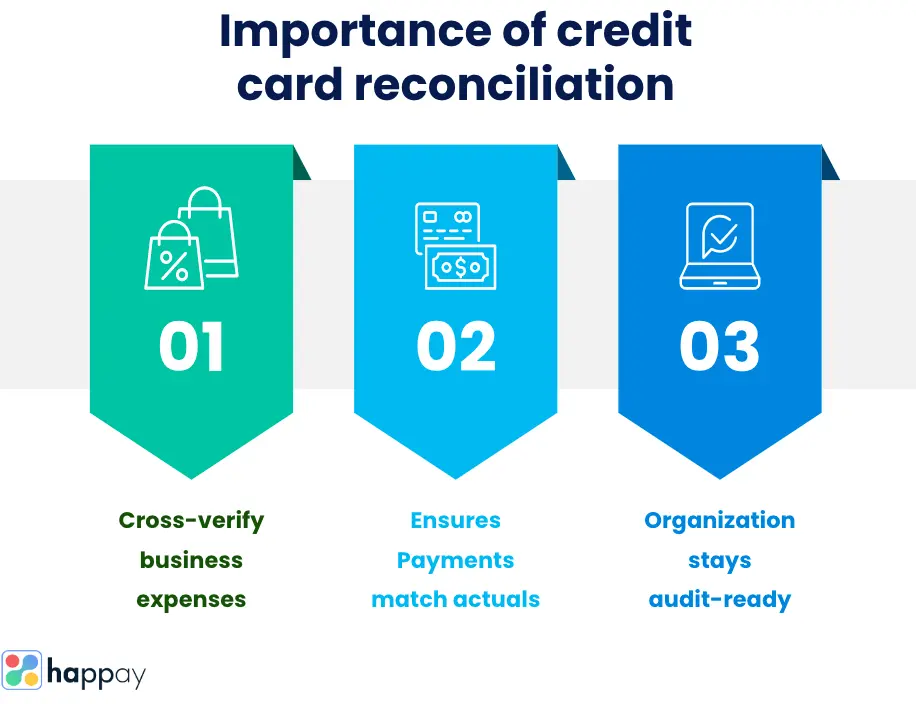 Reconciliation is important for your business for these reasons.
Reconciliations allow you to employ a check for all business expenses using credit cards.

Frequent reconciliations will assure you that your payment for expenses matches the actuals mentioned in your books.

An audit is an essential part of the business. Such reconciliations ensure your business is always audit-ready.
The process of reconciling corporate credit card expenses
Card reconciliations match card transactions against the same record in your accounting books. This ensures that the transactions are complete, accurate, and authorized. Additionally, reconciliation is also essential to the closing process (accounting books). So, the primary goals of such reconciliations are
The statement of company card expenses matches the internal records of your organization

The statements are error-free and do not contain charges or unnecessary, miscellaneous entries
Recommended Read: Corporate Credit Card Policy and Procedures
Challenges in corporate credit card reconciliations
Matching transactions between bank statements and your books should not seem like a big challenge. However, it can become overwhelming considering the number of cards, transactions on those cards, and the size of your business.
Here are some of the challenges you may face in corporate card reconciliations.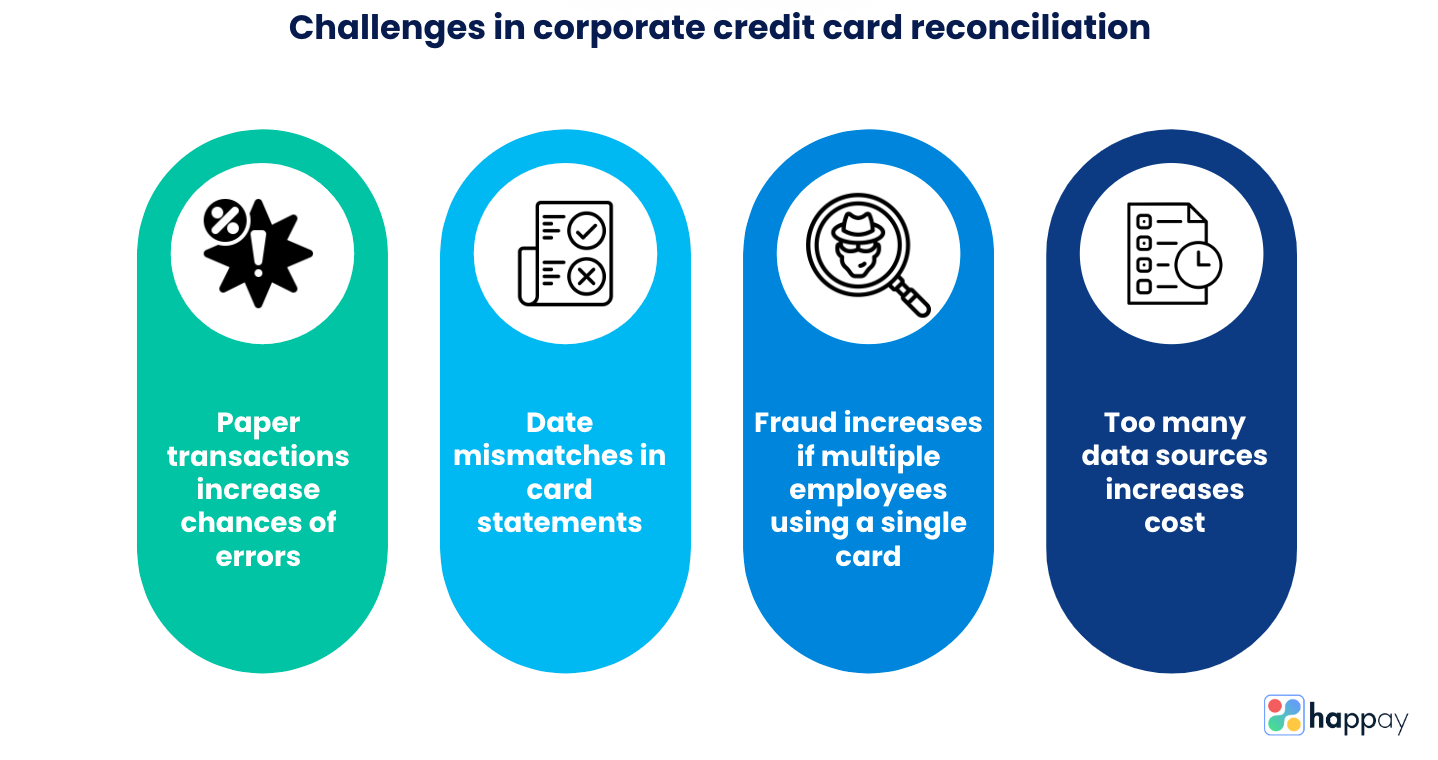 1. Multiple employees using a single corporate card?
It is not uncommon to see a single corporate card used by multiple company users. While this is not wrong, it comes with its problems.
Imagine reconciling transactions of a card that multiple employees use. Apart from putting together the receipts, bills, and other proof of expenses, you must be able to pin down the responsibility on the correct employee.
2. Mismatch of credit card statement dates
Rarely do the corporate card statement dates match the month-end process dates of a company. It may not be impossible to compare the transactions. However, if you want to compare them periodically or want to create reports based on the collected data, you may need to put in some more effort.
3. Paper-based comparisons
Employees may submit receipts, bills, or other hand-written proof of expenses. While it may be a policy requirement, you must consider automating it.
Paper-based documents are challenging to work with as they must be maintained well, may need clarification (if not legible), and may not be accurate. Furthermore, sharing these documents is tedious and time-consuming compared to digital versions.
4. Too many data sources
Corporate credit cards may be used for a multitude of purposes. So, such expenses may be supported by several documents (proof of expenses). For instance, supplier and vendor payments may be completed using a corporate credit card.
However, the evidence of such expenses rests with purchase orders, invoices, and payment receipts. Imagine sorting and sifting through so many papers to reconcile the card payments.
Suggested Read: Business Credit Card vs Corporate Credit Card
Best practices to reconcile your corporate credit card easily
1. Automated reconciliations
The convenience of using prepaid corporate cards, company credit cards, food cards, and travel cards can be multiplied if you employ automated reconciliations. Since everything is available digitally, completing reconciliations will be a breeze.
Card statements are automatically matched against your accounting entries to ensure there is a 100% match. Any erroneous entries or mismatches on any level can be scrutinized further. 
2. Separate cards for individual users
It is undoubtedly better to have a company card for every user. Not only is this a far more efficient way to work, but it also eliminates the risk of fraud. Further, this gives you more control over the expense process as you can pin the responsibility on a single person. Several kinds of corporate cards may serve the purpose.
You could use prepaid debit cards that allow you to set limits, or you could opt for food/travel cards that will enable you to reimburse a specific category of expenses. The approval process can be predetermined, allowing only certain expenses or amounts to be approved. Real-time access to data speeds up the process while increasing the visibility of expenses.
3. Automatic capture of proof of expenses
OCR technology has genuinely revolutionized the receipt capture process. With well-designed expense management systems (that use the technology), employees can capture proof of expenses (receipts, bills, handwritten notes) as soon as they incur them.
Mobile apps capture, record, and relay the information to users (approvers, finance teams). As the corporate card makes paying for expenses easy, technology can make reconciliation processes more efficient.
This benefits the business as employees enjoy the convenience, managers and approvers relish the ease, and finance teams save time.
4. Real-time access to card statements
Corporate card statements are periodical; they usually do not match the timelines set for reconciliations. However, automated expense management systems take care of it by ensuring that the credit card statements sync up with your accounting systems. I
n fact, all corporate card-related expenses can be presented on a single screen on a customized dashboard. Further, you can use filters and other tools to sort and categorize the information to suit your requirements.
The availability of real-time data makes reconciliation a lot easier and quicker.
Also, Read: How to Increase Corporate Credit Card Limit?
How Happay helps with corporate credit card reconciliation
If you are looking for spend management software that can automate the reconciliation process for your business, then look no further than Happay. The cloud-based, completely integrated expense management software integrates seamlessly with your ERP, Accounting, HRMS, and CMS platforms.
The software intelligently captures the relevant corporate card details, compares them against the appropriate accounting entries, and highlights any inconsistencies.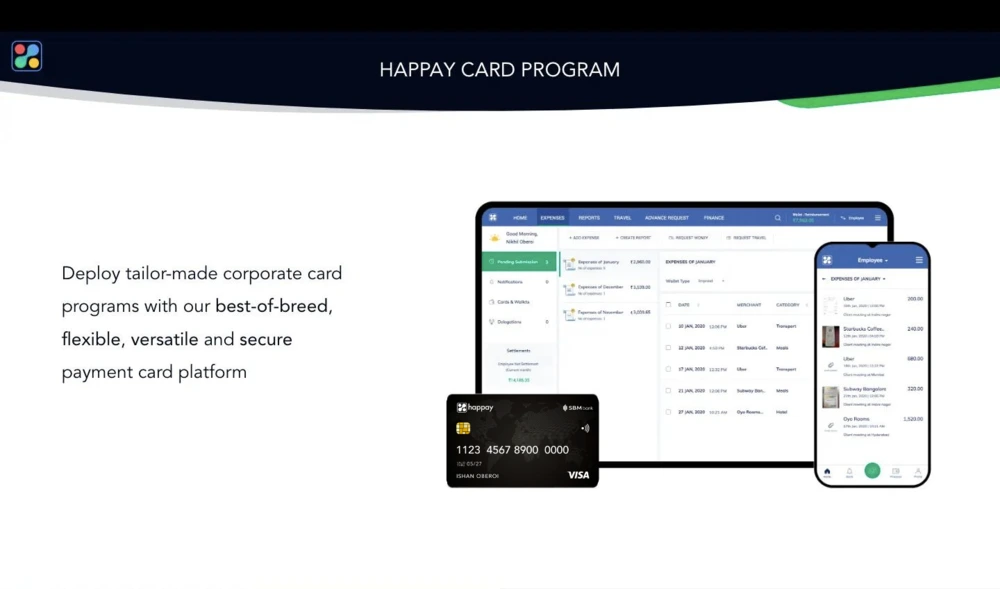 Happay also offers great prepaid cards instead of cash advances or corporate debit and credit cards. These cards are linked to a fully integrated cloud-based expense management system. Offering real-time access to card usage information, managers can view and control everything they need from web-based or mobile devices. You can fund the cards based on your policies, track expenses, modify limits, or even block cards.
Conclusion
Finance teams are well aware of how traumatizing the reconciliation process can be. However, that can be changed if you choose to automate. Corporate credit cards can be linked to expense modules to ensure that reconciliation happens automatically. You can also gain access to transactions and other information in real-time.
Make that change today!
FAQ's
1. What is corporate credit card reconciliation?
The process of matching corporate card transactions in the credit card statement against the transactions posted in the company's ledger accounts is called reconciliation. Reconciliation is undertaken to verify the validity and accuracy of the transactions.
2. How do you reconcile company credit cards?
In manual processes, the accountants or the finance team goes through each of the transactions in the card statement and matches them against the entries made in the ledger books. Automated expense management systems automatically sync with the accounting systems to reconcile the accounts.
3. Why do you need a corporate credit card?
As against personal credit cards, the liability of the corporate cards rests on the company approving the same. So, employees can swipe corporate cards for business expenses rather than using their funds for the same.
4. Can company card reconciliations be automated?
Expense management systems offer capabilities to help manage expenses end-to-end. For instance, Happay's corporate cards offer complete automation where card expenses can be reconciled quickly
5. What are Happay food cards?
Happay's prepaid cards are a far better alternative to cash advances and other corporate credit or debit cards. Using cloud-based expense management software, companies may use food cards to distribute meals or digital meal vouchers (which help employees claim tax benefits without hassles).