Expense filing and expense management are two dreaded words in the corporate world. Cursed are those who do not have the right expense management system to take care of this messy affair.
Are you looking for the best ITILITE alternative in the marketplace today? You have arrived at the right place. From which software's customer support is the best to which software has the most integrations, we are breaking it all down in this detailed post on the top eight ITILITE alternatives.
List of top 8 ITILITE competitors
Happay's expert team studied over sixty expense management software out in the market and here's a list that contains the top eight best alternatives to ITILITE:
Happay
Zoho Expense
Dice
SAP Concur
TravelPerk
Egencia
TripActions
Webexpenses
A comparative table on top 8 ITILITE alternatives
| | | | | | | |
| --- | --- | --- | --- | --- | --- | --- |
| Software | Credit card integration | Analytics Module | Mileage Tracker | Vendor Payments | GST Module | 24/7 Support |
| Happay | Yes | Yes | Yes | Yes | Yes | Yes |
| Zoho Expense | Yes | No | Yes | Yes | No | No |
| SAP Concur | Yes | No | Yes | Yes | No | Yes |
| Dice | Yes | No | No | Yes | No | Yes |
| TravelPerk | Yes | No | No | No | No | Yes |
| Egencia | Yes | No | Yes | No | No | Yes |
| TripActions | Yes | No | Yes | Yes | No | Yes |
| Webexpenses | Yes | No | Yes | Yes | No | Yes |
8 Best ITILITE alternatives and competitors
Happay is India's first-of-its-kind travel and expense management solution that is entirely focused on B2B clients. With 100% spend visibility into your T&E spend, Happay offers the best employee experience.
What's more, Happay can be seamlessly integrated with various accounting, ERP, and HRMS systems and is highly customizable. Happay's technology stack comes with corporate travel management solutions, employee expense management, corporate credit cards, and a Centralized Travel Account (CTA).
Furthermore, Happay Analytics helps transform expense data into insightful reports which CFOs can use for budget forecasts. The valuable data obtained from the analytics module will help improve policy compliance, optimize internal processes and simplify complexity in your organization.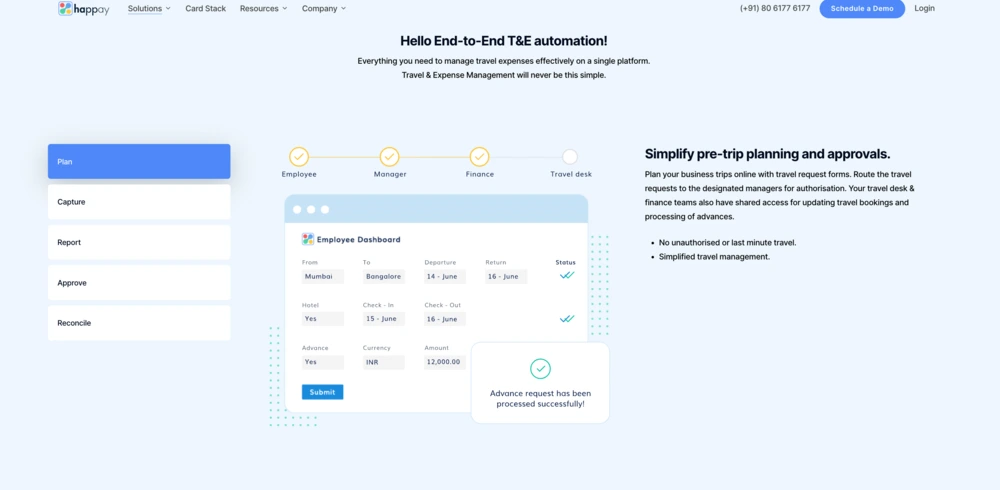 1.1 Features to look out for
1.1.a Integrated self-booking platform:
Happay's integrated self-booking tool helps business travelers to book travel options and raise travel advances all under one single platform. Your employees can look for multiple options for the trip, compare fares and finally pick the one that best suits their needs.
1.1.b Missed savings alert:
Missed savings alerts on Happay Travel will nudge employees to book the lowest fare possible without hindering their preferences. The missed saving alert will help save 7-10% on travel costs.
1.1.c Fare freeze:
The fare freeze option allows employees to freeze bookings and lock the price. This means no surge in price and you do not have to pay a higher price, again.
1.1.d Smart scan:
The Smart Scan feature in Happay helps capture expenses on the go using OCR technology.
1.1.e Smart audit:
Happay's Smart Audit feature automatically checks policies and auto-flags violations, potential frauds, and manual errors.
1.1.f Octa recon:
OctaRecon technology will auto-fetch the following details:
PNR and flight tickets
Airline GST invoice
Payment details
User details
Cost – Center / GL Mapping
Audit trail of complete approval flow
1.1.g Happay Xpendite:
It connects you with multiple expense sources and auto-captures expense information from these sources with no error and 100% accuracy.
1.1.h Automated workflow:
Using Happay, you can set up and configure unique workflows based on teams, grades, amounts, exceptions, and deviations. What's more, Happay gives a complete trail of the approval process–including comments and actions.
1.1.i ReconX:
Happay's ReconX easily integrates with different systems in your organization for a seamless data exchange. You do not have to spend hours manually reconciling it. Instead, the ReconX feature imports the required data in a jiffy.
1.2 What do we like about Happay?
Happay's AI-powered OCR can accurately capture data from bills and receipts and read expense data from SMS transactions, credit card statements, emails, etc. Employees no longer have to worry about lost receipts and create expense reports in minutes and submit them in a single click.
Happay's expense management software helps automate policy regulations and ensure the availability of centralized audit-ready reports.
It speeds up the approval process in enterprises with workflow automation and realtime status updates.
Finance teams can reconcile claims, invoices, and payments effortlessly.
Using Happay Analytics, employers can get a complete view of employee spending, make timely decisions, and accurately forecast budgets.
1.3 Our verdict
If you are an enterprise and you are looking for the best solutions that will help manage travel and expenses in your firm effortlessly, then Happay is your best bet.
With over 6000+ clients onboard across 40+ verticals, Happay is the pioneer in travel and expense management in the marketplace. Happay understands the business requirements of enterprise clients better than any other players in the market.
What's more, Happay allows integrations with HRMS, ERP, and accounting like SAP, Oracle, Tally, and multiple TMCs. Also, it allows real-time API-based, automated file-based integration. Additionally, Happay offers integration with major corporate cards, which can make reconciliation a breeze.
Must Read: Everything About Happay Travel and Expense
Zoho Expense is a travel and expense management solution that helps companies to streamline their corporate travel, expense reporting, and management process. Zoho Expense eliminates employee overspending and manual intervention. What's more, the software helps prevent policy breaches and fraudulent claims and will offer you real-time insights and data on your spending.
Zoho Expense has helped businesses in over 150 countries automate every aspect of T&E management, from expense report submission and approval to compliance, fraud detection, card reconciliation, and expense accounting.
Available as both a web-based and mobile application, Zoho Expense fits your existing workflow by seamlessly integrating with other applications in your current software ecosystem. Additionally, a high degree of customization ensures organizations can implement Zoho Expense quickly, effectively, and without changing existing processes.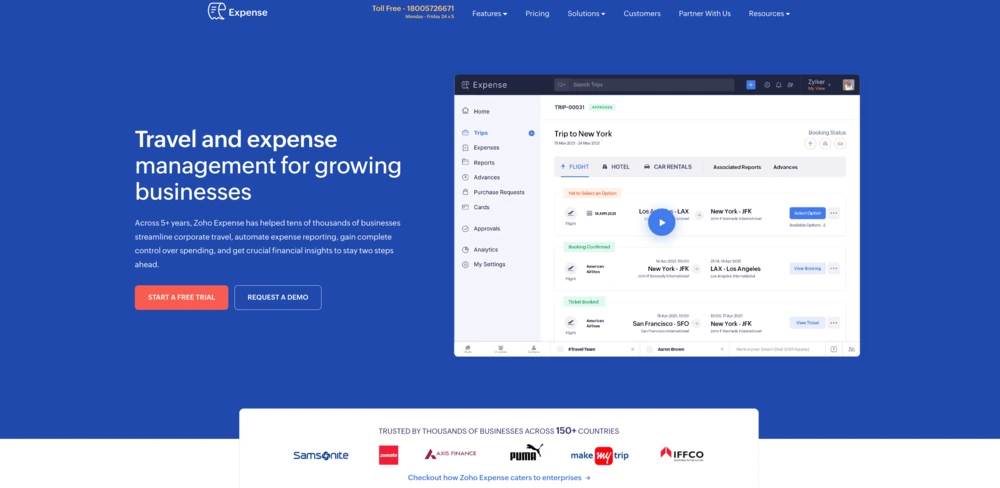 2.1 Features to look out for
Receipt capture
Mileage tracking
Credit card/bank integration
Mobile user support
Automated reminders
Currency conversions
2.2 What we like about Zoho Expense?
Zoho Expense has an intuitive UI that makes it easy to report and track expenses
The multi-level approval workflow in Zoho expense ensures no non-policy compliant report gets approved
Creation of expense reports from receipts, card transactions, and more
2.3 Zoho Expense pros:
Multi-level approvals
Spend rules and limits are automatically enforced
Better budgeting and compliance
2.4 Zoho Expense cons:
No feature for auto-reporting expenses at the end of the month
Basic mobile app with limited functionality. Zoho Expense mobile app doesn't have a smart expense-capturing method like OCR.
No integration with HRMS or TMCs as of now
| | | |
| --- | --- | --- |
| Feature | Zoho Expense | ITILITE |
| Audit Trail | Yes | No |
| Expense Claims | Yes | Yes |
| Fraud Detection | Yes | No |
| Financial Analysis | Yes | No |
| Multi-currency | Yes | No |
Future Read: Best Zoho Expense Alternatives and Competitors
Dice is a cloud-based expense management platform that helps organizations track, record, organize and manage business expenses. Additionally, Dice's spend management modules can help manage employee reimbursement, vendor payments, and other expenses seamlessly.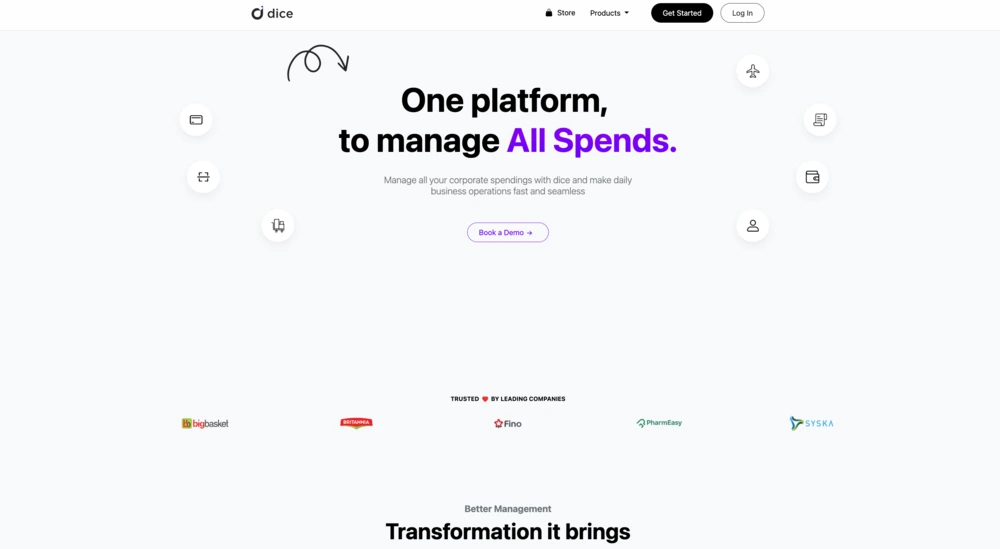 3.1 Features to look out for
Here are some of the unique expense management features that Dice offers to its employees:
Receipt Management
Approval process control
Invoice Management
Expense tracking
Realtime notifications
Time and expense tracking
3.2 What we like about Dice?
Using Dice, employers can enforce company-wide budget policies and help prevent overspending
Dice is highly scalable and flexible. It can be used by a single owner, from small businesses to enterprises.
Dice's automated and fully customizable workflow management system will allow you to create your own custom workflows.
3.3 Dice pros:
On the Dice expense management software, you can manage your payables digitally in a streamlined way.
You can seamlessly integrate Dice with accounting, ERP, HRMS, TMC, CRMs, and other internal tools in your organization.
To prevent overspending, employers can enforce budget limitations using Dice.
3.4 Dice cons:
Dice is not specifically designed for enterprises. This means enterprises must customize it often.
| | | |
| --- | --- | --- |
| Feature | Dice | ITILITE |
| Video Tutorials | Yes | No |
| Real-time Reporting | Yes | No |
| Real-time Alerts | Yes | Yes |
| Accounts Payable | Yes | No |
| Third Party Integrations | Yes | Yes |
| Audit Trail | Yes | No |
Quick Read: 7 Best Finly Alternatives and Competitors
SAP Concur offers integrated travel and expense management services to enterprises. From travel booking and expense reporting to invoice management, Concur will help automate the travel and expense management processes in your organization.
What's more, SAP Concur uses AI to audit 100% of transactions. This means you can now view where you are overspending and other blindspots in your budget.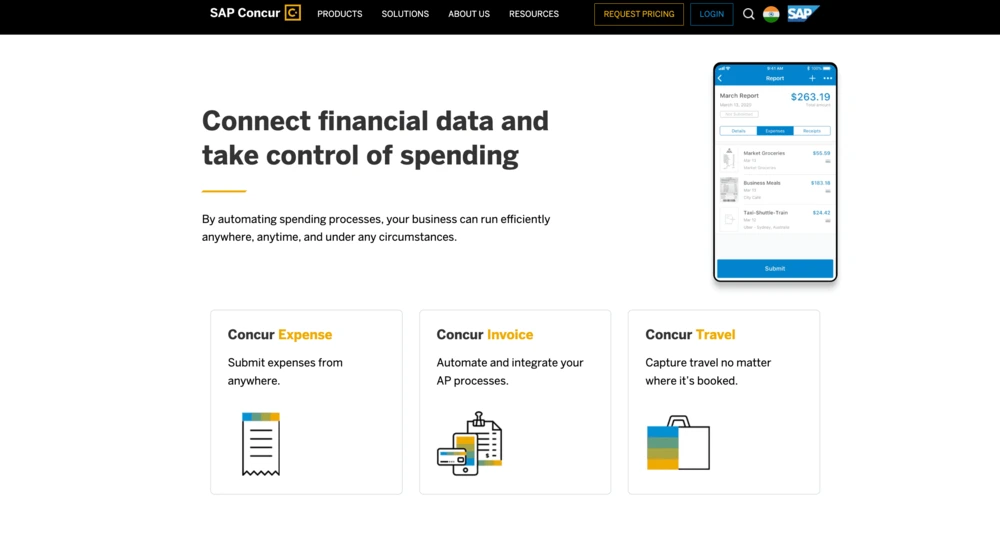 4.1 Features to look out for
Smart categorization
ACH Payment Processing
Digital receipt management
Employee reimbursement
Currency conversions
Credit card integration
Realtime trip notifications
4.2 What we like?
Complex and customizable approval workflow
Mileage tracking
Audit management
Invoice management
Third-party integrations
4.3 SAP Concur pros:
Create expense reports easily on the go
Hassle-free integration of TMC data
Offers travel itinerary and flight status updates
4.4 SAP Concur cons:
SAP Concur is a legacy system that does not have the features most modern software offers.
Integration to other systems than SAP is not robust.
It is rigid in terms of the configuration of reports.
| | | |
| --- | --- | --- |
| Feature | SAP Concur | ITILITE |
| Activity Dashboard | Yes | Yes |
| Receipt Management | Yes | No |
| Route Tracker | Yes | Yes |
| Customizable Approval Workflows | Yes | Yes |
| Dedicated Analytics Module | Yes | No |
| Audit Trail | Yes | Yes |
Future Read: Best SAP Concur Alternatives and Competitors
TravelPerk is a travel and expense management company. Using TravelPerk, employees can book and manage travel, set travel policies easily, manage invoices, and track expenses in one single place.
Furthermore, on TravelPerk, you can book flights, hotels, apartments, trains, and cars for a single employee or a group without hassle.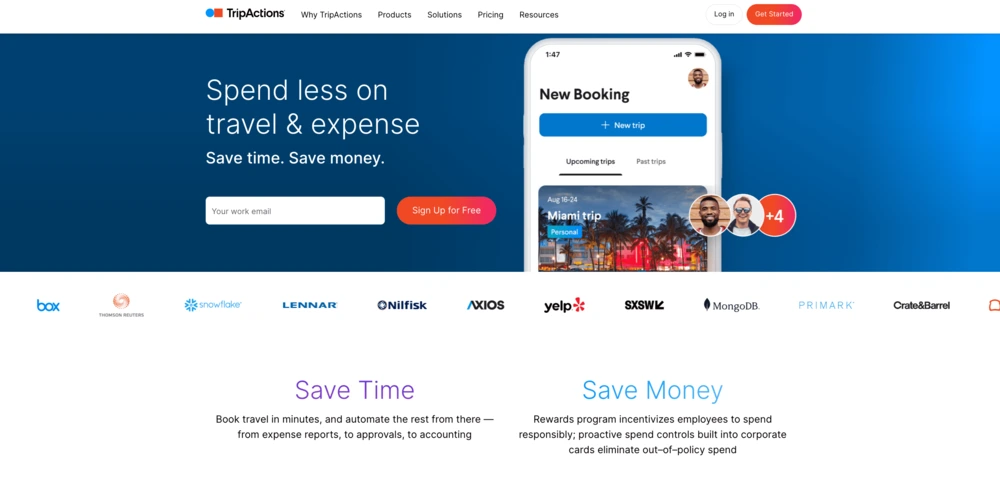 5.1 Features to look out for
Realtime and in-depth analytics
Role-based permissions
Itinerary creation
Risk alert and assessments
5.2 What we like?
Spend Control
On TravelPerk, you can easily calculate and claim back VAT on flights, hotels, car rentals, and trains
Centralized invoicing
5.3 TravelPerk pros:
You can set up your travel policy and customize it according to your business needs using TravelPerk
It offers custom corporate travel solution
5.4 TravelPerk cons:
The customer support team takes a lot of time to address issues, according to G2 reviews
| | | |
| --- | --- | --- |
| Feature | TravelPerk | ITILITE |
| Policy Creations | Yes | No |
| Risk Alerts | Yes | No |
| Role-based Permissions | Yes | No |
| Spend Control | Yes | Yes |
| Version Control | Yes | No |
| Spend Analysis | Yes | Yes |
Future Read: 10 Best Receipt Scanner Apps
Egencia is a global B2B travel tech platform that supports end-to-end corporate travel journeys in over 9000+ companies in more than 60 countries.
Egencia offers the best user experiences and impeccable service to more than two million travelers worldwide.
The platform helps in business trip planning, booking, and managing business travelers, travel arrangers, approvers, and corporate travel managers.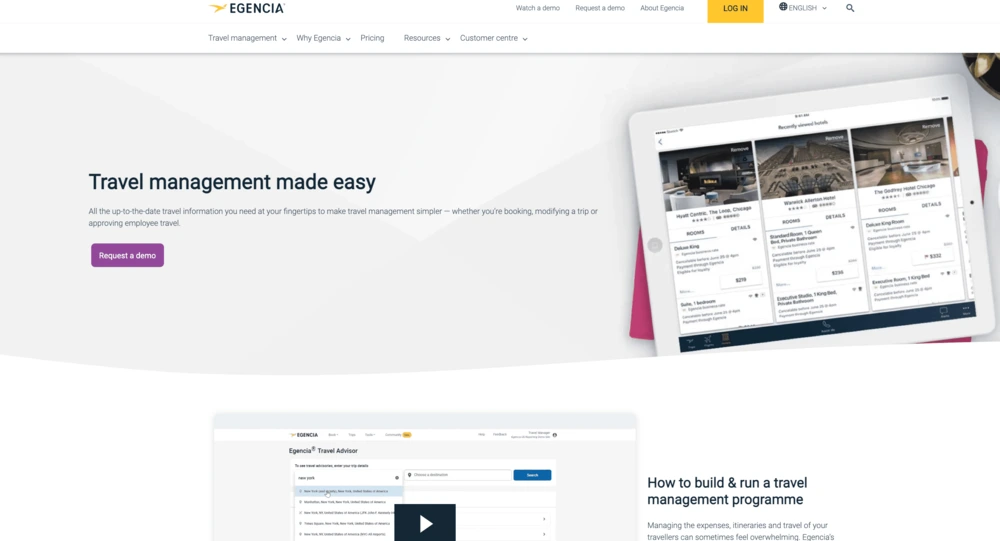 6.1 Features to look out for
Activity dashboard
Budget control
Approval workflow
Booking management
Compliance management
Travel management platform
6.2 What we like about Egencia?
Approval workflow
Restriction management
Reservations management
Automated reminders
6.3 Egencia pros:
Trip notifications notify travelers of information about their trip real-time
The spend control features in Egencia help companies stay on their track financially
6.4 Egencia cons:
Egencia's mobile app does not have the features of its desktop site.
| | | |
| --- | --- | --- |
| Feature | Egencia | ITILITE |
| Online Booking | No | Yes |
| Reporting and Statistics | Yes | No |
| Dashboard | Yes | Yes |
| Customizable Approval Workflows | Yes | Yes |
| Audit Trail | Yes | Yes |
Quick Read: Capital Expenditure (CapEX)
TripActions is a modern, all-in-one travel, corporate card, and expense management platform that has over 8,000+ customers around the globe. The software offers complete visibility and control over spend used by travel managers and finance teams.
TripActions offers modern and user-friendly technology for managing travel, corporate cards, and expenses in enterprises.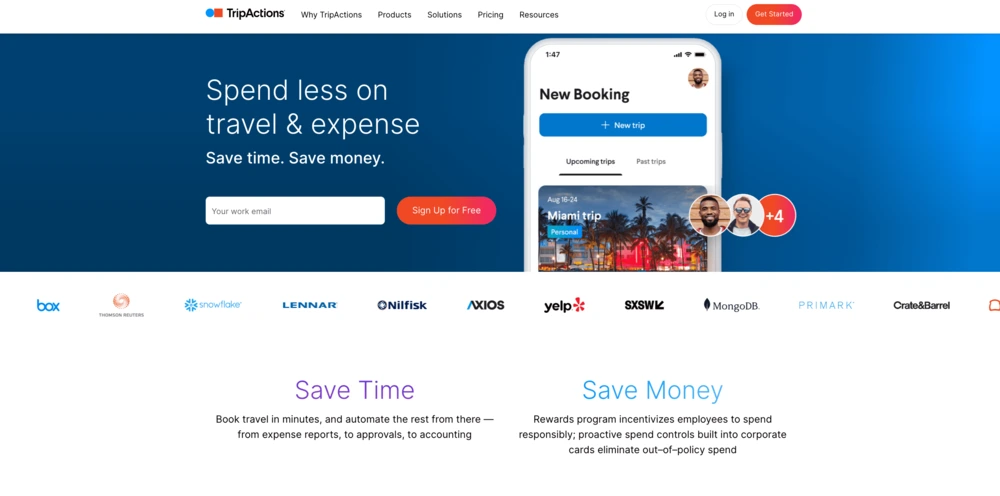 7.1 Features to look out for
Configurable workflow
QuickBooks integration
Realtime alerts
Advanced integrations
7.2 What we like about TripActions?
Single sign-on
Spend control
Multi-currency
Mobile functionality
7.3 TripActions pros
Reimbursement management
Mobile receipt upload
Third-party integrations
7.4 TripAction cons
TripActions does not have an exhaustive list of travel partners.
| | | |
| --- | --- | --- |
| Feature | TripActions | ITILITE |
| Invoice Management | No | Yes |
| Accounting | Yes | No |
| Audit Management | Yes | No |
| Alerts/notification | Yes | Yes |
| Approval Process Control | Yes | Yes |
Also, Read: 4 Ways to Simplify Your Expense Approval System
Webexpenses is a global provider of cloud-based travel and spends management software in more than 70 countries. The Webexpenses software can automate manual processes, increase spend visibility, reduce errors, and help save businesses money.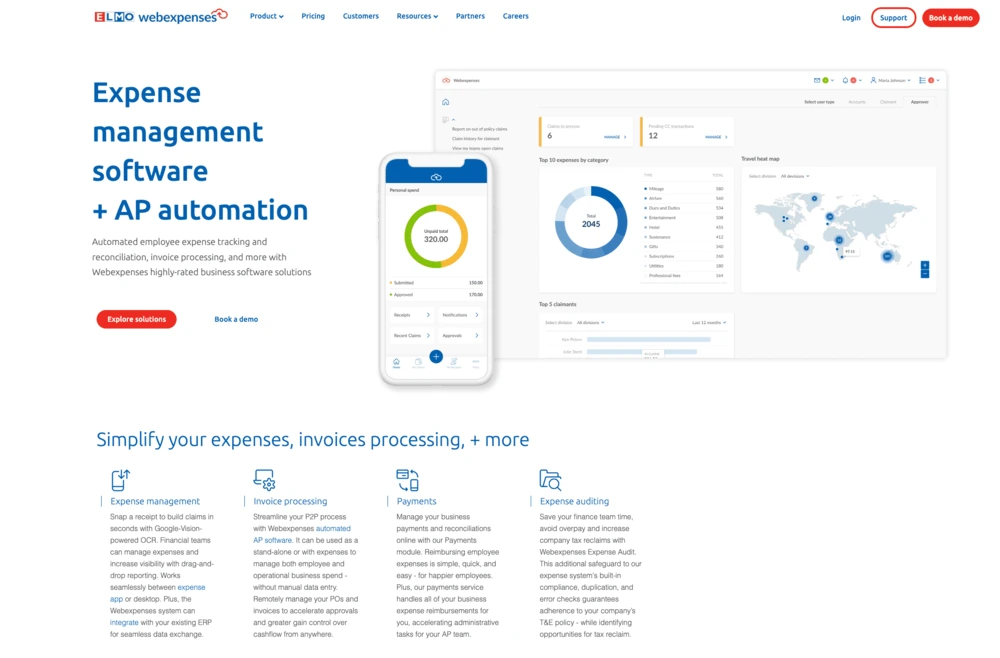 8.1 Features to look out for
Approval workflow
Corporate card
Real time analytics
Mileage tracking
8.2 What we like about Webexpenses?
Invoice management
Mileage tracking
Currency conversions
Automated reminders
8.3 What we like about Webexpenses?
Automatic policy compliance
Corporate card automatic Intelligent Matching
Integrated mileage tracking
Integration with ERP (existing)
8.4 Webexpenses pro
The system can be customized to meet business requirements and expense policy
Increases spend visibility and projection
8.5 Webexpenses cons
The software is only best suited for small businesses and startups
| | | |
| --- | --- | --- |
| Feature | Webexpenses | ITILITE |
| PO Reconciliation | Yes | No |
| Auto Merge Feature | Yes | No |
| Vendor Management | Yes | No |
| Multi-currency | Yes | No |
| Approval Workflow | Yes | Yes |
| Audit Trail | Yes | No |
Future Read: A Guide to Expense Reconciliation
ITILITE overview and features
ITILITE is an integrated travel and expense management software solution that offers end-to-end travel and expense automation for B2B enterprises. ITILITE offers customized booking options from a vast travel industry combined into a single package. What's more, ITILITE.com also offers mobile expense reporting for faster and easier expense filing.
ITILITE features
ITILITE offers customized, policy-compliant flights, hotels, and rental cars under one single platform
Offers GDS-sourced an exhaustive list of flights, hotels, and car rentals.
Seamlessly integrates with finance, HRMS, and CRM systems
View the entire travel data of your company under one single, customizable dashboard
Create and configure a simple workflow for complex approval structures
How to choose the best ITILITE alternative for your organization?
Ensure the ITLITLE competitor you choose has the following features:
1. User-friendly
Always choose a travel and expense management software provider that is user-friendly and simple to use. Stay away from software that is complex and hard to use. That is because complicated software will force your employees to commit mistakes. To eliminate such errors, we recommend choosing an intuitive and modern solution.
2. Multiple user roles
Pick a T&E software that offers multiple roles. For example, the T&E software must have different roles for different employees. The software must have defined roles and responsibilities for employees, managers, the finance team, and the admin team.
3. T&E policy integration
Each company has its own set of policies and rules. Therefore, pick a T&E software that allows you to easily integrate your firm's travel and expense policy. What's more, the software must help you customize it according to your convenience.
4. Automated approval workflow
Automated approval workflows can speed up the reimbursement process in your firm. You can drastically reduce expense approval and reimbursement time by setting up an automated workflow from start to finish. Therefore, choose a T&E solution that allows you to customize and automate your expense approval workflows.
5. Multiple integrations
Go for an ITILITE alternative that offers multiple integration options. Here are some of the important integrations that T&E software must have: 
Accounting integration
Time-tracking tools
HRMS
ERM tools
Why choose Happay over ITILITE?
Here's a detailed comparison table between Happay and ITITLITE:
| | | |
| --- | --- | --- |
| Feature | Happay | ITILITE |
| Web OCR | Yes | No |
| Email Plug in | Yes | No |
| Auto SMS Capture | Yes | No |
| Corporate Card Integration | Yes | No |
| Route Tracker | Yes | No |
| Tax Calculation | Yes | No |
| Access Control/ Permissions | Yes | No |
| Self Booking Travel and Hotels | Yes | Limited |
Happay offers a unique technology stack – a combination of travel booking, employee expense management, and payments. It is a highly flexible and easily configurable platform, which is why it is miles ahead of its competitors, including ITILITE.
Why choose Happay for T&E management in your company?
1. Best travel booking platform
Happay has the best UI/UX interface that makes the travel booking experience and management seamless. Also, it is partnered with many leading TMCs and travel agencies in the industry and offers you the best rates.
2. Quick and accurate expense capture
Expendite feature of Happay accurately and intelligently captures expense data using mobile apps at the point of incurring expenses.
3. Useful data for decision making
Happay Analytics offers a transparent and real time view of all the travel and expense details. Happay Analytics is a robust spend analysis tool that unifies all travel, expense, and payment data into a singularly accessible database. The T&E analytics software allows you to extract action-ready, easily comprehensible information snippets.
4. 24/7 customer support
Happay is well-known for its responsive 24/7 customer support and dedicated account managers. Happay's dedicated customer support team works round the clock to resolve the issues of its customers.
Get Happay Travel and Expense Management software
Final verdict
If you are looking for an ITILITE alternative that will help you streamline travel and expenses in your firm and help you save both time and money, then Happay is the right choice for you.
Happay's T&E platform has helped transform expense management processes and systems in some of the leading enterprises in the country. Happay will seamlessly help you with travel and employee expenses in your firm in a single platform- travel & expense management cannot get simpler than this.