Looking for an alternative to Expensify?
Expensify is one of the most widely used expense management SaaS solutions on the market today. Mostly geared toward small or medium-sized businesses, it is known for its reliable, easy-to-use mobile application (4.7 stars out of 127,000 ratings) and low pricing scheme.
That being said, Expensify may not be the best fit for your business. Whether you're currently using Expensify and finding it lacking, or just getting into the spend management software space for the first time, this article details ten of the best Expensify alternatives available.
A glance at the top 10 Expensify alternatives
| | | | | |
| --- | --- | --- | --- | --- |
| Company | Best Feature | Market Segment | Starting Price (Monthly) | Corporate Card |
| | Intuitive functionality and customer support | All business sizes | Custom pricing | No |
| | Blend of technology and customer support | All business sizes | Custom pricing | Yes |
| | Large inventory of booking options | Small to medium-sized businesses | Free (limited bookings) | No |
| | High customization | Large enterprises | Custom pricing | No |
| | In-app communication | Small to medium-sized businesses | $6.99 per user | Yes |
| | Blend of complexity and affordability | Small to medium-sized businesses | Free (limited users) | No |
| | Full accounting system | Small to medium-sized businesses | $29 | No |
| | Powerful AI tools | All business sizes | Custom pricing | No |
| | Easy-to-use system for small businesses | Small to medium-sized businesses | $15 | No |
| | Scales with your business | All business sizes | $9 per user | Yes |
10 Best Expensify alternatives and competitors
Happay is a dynamic, high-performance expense management solution that is used in over twenty countries by large enterprises from a huge variety of industries, as well as a myriad of smaller, independent companies. One of Happay's standout features is its Xpendite AI engine that intelligently extracts data from your receipts, reducing the need to stay on top of employee reimbursements.
Other features include automatic policy compliance and strong anti-fraud controls, as well as full expense approval and reconciliation capabilities with a visible audit trail. Happay is suitable for all business sizes and offers tremendous integration with your existing ERP systems.
Why should you choose Happay instead of Expensify?
Happay provides a more organized and intuitive system; this increases usability, decreases training time, and results in less user confusion.
According to reviewers, Happay's customer support is some of the best in the industry, with fast response times and quick solutions to any type of problem.
Happay provides a much more comprehensive solution than Expensify, with more complex features and options, making it a better choice for large businesses.
Happay is trusted by much larger and more well-established companies than Expensify.
Pros of Happay
Multi-level workflows
Xpendite AI engine for extracting receipt data
Excellent policy compliance and anti-fraud controls
Comprehensive end-to-end process with approval workflows, reconciling capabilities, and full audit trail
Corporate cards offer real-time expense tracking
Cons of Happay
App has trouble supporting Chinese and Japanese languages
Reviews
G2 users comment on Happay's strong customer support, stating that issues are generally resolved very quickly. They also mention the effectiveness of receipt filing with the smart AI engine. Happay has 4.5 stars on G2.
Conclusion
Overall, Happay is an excellent Expensify alternative due to its blend of an intuitive, easy-to-use system with highly sophisticated features and options. Pricing is fully customized depending on your business's size and needs.
TripActions is another well-known, reputable Expensify alternative. It features a smart AI system that personalizes your experience based on your past booking choices, as well as the TripActions Rewards program, which incentivizes employees to make wise business spending decisions and stay within budget. This software also supports special booking options for luxury travelers, like private jets and full-on concierge services.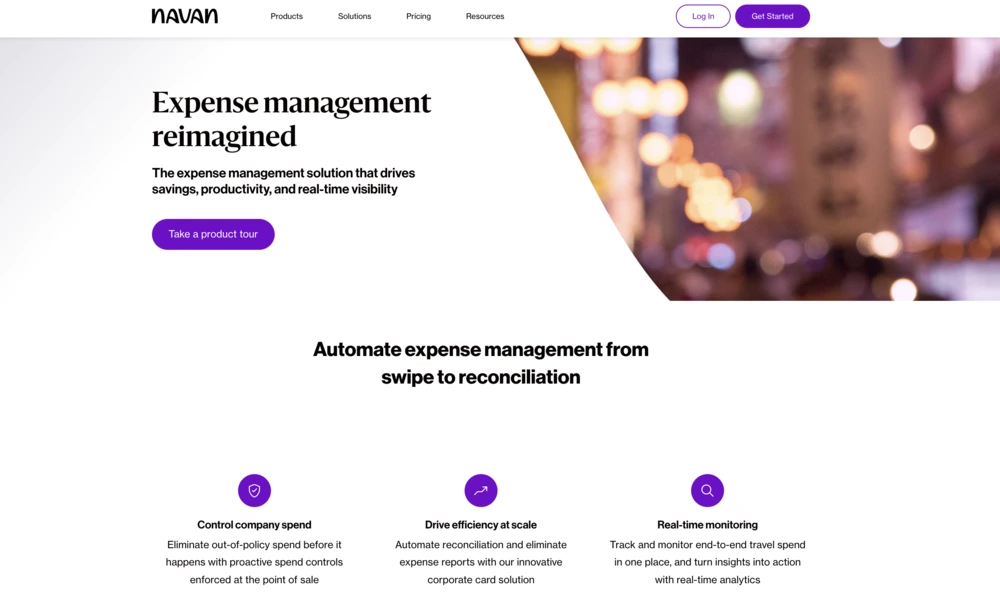 Why should you choose TripActions instead of Expensify?
TripActions is built with the ability to scale as your business grows, allowing you to use this software effectively throughout any evolutions your company may go through.
TripActions is known to have an easy onboarding process, meaning your company could make the switch with minimal headaches.
This software solution is optimized for larger companies, although it still works well with smaller businesses.
Pros of TripActions
AI with personalized recommendations
TripActions Rewards program for reducing traveling employee expenses
Luxury booking options
Good reputation among many high-end customers
Cons of TripActions
Customer support is sometimes limited in its ability to assist
Somewhat inflexible expense reporting
Reviews
Customers on G2 state that the booking experience through TripActions is seamless, though receipt uploads occasionally fail and customer service occasionally fails to adequately resolve all problems. TripActions has 4.7 stars on G2.
Conclusion
TripActions is a reputable Expensify alternative with a large variety of advanced features optimized for large companies. Weak points include sometimes ineffective customer service and somewhat limited expense reporting. Pricing is custom and depends on the size and needs of your business.
Future Read: 8 Best TripActions Alternatives and Competitors
TravelPerk is a somewhat smaller Expensify alternative, geared towards providing flexibility for small to medium-sized businesses. Features include a very large inventory of travel booking options and a specialized carbon footprint report for eco-conscious businesses. TravelPerk also automates the VAT recovery process, with up to 20% savings.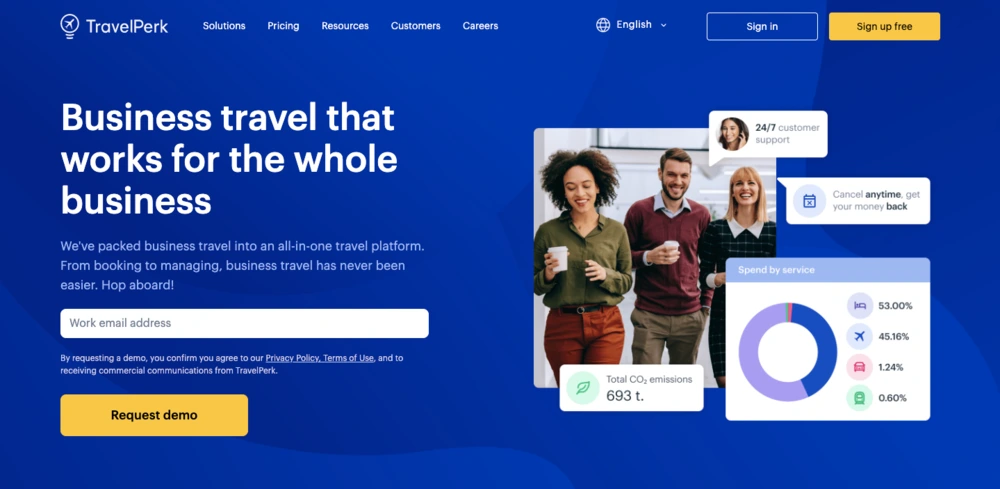 Why should you choose TravelPerk instead of Expensify?
TravelPerk offers a completely free setup, with no hidden costs anywhere throughout the onboarding process.
Customer service is top-of-the-line, with an average 15-second support response time.
TravelPerk offers a free trial for every pricing plan.
Pros of TravelPerk
High flexibility for constantly evolving small businesses
Very large inventory of booking options
Carbon footprint report
Up to 20% automatic VAT recovery
Cons of TravelPerk
Limited workflows and complexity of options
Mobile app has only 3.6 stars
Reviews
G2 users report that sometimes the large inventory of booking options makes booking overly time-consuming. They also comment on the outstanding customer support. TravelPerk has 4.6 stars on G2.
Conclusion
TravelPerk is an ideal Expensify alternative for smaller, eco-conscious businesses looking for a high amount of flexibility and booking options. The Starter plan is free with limited bookings per month. It costs $99 per month for the Premium plan, $299 per month for the Pro, and pricing is fully customized for the Enterprise plan.
Future Read: 8 Best TravelPerk Alternatives and Competitors
SAP Concur is an Expensify competitor optimized for the largest enterprises with the most complex reporting requirements. Concur features AI-driven expense auditing, which automates the process of flagging and preventing certain purchases. The mobile app's "Drive" feature automatically captures miles driven, and SAP's TripIt Pro app is specifically designed for easy custom itinerary creation.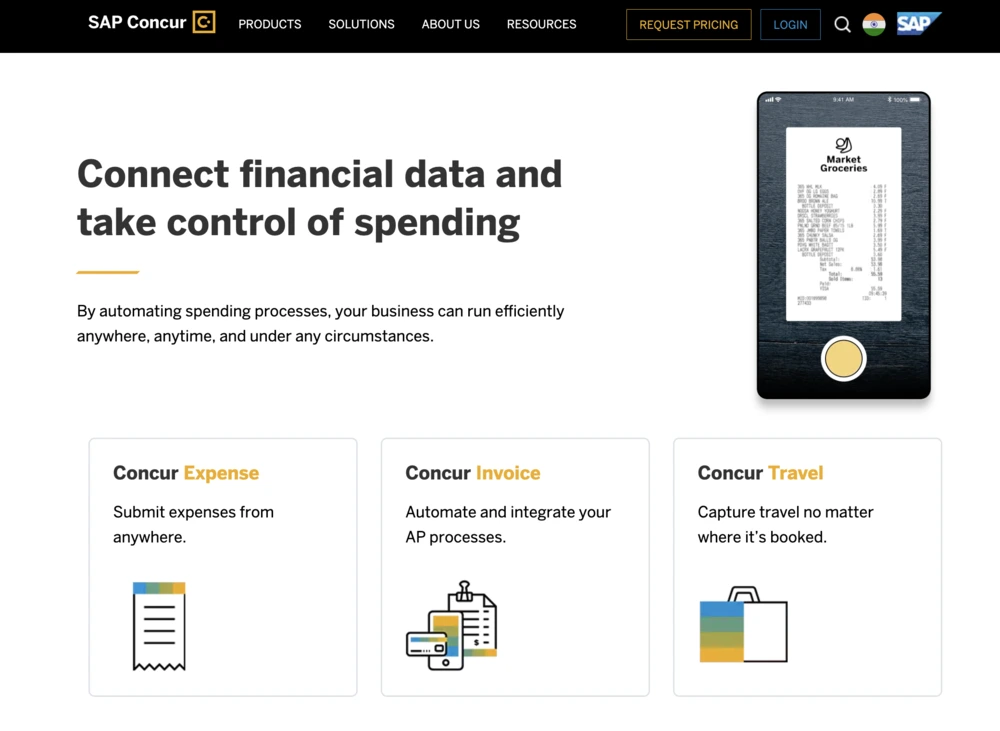 Why should you choose SAP Concur instead of Expensify?
This solution offers an extremely high level of customization, to the point of offering different versions of Concur for different industries.
Concur is an established, reputable platform used by large companies like Twitter, General Mills, and IBM.
Concur's open API model allows developers to easily integrate the software with other ERP software used in your company, such as Quickbooks or NetSuite.
Pros of Concur
AI-driven automatic expense auditing
High integration capabilities
Automatic mileage tracking with mobile app
Custom itinerary creation with TripIt Pro app
Cons of Concur
Mediocre customer service
Sometimes overwhelmingly complex
Reviews
Customers on G2 state that the implementation process can sometimes take a while, which is to be expected given Concur's inherent complexity. They also report that the mobile apps are effective and reliable. Concur has 4.0 stars on G2.
Conclusion
Overall, SAP Concur is the best Expensify alternative for the largest enterprises with high customization and integration demands. Pricing is fully custom and depends on the specific requirements of your business.
Suggested Read: 5 Best SAP Concur Alternatives and Competitors
Suitable for small to medium-sized businesses, Fyle is an optimal Expensify alternative for companies prioritizing effective communication. Employee expense delegation allows others to submit or approve expenses on your behalf. Other features include in-app employee reminders and the ability to comment on an expense report right from your Gmail inbox, without needing to even open the Fyle application.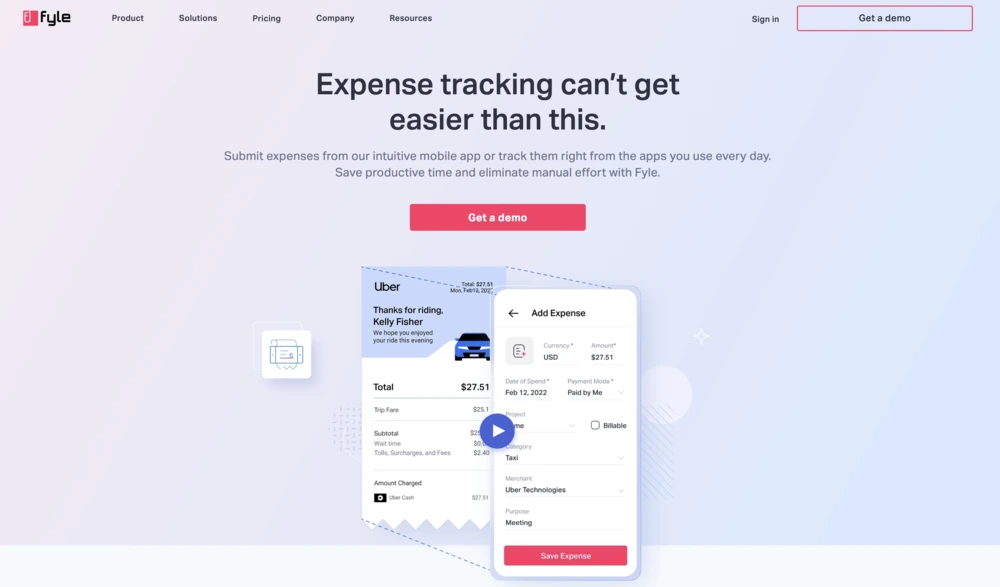 Why should you choose Fyle instead of Expensify?
Fyle offers extremely convenient in-app communication.
The system is user-friendly and visually appealing.
The onboarding process is painless and quick.
Pros of Fyle
Employee expense delegation feature allowing others to act on your behalf
Smart employee reminders
Convenient in-app communication
Cons of Fyle
Somewhat weak mobile app
Software is limited in the scope of its features
Reviews
Customers on G2 state that Fyle's system layout could be improved, as some options can only be accessed in a roundabout way. They report that the search function works well, making it easy to locate invoices and past business expenses. Fyle has 4.6 stars on G2.
Conclusion
Fyle is an excellent Expensify alternative for smaller companies looking to prioritize transparency and communication. Pricing schemes are $6.99 per user per month, $11.99 per user per month, then fully customized for larger companies. Features and options increase with price.
Also, Read: 10 Best Expense Management Software
Zoho Expense is another Expensify competitor geared towards small to medium-sized businesses, offering a balanced blend of affordability and complexity of features.
It provides convenient in-app notifications as employees approach spend limits, and the application allows users to access URLs and perform external tasks within the app itself. When paired with Zoho Books (Zoho's full accounting and bookkeeping software), expense reporting becomes even more efficient and seamless.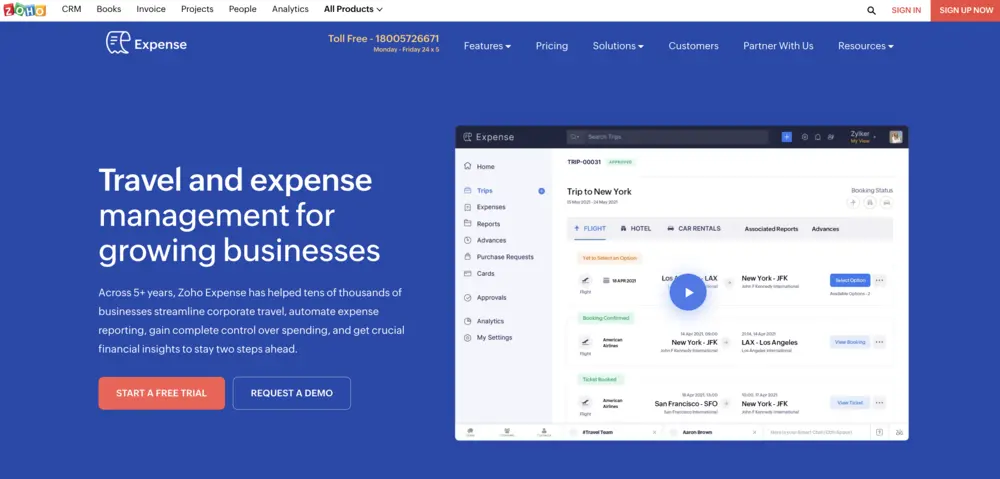 Why should you choose Zoho Expense instead of Expensify?
Zoho Expense has many integration options for your existing company cards, eliminating the need to purchase new corporate cards.
For a platform geared towards smaller businesses, Zoho Expense provides more complex workflows than many of its competitors.
Zoho Expense has a heavy security system including multi-factor authentication, SSL encryption, and role-based information access.
Slightly different versions of the software are offered for different regions, in order to help users meet differing compliance requirements.
Pros of Zoho Expense
Notifications to help employees stay within spend limits
Comprehensive software allows external tasks to be completed within the app
Extra seamless reporting when paired with Zoho Books
Good blend of complexity and affordability
Cons of Zoho Expense
Sometimes more complex than needed
Mobile app is somewhat limited
Reviews
Reviewers on G2 say that sometimes Zoho Expense's features are overwhelming and not needed, given the requirements of their businesses. However, for the most part users highlight the software's user-friendly layout. Zoho Expense has 4.5 stars on G2.
Conclusion
In general, Zoho Expense is a good option for those looking for an affordable solution that also provides a somewhat high level of advanced features. Pricing starts with a free option, then increases to $3, $5, and $8 per user per month. Features increase with price.
Quick Read: 7 Best Zoho Expense Alternatives and Competitors
Xero is a full-on accounting and bookkeeping software; expense management options are only a part of the services offered. Xero automatically adds assigned expenses to relevant invoices, reducing the need for manual organization and data entry.
Because Xero's expense management comes as part of a full accounting system, employees can use the Xero Me app to submit both receipts and other things like time tracking reports in the same mobile app.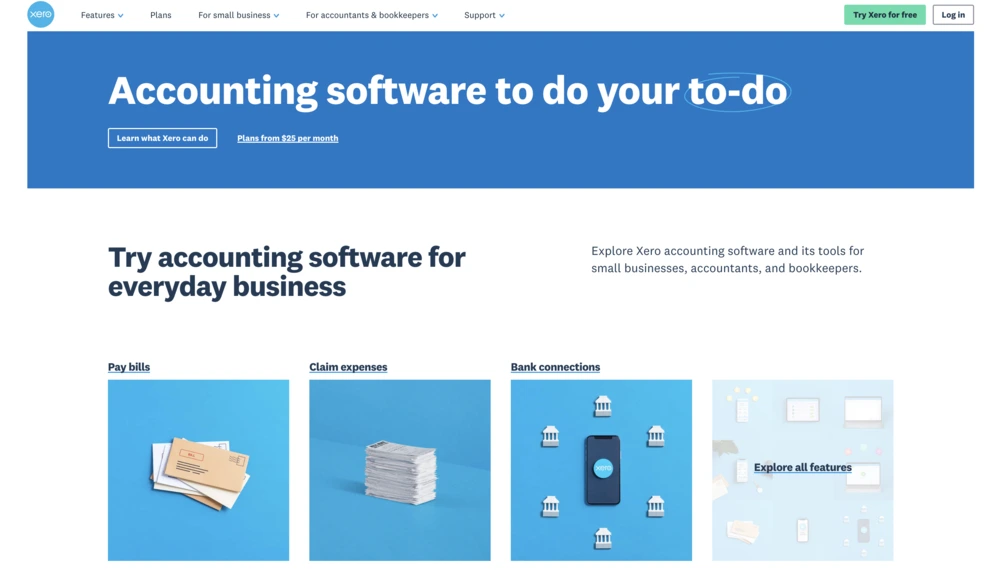 Why should you choose Xero instead of Expensify?
Xero's expense management platform offers smart pricing, charging you only for those employees who actually submitted expenses, not those who only viewed or reviewed.
Xero's full accounting system ensures seamless expense reporting integration with other accounting processes.
Regular audits are conducted by Xero in order to ensure that security standards are up to date.
Pros of Xero
Automatic receipt creation based on assigned expenses
Seamless integration with other accounting functions
High security standards
Cons of Xero
Weak search engine for finding invoices
Can't use while offline because the software is only cloud-based
If you want to use Xero for expense management, you will need to purchase the entire accounting software suite.
Reviews
G2 customers report that Xero is sometimes lacking complex features needed by their businesses, though this means that the software is generally easy to understand for those new to such software solutions. Xero has 4.4 stars on G2.
Conclusion
In conclusion, Xero is a good Expensify alternative for companies looking for a seamless, full-on accounting solution. Pricing goes from a 30-day free trial to $29, $59, $76, and $110 per month.
Suggested Read: 6 Best Expenzing Alternatives and Competitors
Webexpenses is a general expense management solution, with good all-around options for any business size. This software's strong point is its variety of powerful AI tools.
These tools automate the tedious process of finding group booking discounts (which can save users up to 25%), and personalizes suggestions based on users' past choices. Google Vision powers Webexpenses' Intelligent Receipt Matching feature, which automatically matches credit card purchases with their respective receipts.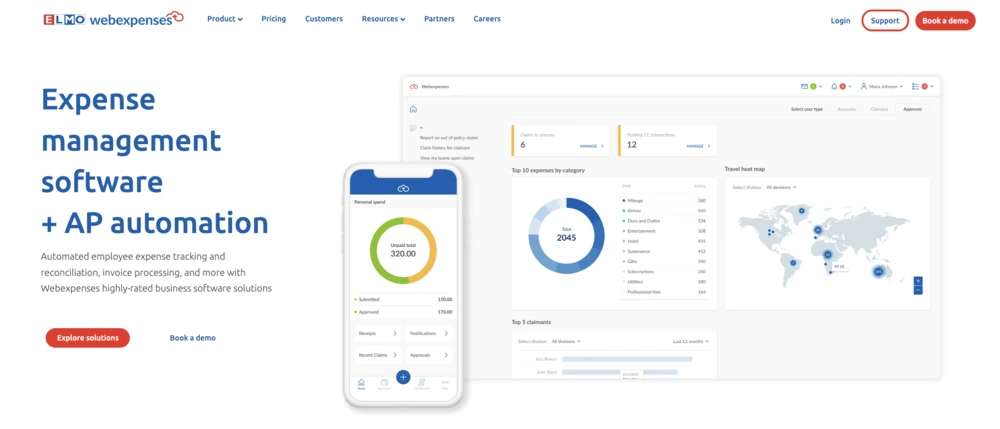 Why should you choose Webexpenses instead of Expensify?
Webexpenses provides comprehensive customer support, with service representatives available 24/7 in over 50 languages.
The optional employee rewards program encourages employees to spend wisely and stay within budget.
Powerful AI tools greatly increase efficiency and drive cost savings.
Pros of Webexpenses
Intelligent Receipt Matching through Google Vision.
Comprehensive customer support
AI group discounts and personalization
Cons of Webexpenses
Somewhat clumsy mileage tracking on the mobile app
Expense submission can be time-consuming
Reviews
Customers on G2 mention that Webexpenses' software occasionally crashes, although they also state that the company is constantly improving its software with updates. Webexpenses has 4.5 stars on G2.
Conclusion
Webexpenses is an excellent Expensify alternative for high-tech companies that prioritize efficiency and powerful AI capabilities. Pricing is fully customized depending on your needs.
Also, Read: 10 Best Travel Management Software
FreshBooks is an intuitive, simple software with a focus on small businesses that want a hassle-free solution. Features include automatic mileage tracking with marked potential tax deductions, easily customizable invoice templates, and smart categorization of expenses for easy tax paying.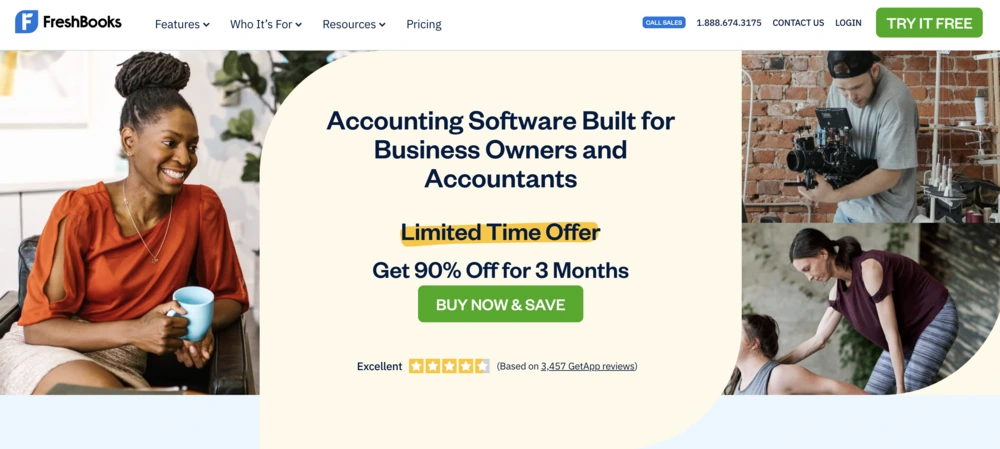 Why should you choose FreshBooks instead of Expensify?
FreshBooks prioritizes ease of use with no unnecessary options, making it a good choice for small businesses with light requirements.
Custom onboarding support makes switching to FreshBooks a simple process.
Though geared towards small businesses, FreshBooks has a large amount of foreign currency reporting options.
FreshBooks offers a web-based version of its software, ideal for businesses without significant hardware capabilities.
Pros of FreshBooks
Automatic mileage tracking with marked tax deductions
Customizable invoice templates
Easy taxpaying due to smart expense categorization
No unnecessary features, ideal for small businesses
Cons of FreshBooks
Lack of advanced features and complex workflow structures
Somewhat weak customer support
Reviews
G2 customers highlight the software's simple, straightforward nature, and lack of unnecessarily complex features. They also state that the onboarding process was simple and painful. FresBooks has 4.5 stars on G2.
Conclusion
FreshBooks is an ideal Expensify alternative for small businesses looking for an intuitive solution that increases efficiency while providing only the most necessary features. Pricing starts at $15 per month, then moves to $30 and $55. Pricing also comes customized for larger businesses with greater needs.
Related Read: 11 Best Billing Software for Small Business
Emburse Abacus is a well-round solution suitable for all business sizes, with an emphasis on flexible scaling capabilities. Features include smart receipt scanning that automatically suggests expense categories, and nicely formatted report exporting to PDF and Excel.
Additionally, Abacus offers complex expense analysis, with reports that can be broken down by employee, project, client, and other categories, providing multi-faceted viewpoints for different data sets.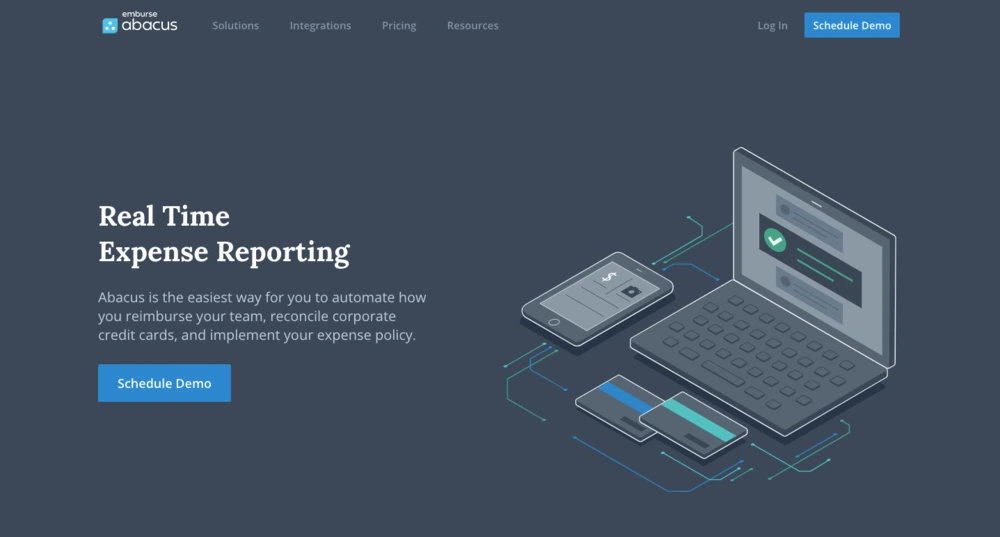 Why should you choose Emburse Abacus instead of Expensify?
Abacus provides a flexible system that scales with your growing business, allowing you to use Abacus for your company's entire lifespan.
Smart integration with Slack allows you to utilize Abacus' features directly from the Slack application.
Expenses can be logged using either the accrual or cash methods.
Reporting can be sorted by employee, project, client, and other categories, providing multiple different angles of analysis.
Pros of Abacus
Smart receipt scanning that learns your behavior
Flexible report building and multi-dimensional analysis
Easy report exporting to PDF and Excel
Smart integration with Slack
Cons of Abacus
Weak mobile app with only 2.6 stars
Limited mobile app availability depending on country
Reviews
Users on G2 highlight Abacus' excellent software interface layout, though they report that the mobile app needs updating, as it sometimes freezes during use. Abacus has 4.5 stars on G2.
Conclusion
If you're looking for a somewhat advanced solution that has the ability to grow along with your business, Abacus may be the best choice. Pricing starts at $9 per user per month, then moves to custom pricing depending on your business' needs.
Suggested read: 10 Best Receipt Scanner Apps
About Expensify
Now that the ten best Expensify alternatives have been examined, it will be beneficial to take a look at Expensify itself to see how it compares to its competitors. Suitable mostly for small to medium-sized businesses (but also applicable to freelancers and sole proprietorships), Expensify's strength no doubt lies in its popular and highly rated mobile expense management app.
Expensify also provides data protection protocols that meet the standards of Privacy Shield and GDPR. Other features include a high quantity of integrable software for accounting, travel management, and HR functions, as well as effective automatic employee compliance controls. Pricing ranges from free, to $5 per user per month, to $9 per user per month.
Why you need to look for Expensify alternatives?
No single expense management system can possibly be the perfect solution for every company. Clearly, based on its popularity and reviews, Expensify checks the right boxes for a fair amount of companies – but, like any expense management app, it also has its share of bad reviews and suggestions for improvement.
If you're from a fairly large enterprise, you may need a solution with more features and higher levels of customization. If you're from a smaller company or startup, you may need a solution not with more features, but simply different features that more closely match your needs.
Also, Read: What is Expense Management?
How to choose the best Expensify alternatives?
The best way to choose an effective alternative to Expensify is to conduct a thorough analysis of the options offered by each competitor—this article has laid out the prominent upsides and downsides of each choice – and then to choose the best alternative based on a variety of criteria.
Some recommended points of consideration are outlined below.
How large and fragmented is my business? Is this software able to meet the general complexity of our requirements?
What departments in my business would be most benefited by this software, and what features would be most helpful to them?
What industry-specific or regional needs do I need this software to meet?
How fast would the onboarding process be, and how quickly would our employees gain a proficient working knowledge of how to effectively utilize this software?
Will this software actually save us time and/or money?
Finally, if you're currently using Expensify:
Are you getting your expected ROI?
Is there any software in the market that offers better functionality and a higher ROI potential?
What would it cost to switch to a new software solution, and will that cost be worth it in the long run?
Why is Happay the best competitor to Expensify?
Happay's software can be tailored to meet the specific needs of your business. Whether you're from a large enterprise with complex hierarchical structures, or from a small startup with only a few employees, Happay's software can fully adapt to meet those needs.
Happay's software is a true end-to-end spend management platform, which means that anything expense-related will be centralized and solved under Happay's software umbrella.
Users definitively highlight Happay's ease of use, regardless of how many advanced features are utilized.
Users find Happay's customer support to be some of the best in the industry – response times are superb and problems are solved thoroughly and promptly.
How does Happay expense management software help to grow your business?
Happay helps to grow your business because it streamlines tedious, time-consuming procedures, such as:
Manually entering receipt data and keeping track of employee reimbursements
Checking expense reports line-by-line
Repeatedly explaining compliance procedures
Booking flights, car transportation, and hotels all from separate applications.
With Happay, processes like these are easier than ever (or fully taken care of automatically). This frees up the time of finance teams, managers and company officers, allowing them to focus on their crucial tasks of company and project management.
They will be able to spend less time on repetitive processes, and more time analyzing front-facing data and making smart decisions that ultimately grow the business. 
Conclusion
Our top ten Expensify alternatives have been presented in a comprehensive manner, with key features and pros and cons listed for each. Hopefully you feel you are now in a better position to effectively choose a new expense management software for your business. If so, this article has served its purpose.
FAQ's
1. What is the difference between Expensify and other expense-tracking apps?
While Expensify does have some standout features, its popularity is due to the reliability and intuitive functionality of its mobile application. It differs from other expense tracking apps in that it is mostly tailored towards small to medium-sized businesses, and its security protocols are robust, boasting Privacy Shield and GDPR compliance. Expensify offers an inclusive corporate card, which is offered by some, but not all, alternatives.
2. Is there a free version of Expensify?
Expensify offers competitive pricing, including a completely free version with no hidden fees. As can be expected, this free version is somewhat limited in its features, but not detrimentally so. Unlike some other spend management software solutions, the free version of Expensify can be used very effectively despite its limitations.
3. How much is Expensify per user?
Paid pricing starts at $5 per user per month, then moves up to $9 per user per month. Features and options offered increase with price.
4. Who uses Expensify?
Expensify is used by around 6,000 customers, most of whom are small to medium-sized businesses in any variety of industries. These businesses include SunCommon, IDEO.org, Vend, and Redmond Accounting.