Receipt Scanner App
Do your employees continue to save receipts? Do they courier documents to you for expense reimbursement? How long do you spend tracking, recording, and reconciling?
Receipt scanner apps will save you money and time as you digitize everything. We have scoured numerous products and analyzed their features to bring you this article that features the best receipt scanner apps in the market.
Read on as we give you everything you need to know before you pick the best receipt scanner app for your organization.
What are Receipt Scanner Apps?
Mobile receipt scanner apps help you capture images of receipts and in expense tracking. You can scan images of your receipts using your smartphone. The mobile app automatically picks up the relevant data on your receipts and categorizes them accurately. In most cases, the receipt scanner app can also add the data to your accounting software, eliminating the need for manual entries.
So, no more manual entries and bulky paper documents and files. However, you can welcome the extra time on your hands and the ease of reconciliations.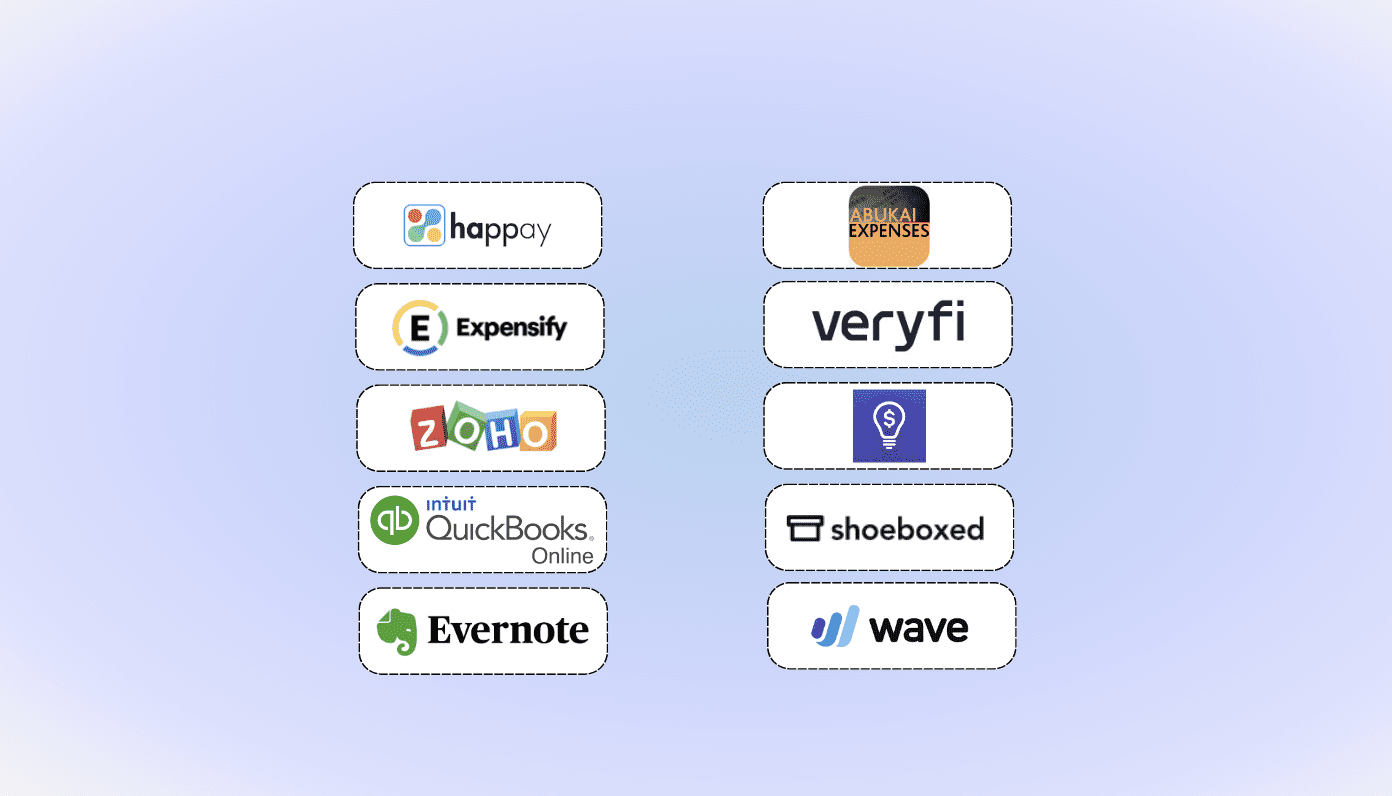 A Quick Look at the 10 Best Receipt Scanner Apps
After extensive research into several products in the market, Happay gives you the top 10 receipt scanner apps.
Name

Pricing (month)

Free trial

Happay

Contact for pricing

No

Expensify
Active User Collect-$5,
Control-$9 With Expensify card

–

Zoho
Active User Premium-$5
Enterprise-$8

Yes

Quickbooks Online
Start-$11/month
Essentials-$22/month
Plus-$33/month

30-day

Evernote Scannable

Premium-$5.99/month

–

Abukai Expenses
Individual-$8,
Std Corporate-$8+one-time setup fee of $49
Custom-Contact

–

Verify
Active User Exp Mgmt-$13.75
Time Mgmt-$5

–

Smart Receipts

Contact for additional features

Free

Shoeboxed
Per Month Startups-$18
Professional-$36
Business-$54

30-day

Wave

Free

–
10 Best Receipt Scanner Apps to Track and Manage Your Receipts
Happay offers a simple and efficient receipt scanner app that allows you to capture, record, and file expenses. You can do it from anywhere, on the go, all without paper receipts and expense vouchers.
Pros
The Smart Scan feature captures expense information using OCR technology.
The app scans and creates an expense report after capturing relevant information such as Invoice number, vendor details, GSTIN, etc.
SmartAudit feature automatically audits expenses for policy violations.
Whether it is WhatsApp, SMS, or Gmail, Xpendite captures expenses efficiently.
Cons
There is a lack of global ecosystem partnerships.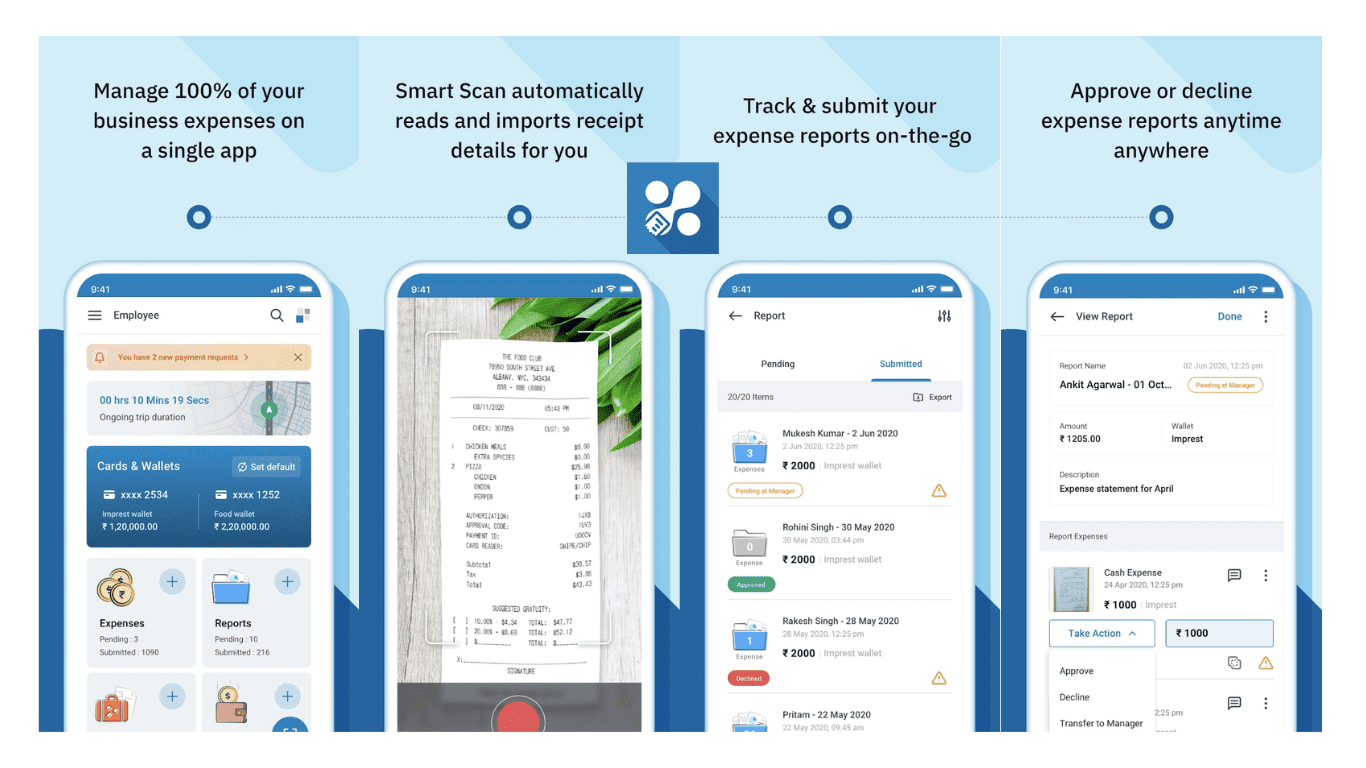 The feature we like:
The SmartAudit feature is undoubtedly a big plus. It automatically checks policies and flags violations, possible fraud, and manual errors. It helps finance teams become more efficient as they are armed with more information on duplicate, restricted, false, or inflated claims.
Price:
Contact Happay for pricing
Also, Read: 10 Best Expense Management Software
Offering a simple, one-stop solution for receipt scanning, the Expensify mobile app makes it easy for users to digitize the expense capture process. Users can click pictures of the receipts or other documents using the receipt scanning app. You can access the digital receipts whenever you need making expense management easy and simplified.
Pros
You can customize approval workflows so the app can flag any violations.
The receipt scanning and tracking app automatically detects duplicate receipts and validates transactions.
Users can create, submit, or approve reports on behalf of others too. You can give auditors review-only access to the expense reports and information.
Cons
Users feel that the app is slow, and the absence of geotagging is a con.
Users also feel that total expenses(several claims together) for a period must be calculated manually, which defeats the purpose of automation.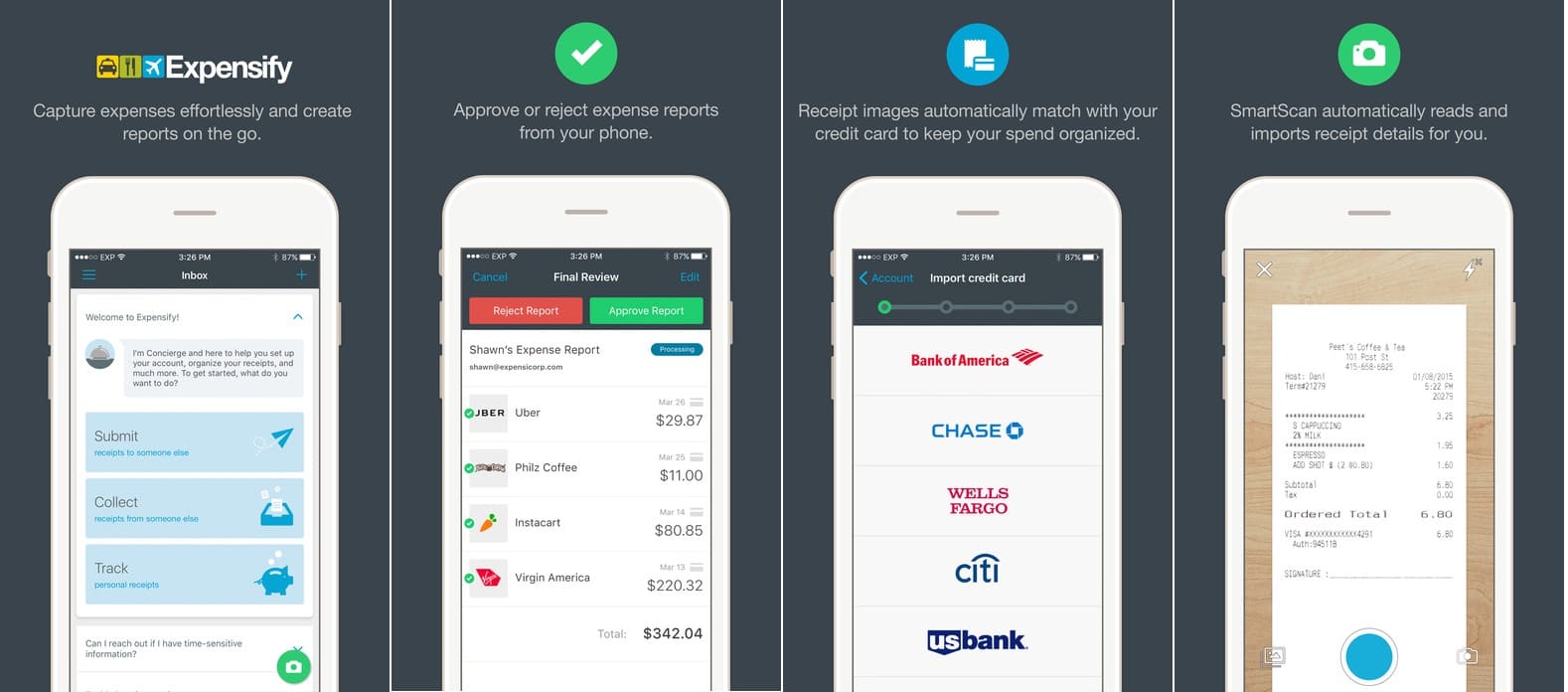 Image Credit: play.google.com
The feature we like:
Firstly, once you take a photo of your receipt, it is stored safely on the cloud, then comes the multi-level coding advantage, which allows users to import GL codes from your existing accounting package, is an advantage. You can tag expenses with multiple levels of detail, giving you the efficiency you seek.
Price:
Individuals, self-employed individuals and small business owners can use the free version of the Expensify app for up to 25 smart scans a month. Users can
You can subscribe to the Collect plan starting from $5 per user per month (with an Expensify card).
You can subscribe to the Control plan starting from $9 per user per month (with an Expensify card).
Also, Read: 10 Best Expense Reporting Software Systems
The Zoho receipt scanner app offers IOS and Android versions relieving you of paper-ridden processes. With the key features of the mobile app, your employees can now quickly send images of the receipts and other paperwork to speed up approvals of business expenses. Also, the finance team will be far more efficient and quick to reimburse your employees.
Pros
Zoho Expense offers an advanced Autoscan feature that reads your receipts quickly and efficiently. The app supports several languages, such as Swedish, Chinese, Malay and Vietnamese, etc.
Users who travel often may find they are overwhelmed with too many receipts. Zoho's features allow users to send their receipts to their respective email inboxes, where it is converted into expenses instantly.
You can safely save your expense images to the cloud, allowing you to retrieve and use them when required. Zoho's receipt scanner app supports imports from OneDrive, Google Drive, Evernote, etc.
Cons
Users feel that the drop-down for payment methods is irrelevant and could include more customized default options.
Users also feel the app lack department-wise customizations.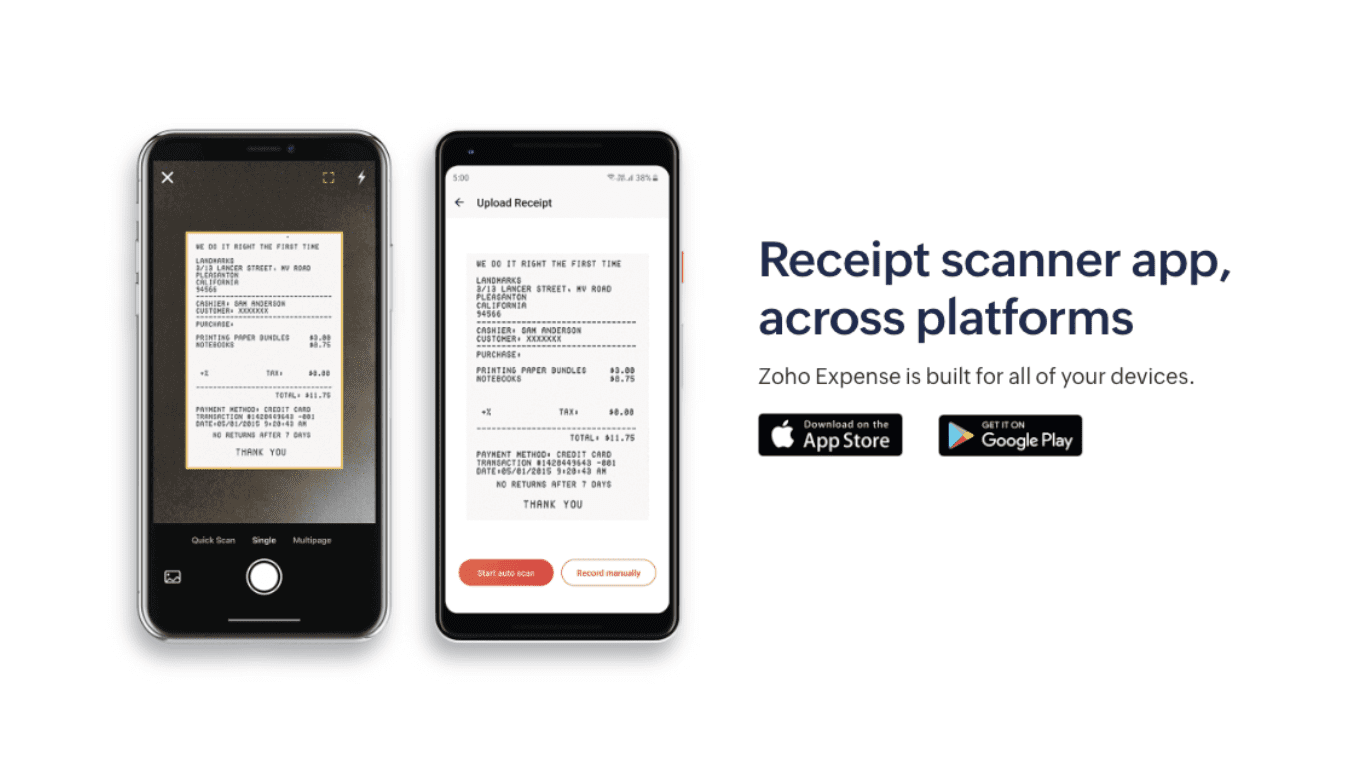 Image Credit: zoho.com
The feature we like
The feature that impresses us is the ability to scan and sort bulk receipts. Whether you have a few receipts or a whole bunch of them, you can put them through the app and add them in bulk. The expense scanner app will convert them into individual expenses.
Price
The app's free plan lets freelancers and small businesses track expenses or track mileage claims. Some of the features in this version are 5GB receipt storage, 20 receipt auto-scans, multicurrency expenses and support for up to 3 users.
You can sign up for the Standard plan at $99 per active user per month, billed annually. This plan is suitable for growing businesses managing corporate cards and trying to streamline expense scanning and reporting.
You can sign up for the Premium plan at $199 per active user per month, billed annually. This plan is suitable for global businesses with a higher volume of expenses.
The Enterprise plan is more suitable for enterprises looking for a customized and integrated solution. It costs $299 per active user per month, billed annually.
Also, Read: 10 Best Travel Management Software
The QuickBooks receipt scanner app uses OCR (optical character recognition)to organize and sort travel expense receipts automatically. The data, such as the expense date, amount, vendor name, and transaction location, is automatically picked up and sorted into categories.
Pros
QuickBooks Online keeps receipts, handwritten notes, and other proof of expenses organized. You can upload receipts, save them, and integrate them into QuickBooks accounting software.
QuickBooks Online eliminates the manual work involved in extracting information such as expense data from receipts.
The expense-capturing app matches your receipts to expenses so you can track, manage, and plan your spend.
Cons
One of the chief complaints for users is that it is hard to reach customer service.
The concept of bookkeeping cleanup is appreciated. But according to the user, the implementation was not well-planned.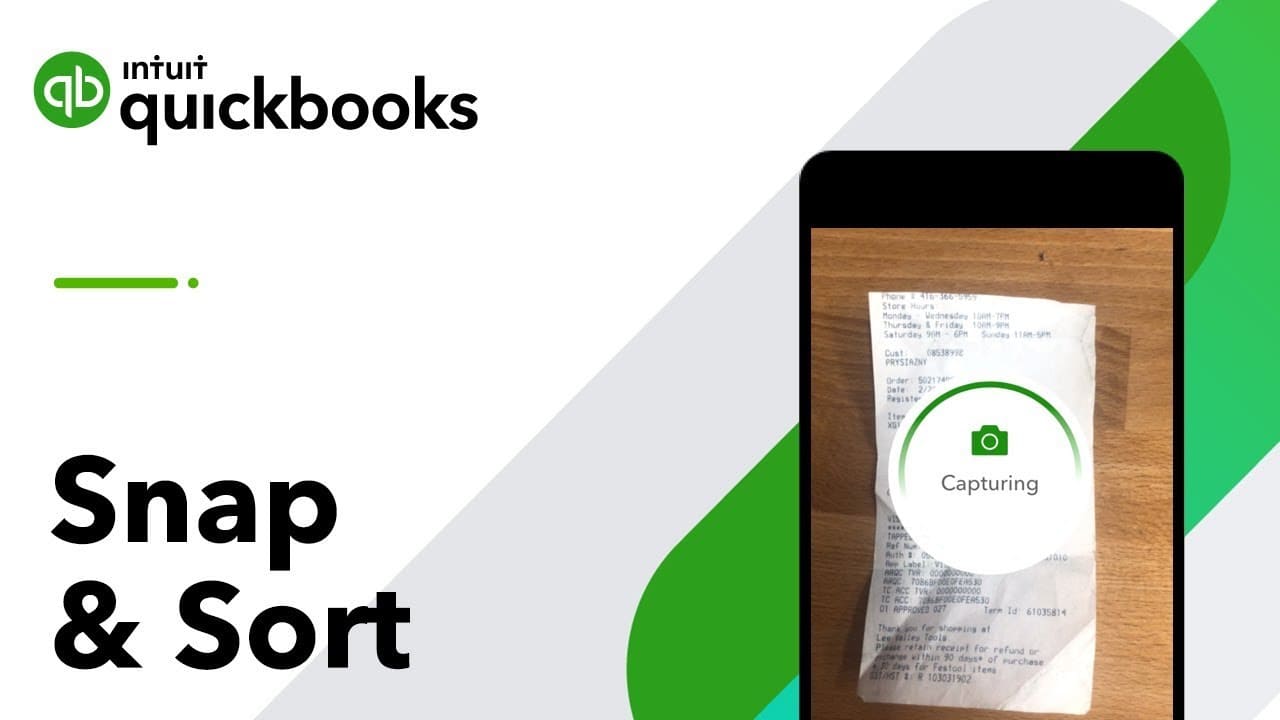 Image Credit: quickbooks.intuit.com
The feature we like
We like that the Quickbook Online receipt scanning app takes the guesswork out of expense filing. For instance, as soon as the expense receipts are captured on your mobile device, the receipts are sorted into appropriate categories so that when it is tax time, you can make the most of your deductions.
Price:
a) Easy Start – You can sign up for these plans at $5.50 per month. Some of the features included in this plan are:
Track income and expenses, sales and sales tax
Maximizing tax estimates
Capture receipts and organize them efficiently
Mileage tracking
b) Essentials – You can sign up for these plans at $11 per month. Some of the features included in this plan are:
Features in the Easy Start plan
Multicurrency support
Manage bills and payments
c) Plus – You can sign up for these plans at $16.50 per month. Some of the features included in this plan are:
Features included in the Essentials plan,
Includes up to 5 users
Tracking inventory and project profitability
d) Advanced – You can sign up for these plans at $35 per month. Some of the features included in this plan are:
Includes up to 25 users
Customized access by role
Workflow automation and several other customized features.
Also, Read: 6 Best Travel & Expense Software
Whether it is at work or when you are traveling, Evernote Scannable makes receipt scanning a breeze. It helps to completely eliminate the paper-heavy process as you can snap pictures of the receipts with your android/IOS device.
These files are stored, and you can eventually access them through the web browser or email. Evernote offers a free version of their app, allowing you to experience it all before you sign up.
Pros
It was designed essentially as a note-making application. So, the design is simple.
Users can scan receipts and other important documents.
You can label the documents and use them based on need.
You can also snap pictures of business cards as you create a personal database of contacts.
Cons
The app keeps making changes to the layout and startup screen, which is disturbing.
The user feels like Evernote Scannable must not be a separate download but a part of Evernotes.
The tags in the app seem cumbersome.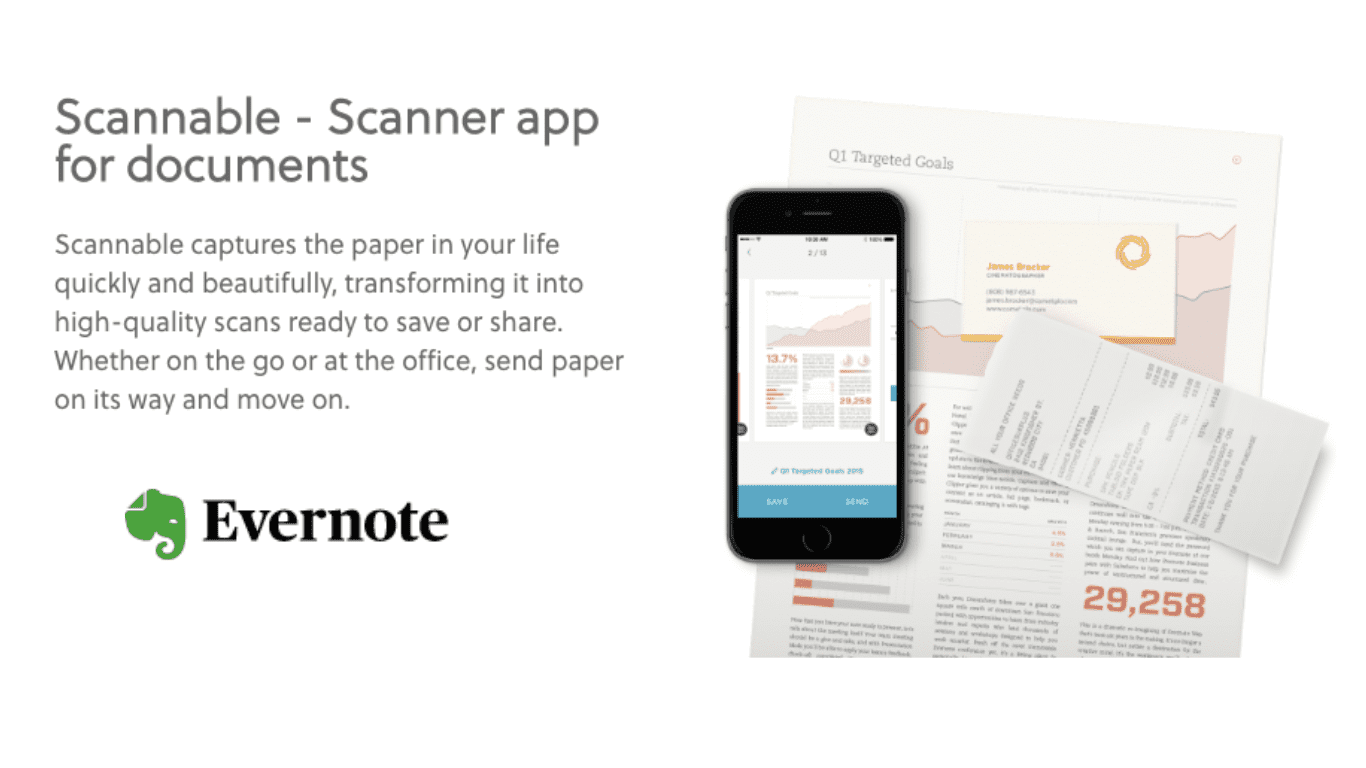 Image Credit: evernote.com
The feature we like
The Evernote Scannable receipt scanner app makes saving and preserving all physical paper receipts a breeze. Whether it is instruction manuals or invoices, boarding passes or other expense receipts, saving them through this app makes them accessible. While it is more recommendable for IOS devices, overall, it is a wonderful receipt scanner app.
Price
Free – This plan gives you access to their basic features, allows you to sync up two devices, and allows 60MB monthly uploads, a maximum of 25 MB note size.
Personal – This plan includes everything in the free plan and 10GB monthly uploads, 200 MB, customized home dashboards, etc. It costs ₹ 208.25 per month.
Professional – The plan costs ₹ 308.25 per month and includes everything in the free plan plus 20GB monthly uploads and customizations; it allows you to create, manage and assign tasks to others as you track the progress too. It gives you access to several other features.
Also, Read: 15 Best Expense Management Software in India
You can replace the laborious manual work of expense submission with automatic capturing by Abukai Expenses. The receipt scanner app instantly lets you capture relevant images while creating expense reports. Once you complete the submission, it emails the information to you.
Depending on your chosen plan, you can take advantage of features like credit card reconciliation, online approval workflows, etc.
Pros
You need not manually enter data from receipts or categorize them, as the Abukai Expenses receipt scanner app accomplishes it for you. It automatically creates an expense report.
You can view the final expense reports with all relevant information, such as date, vendor details and cost categorization.
Customization is possible, as Abukai can include what you need in your expense reports or excel sheets. On the other hand, it can post relevant entries wherever required.
Cons
The receipt scanner app lacks an editing feature. So, if you need to make changes, you must log in to the web portal.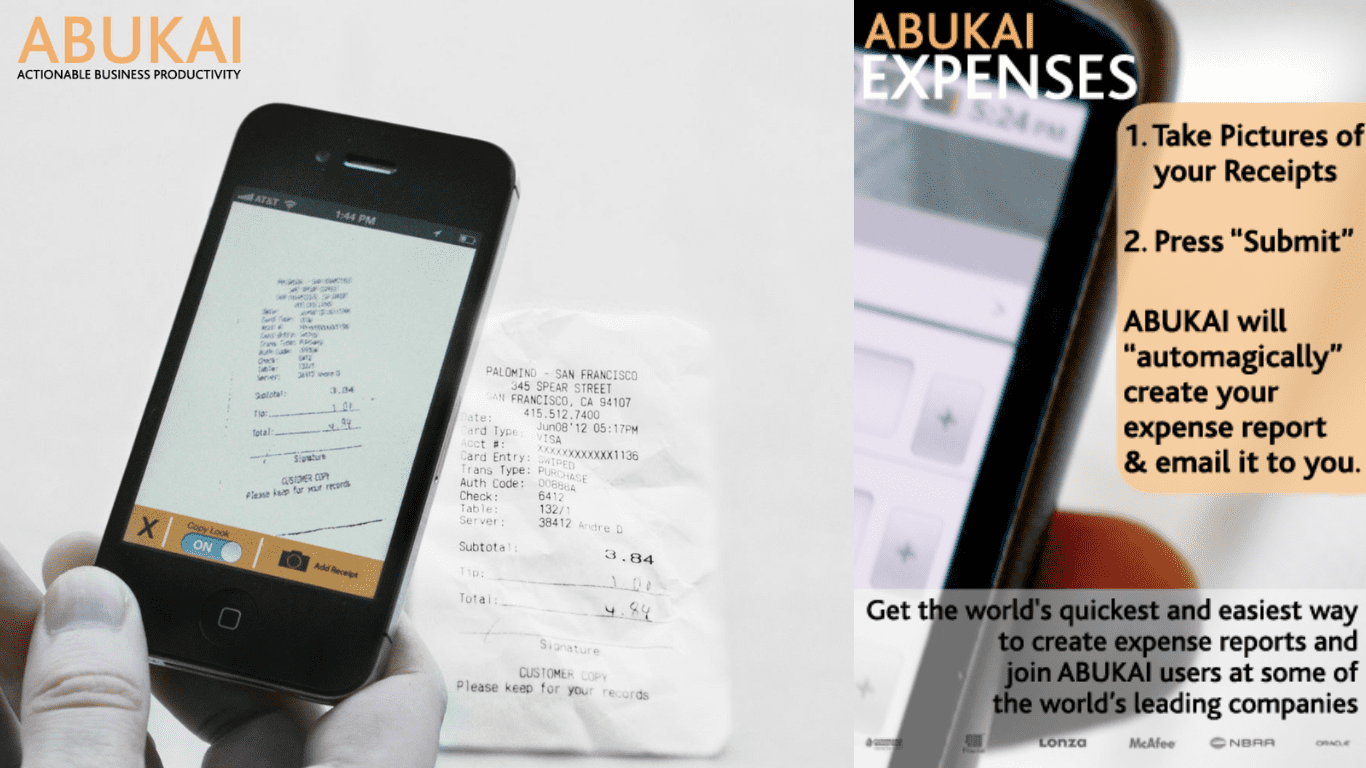 The feature we like
What we like is the multi-activity feature that allows you to track and manage multiple expense reports at the same time. You can also assign categories to differentiate them easily. Each expense report Expense management is structured and simple.
Price
Free – The free plan allows a single user to process 12 expense reports a year.
Individual – The plan is available for single businesses and users with recurring expenses at $99 per year. You can enjoy features available in the free plan and unlimited expense report processing.
Standard Corporate –This plan is available for large companies for 1-50 users at $99 per year, plus a $49 one-time setup fee. This plan includes several features for corporate users and other standard features.
Custom Corporate – You may contact the company for special pricing and customized features.
Also, Read: 10 Best Expense Claim Software for Enterprises
A quick and fast receipt scanner app, Verify allows you to easily scan, track, and collate all your expense information. The well-designed app has a time-tracking feature and great data privacy algorithms that ensure your data is safe and secure.
Pros
Automated data entry combined with labelling and categorizing is all combined effectively to be completed in real-time. It gives you a quick picture of the compiled and organized receipts quickly and effectively.
You can easily send receipts, bills, and invoices to your Verify inbox.
It offers a superior document management system to track, manage, and store all documents centrally.
Cons
The frequent app crashes and the need to update constantly seem to frustrate users.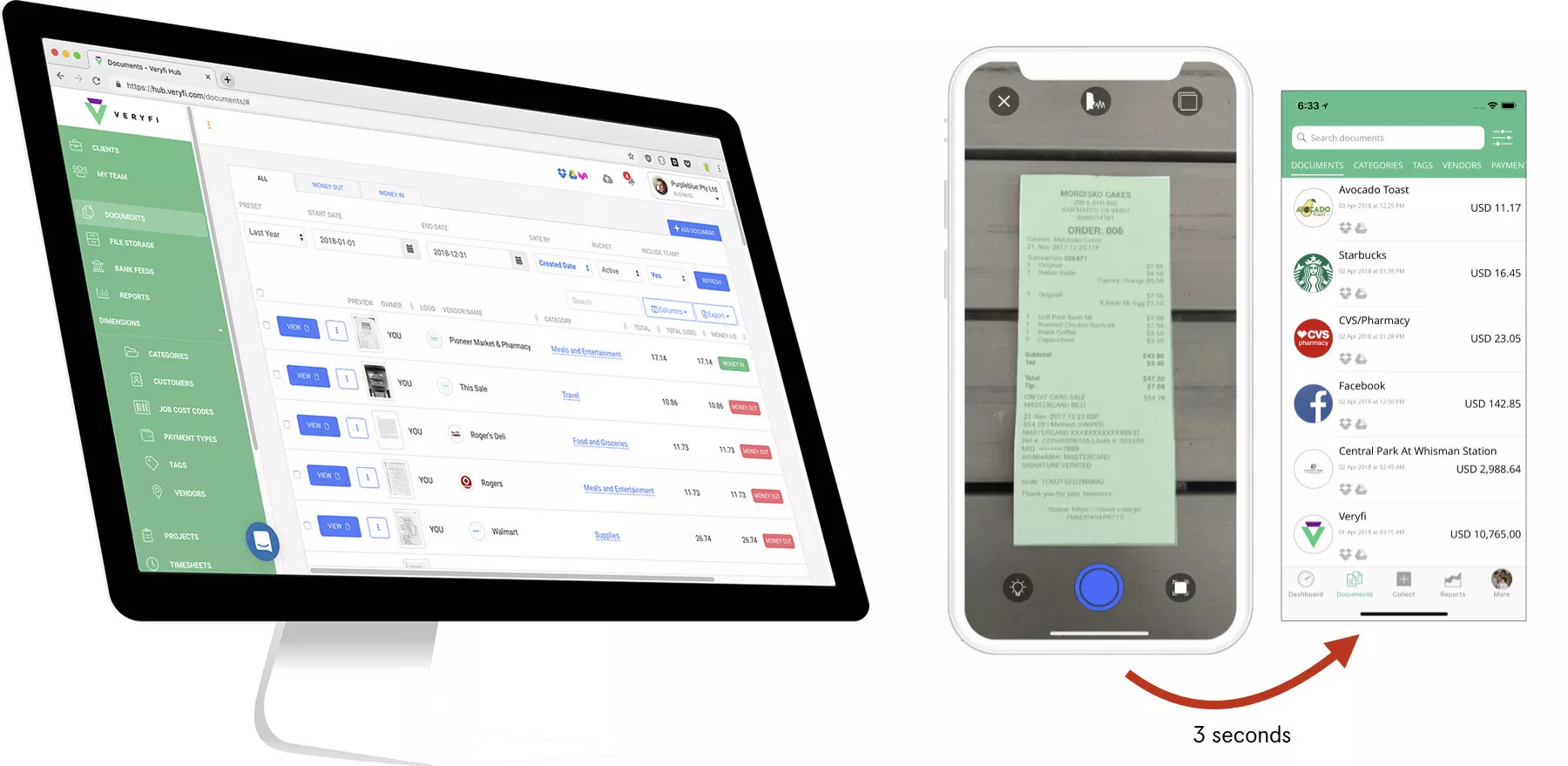 Image Credit: veryfi.com
The feature we like
The smooth workflows beginning with scanning images of receipts to creating expense reports and getting manager approvals, Verify's receipt scanning app handles communication, updates and others quite easily and effortlessly.
Price
Expense Management $13.75/active user/month
Time Management $5 /active user/month
Also, Read: Invoice Management Process
Smart Receipts is a receipt scanner app that hopes to make receipt scanning automated and affordable. In fact, as an open-source application, it works well for those organizations that have a small budget.
If you have an indigenous IT department, you can use the application's code to customize the receipt scanning app to suit your needs. You can sort the receipts and bills based on multiple filters and categories.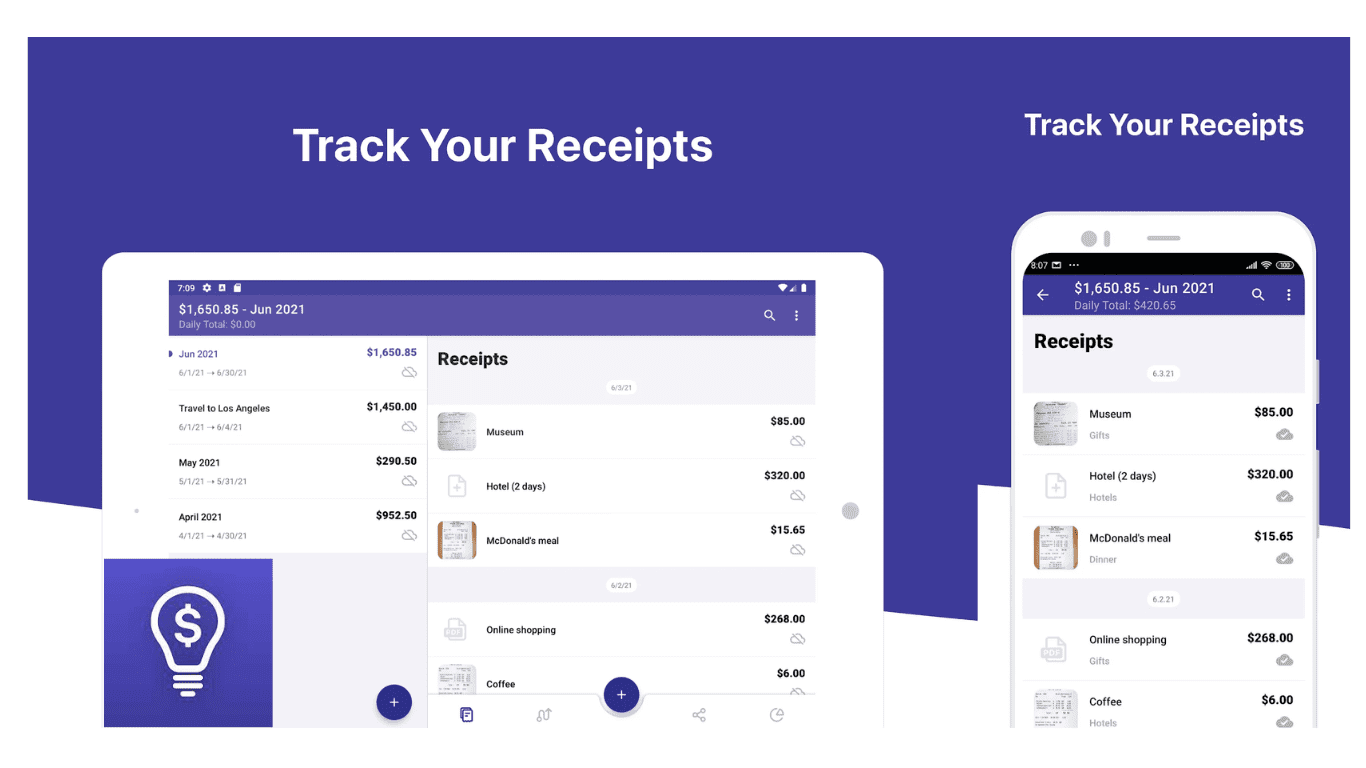 Pros
Being an open-source platform/software, you can use it easily without significant hassles.
Customized reports mean you can create expense sheets based on your immediate need.
You can assemble, sort, and categorize expense reports based on individual requirements.
Cons
Being an open-source software, it may offer only some comprehensive features.
Additionally, any issues or problems must be addressed through online help docs.
Price:
Free
Also, Read: A Guide to Spend Management
If you are looking to digitize your receipt scanning, then Shoeboxed is a good option. Among the numerous options, Shoeboxed offers a convenient and easy way to scan, track and save receipts, bills, and other valuable documents.
They are a company that provides outsourcing facilities. Also, they provide suggestions on tax deductions along with services to manage your receipts.

Image Credit: shoeboxed.com
Pros
If you process numerous receipts every day, then all you need to do is to package them and mail them to the central processing center. Shoeboxed will then scan the receipts into your unique Shoeboxed account.
You can accomplish the same by emailing the relevant receipts to the Shoeboxed account.
Shoeboxed offers unlimited online document storage and printing of paper receipts.
Cons
Once you send the receipts for scanning, it takes a few days for the scans to reflect in your account.
Price: Monthly billing
DIY – The free plan allows one user to scan five docs per month, digital submissions, and low-priority processing.
Lite – $15- This plan allows one user access to 50 documents per month, a 3-5 days turnaround time for your mailed documents, and a few more features.
Classic – $39- This plan allows two users access to scan 150 documents per month, prepaid magic envelopes, and other features
Business – $69- This plan allows three users access to 500 documents per month, prepaid magic envelopes and many other features.
Quick Read: 10 Best Billing Software for Your Business
The receipt scanning app is most suitable for small enterprises. Wave offers a range of free features and accounting applications. Several applications exist for banking, invoicing, payroll, payments, etc. You can easily link your wave receipt scanning app for easy integration.
The receipt scanning app allows you to back your receipts up easily. All you need to do is to open a transaction for an expense report and attach an image of the receipt from the device. You can rest assured that you are capturing and recording all transactions.
Pros
Wave is a cloud-based app. It saves all your details and transaction information in the cloud. So you can access everything you need at any time.
Legal documents, records, accounts, or expenses can be backed up using the receipt scanning app. It also offers an offline scan feature.
The receipt scanning software is free, making it an affordable option for startups and other individual users.
Cons
Wave does not offer enough record templates for use by organizations.
It does not offer document management features.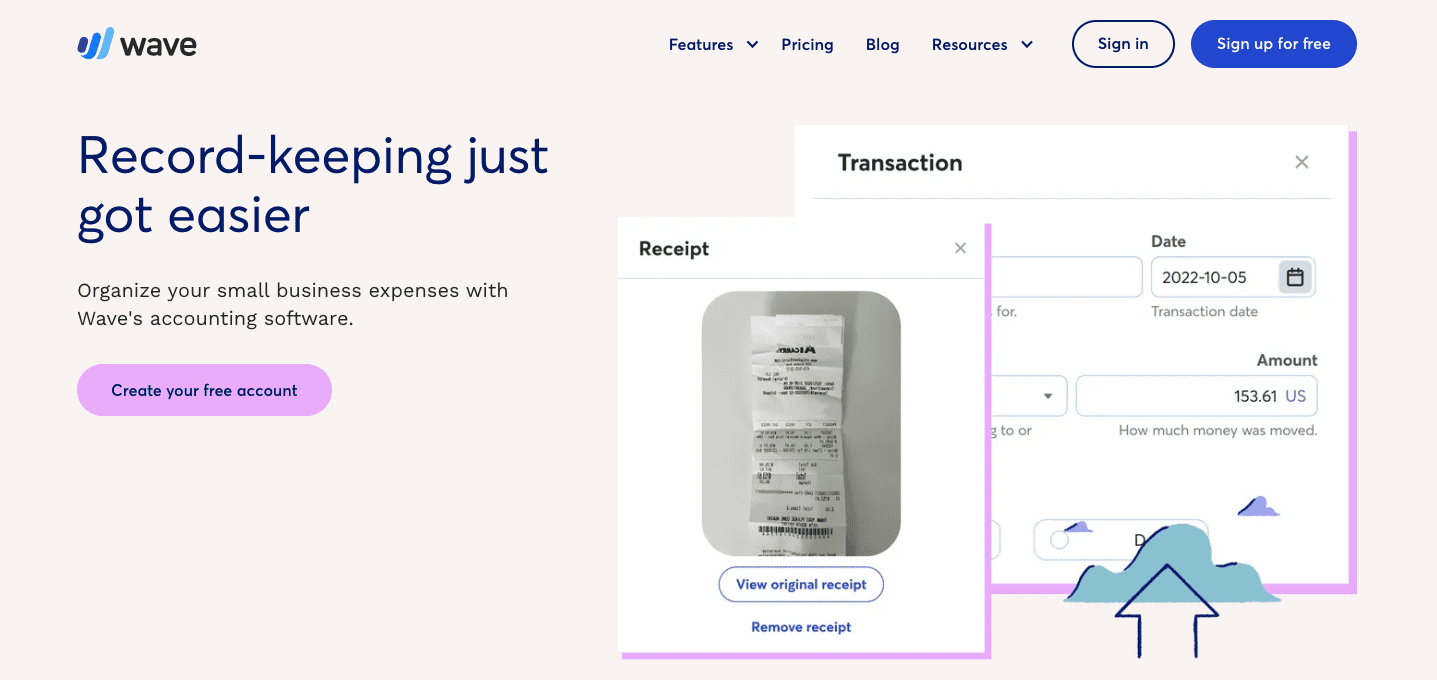 Image Credit: waveapps.com
The feature we like
The best feature of the Wave receipt scanner app is that it is free if you do not need additional features such as payments or payroll. Offering a small and smart selection of features for startups or individuals, they offer a simple dashboard that helps you manage your receipt scanning and management.
Price:
Free
Also, Read: 10 Best Accounting Software and Systems
Uses of Receipt Scanning Apps
Digitizing eliminates the manual aspect of scanning receipts, saving you time and lowering the number of errors. When you regularly scan, track and record your receipts digitally, you get some or all of the advantages mentioned below.
Why Employers Need it?
You can eliminate manual reminders, sorting, and validation efforts. It saves a lot of time for finance teams during reconciliation too.
You and other users can instantly access the digital file in real time without delays.
Per the law, you may require to save the documents for a certain period. With digital files, you can maintain them easily without additional costs.
Another significant benefit is the accessibility of such documents when you need them for tax or audit purposes.
Finally, and most importantly, digital files make it easy for you to access data. You can use the data to create reports and gather more profound insights into your spend. It helps to forecast, control, and plan better for the future.
Why Employees Need it?
Employees need not worry about saving physical receipts anymore.
Lost or missing receipts may mean that you cannot claim the expenses. You can prevent loss of money with receipt scanner apps.
Employees can save time filing expense claims and use their time productively.
Must-have Features in Receipt Scanning Apps
Receipt scanner apps must address the numerous challenges organizations face with manual processes. These apps can offer these benefits regardless of the organization's size, budget, or immediate difficulties.
A better experience for your employees
Reduce errors and fraud in expense management
Better productivity in accounting and finance departments
Here are some features you must look for in a receipt-scanning app.
1. Technology
Make sure you ask questions about the receipt scanning technology. Assess if the technology is superior to the other products in the market.
2. Customization and Integration
Always ensure your vendor offers customization. Structured and seamless workflows are only possible when the technology integrates and works easily with your existing processes.
3. Fraud and error minimization
Ask for a demo or consult other experts to see how well the product can address these concerns.
4. Cloud Storage
You should be able to access the information anytime, anywhere. Cloud storage makes it easy for your users to access, track, and manage data efficiently and effectively.
5. Limitations
If there are any limitations with the app, then it is best to understand it even before you sign on the dotted line. Ensure you have unlimited receipt scanning, especially if your volumes are high.
Read More: How to Choose the Right Expense Tracking Software?
Conclusion
Receipt scanner apps take the pain out of the expense management process. The process becomes easier and simpler as employees take snapshots of expense receipts. On the other hand, you can extract all the important information from such transactions to improve your organization's productivity.
FAQ's
1. What is the best free app to scan receipts?
There are several receipt scanning apps in the market that you can use for free. It can help overcome the challenge of scanning receipts. However, Happay's receipt scanner app stands out from the rest regarding technology, performance, and reliability.
2. How can I scan receipts quickly?
A receipt scanning app can capture images in any format (jpeg, png, etc.) quickly and help to extract all the relevant information quickly and accurately.