What is Expense Tracking Software?
"You don't automate to get rid of the human. You automate to amplify the human"
Expense tracking software helps you do just that. It is a key tool that contributes to efficient financial management. It helps you record, maintain and track your business's expenditures in any period automatically. 
Aiding several crucial functions including budgeting, accounting, and forecasting, an expense tracking software induces savings throughout your expense management process. 
According to US Bank, 82% of businesses fail due to cash flow issues. Expense tracking solutions allow you a complete insight into cash inflows and outflows and reduce the possibility of such issues.
Why do you need Expense Tracking Software?
A secret formula that will solve problems for all finance officials: 
Expense tracking software = expense management – (frauds + headaches + cost leakages) Simple right?!
As a CFO, does the time spent by your finance team in recording, authenticating, and reconciling expenses frustrate you? It is said that enterprises spend approximately 45 minutes for every expense report processed manually. 
If you are looking for a far more efficient way to tackle business expenses, it is time to consider expense tracking software.  
Expense tracking solutions

can help you identify the best uses and applications of your resources. 

Not only can they help you plug cost leakages and achieve optimality, but they also help you pinpoint the current system's pain areas and get rid of them. 

Expense tracking software can completely eliminate

paperwork

– for employees and employers.

Spend management

becomes better as compliance improves all around.

The expense approval process becomes more straightforward as

approval

and rejection

automation

helps to

streamline workflows

effectively.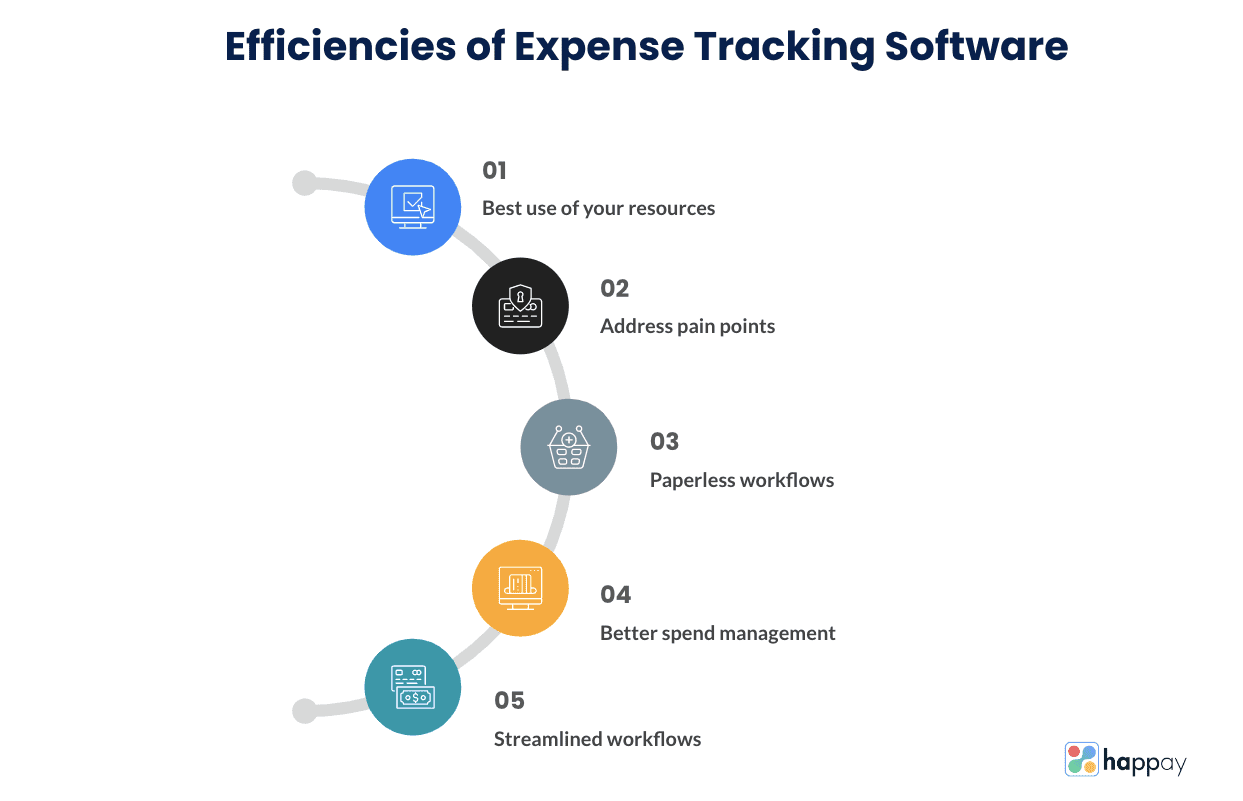 Did you know that you can lower your reimbursement cycle to 5 days or less with well-designed expense tracking software? While many finance officials still swear by manual methods or spreadsheets, this guide will show you why they belong in the past. 
A modern business has modern risks and requires new-age technological backing, not spreadsheets and calculators. 
1. Costs related to traditional ways of business expense tracking
According to a recent study by Ernst and Young in 2021, the average cost of a single manual entry of HR data is about $4.70. 
Manual tracking is expensive and includes various costs like procuring a form, cross-verifying the accuracy of the data, and feeding it into the HR system. It can also be draining for your employees as they have to perform repetitive tasks. 
An expense management solution can free up their time to do more intelligence-intensive work like strategy development, critical problem-solving, etc.
2. Legal and other issues
Manual transactions are susceptible to errors and are time-consuming. This means problems for organizations as they spend more time on reconciliation. These challenges may become more significant if such errors have legal ramifications. 
So, as you weigh the pros and cons of manual and automated expense tracking systems, you must factor in the costs of possible issues due to human errors.
3. Collecting and collating
One of the other issues with manual expense tracking is the time and effort needed to ensure that employees have access to the forms they require to submit travel expense claims. Further, collecting and collating information in those documents, assigning them to the relevant categories, and reconciling them take time and effort.
When entries and claims do not match, additional effort is required to contact the appropriate employees, verify the details, and start the process all over again.
4. Lack of visibility
Approval workflows are multi-layered and recording/reconciling employee expenses is separate. Even if these workflows are partially automated, the systems do not speak to each other. It is hard to view overall spending when workflows are not automated. 
There is no correlation or coordination between people employed, resulting in information that does not make sense to the leaders. 
Automated business expense management software solutions ensure accuracy and consistency in data. Further, the reliability of the data improves as companies can protect themselves by providing comprehensive records wherever required.
Read also – Expense Management Workflow Process
Are all Expense Tracking Software the same?
Expense tracking software takes care of the entire expense tracking and management process quickly and efficiently. Further, it allows users to visualize, analyze, and present the data in charts, graphs, and other relevant pictorials all-in-one platform.
There are quite a few expense-tracking software applications in the market. Some free versions are available, but you must analyze your requirements before signing up. While software built by different companies may be the same, they differ in features, cost, application, and technology.
At its most basic level, business expense tracking software helps you automate your expense tracking. Most of them offer integrated solutions which integrate well with your accounting software ensuring your bookkeeping becomes more efficient.  
However, you may need to consider your requirements before you pick one. The best expense management platforms may be customized to suit your needs, and there are those that offer features (charge based on features offered) based on your requirements. So,
Business owners could pick a simple application that allows them to manage and track expenses for a small business. This may include a monthly/daily business expense tracker app for your mobile phone.
You could also choose a more complex software system that supports your medium or large business that integrates everything: accounting systems, credit cards, debit cards, and bank accounts.
Read also – Travel and Expense Management

Features in Expense Tracking Software that matter?
1. Intuitive dashboard
An intuitive dashboard is an essential part of any excellent expense-tracking software. There are several aspects to expense tracking, and having a dashboard makes the process easier as it breaks it down into accessible and manageable information. 
While there may be many ways to design a simple yet informative and easy-to-navigate dashboard, there are a few things that a dashboard must display.
Overall look at the status of any employee's expense report(s).

Rejected expense reports

Notifications of violations in any of the submitted expense reports

A broad overview of the limits for the employee (spending limits, restrictions on a specific category of spend, etc.)

Add or change the details in any expense report

Approve or deny expenses

Access reports, charts, or graphs
Read also – Spend Analytics Procurement
2. Integration capabilities
One of the essential features of any business expense tracking software is the integration capabilities of the software tool. It may perform exceptionally well against its peers but what truly matters is how well it works with your existing software- accounting, HRMS, and other ERP systems.
For instance, if you are using Quickbooks, ask about specific challenges you anticipate and how the expense tracking software provider will work with your company to ensure that it blends seamlessly into your existing workflows.
Successful integration means you benefit from the automated solution and have access to insights, reports, and other numbers that help you make better decisions for your company. So, you will have better control over your company's expenses and can now better analyze data related to such costs and appropriately budget them.
3. Approval process
You are probably aware of how long it takes for expense approvals. Does the time-taken increase during a particular time of the month? What happens when the manager or the approver is traveling? Does it take longer? 
A manual expense management process can be time-taking, delaying the settlement process. This is undoubtedly frustrating for your employees, but it is also a drain on your company's resources. 
An automated business expense tracker ensures that approvals are handled efficiently. This eliminates the most painstaking and time-consuming part of the process.
Make sure you ask for features that support your individual challenges. For instance, ask about mobile device (Android and IOS) capabilities. This will allow managers and approvers to log in their approvals even if they are traveling.
Ensure you customize the expense tracker with your expense policy, ensuring that all expenses are approved based on your policies. This offers better control over employee spending while improving their overall experience.
Read also – Expense Approval Process
4. Mobile app
Any software that manages expenses for your business must include the convenience of a business expense tracker app. Such apps offer a suite of services that include recording and tracking the expenses of employees, managing claims, monitoring the settlement of such claims, and numerous other costs.
The best money manager apps will automate your expense management and ensure that the information is stored in the cloud.
For instance, Happay's expense management software provides access to the recorded data in real time as you generate bills, track your on-field employees (mileage tracking), and approve expenses instantaneously.
The outstanding features you must look for in a reasonable expense tracker app are:
Recording and tracking expenses by capturing and organizing receipts (including credit and debit card expenses).

On customization, the expense tracker app must organize expenses under appropriate categories.

The expense and money manager app generates numerous reports offering insights into expenses. Thanks to in-built tools, you can eliminate

data entry

for report generation. The data automatically collected is used to present insights that are visually appealing and graphic.

The most significant advantage of expense tracking apps is the real-time budget view versus actual spending numbers.
5. Credit cards and digital payments
Most modern expense tracking software systems offer the ease of using corporate credit cards that are integrated into the system. Such a feature improves the employee's experience and makes it easier for companies to avoid bottlenecks, fraud, or any misuse of money.
With corporate credit cards such as Happay's EPIC Cards, 
you can control business spend with preset limits on cards, 

usage with restricted vendors, 

place geographic limitations, and so on. 

Further, you can get live updates through mobile and web applications, access transactions, and reconcile them easily.
Further, since credit cards are already integrated into the system, reconciliation is far easier and quicker than the traditional way.
Read also – Corporate Credit Card Reconciliation
6. Multi-currency capabilities
Do your employees travel internationally and often? Do you worry about tracking and reconciling those multi-currency expenses?
Numerous saas-based business expense management vendors in the market can support this requirement. Ensure you get clarity about the currencies the system supports, the expense capturing, and the tax calculations of these transactions.
7. Compliance and regulatory requirements
An advantage of automated business expense tracking software is the easy availability and access to the entire transaction anytime you need it. So, when you capture receipts, record expenses, and settle claims, the whole transaction is saved for later use. You can access the documented proof 24/7, 365 days a year, ensuring that your company stays "audit-ready."
This saves your company several hours of effort and time to ensure that documents (paper receipts and other proof) are filed and maintained.
8. Security
According to a report published by the Ponemon Institute, a research center in Michigan, USA, the annual data breach cost has increased from the previous year (2021). Offering an insight into cyber risk, the report says that the average price of a data breach went up from $4.24 million in 2021 to $4.35 million in 2022.
Since expense tracking software has access to and stores essential information (financial and otherwise) belonging to employees, you must make reasonable inquiries to ensure that the vendor has the necessary protocols to ensure your data's safety and security. 
Ensure you understand the methods used to do the same (encryption, SSL certification, the data saved in the Cloud, etc.)
Read also – Top 10 Expense Management Tips for Your Business
Things to consider while picking the right Expense Tracking Software
1. Does the prospective software offer all features you need?
The first step in picking the right expense management software must be to make a list of conditions the solution must meet. There may be categories such as "non-negotiable features," "not-essential features," and so on. 
Understanding the challenges with the existing process, identify the features that will tackle them effectively. Some things to pay attention to:
User experience is essential; therefore, pay attention to how far it will ease the expense capturing, approval, and management process.

Integration with your existing systems is vital. So, ask how well it will work with your accounting and HRMS systems.

Ask about the adoption of the technology and the employee training process. You must ensure that the implementation is easy and seamless.

If the solution you are considering includes a mobile feature, insist on a demo so you can assess compatibility.
2. Are all the stakeholder's requirements included?
Before you finalize the expense tracking software, it is essential to understand requirements across the enterprise. While some may require specific analytics, others worry about seamless integration with existing functionalities. 
For instance, your company's sheer number of traveling employees may force you to look for an expense tracking software that ranks high for its customer support or live chat feature.
3. How does the software fare on functionality, usage, and integration?
It is necessary to know how well the software performs against your requirements. You may classify the performance of the expense tracking software against integration, usage, and functionality.
a) Integration
How well do credit cards, e-invoices, and other digital transactions integrate with your system?

Are there limitations to the expense tracking software if your company considers any other new integrations?
b) Usage
Can the software system be customized to suit your policies and guidelines?

Will the software contribute to a better employee experience?

How effective and user-friendly are the Mobile app and web versions?
c) Functionality
Have your reporting capabilities improved?

What kind of savings in turnaround time are you looking at?

How quickly and effectively are policy violations handled?
Ultimately, picking the right expense tracking software for your company is an involved and time-intensive process. However, the payback from such software makes it completely worthwhile. Simply eliminating the manual effort involved in scrutinizing receipts and documents is worth the time and effort you will spend picking the right expense tracking software.
Read also – 10 Best Expense Management Software
Features every Expense Tracking Software should have
In the previous section, we talked about how you should categorize expense tracking software features as "non-negotiable," "non-essential," etc. We have listed a few non-negotiable features that every expense tracking software must have to meet the needs of modern businesses. 
Auto-expense capture – You cannot expect your employees to keep track of every business expense, keep receipts, and follow a tedious expense reporting process to get reimbursements. Automatic receipt capture allows employees to scan receipts using their phones and pull data from emails, text messages, etc.
Visibility in the approval process –

It is frustrating for employees not to know how long it will take for their reimbursement to come through. Having expense management software that allows employees to track the progress of their expense claims can help tackle this problem. 
Analytics and reports –

What use is expense tracking software if it cannot give you clear insights into your spend behavior? Ensure that the software you choose can extract expense data and present it as comprehensive reports.

These analytics and reports give you a clear understanding of spending patterns and aid better decision-making.
Policy-compliance boosting features –

Often,

expenses are non-compliant with the business's expense policy. But, it passes through the approval processes due to a lack of automation.  
Expense tracking software can immediately flag non-compliant expenses boosting policy compliance and increasing savings. 
Read also – 10 Best Travel Management Software
Happay's Expense Tracking Software has it all
Happay's expense tracking software offers end-to-end automation for all expense tracking processes. It slashes cost leakages and transforms your expense management system into its most optimal version. Here are a few benefits that Happay's software can bring you. 
Complete automation speeds up the reimbursement process and makes expense reporting easier for employees. 

Automatic expense reconciliation saves hours for the finance team.

The automatic policy engine flags any non-compliant spends for review.  

Happay's corporate cards offer 100% spend visibility and reduce the possibility of expense fraud. 

Happay's GST module helps you claim ITC on every rupee you spend. 
Schedule a demo with the Happay team to learn more about the features that can help you enhance your expense management processes and increase savings. 
Expense Tracking Software – FAQs
1. What is the easiest way to track expenses? 
The easiest way to track and manage expenses is by using automated expense tracking software. 
2. What software can I use to track my expenses and invoices?
Happay's expense tracking software is the best and most effective in the T&E space. It offers an average of 40% cost savings, supports over 180+ currencies, and can reduce over 100+ accounting hours for your finance teams. 
3. Is there any app or website to track daily expenses?
Happay's expense tracking software can help you track your daily expenses. You can track these expenses through your mobile device too. 
4. What are the components of expense tracking?
Payment, expense reporting (manual or receipt scanning), expense monitoring, report approvals, and reimbursements are the components of expense tracking. 
5. What kind of businesses need expense tracking software? 
All businesses can benefit from expense tracking software. While small and medium businesses can increase their savings and enhance their financial decision-making, large businesses can avoid expense fraud and speed up their expense management processes.