Alternatives to Zaggle
"As a travel and expense solution, we want a one-stop shop that goes hand in hand with our employee experience, and we want to be able to have rules and controls built into the system to stop people from doing things they can't do."

– Director of Finance at a research university (Digital Transformation for Travel and Expense, Forrester Study 2022)
An employee expense management system must reduce processing and reimbursement time, increase policy compliance, help monitor expenses, eliminate fraud, and save money for your organization. In short, it must help you manage employees' expenses end-to-end and create an efficient workforce.
However, a wrong expense management solution can make your life and the lives of your employees miserable. Are you searching for the best Zaggle alternative that can help manage employee expenses in your firm efficiently? Don't worry– we have done all the legwork for you. After studying and analyzing over 50+ expense software in the market, here are the top 6 Zaggle alternatives and competitors. Check out our blog before zeroing in on one.
Quick Read: Top Articles in Alternatives and Competitors
6 Best Zaggle competitors and alternatives
| | | | | | | |
| --- | --- | --- | --- | --- | --- | --- |
| Software | Auto Merge Feature | Analytics Module | Mileage Tracker | Petty Cash Module | GST Module | 24/7 Support |
| | Yes | Yes | Yes | Yes | Yes | Yes |
| | No | No | Yes | No | No | Yes |
| | No | No | Yes | Yes | No | No |
| | No | No | Yes | Yes | No | Yes |
| | No | No | Yes | No | No | No |
| | No | No | Yes | Yes | No | No |
TOP 6 Zaggle competitors and alternatives
Here's a list of the top six Zaggle competitors and alternatives that can help make the expense management process robust and hassle-free: 
Happay is the world's fastest-growing T&E solution that has managed to bring both travel and expense under one single platform. With over 2M+ users in over 20+ countries, Happay is the pioneer of expense management in Asia.
Moreover, with Happay's AI-powered, mobile-first platform, companies can automate the end-to-end travel and expense process, achieve 100% policy compliance, eliminate expense fraud, and minimize manual effort.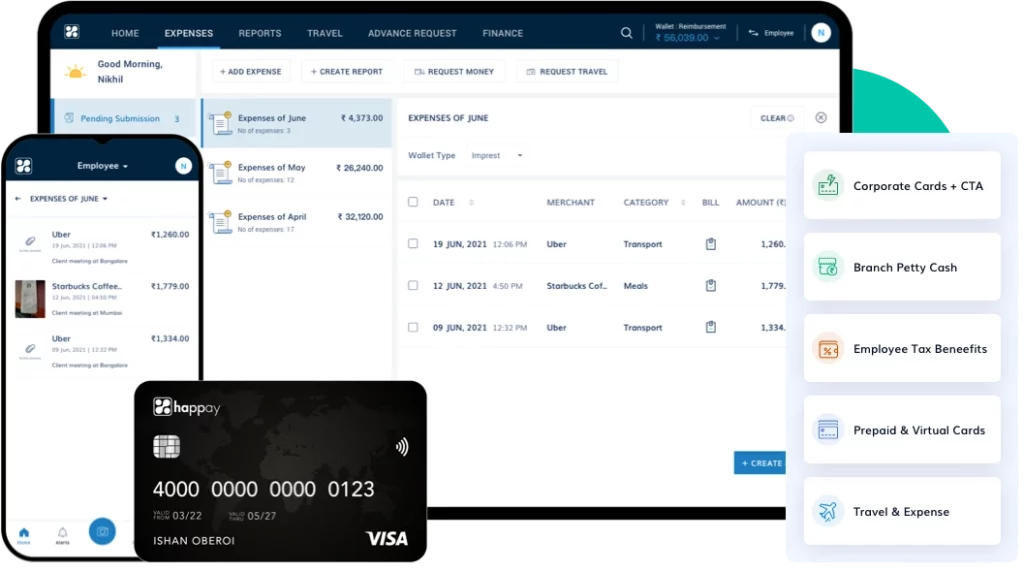 Features that stand out
Self-booking platform
SmartAudit
Happay Expendite
Missed saving alert
Fare freeze
Smart Scan
One click approval system
ReconX
Unified employee expense card
Happay Analytics
Digital petty cash management
Available in both Android and iOS
To check the Happay vs Zaggle detailed comparison table click here.
Happay pros
From travel booking to raising advance, users can now do it all in Happay's integrated self-booking platform
On Happay, you can set up your travel booking policies and ensure their automatic compliance
Happay's "missed savings alerts" will nudge employees to book the lowest fare possible without hindering their preferences
Happay's Fare Freeze option allows employees to freeze their booking and lock the prize. This means surge prices will not affect the fare
Travelers can get real-time updates on approvals to eliminate travel anxiety
Corporate travelers get in-depth information on their flight options, such as on-time, delays, etc., on Happay Travel. This helps them to choose the best option while booking
Happay's SMART AUDIT feature automatically checks policies and auto-flags violations, potential frauds, and manual errors
Happay cons
Happay's mobile app does not currently support offline features
Also, Read: A Guide to Travel Expense Reimbursement
Expensify is a travel, expense, and payments app that organizations use to simplify expense management. What's more, on the Expensify app, you can book flights, hotels, and taxis merely by chatting with a virtual assistant.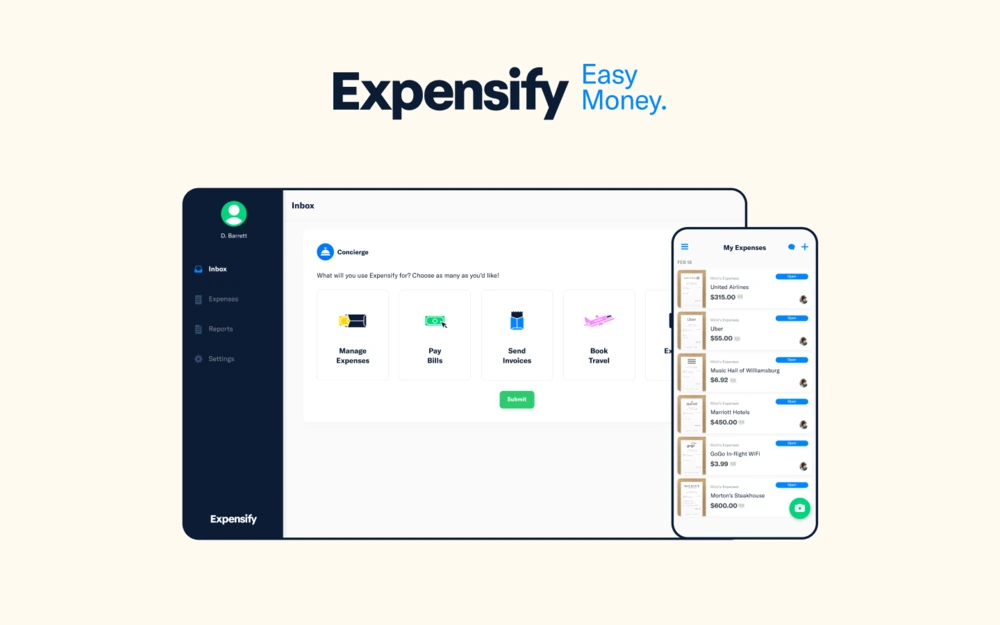 Features that stand out
Third-party integrations
Mileage tracking
Credit card integration
Currency conversions
Real-time alerts
Zaggle vs Expensify
| | | |
| --- | --- | --- |
| Feature | Zaggle EMS | Emburse Certify |
| Real-time Visibility | Yes | No |
| Mileage Tracking | Yes | Yes |
| Audit Trail | Yes | No |
| Credit Card Integrations | Yes | Yes |
| OCR Technology | Yes | No |
Expensify pros
On you can set custom tax names, rates, codes, and defaults for every expense policy
Create approval workflow that best suits your company's structure and customize according to the expense policy of your organization
Zaggle's SmartScan automatically captures all details from the photo of your receipt and transfers it to an expense report
Expensify cons
Users have in the past had troubles in the receipt scanning feature of the app.
Also, Read: 10 Best Receipt Scanner Apps
Emburse Certify is a leading expense management, travel, and accounts payable solution. What's more, Emburse Certify Expense helps simplify expense management by automating manual tasks. This automation can save time and gives you greater spend control and visibility.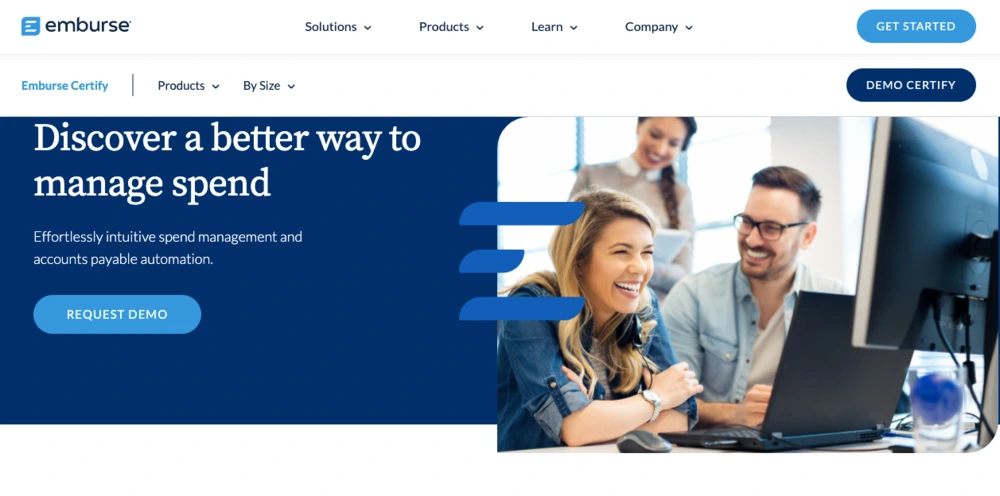 Features that stand out
Smart categorization
Mileage tracking
Automatic expense report creation
Currency conversions
Audit trail
Zaggle vs Emburse Certify
| | | |
| --- | --- | --- |
| Feature | Zaggle EMS | Emburse Certify |
| Real-time Visibility | Yes | No |
| Mileage Tracking | Yes | Yes |
| Custom Approval Workflow | Yes | Yes |
| Offline receipt upload | Yes | No |
| Raise Cash Advance | Yes | No |
Emburse Certify Pros
The Emburse Certify mobile app helps you capture images of bills and receipts in seconds, and lets you create expense reports in no time
The analytics feature of Certify allows you to generate reports like who spends how much, the categories they are spending on, number of policy violations, most common violations that employees make and other important data
Emburse Certify cons
One G2 review stated the interface is not intuitive and does not have an intuitive
Quick Read: 7 Best Finly Alternatives and Competitors
SAP Concur is another great Zaggle alternative that integrates travel, expense and invoice management in one single platform. SAP Concur offers real-time expense data, audits 100% of your transactions, and automates every single travel and expense process in your organization.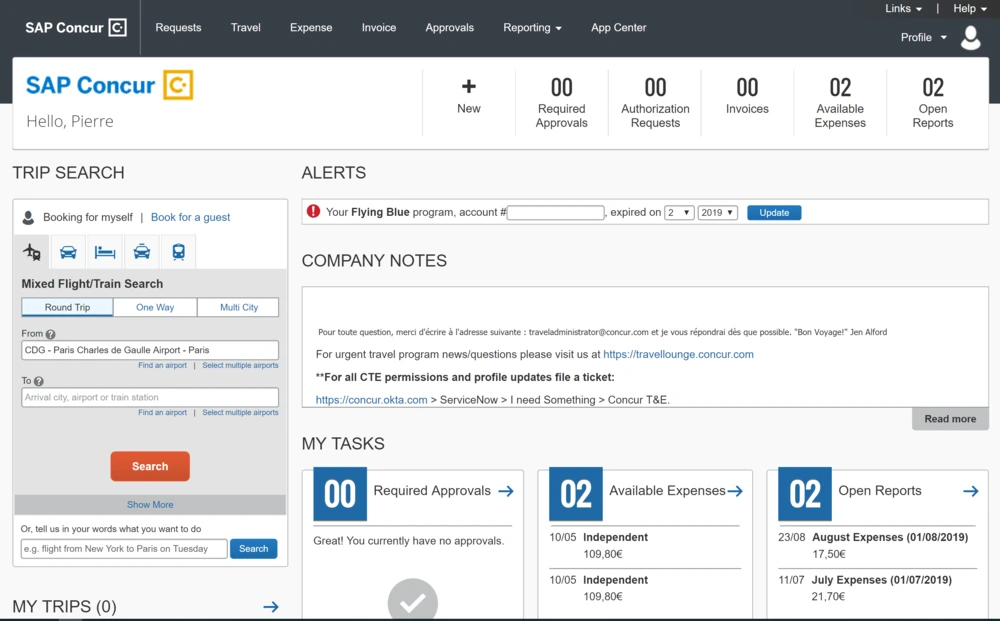 Features that stand out
Receipt capture
Multiple integrations
Credit card integration
Complex approval workflow
| | | |
| --- | --- | --- |
| Feature | Zaggle EMS | SAP Concur |
| Customizable Approval Workflow | Yes | Yes |
| API Integration | Yes | Limited |
| Itinerary Management | Yes | No |
| Mileage Tracking | Yes | Yes |
SAP Concur pros
Create expense reports effortlessly
Smart categorization
Currency conversions
Advanced integrations
SAP Concur cons
SAP Concur is a legacy system
A G2 user review, stated SAP Concur does not have an intuitive and mobile-friendly interface
Also, Read: 5 Best SAP Concur Alternatives and Competitors
Divvy is a leading expense, travel, and reimbursement platform that allows you to set budget limits and controls, and help make employee spend management a breeze. What's more,
Divvy provides corporate cards with unlimited virtual card creation that offers you complete spend visibility.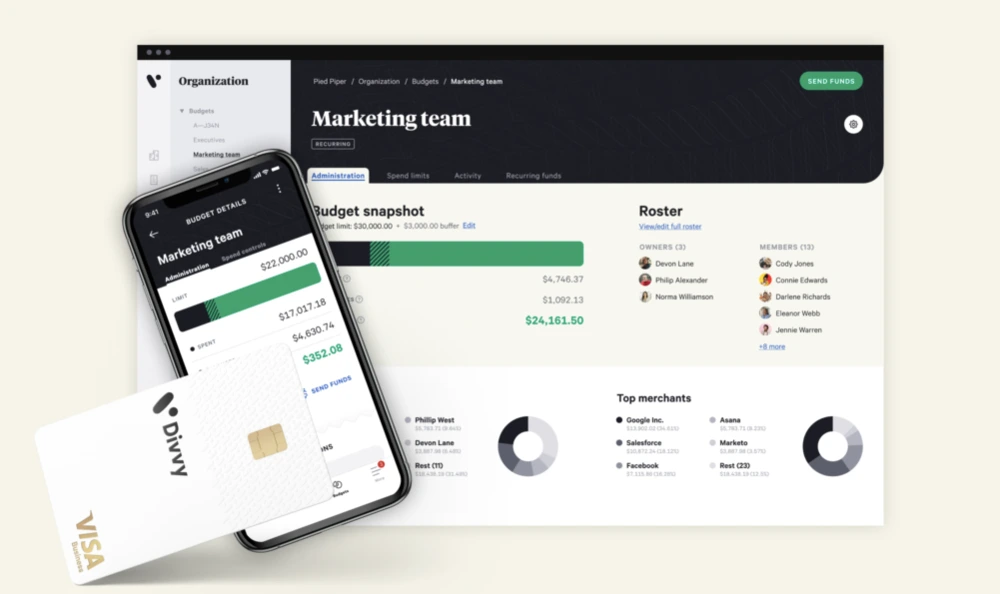 Features that stand out
Receipt capture
Automatic expense reporting
Budget controls
Unlimited virtual cards
Divvy vs Zaggle
| | | |
| --- | --- | --- |
| Feature | Zaggle EMS | Divvy |
| Approval Process Control | Yes | No |
| Mileage Tracking | No | Yes |
| Flag Duplicate Claims | Yes | No |
| Credit Card Integrations | Yes | Yes |
| OCR Technology | Yes | Yes |
Divvy pros
Corporate credit card for all employees
Business tool integration
Automated reminders
Mobile user support
Divvy cons
DIvvy does not have HRMS integration
Quick Read: 5 Best RazorpayX Alternatives and Competitors
Webexpenses is an online expense management software that automates business expense processes in your organization. Employees can submit, report expenses and managers can approve the submitted expense reports through Webexpenses' intuitive digital platform.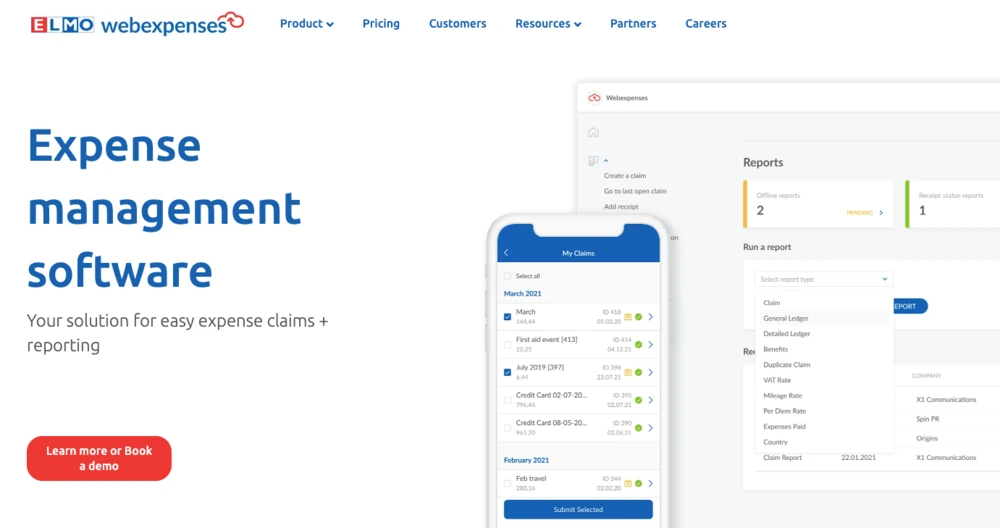 Features to look out for
Google vision powered OCR technology
Petty cash manager
Credit card manager
Carbon missions tracking
Webexpenses Vs Zaggle
| Feature | Zaggle EMS | Webexpenses |
| --- | --- | --- |
| Automated Policy Compliance | No | Yes |
| Petty Cash Management | No | Yes |
| Flag Duplicate Claims | Yes | No |
| Credit Card Integrations | Yes | Yes |
| OCR Technology | Yes | Yes |
Webexpenses pros
You only have to pay for active users each month
Webexpenses is customizable and scalable
Webexpenses offers 24/7 user support
Webexpenses cons
G2 users have mentioned the mobile app often crashes
Also, Read: What is Petty Cash?
Zaggle EMS overview and features
Zaggle EMS is an expense management system that brings all employee expenses under one single platform. What's more, it gives you centralized visibility and control over all expenses incurred by employees, company-wide.
Features
Allows you to categorize reimbursement eligibilities based on employee level and location
Real-time notifications
Set custom approval workflow
OCR-powered Smart Scan technology
Integrate easily into HRMS, payroll, and accounting system
Raise cash advance requests
Zaggle EMS reviews
We have compiled Zaggle EMS reviews from top software review sites. Read the following reviews to understand what users feel about Zaggle's expense management software.
On G2, Zaggle has an overall rating of 4.3 out of 5 stars. Whereas in Capterra, Zaggle has an overall rating of 4.5 out of 5. On TrustRadius, the software has a rating of 8.5 out of 10.
Below are some of the crucial points from these reviews:
Most users have mentioned the ease of use and have appreciated the software for simplifying the tracking and reconciliation of business expenses
Reviewers have mentioned Zaggle's customer support team is responsive and helpful
A section of users have found the app's UI and navigation confusing and complicated
Users have also criticized the limited functionality of analytics and reporting tools
The majority of users have also praised the company's digital payment solutions for their convenience and reliability
Zaggle EMS pricing
The Zaggle EMS pricing can differ based on your requirement and company size. Therefore, it is best to request a quote from the company's official website to find options that best fit your budget and needs.
How to choose the best Zaggle Alternative?
If you are planning to switch from Zaggle EMS to a different expense management solution, the best thing to do is to choose a T&E management system that is way ahead of Zaggle. Here are the things you need to consider before you zero in on the final option:
1. Saves time
Automated expense management systems completely eliminate manual intervention and can speed up the expense reporting and approval process in business organizations. In short, an expense management system helps you save time – saved time is more money for the company.
Therefore, always choose a T&E solution that reduces as many manual interventions as possible.
2. Higher compliance
Always pick an expense management system that uses AI to audit your employee expense. This way, you can ensure only policy-complaint expenses are approved. Moreover, expense management systems like Happay offer features like "SmartAudit" that accurately detect and flag out-of-policy and overstated expenses, duplicate bills, and fraudulent claims.
3. Budget
Budget is important when choosing expense management software for your organization. Read and research all expense management systems in the market, study the features they offer and the price range they come for, and finally, choose the one that fits your budget based on your employee count.
4. Best features
There's no use in investing a ton of money in expense management software that does not offer all the features you are looking for. Always choose an expense management solution that offers the latest features that make the expense management process in your organization hassle-free.
5. Integrations
Choose an expense management solution that offers multiple integrations. Seamlessly integrate your expense management software with other systems like ERP, HRMS, accounting, etc.
Quick Read: Capital Expenditure (CapEX)
Why is Happay the best Zaggle alternative?
Here's a detailed comparison table between Happay and Zaggle that tells you why Happay is the best Zaggle alternative:
Happay vs Zaggle
| | | |
| --- | --- | --- |
| Feature | Happay | Zaggle EMS |
| Core Business | Corporate Spend Management | Gift Card and Employee Benefits (rewards and recognition) |
| IT System Integrations | Plug and play | Limited |
| Platform Architecture | Flexible | Limited |
| TMC Integration | Multiple Partners | Only Yatra |
| Mobile User Interface | Next Gen | Sluggish |
| Email plugin for Expense Extractions | Yes | No |
| Fraud and Duplication Alert | Yes | No |
| One Click Reimbursement | Yes | No |
| Real-time Corporate Credit Card Integration | Yes | No (T+2 days) |
| Data Extraction (SMS) | Yes | No |
| Spend Analytics | Yes | No |
| Multi-Currency | Yes | No |
| 24/7 Customer Support | For every plan | Only for selected plans |
| Advance Workflows and Requests | Yes | Yes (with limitations) |
How can Happay transform T&E management in your organizations?
Here's how Happay can transform T&E management in your organization:
1. Platform benefits
Happay is a highly configurable and flexible solution with an easy-to-use and intuitive interface. On Happay's mobile and web platform, employees can easily file reimbursement reports, approvers can check and approve the request, and finally, the finance team can verify and reconcile the reports without effort.
2. Capture expenses from multiple sources
The AI-powered Xpendite feature can extract expense data directly from multiple sources like SMS, email, credit card statement, Uber, WhatsApp, etc, and employees can create expenses on the go with no effort.
3. Multiple integrations
Happay seamlessly integrates with your existing ERPs, accounting software, HRMS, TMCs, budgeting, project management, and SSO platforms in your organization. This seamless integration helps create an ecosystem where all the systems will talk to each other.
FAQs
1. What are the different types of Zaggle competitions?
There are multiple Zaggle competitions and alternatives in the marketplace that customers can choose from. If you are looking for the best Zaggle EMS competitor, then Happay's T&E solution is the right choice. 
2. What does Zaggle offer?
Zaggle is a cloud-based solution known for creating financial products and solutions that help to manage the business expenses of corporates, SMEs, and startups through automated and innovative workflows. Zaggle has offices in Hyderabad and Mumbai in India. There are other similar companies and fintech software solutions that offer the same features. To learn more check out www.zaggle.in. 
3. Who are the competitors to Zaggle?
Here's a list that contains the name of all top Zaggle Save and Zaggle EMS competitors and alternatives: 
a) Happay
b) SAP Concur
c) ITILITE
d) Expensify
e) Emburse Certify
f) Divvy
g) Webexpenses