Business Credit Cards
Employee expenses are an integral part of a business's cash flow. Expenses may be classified into several categories. However, since employee expenses for business constitute a significant part of it, let us look at it a little more closely.
Businesses capture, track, and process employee expenses in several ways. While some offer a cash advance towards such expenses, others may expect employees to pay (personally) for such expenses and file a settlement claim later.
Corporate Cards
Rather than using cash or expecting employees to bear expenses from their pocket, a better way to fund such expenses would be to provide them with corporate or business credit cards. Business cards are efficient, innovative, and easily controlled by the business. Apart from this, they offer a range of benefits which we will dive into later in the article.
Business credit cards can be issued to employees to use company funds for all business-related expenses.
Happay's EPIC premium business credit cards for businesses provide end-to-end control of corporate spending. With the best-in-class AI analytics, you can capture, monitor, analyse expenses and improve company spend visibility.
Read more – Why Your Company Needs Corporate Credit Cards?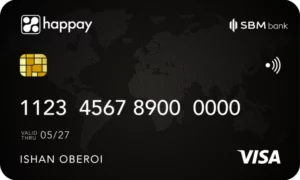 Types of Business Credit Cards
Business credit cards function just like regular credit cards. The differences are in the liability and the features of the cards.

Image Credit: freepik.com
Card Types
| | | |
| --- | --- | --- |
| Cards | Business Cards | Commercial Cards |
| Difference | These are generally issued by the bank for small businesses. The liability is attached to the owner of the business. | Commercial credit cards are tied to the company, not an individual. |
| Pros | There is no burden on individual employees. The business can easily record, track, and manage expenses. | Since the liability is not attached to an individual, there is no pressure. |
| Cons | Since the card is tied to the owner (individual) any late payments or defaults will affect their credit score | Commercial cards are issued based on a company's financials. So, your turnover and revenues will play a part in securing such corporate cards. |
Businesses can consider Travel and Entertainment Corporate Cards for their employees. Specifically designed for travellers, it may be used for expenses related to travel or entertainment (clients, customers and other employees).
Purchase Cards are unique to those businesses that see a lot of procurement activity. For instance, employees may use such a card for high-volume or frequent corporate purchases from certain vendors.
Happay's prepaid cards are a more innovative alternative for cash advances. Linked to Happay's cloud-based expense management software, the cards can be controlled from web-based or mobile devices.
Card Format
| | | |
| --- | --- | --- |
| Cards | Physical Cards | Virtual Cards |
| Difference | Physical business credit cards or company cards look like regular credit cards with a 16-digit card number and a 3-digit authentication number (CVV). | Virtual cards are digital variations of physical cards. However, these contain randomly generated PAN numbers that are linked to a physical card. |
| Pros | These cards are convenient to use. It can be swiped (tapped or manually entered for online transactions) at physical locations or used online. | The possibilities are enormous as you can create unique virtual cards based on your need. You can also create one-time, one-vendor, or even limited-balance virtual cards. |
| Cons | Losing a physical card can mean a major inconvenience. You must block the existing card, and wait for a replacement. | Virtual cards are easy to use online. However, it may not work when you have to use them physically (hotels). |
Corporate Card Liability
Liability

    Who's liable to pay, and what does that mean?

Employee

This certainly gives employees more freedom and flexibility.

Since it is a personal risk, corporate card management will affect their credit score. Also, any bad credit history may affect the issuance of a card.

Employees will be responsible for any outstanding balances (if a company refuses certain business expenses, employees will still be liable).

Company

Any outstanding balances must be cleared by the company.

The employee's credit score will remain unaffected.

The credit limit of the company card will be decided based on the company's financial position and the organisation's request for each employee.

Shared

Some companies may issue corporate cards on a shared liability model. In this case, both (the company and the employee) will be held responsible for outstanding payments. The only advantage for the employee is that it may extend the time frame within which the credit score may be affected in case of late payments.
How Business Credit Cards Help Your Business?
1. Finances and cash flows are more structured
Company cards or business credit cards are excellent alternatives for cash advances or other methods used to settle employee expenses for the business. Apart from preventing out-of-pocket expenses for employees, it mitigates the risk associated with conventional forms of disbursing funds.
The main advantage of using business or business credit cards is that it separates company and personal finances quickly and effectively. While this is true for all organisations, it is especially so for small and sole proprietorship companies. Owners can manage their tight cash flows by using separate cards for expenses.
Further, the finance workflows are smoother as card expenses may be easily tracked and reconciled. With appropriate controls, the processes become structured, saving time and effort.
2. Better Expense management
Expense management is about capturing, recording, approving and settling expense claims raised by employees. While there are many ways to handle the process (manual, partially automated, and fully automatic), automating expense management can transform the process.
One of the challenges in expense management is the process of tracking expenses. In most scenarios, finance teams must wait until employees claim expenses to understand the overall expenses. However, with company cards (assuming automated expense management), real-time data is available. So, finance teams can track transactions as and when they happen. Further, reconciliation is effortless as these credit cards are linked with expense management software.
3. Better visibility over spend
Business credit cards help you retain complete control while offering visibility of business expenses. For instance, Happay's cards allow you to set customisable limits on employee expenses. So, you can load your employee's card based on the limit, set time-based limits (weekly, fortnightly, or monthly), specify the channels that such cards may be used etc.
The intelligent and intuitive software ensures that you and your finance team have to spend analytics at the click of a button. You can view the numbers in any format you choose and filter the results based on your need (period, department, category) to access rich analytics that offers sharper insights into your spend.
4. Finance teams become more efficient
The most significant advantage of using business credit cards is eliminating the extensive paperwork and lengthy processing time while offering an exceptional user experience.
Want to know more about how you can increase your ROI with corporate credit cards?
In manual processes, the finance teams rarely have much control over the initial stages of expense management. Once employees file expense claims, the process of authenticating and approving the claims begin. Cross-checking back and forth and manually verifying compliance with expense policies can be tedious and time-consuming.
Standard business credit cards can be used across the business to overcome these challenges. Further, cards may be customised to suit your needs too. For instance, you may issue food cards or travel cards (explicit limits on amounts, hotels, or others). Cards can make life easy for finance teams as tracking, managing, and reconciling is easy and seamless.
The finance department can access real-time expense data making expense management easy.
It saves time and effort.
Reimbursement and settlement time come down dramatically
5. Employee experience improves
One of the most significant sore points of traditional expense management methods is that the time between a business expense (in many cases personally borne by employees) and reimbursement can vary greatly. Further, filing an expense claim can be a nightmare as employees dig around for physical receipts, ensure policy compliance, and hope the settlement is not delayed.
Business credit cards or travel company cards take the pain out of the process. As soon as the card is swiped for an expense, the details/receipts are captured (OCR technology makes capturing easy), real-time data is available for finance teams, and accounting is complete (cards integrate with accounting systems for reconciliation).
So, this is how corporate cards improve the employee experience.
The process is pain-free for employees
Submission of expense claims is quick and error-free
Most card statements sync up with the accounting systems (preventing time spent on cross-checks or authenticating)
Read more – Impact of Company Credit Cards on Credit Scores
Frequently Asked Questions (FAQs)
1. Are business credit cards the same as credit cards?
Business credit cards differ in liability, card type, and format. The disadvantage of corporate cards rests with the company sanctioning the cards in favour of employees.
2. How can you apply for a corporate card?
Suppose you would like your employees to have company credit cards. In that case, you must submit your MOA and AOA (Memorandum and Article of Association), Corporate PAN Card, Audited Annual Reports, and P/L statements for the previous two years.
3. Who is eligible for a business credit card?
Business credit cards may be given to employees based on a company's travel and expense policies. For instance, employees of a particular category/grade may be eligible to apply for a credit card.
4. Can business credit cards affect personal credit scores?
No, the liability of business credit cards is on the company. Therefore personal credit scores remain unaffected.