Currently, a lot of large and medium-sized businesses are moving towards corporate credit cards. The shift is primarily to achieve improved spending power and access to advanced expense reporting and expense management solution.
As per a Fundera survey of corporate credit cards and their usage,
Two-thirds of business owners own business credit cards.
37% of millennial startup founders prefer using these cards for their startup capital requirements.
30% of small business owners seek corporate credit cards for their investment capital.
Enrolling in a corporate credit card program often gives businesses much-needed stability and also entails additional benefits for all the beneficiaries.
This article discusses the top 10 corporate credit card benefits that you need to know of.
What are corporate credit cards?
Organizations that believe that a limit-based line of credit for their employees would be a good addition to their business sign up for corporate credit cards.
These cards offer spending limits based on your enterprise's credit score, enabling businesses to make purchases without paying from their pockets immediately. Similar to the usual credit cards, these cards offer a revolving line of credit, and corporations have to repay their dues periodically to get their limits refilled.
Unlike personal credit cards, which depend on an individual's financials and credit repayment abilities, corporate credit card approval and spending limits depend on the business and its financials. This also means that the corporation assumes all financial and corporate liability toward any dues against the card.
These cards are issued to employees who charge their authorized business expenses, such as travel expenses, hotel stays, and more, directly against these cards.
Also, Read: 5 Best Corporate Credit Cards in India
What is an EPIC credit card?
The EPIC card is a corporate credit card issued by Happay, a brand founded in 2012 to simplify corporate payments. It was started with the aim of helping businesses, especially startups, save cash and make better use of available resources. Offering collateral-free credit and almost ten times higher credit limits than most banks, Happay makes a great impression as one of the best corporate credit card companies.
Happay EPIC cards are corporate credit cards for budding and well-established businesses and entrepreneurs. The card has various benefits and offers optimum security to let you and your employees make the most of what it offers. For this, Happay has partnered with SBM Bank, one of the biggest APAC banks in the country, for effortless processing and minimum hassle.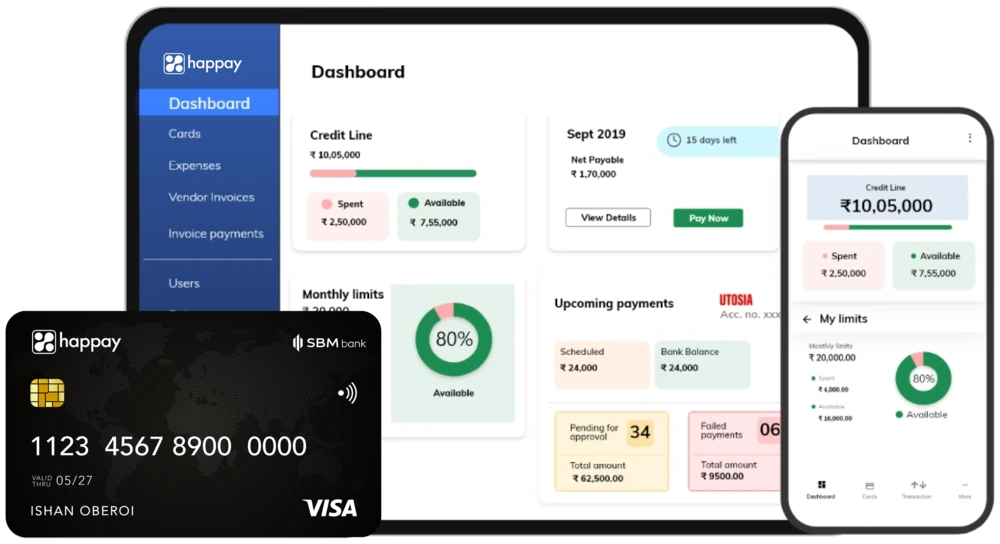 Top 10 benefits of corporate credit cards
Listed below are some of the key benefits of availing a corporate credit card.
1. Supports all business payment needs
A business has diverse payment needs. You can often suffer from failed transactions, especially if you use debit cards for all organizational needs. The reason behind such failure can vary, but every single declined payment is a significant dent to your business. Thankfully, a corporate credit card is well-equipped to handle your business' diverse needs and helps ensure that payments do not act as a bottleneck.
With Happay EPIC corporate cards, you never have to worry about failed business payments for any purchase. Set up recurring payments in a flash and save up to 39% on late payments and related costs.
Also, Read: 5 Best RazorpayX Alternatives for Corporate Card
2. Gets rid of personal liabilities
Employees do not like bearing the cost of business expenses. Especially since failure to pay will affect their personal credit scores.
With Happay EPIC cards, your employees no longer have to worry about individual liabilities and can instead use corporate limits and spending for all their business-related needs.
Unlike most other credit card products, where you may have to pledge collateral or provide a personal guarantee, Happay offers collateral-free options for business owners to access credit lines with ease.
3. Enables custom spending controls
As a business owner, you would often want to incorporate custom spending limits to manage certain expense types. While these limits can be difficult to manage if you are paying cash, having a corporate credit card can make things much more manageable. A well-designed corporate card will let you enable custom spending limits and manage business expenses better.
One of the most significant benefits of Happay's corporate credit card is its ability to place robust spending controls. From whitelisted vendors and time validity to transaction-based limits and geographical boundaries, Happay allows you to set up efficient spending controls and limits that would best suit the specific case.
4. Contributes to a business' scaling objectives
When you look to scale, inevitably, your business expenses will also scale and require more robust management to keep them under control. In many cases, growth is hampered because of the lack of funds or assets (to be used as collateral for additional payments). It is because businesses often use their assets for funding their working capital requirements, which results in them being unavailable for fundraising purposes.
Happay's EPIC cards are available collateral-free. It means that businesses need not mortgage their assets as a means to scale. It allows you the freedom to use your assets better without worrying about funds being a roadblock to your path to scale.
Suggested Read: 5 Best Volopay Alternatives for Corporate Card
5. Streamlines business travel & entertainment (T&E) expenses
Corporate credit cards can help simplify travel and entertainment expenses by allowing cardholders to use the card for purchases at participating merchants, including airlines, hotels, and rental car agencies.
Apart from travel-related expenses, employees can also use corporate credit cards to make business-related purchases. Since these cards offer real-time spend visibility, you can ensure that actual spending aligns with the allocated budget.
Happay's business cards offer real-time spend visibility. You can fetch, correct, and reconcile transactions on the go.
For those looking for a travel card, Happay has recently unveiled its World Travel Card, specifically designed for a traveling workforce. It is a single-currency card that supports loading Indian Rupees across 150 countries, making it an excellent option for employees who frequently travel for business purposes.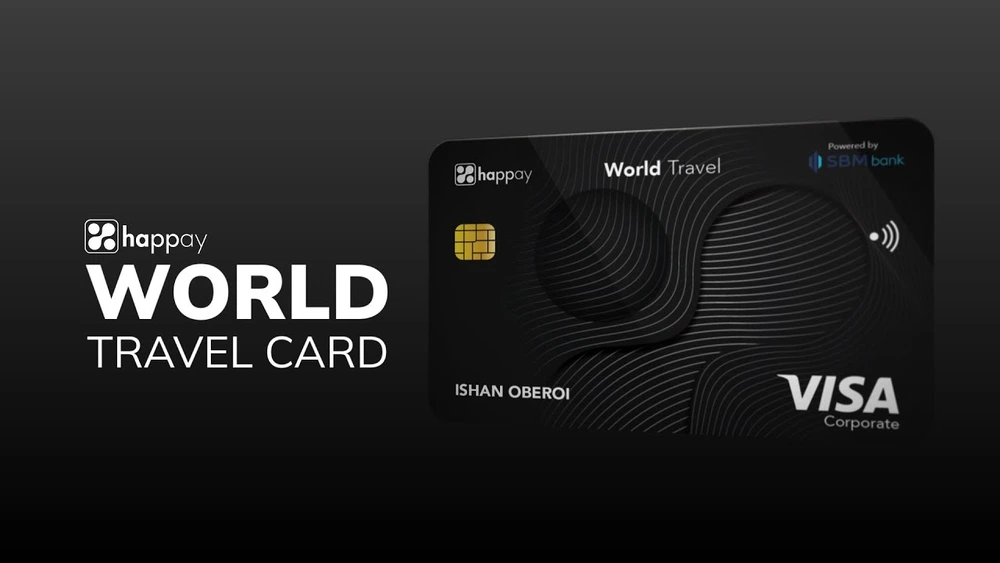 6. Corporate card rewards
A corporate credit card can provide several benefits, including discounts on goods and services, free travel, and preferential loan rates. Some cards also offer exclusive perks, such as concierge service, airport lounge access, gift card discounts, reward points, and group discounts.
But given that everyone has different needs, only some employee cards can match specific needs. For example, while some may prefer business trip discounts and benefits, others may prefer waivers and cashback.
Happay offers a streamlined cashback system, wherein subscribers get cashback rewards for eligible spends, thereby creating a terrific personal experience. Happay has opted for a simple cashback structure to ensure that customers do not feel lost in a sea of different options and can maximize their card's reward potential.
7. Optimum employee satisfaction
A corporate credit card can also be a valuable tool for companies looking to improve employee loyalty and a sense of belonging. It offers convenient financing options and keeps employees away from unwanted liability (one of the caveats of using personal cards for business-related transactions).
By ensuring employees do not have to incur business-related expenses out of their pockets, a company can demonstrate its commitment to the growth and success of the business and thereby contribute to improved employee satisfaction.
Happay EPIC corporate credit cards are an excellent option for organizations looking for a feature-packed credit card for all their business needs. Once the eligibility criteria have been met, you can access virtual or physical cards. Virtual cards make it easy for employees to use them across merchants online. Further, since multiple cards are issued easily and quickly, teams need not share cards.
Quick Read: Corporate Credit Card Reconciliation
8. Access to financial management tools
A corporate credit card can help businesses manage finances more effectively. It provides access to various business-related services, such as fraud monitoring, spend management, automatic reconciliation, smoother forex transactions, and more. In addition to these benefits, it can help the finance team simplify the process of paying their bills and managing their debt by offering unique customization features and insights.
Happay's EPIC cards give access to a powerful yet straightforward dashboard with many useful features. It lets you access the nitty-gritty of your organization's spending and apply its tools to gain valuable insights for improved decision-making.
9. Dynamic credit limits
A corporate credit card gives access to a revolving line of credit, which is vital for businesses. Entrepreneurs who use personal credit cards for business transactions often suffer from having a strict value-based limit, which is a major roadblock for smooth business operations.
With Happay corporate credit cards, companies get access to higher credit limits as compared to regular bank credit cards. Further, with interest-free credit, organizations can improve their cash flows easily.
10. Easy application
Interested users can apply for Happay EPIC cards online. The application process is completely paperless, and virtual cards will be available once the application is approved. Also, in most cases, physical cards are available within 5-7 working days, ensuring that there is a minimal lag between application and availability of cards for your usage.
Conclusion
In the current scenario, corporate credit cards are much more than an option for availing credit easily. The access to a plethora of tools that come with these cards and the convenience of automated spend management further elevates its value proposition for startups and other businesses.
With a sea of banking brands, such as American Express and Citi, the buzz around corporate credit cards has been on the rise. However, options such as Happy EPIC cards offer instant access to capital and help businesses to stay ahead of the curve.
Click here to learn more about the Happay EPIC card today.
FAQs
1. Does a corporate credit card affect CIBIL score?

Yes, corporate credit cards can improve the credit score of a business. Managing the card efficiently and repaying your bills in a timely manner can help manage the credit score of the organization. 
2. Why do you need a corporate card?
There are several benefits of corporate credit card programs to businesses, such as increased brand awareness and spending power. In addition, they can be used for online shopping and reimbursed for expenses incurred while traveling.

Additionally, corporate cards provide businesses access to a broader range of financial insights, such as real-time spend tracking, automated reconciliation, and more.
3. What is the difference between a credit card and a corporate credit card?
There are a few significant differences between credit cards and corporate credit cards:

3.1 When it comes to credit cards, personal cards are typically issued to individuals, while corporate cards are issued to organizations. In addition, corporate cards offer several benefits that are usually not available on personal cards, such as increased credit limits, exclusive rewards programs, and discounted rates on travel and other purchases.

3.2 Employees who own corporate credit cards do not incur recurring or other annual fees personally. Even if some cards have recurring fees, employers are happy to bear them on behalf of their workers in most cases. In comparison, individual credit card owners are liable to pay any charges associated with the card.

3.3 Corporate credit cards are issued based on the organization's cash flow and other financials. In comparison, credit cards are issued based on the individual's earnings.