Prepaid travel card
When planning a vacation, you probably have the expense front and center in your mind.
In international travel, it's not always the best idea to use your regular credit card because of the added forex markup cost associated with purchases made in a currency other than the one on which your card is issued. This is why many companies issue prepaid travel cards designed specifically for those who frequently travel.
10 Best prepaid travel cards for India
Here are some of the best-prepaid cards to consider while traveling:
Must read: 5 Best Corporate Credit Cards in India
10 Best prepaid travel card for India – A comparative table
Prepaid Travel Card

Top Features

Charges

Other Information

Centralized dashboard to manage all users & cards

ZERO Forex Charges

Real-Time Expense Tracking

In-App ATM Locator

Live Conversion Rate

Real-Time Transaction Notification

Load Money in INR

Load Card Anywhere

Toggle On-Off

No Hidden Charges

ZERO Forex Markup

ZERO Issuance Fee

ZERO Cross-Currency Rate

ZERO Reconversion Rate

ZERO Reload Rate





Get 24×7 emergency assistance

Make payments at the rate you loaded/reloaded

locked-in exchange margin

Forex, ATM and card Issuance fee-applicable




Reloading fees: ₹ 300+GST,

Reactivation fees ₹ 100.

Cross-currency fee; 3.5%

16 currencies in one card

Easy activation and remote reload

Account management features

Enhanced security & safety features

Forex, ATM, Card Issuance, Reconversion, Card Replacement fees- applicable

Insurance fee is ₹ 125.

Reload fees is ₹ 100.

Flexibility to pay in 15 currencies

validity is two years, and unlimited reload.

Multi-currency card with 22 currency wallets.

Add a currency/transfer balance from one currency to another online.




Forex, ATM, Card Issuance, Reconversion, Card Replacement fees- applicable

GST applicable on all charges

issuance, fee of ₹500

Reloading fee ₹ 75.

2% charge for currency conversion

22 currencies in one card

Backup card facility

14 currencies on one card.

Instant alerts on transactions

Hassle-free card replacement

Card issuing fee ₹ 150 +GST.

The fee for issuing a Paired card fee ₹ 250.

Reloading fee ₹100+GST.

Cross-currency transaction fee is 3%.

Load/reload multiple times

Safeguards from inflated currency conversion charge

3D Secure Authentication for Online Transaction

Real time transactional alerts on SMS

No surcharge for cash withdrawals at ATM's

AllPoint Network Insurance cover up to USD 10,000

Issuance fee ₹150+GST

Reloading fee ₹100 +GST

Free replacement of lost card

Back up at no cost

Ease of usage

3D Secure authentication

Simple checkout process

Self-Care Portal to monitor spends

Block/ unblock card, or reset ATM PIN options

One-time issuance fee




₹ 150

Reloading fee: ₹ 100

Inactive fee (180 days) USD 5

Cross-currency transaction fee 3.5%

Forex, ATM, Card Issuance, Reconversion, Card Replacement fees- applicable




Free emergency cash delivery services in case of card loss or theft.

Card is not linked to your bank account.

Additional backup cards available

Forex, ATM, Card Issuance, Reconversion, Card fee applicable




Insurance fee is ₹ 100+GST.

There is a fee of ₹ 100+GST for additional services.

Reloading fee₹ 50 + GST

Any insuff. funds in a currency will be offset by a deduction from other available currencies

Complimentary lounge access and insurance covers against different categories

Card issuance fee is waived if you have a valid MakeMyTrip hotel/flight/holiday booking ID

Can be loaded in 22 currencies

Issuance and refund fee: ₹ 500

Reloading fee: ₹ 75+GST

Other fees such as cross-currency markup and cash advance charge may be applicable

works great for those who use travel portals such as MakeMytrip often



Complimentary comprehensive insurance plan

No foreign currency exchange mark-up fee

goCash+ Gift Voucher and Goibibo vouchers as a welcome gift

Reload fee ₹ 100

Insurance fee ₹ 499 + GST

Cross-currency markup fee is 3.5% of the transaction

Zero Liability Protection

Accepted across 200+ countries

Insurance policy including air accident cover worth ₹10 lakh

Lost card liability cover worth ₹ 2 lakh
List of 10 best prepaid travel cards for India
Happay's World Travel Card solves some of the most crucial challenges that CFOS and Travel officers face. For instance, as regards international travel, finance leaders need robust controls and real-time visibility.
However, they are equally concerned about picking
Cards that offer the best currency rates
Travel cards that can be tracked, managed, and controlled easily.
Happay's World Travel Card is ideally designed for a modern workforce where the key is to offer ease of use (for employees) and superior visibility and control (for employers). These secure cards offer powerful pre-spend controls and 24/7 app access.
The smartphone app lets employees view and track their card balance and transaction history in real time. Admins can block lost or stolen cards temporarily or permanently, giving them complete control over usage. Happay World Travel is a single-currency business travel card that can be filled instantaneously in INR and can be spent across 150 countries without the need for re-conversion upon return.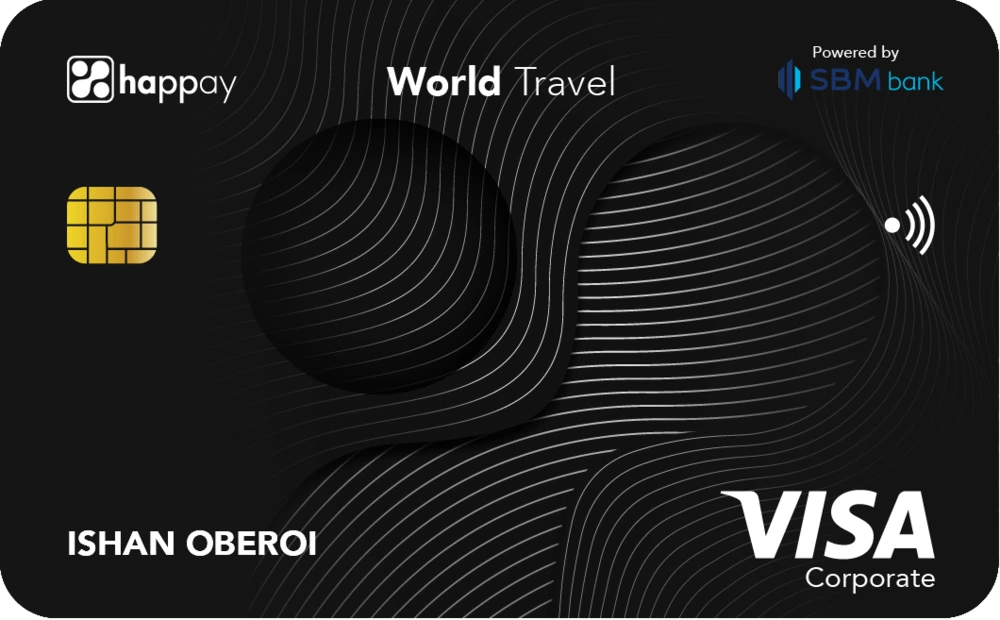 How to get a World Travel Card?
If you are a startup (funded) or an enterprise, you can apply for a World Travel Card. Once you have provided all the necessary documents, you can avail of credit within 5 hours of onboarding.
Documents required to get a World Travel Card
To apply for a World Travel Card, you must provide the KYC documents and all relevant company information. You may contact Happay for any additional information.
Axis Bank Multicurrency Forex Card is one of the popular forex cards in India. Applicants do not need to reload their cards with different currencies whenever they travel. In addition to protecting you from currency fluctuations, the card also serves as a hedging tool.
You can cash out your funds using this card after completing your journey. Consumers can pay by waving their cards across a contactless scanner without physically contacting the device.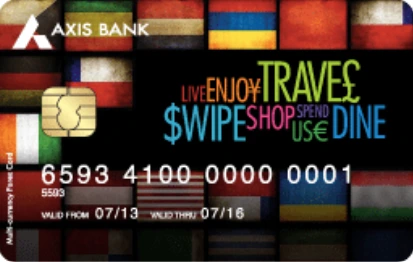 You can load the following currencies:
New Zealand Dollar,(HKD) Hong Kong Dollar, South African Rand., and the Danish Krone
Suggested Read: What is the corporate credit card limit?
YES Bank Multicurrency travel card is very safe and cost-effective. You can easily manage your card from anywhere and anytime using the online customer service portal. Additionally, you can view your transaction history easily.
Loading currencies is possible in the following currencies:
The British Pound, the Euro, the Singapore Dollar, the Australian Dollar, the UAE Dirham, the Japanese Yen, the Canadian Dollar, the Hong Kong Dollar, the Chinese Franc, and the Swiss Franc.
In the market, the HDFC Multicurrency Forex Card is among the most popular choices. On a single card, 22 currencies are available.
Contactless cards offer supplementary insurance and concierge services and the ability to shuffle cash between two distinct currencies. Forex traders can also benefit from them by protecting themselves from currency swings. In the event that customer data is misused, the customer is also entitled to compensation of up to 5 lakh rupees.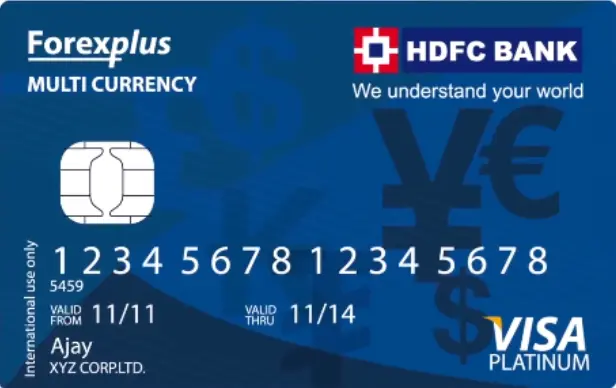 Below are the currencies that can be loaded:
The currencies that can be loaded are Euros, Oman Riyals, Korean Wons, United Arab Emirates Dirhams, Japanese Yen, Saudi Riyals, Sterling Pounds, Malaysian Ringgits, Norwegian Krones, Swiss Francs, Thai Bahts, Danish Kronas, Swedish Kronas, and South African Rands.
Also, Read: 5 Best RazorpayX Alternatives for Corporate Card
Card with multicurrency capabilities from IndusInd Bank
A popular multicurrency card among travelers is the IndusInd Bank Multicurrency Card. With this card, you can use 14 different currencies, and you won't have to worry about international markups. With the package, customers can withdraw up to two free withdrawals from ATMs each month.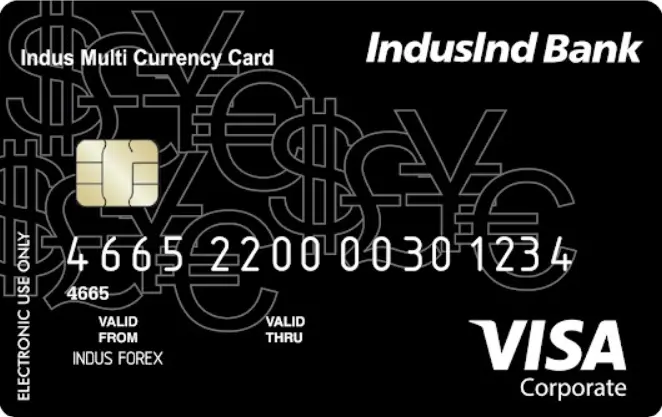 You can load the following currencies:
The euro (EUR), the Singapore dollar (SGD), the British pound (GBP), the Saudi riyal (SAR), the US dollar (USD), the Canadian dollar (CAD), the Australian dollar (AUD), the Euro (EUR), the British pound (GBP), the United Arab Emirates Dirham (AED), and the British pound (GBP) are among the major currencies.
Thomas Cook Forex cards are smart and secure. They are available in 9 different currencies, allowing you to swipe them across numerous Master and VISA card POS or merchant outlets worldwide.
Offering insurance coverage of up to $10000, the card also features 3D secure authentication for all online transactions. You can also check balances, statements, and block cards via toll-free customer service online.
Thomas Cook travel cards offer convenience as they are simple to buy and reload. Replacement and backup cards are available at no cost. Further, emergency cash is available on these cards (up to the available card balance and subject to availability).
These currencies can be loaded on this card:
The US dollar (USD), the Canadian dollar (CAD), the Australian dollar (AUD), the Euro (EUR), the British pound (GBP), the United Arab Emirates Dirham (AED), the Singapore dollar (SGD), are among the major currencies that can be loaded on this card.
ICICI Bank Forex Prepaid Card is a good option if you are planning to travel internationally. Travel schedules can be adapted to your needs. Reloading this card is possible through ICICI FX's online platform, mobile app, or branch locations.
As well as restaurant discounts, it offers discounts on shopping and a range of other outlets worldwide by up to 20%.
Their insurance policy also covers a maximum of Rs 10,00,000. It takes just two days to receive the card after opening an account with ICICI bank, and there is no need to open a savings account or current account.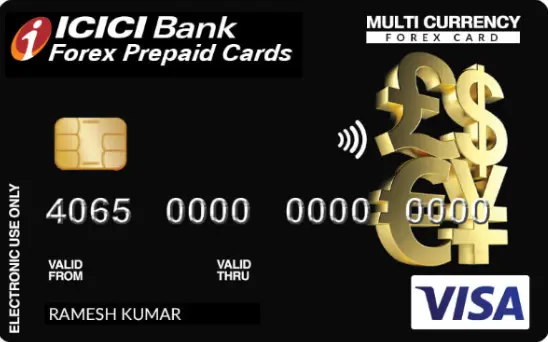 There is a wide range of currencies that you can load onto the ICICI Forex Card, including
Swiss Francs, Japanese Yens, Swedish Kronas, South African Rands, Saudi Riyals, Thai Bahts, New Zealand Dollars (NZD), Hong Kong Dollars (HKD), US Dollars, Singapore Dollars, British Pounds (GBP), Australian Dollars (AUD), Arab Emirates Dirhams (AED), Canadian Dollars (CAD), Euros (EUR), Swiss Francs (CHF).
Quick Read: What is Credit Card Reconciliation?
It can load seven currencies from different countries.
Using a MasterCard Acceptance Mark allows you to make payments wherever MasterCard is accepted, including restaurants, shopping, dining, and lodging. You can access it 24/7, every day of the week.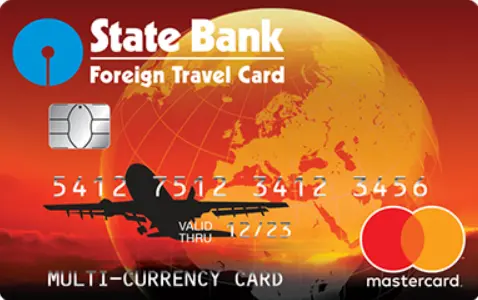 You can load the given below currencies:
The US Dollar (USD), the Pound Sterling (GBP), the Euro (EUR), the Canadian Dollar (CAD), the Australian Dollar (AUD), the Japanese Yen (YEN), the Saudi Riyal (SAR), and the Singapore Dollar (SGD) make up the five major currencies.
With features such as chip and PIN-enabled transactions, backup cards, and the ability to temporarily block the card, this HDFC Bank travel card is one of the best travel cards in India.
You can apply for these cards even if you are not an HDFC customer. Designed to make your international travel hassle-free, the HDFC card has several advantages, including complimentary membership in MMT's Black Loyalty Program.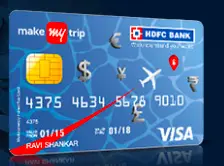 Currencies that can be loaded:
There is the option to load over 22 currencies in a single card, which allows you to enjoy your travels without any worries. The card also provides insurance for up to Rs 25 lakh.
An ICICI Bank and Goibibo-branded forex prepaid card has been launched jointly by the two firms. Prepaid cards must be loaded with cash before being used for transactions. The program has no reward structure but offers discounts on forex rates, eating out, cab vouchers, etc. If your card is lost or misplaced, you will receive assistance 24 hours a day, 7 days a week.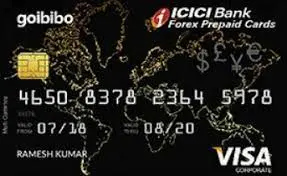 This card supports the given below currencies:
USD (United States Dollar), Pound sterling (GBP), Canadian Dollar (CAD), Singapore Dollar (SGD), Japanese Yen (JPY), Saudi Riyal (SAR), Thai Baht (THB), New Zealand Dollar (NZD), Swedish Krona (SEK), Euro (EUR), Australian Dollar (AUD), United Arab Emirates Dirham (AED), Hong Kong Dollar (HKD) and South African Rand (ZAR)
Suggested Read: Impact of Company Credit Cards on Credit Scores
What is a prepaid travel card?
These cards are prepaid, meaning that, unlike credit cards, you must add funds before using them to make a purchase. Most of the top forex cards in the market are single-currency or multi-currency, allowing you to choose the one that suits your requirements.
The advantage of a prepaid travel card is that you do not have to carry cash everywhere, and carrying physical cash is not as secure as carrying digital cash.
It also assists in getting better exchange rates if you use a travel card with foreign currencies. This is because regardless of how the forex market fluctuates, the rate of the funds you have put in your travel card remains constant.
Travel Card vs Forex Card
| | |
| --- | --- |
| Travel Card | Forex Card |
| Convenience charges are very low | The fees is quite high |
| Reloading is easier and faster | Reloading takes time |
| 24×7 customer assistance | Limited assistance |
| Provides limited protection from conversion rates | Protects volatile rates |
| Low currency conversion fee | Comparatively high currency conversion fee |
| Process of getting a card is easy and quick | A rather complex process |
Advantages of prepaid travel cards
Prepaid travel cards for travelers are accepted globally.
Prepaid travel cardholders have the option of loading multiple currencies onto a single card.
When used at restaurants in dozens of countries, the prepaid international card gives customers access to substantial savings.
The customer earns reward points for each purchase made with their prepaid card.
Customers can check their remaining balance at any ATM worldwide. In most circumstances, the bank will also send a notification text message to the consumer after each purchase or withdrawal, detailing the remaining value on the card.
To maintain tabs on finances, you can view bank statements whenever you want
Two replacement cards can be purchased if the original card is lost or stolen.
There's more flexibility and control over the currency and information.
As soon as funds are added to a prepaid card, you'll be limited to using only that amount. In this case, neither an overdraft nor a credit line is involved.
If you don't have a checking account with a bank, a prepaid card can still be used to make online purchases.
Your prepaid card can be used at ATMs to withdraw cash if you find yourself in a bind. Although you need not be a customer of any specific financial institution to use an ATM, users of ATMs owned and operated by private businesses may be subject to fees.
Future read: 10 Best expense management software
How to choose your prepaid travel card?
Although there are numerous cards to choose from, determining which is right for you is easiest when you know where you intend to go.
You will need a card that can convert currencies in case you visit more than one country during your trip.
There are various fees to consider while making a final decision, such as those associated with replacements, inquiries, and price hikes for shipping over international borders.
Investigate the exchange rates and the safety net they provide in the event of theft or loss.
Costs associated with using your card abroad may include conversion costs, foreign transaction fees, ATM withdrawal fees, overlimit fees, and similar charges. To find out what fees may be incurred, check your bank's or credit card company's website or contact the customer care.
In the event of card loss or theft, the first thing you should do is have access to your card temporarily disabled. You might either phone the bank's customer service line or go online to disable the card yourself.
Must read: TOP 10 Corporate Credit Card Benefits
How does the Happay World Travel Card benefit your employees?
The most obvious benefit to employees is that they won't have to pay for these things out of their pockets. They also need not wait to get reimbursed.
Expense information can also be accessed on the go using the mobile app. If you use Happay cards, you will have complete access to your spending data and analytics. In addition, you can get this data (in real-time) via the Happay Expense Dashboard.
Happy travel cards make it much easier to keep tabs on business travelers' spending. Pre-set spending restrictions, blocking and unblocking of cards, and fund transfers can all be managed from the mobile application.
The finance team spends less time reconciling because all transactions are automatically reconciled.
As far as affordability, security, and convenience is concerned, no other forex card provider can match Happay.
Conclusion
The decision to travel abroad is not one to be made lightly. One thing you can't forget about your trip is arranging the foreign currency.
Compared to the other travel cards we've discussed, the Happay World Travel Card does not charge any issuance fee and allows you to purchase in any currency without incurring additional fees.
Prepaid cards offer convenient and secure access to your money while traveling internationally, so they should be among your first options. Select the best-prepaid card for your upcoming trip abroad and travel hassle-free.
FAQ's
1. What are prepaid travel cards?
Prepaid travel cards are designed specifically for overseas travelers. Prepaid travel cards allow users to load funds in various foreign currencies and do not impose any additional fees for making purchases in the currency for which they were issued.
2. How safe is a prepaid travel card?
a) Carrying money abroad is safer with a travel or forex card.
b) A PIN protects it and makes it convenient to carry.
c) If you lose your card, the amount on it is still safe in your account even if the card is blocked.
d) In addition, it protects you from fluctuations in foreign exchange rates.
e) Multiple currencies can be carried on a forex card, which is convenient and safe.
f) In many cases, the loss or theft of your card is covered by free insurance.
3. Is it possible to use a forex card online?
Online shopping, flights, hotels, and other online payments are all possible using it like your credit card. With a forex card, you won't be charged additional (cross-currency) fees when making online purchases abroad.