Employee financial wellness
A conversation between friends over lunch

Akshay: So, how's the new job treating you? You look fitter than the last time we met!

Manu: The company has a gym at the office, so yeah, I am taking care of myself. The money is excellent.

Akshay: I hear a "but" what's bothering you?

Manu: See, Akshara is already 5; I must save for her future. I am not getting younger; I must consider buying a house. Everything seems overwhelming.

Akshay: Does your company not offer any employee financial wellness programs? Consider it the perfect place to start, Manu! 
Manu set up an appointment with a company-sponsored financial advisor who visited once a month. He is well on his way to planning a better and more secure future for himself and his family!
A comprehensive report by Businesssolver on the overall effects of risk tolerance and financial literacy shows that employees lack preparedness and understanding regarding the benefits they receive from companies. According to another survey, 53% of employees felt they would be less anxious about their financial wellness if employers took up more employee financial wellness initiatives. 
So, what are you doing for your employee's financial wellness? 
What is employee financial wellness?
An employee's overall well-being combines physical, mental, and financial health. Financial well-being is the employee's ability to be monetarily comfortable to pay their bills and debts, whether unplanned emergencies, and prepare for the future.
Considering that a significant chunk of the employee's earnings come from the organization, you are likely to impact their financial well-being significantly. 
Let's consider the four elements of employee financial wellness.
| | | |
| --- | --- | --- |
| Financial Wellness | Present | Future |
| Security | The ability to meet day-to-day and month-end expenses. | A buffer to absorb unexpected financial emergencies. |
| Freedom of Choice | Financial health and choices that let you enjoy life. | Ability to plan for future financial goals. |
Read also – Employee Expense Reimbursement
The covid-19 pandemic effect
Amol Gupta, Chief HRO of FIS, states that in the aftermath of Covid, their financial wellness initiative has grown to 56% (as of Dec 2020). He says living in VUCA (volatility, uncertainty, complexity, and ambiguity) has forced employees to make robust financial plans for unforeseen events.   
Traditional benefits and perks do not cut it anymore. Organizations go above and beyond to cover tech expenses and offer flexible schedules and gym memberships. While this is welcomed with open arms, what about the financial health of your employees? Covid-19 has undoubtedly put the spotlight on it.
Financial challenges such as needing a retirement plan, an emergency fund, or paying back student loans existed before the covid-19 pandemic. However, dealing with the uncertainties during the pandemic has forced everyone to consider it even more seriously. 
Read about T&E policies for enterprises in the post-pandemic era.
Why is there an increased awareness of employee financial wellness?
1. Diminished savings
While many people were hospitalized with Covid, others lost their jobs. It forced them to dig into their savings to meet basic needs.
With many people losing their jobs or being in hospitals with covid, they have had to dig into their savings. We may not be entirely over the pandemic, but more and more people are moving on.  
Savings are integral to financial security; therefore, employers must support their employees as they rebuild their financial security. 
2. Mental health affected 
As work shifted home, most employees, if not all, felt the strain of balancing work and life. While you provided technological support, there was an increased responsibility toward their mental health too. 
Considering that financial challenges strongly affect mental health, organizations began to look at ways to contribute. For instance, financial coaching programs can help employees manage their financial health better, lowering stress considerably. 
3. Unique needs
Every individual defines financial security differently. One may have long-term financial goals, while another may only be concerned about being debt-free. Employers must find a way to address individual employee concerns through well-designed financial coaching and counseling programs.
While Covid-19 may have caused financial stress for everyone, it has prioritized employee financial wellness. So, maybe the pandemic was not all bad after all. 
According to a survey, 32% of participants say their financial discipline has improved since the Covid-19 pandemic hit us. Also, 95% say that these new habits will stick on.  
Read also – How to Create an Expense Reimbursement Policy?
What are employee financial wellness programs?
Programs that educate employees about taking steps to become capable of handling short-term and long-term financial goals comfortably are employee financial wellness programs. Generally, organizations conduct these programs to ensure that employees make optimal use of the benefits provided by them.
Benefits of employee financial wellness programs
IBM's health promotion leader Rajeeva Sreevatsa says that feedback sessions and surveys revealed how financial stress was impacting the health and productivity of their employees. Based on this, IBM collaborated with a finance education firm in 2019 to create a financial literacy and knowledge base.

Eventually, they also started conducting webinars and e-learning modules available year around. The idea was to help employees manage their short-term and long-term goals better. 
Helping your employees become financially healthier and sound makes them stress-free and helps to increase productivity. So, doesn't it make sense to invest in your most valuable asset- your employees?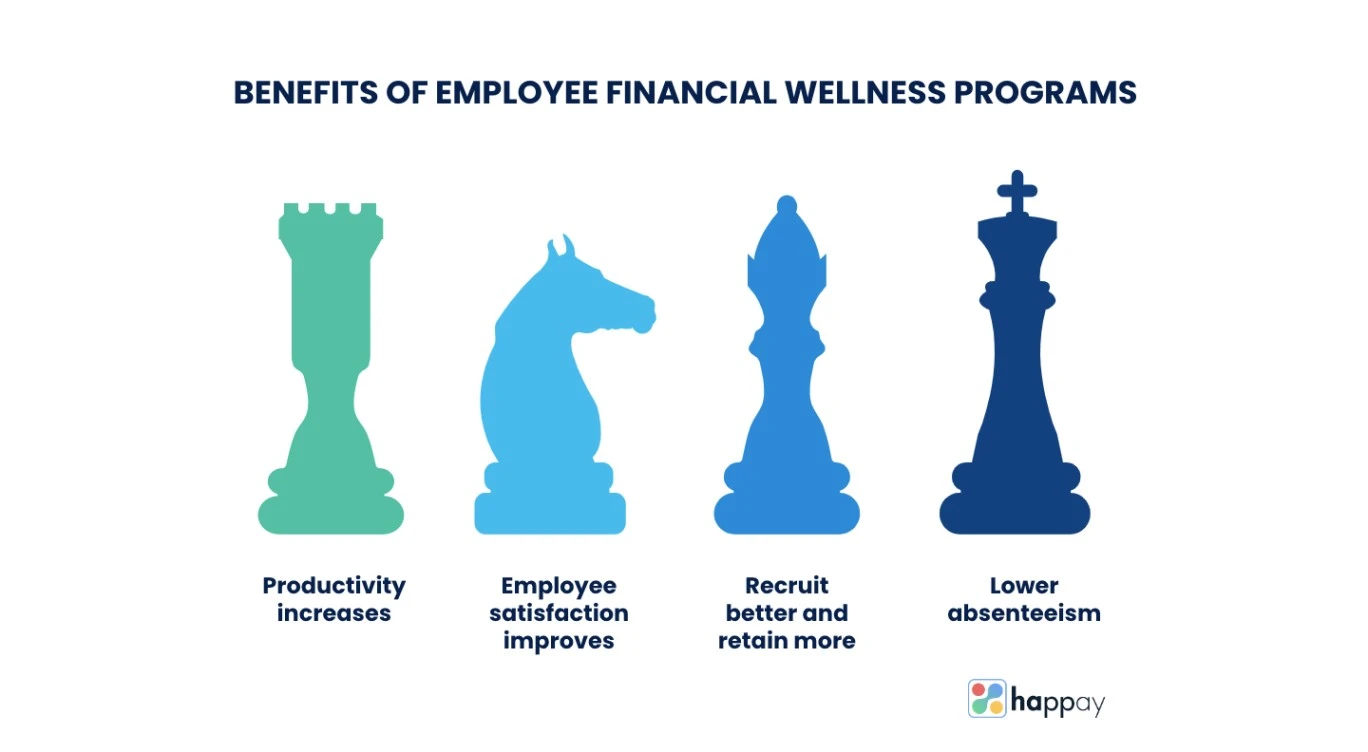 1. Employee satisfaction
Employee financial wellness programs ensure employees prepare better for future financial challenges. Such preparedness also allows them to perform better at work, helping them achieve their career goals faster.
2. Increases productivity
Employee engagement and productivity are better when they are not distracted by financial worries.
3. Recruitment and retention
By designing employee benefit programs that are beneficial for your employees, terms of employment become more attractive. So, not only will you attract the best talent in the industry, but you will also retain the existing employees.
4. Reduce absenteeism
With lower stress levels, chances are higher that employees may not fall sick, lowering absenteeism. Further, if employees feel that their financial goals are not met in the present workplace, they may take on additional jobs to supplement their income. 
Financial wellness programs can help them manage their income efficiently while allowing them to reach their present and future financial goals.
Read also – Boost Employee Productivity with Expense Digitalisation
Ideas for employee financial wellness programs
According to a CIPD survey, what matters most to employees (75%) is earning a sufficient wage to enjoy a reasonable lifestyle. 55% of employees felt that the second most important thing was being able to save for the future. 
Any employee financial wellness program must begin with the basics. For instance, 
Employees must understand and know all the benefits you offer in the workplace. 

All employees must have access to free and confidential help to make the best of those benefits.

Design workshops so you can quickly educate employees while discussing and solving individual challenges.
Let's look at some ideas for employee financial wellness programs
1. Education
You can assist employees by providing resources that help them adopt better savings strategies or improve their investment decisions. These resources could be workshops, personalized courses (agewise), subscriptions to guest lectures, etc.
2. Unique rewards systems
Encouraging employees to save through unique reward systems, such as merit-based ones, is advantageous to employers and employees. For instance, employees must sign up for financial literacy programs through company onboarding. You could give them company stock of a specific value or other financial rewards upon completing such programs.
3. Dedicated advisory teams
Many organizations set up dedicated financial wellness advisory teams consisting of in-house experts or outside specialists. Employees can take advantage of their services for better investments and future planning.
4. Lunch and learn
Lunch-and-learn sessions are unique ways to get employees to engage in discussions about critical financial topics. Organizations can sponsor lunches and invite experts to share their knowledge on essential matters. 
These discussions and learning sessions can benefit employees, and organizations can use company time effectively for such activities.
5. Scale your challenge
Another great way to encourage participation in employee financial programs is to set up economic challenges. Invite employees to participate and scale these challenges one at a time. Ensure you have clear instructions on what they must do and set up rewards for when employees take action. Here are a few ideas to get you going:
Educational seminars

Test knowledge of company benefits

Becoming debt-free

Saving goals
Read also – What is Embedded Finance?
Conclusion
In recent times, more people are paying attention to their mental, physical and financial well-being. At the same time, employees feel they are not in control of their financials. You have a wonderful opportunity to fill that gap. As satisfaction levels improve, you can retain employees while attracting the best talent in the market too. 
FAQs
1. What does financial wellness include?
Financial wellness is when you are financially comfortable in the short term and feel secure about managing your future financial goals. Further, it is the freedom to live life without financial stress.
2. How do you promote financial wellness?
You can promote financial wellness by educating the employees about the benefits. You can organize webinars, courses, or one-on-one sessions with experts to help them optimally utilize them.
3. What are employee financial wellness activities for employees?
Apart from numerous activities you may propose to help improve the financial well-being of your employees, you must consider the following.
Understand and identify the root cause of financial stress for employees

Counseling must be an essential part of employee engagement.

Financial advice and tips must be part of your newsletters and regular communications.

Ensure your benefits package is structured to cover all major concerns of employees.
4. What are the pillars of employee financial wellness?
The three pillars of employee financial wellness are 
Employers can positively influence employee financial wellness through well-structured programs.

The financial wellness programs are similar to physical wellness initiatives.

Employee financial wellness plans can be scaled and customized to suit the needs of the employees.