Introduction
Expensify vs. Concur? What's better?
SAP Concur and Expensify are category leaders in the T&E expense management SaaS industry. They have a lot of similar features and functionalities. Hence, deciding between the two of them can be challenging for CFOs. This article is a thorough guide to help you choose the right solution for your company.
Expensify vs. Concur – Comparative table
| | | | |
| --- | --- | --- | --- |
| | Expensify | Happay | Concur |
| Market Segment | Freelancers, mid-market, and big companies | Mid-market and enterprises | Small, mid-market, and large companies |
| Ease of Use 1 | 9/10 | 9.1/10 | 7.9/10 |
| Ease of Setup2 | 9/10 | 9.1/10 | 7.9/10 |
| Ease of Administration3 | 8.2/10 | 8.5/10 | 8.1/10 |
| 24*7 Customer Support | NA | Yes | Yes |
About Expensify
Expensify is a financial management tool that helps individuals and businesses track and manage their expenses. The software provides a range of features that make it easier to manage expenses, including receipt capture, expense categorization, reimbursement, and automated expense reporting.
Expensify is designed to simplify and automate the spend management process, particularly for businesses needing to track employee expenses.
With Expensify, employees can easily snap pictures of receipts with their smartphones, and the software will automatically extract the relevant data and categorize the expenses. This can save employees time and reduce the risk of errors in expense reporting.
Expensify also provides a range of other features, such as integration with accounting software and the ability to create custom expense policies for different teams within a company. Additionally, Expensify offers an Expensify card program that allows businesses to issue virtual credit cards to employees for specific expenses.
Overall, Expensify is a comprehensive expense management tool that can help businesses save time and streamline their financial processes.
Suggested Read: 10 Best Expensify Alternatives and Competitors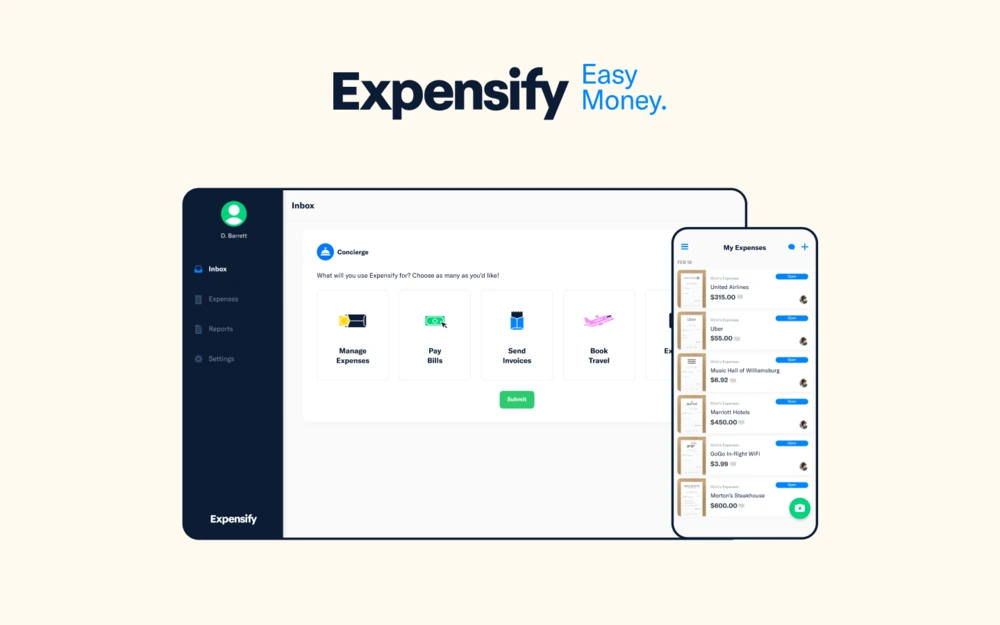 Expensify top features
Expensify offers many features to help individuals and businesses manage their travel expenses effectively.
Some of the top features of Expensify include:
Receipt capture and OCR technology: Expensify uses OCR (optical character recognition) technology to extract data from receipts, making it easy for users to track expenses without manually entering data.
Mobile app: Expensify has a mobile app (android and ios) that allows users to capture receipts and track expenses on the go.
Real-time expense tracking: Expensify provides real-time updates on expenses, allowing users to keep track of their expenses as they occur.
SmartScan: Expensify's SmartScan feature scans receipts and automatically categorizes expenses based on merchant name, amount, and date.
Expense reports: Expensify automatically generates expense reports based on the expenses logged by users, saving time and effort.
Integration with accounting software: Expensify integrates with a wide range of accounting software, including QuickBooks, Xero, and NetSuite, making it easy to sync expenses with accounting systems.
Also, Read: Coupa vs SAP Concur
Expensify pricing
The pricing plans for Expensify are as follows-
For Businesses

Free $0

Collect (Starting at $5

/user/month)

Control (Starting at $9

/user/month)

Free Expensify cards for the entire team

Reimbursements for cash expenses

Chat functionality

Invoices and bills

Everything in the free plan +

Accounting integrations

Approvals

Payroll

Everything in the Collect and Free plans +

Expense policy architecture

Custom reports

Multiple approver workflows
About Concur
Concur is a cloud-based travel and expense management software developed by SAP, a multinational software corporation. The software provides a range of features that help businesses manage travel bookings, expense reporting, and invoicing. It offers a variety of features that help businesses streamline their travel and expense management processes.
Concur expense and Concur travel holistically execute the t&e effort efficiently in companies. It helps all teams concerned with expense management, including finance, travel admins, employees, CXO-level decision-makers, etc.
Concur top features
Some of the critical features of Concur include the following-
Travel booking: Concur allows users to book flights, hotels, rental cars, and other travel services directly from the software, making it easy to manage travel arrangements.
Expense reporting: Concur provides a platform for employees to log their expenses, including receipts and other documentation, and generate expense reports. The software automatically categorizes expenses, reducing the time and effort required to create reports.
Approval workflows: Concur allows businesses to set up approval workflows for travel and expense requests, ensuring that all requests are reviewed and approved before they are booked or reimbursed.
Integration with accounting software: Concur integrates with a wide range of accounting software, including SAP, QuickBooks, and Xero, making it easy to sync expenses with accounting systems.
Recommended Read: 5 Best SAP Concur Competitors
Concur pricing
The pricing plans for Concur are as follows. 
Automate

Insights

Optimize

$9 /per report, average price

Pricing is variable

Pricing is variable

Gives visibility and control.

Expense reporting automation

Receipt capture

Dashboards

Customizable expense policy

Reimbursement automation

Gives insights along with visibility and control.

Everything in the Automate plan +

Improved, smarter dashboards

Enhanced reporting

Personalized data views

Spend management alerts

Report scheduling

Gives a fully-optimized expense management solution along with insights, visibility, and control.

24/7 support for your employees throughout the year.

Configurations and best practices assistance.

Regular reports on tickets, resolutions, and response times.
Expensify vs. Concur features in common
Expensify and Concur have a lot of similarities. These are their top common features.
Expense capture and reporting
Policy compliance and fraud detection
Policy enforcement
Analytics and Insights
Travel booking
Concur vs Expensify: Feature-based comparative analysis
| | | | |
| --- | --- | --- | --- |
| | Expensify | Happay | SAP Concur |
| Dedicated Analytics Module for T&E | No | Yes | No |
| Dedicate Petty Cash Module for T&E | No | Yes | No |
| Expense reporting1 | 9/10 | 9.1/10 | 8.3/10 |
| Bank/Credit Card Integration2 | 8.8/10 | 9/10 | 8.6/10 |
| Travel booking3 | 8.9/10 | 9.1/10 | 8.1/10 |
| Digital Receipt Management4 | 9.1/10 | 9.2/10 | 8.5/10 |
Expensify vs Concur – Comparative analysis with Happay
| | | | |
| --- | --- | --- | --- |
| Features | Happay | Expensify | SAP Concur |
| Expense Capture and Reporting | Happay's Xpendite module automatically captures data from receipts (physical and e-receipts) and creates expense reports. | Expensify's receipt scanner uses SmartScan to capture your receipt details from its images automatically. | SAP Concur's receipt capture tool ExpenseIt automatically extracts data from e-receipts. |
| Expense Approval | Happay' ApprovNow streamlines the expense approval process by centralizing all expense-related communication onto a unified platform. It also allows users to track the progress of their expense claims in the approval cycle. | Expensify allows you to create complex approval workflows tailored according to your company's structure. It allows you to form policies that auto-flag expenses that need a manager's review. | Concur offers a mobile-ready solution for approving expenses on the go. |
| Policy Compliance and fraud detection | Happay's SmartAudit automatically flags all expenses that violate the company's expense policy. It also immediately flags duplicate or fabricated claims to offer efficient expense fraud detection. | Expensify auto-detects duplicate receipts and ensure the validity of every transaction reported on the platform to ensure policy and prevent expense fraud. | Concur improves policy compliance by using machine learning to reconcile receipts with credit card charges. |
| Policy enforcement | Happay allows you to set soft and hard limits on approvals and auto-flags non-compliant expenses. Happay's cards allow 360-degree spend visibility and allow you to put spend limits on transactions. Happay's self-booking tool also limits bookings that are non-compliant with the policies. | Expensify verifies all employee-entered information and ensures all receipts are verifiably compliant with the company policy. | Concur ensures policy enforcement by letting you measure your policy compliance efforts. It allows you to measure policy compliance depart, spend categories, and employee-wise. |
| Expense Analytics | Happay has a dedicated analytics module. DeepAnalyze gives you 360o visibility into all your t&e data and gives you customized reports for the information you want and for the time frame you want. | Expensify gives users filters that allow them to filter data according to date, merchant name, policy, categories, tags, etc. It also has an analytics view that helps you visualize total spending according to categories, tags, and cards. | Concur's analytics tools, give you an insightful overview of company expenses, trends, and other information as comprehensive charts and reports. |
| Travel Planning and Booking | Happay's self-booking tool allows travelers to book flights, cabs, and hotels on their own. This allows them to choose the options and schedule that works for them without any hassle. The tool automatically ensures users are within their assigned spend limits while booking. It even gives them missed savings alerts if users choose pricier options even if they are within the spending limit. | Expensify's travel booking tool Concierge allows you to book hotels and flights simply by chatting with the chatbot. | SAP has travel software that allows users to plan, change, and share travel itineraries and get updates. |
Why pick Happay over Expensify and Concur?
Expensify and Concur are both major players in the travel and expense software industry. However, Happay has now become the top choice for over 7000 clients spread across various industries. The reason Happay has been able to capture the market in an already saturated sector is because of its exceptional product.
Other than the features mentioned above, Happay also has the following special functions.
Here are a few features unique to Happay.
Fully-integrated solution: Happay is a fully integrated solution that brings together employee expense, travel, and payments into a single unified platform. It can also be integrated with your existing accounting and ERP software.
TMC integrations: Happay has integrations with multiple travel management companies (TMCs), including MakeMyTrip, Riyad, Thomas Cook, Nirvana, etc., that make travel bookings seamless.
GST module: Happay's GST module lets you claim every single valid buck on GST ITC and adds thousands to your savings. It can help you save about 5-18% in travel costs.
Mileage and route tracker: For companies managing a fleet workforce, mileage expenses amount to a large sum. Mileage savings, hence, also become an opportunity to boost the overall savings of the company. Happay's mileage tracker integrates with Google Maps to do just this.
Expense reconciliation: Happay helps finance teams reconcile all expense claims by capturing data from multiple sources like airline GST, PNR, payment details, etc. It completely eliminates the need for tedious expense reconciliation.
Conclusion
Expensify and Concur are both great options for t&e management in a company. However, other options in the market might fit your organization's needs better. Before picking out a t&e solution, you must ensure that you have done a detailed analysis of the company's needs and then considered all options available.
Expensify vs. Concur – FAQ's
1. Expensify vs. Concur? What's better?
You can not know for sure which product is better for your company until you try both Concur and Expensify. However, Expensify has overall better user reviews on the most prominent reviews sites, including G2. Happay is another product that is highly rated for most t&e features and categories.
2. Is Expensify good for small businesses? 
Yes, Expensify can help small businesses streamline their expense management processes. 
3. Are Expensify and Concur worth buying? 
Both platforms are efficient in what they promise to do. However, you must consider their cost-to-benefit ratio before making any decision. The best way to find out if either of those platforms is worth buying or not is to compare their offerings with each other and other competitors.
4. Which banks work with Expensify and Concur? 
Expensify has direct connections with Citibank, Chase, Wells Fargo, Brex, etc., while Concur is associated with HDFC bank for its corporate card offering. 
5. What are some other competitors of Concur and Expensify?
Concur and Expensify's competitors are Happay, Zoho, Spendesk, ITILITE, Fyle, etc.
6. Are Expensify and Concur user-friendly platforms?
Yes, Expensify and Concur are user-friendly platforms. They are both easy to use but come with a learning curve for all the employees. Onboarding both platforms is also easy.