Introduction
Whether you are part of the "Ask ChatGPT Anonymously" club or the "I Love ChatGPT" group, AI is here to stay. We at Happay have been experimenting to understand how it works in numerous ways.
A few conversations later, I put Happay to the test by asking ChatGPT to rank us in the industry.
Prompt 1
1. Rank the best travel and expense software in the industry
Here's what ChatGPT gave us.
Obviously, I was thrilled to see our name on the top of the list. While the reasons for ranking Happay are accurate, ChatGPT managed only to scratch the surface. Here are a few more reasons why Happay stands out as the best.
Travel
Happay's Self-booking tool eliminates the hassles of planning and booking trips
Happay's Fare Freeze option allows you to lock fares to stay protected against price changes
"Missed Saving Alerts" offers suitable options while alerting users of possible savings
Expense
AI-enabled OCR tool scans expenses and receipts precisely and automatically
Happay's Xpendite- Auto-captures expenses from all sources
The software helps you become GST-compliant and raise accurate ITC claims
Happay's Smart Audit enables you to achieve 100% policy compliance
Happay's ApprovNow transforms your approval cycles
Happay's DeepAnalyze offers a 360o view of travel and expense numbers
While ChatGPT ranked Happay as no. 1 in the above list, I wondered what the answer would be if I made the questions slightly more specific.
So, I went with
Prompt 2
2. List the best expense management solutions in the industry and describe their best feature.
Here's what ChatGPT had to say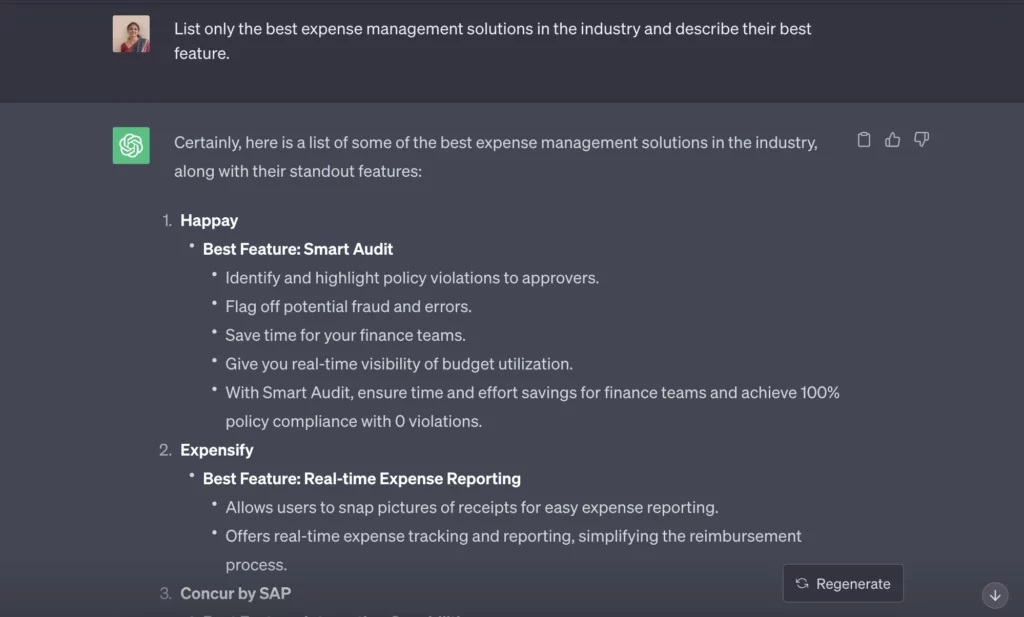 ChatGPT's response is quite accurate, as Smart Audit is one of the most appreciated features of Happay's expense management solution.
The AI-enabled tool captures expense data from all digital platforms.
Reading receipts automatically, the tool captures relevant data such as vendor name, GSTIN, amount, city, etc.
The system flags off all policy violations, potential fraud, or errors to approvers
Policy violations can be viewed in real-time for timely action
Saves time and effort for the finance team
Would I have been satisfied with the above and stopped there? Now, I was hooked. I wanted more! I wondered if the machine would give me a different answer if I asked it to
Prompt 3
3. List the best spend management solutions in the industry for GST automation.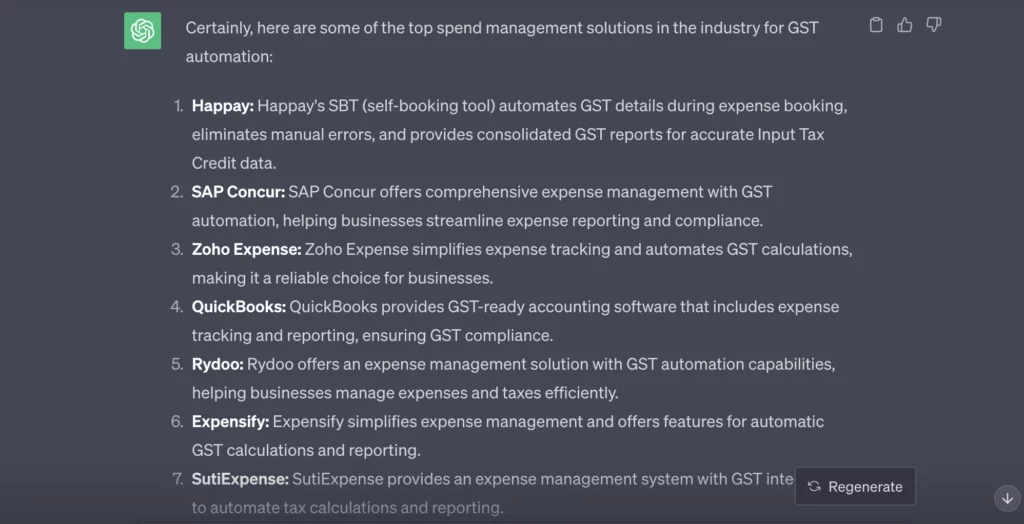 Here again, ChatGPT picked Happay as the top contender in this category. The answer is brief, so here are a few important points on why I agree with the answer.
In GST, simple human errors can prove costly, including heavy penalties and extensive scrutiny. CFOs can avoid such risks by employing comprehensive expense management software with GST automation. It can ensure 100% accuracy in input tax credit and GST return fillings.
Some of the most significant advantages of using Happay's GST automation is
Happay's self-booking tool automatically pushes the company's GST details while employees book flight tickets and hotels.
Secondly, while filing expenses, the GST details get auto-captured accurately.
There are zero manual errors while filing expenses, and finance teams do not have to recalculate GST while auditing expenses.
If the GST number of the merchant is invalid or fake, Happay can automatically flag it.
Finally, post-trip Happay will help you fetch GST details from airlines automatically.
Happay can auto-read all emails (central email address) and accurately fetch vendor and GST details.
Can I truly be excited that ChaGPT seems to pick Happay every time?
Yes, Why not?!
After all, ChatGPT echoes the sentiment expressed in the content available online. In fact, in the G2's Summer 2023 Report, Happay received 23 badges. Recognising Happay's excellence in multiple categories (based on real user ratings), G2 declared Happay as a "leader" in the travel and expense category (competing against legacy products such as SAP Concur and Expensify).
Choosing the right vendor is one of the most important factors in picking the right expense management solution. With 7,000+ customers and over 4 million users across 40+ verticals, Happay is a well-recognized name in the travel and expense management software industry. Offering a complete stack- travel, expense, and payment, we are one of the most flexible T&E platforms in the market today.
Apart from picking the right vendor, some other critical factors that play a part are "usability," "customer-friendliness," and "trustworthiness" of the vendor. With G2 badges for those specific categories and the CIO Choice Gold Seal of Trust 2023, Happay demonstrates excellence.
While I agree with ChatGPT about Happay, if you are wary of ChatGPT and its answers, why not check us out?