What is Invoice Automation?
Invoice Automation is a process that helps companies to do away with manual invoice workflows. The automation empowers a software tool to read vendor or supplier's invoices, analyse them, and save them in the appropriate accounts payable system.
Further, it is programmed to match the invoices against the correct purchase orders, process them, and settle the payments to the right vendor.
According to a study,  37% of companies continue manually processing invoices. Additionally, firms spend $40-$50 to process complex invoices and about $7 for simple invoices.
So, not only the cost but the need to create faster workflows necessitates a process transformation. After all, invoice processing automation can improve workflow efficiencies by about 70%.
Read more – 12 Best Invoicing Software for Your Business
How Does Invoice Automation Work?
Manual accounts payable processes can be tedious and paper-intensive, leading to errors and delays. Invoice automation can speed up and streamline your process efficiently. Before we look at how it works, let us look at the types of invoices generally received by any company.
Types of Invoices:
Companies deal with several types of invoices. A standard invoice is the most common type, but there are other kinds too.
1. Standard Invoices
Standard invoices are the most flexible as they automatically fit across industries.
2. Credit or Debit Notes
Credit or debit notes, also known as memos, are issued to raise or lower the value of previously-issued invoices. For instance, you can issue credit notes when businesses offer discounts to reduce the value.
3. Performa Invoices
Proforma invoices are estimates that give customers an idea of the product or service cost. You may modify these invoices later to include the exact number of service hours or units of products purchased.
4. Commercial Invoice
A commercial invoice is a legal and formal document that lists the products that the company sells. Such a document is also necessary to calculate customs duties for across-the-border transactions.
5. E-invoice
Finally, an invoice that is steadily gaining importance is e-invoice. With a unique GSTN number issued by the IRP or Invoice Registration Portal, e-invoices offer a standard and easy mechanism for businesses to transact. In B2B transactions, invoices are authenticated electronically on a GST portal.
Read more – E-Invoicing Under GST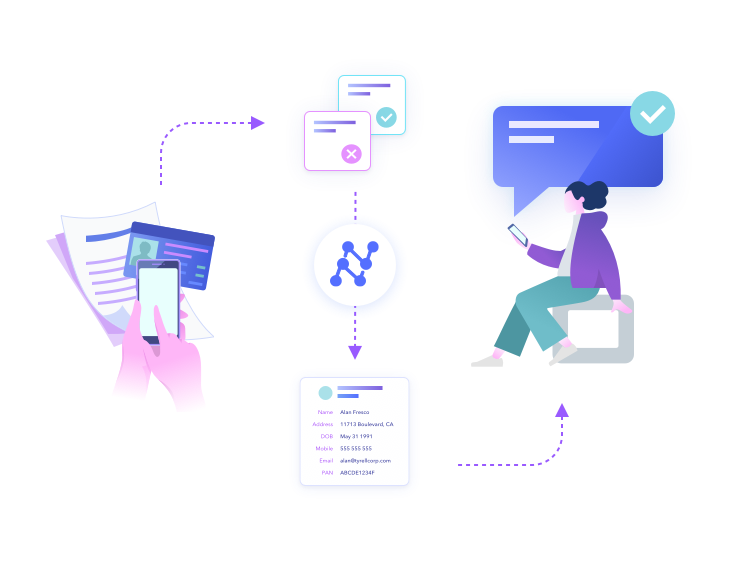 Image Credit: nanonets.com
How Does the Invoice Process Automation Work?
The process begins with identifying the existence of an invoice. Generally, the invoice automation tool picks up a scanned invoice or the document attached to an email sent to the accounting department. The OCR-powered software extracts the relevant invoice data from the digital file.
All automation solutions that process invoices must capture relevant details and compare them against a master vendor file. In the previous step, the invoice processing automation solution that extracts the data checks for validity against the business rules in the master vendor file. At this stage, the file is marked as being under review.
As the accounts payable automation extracts data, it must pass through the validation rules (purchase order, receipts and invoice data must match). When invoice data matches the relevant information, it is classified as verified.
On the other hand, any mismatches will be flagged off and moved to "manual review required" status.
The invoice data is processed in the next stage using general ledger coding. It prepares the information for final export into the accounts payable automation system or the ERP system. Here, the final approval and settlement take place.
The invoices are archived appropriately, ensuring that you have an audit trail.
The Challenges of Manual Invoice Processing
Are you worried about
Regular complaints from vendors
Misplaced invoices
Payments in duplicates
Stretched accounts payable processes
Maybe, it is time to reconsider your manual invoice processes.
Let us look at why the time may be suitable to consider invoice or accounts payable automation.
1. Avoid payment delays
Despite a push for digitalisation, many companies worldwide continue to stick to the traditional ways of processing invoices. One of the most significant challenges with manual business processes is delays. An employee spends about an hour and forty-five minutes on manual invoice processing every eight hours.
Most documents move through different departments in the business to process invoices. Additionally, every company has a unique approval process delaying the process even further.
Delays can cause frustration and seriously affect the vendor's cash flow. It can further hurt your company's reputation as such hindrances can affect your relationship with the vendors.
2. Manual Invoice processing increases the risk of fraud
The Association of Certified Fraud examiners notes that companies worldwide stand to lose about 5% of their revenue to fraud. This amounts to a median loss of about $125,000.
Accounts payable processes face a greater risk of internal and external fraud. Whether it is embezzlement, fraudulent payments, or manipulation of financial statements, manual processing tends to this problem even further.
Such pressures to prevent fraud add to the heavy workload of the accounting department. These pressures eventually lead to errors that are costly to resolve.
3. Strained supplier relationships 
Another big challenge is supplier management. Manual processes mean manual data entry, emails back and forth, miskeyed information, and delayed approvals. Vendor records may not be available in real-time. It can mean long and frustrating conversations with suppliers.
Further, it can also mean that you do not get information about vendor exceptions on time. Ultimately, relationships with suppliers or vendors may be strained or difficult.
4. Errors or Misplaced Invoices
It is very common to see accounting departments using the three-way matching approach. Here, the purchase order, goods receipt, and the vendor's invoice are cross verified before the payment settlement.
Typically, you can identify any discrepancies in invoices this way. Resolving mistakes due to such as incorrect information, missing data, payment without goods, or lost invoices can be tedious and time-consuming.
5. Not visible or scalable
Paper-based workflows do not offer a 360-degree view of the process. This means that information is not updated, and you are taking significant business decisions based on incomplete data.
So, whether it is budgets or strategies, leaders lack the necessary visibility to make better decisions. They do not have access to spend analytics such as KPIs (Key Performance Indicators), insightful reports and other graphics that invoice automation can provide.
Organisations with manual processes face another major issue, and that is scalability. Hiring qualified people for those positions cannot happen overnight if you have to scale up quickly. It is a long-drawn process. However, automated invoice processing solutions can adjust rapidly to such demands.
Read more – 7 Reasons to Automate Your Expense Management
How Does Invoice Automation Improve Workflows in Your Business?
Data extraction, validation, and export of the information to the ERP system happen efficiently and automatically. There are multiple layers of comparisons, cross verifications, and approvals in manual processing.
However, an automation solution ensures that everything is validated according to pre-decided business rules. So, how does invoice automation improve the workflows?
1. Intelligent use of technology
Artificial intelligence-based OCR technology is proving to be a game changer with regard to handwritten or printed physical documents. The technology can select relevant data from invoices, such as supplier name, purchase order number, date, address, etc. You can easily convert invoices into digital files.
Since the information is matched against business rules pre-set in the system, this leads to far more efficient workflows. Further, any mismatches are flagged as exceptions that require manual verification.
2. Machine Learning and Artificial Intelligence to the rescue
Advanced automation solutions promise more than just basic matching and validation. Invoice processing consists of more than just authentication, verification, and settlement. An essential part of the process is analysing data resulting from such transactions and workflows.
With constant feedback (every invoice helps the Machine Learning and AI-based system processes to become error-free), these systems become more efficient. For instance, the invoice automation system can supply the necessary information (where invoices have missing data in relevant fields) based on past patterns.
Artificial intelligence-based automation solutions level it up by offering a two-way validation. So, as your business scales up and the number of vendors grows, the invoice processing system analyses more significant amounts of data. It leads to better and more accurate workflows in time.
3. Analysing and Improving Invoice Processing
Manual processing of invoices can be tedious because a small error can mean significant consequences. It is especially true for businesses with "problem invoices" or invoices that take a lot of effort—for instance, vendors sending incomplete invoices or wrong information.
Artificial intelligence-based invoice automation solutions lighten the load by allowing your finance team to identify these problem cases easily. The accounting department can then track and prioritise such invoices to ensure smoother workflows. Further, identifying such vendors offers an opportunity to address the problem with the vendor.
Read more – Expense Management Workflow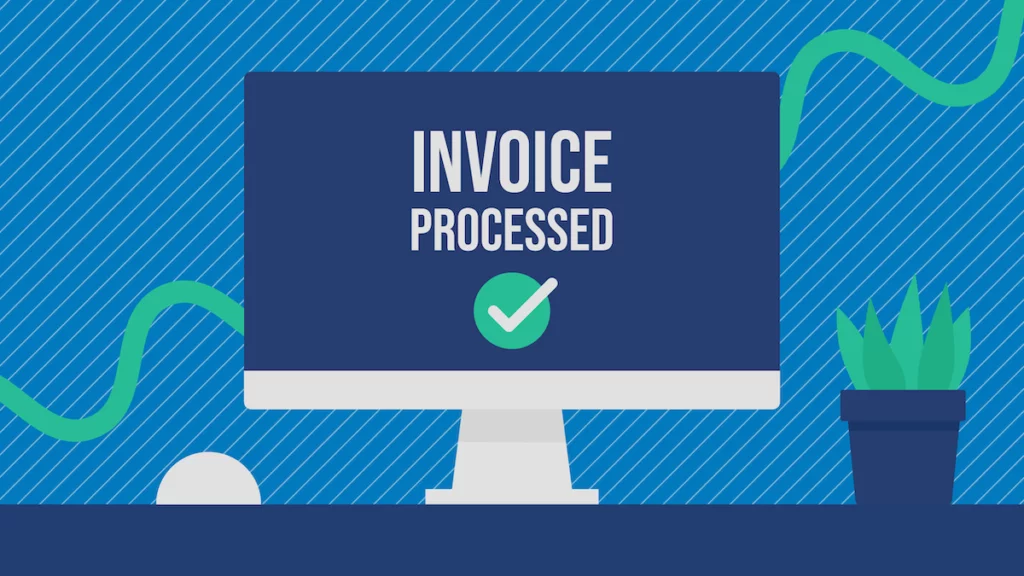 Image Credit: stampli.com
How Can Invoice Automation Help Your Business?
1. Simplifies invoice processing
Generally, manual processing of invoices takes as long as twenty-five days. However, with the introduction of automation, workflows have become quicker and more effective. The time taken to identify, extract, and validate the information reduces dramatically.
Along with eliminating delays, automation completely simplifies the invoice processing process. Whether handwritten or printed, you can scan and extract relevant fields in the invoices accurately.
2. It helps your business's bottom line
When you say "time is money" it sounds like a cliché, but the context here is accurate. Most errors in invoice processing happen in the manual data entry stage. With invoice processing automation, you can mitigate the snowball effect of such errors(interest, re-issuance of checks, etc.).
Invoice data capture is devoid of human involvement, and any discrepancies are flagged off in the early stages. So, automation solutions save time and result in fewer inaccuracies, mismatches, and errors.
3. Better use of employee time
Digitisation, or in this case, invoice automation, offers your employees an opportunity to be more productive. By providing the use of tolls for mundane or repetitive functions, employees feel encouraged to use their time in better ways.
4. Visibility improves and provides businesses more control
One of the most significant advantages of invoice automation is transparency. Automation solutions offer access to information in real-time. You can track the status of the invoices even as it passes through the various stages to settlement.
Apart from transparency, the bigger benefit is the accountability that comes with it. Since invoice processing automation solutions are structured according to your company's approval hierarchies, there is exceptional control over the process.
5. No more pressured hiring
While better employee productivity is a significant benefit, invoice automation reduces the hiring pressure that growing companies face. With existing employees using their time more efficiently, it is easier to assess and approach your hiring needs accordingly. So, when you decide to hire, it is a strategic and well-thought-out business decision.
6. Access to more insightful data
It is a fact that everyone is moving towards becoming more data-driven. On such a journey, legacy systems and manual processes are serious roadblocks. Invoice automation allows organisations to become more digitised while giving firms sharp insights through data collection.
Regular reports will enable you to monitor everything from vendor patterns and high-effort invoices to expenses. The historical data can help to strategise better.
Read more – 10 Best Accounting Software and Systems for Your Business
Image Credit: polarimaging.ca
Common Features of Invoice Automation
A Business Insider report on Accounts Payable Automation suggests that 44% of companies want to consider invoice automation for their accounts payable processes. A strong need to increase efficiency while cutting costs pushes companies to prioritise this.
Let's look at some of the features you need in an invoice automation system
1. Intuitive Dashboards
An intelligent dashboard allows you to navigate through the information you need efficiently. You can track invoices, buyers, sellers, payments, and other financial information without switching tabs or windows.
2. Intelligent Data Capture
The Intelligent Data Capture technology combines OCR (optical Character Recognition) and other Machine Learning models to extract data accurately, classify, and process them. Further, this contributes to better analytics, leading to better business decisions.
3. Real-time access and analytics
Offering real-time access and analytics, invoice processing automation makes your business transparent and allows you to monitor your expenses in real-time. The detail, reports, categorisations, and other analytics that such systems provide allow you to take note of patterns and trends.
As the chief strategist of your company, you will have access to reports such as
Discount forecasts
Delinquent reports
Overdue reports
Productivity reports
Supplier analysis
Exception analysis
4. Automated archival
Archival is an important aspect of a business's invoice process. It is important so it can be accessed when the need arises or for audit purposes. Automated solutions eliminate the need to store paper documents as everything is digitised and stored on the cloud (depending on your vendor) for easy and instant access. Digitised documents offer more control, eliminating the need to maintain physical records.
5. Customisation
An accounts payable automation that digitises invoice processing offers customisation as a feature. Bespoke invoicing features assure that you can incorporate critical internal processes into the system's architecture.
Further, the data from such processes can lead to other process transformations. For instance, you can work on improving the design of the invoices or bills, so it offers relevant information precisely. This will help invoice automation become more efficient.
Another exciting contribution from customised invoice processing systems is the possibility of adding brand-related designs to your documents.
6. Streamlined invoice management
One of the most challenging aspects of invoice processing is that companies receive these invoices in numerous formats. The absence of a standard format makes it tough to identify, categorise, and settle them correctly.
Invoice processing automation contributes to a more streamlined process as documents are classified and stored instantaneously. You may use multiple tags to organise them according to business requirements.
Read more – What is the Procure-to-Pay Cycle?
Steps to Implement Invoice Automation in Your Business
Following the below simple steps, you can implement invoice automation across your business. Here's how you can do it.
1. Examine your existing process
Ask some important questions about how you process invoices in your business. Understanding the existing process is key to a successful digital transformation. Ask who receives the invoices. Find out how much time it takes to process and settle the invoices.
2. You must centralise the invoice management process
Before you automate invoice processes, you must receive all your invoices in one place (physical or online).
3. Identify the invoice automation solution that will work for your business
There are quite a few invoice automation vendors, and you must pick a solution that works for your workflows and other requirements (budget, features, etc.).
4. Make sure the suppliers are onboard with your automation
Suppliers can play an essential role in ensuring that the implementation of invoice automation is hassle-free. If possible, persuade suppliers and vendors to send in electronic invoices.
Conclusion
Invoice automation transforms the invoice processing workflow by offering a software system that scans, extracts, and validates invoices. Then, the system feeds the data into your accounts payable or ERP systems.
Invoice processing automation can dramatically reduce the time taken to process invoices while increasing efficiency all across your business.
Invoice Automation – FAQs
1. What is automated invoicing?
Automated invoicing is the process of using a software solution to process invoices. The software identifies the invoice, extracts data from the relevant fields, categorises the information (according to pre-set tags), and passes the information to the ERP or accounting systems for settlement.
2. How do I create an automated invoice?
With invoicing software, you can easily create an invoice automatically.
You must enter the details of your customer as a new record.
Create a new invoice when you receive an order or a payment
Save the invoice
You can email or send the invoice to your customer
The invoice software can send out reminders whenever invoices are due.
3. What benefits does invoice automation offer?
Invoice automation streamlines the invoice processing workflows while reducing errors and delays caused by manual processing.
4. What is RPA invoice processing?
Robotic processing automation or RPA can process invoices by generating them, reconciling vendor accounts, maintaining audit trails and generating reports for forecasting and other analysis.