Invoice discrepancy
Buyer vendor relationship is like pair skating – both the parties involved must be on the same page for a favorable outcome. One slip or mismatch in movement can result in a great fall in pair skating. The same applies to a business.
You should always have a smooth relationship with your suppliers for your business to flourish. But, as they say, misunderstandings are inevitable in any relationship, and in a buyer-vendor relationship, this comes in the form of invoice discrepancy.
To solve a problem faster, you must always understand it fully. So, here is everything you need to know about invoice discrepancy and how to resolve it more quickly. Read on to know more.
Also, Read: What is Invoice Management?
What is invoice discrepancy?
Invoice discrepancies are anomalies that arise at any point in the invoicing cycle, and this can cause a dent in the buyer-vendor relationship. That is why organizations must never take them lightly and should resolve these issues at the earliest.
For example, you have ordered 12 laptops from a supplier. Imagine you and the supplier have agreed to a certain amount for the 12 laptops during the negotiation stage. However, the supplier mentions a higher price in the invoice sent to you after delivery. This is a classic example of invoice discrepancy.
Also, Read: Purchase Order and Invoices
What are the major reasons for invoice disputes?
Below are some of the most common invoice discrepancies that organizations face. We have also stated the ways you can resolve these discrepancies.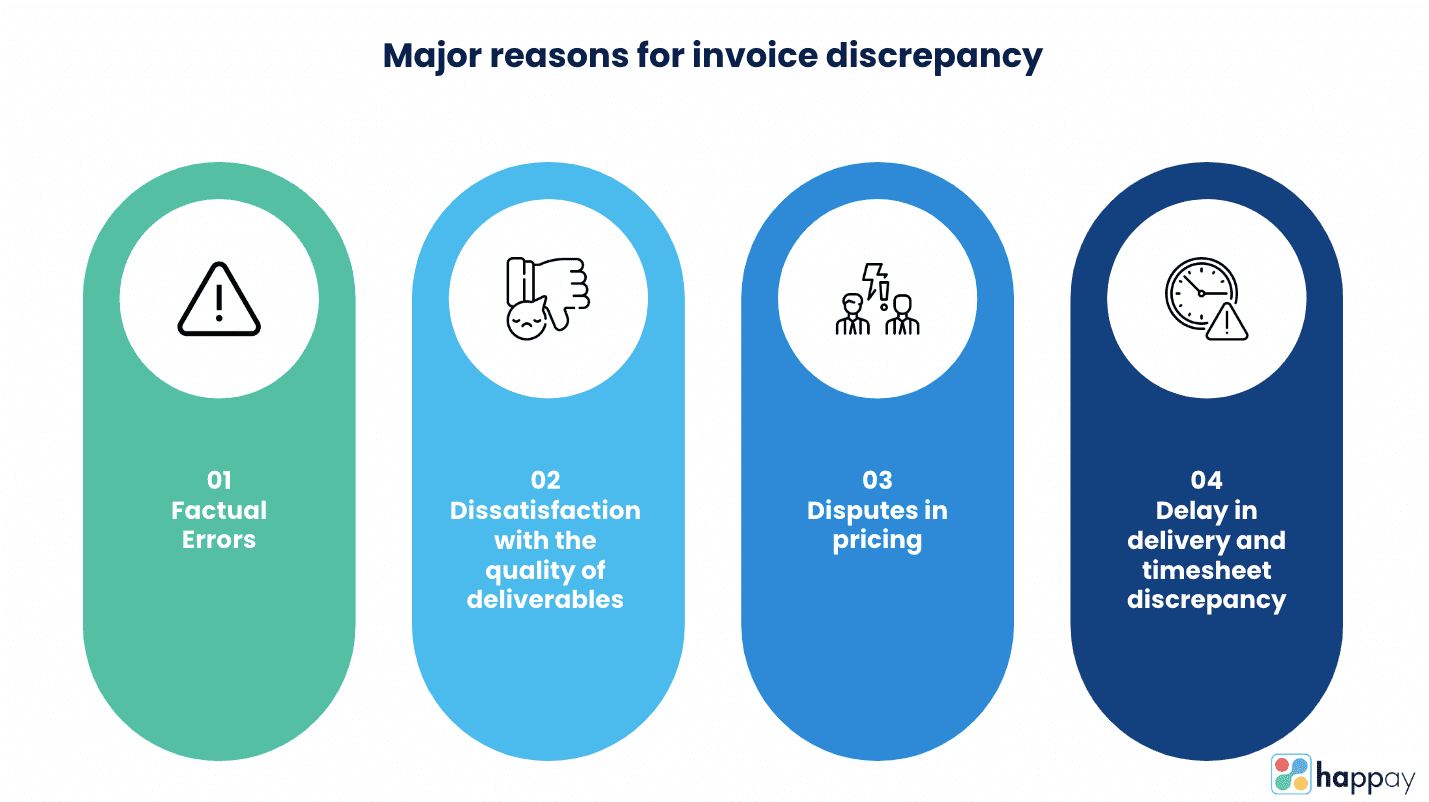 1. Factual errors
Checking the basic information whenever you receive an invoice from a vendor is a no-brainer. When organizations handle multiple sales orders and invoices, mistakes are bound to happen. And most of these invoice errors are fat finger errors that occur when the suppliers rely on manual data entry.
The factual errors could range from an innocent mismatch in date to a discrepancy in the amounts payable. Therefore, it is always best to run a basic accuracy test to check if all the elements and facts are mentioned rightly. Here are some of the parts where mistakes could be committed:
Invoice number (Sometimes, vendors can send the same invoice you had paid for in the past. Make sure the invoice is new)

Name of the company and address

List of deliverables and their accurate prices

The date on the invoice

Total amount payable

The date on which the service or goods were delivered
Error in any of these fields can severely impact your business. So, whenever you spot any mistake or mismatch in the invoice, clear it with the supplier before processing the invoice.
2. Dissatisfaction with the quality of deliverables
Another major reason for the buyer-supplier relationship is dissatisfaction with quality. Friction arises when the supplier does not provide deliverables that do not match the buyer's expectations.
So, when deliverables do not meet your expectations, always convey your feedback to the supplier. Explain in detail what you expect from the supplier and the changes you want. Make sure you deal with the issue professionally if you regularly interact with the supplier.
Also, entering your expectations regarding deliverables and what needs to be done if they do not meet your standards in your contract agreement is better. This can help resolve any future disputes amicably.
3. Disputes in pricing
After the quality of the deliverables, another equally important element is the price of the deliverables. Disputes can arise when the amount you and the supplier agree on differs from the one mentioned in the invoice.
This could happen because of changes in the rates, the addition of hidden charges, and others. If you feel you are overpaying for the goods or services, talk to your supplier immediately and sort it out soon.
4. Delay in delivery and timesheet discrepancy
If your supplier does not deliver the promised goods on the correct delivery date, it can affect your entire manufacturing process. Therefore, ensure the delivery is made within the agreed time and date.
Suppliers can also claim to have spent extended hours working for your service. Remember, the time they spend on such services is directly linked to the amount you will be paying. So ensure the suppliers are not inflating the time to get more money from you. Having an itemized timesheet with work performed by the vendor and its outcome can help you eliminate such claims.
Suggested Read: 5 Simple Ways to Improve Invoice Processing
How do invoice disputes affect small businesses?
1. Delayed payments
Delayed or late payments can disturb the cash flow of your business. Payment is the first process that gets affected when an invoice dispute occurs, which can cause multiple financial problems.
2. Negative cash flow
When your business has more outgoing than incoming money, it is called negative cash flow. Invoice disputes cause negative cash flow, which, over time, will affect your business's overall performance, or worse, it can even bring it to a halt.
3. Bad reputation
Invoice disputes can cause irreparable damage to your brand image. Your existing and potential customers will start thinking twice before working with you. That's why we think you should never take invoice disputes lightly.
5 ways to effectively solve invoice discrepancies?
Here are some of the solutions that can help solve invoice discrepancies:
1. Talk and investigate
Most invoice discrepancies happen because of an innocent, unintentional error. A misplaced zero, an extra decimal point, or a genuine typo could be the reason for the discrepancy. So, ensure you hear the other side of the story before rushing to judgments. Talk and investigate about the issue and then try solving the dispute amicably.
2. Make the customer understand
Don't start accusing the customer is in the wrong. Explain to them and make them understand the mistake is from their end. If they are still unhappy, ask them to bring the supporting documents.
3. Suggest a mutually beneficial solution
What if both parties are at fault? The smartest thing to do is sit and talk it out and then arrive at a mutually beneficial solution. You don't have to compromise all the time. Communicate your genuine concerns and meet the party halfway.
4. Escalate
If all the above steps fail, it is time to escalate the issue. First, try solving the issue internally. If the customer is still not ready to accept it, then escalate the issue and choose a route to solve it. After all, the customer is not always right.
5. Use your legal rights
Some issues can only be solved if you take the route. When you have no other options at your disposal and still want justice, using your legal rights is the way to go. Check your contract and use it while you deal with the issue legally.
Quick Read: A Guide to Invoice Automation
How to avoid invoice discrepancies?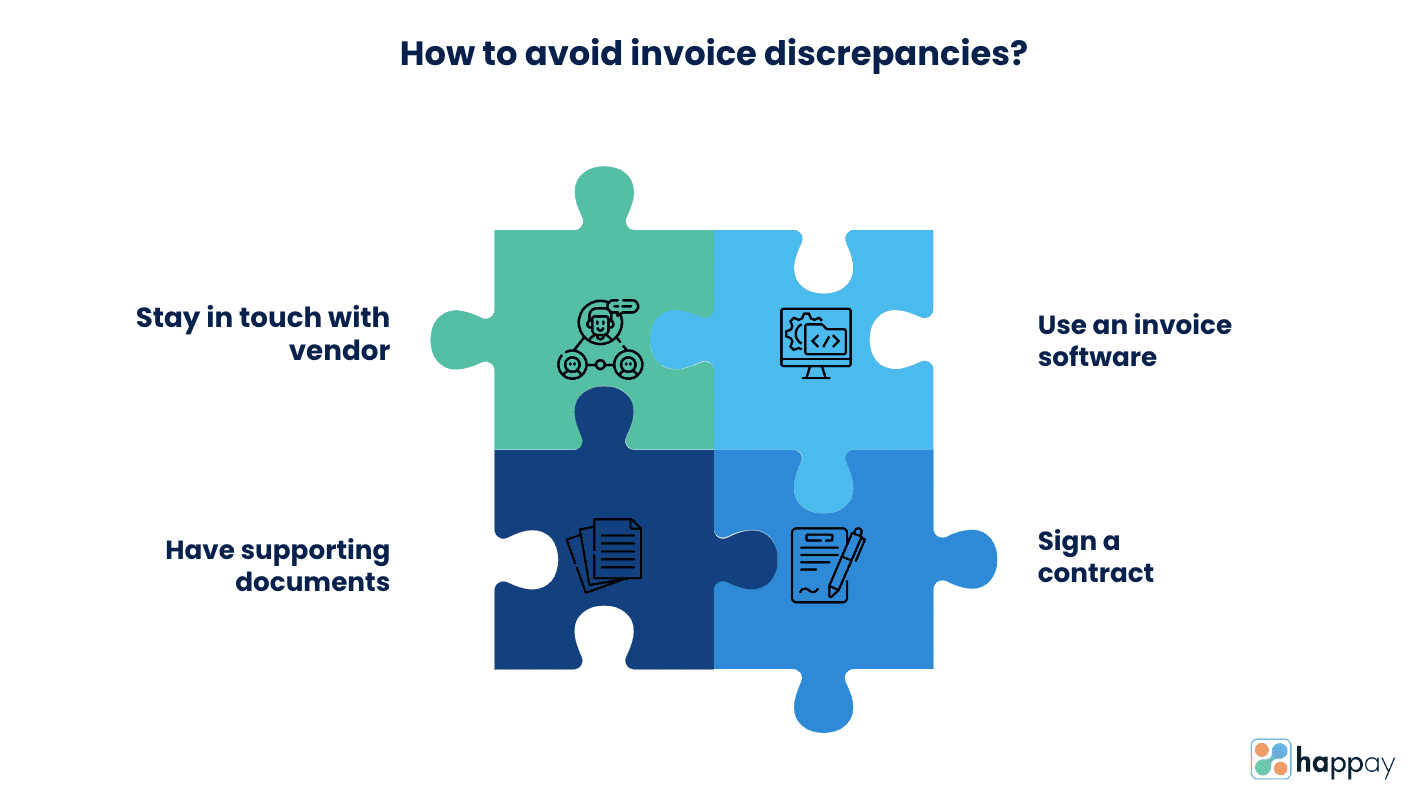 a) Stay in touch with your supplier/vendor
Build a friendly relationship with your supplier and stay in constant touch with them. Whenever there is an invoice discrepancy, you can always call or mail them and get the issue resolved.
b) Use an invoice software
Suppliers and vendors must use invoice software or application to avoid invoice discrepancies. While using the software, most of the process is automated, and there is no chance for human errors such as calculation mistakes, incorrect invoice dates, errors in the amount payable, etc. 
c) Sign a contract
To be safe, we recommend you sign a contract with your vendor that clearly states the price for each good or service, delivery date, quality, payment method, payment date, and others. In the worst-case scenario, you can always use the contract to take legal action.
d) Have supporting documents
Always have supporting documents to avoid billing discrepancies. You can easily refer purchase order numbers, quotations, credit notes, and other important information if you have supporting documentation.
Also, Read: What is Invoice Financing?
FAQs
1. What should you do if you find an invoice discrepancy? 
Whenever you find a discrepancy in your invoice, contact your vendor immediately and address the issue. The faster you get the problem sorted, the better it is for your organization. 
2. How do you email an invoice discrepancy?
Here are the steps you need to follow to email an invoice discrepancy: 

a) Send an email mentioning the dispute or discrepancy to the concerned vendor 
b) As an attachment, include the invoice in the email.
c) Till the issue is resolved, retain the email and the invoice 
d) Call the vendor and notify the issue over the phone
3. What happens if an invoice is incorrect? 
 A business must issue a cancellation invoice with a new invoice number if it sends you an incorrect invoice.
4. How to resolve discrepancies in invoices? 
Follow the steps given below to resolve invoice discrepancies:

a) Check your purchase order
b) Ensure it matches the quotation
c) Send an invoice dispute letter
d) Ask for corrections