Expense reporting has always been a behavioural problem and not a technology problem. So, when it comes to using T&E analytics, the key is to look at the data on employees' behaviour.
A T&E platform provides data from every aspect of the expense reporting process. By delivering analytics about expenses and expense reports in real-time, companies get detailed insights into their employee's T&E behaviour.
These behavioural trends can help companies determine the risks they face, how to enhance and extend the processes that make them run more effectively, and whether organizations' investments are focused on the right areas.
Let's have a detailed look at the various ways analytics can transform the T&E function of your organization:
1. Greater Policy Control:
As per a McKinsey report, 35% of Asian business travellers subject to company travel policies do not always strictly adhere to them.
Expense analytics reports give you a clear view of policy-violation trends. For example, if many employees violate a similar set of policies, those policies might need a little tweaking. On the other hand, these reports also identify repeat offenders. This means that organizations can maintain internal policy compliance while improving the employee experience.
Happay provides customizable end-to-end spend reports on T&E spending. The system configures predefined charts for you here based on the metrics you wish to track regularly.
If you want to slice and dice any of the charts further, Happay can add that in filters to make it quick & easy for you to get to actionable insights quickly.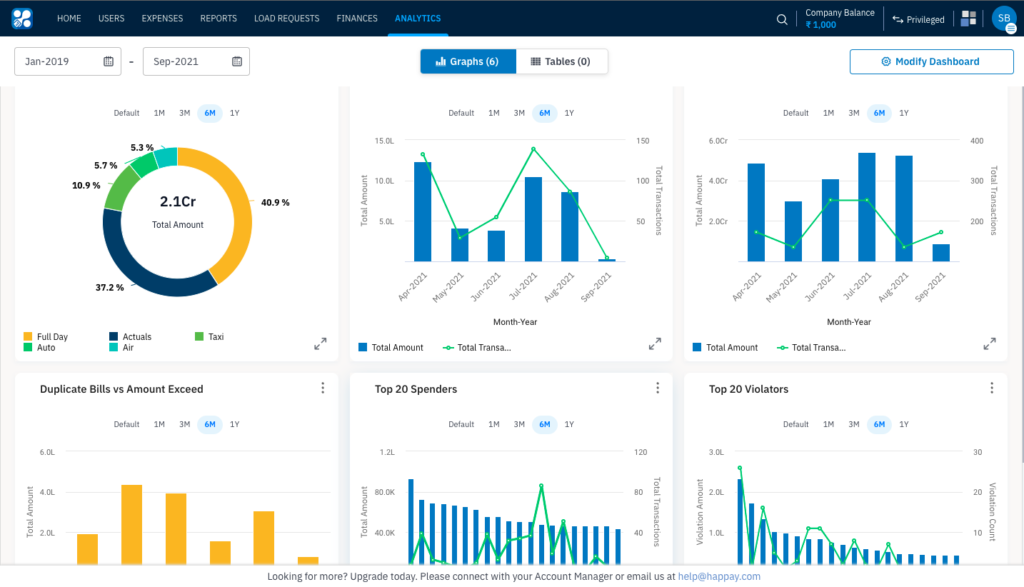 2. Improved Vendor Management:
T&E analytics help uncover the frequency and the amount of money spent on various merchants. If a particular vendor is being utilized frequently, companies can consider negotiating a discount or subsidy. This way, organizations can cut costs and increase their networking connections with preferred suppliers.
3. Categorized Spend Trends:
T&E solutions can provide you with categorized expense reports, whether department-wise, region-wise, or project-wise. For example, If your company has branches in various cities, you can analyze how these departments are spending across cities. One can also pick out the best practices from the most cost-effective departments.
Similarly, project-wise spend analysis can help companies understand what they did differently compared to previous projects. This can further act as historical data for the company when shaping budgets for other projects in the future.
T&E platforms like Happay provide you with an analytics module that shows both group-level and company-level data for your organization's entities. The Group-level data is helpful for your centralized teams and stakeholders so they can monitor spending patterns and money leakages and identify cost reduction opportunities at scale.
The Entity-level data, on the other hand, can be accessed by respective CFOs and a few finance team members, as requested. There are also role-based controls to manage access to sensitive data and ensure that only a select few in your organization have access to these reports.
4. Visibility on Turnaround Time:
With analytics, Finance leaders have complete visibility of the turnaround time of the following steps:
T&E platform to report
Report to Approval
Approval to Verification
Verification to Reimbursement
With end-to-end transparency in the T&E process, finance teams can do the following:
Reduce the turnaround time for employee reimbursements
Improve the processes which currently lag
Have better control over the team's productivity
End-to-end visibility plays a crucial role in helping stakeholders understand the gaps within policies and teams. It also helps finance make strategic decisions rather than just working as an operational function.
5. More Strategic Decisions:
Analyzing major T&E expenses has become even more crucial in the post-pandemic era. Understanding historical data and mixing it with real-time stats is the key to seeing how travel spending patterns and choices evolve. These trends can help companies predict future travel expenditures and make a budget accordingly.
The human behaviours uncovered from the expense trends can also help organizations re-structure their compensation patterns. For example, if employees are claiming a particular expanse every month, let's say – phone bills or fuel costs, then the organization might want to add it to their salary component. This would allow employees to enjoy better tax benefits.
T&E analytics helps organizations understand patterns, figures, and behaviours that otherwise go unnoticed. By acquiring robust statistics through an integrated system and interactive expense analysis dashboard, companies can gain maximum benefits from their T&E platform.
If you want to uncover the full potential of T&E analytics, schedule a demo with Happay today.