What are Incidental Expenses?
Businesses can't account for every single expense they make. This happens because some expenses are so small and unpredictable that they never appear during budgeting or budget analyses. These types of nominal costs are called incidental expenses.
Incidental expenses occur parallel to more considerable expenses but are often unplanned and do not have a paper trail. In other words, incidental expenses are those costs that do not appear on the main bill.
Most of the incidental expenditures arise from travel-related activities for businesses that heavily invest in travel. Things like meals, lodgings, and commutes have other auxiliary costs like tips, room service, baggage handling fees, valet, etc., that come under incidental expenses.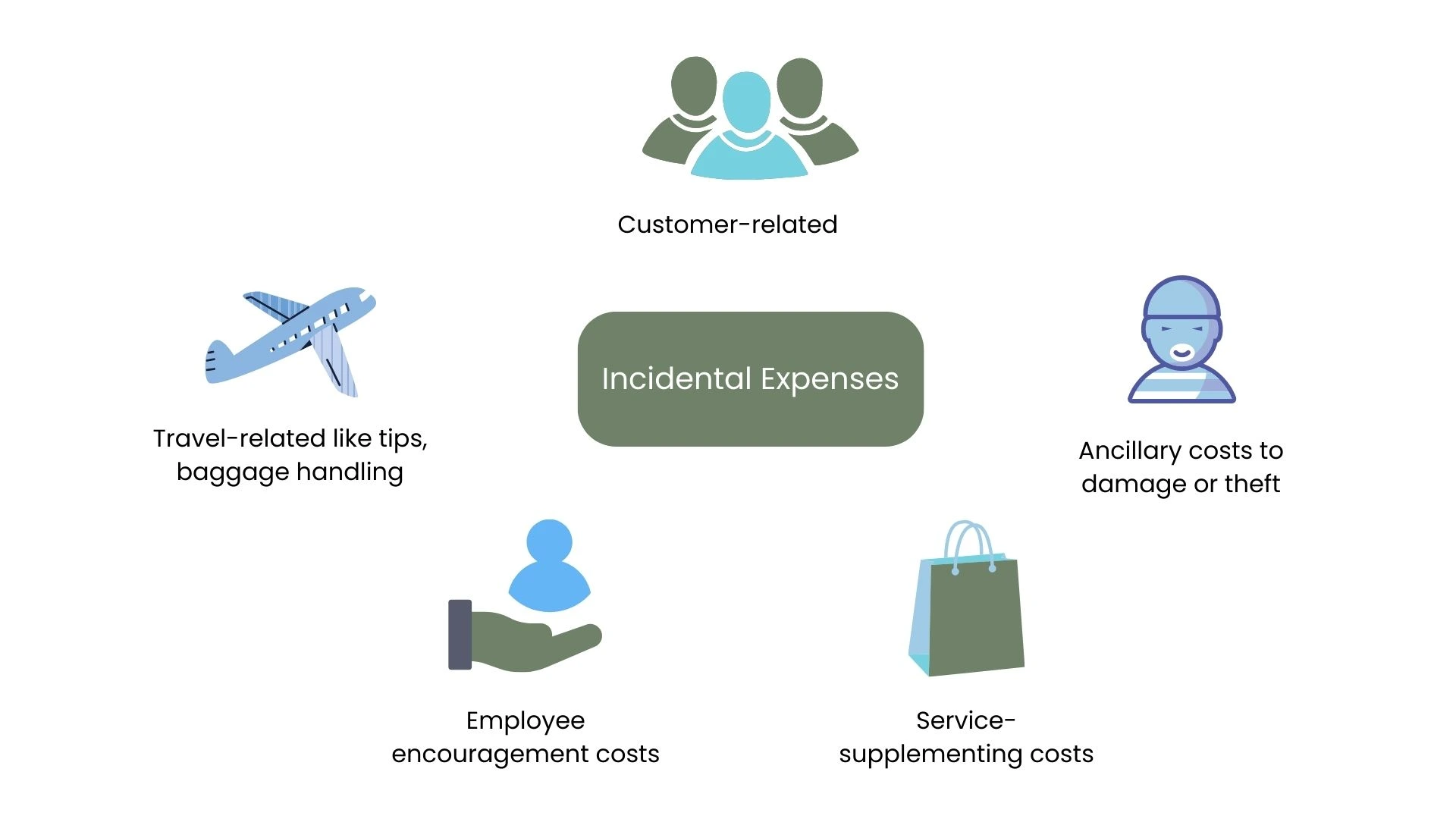 Types of Incidental Expenses
Incidental expenses are not limited to travel-related spending. They can be incurred on any main expenditure as an ancillary cost. Let's discuss some of the most common incidental expenditures businesses incur.
Travel-related expenses
Travel expenses account for the majority of incidental costs. They include petty spending like baggage handling, staff tips, phone bills, laundry and dry cleaning fees, etc.
Customer entertainment-related expenses
Companies often appease customers with gifts or perks. Extra expenses can be involved with these gifts like wrapping papers, bows, ribbons, stickers, flowers, cards and goodies. These costs, along with the delivery cost, come under incidental costs.
Ancillary cost of theft or damage
Incidental expenses are accessories to significant expenses like repairing and replacing damaged or stolen goods. Moving, storing, and renting goods for temporary replacement can also be accounted for as incidental expenses.
Employee-encouragement costs
Management often indulges employees by giving them out-of-the-ordinary perks like food during meetings, newspapers or magazines in the break areas, free snacks, etc.
When unplanned, these extra expenses that foster employee encouragement can be categorised as incidental expenses. Even the costs incurred for minor celebrations like employee birthday cakes, candles etc., are incidental.
Service-supplementing costs
The packing of goods, commission on services and other minor service-supplementing costs are also incidental expenses for businesses. These are charged by the company or suppliers to the customers and get reimbursed for the business. In other words, the monetary value of any activity that is ancillary to the supply of certain goods and services is an incidental expense.
These incidental expenses add to the value of the supply. Section 15 of the 2017 Central Goods and Services Tax Act states that reimbursable incidental expenses will add to the total monetary value of the supply for service tax purposes.
Subsection (2)(c) of Section 15 of the CGST Act states that:

(The final value of the supply will include)…

"Incidental expenses, including commission and packing, charged by the supplier to the recipient of a supply and any amount charged for anything done by the supplier in respect of the supply of goods or services or both at the time of, or before delivery of goods or supply of services."
Challenges with Incidental Expense Management
Difficulty in tracking
Incidental expenses may come with or without receipts. Employees cannot keep receipts of the tips they give to hotel or restaurant staff. Even the costs for which employees can get bills like room service bills or gift wrappers are sometimes so minor that employees forget to keep their receipts. In the end, employees end up spending out of their pocket.
Employee expense fraud
The lack of receipts and a paper trail of incidental expenses harms can harm businesses that have a travel policy stating that incidental costs are reimbursable. It can thus encourage employees to commit fraud and claim higher amounts than is warranted. They can file for the maximum reimbursable limits for all categories of incidental spending and keep the difference for themselves.
Learn about other types of expense fraud here.
Uncertainty in employee reimbursement
Timely employee reimbursements contribute to higher employee satisfaction and motivation by reducing the financial burden of the employees. Sadly, in the case of incidental expenses, repayments become tricky due to a lack of receipts.
Businesses have different methods of managing incidental purchases and reimbursements. Some allow a certain accepted reimbursable amount for incidental expenses beyond which the employee has to pay out of pocket. While this method can save money for the company, it might also lead to dissatisfaction in employees.
Unplanned expenses
Incidental spendings are unpredictable and unplanned, especially in travel-related activities. You cannot determine the average tip rate for bellhops or conventional dry-cleaning prices of the cities your employees are travelling to. As a result, it becomes challenging for finance teams to budget for these expenses if they wish to do so.
Data contamination
Since incidental costs do not have documentation backing, the employees manually enter the reimbursement amounts during reimbursement filing. Manual input methods often lead to inaccurate data inputs due to innocent human error.
While incidental costs are small, for large enterprises that invest heavily in business travel, these incidental expenses can add up and amount to a significant sum. Any form of data contamination becomes harmful in such cases because if it goes undetected for too many quarters, it can skew the financial analyses and forecasts of the company's funds and cause the profit and loss accounts to fluctuate.
What is Petty Cash?
When businesses set aside a certain amount of company money to pay for incidental expenses, it is termed petty cash. Petty cash allotment helps the finance teams manage incidental expenses and employee reimbursements.
Petty cash funds go through regular observations and reconciliations. The transactions made from petty cash funds are recorded on financial reports. Companies can allot petty cash funds on a departmental, project or individual basis.
Petty cash management is tricky since it is difficult to account for minor expenses. A lack of transparency in petty cash disbursements and spending leads to inconsistent expense reporting.
However, technology can now help finance officers manage petty cash with fewer challenges. For example, Happay has a petty cash management solution that combines the power of technology with robust expense policies.
Make Incidental Cost Management Easy with Happay
Happay offers pre-paid petty cash cards that make cash disbursements seamless, increase transparency, and make incidental expense management effortless. Employees can use the card to pay directly for minor expenses and do away with the tedious reimbursement processes.