What is ERP Software?
ERP Software or Enterprise Resource Planning Software forms a vital link between all the critical core processes of a business. For instance, in any organization, the fundamental processes in departments, such as
Human resources
Finance
Marketing
Sales
Procurement
Inventory management
Accounting, and
Compliance
churn out data and information regularly. The enterprise resource planning software system helps users access information across functionalities. It eliminates the challenges that arise from siloed information and the inefficiencies of using multiple incompatible technologies.
ERP software assures access to relevant, complete, and accurate information.
Also, Read: What is Cloud ERP Software?

List of 10 best ERP Software
A quick comparative analysis
Before we delve into the details of the best ERP software, let's look at how they compare.
| | | | | | |
| --- | --- | --- | --- | --- | --- |
| Name | Market segments | Free Trial | Number of users-best for | | Mobile Capability |
| | Mid-size to large enterprises | Yes | 501-1000+ users | 4.3 | No |
| | SMEs to large corp. | Yes | 1-1000+ users | 4.1 | Yes |
| | Startups, small, mid-size, and large companies | No | 2-1000+ users | 4.1 | Yes |
| | Startups to public companies | Yes | 11- 1000+ users | 4.2 | No |
| | Small and mid-sized | No | 2-500+ users | 4.5 | Yes |
| | Small and mid-sized | Yes | 1-500 +users | 4.3 | No |
| | 5 key industries- Manufacturing, energy, utilities & resources, service, construction & engineering, & aerospace and defense | No | 201-1000+ users | 3.8 | Yes |
| | Manufacturing and Distribution Companies | Yes | 1-1000+ users | 4.2 | Yes |
| | Small, mid-size and large enterprises | Yes | 11-1000+users | 4.6 | No |
| | Entrepreneurs, mid-size and large enterprises | Yes | 201-1000+users | 4.3 | Yes (not iPAD) |
A closer look at the ERP Software
SAP S/4HANA Cloud is most suitable for enterprises and offers a complete enterprise resource planning solution. Backed by AI, Machine Learning, and Advanced Analytics, the software helps companies to navigate business challenges and changes. You may use the predictive power of AI to adopt new business ideas with confidence.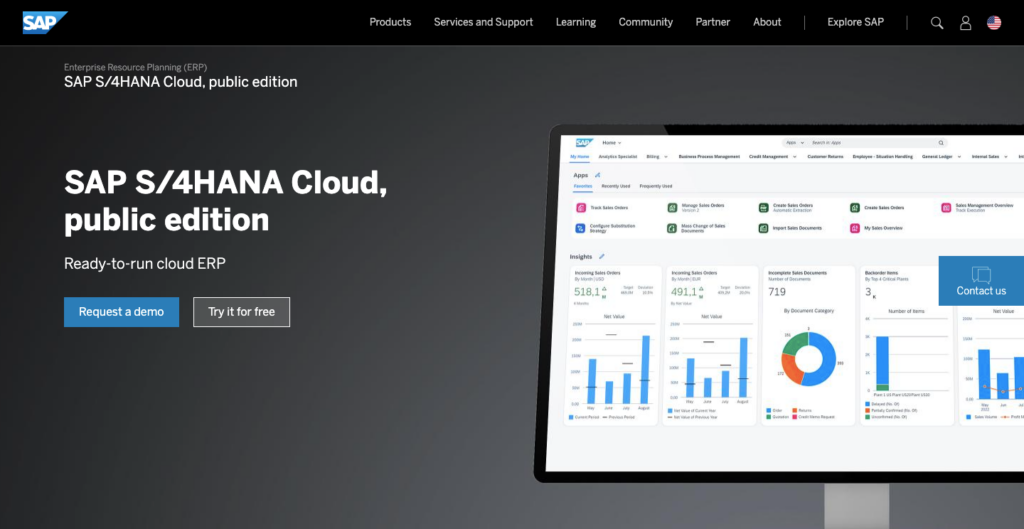 SAP S/4HANA Cloud Features
AP and AR automation
Multi-Entity / Consolidation
Invoice customization
Reconciliations and audit-ready
SAP S/4HANA Cloud pros and cons
| | |
| --- | --- |
| Pros | Cons |
| 1. A reviewer feels that it works irrespective of the industry, and that is a plus point. | 1. A reviewer on G2 says that the user experience, look, and feel of the dashboard may be improved for the management. |
| 2. The real-time analytics feature is a plus point as users appreciate the access to real-time information. | 2. A reviewer on G2 has trouble with the complexity the interface presents for someone without prior experience with SAP |
SAP S/4HANA Cloud Pricing
SAP S/4HANA Cloud offers a free trial. If you are a large corporation and would like premium consulting or integration services, there may be a setup fee involved. While the pricing for the services is unavailable, you may contact them to learn more.
Also, Read: 10 Best Expense Management Software
Odoo ERP is an open-source software system popular among several businesses worldwide. Ensuring the best services at reasonable prices, Odoo promises easy integration and customization so your business can function effortlessly without disruptions.
The platform promises easy data migration and effortless training to ensure your processes are more simplified and straightforward. Odoo's intuitive database meets several everyday business needs, such as Sales, Projects, Inventory, CRM, etc.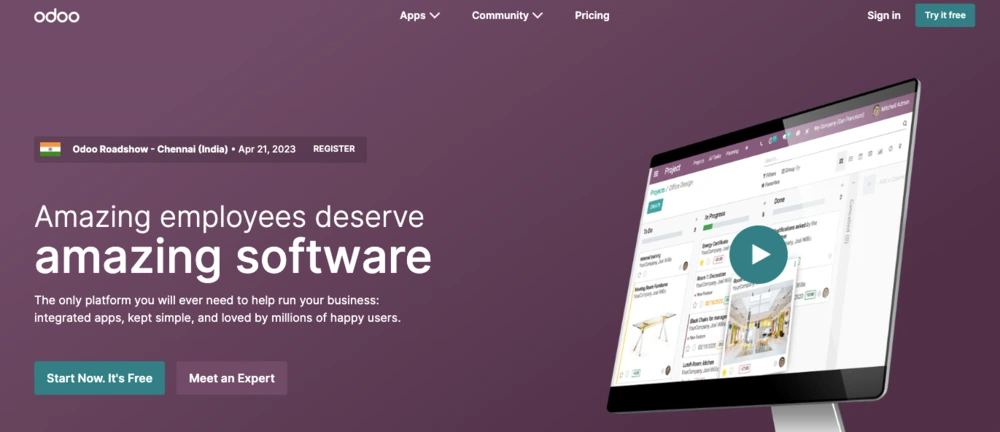 Odoo Features
Among the many features you can access, here are the most common.
Dashboard facility
Customized platform
Customizable categories, dimensions, or classes so you can tag transactions in GL
Automated payment processing
Customized invoice management
Streamlined procure-to-pay process
Odoo Pros and Cons
| | |
| --- | --- |
| Pros | Cons |
| 1. The plus point, according to reviewers on G2, is that Odoo has several modules making it apt for small businesses. | 1. According to one reviewer, if you are inexperienced with ERP configurations, upgrading or changing to a new version is tough. |
| 2. What works for Odoo is that it is open-source and free. Plus, the built-in free apps are a bonus. | 2. One user on G2 does not appreciate the poor user interface and that some free apps are only available in the Enterprise plan (which is not free). |
Odoo Pricing
There are three possibilities when it comes to Odoo pricing plans. You can subscribe to "One App" for free. Then, there are the Standard and Custom pricing plans.
You can subscribe to the Standard Plan at ₹ 570 per user per month. This plan gives you access to all the Odoo apps.
Similarly, the Custom Plan is available for ₹ 870 per user per month. It gives you access to all apps, Odoo Online, Odoo On-premise, Odoo Studio, multi-company, and an external API.
Suggested Read: 10 Best Business Budgeting Software
Oracle Netsuite ERP is well-known as a management solution that has been in existence for more than 15 years. Oracle ERP first began with ERP systems that focused on financials to afford better visibility and control over business operations.
Over the years, it has steadily moved into inventory management, omnichannel commerce, HR, and professional service automation.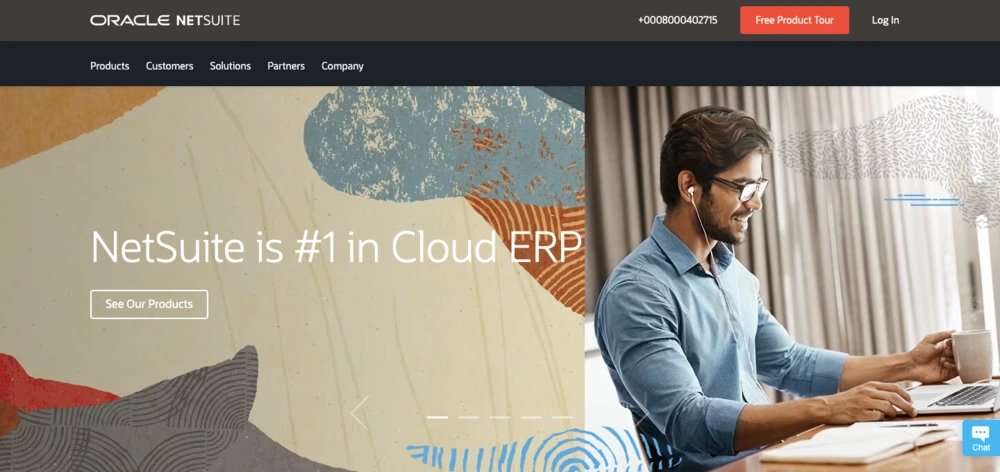 Oracle Netsuite Features
Centralized dashboard for easy user access
Netsuite offers access through a mobile device
Offers pre-packaged integrations to a variety of add-on tools and software
Promotes standard and ad-hoc reporting abilities
Oracle Netsuite supports multi-currency transactions, offers multi-language and taxation features
Oracle Netsuite Pros and Cons
| | |
| --- | --- |
| Pros | Cons |
| 1. The level of customization and performance is a plus point among other full-service ERP systems. | 1. A user feels that the learning curve is steep and the lack of training on the front end is a downside. |
| 2. Users seem to be impressed by the ability to copy transactions and update essential data without retyping information. | 2. A user mentions that the lack of training material or tutorials makes creating new searches/reports a lengthy process. |
Oracle Netsuite Pricing
A user license is required for the users in any organization. You can also choose modules within Oracle NetSuite (à la carte) and bundle them to suit your needs. Also, you could pick ERP vendors who provide solutions that suit your industry.
Pricing depends entirely on the chosen plan, modules, and customization. You must contact Oracle Netsuite to learn more about pricing plans that suit your needs.
Quick Read: 10 Best Financial Management Tools for CFOs
Sage Intacct is a cloud-based accounting software system that helps organizations to increase operational efficiencies and access valuable financial insights. The ERP platform leads to better productivity and increased profitability.
Sage Intacct offers several accounting software and applications, such as order management and cash management, accounts payable and receivable, and general ledger applications. A flexible and scalable solution, they support your finance teams to account smarter and more efficiently.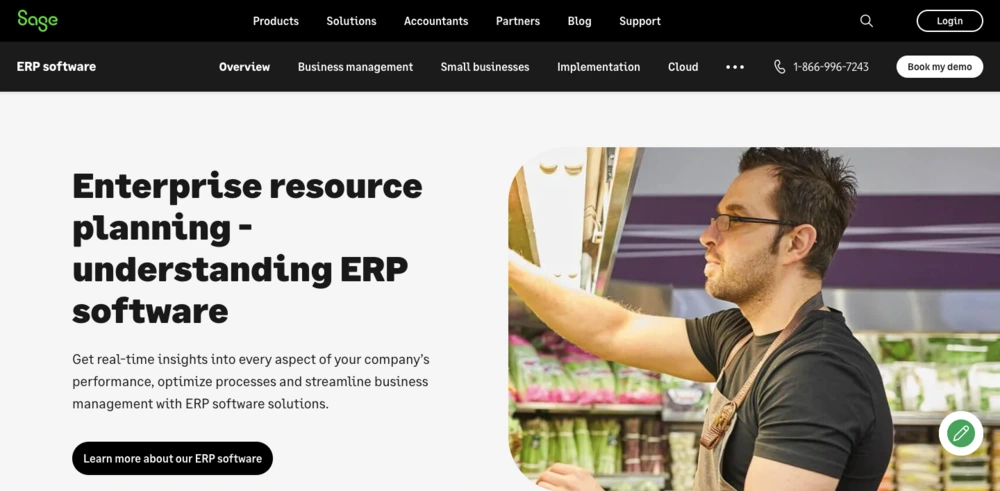 Features
Built-in dashboards for access to real-time data
Real-time reporting
Time and expense management
Project accounting
Revenue management
Global consolidations for subsidiaries or entities of the organization
Industry-specific ERP systems
Sage Intacct Pros and Cons
| | |
| --- | --- |
| Pros | Cons |
| 1. A user on G2 appreciates the increased control on inventories and the reporting leading to better decision-making abilities. | 1. One user looks forward to being able to save attachments with names rather than system-generated numbers. |
| 2. Another user appreciates the convenience that comes with the accounting system, as everything from reporting, accounting, and budgeting to retention is done through Sage Intacct. | 2. Users say that it is not easy to issue a cheque using the system and then code it into the cash management system. |
Pricing
The cost of implementing Sage Intacct as an ERP software system across your organization will depend on the size of your company, the modules you choose to implement, and the number of users. For more details, check out their website.
Recommended Read: 11 Best Billing Software for India
Owned by EQT partners, an investment company, Acumatica offers cloud-based ERP software to customers worldwide. They offer an adaptable cloud and mobile technology that uses a user licensing model.
The ERP system gives you access to a complete and real-time view of your organization anytime and anywhere. The software is designed to help small and mid-sized companies navigate the changing dynamics in today's market.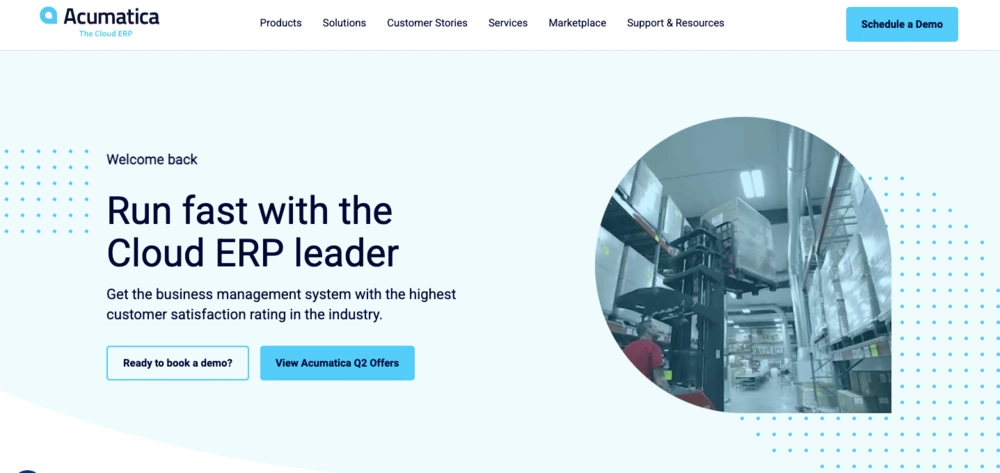 Features
Real-time insights through any device, anytime, and anywhere
24/7 access to business tools and functions
Cloud-based ERP software improves day-to-day operations
Business management and customer interactions through any device
Streamlined integrations make collaborations seamless
AI-powered automation drives efficiency
Flexible licensing plans and transparent pricing
Acumatica Pros and Cons
| | |
| --- | --- |
| Pros | Cons |
| 1. Users appreciate that it is a cloud-based platform making bill payments from anywhere easy and quick. | 1. The design or the format of the pages is inefficient, as users must scroll down if they want to move to the next page. |
| 2. A user on G2 says that he likes the simple interface that is scalable and customizable. | 2. One of the cons of using Acumatica is the multiple 3rd party integrations, yearly upgrades, and customizations. Both add effort and complications to administration |
Acumatica Pricing
The pricing details for Acumatica are unavailable. However, you can contact them to understand what it will cost to deploy Acumatica across your organization.
Also, Read: 6 Best Cash Flow Management Software

Tallyprime offers a single business management platform that helps you to manage invoicing, accounting, inventory, banking, payroll, cost management, etc. Designed to be intuitive and easy to integrate, TallyPrime offers a simple solution to your ERP software requirements.
TallyPrime is used by more than 2 million small and mid-sized companies across the globe, including those in Engineering, Transportation, IT, and financial services. Different modules can help you address specific concerns.
For instance, the accounting module streamlines tasks like bank reconciliations, entry management, and other accounting-related automation. You can also use the dashboard to record, track, and manage the numbers.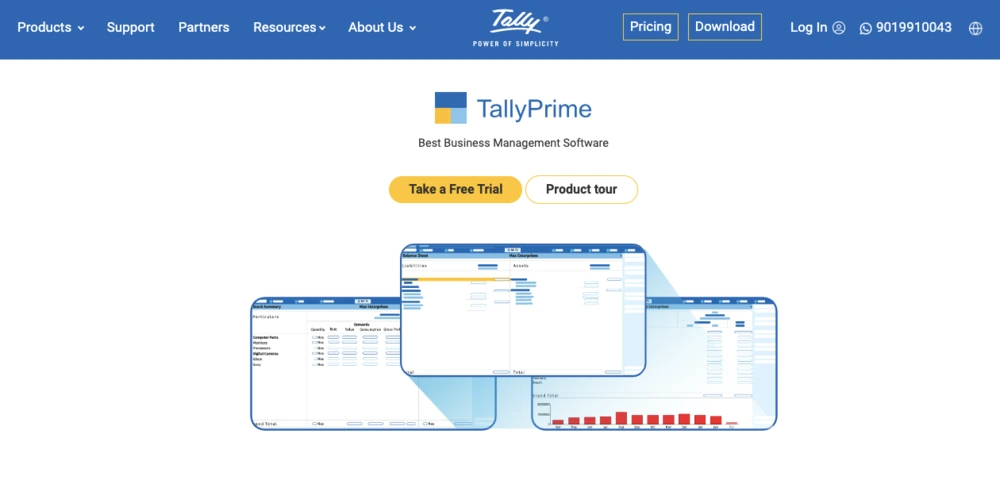 Features
Invoicing and accounting
Inventory management (inventory reports, stock valuation, batch and expiry monitoring)
Business reports (customized and insightful)
GST-compliant invoices
Credit and cash flow management
Banking features (auto-reconciliations, bank cheques format, and management)
TallyPrime Pros and Cons
| | |
| --- | --- |
| Pros | Cons |
| 1. Users are happy with the new user-friendly interface and the user support system as the issues are addressed as quickly as possible. | 1. A G2 user feels that when saving reports, the interface should have the capability to prompt previously-used addresses of folders used previously. |
| 2. Users on G2 love that tally prime provides powerful tools for generating financial reports and analyzing business performance. | 2. A G2 user feels that it is poor at handling Forex-related transactions. It lacks a Fixed Assets register, and he feels that the data has to split every year as the period-end process lacks clarity. |
TallyPrime Pricing
TallyPrime offers 4 pricing plans- Silver Rental, Silver, Gold Rental, and Gold.
Silver Rental – This plan is a single-user edition for standalone PCs. You can choose the signing up period according to your need. It costs ₹ 600 per month + 18% GST (₹108).
Silver – This is a perpetual plan, and is a single-user edition for standalone PCs. It costs ₹ 18,000 + 18% GST (₹3,240).
Gold Rental – This plan is an unlimited multi-user edition for multiple PCs on LAN. You can choose the signing up period according to your need. It costs ₹ 1,800 per month + 18% GST (₹324).
Gold – This plan is an unlimited multi-user edition for multiple PCs on LAN. This plan is suitable for those who would like a perpetual plan. It costs ₹ 54,000 per month + 18% GST (₹9,720).
Also, Read: 9 Best Accounting Software for Small Business
IFS is focused on providing a single platform for Cloud-based ERP software for organizations worldwide. Whether your core business is manufacturing, asset management, or a service-central one, IFS's single platform based on a single data model assures its best.
With over 5000 employees worldwide, IFS's ERP automation promises you better control in the changing markets, cost savings, and better insights and efficiencies across your business-all through a single centralized ERP solution.

Features
Better financial data visibility through access to real-time transaction information
Eliminates manual errors and improves efficiencies through digitization
Cash planning and cash flow forecasting are based on reliable numbers
Closing and consolidation capabilities improve as data is backed by insights for all stakeholders
Identify and leverage opportunities quicker, leading to better margins
IFS pros and cons
| | |
| --- | --- |
| Pros | Cons |
| 1. Users appreciate the navigational ease of the application, customizable menus, and knowledge-based forums (for troubleshooting and others). | 1. A G2 user mentions that the response time to fix a technical issue can be extended (in some cases, he has waited for months). |
| 2. Users appreciate the flexibility and customization of the application. Further, there is good support from the local support partner. | 2. A user feels that the lack of integration with third-party tools such as Slack or Outlook prevents optimal coordination. |
IFS Pricing
IFS has not provided pricing information. You can contact them for the latest pricing information
Suggested Read: Top 6 Enterprise Payment Software
SYSPRO offers ERP systems to manufacturing and distribution companies and several others. They have over 40 years of experience, allowing them to give you what you need. They can deploy the ERP system on-premise, cloud SaaS or hybrid, and can be accessed through mobile devices, anywhere and anytime.
Focusing on simplicity, they offer a user interface that is intuitive and easy to navigate. Their web-based UI offers universal access and innovative features that work across industries. With an approach that assures you get the best, SYSPRO provides a platform that streamlines your supply chain and offers greater control and visibility.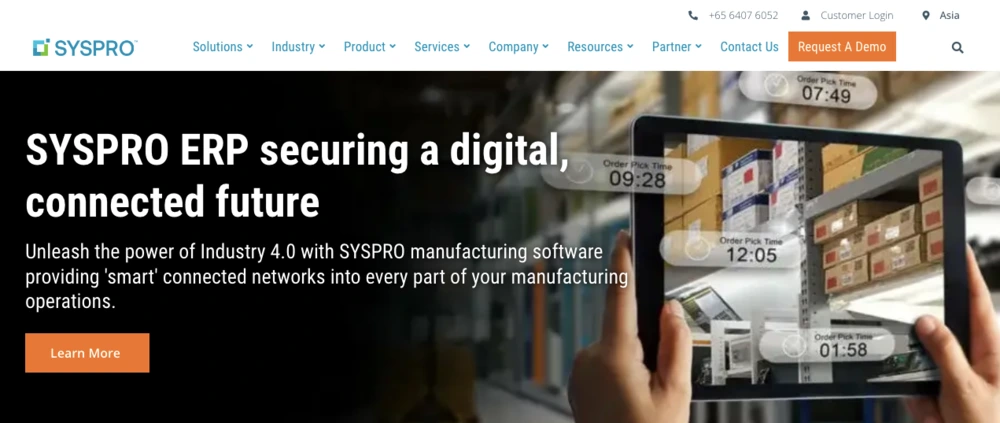 Features
Functionalities in manufacture operations management
Inventory organization and management
Self-service portals
Out-of-the-box integrations
Ability to integrate AI, ML, and IoT into ERP systems
Greater visibility and engagement through integrated solutions
SYSPRO Pros and Cons
| | |
| --- | --- |
| Pros | Cons |
| 1. The dashboard allows users to view what they need for easier administration. | 1. One G2 user finds that the application does not work with the other systems. This means the user must navigate two or more systems to complete one job. |
| 2. One user likes that the app is robust and that it can be customized easily to suit the user. | 2. One user on G2 finds the terminologies difficult to understand and finds that it is difficult to extract data for analysis. |
SYSPRO Pricing
SYSPRO has not provided pricing information. Contact them for details about pricing.
Also, Read: 10 Best Travel Management Software
ERPNext is an ERP system that helps automate several verticals such as Education, Agriculture, Non-Profit Organizations, Manufacturing, Distribution, and Services. Promising a simple and intuitive experience, ERPNext combines multiple products to give you an easy and complete platform.
With the idea that software should be open source by default, their code has been open since 2008. They have built a unique and robust solution using the expertise of diverse sets of users, engineers, and implementers.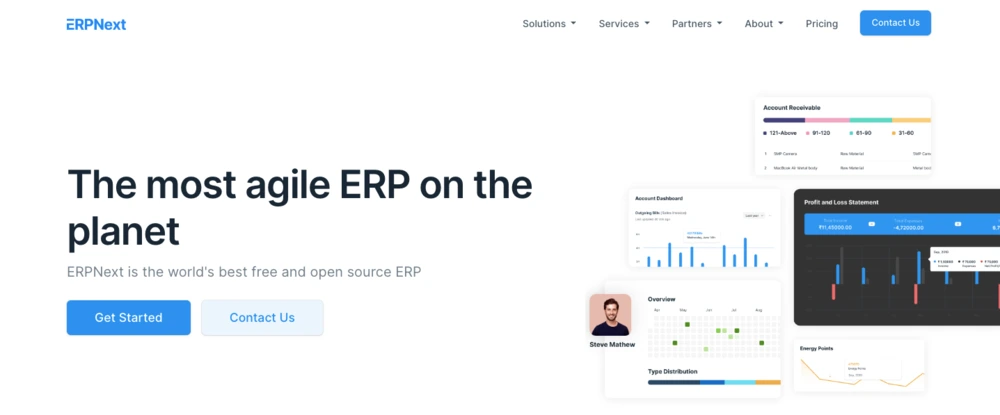 Features
Comprehensive ERP system offering more than 15 modules (accounting, control, manufacturing, etc.)
Can be used across domains such as healthcare, education, logistics, manufacturing, etc.
Built on top of the Frappe framework, allowing you to create/customize business objects
The ERP software comes with configurable workflows, print formats, content management, and more
ERPNext Pros and Cons
| | |
| --- | --- |
| Pros | Cons |
| 1. The plus point with this application is that it is open-source, allowing the overheads to stay low. | 1. A G2 user notes that any upgradations (by ERPNext)when you have customizations is troublesome as the custom codes with breakdown. |
| 2. A G2 user appreciates that this application works great when there are complex manufacturing steps. | 2. The user says that the setup and customization is the most difficult part of using ERPNext. |
ERPNeXT pricing
ERPNext offers 5 plans
Open Source-This is a free plan (self-hosted), allowing users to use all features.
Cloud-This is a managed hosting costing ₹ 750 per month per site. This plan gives access to all features and managed hosting on Frappe Cloud.
Starter- This plan is available for ₹ 20,000 per month per site. This plan gives up to 10 users access to all features, managed hosting on Frappe Cloud, product warranty, and functional support.
Small Business- This plan is available for ₹ 37,500 per month per site. This plan gives up to 20 users access to all features, managed hosting on Frappe Cloud, product warranty, and functional support.
Enterprise- This plan is available for ₹ 85,000 per month per site. This plan gives up to 50 users access to all features, managed hosting on Frappe Cloud, product warranty, and functional support.
Quick Read: 9 Best Vendor Payment Management Software
Microsoft Dynamics 365 is a complete business management software solution offering the services and comfort of Microsoft 365 apps. This application helps small and mid-sized companies to connect effectively and efficiently with their finance, sales, operations, and services teams. The Microsoft team provides guidance with the onboarding and the best contextual intelligence and insights.
Dynamics 365 pushes you to work intelligently as you move to the cloud and optimize your digital business processes.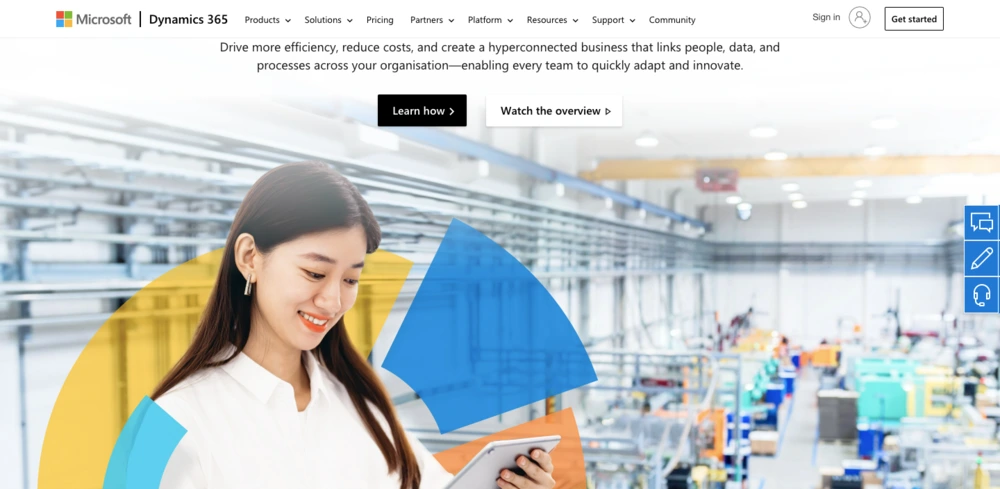 Features
Enhance your finance capabilities by accurately projecting cash flows
Predict customer payments
Intelligent budget proposals
Close books quicker
Reliable numbers with business performance analytics
Single source of truth for business intelligence
Microsoft Dynamics 365 pros and cons
| | |
| --- | --- |
| Pros | Cons |
| 1. Since it is associated with Microsoft Office, it is easy to use and set up. | 1. A user on G2 feels that considering the application and its name, the integration capabilities with existing systems are disappointing. |
| 2. Standard modules cover almost all functionalities, and they work with each other quite efficiently. | 2. A user feels that it is quite difficult to find some user-specific reports without customizations. |
Microsoft Dynamics 365 pricing
The following plans are available for small and medium businesses.
First Dynamics 365 app- The business essentials plan is available at $70 per user per month. The business premium plan is available at $100 per user per month.
For Finance professionals-This plan is available at $180 per user per month.
Also, Read: 10 Best Spend Management Software for Enterprises
Types of ERP software
Before you identify the top ERP software, understanding the software's suitability for your enterprise is most critical. The most common types of ERP modules are Reporting, Project Management, Compliance, HR, Business Intelligence, etc. Each of these offers individual capabilities so you get a complete picture of the existing state and future of the departments.
Depending on the vendor you pick, you may customize these modules to suit additional requirements you may have.
Here are the main types of ERP systems.
1. Industry-specific ERP software
Industry-specific ERP software is created for industries. For instance, logistics or professional services-based companies may have specific needs that a generic software solution cannot address.
2. Customized ERP systems
Customized ERP systems are built according to your enterprise's unique requirements.
3. Off-the-shelf software
Off-the-shelf software is generally pre-built and covers all the basic requirements organizations need to tackle everyday activities.
4. Hybrid ERP software
Hybrid ERP software is a popular version, allowing enterprises to integrate custom features into the ready-made software that the software companies offer.
5. On-premises ERP solutions
On-premises ERP solutions are generally installed on the organization's servers. The cost varies depending on the company's size and the number of employees.
6. Cloud-based solutions
Cloud-based solutions can be accessed online and are generally hosted on the vendor's servers. This ERP system is an economically viable option for small and medium enterprises.
7. Generic software solutions
Generic software solutions may work for numerous organizations because it has the basic functionalities they seek. It may not work if you need extensive customization, but such solutions are economical and work very well for niche enterprises.
8. Hybrid ERP solution
Unique combinations of the above solutions may be used to develop a hybrid ERP solution that works for your enterprise alone.
Also, Read: Business Budgeting: Types, Components and Importance
ERP software in different industries
Industry-specific solutions ensure your enterprise functions at it's optimal-best. Best business practices executed through a single integrated platform address your industry's unique challenges. Here's a look at ERP software in various industries.
1. Retail Industries
The ERP software is designed to integrate with POS processes. It ensures error-free and faster billing and smoother inventory management, among other benefits. The consistency of your services improves, leading to better customer loyalty.
2. Manufacturing Industries
For better success rates in manufacturing companies, you must respond accurately and swiftly. Manufacturing ERP will help you manage your materials and supply chain during the manufacturing process while keeping tight controls over your production cycle.
3. Warehouse management and logistics industries
Inventory movement is a major challenge in warehouse management and logistics industries. A well-designed ERP software can help transform processes that are time-consuming and error-ridden.
4. Real Estate and Construction industries
ERP systems can simplify processes and user experiences in lead generation, sales conversions, finance management, customer or field service, monitoring and controlling your business operations.
5. Distribution industries
ERP software for advanced distribution allows you to track the movement of inventories in real-time. You can control shipping costs as you track product demand and deliveries. As you improve visibility, resource management improves across the supply chain.
Recommended Read: What is budgeting and forecasting?
Key features of ERP software
The best ERP business software solution promises streamlined and integrated processes across business functions such as procurement, finance, human resources, and the numerous other departments in the organization. While you can customize most ERP solutions to suit your organization's needs, some of the most basic features in ERP software solutions are as below.
Integration capabilities: An ERP system gives your organization the advantage of integration across your enterprise.
Better operational visibility: Imagine having complete visibility starting from when an order is placed to when the invoice is sent. Whether checking credit, product availability check, updating the distribution schedule, or shipment access to real-time information can be a true game changer.
Common platform: A single platform promotes uniformity in data definitions. It contributes to better performance all around.
User interface: A consistent user interface ensures a professional look and feel while reducing training costs. Also, an easy interface ensures users can adapt quickly with a relatively smaller learning curve.
Business intelligence: ERP software is equipped with advanced business intelligence that assures better data management. It also gives you access to customized dashboards and interactive charts and numbers.
Financial management tools: Some ERP tools can also help you manage your assets, track business income, plan for future growth, etc.
Suggested Read: What is Financial Modelling?
Modules in an ERP software
ERP software vendors provide several types of software- traditional or cloud-based ERP solutions. The technology may differ, but you can find certain basic modules in any ERP system. Here's a list of the more common modules.
1. Human resource module
Human resource module helps to manage and track employee information and records- designations, job descriptions, attendance, performance reviews, etc.
2. Sales & marketing modules
Sales & marketing modules help you manage sales queries, invoices, quotation management (drafting, etc.), sales orders (accepting, tracking pending orders). Sales queries & inquiry analysis & handling, quotation drafting, accepting sales orders, drafting sales invoices with proper taxation, dispatch/Shipment of material or service, tracking pending sales orders
3. Inventory modules
Inventory modules help you track everything. For example, you have complete control over how many machine parts you have sourced, installed, and left with.
4. Finance and accounting modules
Finance and accounting modules help you trace account-related information. So, whether it is balance sheets, account ledgers, bank statements, tax management, or just expenditures, you can manage it all with well-designed ERP software.
5. Purchase modules
Purchase modules give you abundant information and improve functionalities in supplier-vendor relationships. Manage listings, quotation requests and analysis, preparation, and tracking of purchase orders, GRNs, stock updations, etc.
6. Engineering modules
Engineering modules help you streamline production planning, raw material preparation, and usage, track daily production, reporting, and forecasting.
7. SCM or supply chain management
SCM or supply chain management deals with product movement from manufacturing to consumers and vice versa. The SCM module helps you organize information throughout the process giving you more control over the workflows.
8. CRM or customer relationship management
CRM or customer relationship management is about knowing everything about your customers. The CRM module helps you record and manage customer communication, purchase information, and contract details.
Also, Read: CRM vs ERP: Definitions and Differences

Benefits of employing ERP software
There may be some companies that benefit more from ERP software, but industries worldwide will see considerable transformations in their processes. A few indicators that your organization is ready for such a change could be
If the organization is growing significantly
If you need better operation management
Where the organization is trying to streamline processes across several business units
If the organization's existing systems are outdated
Look at any ERP software example. You will find that they feature some or all of the advantages below.
Better performance management
Access to reliable and accurate information
Operations are more streamlined
Planning is more precise
Flexible and improved scalability
Cost-effective
Better and easier access to management systems
Better quality of customer service
Improved competitiveness
Suggested Read: CapEX Meaning: Types and Examples
Challenges in implementing ERP software
Implementation is one of the most critical phases of any project. ERP software implementation is intensive and requires careful planning and efficient management.
Here are some of the more common challenges you face with implementation.
What to integrate and what not to – Not all processes will benefit from ERP implementation (with some, it may end up messing with the smooth flow), and it is best to understand and figure this out before beginning the process of implementation.
Check the flexibility – Often, you may realize that the ERP system is not as flexible as you may have wanted. You may have to adapt to the new software. You must evaluate if it is worth your time and resources. It is best to assess this before you even finalize the right ERP software.
How good is your organization with change? – Resistance and delays are a part of any implementation. It can be especially frustrating if your organization is not very receptive to change. It is best to prepare ahead of time to avoid delays.
Do you know your vendor well? – Make sure you know everything about the ERP software vendor. How well do they rank against their peers, the cost, the flexibility of the software, and its capabilities are all important pieces of information you must have before you sign on the dotted line.
Maintenance – If it is software, it will require maintenance. Make sure you know how the vendor proposes to address issues and other maintenance you may require.
Knowledge – For any software to function at its best, you must understand it completely. Ensure you know how the knowledge transfer will happen before you begin implementing the ERP system in your organization.
Also, Read: 11 Best Online Business Payment Solutions
How to choose the right ERP software for your business?
Not only are you looking for the best ERP software in India, but want software that fits seamlessly into your core business functionalities. Apart from these, you also require features that may be unique to your organization. So, how do you go about it?
Put together a project team

A team of invested people should be responsible for assessing and finalizing the right ERP software. A project team that assesses the need for an ERP system will also be responsible for developing key considerations to select the right software.

With key stakeholders and influencers (accounting, inventory, HR, CRM, etc.) as part of this team, you are bound to find the right ERP software for your organization.

What are your ERP needs?

Most organizations are already aware of what needs the ERP software must fulfill. However, when the process is formal, it is easier to identify the most important ones. While there may be many things to consider, here are a few critical questions you may want to ask.

a) Will you get access to reliable and accurate financial reports swiftly?
b) How much visibility will you gain from the transformed processes?
c) Will the user experience be intuitive enough to translate into cost benefits and better productivity?
d) What percentage of the processes will the ERP software help automate?
d) Does the software offer mobile compatibility?

Evaluation time

There may be numerous ERP providers in the market, and it is now time to shorten the list of prospects. To bring down the number of prospects to a manageable one, you must consider

a) Industry experience
b) Features, capabilities, and advantages
c) Analytics
d) Flexibility
e) Integration
f) Reporting

Finalizing the provider

This is the next stage when you have brought down the names to a manageable number. During this stage, consider all phases, such as pre-launch, post-launch, and ongoing support, to pick from this shortened list of possible vendors. Here, at this stage too, you must consider the following

a) Implementation experience
b) Customization
c) Training
d) Customer support

Assessing the vendor

This may possibly be the final stage where you must assess the vendor you have picked. One of the best ways to understand if you are making the right decision is to speak to an existing client of the vendor. Speak to them about the product, its cons, and the kind of customer support theta re getting from the vendor. 
Also, Read: A Guide to Global Distribution System (GDS)
How much does ERP Software cost?
According to research conducted by Softwarepath in 2022, the average budget per user across businesses of all sizes over a five year period is $9,000.
However, this number varies depending on the size of your business and the number of users.
1. Cost for enterprises
Most of the top ERP systems consist of modules that manage individual functionalities. The cost of ERP systems for enterprises is based on the modules and the customization. A fully integrated system that offers the latest technology along with the best features may cost anywhere from ₹ 25 lakhs to ₹ 1 crore.
2. Cost for small and medium businesses
ERP software prices for small and medium enterprises range between ₹ 5 and ₹ 6 lakhs.
Conclusion
There are several criteria to consider before picking the best ERP software for your organization. While this may sound like a long-drawn process, the transformation is immense, and the benefits that arise from adopting the software are many.
FAQs
1. What is the next generation ERP software?
The next generation ERP systems present a more radical shift towards extending the application's use and functionalities outside the enterprise. Here, we can easily assume that its reach will include stakeholders, customers, competitors, and suppliers.
2. What are the latest trends in ERP software?
Two-tier ERP is when the ERP solution is layered to suit a large corporation. While the organization manages and leverages its investments at the top level through Tier 1, the subsidiaries or associated divisions use another cloud-based ERP solution (Tier 2).
3. Which one is the famous ERP software?
Wrike, Microsoft Dynamics 365, Tally Prime, and SAP ERP are among India's top 10 ERP software.
4. What is the future outlook for ERP software market?
Globally, the ERP systems market is expected to grow at a CAGR of 8.85%. It is expected to reach the value of $85842.11 million by 2028.