Introduction
Are you traveling to Australia on your next bleisure trip? Despite the distance (it is the farthest country from India!), you barely bat an eyelid as you book the best hotel rooms! Global distribution systems in hotels make that possible for you.
Read on as we guide you through everything there is to know about global distribution systems.
What is a global distribution system (GDS)?
GDS, a global distribution system, is well-known in the travel industry as the medium that allows people worldwide to make their travel arrangements effortlessly (without any overlaps).
Have you ever wondered how it is possible to book a flight without worrying about someone else booking the same flight with the same seat number?  
The gds systems make it possible for you. You can book flights, car rentals, hotel operators, and tour operators in real-time through online travel agencies. It may seem like this is a recent development, but the GDS system has existed since the 1960s. As a distribution channel, it is one of the easiest and most effective tools available to businesses.
So, naturally, the next question is, who uses these global distribution systems?
Who uses Global Distribution Systems (GDS)?
A global distribution system enables transactions between service providers and those seeking such services. For example, if you travel from one country to another, you must book an airline ticket. In this case, the airline, the service provider, uses a gds system to book a ticket for you.
So, who are the most common users of global distribution systems (GDS)?
Travel agencies
Airlines
Hotels
Cab services, car rentals services
GDS, as a computerized network system, uses real-time inventory (from service providers) to ensure that users can avail of services without any overlap.
Types of global distribution systems (GDS)
Globally, three major GDS companies exist. They are joint ventures owned and operated by major car rental companies, airlines, and some hotel groups. GDS is called CRS- Computerised Reservation System or ARS-Automated Reservation System.
Amadeus
Sabre
Galileo
1. Amadeus
Amadeus offers a complete GDS integration for entrepreneurs in the travel business and travel agents. Essentially a travel technology company, Amadeus builds robust solutions to assist airports, airlines, railways, hotels, travel agencies, and tour operators in enhancing their travel experience. The comprehensive solution provides excellent deals and commissions on hotel bookings, flight tickets, and other products.
Features
Completely synchronized real-time information on flights
Seat and other facility confirmations instantly
Frequent flier information- updated and secure
Cost-effective solutions for all players in the travel industry
2. Sabre
Sabre is well-known as a solid global travel and tourism player. It is a technology solutions provider offering various services, including business intelligence (based on data), SaaS (including distribution), and mobile-based solutions.
Sabre has a solid and loyal customer base consisting of travel suppliers such as airlines, car rental services, cruise liners, railways, tour operators, and hotels. They also have a long list of travel buyers such as TMCs (Travel management companies), travel agencies, and corporate travel desks.
Features
Their solutions are well-known for their dynamic break-even charts and other intuitive visual analyses.
Sabre's solutions are quick to set up and access.
Customised solutions that are affordable and ready to use
3. Galileo
Galileo offers a cloud-based comprehensive travel technology platform that connects organizations through several travel channels. Well-known as one of the best global distribution services consolidators worldwide, they offer airline consolidation and inventory management. Their services give businesses the advantage of high-speed providers, low-cost carriers, and other benefits.
Features
Their travel software includes flight, car, and other travel mode reservation systems and hotel booking systems.
Agencies can use the software to book and issue customer tickets directly.
The software offers a search tool that answers the most frequently asked questions.
Which GDS is the best?
Almost all GDS systems have similar functionalities. However, minor differences give these gds systems a unique advantage. While we cannot pick one as the best, you can certainly choose the best one for your organization by comparing relevant features.
For instance, here are a few questions you may want to ask before you sign on the dotted line. 
Does the gds system cover the areas often visited by your employees?
What functionalities does the gds system offer (discounts on specific travel sectors, integration with property management systems, etc.)?
How many travel websites does the global distribution system connect to (the more, the better)?
How much does the gds cost compared to others in the market (rates, commissions, etc.)?
Benefits of global distribution systems (GDS) 
Simply stated, GDS systems allow users worldwide to tap into travel systems for reservations. A travel agent can relate to the stress and work involved in coordinating with multiple service providers.
GDS systems eliminate this as a few clicks are all it takes to access the reservations systems and complete the travel booking. So, whether it is flights, trains, cabs, or hotel accommodations, GDS systems make it possible.
Global distribution systems in hotels offer a huge advantage as they begin to make their presence felt among travel agents. As travel agents look at prospective properties for hotel accommodations, GDS systems ensure that your hotel is spotted by such travel agents, reducing the need to advertise or market their properties. 
Future Read: Travel policy for employees in India
Why is GDS important to the travel industry?
Just like every other industry, the travel industry also depends on the smooth flow of information in real-time.
Here's how gds makes a difference in the travel industry.
The system works as an exception central repository to access and exchange travel knowledge, compare, buy, and formalize travel bookings.
It is a global and online system always available to travel agencies and other users. It provides a global platform for agents to establish their presence.
Since the system combines and offers a range of products and services, rates, and booking options for airlines, hotels, and other travel mediums, it allows agents to provide a complete travel package.
GDS is gradually showing acceptance among corporate and leisure travelers, helping to expand the market
GDS has contributed immensely to improving the traveler's (business or leisure) experience.
Global distribution systems in hotels: what you must know?
Global distribution systems in hotels serve numerous purposes. Apart from making the hotels more efficient and effective.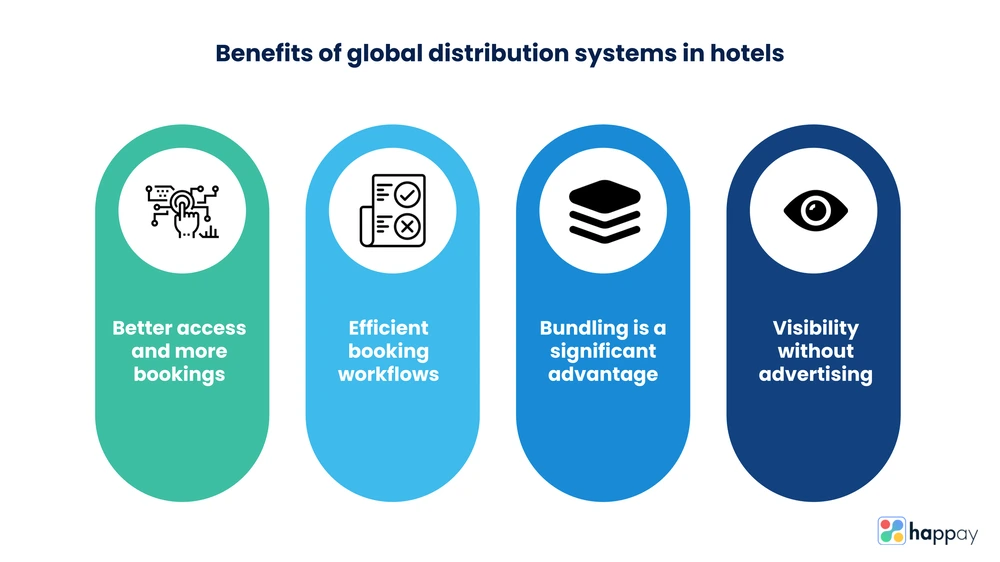 Here are five ways in which these systems help.
1. Better access and more bookings
Many organizations still work through a travel desk or an agent for most hotel bookings. With over 6 lakh travel agents combing through the global distribution system to find the right fit for their clients, wouldn't you want to be part of that inventory? Becoming a part of the inventory means becoming more visible, leading to more bookings.
2. Efficient Booking process
A significant responsibility of the hotel administrative staff is to ensure that the booking process is smooth. A global distribution system lowers the administrative burden of your employees. As soon as bookings are completed, the system automatically notifies the hotel of a reservation. As manual processes are eliminated, your processes are error-free and more streamlined.
3. Bundling is a significant advantage
Travel agents try to optimize the value by offering travel deals. So, as they book a flight for a particular city, they can suggest hotels, car services, and other tour deals through the same system. Bundling works very well for hotels that are part of these bundling options, as they are automatically picked as the number one option.
4. Visibility without marketing
You must invest a fee before setting up your hotel's global distribution systems (GDS). However, this cost can quickly reap benefits as you become visible to travel agents worldwide without investing anything in a marketing campaign.
Global Distribution Systems integrate well with PMS (property management systems) GDS systems are designed to work as perfect allies with property management systems that almost all hotels use. Since these systems sync, real-time information about room availability is readily available on the GDS. Therefore, hotels can automate daily operational and administrative tasks such as room cleaning schedules, supplies, booking information, events, etc.
How do global distribution systems (GDS) work?
Functioning as the brain of the travel industry, GDS is a network system that provides real-time information to organizations in the travel industry. Hotels, airlines, travel agencies, and car rental services use GDS to view the inventory before making bookings for clients.
So, how does the Global Distribution System (GDS) work?
Basically, GDS is the middleman between the airline/hotel and the agent making reservations for a client. The agent can check the prices of hotels or flights in real-time. While the GDS does not hold the inventory, it works as a medium to allow users to check the inventory of businesses offering their services. For example, if the travel agent is attempting to book a hotel room, they can view the room types, amenities, rates, availability, and any restrictions. If the travel agent is satisfied, the information is confirmed in the hotel's system, and the selected room is removed from its inventory. So, the next time someone looks for a reservation in the same hotel, this room (for those dates) will not appear.
Must Read: Travel request approval workflow
Examples of global distribution systems
Originally, GDS or global distribution systems were used primarily by airlines. However, considering its relevance and use, travel agents began using the same. However, with time, its use has extended to multiple service providers. Now, internet-based travel service providers use gds in the back end to provide customers with various travel options.
There are many ways by which GDS systems improve workflows for organizations. For instance, Happay offers travel and expense management solutions to automate your expense management processes. 
Happay connects with travel management companies (TMCs) and accesses the GDS system to offer travelers various options. So, their self-booking tool allows users to pick the airline or hotel accommodation based on the information that flows from TMC's global distribution system inventory. 
Best GDS software 
Amadeus
Sabre
Galileo
Travelport
Worldspan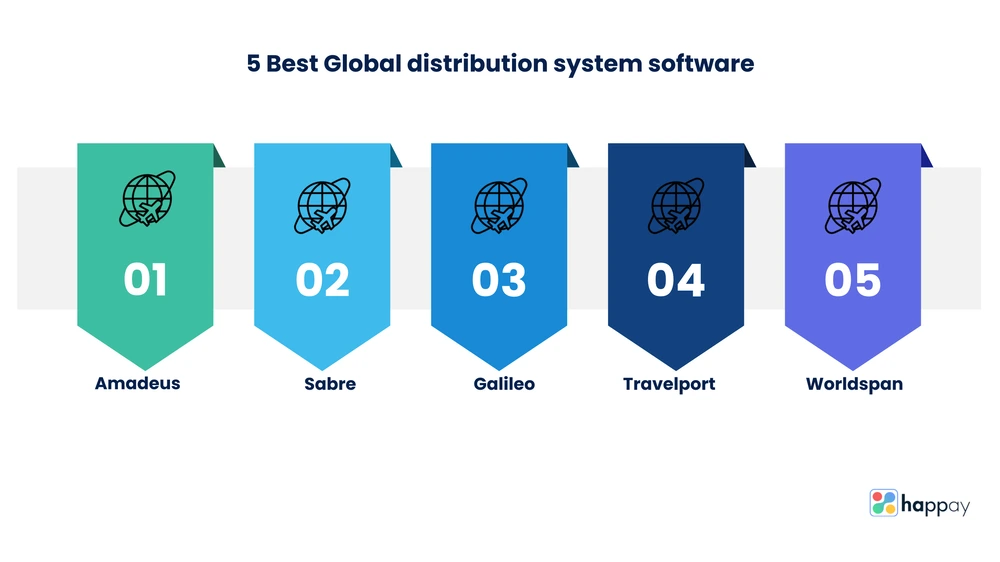 Features and the best GDS software
Any GDS software system must offer the following features.
Access to a large inventory of travel (cars, buses, trains), hotels, and flights
Best options for fares
A single interface and hence, excellent connectivity
A suitable platform for B2C and B2B companies
Why you must consider adopting a global distribution system (GDS)?
Like other technologies, Global distribution systems (GDSs) are becoming more sophisticated and evolved. While there is still a long way to go, market and customer expectations drive growth and technological upgrades.
Here are the top reasons you must consider adopting a GDS for your business.
1. It's a comprehensive system
There are still some businesses (travel agencies) still work out of brick-and-mortar offices. The GDS system is comprehensive enough to include such companies in its fold. So, you get the advantage of OTAs (online travel agents), channel managers, and those still offering these services in the traditional format.
2. Travel and expense software
Travel desks and managers have an uphill task if they are to coordinate with numerous travel management companies and manage travel requisitions. Happay's Travel and expense software can tackle these problems for you quickly and efficiently.
As employees of companies plan their business trips, an SBT (self-booking tool) with inputs from the global distribution system (GDS), travel aggregators, travel management companies (TMCs), and other low-cost carriers guides the employees through the process. It offers numerous options for employees as they choose the ideal travel plan.
Further, travel managers can benefit from travel insights and trends the software can put together. You can track travel data, expenses, number of trips, employee experience, and other relevant data points to improve visibility over expenses while enhancing business decision-making skills.
Suggested Read: Top Online Travel Booking Trends
3. Give you another avenue to market
If GDS can help you and your business reach more customers, it may be sensible to pursue it. Studies show that GDS still offers excellent results as it performs as well as online travel agents. With the platform giving users a comprehensive view of the entire gamut of options, it seems like a no-brainer that GDS, as a travel technology platform, is here to stay. If anything, it is only bound to get better.
Choosing the right global distribution system (GDS) for your travel business
The right global distribution system (GDS) is the perfect travel service provider, as customers (businesses or individuals) can easily book flight tickets online or reserve hotel accommodations. Travel service providers may differ, but the functionality remains the same.
So, if you are wondering about the right GDS for you or your business, you can think about a few things that will influence your decision.
Firstly, consider the system and its presence in the relevant market (where your customers reside)
Before you decide, the system's functionalities are very critical. So, list all the functionalities to understand how it will improve your present situation.
The GDS connects to several travel websites, and it may be helpful to understand how many of those are relevant to you. While it may sound like a cliché, in this case, it is true when you say, the more, the merrier.
You must ask if the GDS integrates well with your property management system, as this will mean an easy implementation.
Last but not least, pricing must be an essential factor. Fee structures may vary according to the features, property, and market. So, rank the features by priority and then decide.
Get Happay Travel and Expense Management Software – Schedule Demo
FAQs
1. What is a GDS in Travel?
GDS refers to a global distribution tool that works as a platform that brings all the travel information together.
2. What are the three types of GDS?
Amadeus, Sabre, and Travelport are the three major global players in the GDS space. Combined, they cover the globe as global distribution systems and technology providers.
3. What does a GDS do?
GDS, or global distribution system, is a vast worldwide network that allows travel agencies or customers to plan their travel (business, personal, or leisure). Customers can shop around and book trips like they would shop online for other everyday products.
4. Do I need a GDS?
Since significant travel companies and other travel agencies use a global distribution system to plan and organize travel arrangements, it makes sense to invest in one. Investing in one depends on the business and frequency of travel bookings.
5. What does a GDS cost?
The cost of a GDS system may vary depending on the product you choose, the features, and the market. A GDS system is either based on usage or subscription. If it is usage, then there is a flat fee that is charged per user. However, if you pay a subscription, you can access the entire database for an annual fee.