What is OCR Software?
OCR software, or Optical Character Recognition software, digitizes the manual aspect of your workflows. It helps to convert images into machine-readable text files. For instance, when scanning, your system saves it as an image file.
While you can access these files, you cannot edit or pull information from such files automatically. OCR software converts these image files into text documents so you can access/edit the contents of the image easily. 
How does OCR software help your business?
Despite the big push towards digitalization, paper, and print-based information continues to exist throughout organizations. Irrespective of the organization's size, paper documents, physical copies of invoices, legal papers, and other contracts form an integral part of business operations.
Paper-based workflows are time-consuming and error-ridden. Further, growing organizations must repeatedly consider such documents' storage and maintenance costs.
The best thing about OCR software is that the text files (after conversion) can be accessed and analyzed by other existing systems. The analysis can streamline business operations and improve productivity and document management.
Also, Read: 10 Best Receipt Scanner Apps
Top 8 OCR Software for Your Business
A quick comparative analysis 
Before we delve deeper and analyze the 8 best free and paid OCR software in 2023, its features, pros, and cons, let's look at a quick comparison.
Name

Market Segment

Free Trial

No. of Users

Capterra rating (overall)

Mobile Apps

(Android and iOs)

In-person Training

Small and mid-size

Yes

11-200 users

4.9

No

No

Financial companies and other mid-sized companies

Yes

1-10 users

4.6

No

No

Small, medium and large companies

Yes

2-1000+

users

4.6

Yes

No

Entrepreneurs, small businesses

Yes

NA

NA

Yes

No

Financial Services, logistics, Govt., mortgage,

healthcare and education

Yes

2-1000+ users

4.5

No

Yes

Small and medium size companies

Yes

NA

NA

No

No

Healthcare, legal, Banks, Insurance companies,

Yes

NA

NA

Yes

NA

Logistics, Sales&Mkt, Finance, IT and small businesses

Yes

1-1000+

4.8

No

Yes
8 Best OCR Software – A detailed comparison 
Overview
Nanonets offers a simple and intuitive interface with advanced OCR and Deep Learning capabilities to help extract relevant information. Whether structured or unstructured text or documents, integration with your everyday apps is efficient and quick.
You can now eliminate manual processes, digitize documents, and extract data fields error-free and without delays.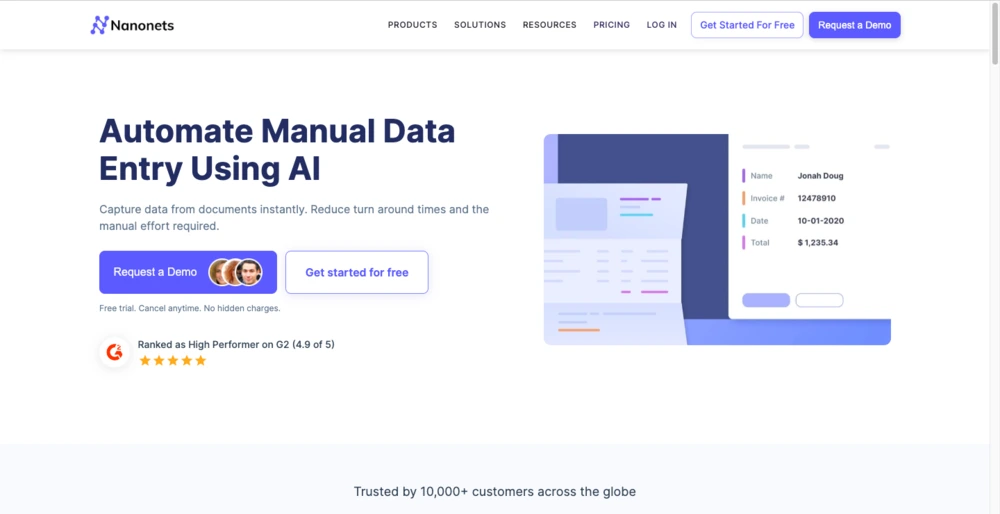 Features
You can reduce processing time and save costs
Nanonets offers an API that integrates easily and sends data to CRM, WMS, email, etc.
Their solution is scalable and reduces turnaround time
Nanonets offers real-time extraction
You can customize the solution to suit your business needs
Nanonets pros
According to users o G2, Nanonets scores high due to its ease of use and how quickly you get the extractions.
Other users appreciate that Nanonets easily extract information from complicated tables and rows of data. They appreciate the speed of execution, quality of prediction, and ease of use.
Nanonets cons
According to users, setting up the process initially and model training takes time. Most seem to worry about financial statements from suppliers (multiple countries).
Users feel the table capture UI could be better, and some would appreciate a browser extension on Opera.
* The pros and cons of Nanonets have been taken from G2's user reviews.
Price
As regards Nanonets pricing, users can choose from three different plans
Starter – The starter plan is free; for individuals or teams looking to try the platform. This plan allows you to process 100 pages, extract limited fields, and auto-capture line fields in tables.
Pro – The Pro plan is ideal for teams that need to automate manual tasks using advanced on-platform tools or APIs.  You can take advantage of a 7-day free trial. Apart from the features available in the starter pack,  you can auto-capture line items in tables, access annotation services, and add collaborators from your team. It costs $499 monthly and includes processing of up to 5000 pages. 
Enterprise – Contact the sales team of Nanonets for pricing of the Enterprise plan. This plan is ideal if you are looking to create custom workflows. Apart from access to the features from the other plans, you would be given a dedicated account manager, custom integrations, and API responses. 
Uses
Based on the product or the solution you pick, Nanonets offers several benefits to users. For example, you can
Snap and picture and extract all relevant information from your documents
Match captured data against the documents
Employ condition-based routing for review
Email notifications according to need
Platform
Nanonets is SOC2, GDPR compliant, and promises the highest security standards. They offer numerous solutions based on your organization's needs and have many products that may work for you.
Recommended Read: 10 Best ERP Software and Systems
Overview
During a consulting project in 2018, the team at DocSumo realized that document data capture was a serious issue. DocSumo was built to solve this problem, and since then, they have continued to refine the platform.
DocSumo offers an AI-based platform that helps to automate the data capture, extraction, and processing workflows. The platform uses trained API models to recognize the various document types using trained API models and converts them into the desired formats.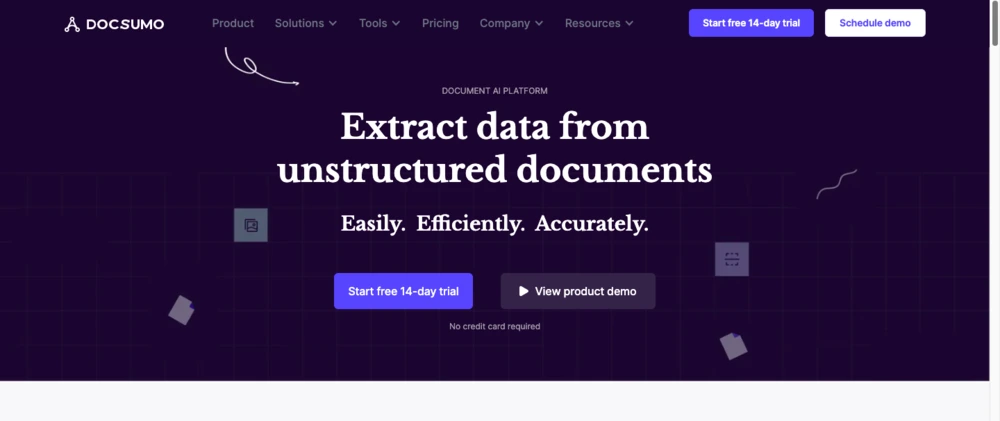 Features
A single software to extract data from all document types
Pre-trained APIs
Auto-classification before pre-processing
NLP-based categorization
Industry-specific solutions
Access to better data
Intelligent OCR
DocSumo pros*
Users feel that DocSumo's ability to extract data from various document types is a strength. It includes receipts, ID cards, invoices, etc. Automation of the document classification process is another feature that works for them.
Their software allows you to set up custom rules and workflows that help you organize your documents well. Another user mentions the comfort of using the automatic categorization feature, making them more efficient and organized.
DocSumo cons*
According to users on G2, the software has a steep learning curve delaying setting up custom workflows. Also, a stable internet connection is required for it to work consistently.
Another user on G2 mentions a potential downside that Docsumo's AI technology is not as effective with complex or unstructured documents.
* The pros and cons of Docsumo have been taken from G2's user reviews
Pricing
Docsumo offers usage-based pricing plans with no hidden charges or surprises.
You can choose from Growth, Business, and Enterprise plans that offer something for everyone.
Growth – This plan is ideal for startups and businesses with one or two document types. Costing $500+ per month, you can convert up to 1000 pages a month. You can explore this plan with a 14-day free trial. You can enjoy the convenience of using pre-trained APIs for invoices, purchase orders, and ID cards. Data accuracy confidence scores, machine learning capabilities, and table vision are additional features users can enjoy in this plan.
Business – This plan is ideal for businesses that must capture specific data points from documents. Apart from the features in the Growth plan, this plan allows 10 users to parse emails, validate using rules and basic analytics, and a few other features. You must contact their sales for pricing information.
Enterprise – This plan is ideal for enterprises that process multiple document types. Apart from the features available in the Business plan, multiple users can use the features. Multiple document types, advanced validation and analytics, OMR, hand-written text extraction, etc. You can contact their sales for pricing information.
Uses
Docsumo is among the top 10 OCR software and offers several advantages to users. For instance,
You can minimize the manual effort of processing docs and human errors while maximizing data accuracy.
The software allows you to ingest, classify and pre-process any document.
Docsumo's APIs allow you to send data and documents through email, a local machine, or the cloud.
Unstructured documents are no longer challenging as you can capture tables and key values quickly and efficiently.
You can validate, post-process, and integrate the data easily into your existing systems
Platform
Docsumo features a multi-region data architecture, is GDPR compliant, and offers complete control over your data. Offering end-to-end encryption, Docsumo's team of developers promises to help with API integration over Slack, MS Teams, or via email.
Related Read: 10 Best Asset Management Software Systems
Overview
Rossum is an intelligent plug-in-based data extraction solution that promises to help organizations capture information from structured and unstructured documents.
Using an AI-based technology, Rossum assures clear data extraction from bills of lading, receipts, invoices, and purchase orders. Among many other benefits, it helps streamline your organization's accounts payable, purchase order process and other workflows.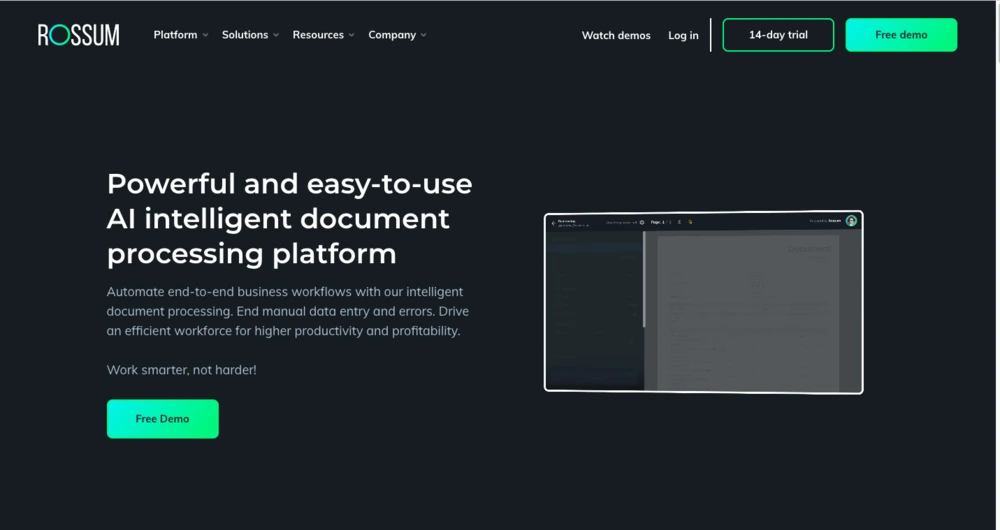 Features
Rossum promises savings in cost and time by ensuring the solution deploys and integrates easily.
Since customization is possible, you can ensure minimal disruptions in your day-to-day activities.
Another feature of Rossum is that it is browser-based. It gives you the benefit of fast ROI
No more manual entries
Enjoy streamlined processes
Rossum pros*
Users appreciated Rossum's ability to tackle their specific needs and the option to scale up or down the UI per their needs.
Other users find that Rossum's solution is quick and responsive.
Rossum cons*
According to some users, when dealing with many .pdf documents, the system's UI seems to crash. Also, users feel it would be far more effective if the system could recognize and extract information from just relevant pages (not delivery receipts or other irrelevant information).
Other users feel that Rossum's solution is restricted to reading "straight-line" data. Orders or information that is misaligned is ignored or rejected.
* The pros and cons of Rossum have been taken from G2's user reviews
Price
Rossum has not provided pricing information on their website. While there is a free trial available for you to experience the product, for detailed pricing information, click here
Uses
Apart from completely automating the manual data entry process, Rossum uses AI to extract all relevant information (which may be learned as it processes more information for you) and send it to the appropriate department.
Since it is a cloud-based technology, Rossum ensures you have complete visibility, control, and access to your documents and information.
Platform
Rossum offers a single platform that is designed to lower the effort of processing documents. It offers enterprise-grade security features and procedures. It supports ISO, SOC2, Type 1, and HIPAA compliance to maintain detailed audit trails and logs for each document.
Quick Read: 11 Best Billing Software in India
Overview
Tesseract is an OCR platform that helps you extract text and information from scanned images or documents that do not feature a text layer. It is open-source and makes converting your existing documents into editable text files easy.
Tesseract is free software and has been released under the Apache License. Hwelett-Packard originally developed it as proprietary software in the 1980s.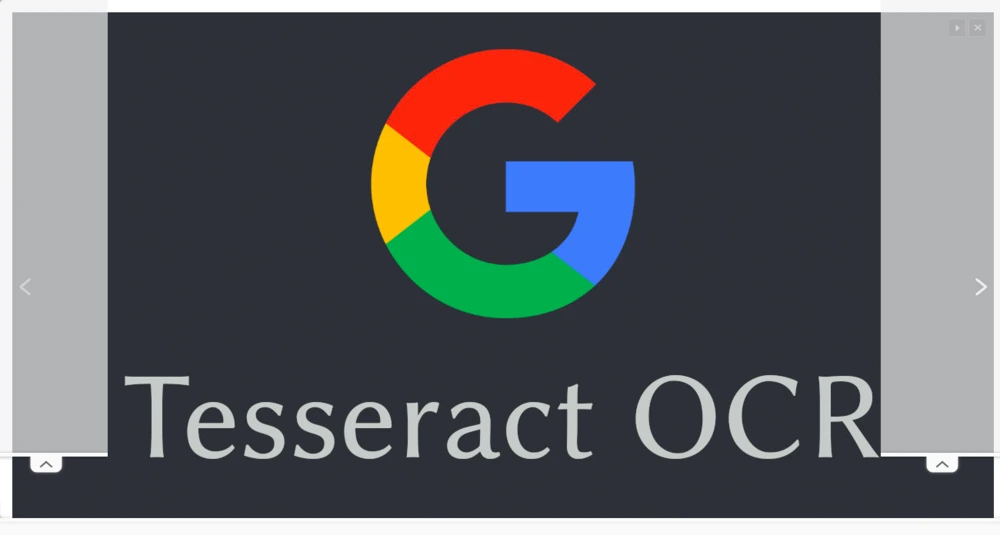 Features
Users can extract text from images using Tesseract OCR's sharp character pattern recognition.
Tesseract supports over 100 languages. It means that images in any of those languages can be run through the software for extraction.
If Tesseract does not initially support your data extraction, you may have to train the engine yourself. You could do this by running several hundreds and thousands of examples (images and documents) to train the Tesseract OCR.
Tesseract pros*
Users say that compared to other open-source OCRs, Tesseract provides a good amount of accuracy in data extraction. One of its strengths is its compatibility with many programming languages and frameworks.
Other users say that the base model of Tesseract may give you less-accurate results, but you can improve it by adjusting the parameters.
Tesseract cons*
Users in G2 feel that working with tabular data can present a challenge as the software misses the context or generates random words. There is a lot of pre-processing work that must be done to ensure the accuracy of the software. There is no domain-specific dictionary, so users can input words or phrases that the software must pick out.
Other users suggest that if you compare Tesseract against the other commercially available models, you will see that the accuracy levels are low. Also, there are too many parameters without an adequate understanding of their purpose.
* The pros and cons of Tesseract have been taken from G2's user reviews
Price
Tesseract is open-source software and is available for free.
Uses
Since Google took over from Hewlett-Packard, it is sometimes called Google Tesseract-OCR.
Since it is open-source software, anyone can use it free of cost directly or through an API.
Platform
The most recent version of Tesseract is version 4.0. It offers AI integration through LSTM Neural Networks. This helps to detect and recognize inputs that come in a variety of sizes.
Suggested Read: 9 Best Accounting Software for Small Business
Overview
Ephesoft promises seamless and complete automation as it captures all your relevant data and delivers it to your business processes. The goal of intelligent capture and extraction is that enterprise activities must be autonomous as humans are elevated to more essential activities and tasks.
Microsoft's gold cloud partner, Ephesoft, uses the Smart Capture technology to provide you with what you need to eliminate manual processes.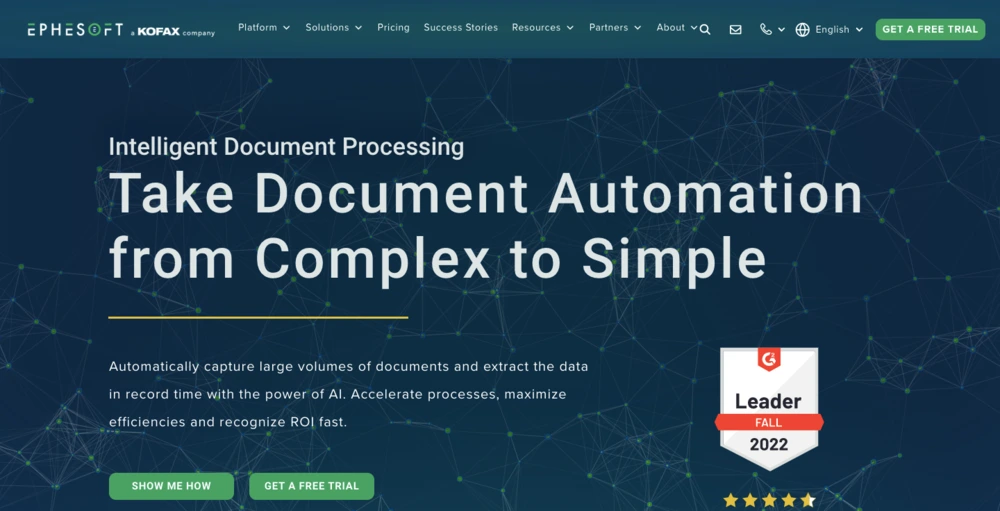 Features
ID extraction helps to identify information and gives you essential data (relevant for over 195 countries). So extraction is flawless whether it is government ID, business cards, passports, visas, or other official documents.
Handwriting recognition is an essential feature as hundreds of handwritten forms, documents, and pages continue to be used. Ephesoft's technology offers clarity, ease of use, and security as it sifts through handwritten content easily.
Ephesoft pros*
The software solution offers both power and convenience to organizations. Users appreciate the efficiency and user-friendly interface that allows them to convert unstructured data into usable information. The accuracy and speed it brings to workflows are also appreciated. The customization and the use of AI bring down the overhead costs and improve productivity overall.
Some users praise the software for its adaptability and its array of data extraction features.
Ephesoft cons*
Users seem frustrated with the user interface and find it confusing too. The instructions must be well-thought-through as new users find navigating the application quite challenging. Too many steps mean that a little time away from the software makes recalling it again a challenge.
Other users do not like that it only offers limited options for verification. Further additional instructions to modify the documents would be greatly appreciated.
* The pros and cons of Ephesoft have been taken from G2's user reviews
Price
Ephesoft offers three pricing plans, and you can choose the one that suits your needs. For exact pricing, you can contact the sales team.
Standard – Per this plan, you get access to professional services, a training operator, and a "silver" level of maintenance and support. Further, what you get are non-production licenses and advanced reporting capabilities. 
Professional – Per this plan, you get access to all features in the standard plan. Additionally, the level of support and maintenance goes up to "gold." 
Enterprise – Per this plan; you get access to all features in the professional plan. Additionally, the level of support and maintenance goes up to "platinum".
Uses
Among the numerous benefits, some of the more significant uses of Ephesoft are
Document processing is fully automated and is highly scalable
Data privacy and compliance become simplified and effective
Time and cost savings
Improved efficiency numbers and employee satisfaction
Successful digital transformation
Platform
The platform uses cloud and hybrid solutions to give you high-performance and scalable cloud image processing. Their online OCR solution promises to simplify workflows as the Web Services OCR APIs integrate easily with any platform.
They are SOC2-certified and GDPR-compliant. 
Also, Read: 10 Best Expense Management Software
Overview
Adobe Acrobat Pro DC has OCR functionality, automatically applying the technology to any document you provide. Once this is done, it converts the document into an editable copy of your PDF file. Once extracted and converted, you may simply click on any element to edit the same.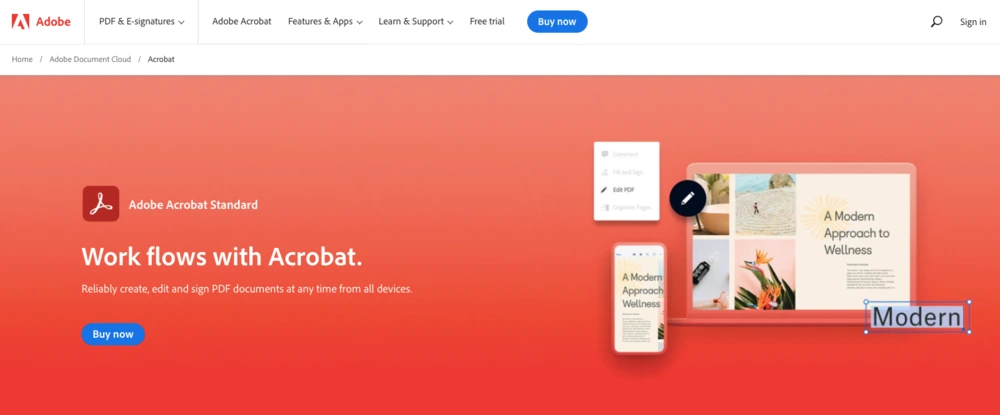 Features
Some of the main features of Adobe Acrobat Pro Dc are
The software converts your files instantly.
Custom font generation enables the software to match the fonts of the original document
Your new PDF can be easily used in any other application making integration with your existing workflows easy
Perfect archiving is possible as you can save these documents as "Smart PDFs"
Adobe Acrobat pros*
According to TechRadar, Adobe Pro DC has a lot of features that work to its benefit. Furthermore, the interface is polished and quite responsive. Finally, it offers advanced operations such as encryption which is great when concerned about security.
Adobe Acrobat cons*
What does not work for Adobe is its interface which may seem overwhelming for beginners. Also, its number of features may mean a longer learning curve.
* The pros and cons of Adobe Acrobat Pro DC have been taken from TechRadar's software review
Price
Adobe Acrobat offers two pricing plans
Adobe Acrobat for teams- This costs ₹ 1,771.18 monthly per license. This price includes GST and requires an annual commitment (it includes a 7.5% discount for Windows and Mac)
Adobe Acrobat for Enterprises- The pricing details for this plan are not available, but you can contact them for further information.
Uses
Among other benefits, you can enjoy the following with Adobe Acrobat Pro DC.
You can edit, convert, review, and sign the documents with ease.
Save time as you access the best PDF file tools anywhere. You can use it on desktops, tablets, phones, and the web.
Advanced security features and password protection is available.
Platform
Making sure your data is secure, Adobe employs industry-standard security practices to ensure your data, documents, and personal information stays safe.  The productivity and collaboration PDF solution offer enhanced mobile features and document cloud services.
Recommended Read: 10 Best Business Budgeting Software & Tools
Overview
Abbyy FineReader is an OCR application that allows PDF editing too. Since the first version was released in 1993, Abbyy has constantly been innovating to introduce products with better technology and features.
Offering a comprehensive set of recognition technologies such as machine-printed texts, hand-printed texts, and the recognition of barcodes, Abbyy also offers the most number of OCR languages.
You can pick the right application based on your need. Abbyy offers FineReader Engine, FineReader Server, and Abbyy Cloud OCR.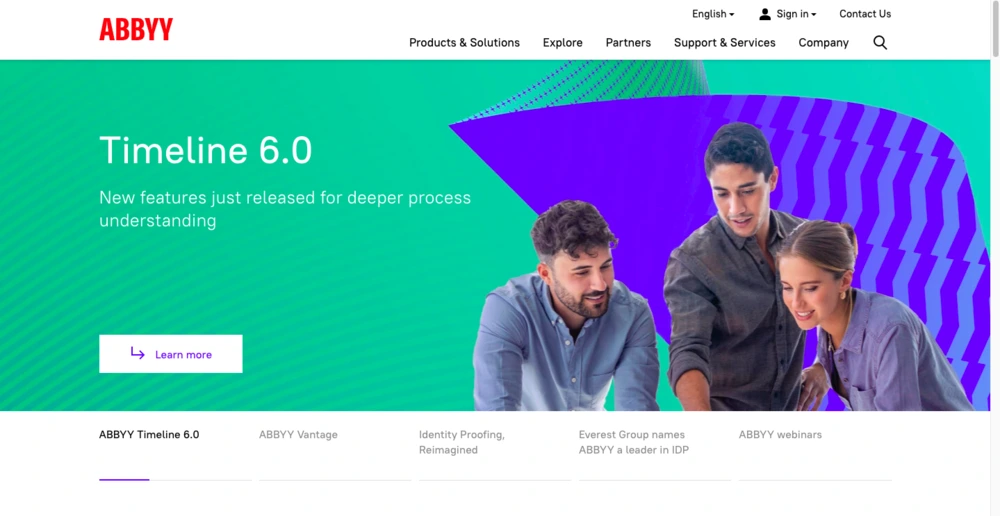 Features
Offers comprehensive recognition technologies to extract information from machine text, handwritten text, or even barcode recognition.
Abbyy SDK converts documents into searchable PDF or PDF/A formats
Precisely recreate documents using AI and ML-based technologies combined with Abbyy's ADRT
A detailed set of code samples provide instructions to users
Abbyy pros*
One user was happy to note that the OCR engine worked great when he used it to scan a credit card to auto-fill details of the card in a form.
Another user notes that the solution is reliable and easy to implement in code. Further, documentation was easy to understand, and so were debugging issues. The user appreciates the Abbyy team's support.
Abbyy cons*
Since the free trial only allowed 30 tries per user, software testing for future use was slightly frustrating. Another G2 user feels the cost is high for independent developers. Further, the limitation on the number of scans during the trial period can become a bottleneck.
* The pros and cons of Abbyy Cloud SDK have been taken from G2's user reviews
Price
Abbyy has not provided pricing information. You can contact Abbyy Cloud OCR SDK for current pricing.
Uses
Recognition accuracy is a key differentiating factor in OCR software. Abbyy increases it by using advanced image pre-processing functions.
Abbyy's ActiveX-based visual components allow developers to integrate UI into a variety of existing applications (ERP, ECM, or DMS systems), increasing the possibility of validating documents and access to recognition results directly into the application 
Compare documents functionality allows you to compare two versions of the same document to identify differences in the content.
Platform
Abbyy is focused on Intelligent Process Automation that mines processes using IDP (intelligent document processing). The sole purpose is transforming enterprise data and accessing valuable insights to improve workflow efficiencies.
Abbyy's flexible and scalable platform allows developers to use multi-core CPUs and process images to speed up their efficiencies. Abbyy assures on-premise deployment and installation in virtual environments too. Alternatively, you can host on a Cloud-based platform too. 
Quick Read: Top 10 Procurement Software Solutions
Overview
Small, mid-size, and large enterprises can use this cloud-based document data extraction solution. Docparser is capable of retrieving data from pdf files, word documents, and image files easily and efficiently. Data fields such as PO numbers, addresses, and other tabular information can be extracted and categorized appropriately.
Offering actionable insights on data and integrating easily with Dropbox, Salesforce CRM, Rest API, and numerous other applications works in favor of Docparser.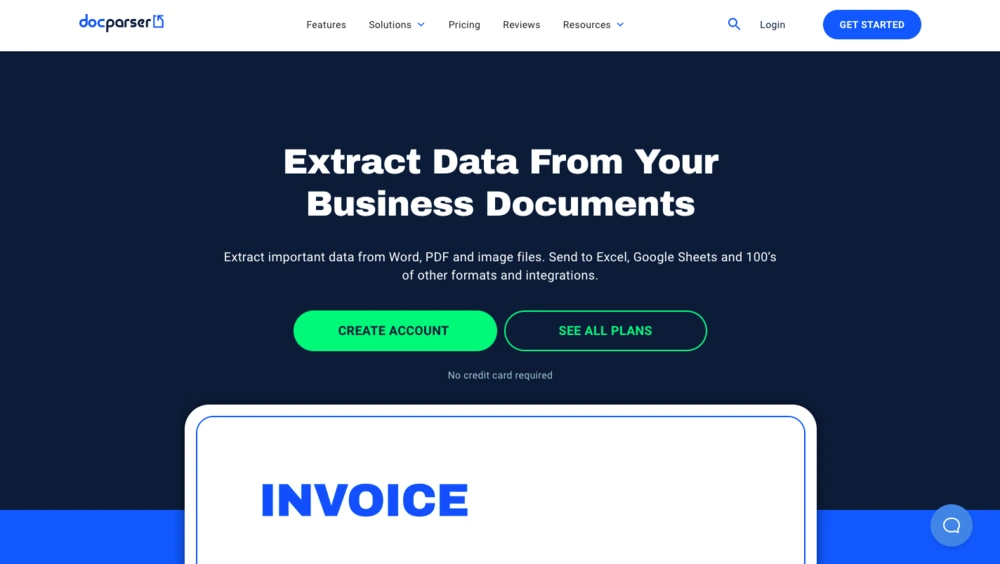 Features
Docparser's layout comes with pre-set parsers, and these cover the most common use cases
You can extract tabular data quite easily and accurately
You can use batch processing to upload and extract files in bulk, saving you time and effort
Superior OCR accuracy levels as Docparser offers advanced image preprocessing capabilities.
Docparser pros*
Users appreciate the ease of use and good documentation that comes with the product. The API works effectively and accurately as it saves time. The customizability and integration convenience is appreciated.
Another user finds that the customization and cost-effectiveness of the product, combined with the convenience of processing PDF documents, is certainly a plus point.
Docparser cons*
Users feel that the workflow to create parsing rules is confusing and requires users to switch between screens to accomplish this. A simpler and more intuitive interface would be helpful.
Another user feels that the design of the output formats could improve. The understanding and handling of the output information has a learning curve. The output, especially table rows, is quite challenging.
* The pros and cons of Docparser have been taken from G2's user reviews
Price
Firstly, Docparser offers a 21-day free trial, based on which you can decide the best plan for your organization.
Docparser offers four plans. Check out the details of the plan here.
Starter- most suitable for individuals
Professional- Ideal for professionals with a huge data extraction workload
Business- Document parsing and cloud integrations give companies an edge
Enterprise- Ideal for when enterprises would like a tailored package
Uses
Among the numerous uses, here are a few
Quick processing is a big advantage as it takes only a few minutes to preprocess, extract, and collate information.
You can download the parsed files in multiple formats
Docparser has a built-in barcode and QR code scanner.
Since they work with several partners, you can connect Docparser to numerous cloud applications for easier operations.
Platform
Docparser is a cloud-based software giving you the convenience of using it anywhere. Further, it allows you to scale up quite easily as and when you need it. Docparser uses robust security measures to keep your data and information secure. 
Also, Read: What is Vendor Management System?
Advantages of OCR software in your organization
Akash calls HR to ask why his claim for expense reimbursement is still pending. HR responds by saying they have several such payments due, which will be settled within a few days. 
Imagine a scenario where the scanned bills filed by employees are automatically converted into text files, and the appropriate numbers are logged. Scenarios similar to Akash's will not be an occurrence anymore. No more delays due to physical sorting or data entry of relevant numbers.
Let us look at the significant advantages of OCR technology and software.
1. Better efficiencies
OCR software automates data entry and text recognition workflows. It saves time and reduces the chances of errors. While these are some of the most significant benefits, what you must consider is that you save on the resources you employ for data entry and all associated costs too.
2. Lower costs
As OCR software begins to digitize all your paperwork, you will realize that all related costs come down. While storage forms a major chunk, printing or shipping such documents also involves costs.
With digitization, you can completely eliminate these costs. Further, since OCR software extracts relevant information from scanned documents and moves them to the appropriate databases, you can save on resources employed for this. Employees can be employed in other, more important tasks. 
3. Easier access to information
Pulling information from physical documents can be cumbersome and time-consuming. OCR software digitizes paper documents making it easy for you to store them on your servers or the cloud. Once this information is available digitally, access is easy and not restricted by time or place.
4. Eliminates storage and security concerns
As mentioned above, you can eliminate the physical storage of paper documents. So, whether in the legal, education, retail, or healthcare industry, you can store and access all documents online with the help of OCR software. Some vendors even provide customizable software to suit your unique requirements.
Another benefit is increased security of sensitive or confidential paperwork you may be holding. Electronically stored data and information can be secured by using the latest encryption techniques or more. 
5. Reduces errors
A major advantage of employing OCR software across your organization is that once your paperwork is digitized, you reduce or eliminate errors caused by manual entry. Several challenges, such as font, damage to paper, and illegible writing, can contribute to the number of errors.
OCR software has grown by leaps and bounds to ensure it can recognize text accurately. Language, fonts, and document types can be easily scanned and analyzed, giving you a high level of accuracy. Further, OCR is combined with AI and ML, improving with every document it scans and digitizes.
Suggested Read: A Guide to Purchase Order Process (PO)
Key features of OCR software
The best OCR software systems feature a scanner, a component that recognizes the text, and a software component (that interacts with your existing system). The process begins by using the scanner to take pictures of a document.
For instance, an invoice scanning OCR software reads the invoice in the first stage. It pulls information such as vendor number, name, total, purchase order number, date of invoice, etc. Finally, as per the requirements, categorizes the information for the next stage in the process.
How the OCR software works
Irrespective of what the OCR software is used for, the tool works similarly in most scenarios. Here's what the process looks like.
In the first stage, the image, scanned document, or receipt must be cleaned up so it is suitable for further processing.
The OCR software scans the image to locate the parts of the document that contains the relevant text. It segments these portions into recognizable characters or words to be identified later.
In this stage, based on the results from the previous stage, the OCR software identifies the characters based on pre-set rules such as the shape and size of the words/alphabets.
The final stage involves a verification process so the resultant text file after the process can be declared as correct and ready-for-use.
Also, Read: 10 Best Financial Management Tools
Is there free OCR software or free alternatives to OCR software?
OCR tools are used abundantly across enterprises to capture text from images and PDF files. OCR applications convert text into searchable and editable files such as Word, Excel, etc. With the advent of AI and ML, these capabilities are only improving to streamline your organizational workflows.
As more organizations digitize and move to cloud-based solutions and paperless workspaces, finding the best OCR software becomes increasingly essential.
The top 10 OR software may come at a price, but there is free OCR software that you can use. Several free OCR software can do the job of converting image files. They may not be able to process elaborate business documents at very high accuracy levels but they will get the job done for you.
Here is the list of the best free OCR software
List of free OCR Software
Challenges in implementing OCR software
You cannot assume 100% accuracy with any software. Here too, even the best OCR software will present some challenges. Let us look at the main challenges in implementing OCR software.
1. Quality
Even the top 10 OCR software in the market will have trouble if the quality of the input image is not good. This means that if the documents or receipts you must convert are in bad shape (illegible, hard to understand, or torn), the OCR tools will have a harder time extracting the information correctly.
The quality suffers as the errors must be addressed before you try t convert the image again. 
2. Cost
Depending on the number of documents you need to convert, you may find that the OCR software is slow. Any of the other workflows that may be dependent on the success of this process may also be affected by the time taken. Further, the more sophisticated the technology, the more expensive it is. So, if you pick one of the top OCR software in the market, you may stretch your budget.
3. Inaccuracies
One of the biggest inaccuracies of OCR software is that it is inaccurate. As mentioned above, the quality of the input image may lead the software to give you unreliable results. For instance, it is very common for the software to read a lowercase "l" as the number 1. On the other hand, it may read a "b" as an "h."
Therefore, proofreading or verification after the process is an absolute must.
4. Format Changes
Many times, the OCR software can change the document's formatting giving you information that may not make much sense. It may be fairly easy to decipher if it is a few documents. However, when you are converting hundreds of documents, things can easily spiral out of control. 
5. Languages
One of the most significant challenges in implementing OCR software is language. While the software can be trained and customized to recognize multiple languages, the software does have problems when it comes to certain languages. For instance, any language (Hebrew, Arabic) that must be read from right to left can present a problem. 
Quick Read: What is Financial Modelling?
Choosing the right OCR software
1. Business needs
There are quite a few OCR software vendors in the market. However, choosing the right OCR software for your organization will depend on your requirements. There is the option of using free OCR software, but if you have specific demands, you must look at vendors who offer customizations. 
2. Cost
If you plan to invest in the best OCR software, it will most certainly come at a cost. It is best to understand what you are willing to pay before you search for the best OCR tool for your business.
As the number of features and capabilities increases, the cost will too. For instance, many vendors offer cloud-based software. However, if you already use a cloud service provider, you can use a product that can integrate with the same, saving you money. 
3. Accuracy
Data preprocessing is the only way to ensure the OCR software's accuracy improves. Apart from this, improving the resolution of the scans and ensuring that images are appropriately cropped can also help.
However, this can present a challenge when you have a lot of poor-quality documents.  So, you must measure the number of such documents against the accuracy your vendor assures before you invest in any software.
4. Ease-of-use
Ease of use is an important consideration as your employees will use the software daily. While a no-code option is the easiest, as users need to only right-click on a document to convert it, it may not be the best option if you have large volumes of documents. If looking at customized OCR software, ensure your vendor provides training or support.
Conclusion
OCR software has enormous potential for businesses across sectors and industries. Including AI (Artificial Intelligence) and ML (Machine Language) allows this software to go beyond the basic use case of converting images or scanned documents into editable digital files.
Fast and accurate data extraction becomes a norm while paving the way for intelligent document processing.
OCR Software FAQs
1. What is OCR Software?
You cannot access or edit information in scanned documents or image files unless data is pulled manually and entries are posted into your computer. Optical Character Recognition or OCR software converts scanned text or documents into editable files.
2. Which is the best OCR software?
There are many vendors in the market for OCR software. The best OCR software for you will be the one that addresses all your business needs appropriately. You can choose from many OCR programs such as Readiris, Nanonets, DocSumo, Rossum, and others.
3. Are there any free OCR Software?
Free OCR software is available for use online. For instance, Tesseract by Google is available as an open-source software. However, you may need more features or capabilities paid versions can offer. 

4. What is an example of OCR software?
DocSumo is an excellent example of OCR software. However, if you are looking for something that uses better technology, Amazon Textract may be a good choice. It uses ML (Machine Learning) to extract text and handwriting.
5. What are the benefits of using OCR Software?
Using OCR software, you can eliminate manual data entries that are a norm in industries or organizations with many scanned images, text-based receipts, forms (healthcare), etc. Digitizing this process leads to savings in time, cost, and effort.
6. What is the difference between OCR and optical character recognition?
OCR and Optical character recognition are the same. OCR is the technology used to convert image-based documents into machine-readable file formats that organizations can edit and access easily.