Introduction
Coupa vs. Concur, which one do you think is better for your organization? This is not a question that can be answered in a single word or a sentence. We do all the hard work as we compare features and other aspects of Coupa and SAP Concur. All you need to do is go through the article below to make the right choice for your organization.

Coupa vs SAP Concur: Comparative table
| | | | |
| --- | --- | --- | --- |
| Features | Coupa | Happay | SAP Concur |
| Market size | Small, mid-size, and enterprise | Mid-size and large Enterprises | Small, mid-size, and enterprise |
| Budget/Forecasting | No | Yes | No |
| Receipt Management | No | Yes | Yes |
| Expense capture- Web OCR Facility | N/A | Yes | No |
| Multi-currency | No | Yes | Yes |
| GST filing- tax calculation | N/A | Automatic | Manual |
| Prepaid Cards | No | Yes | No |
Overview of Coupa
Coupa offers a cloud-based platform with business spend management capabilities that allow you to scale quickly and efficiently. They have a unified suite of capabilities that employ a standard data model and UI/UX interface across the platform. Using a straightforward approach to integrations and a cloud-based architecture, Coupa ensures quick deployment.
Coupa's headquarters is based in California, USA, and they have offices in North and Latin America, EMEA (Europe, Middle East, Africa), APAC (Asia Pacific), and many others.
What Coupa offers?
Coupa's vision is to transform the way businesses manage their expenses. In an attempt to co-create unique capabilities, they have teamed up with the Business Spend Community. The focus is business value, but the broader values they are focused on are
Ensuring business success
Focus on results, and
Strive for excellence
Read More: 10 Best Spend Management Software
Overview of SAP Concur
SAP Concur offers small, mid-size, and large enterprises an opportunity to reinvent their travel and expense management. The features provide to simplify your everyday workflows while promising better employee experiences.
Concur promises to simplify the travel process with an app that guides users to plan and book their business travel arrangements. The software allows users to populate the information and file expense reports automatically. Using AI and real-time data, Concur promises to tackle your blind spots in travel and expense management.
Sap Concur's head office is in Bellevue, Washington, USA. They have offices in India, Australia, China, Japan, Mexico, and other European countries.
What Concur offers? 
SAP Concur offers cloud-based services that integrate well with each other and the existing systems (ERP, HRMS, or other accounting systems) in organizations. Hoping to optimize travel and expense management, the technology connects you to all aspects of expenses to give you complete visibility into the organization's expenses. 
Concur's solutions ensure you are connected to your vendors, travel agencies, credit card companies, and other suppliers efficiently, so expenses are captured and recorded quickly. Concur's Business Intelligence offers analytics through a dashboard with standard reports that promises to help organizations manage their expenses and cash flow better.
Read More: 5 Best SAP Concur Alternatives and Competitors
Coupa vs SAP Concur: Detailed Comparative analysis with Happay
| | | | |
| --- | --- | --- | --- |
| Features | Happay | Coupa | SAP Concur |
| Expense Capture | Xpendite-automatic and error-free capture of information from invoices (physical and digital). | Designed for modern users, Coupa's Mobile app (android and IOS enabled for iPhones) allows you to create and submit expense reports easily. | ExpenseIt automatically populates expense reports using e-receipts. |
| Expense Approval | ApprovNow-transforms your approval cycles with real-time updates. Soft and Hard blocks to eliminate out-of-policy claims. | Coupa's software allows users to set up approval hierarchies for requisitions, expense reports, and invoices. | Concur's mobile-friendly tools help you to approve everything on the go. |
| Policy Compliance | SmartAudit-highlights policy violations and flags off potential fraud and errors. | Audit algorithms prevent fraud and manage and control spend. | Concur promises to improve compliance by using ML to match receipts and credit card charges. |
| Expense Analytics | DeepAnalyze- offers 360o visibility into your travel and expense data through relevant and customizable reports and charts. | Community.ai provides relevant business information through customizable reports in your dashboard. | Sap's analytics allows you to review numbers and other trends with customizable reports and charts. |
| Travel Planning | Self Booking Tool- allows travelers to book flights, hotels, and cabs and even raise VISA requests without emailing their travel desk or admin. | Coupa promises to deliver a user-centric experience for travelers through its platform. | SAP's travel software and mobile-friendly tools allow users to formalize/change travel plans, share itineraries, and get travel updates. |
| Travel Booking | Fare Freeze- allows you to lock the fare, so you don't have to pay a different fare from when you began planning your business trip. | Coupa offers Travel Saver that identifies a price drop in fares and rebooks at a lower rate. | SAP offers user-friendly travel tools to keep travelers productive and compliant. |
| GST | GST Automation-automates the process and eliminates manual extraction of GST information, GSTINs, and reconciliation. | Information Unavailable | The tax calculation for GST filing may be manual, but Concur offers state-wise and entity-wise GSTIN master. |
| Mobile App | Happay Expense App allows users to report and submit expense reports, request advances, and track mileage digitally from anywhere. | Coupa's mobile app allows you to spend smarter, as its solution is designed and optimized for mobile devices. | Offers a mobile app for expenses. ExpenseIt automatically creates, itemizes, and categorizes expense entries. |
Must Read: 10 Best Expense Management Software and Tools
All about Coupa
Reasons to choose Coupa:
1. Functionality
Coupa offers advanced configurations for you and your finance teams. With an intuitive user experience, you can look forward to better control and more visibility over spend.
Coupa's corporate travel management is designed to be an all-in-one solution. So, whether smart travel booking, price assurances, traveler services, or others, Coupa promises a better experience and functionality.
2. Pricing
Currently, there is no pricing information available for Coupa. You can contact them for any details regarding free trials or other suitable plans.
3. Customer support
Based on your plan and individual arrangements, Coupa provides help through multiple sources. For instance, Coupa Premium Support gives you access to
Designated support contacts
24*7 availability monitoring
24*7 Success Portal access
24*7 Coupa Community Forum access
24*7 Support Portal access
24*7 Technical support
Web case submission and phone support
You can access the success portal on their website. You can find answers to your questions by navigating the page.
On the other hand, a customer value manager assigned to your organization can address your concerns.
Coupa has partnered with Travel Leaders Corporate (TMC) for travel-related support to provide great customer service during travel.
4. Integration
Coupa uses a light-touch approach to integration. So, only the most critical business processes must be integrated. Also, the straightforward and open approach makes integration with SAP, Oracle, Netsuite, and other ERPs simple. The cost is lower than other complex systems while reducing the load on your IT teams.
5. Customer base
Coupa's customers include Lear Corporation, Avalon Health Care Group, Engie, Sanofi, Lululemon Athletica, and several others. Coupa has over 2000 customers worldwide (all products and solutions offered by Coupa).
6. Coupa Pros
Paper-based to Digital- A user credits Coupa for the digital transition of their organization. Not only were they able to customize approval workflows, but the better visibility and transparency have increased the efficiency of their Accounts Processing team.
User suggests that the product is easy to configure and use.
The mobile app makes it easy for users to log expenses on the go.
Another user likes the time savings, ease of use, and reduction in unauthorized purchases/expenses.
A user on Trust Radius appreciates the ease of creating recurring expenses. The recurring expense pops up periodically, with all information ready to go/be filed.
7. Coupa Cons
Coupa Ratings
Overall rating
Value for money
Ease of use
Features
Customer support
*Ratings are based on GetApp rankings
Suggested Read: 10 Best Expense Management Software

All about SAP Concur
Reasons to choose SAP Concur:
1. Functionality
SAP Concur ensures that your employees can submit expenses from anywhere in the world and capture travel information, no matter where it originates. So Concur's solutions allow you to automate, connect, and simplify travel and expense management.
Better functionality all around improves your organization's efficiencies while increasing the productivity of the finance teams. Consistent and better user experiences contribute to compliance automatically, while real-time connectivity ensures better visibility over your expenses.
2. Pricing
Automate

Insights

Optimize

$9 /per report, average price

Pricing is variable

Pricing is variable

This plan is for when you need more visibility and better control.

What you will get with this plan:

1. Automated expense reporting and receipt capture.

2. Customizable spending policies.

3. Dashboard reporting for visibility.

4. Corporate and personal card integration.

5. Faster employee reimbursement.

This plan works when you need additional insights into spend.

1. All features mentioned in the Automate plan.

2. Enhanced dashboards and reporting.

3. Personalized data views.

4. Report scheduling.

5. Spend alerts to help manage spend.

This plan is ideal when you need to optimize spend management.

1. Support for your employees 24/7/365.

2. Help with configurations and best practices.

3. Periodic reports on cases, resolutions, and response times.
3. Customer support
SAP Concur support and services offer support for
3.1 Administrators
Administrators can access training material, dashboards, and other support forums through resources provided on the website. Admins can access the SAP Concur community, in-product assistance, or the Concur Open Dashboard for clarifications or assistance.
3.2 Users
Existing users can access valuable training material, FAQs, and other community connections to better understand the product or solve any challenge.
3.3 Prospective product users
Prospective customers can contact the sales departments to schedule a demo.
4. Integration
Integration is essential as you employ travel and expense management solutions across your organization. SAP Concur's financial connectors ensure that the accumulated travel and expense data integrates well with your ERP, CRM, Human Resources, and Accounting Systems.
5. Customer base
SAP Concur's customers include Blueprint Technologies, IBM, VMWare, Healthium, and others.
6. Concur Pros
A user on G2 says that one of the pros of Concur is that it does not overcomplicate things. The app is convenient to use, and the expense assist feature organizes expenses.
G2 user likes that Concur is an all-in-one travel and expense tool. Also, the mobile app makes it easy to store receipts before you are ready to create an expense report.
One of the pros of using SAP Concur is the visibility of the status of your expense claims. Whether it is pending or settled, you are privy to all information. 
One of the users appreciates the easy process of travel booking and claiming reimbursements.
7. Concur Cons
SAP Concur Rating
Over all rating –
Value for money –
Ease of use –
Features –
Customer support –
*Ratings are based on GetApp rankings
Also, Read: 10 Best Travel Management Software

Why do enterprises choose Happay over Coupa or Concur?
While the above focuses on Coupa vs. SAP Concur, let us examine why enterprises choose Happay over Coupa and Concur.
What are the features or additional advantages you get when you choose Happay?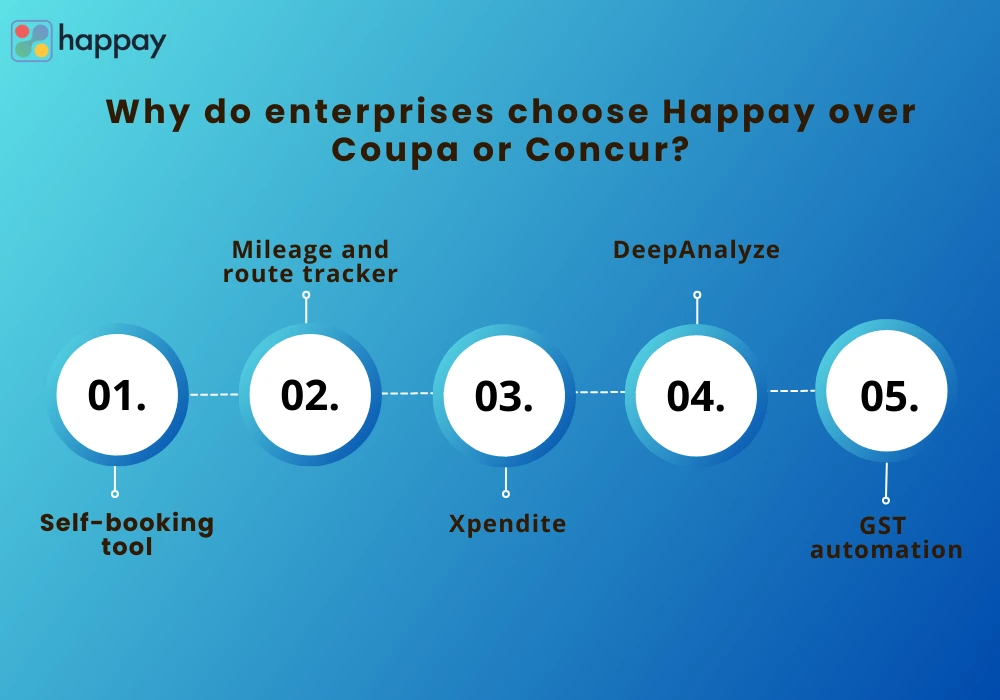 1. Self-booking tool
A self-booking tool can change how your business travelers plan and finalize their trips. Not only do they get access to numerous options on a single interface, but they also need not worry about compliance and approvals. 
Happay's state-of-the-art self-booking tool eliminates the time taken to plan a trip as it allows you to navigate the options with ease and book your trip according to your choice and convenience.
2. Mileage and route tracker
For those organizations with a large field force, mileage expense is a source of cost leakage. Eliminate the manual expense claims and the effort that goes into validating the accuracy of mileage logs with Happay's GPS-powered web-based mileage tracker (mobile and desktop).
When the user adds the start point and the destination, the tracker automatically calculates the expense using the mileage rate and distance.
Happay's route tracker is integrated with Google Maps. You can eliminate the time and effort involved in checking the validity and accuracy of the mileage logs. Happay also offers an offline mileage tracker, which, when configured in the system, can be used in the absence of internet connectivity.
3. Xpendite
Ask any frequent traveler, and they will attest that one of the most frustrating aspects of corporate travel is saving the physical receipts so the expense reports can be filed later.
Happay's Xpendite transforms the expense capture process to make it straightforward. It captures data at the source, ensuring that your data is accurate.
Further, the OCR technology assures
Easy and automatic capture of invoices (physical and digital).
Precise capture of relevant information on your invoices.
Better employee experience
Improved control and visibility over expenses
4. DeepAnalyze
360 degree visibility is a valuable advantage to have when it comes to expense tracking and management solutions. Ensuring you have what you need to make intelligent decisions backed by data, Happay's DeepAnalyze offers insights into your expenses. For instance, based on travel and expense data, you can
List the top spenders
Identify the top violators
Understand the time it takes for approvals, reimbursements, and so on.
You can remove the guesswork from your decisions by relying on Happay's expense analysis.
5. GST automation
GST calculations and reconciliations are critical to any finance team's responsibilities. If you or your team is spending hours/days/weeks gathering invoices and data, GST breakups, and GSTINs and reconciling such information, it is time to think about an easier way to accomplish this.
Happay's GST automation promises to transform this cumbersome process and help you save 5%-18% in T&E costs.
The SBT (self-booking tool) pushes GST details even as you are booking your flight tickets. Happay's software automatically picks up GST details during expense filing and fetches the same from airlines too. Further, you can generate a consolidated error-free GST report giving you 100% accurate Input Tax Credit data.
Conclusion
Choosing the proper travel and expense software requires a sensible approach where you analyze the product's suitability for your organization. Apart from studying SAP concur vs. Coupa, you must also review other brands and features that may better fit your needs. 
FAQs
1. Does Coupa integrate with SAP?
Coupa as a travel and expense software provider, promises smart integration, ensuring it integrates seamlessly with SAP, Oracle, and other ERPs. 
2. Why do companies use Coupa?
Coupa makes it easy to manage your expenses as you can automate everything from capturing expenses to tracking and reporting them. 
3. What are the different markets in which SAP Concur, and Coupa compete against each other?
Both Coupa and SAP Concur cater to startups, small businesses, mid-size companies, and enterprises.They compete with each other in travel and expense management, expense reporting, accounts payable, billing and invoice management, financial reporting, and purchasing. 
4. What distinguishes Coupa from SAP Concur?
Coupa focuses on comprehensive spend management, emphasizing procurement, invoicing, and expenses. SAP Concur primarily specializes in travel and expense management, catering to businesses with extensive travel needs.

5. Which platform offers better integration with existing systems?
Both platforms offer integration capabilities, but Coupa's user-friendly interface and flexible integration options provide a smoother experience for connecting with various ERP and financial systems.

6. What advantages does SAP Concur hold in travel management?
SAP Concur offers robust travel booking features and expense reporting tailored to frequent travelers. It seamlessly integrates travel data, simplifying expense tracking and reporting.

7. In comparing Coupa Vs Sap Concur, how do they differ regarding scalability?
Coupa is known for its scalability, making it suitable for small and large businesses. SAP Concur is more travel-centric, making it highly suitable for organizations with significant travel volumes.