Introduction
Egencia and SAP Concur are two popular names for travel expense management solutions. Choosing between these platforms requires careful consideration to achieve cost control, compliance, and employee satisfaction. To make it easier for you, we bring you this guide that will delve into the intricacies of Egencia vs. Concur. We will compare their features, functionalities, and overall performance to help you determine which solution aligns best with your business objectives.
The need for a comprehensive comparison between Egencia vs. Concur
Travel expense management software plays a crucial role in modern corporate operations. There's thus, a need for an extensive comparison between Egencia vs. SAP Concur. For organizations seeking ways to optimize resources and ensure policy compliance, making an informed decision about this aspect facilitates these processes much better.
Both Egencia and Concur offer varied features and capabilities. Therefore, the nuances of their offerings can broadly impact your organization's ability to control costs and provide a seamless travel experience for employees.
A thorough analysis is thus essential to align your travel management program with business objectives. Let us now look at the strengths and weaknesses of each platform to make a well-informed decision.

Egencia vs. Concur
Here's a quick comparison between SAP Concur vs Egencia based on the information available on Capterra.
| | | |
| --- | --- | --- |
| | Egencia | Concur |
| Free trial | No | Yes |
| Features | 3.9 | 4.2 |
| Ease of use | 4.0 | 4.0 |
| Value for money | 3.8 | 4.1 |
| Customer service | 3.8 | 4.1 |
| Likelihood to recommend | 3.5 | 3.9 |
1. Overview of Egencia
Egencia is a travel and expense management solution that offers comprehensive features designed to simplify travel spend management for businesses of all sizes. It provides a single, unified T&E (travel and expense) solution, allowing you to seamlessly consolidate and streamline your travel-related processes.
With a keen focus on enhancing efficiency, Egencia empowers your business to refine your travel policies for better compliance. Simultaneously, it simplifies the entire process of travel expense management. Whether a small startup or a large enterprise, Egencia caters to businesses of varying scales.
It facilitates expense management with a commitment to balancing the bottom line. Its user-friendly interface and robust functionalities make it a trusted ally for organizations seeking to optimize travel expenses and drive cost savings.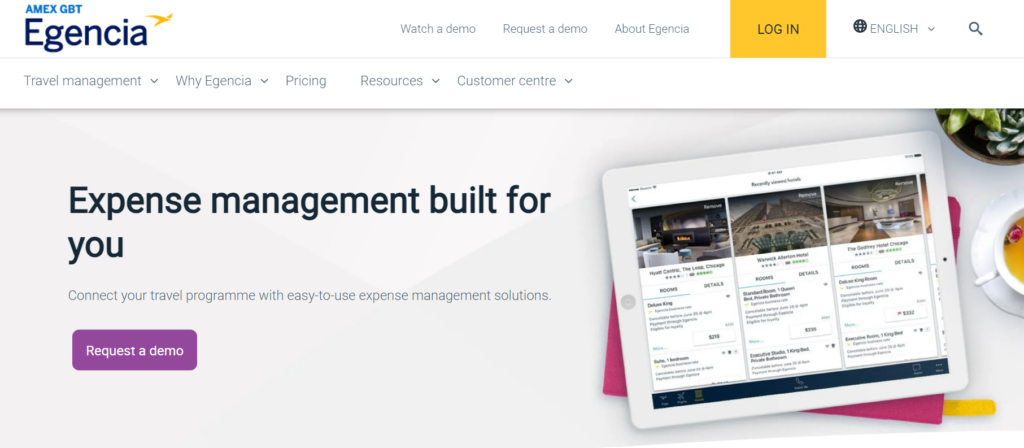 2. Key features and benefits offered by Egencia
Here are some key features and benefits of Egencia.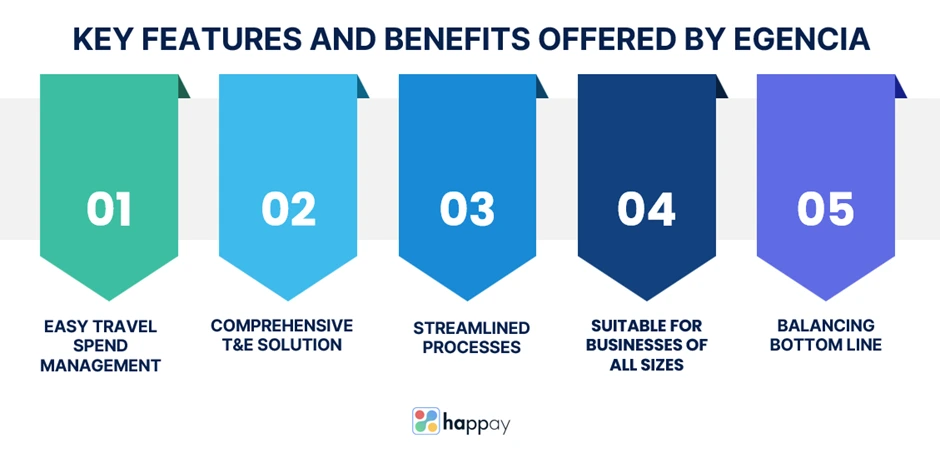 2.1 Easy travel spend management
Whether you're a global corporation or a small to medium-sized business, Egencia simplifies the complexities of travel spend management. It enables you to monitor day-to-day discretionary travel spend, manage budgets, and reconcile accounts efficiently. It includes meticulous tracking of all travel-related expenditures within your system.
2.2 Comprehensive T&E Solution
Egencia provides a singular travel and expense (T&E) solution, offering daily visibility into your travel expenses. It allows you to align crucial data fields to support budgeting and financial accountability. You can effortlessly manage employee expense reports reflecting spending via personal or corporate credit cards. Furthermore, you can promptly reconcile centrally billed charges to ensure fully validated T&E entries in your general ledger.
2.3 Streamlined processes
Egencia facilitates the creation of traveler profiles and booking preferences to encourage policy compliance. The platform allows configuring data fields according to your specific reporting needs and accommodates various payment types.
It establishes seamless data flows across T&E and associated reporting systems. At the same time, it also supports existing expense reporting and reconciliation processes for accurate reconciliation in your general ledger.
2.4 Suitable for businesses of all sizes
Egencia caters to businesses of all sizes, simplifying the task of keeping your general ledger reconciled with credit card and bank statements. The platform allows for the effortless transfer of offline and online transaction data to your expense management system.
It also offers automation support for trip data transfer to dedicated expense management systems, traveler risk management partners, and ERP systems through Open Connect. It increases compliance and reduces excessive spending by enabling travelers to consolidate receipts and personal credit card charges, even from multiple cards.
2.5 Balancing bottom line
Egencia recognizes the importance of fully reconciled credit card and bank statements for submission to your general ledger. Therefore, it collaborates with you to ensure accurate and convenient transfer of all transaction data to your expense management system, including offline, online, and custom data fields.
The platform maintains partnerships with many expense management partners and payment providers. It offers billing data reports to accommodate your business's specific reconciliation requirements.
Read About: 10 Best Spend Management Software for Enterprises
3. Pros and cons of Egencia
Here are some pros and cons of Egencia based on user reviews available at Capterra.
| | |
| --- | --- |
| Pros | Cons |
| The ease of navigation and the helpfulness of the staff contribute to Egencia's good user experience. | The frequent occurrence of scheduling conflicts or booking issues poses a significant challenge. |
| Egencia offers good service for compelling reasons that set it apart. | Navigating hotel bookings within a company's policies can be less intuitive, resulting in multiple instances of booking the wrong room type, which can be a frustrating experience. |
4. User reviews and ratings for Egencia
Here are the ratings for Egencia based on the information available at Capterra.
| | |
| --- | --- |
| Overall | |
| Ease of use | |
| Customer service | |
5. Pricing and subscription options
Contact the Egencia team to get the pricing details.

2. Overview of Concur
SAP Concur allows you to seamlessly manage your travel and expenses within a single, integrated platform. The holistic approach enhances leverage, control, and compliance. At the same time, it elevates the overall travel experience for your team. Concur travel can simplify the complexities of travel and expense management.
Whether booking business travel or submitting expense claims, Concur travel provides travelers with a unified login for all these tasks. The platform ensures data integrity by capturing itineraries and e-receipts directly from suppliers and monitoring corporate credit card transactions. Such in-depth analysis can help optimize your travel and expense management program.
SAP Concur allows for seamless budget-to-actual comparisons and ensures vendor compliance while expediting the entire claims process. Concur's business travel booking functionality also facilitates the discovery of optimal travel options and offers various travel choices to ensure a smooth travel booking process.
Read More: 5 Best SAP Concur Alternatives and Competitors
2.1 Key features and benefits offered by Concur
Here are some key features and benefits of SAP Concur expense management solution.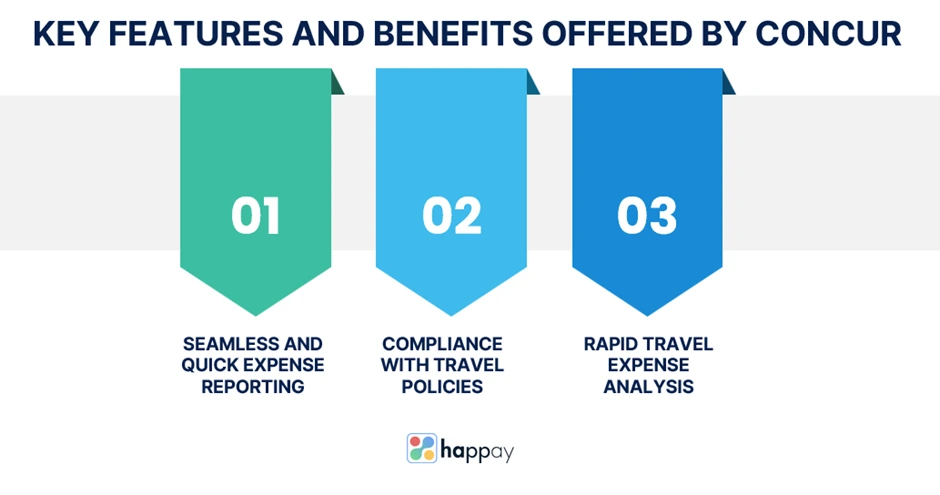 2.1 Seamless and quick expense reporting
SAP Concur streamlines the process of reporting travel expenses by eliminating delays in submitting travel expense reports. Users can efficiently create expense reports directly from their itineraries to simplify the administrative tasks associated with expense management.
Additionally, Concur travel allows for the automatic inclusion of expenses paid using company-issued credit cards to enhance accuracy in expense reporting. The platform further supports including costs from e-receipt providers, irrespective of the payment method. This feature expedites the expense reporting process to ensure accuracy in financial data.
2.2 Compliance with travel policies
You can integrate your travel policy into the software, allowing for better travel policy compliance. Embedding travel policies within the booking process helps employees make compliant travel decisions. It helps promote responsible and policy-compliant travel practices across the organization.
2.3 Rapid travel expense analysis
SAP Concur simplifies tracking business travel expenses by providing a comprehensive overview of employee expenditures. Organizations can effortlessly assess travel-related costs through advanced reporting capabilities and gain valuable insights.
These insights enable your organization to identify areas where cost-cutting measures can apply. Concur's intuitive dashboards offer a convenient "at-a-glance" view of travel and expense spending, catering to the specific needs of departmental heads and management teams. The enhanced visibility empowers decision-makers with the necessary information to optimize travel and expense management strategies. It can contribute to cost savings and efficiency improvements.
3. Pros and cons of Concur
Here are some pros and cons of Concur based on user reviews available at Capterra.
| | |
| --- | --- |
| Pros | Cons |
| The convenience of electronically submitting expenses is noteworthy when combined with automated payment processing. | According to a user, they would have appreciated better sync is card usage. The customer experience and onboarding process was lacklustre. |
| For administrators, accessing an employee's page as a proxy is valuable. It helps them assist employees effectively in resolving issues. | Addressing specific errors within a process can prove challenging. It can necessitate a complete restart instead of implementing more straightforward fixes. |
4. User reviews and ratings for Concur
Here are the ratings for Concur based on the information available at Capterra.
| | |
| --- | --- |
| Overall | |
| Ease of use | |
| Customer service | |
5. Pricing and subscription options
Contact the Concur team to get the pricing details.
Read More: SAP Concur Reviews: Pricing and Features

How is Happay better than Egencia and Concur?
Happay distinguishes itself as superior to industry competitors like Egencia and Concur due to the following key factors.
1. Ease of use
Happay boasts an impressive ease-of-use rating of 4.4, surpassing Egencia (4.0) and Concur (4.0). The heightened user-friendliness ensures a more efficient and intuitive experience for its users.
2. Customer service
Happay's commitment to exceptional customer service is evident in its remarkable rating of 4.3, outshining Egencia (3.8) and closely competing with Concur (4.1). The dedication to providing exemplary support emphasizes Happay's commitment to client satisfaction.
3. Features
Happay excels with a rating of 4.4, outperforming Egencia (3.9) and maintaining competitiveness with Concur (4.2). These robust features offer a comprehensive suite of capabilities that cater to diverse business needs.
4. Value for money
Happay stands out with a rating of 4.5, demonstrating its superior cost-effectiveness compared to Egencia (3.8) and holding its ground against Concur (4.1). This affordability, exceptional features, and user-friendliness position Happay as the preferred choice for businesses seeking an optimal travel expense management solution.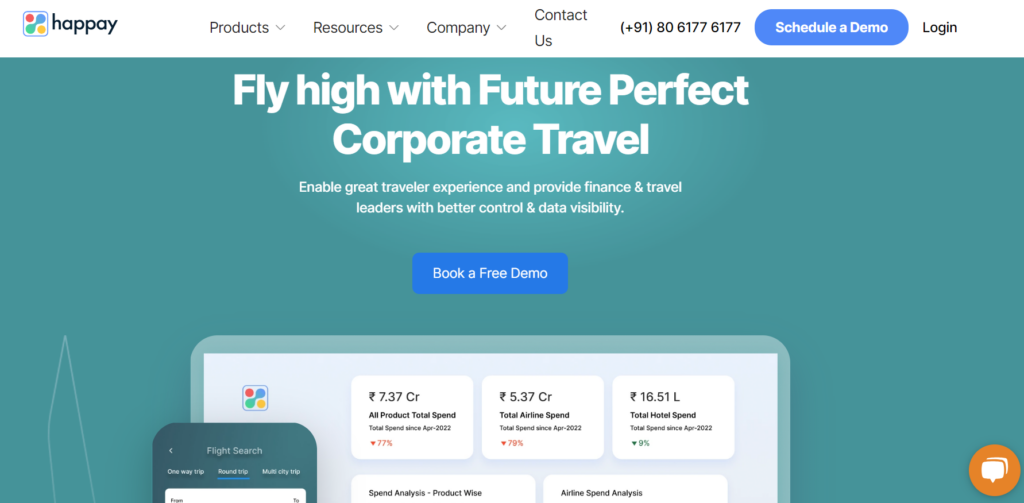 Happay vs. Egencia vs. Concur
| | | | |
| --- | --- | --- | --- |
| | Happay | Egencia | Concur |
| Ease of use | | | |
| Value for money | | | |
| Customer service | | | |
Must Read: Happay Expense Management Software
Key features and benefits offered by Happay
Here are some key features and benefits of using Happay's travel expense management solutions.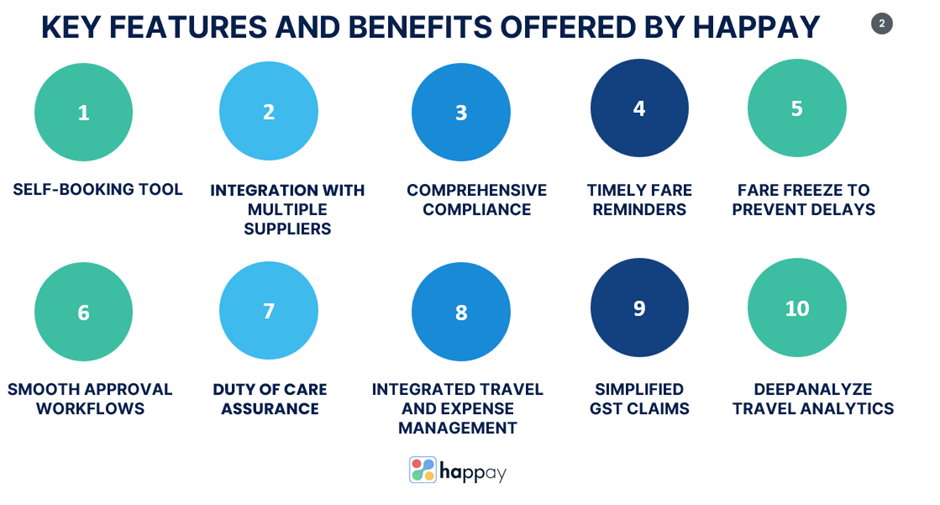 1. Self-booking tool
Happay empowers travelers with a self-booking tool that enables them to book travel in compliance with company policies while accessing better fares. The platform also facilitates the seamless requests for VISA and other travel necessities. The result? A remarkable 10%-15% reduction in travel and expense (T&E) costs and a significant reduction in manual effort.
2. Integration with multiple suppliers
Happay offers seamless integration with multiple suppliers for a diverse selection of travel content. It includes connections to various suppliers for flights and hotels, allowing you to manage inventory from low-cost carriers (LCCs), corporate travel management companies (TMCs), and hotels through a unified platform. The comprehensive approach ensures end-to-end corporate travel booking with minimal work email communication for enhanced efficiency and convenience.
3. Comprehensive compliance
Happay facilitates the establishment of dynamic travel booking policies and ensures automatic compliance. It enforces compliance procedures to ensure corporate travelers understand and adhere to policy guidelines. It can help achieve up to 100% policy compliance and zero violations.
4. Timely fare reminders
The "missed savings alerts" feature in Happay prompts travelers to select the lowest fare options without compromising convenience. The proactive approach saves 7%-10% on travel costs by choosing the most cost-effective flights and accommodations.
5. Fare freeze to prevent delays
Happay offers a "fare freeze" feature to prevent ticket fares from escalating due to approval delays. The feature acts immediately upon submitting a trip request to safeguard against cost increases that may result from delays in approvals, leading to potential savings of 10%-50%.
6. Smooth approval workflows
Happay streamlines approval workflows with real-time alerts and notifications. Approvers receive instant messages to make timely decisions with a clear understanding of policy violations and missed savings opportunities. It results in a 40%-60% reduction in turn-around time and cost overruns to ensure 100% on-time approvals.
7. Duty of care assurance
Happay strongly emphasizes traveler safety by providing a standard of care that includes proper procedures and travel policy adherence. It informs travelers about geo-political developments and other risks that may compromise their security to mitigate potential travel-related issues.
8. Integrated travel and expense management
Happay offers seamless integration of travel management with expense capture to simplify the process of filing trip expenses through efficient workflows. The integration ensures 100% accuracy and eliminates manual work to enhance efficiency in expense management.
9. Simplified GST claims
Happay simplifies the verification process for GSTR-2 by automatically populating state-wise company GSTIN during ticket booking. It also extracts airline and hotel GSTIN details from travel invoices without manual effort. It can help your business save 5%-18% by efficiently claiming GST on flights and hotels.
10. DeepAnalyze travel analytics
Happay provides access to DeepAnalyze travel analytics, a powerful tool that offers insights and data-driven decision-making capabilities. This feature empowers your organization to influence your operations through informed and strategic travel management positively.
User reviews and ratings for Happay
Here are the ratings for Happay's SaaS-based services.
| | |
| --- | --- |
| Overall | |
| Ease of use | |
| Customer service | |
Essential tips to know when choosing between Egencia vs. Concur vs Happay
You must consider the following factors when selecting between Egencia, Concur, and Happay for your travel and expense management needs.
1. Need assessment
Consider the scale of your travel program, the complexity of your expense management, and the level of policy compliance needed. Understanding your unique needs is crucial in determining which solution aligns best with your objectives.
2. User-friendliness
User-friendliness can impact adoption rates within your organization. Look for a solution that offers an intuitive interface and streamlined processes to enhance user satisfaction.
3. Customer support
Check the customer support quality offered by each platform. Prompt assistance can be invaluable when issues arise.
4. Features
Identify which platform provides the essential functionalities for your travel and expense management. Consider booking capabilities, compliance enforcement, expense tracking, and integration options.
5. Cost and value for money
Assess each solution's pricing structure and consider its value in relation to its cost. Look beyond the initial subscription fees and factor in potential savings, efficiency gains, and the overall return on investment (ROI) each platform offers.
6. Policy compliance
Ensure the chosen solution can effectively enforce your company's travel policies. This feature is critical in controlling expenses and ensuring employees adhere to established guidelines.
7. Integration capabilities
Evaluate the integration capabilities of each platform. Determine whether they can seamlessly integrate with your existing systems, like accounting software and corporate credit card accounts.
8. Scalability
Pick a travel management software that scales with your business, accommodating your evolving travel and expense management needs.
9. Reporting and analytics
Robust reporting and analytics tools are essential for gaining insights into your travel and expense data. Assess the depth and comprehensiveness of reporting each platform offers to facilitate data-driven decision-making.
Read About: Happay Travel Management Software
Egencia vs. Concur: Bottom line
While Egencia and Concur are a few travel and expense management options, Happay emerges as a standout alternative that offers a compelling blend of user-friendliness, robust features, exceptional customer service, and cost-effectiveness.
The comprehensive capabilities provided by Happay, including its self-booking tool, compliance enforcement, timely fare reminders, and integrated travel and expense management, position it as a top choice for organizations seeking optimal solutions to streamline their travel expense management. Considering the notable advantages, it is worth considering Happay as your preferred partner in achieving cost savings and operational efficiency in travel expense management.
FAQs
1. What is Egencia, and what is Concur?
Egencia is a travel management software solution that helps organizations manage their corporate travel programs. It provides tools for booking flights, hotels, and other travel-related expenses, along with features for expense reporting and policy compliance. Concur, conversely, is also the same solution that offers similar functionalities. It allows businesses to book and manage travel, track expenses, and ensure compliance with company policies.
2. How do Egencia and Concur differ in terms of travel and expense management?
While Egencia and Concur offer travel and expense management, they differ in features, user-friendliness, pricing, and customer support. Egencia may be preferred for user-friendliness, while Concur might stand out for its value-for-money capabilities.
3. Which industries are best suited for Egencia, and which for Concur?
Egencia and Concur cater to various industries like finance, healthcare, technology, etc. The choice between them depends less on the industry and more on the organization's specific travel and expense management needs.
4. What is the pricing structure of Egencia vs. Concur?
Pricing structures for Egencia and Concur may vary depending on the organization's size, the number of users, and the level of customization required. It is advisable to contact the respective providers for detailed pricing information.
5. Can I customize Egencia and Concur to fit my specific business needs?
Egencia and Concur offer customization options to tailor the travel management software to your organization's requirements. It includes setting up travel policies, configuring expense categories, and integrating with other systems.
6. How user-friendly are Egencia and Concur's interfaces?
User-friendliness can vary based on individual preferences. Egencia and Concur aim to provide intuitive interfaces, but user experience may differ. Requesting demos or trials to evaluate which one aligns better with your team's usability expectations is advisable.
7. Do Egencia and Concur offer mobile app options for travelers?
Yes, both Egencia and Concur offer mobile apps for travelers. These apps allow users to book and manage travel on the go, capture expenses, and receive notifications, enhancing the travel experience.
8. What kind of customer support can I expect from Egencia and Concur?
Egencia and Concur offer various customer support options, including phone, email, and online help resources. The quality and responsiveness of support may vary, so it's advisable to inquire about their specific support offerings.
9. How do Egencia and Concur ensure data security and compliance?
Egencia and Concur prioritize data security and compliance with industry standards. They employ encryption, secure data centers, and compliance monitoring to protect sensitive information and adhere to travel and expense policies.
10. Are there any hidden costs associated with using Egencia or Concur?
It's essential to carefully review the pricing terms and agreements to identify any potential hidden costs. It may include fees for additional features or services not included in the base subscription.
11. Can I integrate Egencia or Concur with other software systems we use?
Both Egencia and Concur offer integration capabilities to connect with other software systems like accounting or ERP systems. Integration options may vary, so checking compatibility with your existing tools is advisable.
12. What are some real-world success stories of companies using Egencia and Concur?
You can often find case studies and success stories on the websites of Egencia and Concur, showcasing how various organizations have benefited from their solutions. These examples can provide insights into the practical use of the software.
13. What types of reporting and analytics capabilities do Egencia and Concur offer?
Egencia and Concur provide reporting and analytics features to help organizations gain insights into travel and expense data. These capabilities may include customizable reports, dashboards, and budget-tracking tools.
14. Can I scale my usage of Egencia or Concur as my business grows?
Yes, Egencia and Concur can accommodate businesses of various sizes. You can scale your usage as your organization expands, making them suitable for both small startups and large enterprises.