Introduction
The procurement life cycle and effective management are important to an organization's financial success. Understanding the intricacies of the lifecycle and implementing appropriate strategies can significantly impact a company's bottom line.
What is procurement cycle?
The procurement cycle definition covers the end-to-end process of acquiring goods and services, from
Identifying needs to 
Contract negotiation and 
Supplier management. 
It plays a pivotal role in optimizing costs, mitigating risks, and ensuring the timely availability of resources for an organization.
We provide a comprehensive overview of the procurement life cycle, highlighting key stages, best practices, and essential considerations at each step. 
Importance of procurement cycle
A tight and efficient procurement cycle is critical, as it directly impacts the success of an organization's strategies impacting the company's financial performance. Organizations can achieve cost savings, enhance operational efficiencies, and stay ahead of the competition in the market by employing a well-structured and streamlined procurement process.
For instance, let's consider a multinational manufacturing company that relies on various raw materials from different global vendors. Using an efficient procurement process, the company can
Identify reliable suppliers offering competitive prices, 
Negotiate favorable contracts, and 
Ensure timely delivery of materials. 
By optimizing the procurement process, the company reduces costs, minimizes supply chain disruptions, and improves production efficiency. This, in turn, enables the organization to deliver products at a competitive price point, maintain customer satisfaction, and ultimately maximize its financial returns.
Quick Read: 9 Best Vendor Payment Management Software
What are the key considerations in the planning stage of the Procurement Life Cycle?
The planning stage of any process is crucial; however, laying the groundwork for successful procurement activities translates to lower costs and a better bottom line. It involves careful analysis, strategizing, and decision-making to ensure your procurement process aligns with your organization's goals and objectives.
Here are key considerations to remember during the planning stage.
1. Define Your Procurement Needs
This is the ideal place to begin by clearly defining your organization's needs and requirements. For example, if you're a technology company planning to upgrade your IT infrastructure, you need to determine the specific hardware and software requirements, estimated quantities, and desired quality levels.
2. Set Objectives and Goals 
Establish clear objectives and goals that align with your organization's overall strategy. This will guide your procurement efforts and help you prioritize your actions. For instance, if your goal is to reduce costs, you may set an objective to identify cost-effective suppliers without compromising on quality.
3. Conduct Market Research 
A thorough market research to identify potential vendors, their capabilities, and pricing structures is critical. This will enable you to make informed decisions and negotiate favorable procurement terms. For instance, if you're seeking new office space, market research will help you identify available properties, compare rental rates, and assess location suitability.
4. Develop a Procurement Strategy 
A well-defined procurement strategy outlining your approach to fulfill your procurement needs will ensure the workflows are smooth and efficient. Factors such as supplier selection criteria, risk management, and sustainability goals must be considered before designing a strategy. For example, if your company is firmly committed to environmental sustainability, your procurement strategy may prioritize suppliers with green certifications or eco-friendly practices.
5. Establish Budgetary Constraints 
Determine the budget for procurement activities and set spending limits for each category. This ensures financial discipline and helps you make informed decisions based on available resources. For instance, if you have a limited budget for office supplies, you may need to prioritize essential items and explore cost-saving alternatives.
6. Engage Stakeholders 
Involve relevant stakeholders, such as department heads and end-users, to gather their input and requirements. Their involvement ensures that the procurement process aligns with the business needs of different units. For example, consulting with the IT department and end-users will help you identify essential features and functionality before you procure new software.
Quick Read: TOP 10 Procure-to-Pay Software Solutions
Procurement life cycle flowchart
The procurement life cycle stages cover the process that organizations go through to acquire the goods and services they need. The stages are designed to ensure efficient and effective procurement management. By going through the stages methodically, organizations can optimize costs, ensure quality and timely delivery, and establish strong supplier partnerships.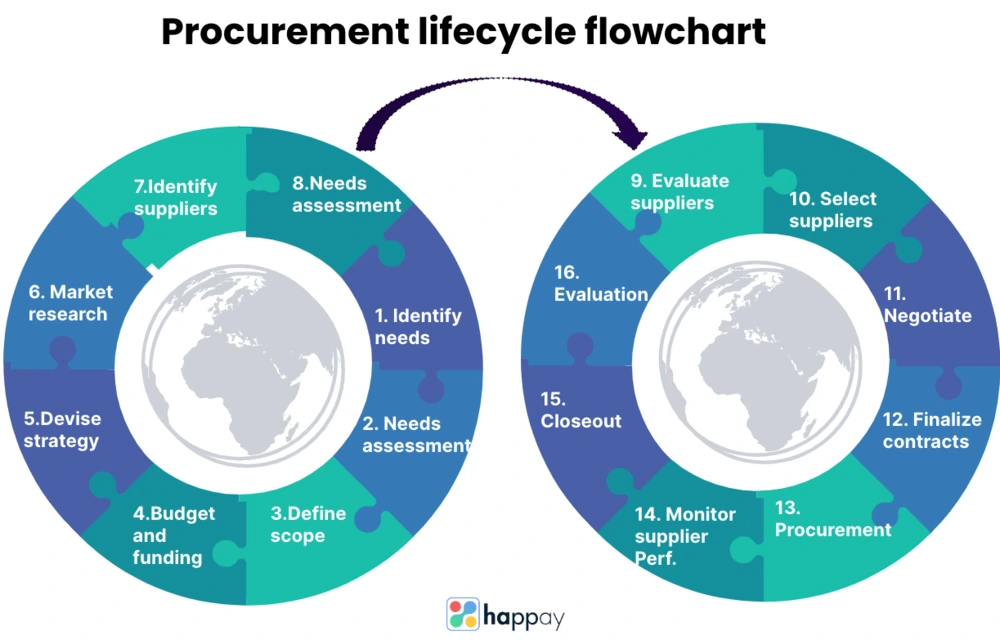 Identify Procurement Need
Conduct Needs Assessment
Define Scope of Procurement
Determine Budget and Funding
Develop Procurement Strategy
Conduct Market Research
Identify Potential Suppliers
Issue Request for Proposal/Quotation
Receive and Evaluate Supplier Responses
Select Preferred Supplier(s)
Negotiate Terms and Conditions
Finalize Contractual Agreement
Procure Goods or Services
Monitor Supplier Performance
Closeout and Evaluation
Read More: What is P2P Cycle: Procure-to-Pay Process, Challenges & Benefits
15 Key stages of the procurement life cycle 
1. Identify procurement needs
This is the foundational stage guiding organizations toward effective procurement management. Organizations can pinpoint their procurement needs with clarity and precision by comprehensively analyzing operational demands, market dynamics, and strategic objectives.
For instance, consider a healthcare facility aiming to upgrade its diagnostic equipment to enhance patient care. Through a thorough needs assessment process, the facility identifies a critical need for advanced imaging systems, such as MRI and CT scanners, to improve diagnostic accuracy and efficiency. This recognition of the need for modernized equipment becomes the impetus for subsequent procurement activities.
2. Conduct a needs assessment
Conducting a needs assessment represents the second stage within the procurement life cycle. This process involves a complete evaluation and analysis of requirements to understand the procurement outcomes.
During a needs assessment, organizations consider operational demands, technological advancements, and stakeholder expectations. As a part of the process, most organizations conduct feasibility studies, engage with end-users, and seek expert opinions to arrive at an optimal solution.
For instance, consider a manufacturing company seeking to enhance production efficiency by implementing an enterprise resource planning (ERP) system. Through a needs assessment, the company evaluates its existing processes, identifies pain points, and determines the functionalities and modules required from the ERP system, such as inventory management, production planning, and financial integration. This thorough evaluation ensures the selected system aligns precisely with the company's operational needs and goals.
3. Defining the scope of procurement
Defining the scope helps to establish the boundaries and objectives of procurement. This stage involves outlining the extent and parameters of the procurement effort, ensuring that all relevant aspects are identified and addressed.
To define the scope, you must consider various factors such as project requirements, budget limitations, and timeline considerations. Also, you must assess the goods or services to be procured, the quantity needed, and any associated deliverables or outcomes.
For instance, imagine a government agency initiating a construction project for a new public school. When defining the scope for procurement, the agency would specify the scope of work, including the architectural design, construction materials, and required infrastructure. Additionally, they would consider factors like environmental regulations, safety standards, and project timelines to ensure a comprehensive scope that covers all necessary aspects of the procurement effort.
4. Determine Budget and Funding
Determining the budget is one of the more critical stages in this lifecycle. It involves assessing the financial resources available for procurement activities and establishing the allocated budget. Organizations consider factors such as project scope, expected deliverables, and available funds to determine the economic parameters for the procurement.
For example, a company may allocate a budget for IT infrastructure procurement after considering the cost of hardware, software, and implementation services.
Quick Read: Business Budgeting: Types, Components and Importance
5. Develop Procurement Strategy
In this step, organizations establish a comprehensive plan for procurement activities. It involves a strategic approach that aligns with organizational goals, maximizes value, and mitigates risks. Organizations can optimize their procurement processes by considering market conditions, supplier relationships, and internal capabilities.
Let us consider a construction company aiming to implement a procurement strategy for infrastructure projects. The company conducts market research to identify potential suppliers, evaluates their capabilities, and develops long-term partnerships. They also analyze project requirements, determine key performance indicators, and establish guidelines for cost control.
6. Conduct Market Research
Market research involves gathering information about potential suppliers, their offerings, pricing, and market trends. Organizations explore sources such as industry reports, supplier databases, and online platforms to gain insights into the market landscape.
For example, a retail company must conduct market research to identify potential clothing suppliers, assess their quality and pricing, and understand current fashion trends to make informed procurement decisions.
7. Identify Potential Suppliers
Organizations evaluate potential suppliers based on product quality, reputation, financial stability, and capacity to meet procurement requirements. For this, organizations must assess suppliers, seek references, or explore industry networks.
For instance, a manufacturing company may identify potential vendors of raw materials by considering factors such as reliability, cost-effectiveness, and adherence to quality standards.
8. Issue Request for Proposal/Quotation:
Issuing a request for proposal (RFP) or request for quotation (RFQ) is an essential part of the process. Organizations communicate their procurement requirements to potential suppliers by outlining specifications and indicating timelines. Also, setting up evaluation criteria solidifies the process. Further, it allows suppliers to submit their proposals or quotations.
For example, a technology company may issue an RFP for software development services, providing detailed information about the project scope, functionality requirements, and desired outcomes.
9. Receive and Evaluate Supplier Responses
Receiving and evaluating supplier responses is important, as this is a great way to assess supplier proposals or quotations based on pre-existing criteria. Factors such as pricing, quality, delivery timelines, and supplier capabilities are considered at this point.
10 Select Preferred Supplier(s)
Organizations choose suppliers that best meet their procurement requirements and offer the most favorable terms. It can be challenging, as several factors influence the selection process, such as pricing, quality, reliability, and supplier reputation.
For instance, a hospitality chain may select a preferred food supplier based on product quality, pricing competitiveness, and ability to meet delivery schedules.
11. Negotiate Terms and Conditions
Negotiating terms and conditions is significant, as this can determine the feasibility of a vendor relationship. Organizations engage in discussions with preferred suppliers to finalize the contractual arrangements. This includes negotiations on pricing, payment terms, delivery schedules, warranties, and other contractual clauses.
12. Finalize Contractual Agreement
A contractual agreement formalizes the terms and conditions of the procurement through a legally binding contract. The contract specifies the rights, responsibilities, and obligations of both parties. For instance, a construction company finalizes a contract with a subcontractor, detailing project milestones, payment terms, and performance expectations.
13. Procure Goods or Services
At this point, organizations proceed with the purchase or acquisition of the identified goods or services from the selected suppliers. So, purchase orders are issued, the concerned department manages delivery schedules, and adherence to quality is emphasized. For example, a retail store procures inventory from suppliers based on customer demand and stock availability.
14. Monitor Supplier Performance
Monitoring supplier performance is not limited to just this stage. It is a continuous process that ensures organizations have control over quality, timeliness, and adherence to contractual agreements. Companies conduct periodic evaluations, track key performance indicators, and address performance issues as part of this process.
For instance, a manufacturing company may monitor its suppliers' delivery performance and product quality to maintain efficient production processes.
15. Closeout and Evaluation
Closeout and evaluation are the final stages in the procurement life cycle. Organizations must ensure that all contractual obligations have been met. In this regard, they must conduct final inspections, reconcile invoices, and evaluate the procurement process. Also, in this stage, project learnings are studied so you can identify areas of improvement. Further, based on stakeholder feedback, processes may be tweaked for improvement and greater efficiency.
For example, a government agency may evaluate the success of a procurement project by assessing the performance of the suppliers and vendors. They can measure project performance against KPIs and other cost savings.
Quick Read: 10 Best Purchasing Software
Tracking the procurement life cycle through KPIs
Procurement KPIs (key performance indicators) allow you to track a project's progress or success. They help assess the effectiveness and efficiency of their procurement processes. It also helps provide measurable metrics that reflect the performance and outcomes of these activities. By monitoring these indicators, organizations can identify areas for improvement and make data-driven decisions. 
Some common KPIs for tracking procurement include:
Cost Savings: Measures the financial savings achieved through procurement activities, comparing actual costs with projected or benchmarked costs.
Supplier Performance: Evaluates suppliers' adherence to delivery schedules, quality standards, and responsiveness to inquiries or issues.
On-time Delivery: Tracks the percentage of goods or services delivered on or before the agreed-upon delivery date.
Purchase Order Cycle Time: Measures the time taken from initiating a purchase order to its completion, indicating the efficiency of the procurement process.
Contract Compliance: Assesses the extent to which suppliers adhere to contractual terms, including pricing, quality, and delivery specifications.
Supplier Diversity: Measures the organization's engagement with diverse suppliers, promoting inclusivity and creating a diverse supplier base.
Inventory Turnover: Evaluates how quickly inventory is used or sold, indicating the efficiency of inventory management and procurement planning.
Purchase Order Accuracy: Tracks the percentage of purchase orders without errors or discrepancies, ensuring accurate and streamlined procurement processes.
Supplier Relationship Management: Assesses the strength and effectiveness of relationships with key suppliers, fostering collaboration and driving supplier performance.
Stakeholder Satisfaction: Measures the satisfaction of internal stakeholders with the procurement process, reflecting user experience and perceived value.
By tracking these KPIs, organizations gain insights into their procurement performance, identify areas for improvement, and drive continuous enhancement of their procurement processes.
Tools and technologies for efficient procurement
Several tools and technologies are available to facilitate efficient procurement processes and drive operational excellence. These tools streamline manual tasks and enhance collaboration between departments in any organization.
Depending on the features of the tools, you can improve the quality of the data analysis and provide real-time insights. An example of such a tool is e-procurement software. It automates and centralizes procurement activities, including requisitioning, purchase order management, and supplier management.
Another example of such a technology is Electronic data interchange (EDI). It enables a seamless and secure exchange of procurement-related information between organizations and suppliers. Additionally, cloud-based procurement platforms offer scalability, accessibility, and data storage capabilities. It eliminates the need for on-premises infrastructure.
Advanced analytics tools enable organizations to gain deeper insights into spending patterns. Sharp knowledge and data about supplier performance and market trends enable data-driven decision-making all across the business.
Supplier relationship management (SRM) software helps organizations effectively manage supplier relationships, track performance metrics, and collaborate for mutual success.
Last but not least, emerging technologies like artificial intelligence (AI) and machine learning (ML) are being leveraged to optimize procurement processes. This includes activities such as demand forecasting, supplier selection, and contract management.
By adopting these tools and technologies, organizations can streamline their procurement operations, enhance efficiency, reduce costs, and drive sustainable procurement practices.
Quick Read: Purchase Requisition vs Purchase Order: A Comparative Guide
Best procurement software
1. SAP Ariba 
A comprehensive procurement software suite that offers end-to-end procurement solutions, including sourcing, contract management, supplier management, and procurement analytics. It provides a user-friendly interface, a robust supplier network, and advanced integration capabilities.
2. Coupa
A cloud-based procurement platform that enables organizations to automate their procurement processes, manage supplier relationships, and gain real-time visibility into spending. It offers features like e-sourcing, purchase order management, expense management, and contract lifecycle management.
3. Oracle Procurement Cloud
An enterprise-grade procurement software that provides a suite of modules for procurement automation. It offers features like requisitioning, sourcing, supplier management, and procure-to-pay processes. It integrates seamlessly with other Oracle Cloud applications.
4. Jaggaer
A leading procurement software platform that offers a wide range of modules for strategic sourcing, contract management, supplier management, and spend analytics. It provides a customizable and scalable solution to meet diverse procurement needs.
5. Ivalua
A unified procurement platform that supports source-to-pay processes, including strategic sourcing, contract management, supplier collaboration, and spend analysis. It offers robust analytics capabilities and configurable workflows.
6. Zycus
A procurement software suite that covers the entire source-to-pay process, including e-sourcing, contract management, supplier management, and procure-to-pay. It provides intelligent automation and AI-driven insights to enhance procurement efficiency.
7. Proactis
A comprehensive procurement and spend management software that helps organizations optimize their procurement processes, control costs, and drive savings. It offers features such as requisitioning, supplier management, and invoice management.
8. BravoSolution
A strategic procurement software that focuses on supplier relationship management, sourcing optimization, and spend analysis. It provides advanced sourcing capabilities and tools to drive procurement excellence.
9. GEP SMART
A cloud-native procurement software platform that combines source-to-pay functionality with AI-powered analytics. It offers modules for strategic sourcing, contract management, supplier management, and procurement analytics.
Quick Read: TOP 10 Procurement Software Solutions
Determine
A procurement and contract management platform that enables organizations to streamline procurement operations, automate contract processes, and improve compliance. It provides features like e-sourcing, contract authoring, and supplier performance management.
These software solutions offer a range of features and functionalities to support efficient procurement processes and can be tailored to meet specific organizational requirements. Evaluating the specific needs and conducting a thorough analysis before selecting a procurement software that best aligns with an organization's goals and objectives is recommended.
Best practices for effective procurement life cycle management
There are a number of best practices that can help organizations to improve their procurement life cycle. These include:
Having a clear procurement strategy: A procurement strategy should define the organization's overall procurement goals and how it plans to achieve them. This includes setting targets for cost savings, quality, and delivery time.
Using technology to automate procurement processes: Technology can help automate many tasks involved in the procurement life cycle, such as sourcing suppliers, evaluating bids, and managing contracts. This can help to improve efficiency and reduce costs.
Building strong relationships with suppliers: Strong relationships with suppliers can help to improve communication and collaboration and can lead to better prices, quality, and delivery time.
Continuously improving the procurement process: The procurement process should be constantly reviewed and improved to ensure that it meets the organization's needs. This includes identifying areas where the process can be made more efficient, effective, and cost-effective.
By following these best practices, organizations can improve their procurement life cycle and achieve their procurement goals.
Here are some additional tips for effective procurement:
Get buy-in from all stakeholders: The procurement process should involve all stakeholders, including the business users using the goods or services, the finance department, and the legal department.
Be transparent and accountable: The procurement process should be transparent and accountable so all stakeholders can understand how decisions are made.
Manage risk: Several risks are associated with the procurement process, such as supplier failure, quality problems, and price increases. These risks should be managed by implementing appropriate controls and procedures.
By following these tips, organizations can improve their procurement life cycle and reduce their associated risks.
Learn more: Sourcing vs Procurement: A Complete Guide On Key Differences
Challenges and solutions in the procurement life cycle
The procurement life cycle involves several stages, from identifying a need for goods or services to the final delivery and payment. Throughout this process, there are various challenges that organizations may encounter.
Here are some common challenges in the procurement life cycle, along with potential solutions and relevant examples.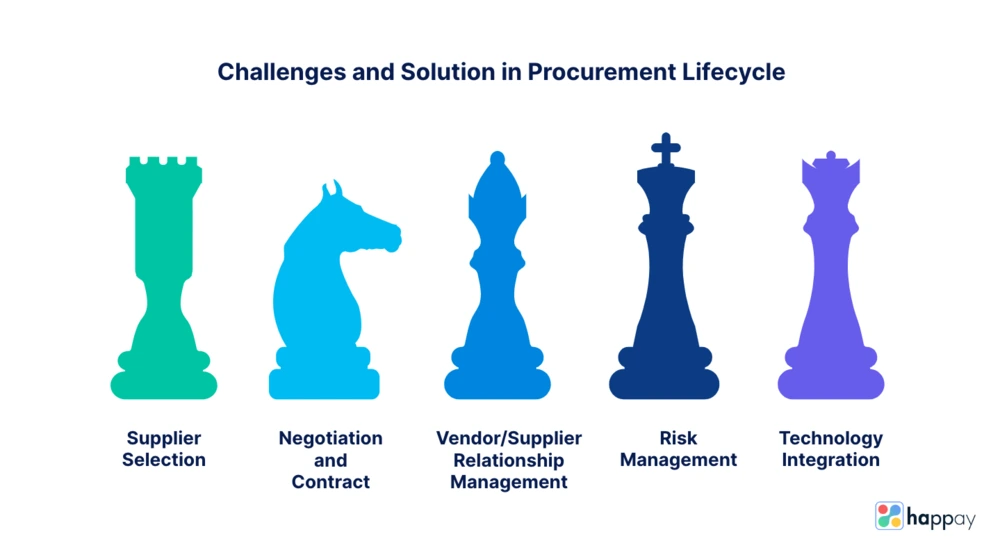 1. Supplier Selection
Challenge: One of the biggest challenges is choosing the right suppliers who can meet quality, cost, and delivery requirements. Limited supplier options or insufficient information can complicate the selection process.
Solution: Conduct thorough market research, evaluate supplier capabilities, and consider factors such as reputation, experience, and financial stability. Engage in supplier prequalification and request for information (RFI) or request for proposal (RFP) processes to gather relevant data. For example, a manufacturing company looking to source raw materials can send out RFIs to multiple suppliers to assess their capabilities, pricing, and quality standards before making a selection.
2. Negotiation and Contracting
Challenge: Negotiating favorable terms and conditions while ensuring legal compliance can be complex. It requires effective communication, an understanding of market dynamics, and legal expertise.
Solution: Employ skilled negotiators who can strike a balance between the organization's needs and the supplier's interests. Clearly define requirements and expectations, and ensure contracts are comprehensive and legally sound. For instance, during contract negotiations with an IT service provider, the procurement team can negotiate service level agreements (SLAs) that define performance metrics, response times, and penalties for non-compliance.
3. Supplier Relationship Management
Challenge: Maintaining productive relationships with suppliers is crucial for long-term success. However, managing multiple suppliers, ensuring quality, and addressing issues can be challenging.
Solution:
Foster strong communication and collaboration with suppliers to establish mutually beneficial partnerships.
Regularly evaluate supplier performance through key performance indicators (KPIs) and provide feedback.
Implement supplier scorecards to track and compare supplier performance.
For example, a retail company can conduct quarterly business reviews with its suppliers to assess performance, discuss improvement areas, and align on future plans.
4. Risk Management
Challenge: Procurement activities can be susceptible to various risks, such as supply chain disruptions, price fluctuations, or non-compliance with regulations. Failure to manage these risks can lead to delays, increased costs, or reputational damage.
Solution: Develop robust risk management strategies and contingency plans. Diversify the supplier base to minimize dependency on a single source. Monitor market trends, geopolitical events, and regulatory changes that may impact procurement. Establish a risk assessment framework to identify and mitigate potential risks. For instance, an automotive company may proactively monitor global supply chain disruptions, such as natural disasters or political unrest, to improve supply chain management.
5. Technology Integration
Challenge: Technical complexities and integration can present a challenge. Whether it is a lack of expertise or resistance to change, scaling these issues can take time and effort.
Solution: Invest in user-friendly procurement software that automates processes, enhances transparency, and improves data accuracy. Providing comprehensive training to procurement staff on using the technology effectively is important. You can collaborate with in-house IT teams to ensure seamless integration with existing systems. For example, implementing an e-procurement platform can streamline the requisition-to-payment process, reduce paperwork, and enable better tracking of procurement activities.
Addressing these challenges in the procurement life cycle can improve operational efficiency, reduce costs, and enhance supplier relationships, leading to better overall procurement outcomes.
Read More: What Is Purchase Order Automation and How to Do the PO Process?
Conclusion
In conclusion, the procurement life cycle presents organizations with challenges that can impact their efficiency and success. However, by implementing appropriate solutions, these challenges can be effectively addressed.
Organizations can optimize their procurement processes through meticulous supplier selection, skilled negotiation, and contracting. Besides, proactive supplier relationship management is a sure way to optimize the procurement process.
By doing so, they can achieve cost savings, improve supplier relationships, mitigate risks, and enhance overall operational efficiency. Embracing these solutions empowers organizations to confidently navigate the procurement life cycle, ultimately contributing to long-term success and growth.
FAQs
1.What is the purpose of the Procurement Life Cycle?
The procurement life cycle is the end-to-end process of acquiring goods or services, encompassing activities such as supplier selection, negotiation, contract management, risk mitigation, and technology integration. It ensures efficient and effective procurement practices to meet organizational needs.
2. How does the Procurement Life Cycle differ from the Procurement Cycle?
"Procurement Life Cycle" and "Procurement Cycle" are often used interchangeably and refer to the same process of acquiring goods or services. The two terms are similar in their fundamental meaning and context within the procurement context.
3. What is the role of procurement professionals in the Procurement Life Cycle?
Procurement professionals play a vital role in the procurement life cycle by overseeing the entire process, including supplier selection, negotiation, contract management, risk mitigation, and supplier relationship management, to ensure the efficient and effective acquisition of goods or services that meet organizational needs.
4. How can the Procurement Life Cycle help in cost savings and cost control?
The Procurement Life Cycle can contribute to cost savings and cost control by enabling strategic sourcing, negotiating favorable contracts, identifying cost-effective suppliers, implementing efficient processes, and monitoring supplier performance, ultimately leading to optimized procurement decisions and reduced expenses.
5. How can suppliers be effectively managed throughout the Procurement Life Cycle?
Suppliers can be effectively managed throughout the Procurement Life Cycle by establishing clear communication channels and setting clear performance expectations. You must conduct performance evaluations regularly and attempt to foster collaborative relationships.
6. What are the benefits of following a structured Procurement Life Cycle?
Following a structured Procurement Life Cycle offers numerous benefits. It ensures efficient planning, sourcing, and management of suppliers, resulting in cost savings and improved quality. The cycle enables risk mitigation and compliance with regulations and promotes fair competition. It also enhances transparency, accountability, and effective stakeholder communication. Ultimately, it streamlines the procurement process, fosters better decision-making, and maximizes organisational value.
7. What are the risks and challenges associated with the Procurement Life Cycle?
The risks associated with the Procurement Life Cycle include supplier non-compliance, poor quality or delivery delays, increased costs, legal and contractual disputes, data security breaches, and limited market competition. Also, there may be challenges in managing complex procurement projects, maintaining stakeholder engagement, and adapting to changing market conditions.
8. What is the significance of conducting market research in the Procurement Life Cycle?
Conducting market research provides crucial information about suppliers, market trends, pricing, and product/service availability. It enables informed decision-making, identification of potential risks and opportunities, negotiation leverage, and selection of the most suitable suppliers. Market research ensures efficient procurement strategies, cost savings, and improved overall organisational outcomes.
9. How can the Procurement Life Cycle ensure compliance with regulations and policies?
The Procurement Life Cycle ensures compliance by conducting due diligence on suppliers and verifying their adherence to legal and ethical standards. Also, by incorporating contractual clauses for compliance, implementing appropriate audit processes, maintaining accurate documentation, and engaging legal and compliance experts, organizations can mitigate legal and regulatory risks, promote transparency, and uphold ethical procurement practices.
10. How can technology and automation support the Procurement Life Cycle?
By adopting technology and automation, Procurement Life Cycles can be streamlined, made more efficient, and error-free. They allow organizations to implement electronic procurement systems, e-sourcing, e-auctions, contract management tools, data analytics, and supplier relationship management software. It can improve sourcing, supplier selection, negotiation, contract management, and performance monitoring. This leads to time and cost savings, increased accuracy, and improved procurement outcomes.
11. How can continuous improvement be incorporated into the Procurement Life Cycle?
You can constantly improve the Procurement Life Cycle process by regularly evaluating and analyzing procurement processes, identifying areas for improvement, implementing best practices, and leveraging stakeholder feedback. It involves monitoring key performance indicators, conducting post-procurement reviews, fostering a culture of innovation, and adopting emerging technologies to optimize efficiency, quality, and value in procurement operations.
12. How can collaboration with stakeholders enhance the Procurement Life Cycle?
Collaboration with stakeholders enhances the Procurement Life Cycle by fostering effective communication, aligning objectives, and incorporating their expertise and insights. It helps gather requirements, assess risks, evaluate supplier performance, and make informed decisions, ultimately leading to improved outcomes, increased stakeholder satisfaction, and stronger relationships.
13. What are the differences between the Procurement Life Cycle in different industries or sectors?
The Procurement Life Cycle can vary across industries or sectors due to factors such as regulatory requirements, supplier diversity, the complexity of products/services, and the level of market competition. Industries like healthcare and defense may have more stringent compliance needs, while sectors like technology may focus on innovation and rapid supplier selection. Additionally, sectors with global supply chains may face unique challenges in managing logistics and international procurement.