Introduction to RFQ
The business world is full of acronyms that sometimes look like secret codes. RFQ (Request for Quotation) is one such acronym in the procurement process. Now, you may wonder, "Why should I care about RFQs? Isn't it just another buzzword?" It's actually not. 
RFQs are an integral part of the procurement process. Understanding them can work wonders for your business. In this article, we'll break down the concept of RFQs and explore why they matter. We will also look at how they fit into the procurement puzzle and the best ways to use them to your advantage.
Read More: Procurement KPIs Guide: Top 10 Metrics to Measure Your Success
What is RFQ in procurement?
RFQ, short for Request for Quotation, is a vital element of the procurement process. It formally invites suppliers to submit their pricing proposals for services a buyer requires. Think of it as a way to gather information and compare offerings from potential vendors before purchasing.
When a company needs to procure goods or services, they create an RFQ document. Furthermore, they outline their requirements, including specific product specifications, quantities, and delivery timelines. The document then goes to potential service providers, who get invited to provide quotations based on the outlined requirements.
The RFQ process allows buyers to gather competitive bids from different bidders. It helps them evaluate pricing and quality to make an informed purchasing decision. It also allows suppliers to showcase their capabilities and offer competitive pricing to win the buyer's business.
Quick Read: Sourcing vs Procurement: A Complete Guide On Key Differences
Role of RFQ in the procurement process
Request for quotation in the procurement process streamlines the purchasing journey and enables informed decision-making. Let's take a closer look at the key roles RFQs play:
1. Gathering competitive bids
RFQs allow buyers to gather competitive bids from bidders by inviting various vendors to submit their proposals. Buyers can compare and evaluate different options. The competitive environment encourages suppliers to provide the best prices, leading to cost savings and improved value for the buyer.
2. Promoting transparency
RFQs promote transparency through buyers' requirements and expectations. Detailed specifications, quantities, and delivery timelines ensure suppliers understand the business needs. Transparency here helps suppliers submit accurate and relevant quotations, reducing the chances of misunderstandings.
3. Facilitating supplier evaluation
The RFQ process enables buyers to evaluate suppliers based on pricing, quality, delivery capabilities, and value-added services. It allows buyers to make a comprehensive assessment of each supplier's offering. The evaluation process helps identify the most suitable supplier to meet the buyer's requirements effectively.
4. Supporting negotiations
RFQs serve as a starting point for negotiations with suppliers. Once the quotations are received, buyers can engage in discussions to refine the terms and conditions and explore potential discounts and favorable terms. The negotiation stage allows buyers to fine-tune the procurement agreement and achieve a mutually beneficial outcome.
5. Driving efficiency
Buyers can save time by collecting and analyzing quotations in a standardized RFQ template. The uniformity simplifies the comparison process and enables quicker decision-making. Moreover, RFQs help establish a structured workflow. It ensures all necessary information gets evaluated systematically.
6. Ensuring compliance
RFQs play a vital role in ensuring compliance with company policies. Buyers can ensure suppliers meet specific standards and legal obligations through clearly defined requirements and selection process. It helps mitigate risks and ensure the procured goods or services meet the desired quality and compliance standards.
Quick Read: What is Procure-to-Pay (P2P) Cycle, Process, Steps & Benefits
Importance of RFQ in the procurement process
The request for quotation holds significant importance in the procurement process as it facilitates efficient and informed decision-making while ensuring competitive pricing and quality. Let's explore the detailed significance of RFQ through an example.
Consider that Tech Solutions Inc. seeks to upgrade its IT infrastructure by procuring new computers for its employees. Without an RFQ, Tech Solutions would have to rely on guesswork or limited market research to determine the prices and specifications of the computers from different suppliers.
However, by utilizing the RFQ process, Tech Solutions can request quotations from multiple suppliers for the desired computers. It will give them detailed information on pricing, specifications, warranty terms, and other relevant details from each supplier.
The RFQ responses will give Tech Solutions insights into the available options. It will enable them to make an informed decision based on cost, quality, and delivery timelines. They can compare and evaluate the quotations to select the supplier that best meets their requirements.
Moreover, the RFQ process fosters competition among suppliers. As multiple suppliers participate, they strive to provide competitive pricing and attractive offers to secure the contract. The competition drives down costs and helps Tech Solutions obtain the best value for their investment.
Additionally, the RFQ process promotes transparency and fairness. All participating suppliers get equal opportunities to submit their quotations, ensuring a level playing field. The evaluation criteria are clearly defined, enabling a consistent and objective assessment of the supplier proposals.
Also, Read: Strategic Sourcing: What is it, Importance, Objectives & Steps
Types of RFQs
When it comes to a request for quote, here are a few types that buyers can employ.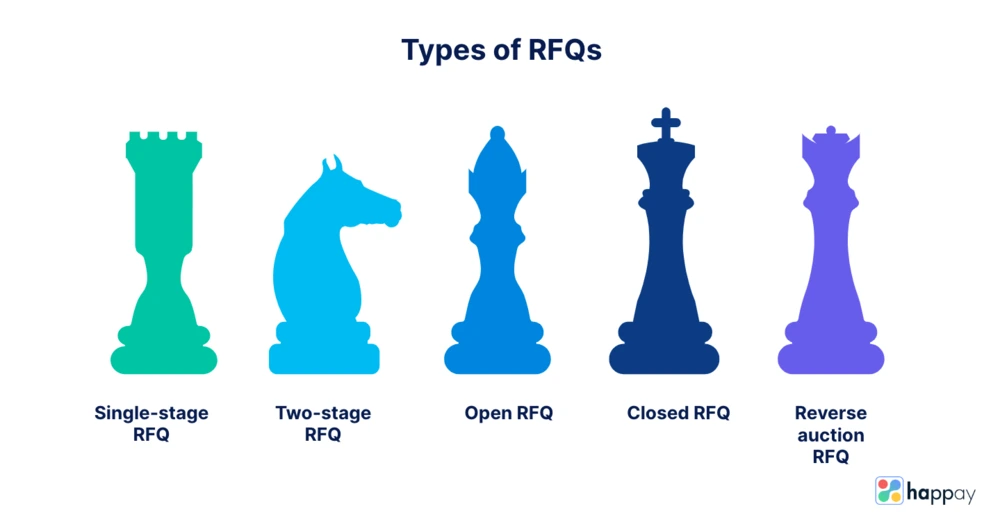 1. Single-stage RFQ
This is the most straightforward type, where buyers provide their requirements to suppliers and request quotations based on those specifications. It's a simple one-step process where suppliers submit their pricing proposals directly in response to the RFQ.
2. Two-stage RFQ
The buyer divides the process into two stages here. Suppliers must submit their qualifications, capabilities, and other relevant information in the first stage. Based on this initial evaluation, the buyer will shortlist qualified suppliers. Only the shortlisted suppliers get invited to submit their pricing quotations in the second stage.
3. Open RFQ
An open RFQ gets publicly advertised, allowing any interested supplier to participate. Open bids are common for procurement needs that don't require strict confidentiality or when the buyer wants to attract several suppliers to maximize competition and options.
4. Closed RFQ
Unlike an open RFQ, a closed RFQ remains limited to select suppliers. The buyer invites chosen suppliers to participate, typically based on prequalification criteria or established relationships. Closed RFQs get used when the buyer seeks to work with trusted suppliers or has a preferred vendor list.
5. Reverse auction RFQ
This type of RFQ introduces an element of competition and negotiation. Suppliers submit their initial quotations, and then a reverse auction gets conducted. Suppliers have the opportunity to revise their prices downward in a bidding process. The format encourages suppliers to offer increasingly competitive pricing.
Read More: What is Spend Analysis: The Ultimate Guide for Procurement
Critical components of an RFQ document
A request for quotation document consists of various components that provide suppliers with the necessary information to submit their quotations. Each part is crucial in guiding suppliers and ensuring a comprehensive and well-informed response to the RFQ. These components include:
Product or service description
Quantities and specifications
Delivery requirements
Terms and conditions
Submission deadline
Evaluation criteria
Quick Read: How to Form a Successful Procurement Plan
A step-by-step overview of the RFQ process
The request for quotation process involves the following steps to ensure a smooth and effective procurement journey:
Identifying the need

The process begins by identifying the organization's need for goods or services. Operational requirements, project demands, or strategic procurement objectives could drive this.

Defining requirements

The buyer defines the specific requirements after identifying the need. It includes determining the quantity, quality standards, delivery timelines, etc.

Preparing the RFQ document

With the requirements in place, the buyer prepares the RFQ document. The document outlines the buyer's expectations, specifications, and terms and conditions for potential suppliers.

Issuing the RFQ

The RFQ document then gets issued to selected suppliers through a direct invitation for bid or a public posting. The invited bid provides suppliers with instructions on how to respond and the deadline for quotation submission.

Submitting supplier quotation

Suppliers review the RFQ document and generate quotations during the preparation phase. They submit their pricing proposals within the specified timeframe, along with supporting documentation if required.

Evaluating supplier quotations

Once the quotation submission period closes, the buyer evaluates the received quotations. The evaluation involves comparing pricing, quality, delivery capabilities, and other relevant factors in the RFQ.

Negotiating and finalizing contract

Based on the evaluation, the buyer may negotiate with selected suppliers to refine terms, negotiate pricing, or discuss modifications. The negotiation stage aims to reach mutually agreeable terms before finalizing the contract.

Awarding the contract

After negotiations and finalizing the terms, the buyer awards the contract to the selected supplier(s). It involves notifying the successful supplier and potentially issuing a purchase order or formal agreement.

Ensuring contract management and execution

Once the contract gets awarded, the buyer initiates contract management and execution. It involves monitoring supplier performance, ensuring compliance with terms, managing changes or disputes, and maintaining effective communication throughout the contract duration.
Suggested Read: Purchase Order Process (PO) Guide: Meaning, Steps, Flowchart
How to create RFQ?
Creating a request for quotation document requires careful attention to detail and clear communication. Here's a step-by-step guide on how to make one:
1. Identify the objective
Determine the goods or services needed, the purpose of the procurement, and the desired outcomes.
2. Define requirements
Be precise about the quantity, quality standards, technical specifications, delivery timelines, etc.
3. Structure the RFQ document
Organize the RFQ document clearly and logically. Include an introduction, scope of work, delivery requirements, pricing information, evaluation criteria, terms, and conditions.
4. Provide detailed specifications
Include technical details, dimensions, performance criteria, or any other relevant information suppliers need to understand.
5. Specify pricing template
Indicate the desired template for suppliers to submit their pricing. It could include itemized or bundled pricing or any other structure that aligns with your procurement needs.
6. Include evaluation criteria
Consider pricing, quality, delivery capabilities, experience, and any specific requirements unique to your organization.
7. Clarify terms and conditions
Outline the terms and conditions that suppliers must adhere to. It may include payment terms, delivery terms, warranty requirements, intellectual property rights, and other contractual obligations.
8. Set a reasonable deadline
Allow sufficient time for suppliers to review the RFQ document, prepare their quotations, and seek clarifications if needed.
9. Review and finalize
Carefully review the RFQ document to ensure accuracy, clarity, and completeness. Seek input from relevant stakeholders or experts to ensure all aspects get adequately addressed.
Also, Read: Purchase Requisition vs Purchase Order: A Comparative Guide
RFQ format
The format of a request for quotation is essential in ensuring precise and consistent communication with suppliers. A well-structured RFQ format helps suppliers easily understand and respond to the document. Here's a sample RFQ format:
Organization Name:
Address:
Contact Information:
| | |
| --- | --- |
| Organization Description | |
| Project Description | |
| Product/Service Goals | |
| | | |
| --- | --- | --- |
| Project Manager | Phone Number | Email Address |
| | | |
| | |
| --- | --- |
| Product/Service Description | |
| Delivery Options | |
| Product/Service Quantity | |
| Payment Terms and Conditions | |
| Evaluation Criteria | |
| Delivery Timelines | |
| Terms and Conditions | |
| Submission Criteria | |
How RFQs differ from other procurement methods?
| | | | | |
| --- | --- | --- | --- | --- |
| Procurement Method | Purpose | Scope | Response Format | Evaluation Criteria |
| RFQ | Obtain pricing quotations for specific goods or services. | Specific and well-defined requirements. | Suppliers provide pricing information. | Price, quality, and delivery capabilities. |
| RFP | Solicit detailed proposals to meet broader project needs. | Broader project needs or solutions. | Suppliers provide detailed proposals and approaches. | Price, technical approach, experience, qualifications. |
| RFI | Gather information and evaluate potential solutions or suppliers. | Exploratory or preliminary stage. | Suppliers provide information and capabilities. | Supplier capabilities, experience, products/services offered. |
Benefits of using the RFQ process in Procurement
The request for quotation process offers the following benefits when it comes to procurement.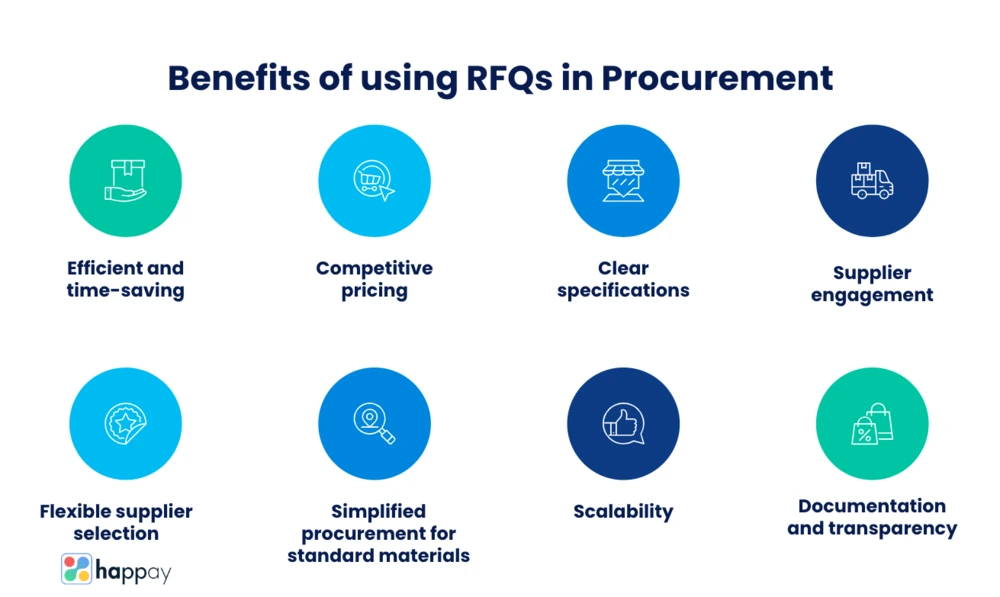 1. Efficient and time-saving
A focused approach saves time for both the buyer and the suppliers. Furthermore, it enables quicker responses and evaluations.
2. Competitive pricing
Buyers can check for the lowest prices and negotiate favorable terms by requesting quotations from multiple suppliers. It ensures cost-effectiveness in procurement.
3. Clear specifications
RFQs require buyers to clearly define their requirements, including quantity, quality standards, and technical specifications. The clarity helps suppliers understand the exact expectations, reducing misunderstandings and ensuring accurate quotations.
4. Supplier engagement
RFQs provide an opportunity for buyers to engage with a range of suppliers. The engagement helps build relationships, fosters competition, and encourages innovation as suppliers propose different approaches to meet the requirements.
5. Flexibility in supplier selection
RFQs allow buyers to assess multiple suppliers' capabilities, pricing, and offerings. The flexibility lets buyers choose the most suitable supplier, considering quality, delivery capabilities, and past performance.
6. Simplified procurement for standardized items
RFQs are particularly beneficial when procuring standardized items or commodities with well-defined specifications. Buyers can efficiently compare suppliers based on pricing, delivery, and quality.
7. Scalability
RFQs can be scaled up or down based on the procurement requirements. They can accommodate large or small procurement needs, making them suitable for various projects and organizations.
8. Documentation and transparency
RFQs provide a documented trail of the procurement process, including quotations received, evaluations conducted, and the eventual supplier selection. Transparency promotes accountability and adherence to procurement regulations.
Read More: TOP 10 Procure-to-Pay Software Solutions in 2023
Common Challenges in RFQ Processes
While the request for quotation process offers numerous benefits, it also presents the following challenges organizations may face:
1. Inadequate specifications
Insufficient or ambiguous specifications in the RFQ can result in suppliers submitting inaccurate quotations. Clear and detailed specifications are crucial to ensure suppliers understand the requirements accurately.
2. Limited supplier participation and competition
It can be challenging to attract a sufficient number of qualified suppliers to participate in the RFQ process. Limited supplier participation reduces competition, potentially impacting pricing and quality of responses.
3. Inefficient evaluation and selection methods
Evaluating and comparing quotations from multiple suppliers can be time-consuming and complex. Developing effective criteria and implementing efficient evaluation methods are essential for fair and objective supplier selection criteria.
4. Complex negotiation and contract finalization
Negotiating contract terms and finalizing agreements can be complex, especially when dealing with multiple suppliers. Balancing the needs of both parties and addressing conflicting terms can present challenges in the RFQ process.
5. Managing changes and updates
Changes or updates to the RFQ specifications or timeline can create confusion and require effective communication with suppliers. Managing changes efficiently while maintaining transparency and fairness ensures a smooth RFQ process.
Read About: 10 Best Purchase Order Software in 2023
Best practices for RFQs
It's essential to follow these best practices to ensure a successful request for the quotation process:
Establishing effective communication channels with suppliers: Maintain open lines of communication with suppliers throughout the RFQ process. Promptly address inquiries, clarify, and convey all information clearly.
Setting realistic deadlines: Set realistic and achievable deadlines for the RFQ process, including submission of quotations, evaluation, and contract finalization. Allocate sufficient time for suppliers to prepare their quotations while allowing for a thorough review by the buyer.
Conducting thorough evaluation and due diligence: Implement a robust evaluation process that carefully assesses supplier quotations based on predetermined criteria. Consider pricing, quality, delivery capabilities, past performance, etc.
Negotiating fair and competitive pricing: Engage in constructive negotiations with suppliers to arrive at fair and competitive pricing. Seek opportunities for cost savings, value-added services, or volume discounts while ensuring the final pricing aligns with the desired quality and requirements.
Documenting the process for future reference: Maintain comprehensive documentation of the RFQ process, including all communication, quotations received, evaluation results, negotiation outcomes, and final contract agreements. The documentation is a valuable reference for future procurement activities, audits, and legal purposes.
Read About: 10 Best Purchasing Software for Organizations in 2023
Bottom line
Understanding the importance of RFQs will help you unlock a world of possibilities. You can attract competitive pricing, select the best suppliers, and optimize your procurement outcomes. You'll be on the path to procurement success with the correct practices.
Remember, the RFQ process is not just about paperwork and quotations—it's about building relationships. Cultivating open lines of communication, engaging in constructive negotiations, and fostering a spirit of collaboration will strengthen your supplier partnerships and set the stage for future successes.
FAQs
1. What are RFQ and RFP?
RFQ stands for Request for Quotation, while RFP stands for Request for Proposal. RFQ helps obtain price quotes for specific goods or services, whereas RFP solicits detailed proposals to meet broader project needs.
2. What is RFQ bidding?
RFQ bidding is the process of submitting quotations in response to an RFQ. Suppliers participate in the bidding process by providing pricing information and other requested details outlined in the RFQ document.

3. What is the difference between RFI and RFQ?
RFI (Request for Information) helps gather information and evaluate potential solutions or suppliers at an exploratory stage. On the other hand, RFQ focuses on obtaining pricing quotations for specific goods or services with well-defined requirements.

4. What is the RFQ tool?
An RFQ tool is software that facilitates the management and execution of the RFQ process. It provides features such as document creation, supplier communication, quotation management, and evaluation capabilities.

5. Who prepares RFQ?

The buyer or the procurement team within an organization typically prepares the RFQ. They define the requirements, create the RFQ document, and issue it to potential suppliers.

6. When is an RFQ used?
An RFQ finds use when there is a need to obtain competitive pricing for specific goods or services. It is common for procurement activities where the requirements are well-defined and the focus is primarily on getting quotations for comparison.

7. What information should be in my quotation?
Your quotation should include relevant pricing information, details about the goods or services you offer, delivery timelines, and applicable terms and conditions.

8. How are supplier quotations evaluated?
Supplier quotations get evaluated based on price, quality, delivery capabilities, and other factors outlined in the RFQ. The evaluation may involve scoring or ranking the quotes to determine the most suitable supplier.

9. How will I be notified of the RFQ outcome?
The RFQ outcome typically gets communicated to suppliers through notification emails or official correspondence. The buyer will inform you whether your quotation has been accepted or rejected or if further negotiations are required.

10. Can I submit a revised quotation after the deadline?
Generally, RFQs have strict deadlines for quotation submissions. It is advisable to submit your quotation before the deadline. However, a revised quote is unlikely to get accepted after the deadline unless stated otherwise in the RFQ document.

11. How long is an RFQ valid?
The RFQ document includes the validity of an RFQ. It indicates the duration for which the buyer considers the quotation valid. It is vital to adhere to the validity period mentioned to ensure accurate pricing and availability.

12. What are the advantages of the RFQ tool?
The advantages of using an RFQ tool include: 
1. Increased efficiency and accuracy in managing the RFQ process
2. Streamlined communication with suppliers
3. Enhanced transparency
4. Improved documentation and record-keeping
5. Ability to track and evaluate supplier quotations more effectively