Source-to-pay (S2P)
Strategic procurement catalyzes business growth by sourcing high-quality raw materials from reliable suppliers.
Finding these suppliers, negotiating agreements, sending contracts, and paying them can be overwhelming for procurement teams. Plus, they must coordinate with their internal accounts payable (AP), legal, and finance teams. As a result, the end-to-end procurement process becomes a series of disparate tasks.
That's why enterprises with multiple business units use source-to-pay (S2P) processes to optimize procurement operations. In this article, we explore how organizations can use the S2P process to unlock cost savings and minimize supply risks.
What is source-to-pay?
Source-to-pay is an end-to-end sourcing and procurement process for locating, negotiating, and hiring suppliers for obtaining goods and services in exchange for payment.
S2P software uses big data, digital technologies, and networks to ensure procurement efficiency. These solutions play a key role in how enterprises clean, validate, and classify expense data to find cost-saving opportunities.
Also, Read: Centralized vs Decentralized Purchasing
What is the source-to-pay process?
A very basic source-to-pay process definition suggests that you include everything between supplier selection and payment processing in a procurement workflow. It adds strategic sourcing to the traditional procure-to-pay (P2P) cycle, which starts with goods and services requisition and ends with payment processing.
The strategic component is extremely important for onboarding new vendors who offer better terms than existing suppliers. The process includes activities like:
Sourcing
E-procurement
Invoice automation
Accounts payable processing
Contract lifecycle management
Supplier performance management
The process also includes vendor and master data management activities that support procurement operations. Best-in-class organizations use this process to improve their supply chain efficiency and supplier relationships.
Now, let's look at why enterprises use a source-to-pay workflow for efficient decision-making.
Importance of source-to-pay process for businesses
A source-to-pay process helps enterprises develop an integrated strategy that covers every step of the procurement journey. The result is improved efficiencies across upstream sourcing and downstream P2P activities. Organizations use this process to:
Save money
Ensure compliance
Diversify and minimize risk
Improve collaboration
Create a single source of truth
1. Save money
An integrated sourcing system helps organizations receive competitive bids from a large number of potential suppliers. As a result, enterprises can minimize procurement costs and access high-quality supplies.
2. Ensure compliance
A standardized workflow with built-in regulations is key to guiding stakeholders throughout the requisition process. Moreover, it prevents purchase policy violations and curbs off-contract expenses.
3. Diversify and minimize risk
A streamlined process ensures easy access to a robust supplier network. This supply chain resiliency is essential for minimizing risk and driving business continuity even in turbulent times.
4. Improve collaboration
A source-to-pay workflow also standardizes procurement data labeling practices in an organization. Consistent data structuring ensures efficient collaboration among stakeholders and process owners who review purchases throughout the buying process.
6. Create a single source of truth
A unified process ensures a free flow of data among different business units and systems. This real-time data visibility enables procurement and other teams to gain insights into financial reporting.
Next, we look at the different stages.
Quick Read: Top 10 Financial Planning Tools
Steps involved in the source-to-pay process
The process starts with finding suppliers and ends with paying them for goods or services delivered. The process typically includes five steps:
Finding suppliers
Evaluating and vetting vendors
Sending contracts after negotiation
Creating purchase orders
Processing payment after goods delivery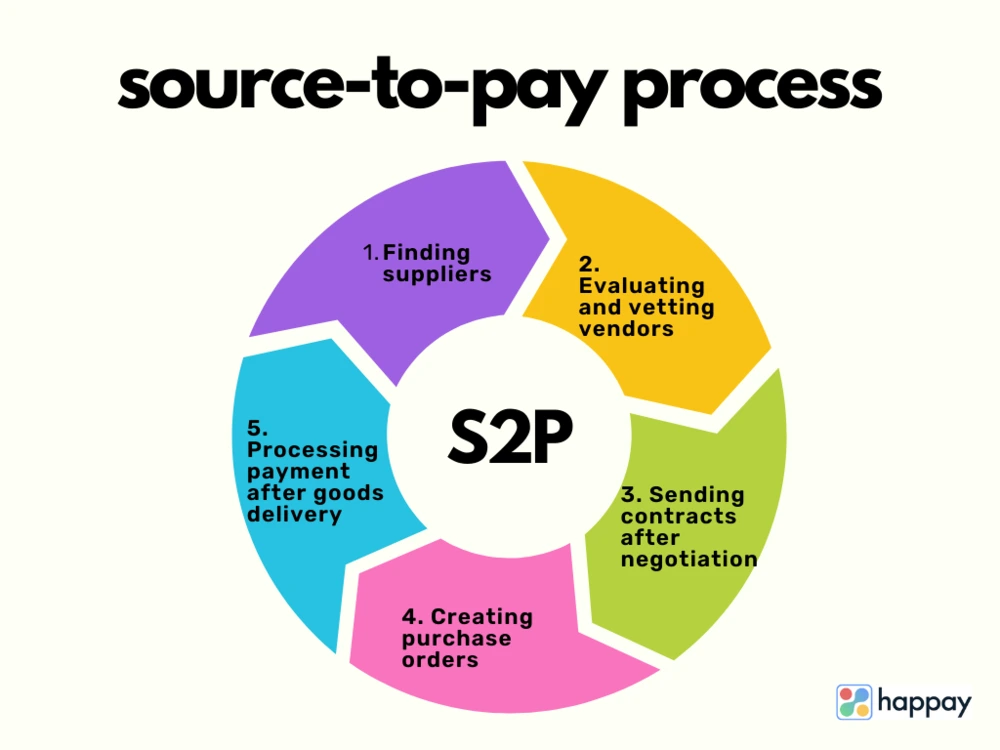 1. Finding suppliers
Sourcing begins when procurement leaders realize the need to obtain goods and services at competitive prices. As the procurement team conducts extensive market research, they share requests for information (RFIs), RFPs, and RFQs with potential vendors. Sourcing teams also use e-auctions to find reliable suppliers and gather supplier information.
2. Evaluating and vetting vendors
The vendor evaluation process considers multiple factors to find suitable suppliers. These factors include pricing, product quality, service consistency, minimum order quantities (MOQs), and delivery times, among others.
Efficient sourcing teams aim to strike the right balance between product quality and affordable prices. Ultimately, the procurement department adds the selected suppliers to their vendor management system.
3. Sending contracts after negotiation
Organizations aim to find suppliers offering high-quality products at low costs, especially while sourcing larger quantities. The pricing and terms negotiation stage helps sourcing teams do just that. After finalizing the price and order quantity, they issue contracts to one or more selected vendors.
4. Creating purchase orders
The PO creation process begins after contract signing. The procurement team creates and shares purchase orders with the selected suppliers at this stage. POs contain pricing information, quantity, and contract details per the agreed terms. A purchase order becomes a legally binding document after a vendor accepts it.
5. Processing payment after goods delivery
The final step involves verifying goods received notes against purchase orders and processing payments. Procurement teams inspect the quality of the goods/services, while finance teams use three-way matching to check invoices against POs, supplier invoices, and receipt notes. T
he vendor payment is processed upon successful verification. Some organizations may set up a delivery and payment schedule to ensure timely raw material delivery.
Now, let's explore the benefits organizations experience after streamlining procurement.
Also, Read: 9 Best Vendor Payment Management Software
Benefits of source-to-pay
A holistic source-to-pay approach helps enterprises transform procurement into a revenue driver rather than just a business support function. The benefits they experience are:
1. Improved strategic sourcing
Organizations can't rely on a static list of preferred suppliers in today's ever-changing procurement landscape. A robust S2P process helps companies manage supplier information, vet suppliers, and obtain competitive pricing from them.
2. Faster order fulfillment
A strategic sourcing plan also centralizes supplier search with e-auctions. As a result, enterprises can select suppliers and fulfill orders faster.
3. Better pricing and terms
Finance teams aim to forecast cash flow and optimize organizational spending. Strategic sourcing plays a key role in spend optimization by attracting suppliers ready to extend favorable pricing and terms to win contracts or bids.
4. Accurate budgeting and forecasting
A granular understanding of purchases is critical to measuring the budgetary impact of strategic sourcing. S2P workflows enable organizations to extract financial insights from post-close reporting. As a result, finance teams can make data-driven decisions about capacity planning, utilization, and future budgets.
5. Effective regulatory risk management
Evaluating new suppliers can be time-consuming. An efficient sourcing process streamlines vendor evaluation with checks against risk compliance, finance requirements, and cross-departmental prerequisites. Moreover, enterprises get a complete picture of the future supplier relationship.
The next section explores organizations' best practices for navigating sourcing process challenges.
Recommended Read: Top 6 Enterprise Payment Software
Best practices for source-to-pay
The following best practices enable organizations to source efficiently, meet business performance objectives, and improve supply chain management.
Closed-loop data cycle creation
Process standardization
RPA for streamlining tasks
ML and NLP for simplifying complex processes
Advanced analytics for better insights
1. Closed-loop data cycle creation
A linked ecosystem is essential for connecting sourcing, procurement, and finance teams. This closed-loop system provides enterprises with complete visibility on supply market data, historical spending data, internal/external compliance, and supplier performance.
2. Process standardization
Standardizing and optimizing existing sourcing workflows help organizations streamline sourcing, contracting, spend analysis, procurement, and supplier management. Enterprises should also digitize manual processes to reduce the workload on business users.
3. RPA for streamlining tasks
Automating repetitive tasks with robotic process automation allows users to use their time efficiently and avoid manual mistakes. For example, enterprises can use RPA to automate tasks such as purchase requisition creation, expense reconciliation, PO creation, and invoice processing.
4. ML and NLP for simplifying complex processes
Organizations should consider using machine learning and natural language processing for strategic tasks that require human judgment. These tasks can include vendor capability matching, favorable term recommendation, and non-compliance clause highlighting.
5. Advanced analytics for better insights
Organizations investing in building integrated IT environments can centralize supply operations data and gain insights into sourcing workflows. Advanced analytics helps them predict delivery timelines, cost savings, product demand, and future price levels too.
Following these best practices aids enterprises in reducing process cycle time, meeting procurement objectives, and achieving high bottom-line performance. Now, let's look at the challenges organizations must scale.
Suggested Read: 20 Business Expense Categories List
Challenges in source-to-pay
Failure to optimize the S2P process can result in value leaks in different areas. Let us explore the common challenges organizations experience without a unified process.
Lack of compliance
Duplicate data entries
Poor data visibility
1. Lack of compliance
Organizations managing sourcing activities manually often struggle with multiple compliance requirements across departments. For example, a procurement team's pricing analysis or audit checklist may differ from the finance team. This lack of a standard compliance policy makes it challenging for teams to identify and address non-compliance issues.
2. Duplicate data entries
Business units using different systems often create duplicate data entries without visibility into benchmarks. Plus, they end up wasting money and time on multiple system licenses, training, and management.
For example, there may not be any alignment between accounting and procurement teams when they use two tools to review supplier invoices against POs and note discrepancies. Integrated procurement solutions aid organizations in maintaining data consistency across systems and tracking metrics for efficiency.
3. Poor data visibility
Organizations with no standard process or unified system also struggle with a lack of data synchronization between ERPs and source-to-pay solutions. As a result, they can't conduct real-time analysis for business insights.
Now, let's explore source-to-pay automation tools enterprises use to analyze supply chain data for efficient decision-making.
Also, Read: 10 Best Procurement Software
Source-to-pay vs procure-to-pay
The procure-to-pay or purchase-to-pay process starts with goods and services requisition, whereas the source-to-pay goes one step further to add strategic sourcing to the procure-to-pay process. Explore the table below to learn the key differences between them.
| | | |
| --- | --- | --- |
| | Source-to-pay | Procure-to-pay |
| Process | Includes the sourcing lifecycle, from supplier identification to payment processing. | Focuses on the entire purchase process, from purchase requisition to vendor payment. |
| Ideal for | Identifying new suppliers offering high-quality goods at lower prices and with favorable terms. | Purchasing goods and services from qualified vendors. |
| Advantages | Ensures cost savings and improved efficiencies across the organization. | Helps procurement teams save money on specific purchases. |
| Disadvantages | Isn't suitable for all businesses. | Isn't as efficient as the S2P process. |
Source-to-pay tools and technologies
A source-to-pay software solution optimizes supplier sourcing, negotiation, and contract execution processes with end-to-end automation. These tools aid organizations in unifying business processes, including sourcing, contract management, procurement, and spend management, on a single platform. As a result, enterprises can efficiently save money, reduce supply chain risks, and improve working capital.
Best-in-class S2P solutions simplify complex workflows by integrating people, departments, and suppliers across geographies. This workflow optimization helps organizations manage supplier information, purchase requisitions, contracts, POs, and other procurement tasks effortlessly.
Related Read: 10 Best Spend Management Software for Enterprises
Top 5 Source-to-pay software
Here are the top five source-to-pay platforms that help procurement professionals manage the entire process of finding, negotiating, contracting, and paying suppliers.
1. SAP Ariba
2. Coupa
3. Ivalua
4. Jaggaer
Quick Read: TOP 10 Procure-to-Pay Software Solutions in 2023
Conclusion
Procurement has become a strategic advantage instead of a series of supply and demand transactions. That's why CFOs are increasingly adopting integrated S2P systems to deliver cost optimization to organizations. The result is smart decision-making with spend analytics and improved procurement efficiency.
FAQs
1. What are the roles and responsibilities of the S2P process?
The roles and responsibilities of the S2P process include:

a) Identifying the need for purchasing goods and services
b) Preparing RFI, RFP, or RFQ questionnaire
c) Obtaining bids
d) Evaluating vendors
e) Negotiating with suppliers
f) Preparing purchase contracts
g( Creating and sharing POs with suppliers
h) Managing accounts payable processes
i) Processing vendor payments
2. What does S2P and P2P stand for?
S2P stands for source-to-pay, whereas P2P stands for procure-to-pay.
3. What are examples of source-to-pay?
Source-to-pay examples include:

a) Identifying vendors
b) Conducting e-auctions
c) Vetting suppliers
d) Contracting and negotiating
e) Goods delivery and payment
4. What is the source-to-pay life cycle?
The source-to-pay life cycle involves supplier identification, vendor evaluation, negotiation, contract creation, PO creation, goods delivery, and payment.