Zoho Expense vs. Expensify
Are you confused about choosing the best expense management software and want to know the right solution for your organization?
Want to know which is the best expense management software, Expensify or Zoho Expense? Check out our detailed comparison between Zoho Expense and Expensify and then arrive at your decision. 
A quick comparative table of Zoho Expense vs Expensify
| | | | |
| --- | --- | --- | --- |
| Features | Zoho Expense | Happay | Expensify |
| Client base | Client base is mainly into small businesses and SMEs. | Mid-size and large enterprises | Best suited for small companies |
| Core proposition | All-in-one travel & spend management platform for enterprises | Expense Management Module in Zoho Business Suite | Payments super app |
| Mobility | Yes | Yes | Yes |
| Expense capture- Web OCR Facility | Yes | Yes | No |
| Multi-currency | No | Yes | Yes |
| GST filing- tax calculation | N/A | Automatic | N/A |
| Support | 24/5 | 24/7 | Yes |
Overview of Zoho Expense
Zoho Expense is a web and mobile-based expense management software that helps companies simplify tracking and managing employee expenses. Zoho allows users to create and submit expense reports, automate approval workflows, and reimburse employees seamlessly.
Zoho Expense is also integrated with popular accounting software, such as QuickBooks online and Zoho Books, to streamline the expense reimbursement process further.
What's more, Zoho Expense comes with additional features such as expense policy enforcement, real-time analytics, and custom reporting to help companies control their business expenses.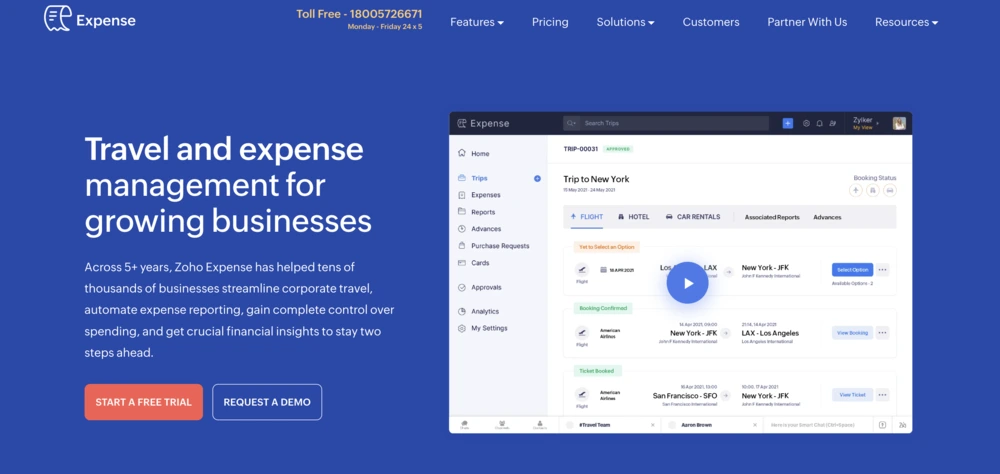 Zoho Expense features:
Expense tracking: Users can easily track their expenses by uploading receipts, creating expense reports, and categorizing expenses by project, department, or client.
Expense reporting: Users can create detailed expense reports with just a few clicks, including details such as date, time, location, category, and receipts.
Mobile application: Zoho Expense has a mobile app for iOS and Android devices. Users can now manage their expenses on the go.
Multiple integrations: Zoho Expense integrates with various accounting software such as Zoho Books, QuickBooks, and Xero, making it easy to export data for accounting purposes.
Approval workflow: Zoho allows you to set an approval workflow that helps users define expense approval rules, including limits and routing.
Zoho Expense pros:
Ease of use
Auto scanning of receipts
Business tool integration functionality
Mileage expense tracking/ mileage tracking
Smart categorization
Ease of creating expense reports
Zoho Expense cons:
One G2 user felt that Zoho Expense must have more customized workflows and processes
No 24/7 customer support
Must Read: 7 Best Zoho Expense Alternatives and Competitors
Overview Expensify
Expensify is a cloud-based expense management software application that offers organizations solutions for expense reporting, receipt tracking, and reimbursement.
It streamlines the expense reporting process by automatically importing corporate card transactions from bank accounts and credit cards, categorizing expenses, and generating reports that can be exported to accounting software.
Expensify offers a range of features to help companies manage their expenses. Using the Expensify software, you can capture receipts with a mobile device, track mileage, set expense policies, and create custom approval workflows.
The software also integrates with popular accounting software like QuickBooks and Xero. This means syncing expense data with a company's financial records is no longer a herculean task.
In short, Expensify is designed to simplify the expense management process, reduce errors, and save time for businesses of all sizes.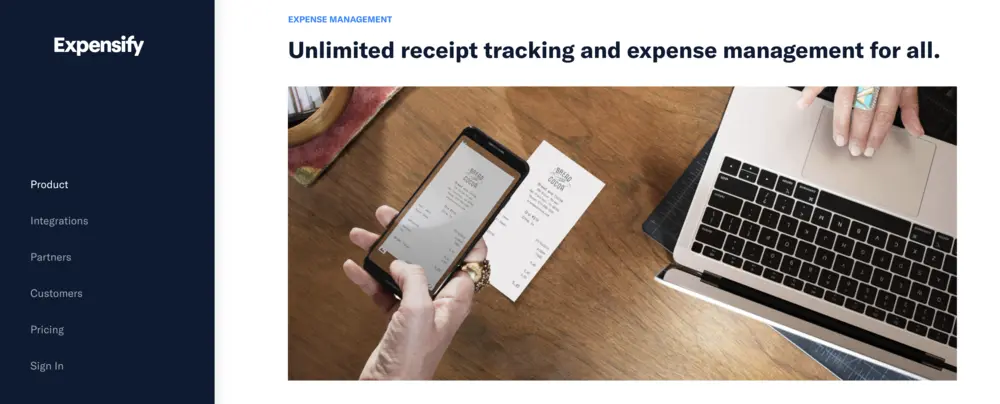 Expensify features:
One-click receipt scanning: Expensify's SmartScan will automatically capture details from a photo receipt scanner allowing you to click a photo of your receipt. SmartScan will then automatically capture all the details from the picture into the expense report.
Multiple approvers: On Expensify, you can create approval workflows that fit your company's structure and customize your expense policy rules to flag expenses that need a manager's review.
Multiple integrations: The software comes with multiple integrations. The data can be seamlessly shared from Expensify to the accounting, ERP, and HRMS.
Advanced tax tracking: With Expensify, you can now sync tax rates from your accounting package or set custom tax names, rates, codes, and defaults for every expense policy.
PCI-compliant security: The banking data is protected by the best security standards and compliant with Privacy Shield and GDPR requirements.
Delegated access: Your colleagues can now create, submit, or approve reports on your behalf.
Expensify pros:
Hassle-free creation of expense reports
Bank and corporate credit card integration
Currency conversions
Travel itinerary and flight status
Expensify cons
The website has more features than the app, according to a G2 review
Must Read: 10 Best Expensify Alternatives and Competitors
Zoho Expense vs Expensify – Comparative Analysis
Features

Happay

Zoho Expense

Expensify

Expense Capture

Automatically capture expenses from 7+ sources using Happay Expendite. AI-powered OCR will capture expense data from receipts to reports.

Add expenses in multiple ways on Zoho Expense.

SmartScan automatically captures all the details in an expense report.

Expense Approval

Happay's ApprovNow gives real-time updates.

Out-of-policy claims are separated into

soft and hard blocks.

Zoho Expense offers a consolidated dashboard for approvers and admins to view transactions submitted for approval

Create approval workflows to fit your company's structure

Policy Compliance

SmartAudit automatically flags policy violations, potential frauds, manual errors, and others

Create spending policies and associates them with branches, departments, teams, or employees

Detect duplicate receipts automatically, ensure accurate exchange rates, and confirm the validity of each transaction

Self-booking tool

Book flights, hotels, and cabs and raise VISA requests without emailing their travel desk or admin under one single platform – Happay's self-booking tool

Zoho Expense is integrated with Sabre's GetThere. It allows you to book flights and hotel rooms for corporate travel.

With Expensify Travel management tool you can book flights, hotels, and cars

Mobile App

Using Happay's Expense app, users can submit expense reports, request advances, approvers can approve or reject requests, add their comments etc., from anywhere, anytime

Zoho Expense mobile app is available on both Android and iOS

The Expensify software comes with a mobile app

Expense Analytics

The Happay software comes with a dedicated analytics module. Happay's DeepAnalyze offers you 360o visibility into all your travel and expense data. What's more, it gives you customized reports for the information you want and for the time frame you want.

Zoho Expense comes with an analytics module that lets you run customized analytic reports to get insights of your business performance and your employees' spending.

Expensify gives users filters that allow them to filter data according to date, merchant name, policy, categories, tags, etc. It also has an analytics view that helps you visualize total spending according to categories, tags, and cards.
Zoho Expense vs Expensify – Reviews*
| | | | |
| --- | --- | --- | --- |
| Features | Happay | Zoho Expense | Expensify |
| Ease of creating expense reports | 9.1 | 8.7 | 9.1 |
| Bank or credit card integration | 8.8 | 7.6 | 8.9 |
| Smart categorization | 8.7 | 8.1 | 8.4 |
| Digital receipt management | 9.2 | 9.1 | 8.7 |
| Ease of booking | 9.1 | 8.9 | 8.5 |
| Itinerary management | 8.8 | 8.7 | 8.1 |
*Data from G2
Zoho Expense vs Expensify – Pricing
Happay

Zoho Expense

Expensify

Schedule a demo with Happay and learn more about its features and pricing

Free plan: $0 for small businesses and freelancers
Standard: ₹ 99 per active user/month billed annually

Premium: ₹ 199 per active user/month billed annually

Enterprise: ₹ 299 per active user/monthbilled annually

Free: $0
Collect: From $5/user/month with Expensify Card

Control: from $9/user/month with Expensify Card
Zoho vs. Expensify Ratings
Zoho Expense Ratings
1. Ease of use –
2. Value for money –
3. Expense fraud prevention –
4. Spend visibility –
5. Analytics and insights –
6. Customer support –
Expensify Ratings
1. Ease of use –
2. Value for money –
3. Expense fraud prevention –
4. Spend visibility –
5. Analytics and insights –
6. Customer support –
Recommended Read: Zoho Expense Reviews and Pricing
Why is Happay better than Zoho Expense and Expensify?
Happay is the industry leader and first-of-its-kind, fastest-growing solution that integrates corporate travel, employee expense, and payments management under one platform. With over 7000+ customers across 20+ countries, Happay is making strides in the T&E world.
Happay's AI-powered, mobile-first platform helps companies streamline and automate their end-to-end expense approval process, eliminate expense frauds, drive 100% policy compliance, and reduce manual errors.
The following are Happay's modern and money-saving features that make expense management a breeze for enterprises:
Happay Xpendite auto-captures expenses with 100% accuracy from 7+ expense sources such as SMS, email, credit card statement, Uber, etc. Additionally, the state-of-the-art OCR technology auto-captures important data from physical bills and receipts and creates expense reports with zero manual intervention
AI-powered SmartAudit feature that automatically flags policy violations resulting in 100% policy compliance
Happay Analytics offers real-time visibility, robust insight, and comprehensive expense analysis on every penny spent
Suggested Read: A Comprehensive Guide for Travel and Expense Policy
Here are a few features that set Happay Travel apart from its competitors and establish it as a leader in the corporate travel sector.
From raising travel advances to booking flights, hotel rooms, and cabs, you can do it all in one single app
The "Fare Freeze" feature helps lock the prices and prevents you from paying extra bucks for surge pricing due to approval delays
Achieve 100% policy compliance during booking by setting up automated policy checks
The "Missed Saving Alert" feature will automatically nudge users to book the lowest fare option keeping in mind their preferences
Employess get real-time notifications about their expense report
Top policy violations, the amount lost due to expensive bookings, frequent violators – you can get all such essential data points from Happay's Travel Analytics dashboard to make proactive decisions in your corporate travel process
Happay Ratings
1. Ease of use –
2. Value for money –
3. Expense fraud prevention –
4. Spend visibility –
5. Analytics and insights –
6. Customer support –
Zoho Expense Vs Expensify – FAQs
1. Does Expensify integrate with Zoho?
Expensify can be integrated with Zoho Flow to automate business workflow. 
2. What is Zoho Expense used for?
Zoho Expense is an expense reporting software that helps automate the recording of expenses from receipts, simplifying expense reporting and streamlining the approval process. 
3. Does Zoho Expense have an app? 
Zoho Expense has an app available for both iPhone and Android users.
4. Is Expensify worth buying?
Expensify is best suited for companies of all sizes. Its customizable features cater to enterprises and start-ups.
5. Which is better- Expensify or Zoho Expense?
Both Zoho Expense and Expensify have different strengths and weaknesses. A careful analysis will tell you that both platforms have similar merits. Hence, their compatibility differs from company to company.