Spotnana alternatives
Travel management simplifies the overall processes involved around travel expenses, management, and strategies. It is meant to help businesses and employees optimize their travel requirements.
An immediate benefit of travel management is cost reduction in terms of hotels, cars, and airline tickets. Additionally, it helps employees focus more on critical tasks, rather than trip planning.
Travel management software provides a platform to plan and record travel expenses from end to end. Companies use it to book and report expenses, instead of requiring employees to use a separate solution for the same.
There are many travel management solutions in the market: established ones and new players.
One solution that falls in the latter category is Spotnana's travel management platform. Headquartered in New York, the company was founded in 2020. So is it a good solution? Is it bad? What does it offer? And what are some of the best competitors?
Let's dive deep into what it is, take a look at a comprehensive list of its competitors, and cover how you can definitively choose the best Spotnana alternative.
What is Spotnana?
Spotnana is a cloud-based travel technology platform built with a traveler-first approach. Their Travel-as-a-Service platform aims to provide better travel experiences to companies, agencies, suppliers, and more.
It is a travel platform built with the travel industry in mind. Their service extends to corporates, travel management companies (TMCs), technology partners, and suppliers.
Why consider Spotnana alternatives?
While Spotnana reviews show that the solution just about does the job, users are looking for an overall robust solution with advanced integrations, expense automation, and most importantly: ease of use, reliability, and scalability. You need an all-round solution that will scale with your business as you grow.
Top 10 Spotnana competitors and alternatives: at a glance
Spotnana Alternatives & Competitors: Comparative table
| | | | | | | | |
| --- | --- | --- | --- | --- | --- | --- | --- |
| Travel Management Software | Markets | Integrated payments, expense & travel | Savings | Self-Booking on Mobile | Missed savings alerts | Mileage tracking | Price |
| | Small, mid-market and enterprise | Yes | High | Yes | Yes | Yes | Contact to know more |
| | Enterprise | No | Limited | Yes | No | Yes | $9 per report; other plans have variable pricing. Contact them to know more |
| | Small and medium-sized enterprises | No | Limited | Yes | No | No | Contact them to know more |
| | Small and medium-sized enterprises | No | Limited | Yes | No | No | Plans start at $4.99 |
| | Medium-sized businesses and enterprises | No | Limited | Yes | No | Yes | $8/month; contact for custom pricing |
| | Medium-sized businesses and enterprises | No | Limited | Yes | No | Yes | $7 per user/month |
| | Small, medium-sized businesses and enterprises | No | Limited | Yes | No | Yes | Basic free plan; contact for custom pricing |
| | Small to medium-sized enterprises | No | Limited | Yes | No | Yes | Free plan, goes up to $99 and $299 per month |
| | Medium-sized businesses to enterprises | No | Limited | Yes | No | No | Contact for more information |
| | Small to medium-sized enterprises | No | Limited | Yes | No | Yes | Contact for more information |
10 Best Spotnana alternatives and competitors: A deep dive
Happay provides a comprehensive SaaS travel and expense ecosystem for companies of all sizes. Users can view everything in a single platform, including budgeting, workflows, spends.
From tracking travel expenses, petty cash management, and handling business expenses comprehensively, Happay's solution offers complete visibility, control, integrations, and security.
Case in point, Happay is trusted by over 6000 businesses for T&E automation.
Some of Happay's standout features include:
GST Compliance
Single-sign-on (SSO)
Smart Audit
Missed savings alerts
The solution works hand-in-hand with clients to develop a clear set of business expense policies to ensure they are followed, and not broken.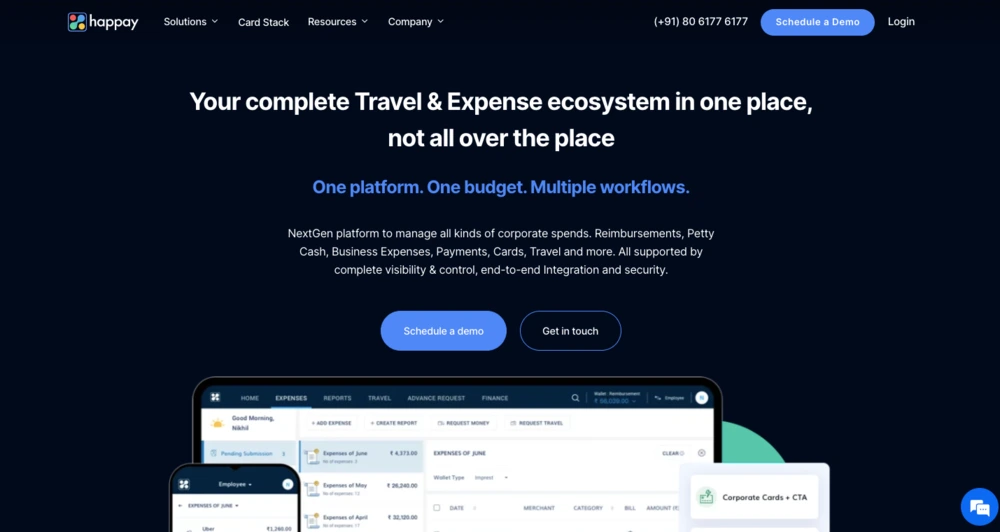 Why should you choose Happay as an alternative to Spotnana?
With over 7,000 customers worldwide, Happay helps make business T&E a piece of cake. Happay is consistently rated as a "Leader" on software review websites such as G2.
Apart from that, the solution helps companies achieve the following:
30% savings on travel bookings
Save up to 10 hours per trip
Achieve 100% policy compliance
Happay features
Travel inventory: Access the best airline, hotel, and rental service providers with the most competitive prices.
Personalized booking options: View personalized search results, real-time loyalty information, and an AI-based storefront that tracks negotiated and local fares from advanced GDS to NDC capabilities.
Savings alerts: Get real-time savings alerts for flights, hotels, and cars. Happay also conveniently captures unused credits to ensure users get increased savings.
Incredible support: Get 24/7 support via email, phone, or chat.
Real-time information tracking: Users can track bookings, cancellations, and booking changes, along with compliance, unused credits, and carbon offsets, all in real time.
Lightning quick onboarding: Set up and start using in less than 30 minutes. You can optimize policies, set up workflows, and make other configurations at your comfort.
Comprehensive integrations: Happay integrates with your existing systems, such as taxi applications, airline ticketing systems, hotels, and more, to provide an uninterrupted experience.
Per diem: The solution makes it easy for companies to transfer allowances to employees.
Forex transfers: Make transfers to employees in any currency easily.
Pros of Happay
Excellent user interface
CRM, HRMS integration
Open APIs
Spend metrics
Data capture
Bill streamlining and capturing
Report generation
Receipt scanning
Expense, policy breakage, and budgetary information view
7-year audit trail
Cons of Happay
Dark theme unavailable
There's no OCR capability across multiple languages
According to G2, users of Happay are primarily in the hospitality, logistics, financial services, and retail industries. However, the solution is also used by small businesses, mid-market companies, and large enterprises. 
Pricing
You can contact their team to learn more about the solution and pricing.
SAP Concur lets companies seamlessly manage travel expenses through their cloud-based expense and travel management software solution. In addition, finance stakeholders can use it to monitor all expenses and cash flows related to travel expenditures.
Concur assists with travel processes, from booking to approval to payment. It also automates data capture from receipt images and submits expense reports for approvals.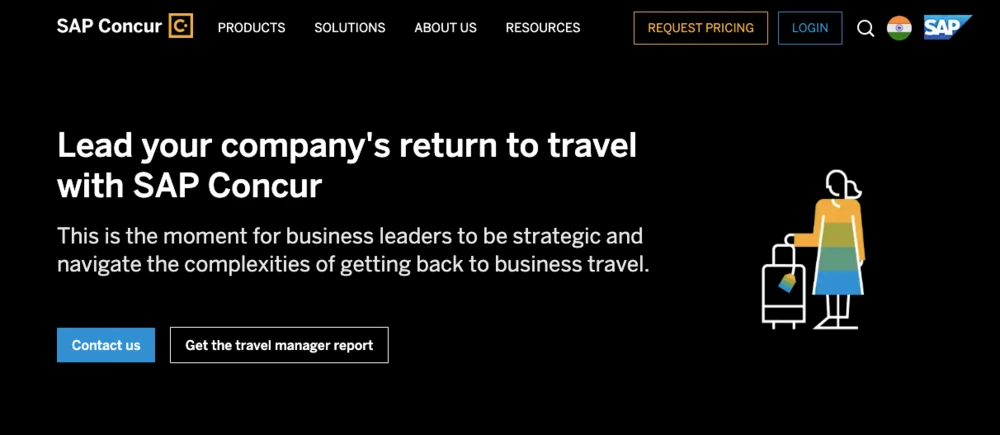 Why should you choose SAP Concur as an alternative to Spotnana?
SAP Concur has an extensive customer base and has been in the market for a considerable time. While this is a good thing, SAP Concur is not without its set of advantages and disadvantages.
SAP Concur features
Mobile application
Receipt scanning and expense report creation
Trip notifications
Integrations
Mileage tracking
Pros of SAP Concur
User-friendliness
Easy to create expense reports
Streamlined trip expense information
Ability to book right from the app
Cons of SAP Concur
According to G2, users of Happay are primarily in IT, healthcare, and financial services. In addition, SAP Concur is used by small businesses to large enterprises to manage travel, expenses, and invoices in a single platform.  
Pricing
There's no public pricing information for SAP Concur. However, you can contact them for more information.
Suggested Read: 5 Best SAP Concur Alternatives and Competitors
Egencia is a corporate travel management system that offers features for managing travel risk, supporting traveler well-being, and maximizing ROI in business travel programs.
Egencia leverages the power of Expedia to deliver simple business travel and fast support for unexpected moments. In addition, Egencia's platform and travel program management optimize travel programs to manage risk while maximizing ROI.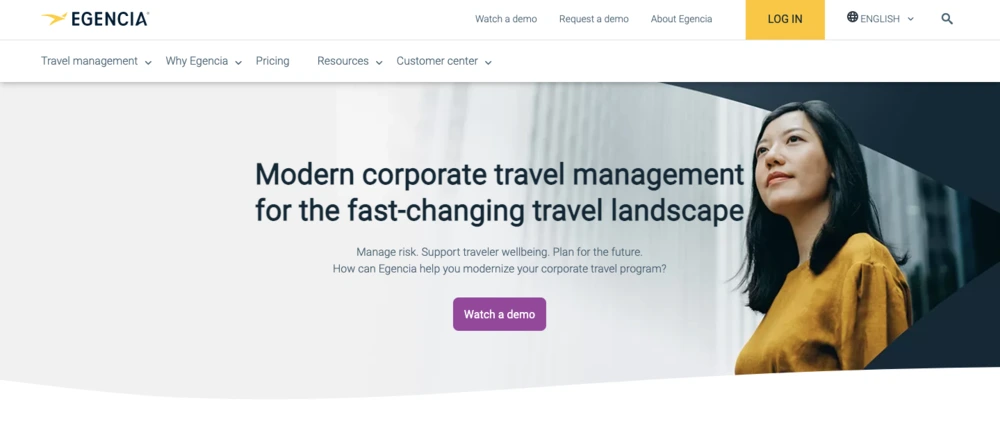 Why should you choose Egencia as an alternative to Spotnana?
Egencia is part of Expedia and has a large customer base.
Egencia features
Integration
Itinerary management
Automated reminders
Mobile
Compliance
Pros of Egencia
Good usability
Automated booking
Cons of Egencia
According to G2, Egencia is used by companies in the healthcare, construction, and IT industries. However, companies in the mid-market primarily use Egencia for the enterprise spectrum.
Pricing
You can contact Egencia's team to learn how much their solution costs.
Also, Read: 7 Best Zoho Expense Alternatives and Competitors
Itilite is an AI-based T&E solution that helps automate processes for better efficiency. It helps teams org-wide, such as HR, finance, operations, and more, to help provide a better travel experience, control costs, and traveler safety. With their solution, you can ensure policy and guideline compliance.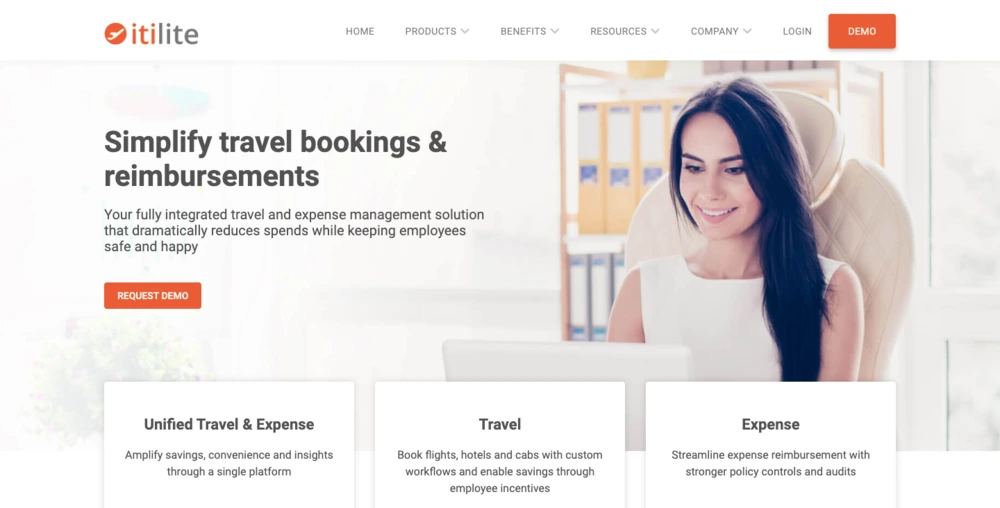 Why should you choose Itilite as an alternative to Spotnana?
Some standout features of Itilite are expense filing, reporting, and fraud detection. Apart from that, Itilite serves as one application for all purposes, which means everything happens in a single place.
Itilite features
Flight, hotel, and car booking in one place
Custom rules for personalized booking options
Integration with multiple systems to ensure no silos
Dashboards to get a consolidated view of travel data
Workflow automation for approvals
Notifications that alert employees about upcoming trips
Pros of Itilite
Good customer support
Centralized platform
Good booking options
Cons of Itilite
According to G2, the automotive, IT, and retail industries are some of the top industries that use Itilite. Itilite primarily caters to mid-sized enterprises.
Pricing
Itilite offers multiple pricing options for users. Plans start from $4.99/month (billed annually) to $7.99/month and $9.99. You can contact their team to know more.
Recommended Read: 8 Best ITILITE Alternatives and Competitors
Emburse Certify Expense simplifies expense management by automating manual tasks, providing greater spend control and visibility, and offering free administrative and end-user support.
With automated expense report creation, integrated spend request and card issuing workflow, embedded audit capabilities, and mobile receipt capture, employees, managers, and accountants can easily create, submit, and approve expense reports, check the status of expense reports, and access reports when needed.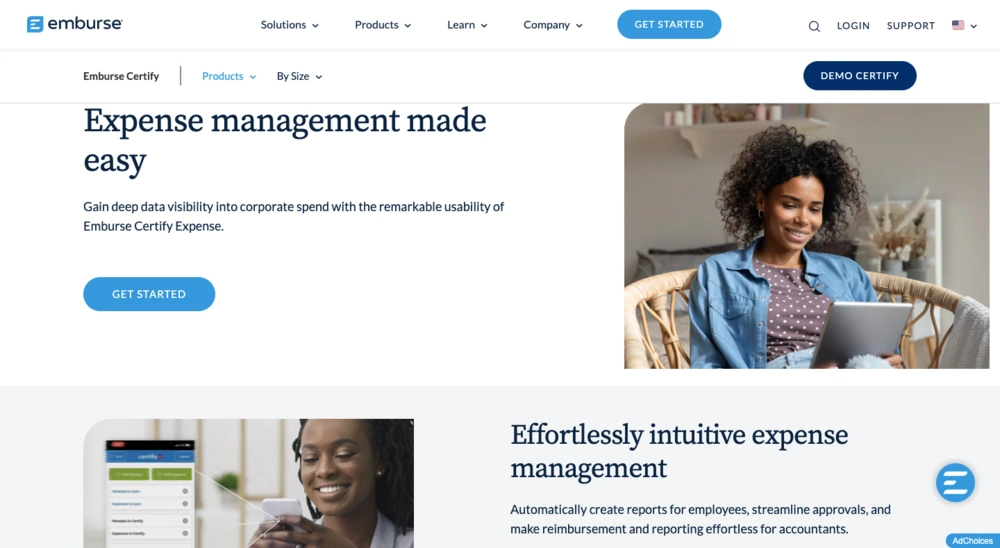 Why should you choose Emburse Certify Expense as an alternative to Spotnana?
Many users worldwide use Emburse for automation, compliance, and insights to make better decisions.
Emburse Certify Expense features
Automated data entry
Spend visibility
Multi-currency and language support
Integrated spend request and card issue workflows
Embedded auditing
Mobile receipt capture
Pros of Emburse Certify Expense
Easy to generate and edit expense reports
Good support
Ease of use and convenience
Cons of Emburse Certify Expense
According to G2, Emburse Certify Expense is used by customers in the financial services, IT, and insurance industries. Overall, the solution caters to small to medium-sized businesses.
Pricing
Their plans start from $8/month for small businesses and custom pricing for midsize businesses and enterprises. You can contact them to know more.
Also, Read: 10 Best Expense Management Software
Webexpenses enables businesses to streamline operations related to invoicing, corporate travel, expense auditing, and more. It offers mobile applications across different platforms, allowing professionals to manage expenses and use Automatic Character Recognition (ACR) functionality to digitally scan paper receipts.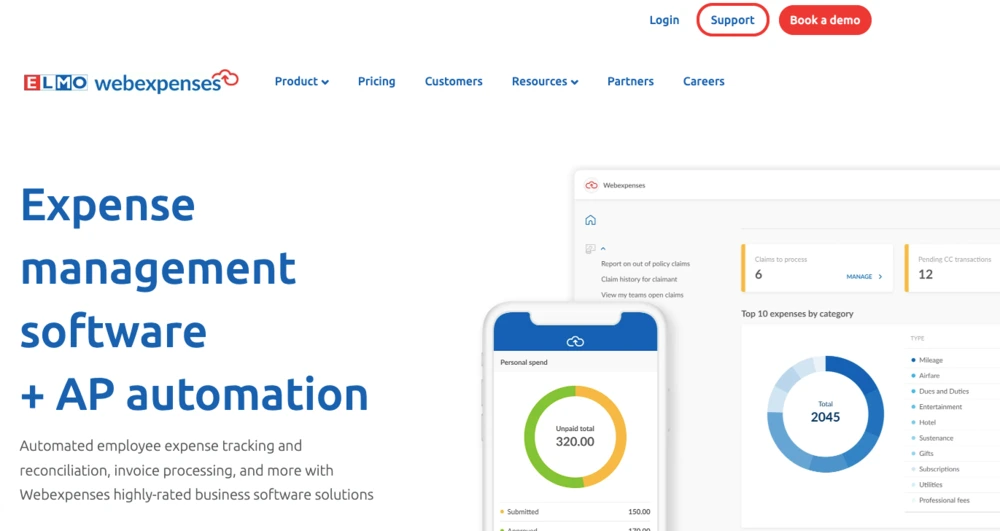 Why should you choose Webexpenses as an alternative to Spotnana?
Webexpenses is a good solution if you prioritize customizability and comprehensive support for training.
Webexpenses features
Drag-and-drop reporting
ERP integration
PO management and invoice approval
Payments and reconciliations
Compliance and error-checks
Pros of Webexpenses
Clear and concise information
User-friendly
Cons of Webexpenses
According to G2, Webexpenses users are primarily in the construction, telecommunication, and IT industries. In addition, mid-market and enterprise companies primarily use the solution. 
Pricing
Webexpenses has only one pricing tier that costs $7 per month.
Also, Read: 11 Best Billing Software in India
Navan helps people focus on what matters most, providing an all-in-one solution that makes travel easy with Navan, spending hours on the phone trying to change flights or saving stacks of receipts to manually input expenses are things of the past.
Instead, Navan provides companies with real-time visibility, savings, and control, while EAs, finance teams, travel managers, and employees can benefit from its benefits.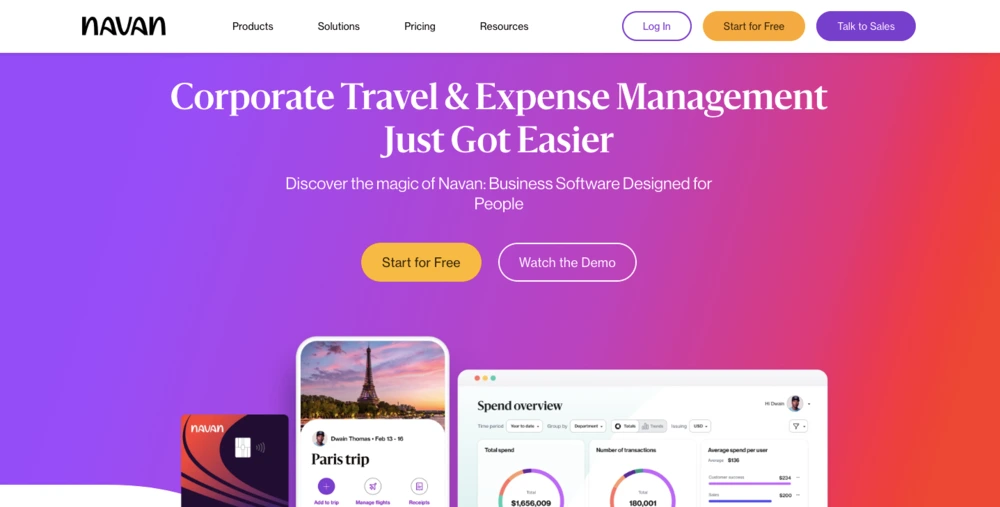 Why should you choose Navan as an alternative to Spotnana?
Navan is a simple, easy-to-use solution. Therefore, you should choose Navan if your priorities align with those factors.
Navan features
Itinerary management
Rule-based workflows
Digital receipt management
Compliance
Pros of Navan
Built-in budget limits
Mobile-friendliness
Ease of implementation
Cons of Navan
According to G2, marketing, transportation, and financial services, users prefer to use Navan and are mostly medium-sized businesses to large enterprises. 
Pricing
Navan offers a free-to-use plan and custom pricing for those who require specific functionalities. You can contact them to learn more.
Also, Read: 10 Best Travel Management Software
TravelPerk offers an unparalleled range of trip options and prices that can help you save up to 30%. You can plan every aspect of your trip from one place and only pay when you travel.
With TravelPerk, you can easily set travel policies, manage invoices, claim back VAT, and track your spending, enabling you to make the most of your travel budget. TravelPerk helps you easily save money.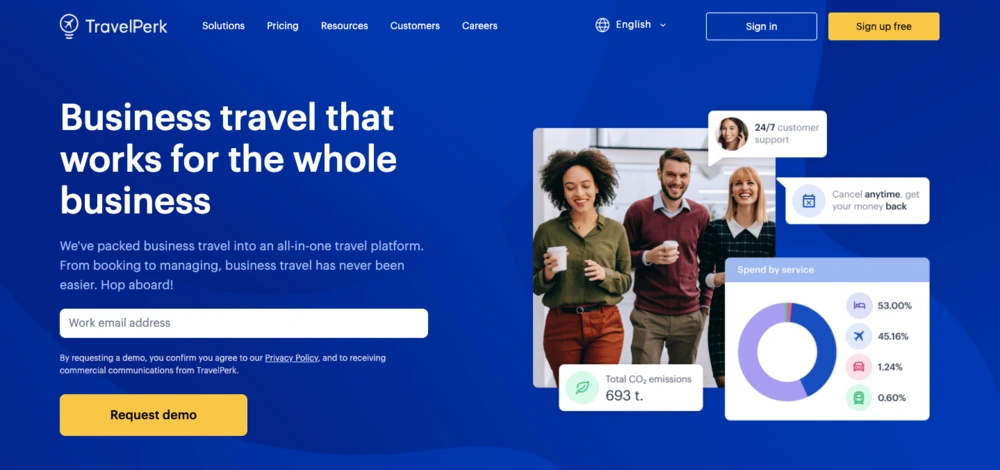 Why should you choose TravelPerk as an alternative to Spotnana?
TravelPerk is consistently rated as a "Leader" on G2. They also have a large customer base which helps them take control of their carbon footprint.
TravelPerk features
Flight status updates
Rule-based workflows
Policy and compliance
Bookings
Pros of TravelPerk
Reliable customer support
Saves time
GreenPerk initiative
Cons of TravelPerk
According to G2, TravelPerk is primarily used in marketing, financial services, and the ITES industries. Overall, TravelPerk is used by small to medium-sized companies.
Pricing
TravelPerk is free-to-use, and costs go up to $99 and $299 per month. You can contact their team to learn more.
Also, Read: 8 Best TravelPerk Alternatives and Competitors
Deem's corporate travel software solution leads the industry and allows travel managers to customize programs and improve compliance. In addition, this solution lets travel management companies (TMCs) deliver more engaging customer experiences.
Etta's software experience is centered around business travelers. It offers a comprehensive suite of online trip booking and management tools, including booking car services for complex trips, with a streamlined and user-friendly interface, among many other key functionalities.

Why should you choose Etta as an alternative to Spotnana?
Etta is one of the solutions awarded the "Best Usability" tag on G2. This, along with a broad customer base, is one of the reasons to choose Etta.
Etta features
Trip sharing
Policy engine
Expense integration
Mobile app
Eco check
Pros of Etta
User-friendly
Planning capabilities
Multi-language support
Cons of Etta
Etta is primarily used by ITES, management, automotive, and logistics users. However, companies of all sizes generally use it. 
Pricing
You can contact Etta's team to learn more about their pricing.
Also, Read: 9 Best Vendor Payment Management Software
TravelBank gives businesses immediate control over their expense management and travel program while improving employee happiness through a user-friendly design, fast expense reimbursements, and a travel rewards program.
In addition, companies can easily create and implement custom expense and travel policies and receive expert support from TravelBank's in-house customer success team through phone, email, or chat. TravelBank is accessible on both desktop and mobile platforms.

Why should you choose TravelBank as an alternative to Spotnana?
Good customer support, flexibility, and straightforward pricing are reasons to choose TravelBank.
TravelBank features
Expense reports
Reimbursements
Mileage tracking
Receipt capture
Smart categorization
Pros of TravelBank
Rewards
Ease of use
Mobile use
Cons of TravelBank
According to G2, TravelBank is used by people in the marketing, software, ITES, and logistics industries. However, it is mainly used by small to medium-sized businesses. 
Pricing
Contact the TravelBank team to learn more about their plans and pricing.
Suggested Read: 10 Best Accounts Payable (AP) Software
How to pick the best Spotnana alternative?
When choosing the best alternative to Spotnana, you must consider a few factors before taking the final call.
What are your needs? Identify them, list them down, and evaluate them. Then, ask yourself whether Spotnana meets them.
Features: While Spotnana covers the basics, you need a T&E solution that helps you tick all the boxes.
Expertise: Spotnana is a relatively new player in the market. Therefore, choosing a solution that has made its mark in the category would be best.
Customer support: Ensure the solution offers unmatched customer support with fast response times.
Compliance: Make sure to check whether the solution has critical privacy and security features.
Cost: Find out how much the solution costs. Does it give you the best bang for your buck? Does it have any additional or hidden costs? Ensure the software matches the former.
How Happay travel and expense management software helps grow your business
Happay provides a single platform to manage all your travel and expenses, including:
Reimbursements, travel, and petty cash, all by giving you complete control, robust integration capabilities, and high security
You can also ensure that your daily expense management is completely automated. This means you view highly accurate data every single time and never miss bills with automated expense captures, route tracker, and OCR scanning
Close faster with SmartAudit for expense reports, automate all approvals and submissions, flag violations, and verify through multiple checks
Apart from these standout features, Happay has built-in sustainability features to reduce your carbon footprint, offset, and ensure you travel responsibly.
Conclusion
Spotnana is a TaaS solution that aims to simplify global travel experiences. At the same time, it covers the basics; other solutions in the T&E landscape do more, namely Happay. With ultra-fast onboarding, Happay helps you simplify T&E from the minute you start using it.