What is T&E automation? 
"How do I not drown in a sea of paperwork, reimbursement requests and expense frauds?" – Every CFO ever.
CFOs and finance professionals are destined to struggle with paperwork, reimbursement requests, and expense fraud. Thankfully, Travel and Expense automation technology is there to break the endless paperwork cycle and reinvent the way companies treat T&E management. 
Travel and Expense automation software helps you automate your travel management and expense workflows. It simplifies the reimbursement and approval process and helps enforce expense policy compliance in an organization.
In large enterprises where employees are constantly traveling for sales, marketing, research, and other business tasks, travel expense management becomes a hassle too big to handle on their own.
The more the employees travel and increase company outreach, the more the business grows, and the more the need for travel increases. It is a never-ending cycle of request, reconciliation, approval, and reimbursement.
Large enterprises must always ensure that their travel and expense processes are always up to date. Bottlenecks in the system and occasional lags can have a domino effect and leave reimbursements pending for a long time. Next thing you know, several frustrated employees bear the brunt of a business expense they were never supposed to.
Also, Read: A Guide to Travel Expense Reimbursement Process
What are the bottlenecks in the manual T&E process?
While on the surface, the Travel and Expense process looks simple enough, it actually includes multiple complex workflows. Let's look at the most common issues employees, and finance teams face at every step of the process.
1. Travel booking
Employees spend hours finding flights and hotels that they can live in within the specified budget. All communication regarding bookings happens over fragmented communication channels like emails and phone calls, leaving much room for miscommunication and confusion. In the end, much time is wasted, and crucial decision-making is delayed.
2. Expense reporting
Expense reporting requires a lot of diligent effort by the employees. During the trip, they must record and maintain receipts of all the incidental expenses if they want to be reimbursed. This is time-consuming for employees, especially if they travel a lot.
Manual expense reporting also leaves a lot of scope for receipt manipulation and expense fraud. It becomes almost impossible for the finance department to validate the receipts in a limited time frame, which is how many employees get away with expense scams.
Automation platforms enable real-time expense tracking and increase spending visibility, reducing the risk of fraud. This helps the company save a lot of money.
Related Read: A Guide to Travel and Expense Reports
3. Approval
Manual approval takes a lot of time and puts additional administrative pressure on managers whose time should be spent on strategy and decision-making. Automating this part of the expense management process expedites approval by identifying discrepancies in reports and alerting managers against violations.
4. Report Validation and Authorization by the Finance Department
The finance professionals manually qualify every expense and receipt and check if any purchase or spending violates the company's policy. Report validation and authorization of reimbursement is a challenging task that takes hours.
5. Reimbursement
This is the final step in the expense management process. Due to delayed verification and approval processes, the final reimbursements sometimes get delayed. This burns a hole in your employees' pockets and leads to frustration.
Also, Read: Expense Management Workflow Process in Manual and Automation
| | | |
| --- | --- | --- |
| | Manual System | Automated T&E software |
| Travel booking | Employees spend hours finding flights and hotels and getting approvals. | Employees can use a self-booking tool to book flights and hotels. The policy violations are immediately flagged. |
| Expense reporting | Employees have to save paper receipts and bills to file expense claims. | Employees can auto-capture data from e-receipts and scan paper receipts to create expense claims instantly. |
| Approvals | Approvals take a long time. | Approvals are prompt, and communication is streamlined. |
| Report validation | The finance professionals manually qualify every expense and receipt and check if any purchase or spending violates the company's policy. | Report validation is quicker as it is easier to track expenses. |
| Reimbursement | Reimbursement take weeks and months. | Reimbursements can get processed in less than 1-2 weeks. |
How travel and expense automation drives business value?
In the last few decades, globalization has taken businesses by storm. The business turf has ballooned, and the entire planet is one big workplace now. As large enterprises are going international, small companies are also conducting their business over provincial and national boundaries. This hyper-expansive business world necessitates business travel.
Here is why T&E Automation is Essential for Business.
The amount of funds businesses dedicate to travel is huge.

According to Global Business Travel Association, the overall business travel spending is forecasted to reach 1.7 trillion USD by 2022. This amount of money cannot be managed manually.

Employees are often not as honest as you need them to be. Travel and Expense automation can protect you against expense frauds.

Inefficient expense management practices can deplete a business of its resources. 
5 Benefits of travel and expense automation
Simplifies processes and saves time
Savings in cost
Simplified auditing
Employee satisfaction
Better spend predictability
1. Simplifies processes and saves time
Automation significantly reduces the time spent on travel planning. Employees also save much time during expense reporting process because they do not have to make the reports themselves or do hefty calculations.
Automating expense management also saves a lot of time for finance professionals who otherwise spend days validating and reconciling travel expenses manually.
2. Savings in cost
Automated travel expense management ensures complete spend visibility between managers and employees. This makes employees check themselves while making bookings and choose cost-saving options. Features like policy-violation alerts help the organization stick to the travel budget.
Automated solutions' insight into travel expense data helps you identify the most frequent and highest-paid vendors. This information can aid your negotiations with them and trigger additional savings.
3. Simplified auditing
Auditing is a crucial part of expense management. It helps you identify the current workflows' main issues and insights into correcting them. Travel and expense software comes with cloud storage. It gives you easy access to the entire history of your expense data. This simplifies the auditing process and reduces the risk of data contamination.
4. Employee satisfaction
Automating expense management processes accelerates reimbursements and increases employee satisfaction. It also frees employees from tedious tasks like saving paper receipts and manually keeping track of all expenses.
An intelligent travel and expense automation platform can also allow your employees to track their reimbursement request status and directly communicate with approvers in case of any confusion.
5. Better spend Predictability
Automated travel expense solutions provide a sweeping view of travel spending data. This supplements essential expense analyses like cash flow forecasting, budgeting, etc.
Also, Read: What is Spend Analysis?
What parts of travel and expense can you automate?  
1. Policy compliance controls
You can program your T&E management software to send travel policy alerts to employees who are making bookings. 
Happay's self-booking tool Happay Travel sends policy-violation alerts when employees try to select flights or hotels that exceed the authorized amount. It also sends them missed savings alerts when they choose a pricier option when a similar, more cost-effective option is available. 
2. Expense creation
An automated Travel and Expense solution enables your employees to capture t&e expenses in real-time. With the OCR technology, they can auto-scan their bills and avoid having to save multiple receipts and invoices.
Happay's Xpendite module lets you record employee expenses by employees on the go. This T&E spending is simultaneously updated in your HRMS, ERP, etc. You can download their Gmail and Outlook plugins to create the costs directly from the inbox. You can also send the invoice to Happay's Whatsapp account to create the expense directly in the employee's expense account.
3. Expense reporting
By automating the travel expense management process, employees can send information digitally while traveling and directly upload photos of their receipts. Using OCR technology, the Travel and Expense system can extract specifics from the tickets and fill in expense information. An employee can quickly produce an expense report after submitting all the receipts.
4. Approvals
Approvals take a long because the managers have to check the reports for overspending. However, the process becomes faster when reports with unauthorized expenses and overspends trigger a notification for the managers. That way, policy-compliant expense reports can be approved faster.
Suggested Read: 5 Steps to Automate Your Expense Approval Process
Different levels of travel and expense automation infrastructure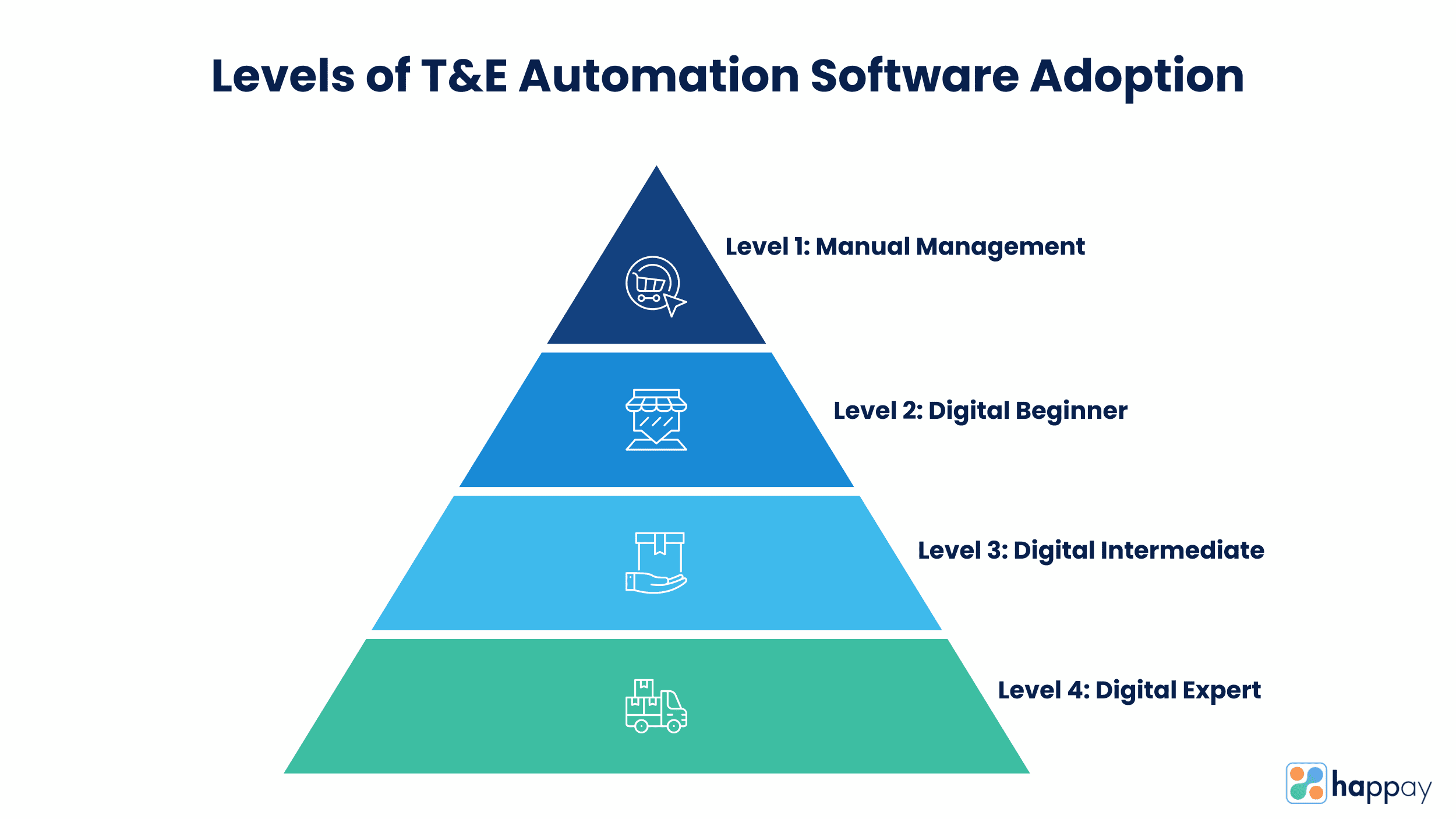 Level 1: Manual management
At this level, you execute all your expense reimbursement workflows manually. Your employees ask for travel-related approvals through emails or mail. You keep track of your business expenses using spreadsheets and excel sheets. Your employees save their receipts and bills during travel and then produce them during expense claim filing. 
Level 2: Digital beginner
At this stage, you have realized that your t&e processes require automation to function efficiently. You have adopted a basic HRMS or account management system in the organization.
While the finance team's burden has been reduced by a small margin, the employees still have to undergo the tedious expense filing process. There are still inefficiencies in the system.
Level 3: Digital intermediate
By now, you know that your organization needs more digital support to be 100% efficient. You have automated your travel management system to streamline your travel communication. You also have an accounting software or a payables management tool. You might even have an expense claim tool that allows your employees to file business expenses on the go.
However, your applications don't talk to each other. Expense reconciliation is still a manual process and full of inconsistencies.
Level 4: Digital expert
This is the last stage of Travel and Expense automation. You have integrated T&E automation software at this stage that streamlines travel communications, spend management, reimbursement workflows, payables, procurement, etc. 
Recommended Read: Best Use of Happay Travel and Expense (T&E) Analytics
Steps in travel and expense automation journey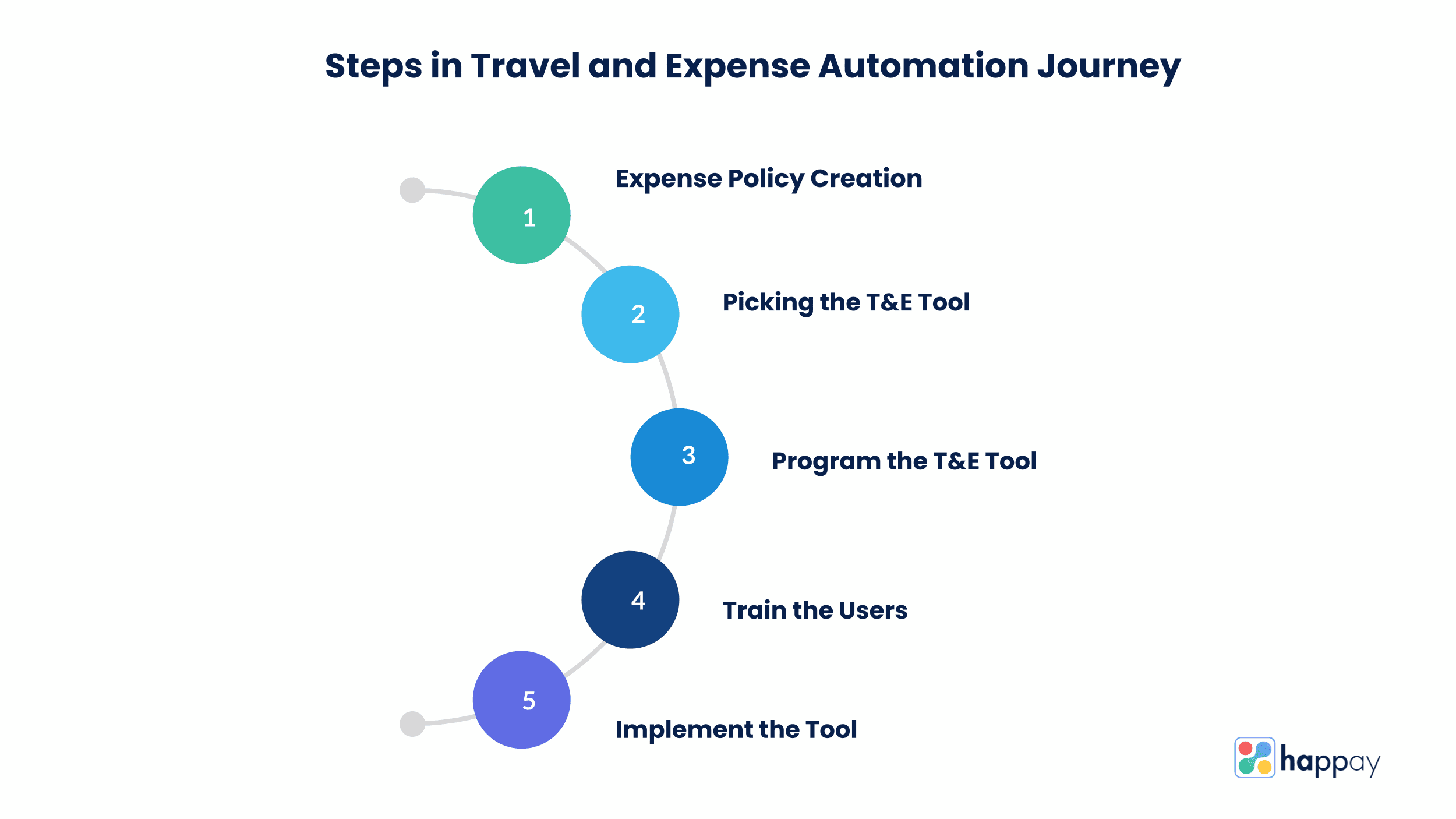 STEP 1: Expense policy
Formulating an exhaustive expense policy is the first step in automating your travel and expense automation journey. Ensure that your t&e policy has all the relevant categories, including air travel, conveyance, accommodations, per diem, cash advances, and corporate credit card expenses.
An expense policy must also detail approval hierarchies, reimbursement process workflows, authorized and unauthorized spending, etc.
STEP 2: Pick the right travel and automation tool
Choosing the automation tool that is compatible with your t&e policy is crucial. To pick the right tool, ensure that you involve all the stakeholders in the decision-making process. Work with the team to compile a list of features that you need in the t&e tool.
Conduct online research on all the available tools in the market. Shortlist the few tools that are most compatible with your needs. Request demos for each of these tools and pick the one that is the most easily adaptable and efficient.
STEP 3: Program the T&E tool
Now that you have adopted the travel and expense management tool, it is time to program the software to automate your expense reimbursement workflows. Integrate your t&e software with your accounting platform or any relevant systems you have in place. 
STEP 4: Train the users
Automation software is easy to use, and most employees adapt to it without any issues. However, it is still vital that you provide all users with the necessary assistance to adapt to the new software.
STEP 5: Implement the tool
Deploy the software in your organization. During the early stages of implementation, take constant feedback from your employees. Promptly remove bottlenecks and address problems if they arise to avoid further inefficiency.
How far are you in your travel and expense automation journey?
If your employees can book their own flights and hotels using a self-booking tool, you are at the final stage in the Travel and Expense automation journey. However, if you have all the necessary software but your platforms are not interacting with each other, you need to put integrations in place.
Happay – Travel and expense automation simplified
Happay's travel, and expense automation software is an end-to-end integrated expense management system. It has the following unique features that set it apart from other products.
Complete GST automation
Smart audit feature
Automated receipt capture
TMC integrations
Expense reconciliation
Schedule a demo with the Happay team to learn how their software can transform your travel and expense automation system to minimize cost leakages.
FAQs
1. What does T&E stand for?
T&E stands for travel and expense. It is conventionally used to represent the travel and business expenses of an organization.
2. What is the role of Travel and Expense automation software?
Travel and Expense automation software automates various steps and aspects of travel and expense management, expense reconciliation, reporting, approvals, report validation, and reimbursement. It helps prevent expense fraud, streamline processes, optimize cost and maximize savings.
3. How to choose the best travel and expense management software for your business?  
You can begin choosing a travel and expense management solution by auditing your existing expense processes. Once you know which areas require improvement, you can get a solution that best fits your needs.
4. What is a travel and expense policy?
A travel expense policy details the responsibilities, rules, limitations, and ethics employees must keep in mind during travel and travel-related spending. It also states the approval process hierarchy, conflict resolution, and other travel and expense-related information.
5.
Is it worth it to invest in automated T&E software?
Yes, it is worth it to invest in an automated T&E solution. Automating travel management is imperative for businesses that frequently invest in travel to ensure cost savings. The company can save much more by investing in automation, as manual travel management processes cause a lot of budget leakages.