HDFC corporate credit card alternatives
With the world moving towards digitization and new technologies, the way we manage our finances has been revolutionized. Payments can be made seamlessly with just a click, touch, or swipe, with tools that fit inside your pockets.
It has impacted not just individuals but also how companies streamline their expenses. With corporate credit cards, companies can now use a single platform that 
ensures quick payments to various stakeholders,
Offers enhanced transparency, and
Provides more control over employee spend.
At present, many leading banks and financial institutions offer this facility. HDFC Bank, one of the largest private sector banks in India, provides a range of corporate credit cards designed to meet the specific needs of businesses.
Also, there are many HDFC alternatives offering similar or even better services.  
In this article, we will explore some of the top HDFC corporate credit card alternatives, including the Happay EPIC card, SBI corporate credit cards, American Express corporate cards, Citibank corporate cards, and Axis corporate credit cards.
Suggested Read: 5 Best Corporate Credit Cards in India
Looking for HDFC corporate credit card alternatives?
Name of the card

Fees and charges

Credit period

Forex markup

Rewards

Defining benefit

Zero joining fee

Up to 45 days.

NIL

Direct cashback.

Real-time spend visibility and control.

Zero joining fee.




Annual fees: Up to Rs. 499

20 to 50 days

Up to 3.5%

No reward points.




Discount on travel bookings.

Category and limit control on spending.





Interest Rate: 3.5% (minimum charge: Rs. 100)




Cash Advance Charges: 3.5%.

21 days grace period.

3.5% of transaction value

Varies based on card and transaction type.

Discount on travel and hotel bookings.

Annual fee of $150 (plus GST).



Late payment charges: Up to 4.5%

Communicated at the time of issue.

3.5% of transaction value

2 points per Rs. 125 spent.

Flexible fraud protection.

No annual fee

30 days.

3.5% of transaction value

Points redeemable on gift vouchers.

Lounge access & fuel surcharge waiver
Top 5 HDFC corporate credit card alternatives
Happay is a digital platform that allows you to manage all your corporate spending in one place. It is your one-stop solution to manage expenses, travel and flight ticket bookings, petty cash, and all other business payments. With complete security, end-to-end integration, and full visibility and control, you can easily keep track of your finances.
Happay offers corporates EPIC cards, which come both in physical and virtual forms. With zero annual and joining fees and charges, these are attractive solutions for corporates looking for more visibility and better control over their spending. The EPIC card requires no collateral, offers a high credit limit, and extends comprehensive benefits to streamline B2B payments. 
Minimal paperwork and fast processing make it easy for businesses to join Happay EPIC within a few days.  The comprehensive dashboard gives businesses real-time insight into payment systems and expenses, with in-depth insights into each transaction. Easy integration with different software and automatic reconciliation eliminates time-consuming reimbursements.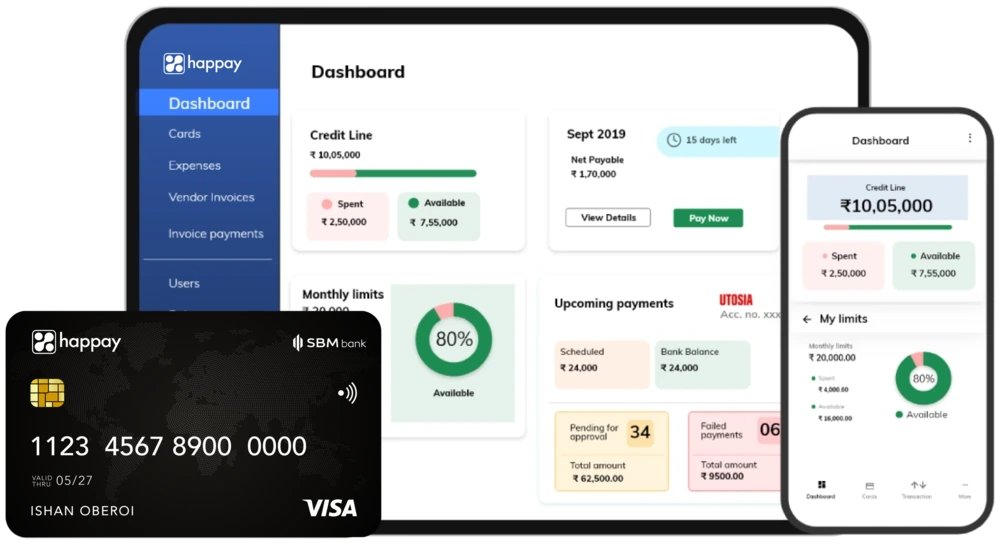 Features
Offers unlimited virtual cards that are enabled with merchant locking.
No fixed deposit is required as collateral.
Does not require any personal guarantee.
No forex markup and seamless international payments.
Allows easy payments for web hosting, SaaS subscriptions, and digital ad spending.
Helps with seamless travel and hotel bookings and rental, compliance, and utility bill payments.
Comes with no joining or annual fees.
Has a mobile application available for Android and iOS users.
10x credit limit than most bank credit cards, even beyond Rs. 1 crore if the funding is over $30 million in the last six months.
Benefits/Card rewards
Tailored for small and large businesses alike, generous credit limit
Direct cashback rewards, no complicated reward points
No sign-up, card, or annual fees to worry about
Enjoy a 12% to 14% overall reduction in costs
Seamless international transactions without any forex markups
Unparalleled security and decreased risk of fraud
Also, Read: 5 Best ICICI Corporate Credit Card Alternatives, Pricing & Reviews
State Bank of India, an Indian multinational public sector bank, focuses on providing seamless financial services to its customers via banking facilities and SBI cards.
The SBI Signature Corporate Credit Card is a popular card designed for corporate and businesses, with access to nearly 38 million outlets across the globe. With no joining fees and an annual fee of Rs. 499, this SBI card can be perfect for your corporate needs and spending.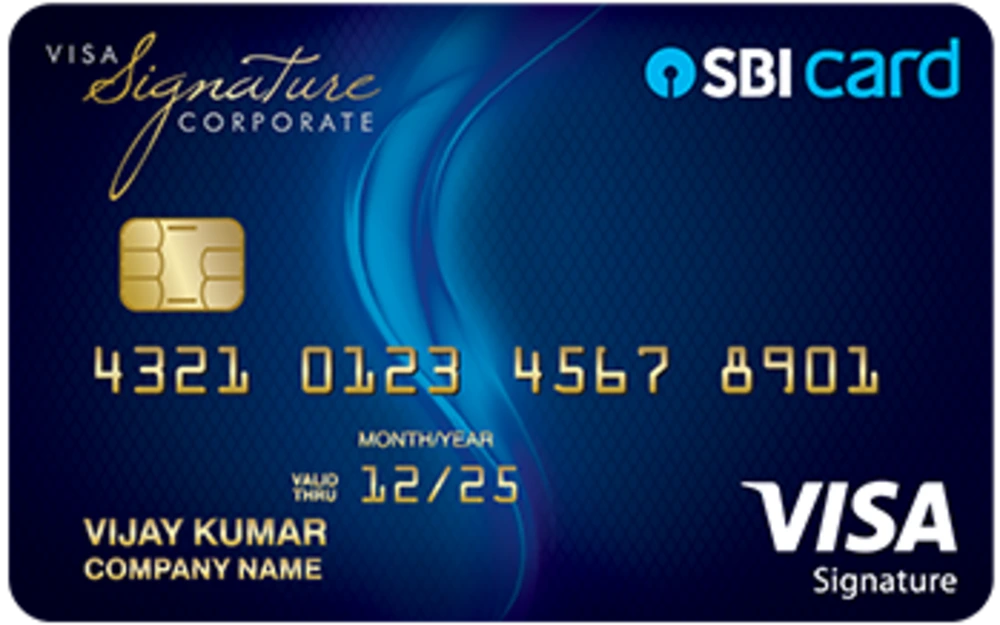 Features
Interest-free credit period (20 to 50 days)
Travel insurance cover
Fraud insurance up to Rs. 60 lakh per corporate entity
Priority Pass Program membership
Complimentary entry to international and domestic airport lounges
Tailored customer support
Comes with Visa spend management tools
Card rewards/Benefits
Domestic lounge access
Zero liability and insurance cover
Travel and benefits
Also, Read: Business Credit Cards vs Corporate Credit Cards
American Express is a financial services company that specializes in card payments. The American Express Platinum Card program provides a comprehensive expense management solution designed to give businesses a higher level of control over their spending.
With enhanced visibility into spending patterns and opportunities for cost savings, the card helps companies to streamline their expenses and better manage their finances.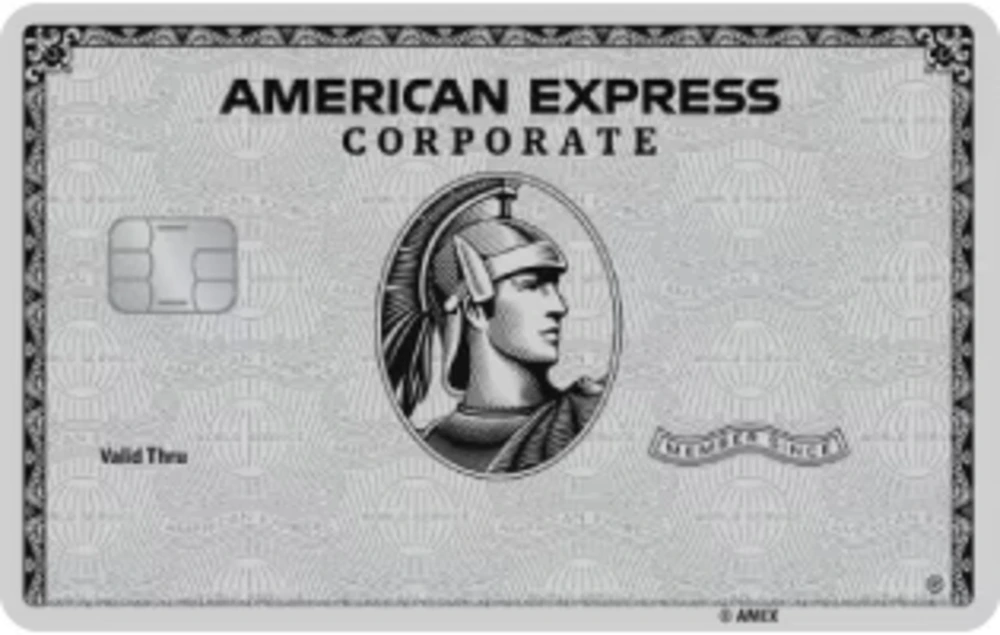 Features
3X and 5X membership reward points
Premium travel and insurance cover
Access to VIP-only events
Card rewards/Benefits
World-class travel benefits
24/7 support team
Powerful backing, allowing a smooth interface
Reward points on every spend
Also, Read: 5 Best RazorpayX Corporate Card Alternatives
Citibank is a subsidiary of the reputed financial services company Citigroup. Citibank offers a range of services, including wealth management, investment services, and various credit cards. The corporate credit card provided by the bank allows easy and convenient management of company expenses, along with rewards points, welcome benefits, and travel deals.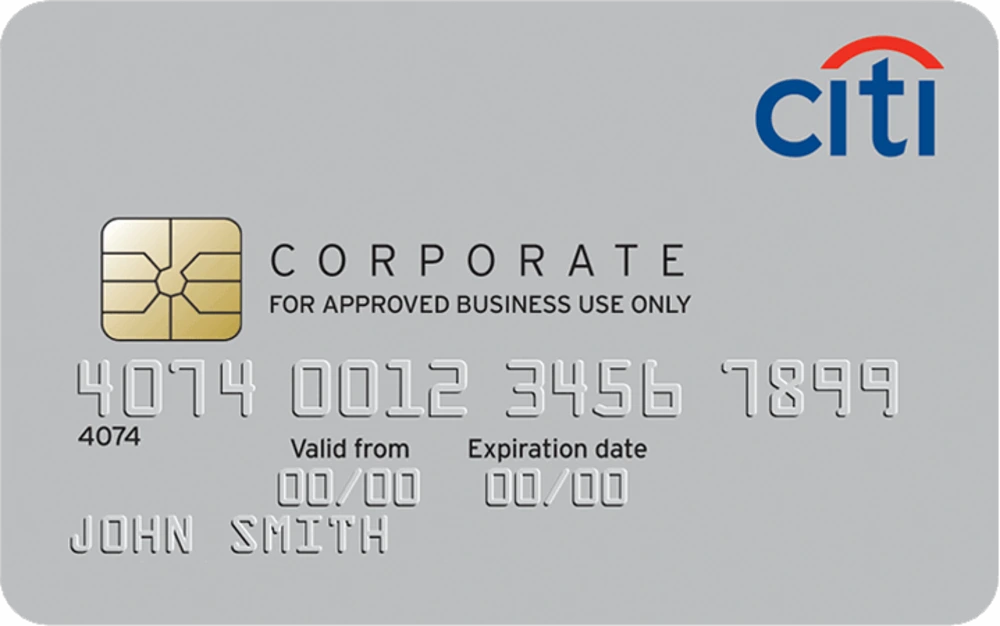 Features
Flexibility
Technological compatibility
24/7 customer support
Value added services
Fraud protection
Secure 'verified by visa' transactions
Card rewards/Benefits
Premium Merchandise
Hotel stays and other premium travel packages
Air miles
Shopping and dining privileges
Also, Read: 10 Best Prepaid Travel Cards for India
5. Axis corporate credit cards
Axis Bank is India's third-largest private bank, offering several payment and finance solutions. Its corporate credit cards offer a choice of liability and an effective way to deal with travel, supplies, and employee expenses. The card also comes with reward points and an option to set employee spending limits.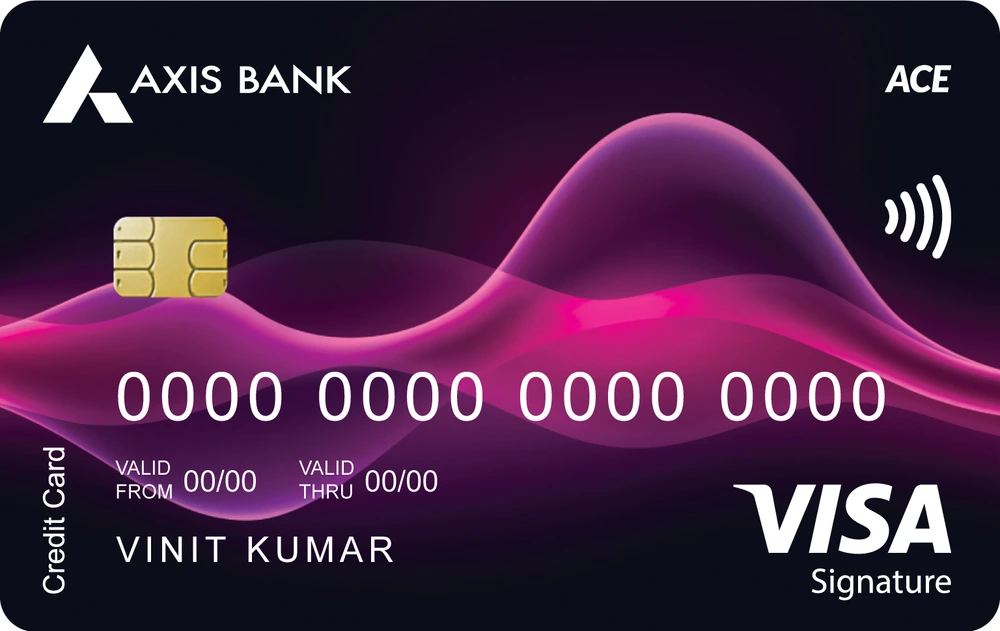 Features
MIS (Management Information System) for accurate transaction information and reports
Liability options – individual, corporate, and joint & several
Assigned spending limits for travel and entertainment expenses
Online booking at lower costs for flight tickets and hotel rooms
Fuel surcharge waiver
Card rewards/Benefits
Streamlined financial planning with MIS reports
Flexible liability options for corporate and individual responsibility
Managed travel and entertainment expenses with assigned limits
Exclusive airport lounge access for Visa and MasterCard users
Dining benefits, golf programs
Convenient online booking at reduced prices
Enjoy savings on fuel transactions
Redeem 1000 PlusPoints for gift vouchers
Insurance cover
Suggested Read: 5 Best EnKash Alternatives, Pricings & Reviews for Corporate Credit Card
How to choose the best HDFC corporate credit card alternative?
With numerous options available in the market, looking for HDFC corporate credit card alternatives is not as challenging as it may seem. Each one offers a unique set of features, benefits, and limitations. Let's read about a few critical parameters when choosing a corporate credit card.
1. Card rewards and benefits
Most corporate credit cards offer a wide range of rewards and benefits, such as cashback, points, miles, discounts, and many more. Choosing a card that aligns with your business expenses and provides you with the most value is essential.
A corporate credit card with a robust rewards program for airfare, hotels, and dining will be ideal if your business travels frequently. However, too many card reward options can become confusing, and choosing the best fit may be challenging. For example, with the EPIC card, cardholders get direct cashback based on their spending and are free to use the cashback amount as they like.
2. Interest rates and fees
It is important to compare different corporate credit cards' interest rates and fees to ensure you get the best deal. Some credit cards may offer low-interest rates but have high annual fees. Others may have no annual fees but higher interest rates.
Therefore, it is essential to evaluate all costs associated with the credit card and choose the one that provides the best value. The EPIC card from Happay charges zero annual and joining fees and no forex markup, making it a preferred option to save on unwanted costs.
3. Security
Corporate credit cards may carry sensitive information, including names, addresses, etc. Thus, choosing a credit card with solid security features is crucial to protect your business from fraudulent activities and unauthorized purchases. Look for credit cards with fraud detection, protection against unauthorized purchases, two-factor authentication, and more. 
4. Spending and credit limits 
When choosing a corporate credit card, an important factor is spending and credit limit. Consider how much you expect your business to spend monthly or yearly, and make sure the card you choose has a limit that can accommodate these expenses.
Happay's EPIC card comes with better spending visibility and an option to set employee spending limits. Apart from giving you better control over your expenses, you get great visibility too.
5. Flexibility
This should be another factor to consider when choosing a corporate credit card. Look for a card that offers features that are tailored to meet your business needs. For instance, the ability to customize your rewards program, manage your bank account online via net banking, and control expenses through an app are a few.
Happay offers this flexibility through its own app, which is available for Android and iOS users. Moreover, you get the option to choose between virtual as well as physical cards, which you can get your hands on in a quick and hassle-free way. 
Additionally, consider the level of flexibility it offers when it comes to making bill payments and tracking expenses. For instance, choosing a flexible and accepted corporate credit card is essential if your business operates internationally. Additionally, you may want to consider the currency conversion rates the credit card offers, as they can significantly impact your expenses.
6. Integration and reporting
Keeping track of business expenses can be time-consuming, but with the right corporate credit card, it can be made much easier. Look for a card that integrates with your accounting and existing tracking software, so you can easily manage expenses and overview your finances in real-time.
With integrated software, you can save time, minimize errors, and make better and more informed financial decisions. 
Additionally, to effectively manage your business finances, you need to have access to accurate and detailed reports. So, when choosing a corporate credit card, look for one that provides comprehensive reporting and analysis features, such as itemized bank account statements, spending reports, expense categorization, and more. These features can help you keep track of your expenses and make informed decisions about your finances.
7. Employee cards
If you plan on issuing corporate credit cards to employees, you may want to choose a company that offers multiple cards under one account, with customized spending limits for each card.
Such a feature can allow you to provide your employees with the necessary purchasing power they need while maintaining control over your business expenses. You can set different spending limits for each employee card, so you can better manage your finances and prevent unauthorized purchases.
8. Support and customer care
The support and care a credit card offers can significantly alter the quality of service received. And hence, look for credit card companies that offer round-the-clock support, easy-to-use net banking portals, and accessible customer service representatives. 
Also, Read: The Guide to Corporate Credit Card Policy and Procedures
HDFC corporate credit card pricing – Fees and charges
| | |
| --- | --- |
| Fee Type | Details |
| Joining Fee and renewal fee | NIL |
| Spend-based Fee Waiver | NA |
| Reward Points Redemption Fee | Rs. 99 (plus taxes) |
| Foreign Currency Markup | 2.5% (plus taxes) |
| Interest Rates | 2.95% per month (35.4% annually) |
| Fuel Surcharge | 1% waiver (min. transaction of Rs. 400, max. waiver Rs. 1,000 per statement cycle) |
| Cash Advance Charge | 2.5% of the transacted amount or Rs. 500 (whichever is higher) |
| Add-on Card Fee | NIL |
| Late payment charges | 2.95% per month (35.4% annually) if the cardholder is unable to clear dues by the due date. |
Note: The fees and charges mentioned above are subject to change and may vary based on the specific card and other factors. Please refer to the card issuer for the most up-to-date information.
HDFC corporate credit card reviews
HDFC credit cards are a good option for businesses and corporate entities looking for an efficient and cost-effective solution for their financial needs. These cards come with various benefits and features, making them a great option.
One of the key benefits of the HDFC Corporate Credit Cards is their reward structure, where users can earn five reward points for every Rs. 150 spent, providing them with a way to maximize their savings and redeem the reward points on a wide range of products and services. The card also comes with various other benefits, including access to international and domestic airport lounges, liability waiver insurance, and more.
The card has also been lauded for its excellent interface, flexible credit limits, and customer care.
Also, Read: Top 10 Corporate Credit Card Benefits
Why is Happay EPIC a good alternative to HDFC corporate credit cards?
As an HDFC credit card competitor, Happay has a slight edge as it offers several beneficial features, including direct cashback. It frees you from choosing among the limited options for redeeming reward points, giving you higher flexibility.
The Happay EPIC card has zero fees and charges, no collateral requirements, comes with merchant locking, and has a high spending limit. Moreover, cardholders can get unlimited virtual cards. This frees them from the hassle of manually ordering new cards. 
With seamless integrations and the option to make quick bill payments for digital ad spends and SaaS subscriptions, the Happay EPIC card is a positive step toward adopting the latest and advanced benefits that come with corporate cards.
If you are interested in learning more about Happay, you can schedule a demo with us. You can also visit our website to explore more about the corporate cards.
Conclusion
Corporate credit cards are helpful tools that allow you to manage business expenses easily. These cards have various benefits, including setting employee spending limits, booking quick flight tickets, and ensuring real-time spending visibility.
They allow you to have a transparent view of expenses and manage your finances better. With many options available, make sure you choose the one that offers you the best flexibility, security, and benefits.
The Happay EPIC card is a one-stop solution for all your business payment needs, and it comes with no fees or collateral requirements. Get started on your seamless online and offline payment experience today.  
FAQs
1. How much turnover is required for HDFC corporate credit cards?
To be eligible for the HDFC Premium Corporate Credit Card, the company must be at least two years old and have at least Rs. 10 crores as the minimum annual turnover.
2. What is HDFC corporate credit card?
HDFC corporate credit card is a financial solution offered by HDFC Bank specifically designed for businesses and corporations. It is designed to simplify their financial operations and provides various benefits, including reward points, discounts, cash back, lounge access, insurance cover, and detailed reporting. This card can help businesses better manage their finances, reduce costs, and improve the efficiency of their financial processes.
3. What is the highest HDFC credit card?
The highest category of credit card offered by HDFC Bank is as follows:

a) JetPrivilege HDFC Bank World Credit Card – Idea for regular spenders with attractive reward points for flight tickets, vouchers, and premium merchandise

b) HDFC Bank Diners Club Premium Credit Card – This card is perfect for frequent travelers who want exclusive lounge access and attractive travel, dining, and leisure rebates.

c) HDFC Regalia Credit Card – HDFC Regalia credit card offers premium benefits for individuals with a high-end lifestyle and those who travel frequently.
4. What is the difference between a credit card and a corporate credit card?
A credit card is a financial solution designed for individuals to make purchases and transactions, while a corporate credit card is designed specifically for businesses and corporations. 

Corporate credit cards typically offer features and benefits tailored to meet businesses' specific needs as opposed to normal credit cards. Additionally, corporate credit cards and credit cards have different eligibility criteria. For example, corporate credit cards require your business to have a certain revenue threshold. Also, the credit limits may broadly vary between these two card types.