EnKash alternatives
Shifting consumer priorities have pushed corporates to rethink their strategy regarding credit cards. The coronavirus pandemic has only added to their challenges.
As more workplaces embrace remote work, non-traditional forms of payment have seen a steep rise.
In 2022, India topped the world ranking in digital payments. The country processed 70 billion digital payment transactions, up from 44 billion in 2021. Given the current trend, this number will continue to rise in the coming years.
The newest expenditure management innovation, prepaid cards, are packed with the most cutting-edge features. A virtual credit card with instant approval can be used for anything from small business payments to large corporate bills.
Using an EnKash Corporate Credit Card can help your company become more innovative and forward-thinking by reducing its reliance on cash. However, EnKash cards need not be the only option.
As you explore this article further, you will learn about these corporate credit cards and a deep dive into the EnKash corporate card alternatives, reviews, features, and more.
Quick Read: A Complete Guide to Corporate Credit Card
Why look for alternatives to EnKash corporate cards?
EnKash is a commercial payments platform in the B2B space. It has grown threefold in valuation since March 2022. However, its growth does not mean increased effectiveness and usage. For example, it does not support the US Dollar cards, is incompatible with Gpay and ApplePay, and is incapable of initiating overseas transfers.
This is why you need to look at EnKash competitors that best cater to your needs. You will beat the competition only if you provide your partners with something unique.
Here are some more reasons why you need to look beyond EnKash Corporate Cards:
EnKash has no option to choose virtual cards for merchant locking
There's no mobile app for both Android and iOS.
You cannot make international transactions or set up recurring payments on EnKash. This is a considerable downside, especially if you are an Indian company with a global outlook.
There's very limited integration with third-party tools
To compete in today's market, you must accept a wide array of payment methods. Customers appreciate the convenience of a wide choice of payment methods.
Must Read: 5 Best corporate credit card in India
Comparative table of EnKash corporate card and competitors
Name

Description

Integration

Top Features

Card Pricing

Fetch, correct, and reconcile transactions on the go

Access the nitty-gritty of your organization's spending

Use them across merchants online

Access to powerful budget tracking

Seamless online payments

Lucrative deals, and more.

Quickbooks, Tally, SAP, Oracle, Microsoft Dynamics NAV, and iON

Safer internet transactions with disposable burner cards

Multiple cards issued easily and quickly

Spending analysis tools and individualized reports

Instantaneous help with chatbot functions

Application process is paperless

Joining fee: 0; Card fee: 0; Annual fee: 0

Streamlines B2B payments and frees up previously untapped funds

Finance departments can delegate, automate, and streamline business payments from a centralized dashboard

Get a better insight into cash flow.

Segment, Zoho, Freshworks, Twilio, and Exotel

Disable and enable card use

Notifications with one click when a receipt is missing

Credit availability is daily, weekly, and monthly for up to 38 days

Labeling financial dealings on user terms

Card fee: 0; Annual fee: 0

Provides a convenient and secure payment method for business owners, managers, and executive

Invoice management and bulk processing

Offers instant payouts and payment on credit

Freshworks, Hubspot, Segment, and AWS Activate

Easy-to-navigate

Fully-personalizable interface

Upload and keep your receipts in a digital archive

Lock and open the door feature

Admin control to add/remove employees

Joining fee applicable

Provides a comprehensive solution for managing business expenses

Gives managers more oversight

Increases spending transparency

Facilitates cost reductions and rewards staff.

INFORMATION NOT AVAILABLE

Multiple discounts offers- meals, hotel stays, spa treatments, etc.

Membership incentives on purchasing goods and services

Zero liability protection and insurance covers

Ranges between $55-395

Better monitor and manage spending

Complementary insurance to protect against fraud

HTML5, jQuery, and Google Analytics

Helps businesses pay in a safe and hassle-free way

Provides access to a variety of upscale concierge services

Allows varying payment schedules and biller combinations

Starts at Rs.500
Why is Happay EPIC card the best alternative to EnKash?
When it comes to managing money, Happay has you covered with its full array of fintech solutions. B2B payments become easy and quick with the EPIC Corporate Credit Card. It is a secured credit card specifically designed for business expenses. It also has a portal designed specifically for mobile devices, the EPIC Payment Solution.
Business owners can quickly and easily sign up for Happay EPIC with minimal documentation. Your application will be processed within a few hours. The EPIC Card dashboard gives a bird's-eye view of all your spending and payments in real-time, along with detailed information on each expenditure.
Happay EPIC card is compatible with your existing third-party accounting and financing tools. When combined with them, it provides full visibility into company expenditures. Employees need not worry about the time-consuming procedure of claiming reimbursements at all. With the Happay EPIC card, the reimbursement process is eliminated, and cards are automatically reconciled based on the account statements.
With Happay, funds are more efficiently distributed to workers, groups, and projects using predetermined card limits. Subscription management, cloud-based payments, and regular spending can all be automated. In addition, virtual cards make your payment credentials, transaction information, and card information more secure.
Happay EPIC has upgraded its spend management capabilities to include electronic funds transfer to suppliers' bank accounts. Happay EPIC's unified payment solution simplifies all payments, increases cash flow, and improves working capital with powerful analytics and actionable insights.
Suggested Read: Top 10 Corporate Credit Card Benefits
5 Best EnKash alternatives and competitors
Card overview
The Happay EPIC Card is a payment and financial management platform that provides companies with collateral-free credit limits, equips employees with physical and digital cards, stops wasteful spending, and boosts transparency by connecting to other financial apps. Both individuals and groups can utilize it without having to wade through mountains of paperwork or wait endlessly.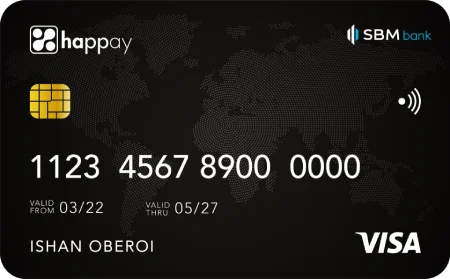 Main features
Advanced AI-powered budget management tools
The ability to view both global and local data on one dashboard
Mobile apps for Android and iOS provide you convenient access anywhere, anytime
ISO 27001, PCI DSS, and SSL encryption of 256 bits
Lockable virtual cards that work at any store
Spending analysis tools and individualized reports
Instantaneous help for customers with advanced chatbot functions
Card locking/unlocking switch that can be toggled on/off
Limits can be placed on cards for use in keeping track of spending
Pros
Up to 45 days of interest-free credit
Approximate savings between 12 and 14 percent
A greater credit limit based on current monthly usage
Improved efficiency of cross-border payments with no added FX markup
Cash rewards instead of complicated point systems
Automatic account balancing and less fraudulent spending
Integrated ERP system for improved efficiency and precision
Cons
Alert on reaching card limit
Card overview
Kodo corporate card simplifies and streamlines business costs by providing comprehensive expense management. The Kodo Card gives the finance department complete insight and control over all company spending through a centralized interface. As a result, finance and administration can better optimize their cash flow if they have a clear insight into the overall spending.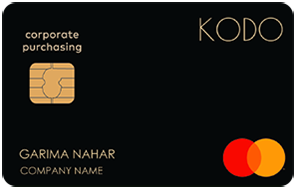 Main features
Cards with spending caps
Possibility to disable and enable card use
Tags you create yourself to organize purchases
Automated expense reports
Capability to handle cross-border transactions
Attractive cashback
Send overdue receipt reminders with only one click
Multiple virtual cards per user for finer spending limits per subscription
Pros
Employees can have multiple cards
Automatic receipt tracking and management
Granular spending caps
Simple international money transfers
Extra bonuses and cashback offers
Cost-free EMIs for significant expenses
Cons
Low-performing mobile app
Shortcomings in customer service features
There is no feature to lock down merchants
Forex markup of 2.25%+GST
Also, Read: 5 Best Kodo Alternatives and Competitors
Card overview
Karbon corporate card provides corporate cards and other payment alternatives without the stress of endless paperwork. In addition, the corporate card offered by Karbon allows for real-time monitoring and tracking of spending, with the option to filter payments by merchants, category, or data.
The management can effectively monitor expenses thanks to the dashboard's clear visualization. The corporation and its employees have easy access to precise details about spending. Admins can raise or lower the spending cap on any card or account.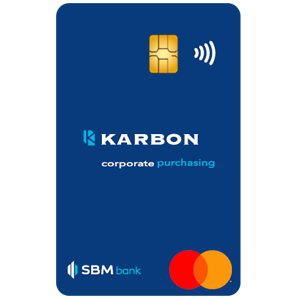 Main features
Creating an account takes less than a minute
No hidden fees or costs are ever applied to your account when you sign up or use the financial services
You can deposit, withdraw, or wire funds from your cash management account
Complete control over employee expenses
Intuitive dashboards for monitoring and managing all monetary transactions
Your entire online and offline purchases will earn you a cashback bonus without any limits
ISO-certified and PCI DSS compliant
Pros
Cashback and merchant discounts
Credit restrictions that can be adjusted with ease
Syncing and uploading WhatsApp receipts automatically
Cons
Shortcomings in customer service features
A steep markup on currency exchange of 1.5%+GST
Future Read: 5 Best Karbon Alternatives and Competitors
Card overview
With a corporate credit card from American Express, you can set upfront spending limitations and repay only approved business purchases. They are helpful for substantiating business dealings and meeting tax requirements. It has three different offerings.
a. American Express corporate green card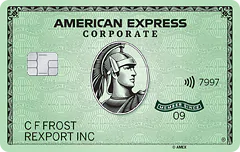 b. American Express corporate gold card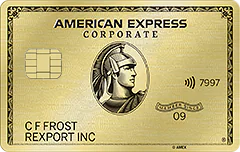 c. American Express corporate platinum card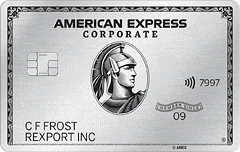 Main features
Track every single transaction that occurs on Corporate Cards
Manage employee expenditures
Earn Membership Reward Points
Use sector-specific knowledge to your advantage and save money at work
Spending can be controlled by setting individual budget caps for staff
Automatic real-time alerts for anomalous employee spending
Faster filing process
Pros
Cardmembers get to choose from a variety of redemption choices, such as gift certificates, the exchange of points for travel rewards like airline miles or hotel stays, or the use of points to offset the cost of existing card charges
Insurance for unforeseen circumstances during business trips and insurance against accidents
Access to all domestic airport lounges at a discounted rate
Professional help is available when needed, which is a huge time saver
The high spending limit is made possible by online tools for managing expenses
If a lost card is reported within three business days, the cardholder will not be responsible for any fraudulent charges made on the card
Cons
Higher merchant fees
American Express isn't accepted at all stores
Quick Read: A Guide to Corporate travel program
Card overview
Each SBI Corporate Credit Card is tailored to the specific requirements of each individual business. Travel, utility, corporate purchase, and virtual usage are just a few SBI Corporate Credit Card features. There are two variations in the corporate cards.
a. SBI Signature corporate card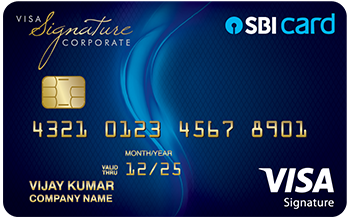 b. SBI Platinum corporate card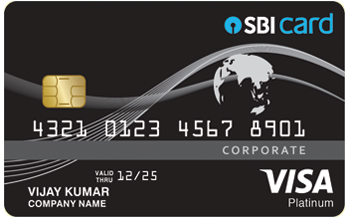 Main features
Limit access to unauthorized Retailer categories
Greater safety is provided for financial transactions worldwide with chip and PIN technology
Priority service
Free insurance coverage
Elite Concierge Assistance
informational Dashboard for Quick Glances
Send and receive alerts about your transactions and credit limit in real time by email and text message
Pros
Universal acceptance
Spend management software allows you to monitor and manage your business's financial outlays
Smarter expense management
Layered Methods of Managing Expenditures
Service Desk Executives and Relationship Managers to help you out when you need it
The SBI Signature Corporate Card provides worldwide access to emergency funds
Cons
Suggested Read: 5 Best Razorpayx Alternatives for Corporate Card
How to choose the best EnKash corporate card alternative?
It is crucial for businesses to decide which card would best suit their needs. Here are the important things to consider before choosing any EnKash corporate card alternative:
1. Better credit limit
Corporate credit cards give businesses a greater credit capacity than personal and business credit cards. Businesses can increase their buying power and manage their cash flow better with the help of a line of credit.
Some corporate cards offer more credit limits and lines than others. For instance, Happay EPIC card offers higher credit limits than most regular bank cards.
Suggested Read: How To Increase the Corporate Credit Card Limit?
2. Better visibility
Corporate cards issued to businesses provide real-time visibility into spending, complete with live updates, thanks to integrated spend management platform. Pay attention to the visibility that the corporate cards you plan to pick offer. Companies can effectively control their corporate spending by utilizing actionable insights.
3. Enhanced security
Corporate Card alternatives must include stringent security measures, such as encryption and conformity with industry standards. Locking and blocking capabilities are built into these cards to provide an extra degree of protection. Ensure that the card you prefer offers the best security features.
4. Other benefits
Better foreign exchange benefits and savings, discount and reward offers, and unique deals from vendors all add up to more benefits when you switch to other alternatives.
Make sure the corporate cards you choose offer features that give you real-time insights into payables and expenses with live updates through integrated spend management software. Through such insights, businesses can keep their budgets under closer supervision.
EnKash overview
EnKash cards offer your company automation with a centralized system for controlling and monitoring company spending. This streamlined system provides your company with features required to process and disperse payments to vendors, employees, and other parties and also accept any receivables.
EnKash business cards allow you to issue any kind of virtual corporate card and use a wide variety of payment methods, making it easy to keep track of your company's finances as well as accounts payable.
EnKash corporate card pricing – fees and charges
Regarding EnKash pricing, you must contact the company to get a quote, as the prices are unavailable. However, based on an agreement between your organization and the company, EnKash may charge a service fee (which may be flat, monthly, or annual), set-up fees, maintenance charges, or any other fees.
EnKash corporate card reviews
EnKash has become well-known among B2B organizations. However, businesses need to weigh the benefits of EnKash with its competitors. For example, EnKash does not support the use of Android and iOS operating systems.
Conclusion
Choose a corporate credit card that provides a line of credit with a flexible credit limit and a simple onboarding process. When appropriately utilized, these payments increase your company's purchasing power and decrease its cash-out period.
Additionally, keep in mind that the card you choose should conveniently monitor and manage your company's expenses in one place. For example, a dashboard that allows you to track expenditures, analyze credit card spend by person, division, or vendor. Consider all the above features and choose your EnKash corporate card alternative wisely.
FAQ's
1. What is EnKash corporate card?
EnKash is a corporate credit card that gives you more control over your spending in real-time. It offers better access and faster reconciliation.

Enkash platform helps your company with features needed to receive, process, and disperse payments to vendors, employees, and other parties.
2. What are some EnKash card alternatives?
Here are a few good EnKash card alternatives:

1. Happay EPIC Card
2. Karbon Corporate Card
3. Kodo Corporate Card
4. American Express Corporate Card
5. SBI Corporate Card
3. What is a corporate credit card?
Corporate credit cards are issued by large corporations to their employees. Your employee can use this card to pay for approved business expenses, expense management, get real-time insights, and easy transactions.
4. Who can apply for a corporate credit card?
In order to better monitor business costs, several companies issue corporate credit cards to their staff. Business credit cards are different from corporate credit cards because they are typically issued to sole proprietors, independent contractors, and business employees.