RazorpayX overview
RazorpayX supercharges business banking by enabling you to seamlessly open a current account, process payroll, pay taxes, automate vendor payments, and get a collateral-free corporate card (charges applicable).
The platform makes it easier for you to integrate with accounting tools, transforming bookkeeping into a seamless process. It makes it easier to process international transactions and manage invoices while providing integrations with Zoho, Quickbooks, Tally, and other accounting software.
What is RazorpayX?
RazorpayX, previously known as Opfin, is a platform that helps business owners manage invoices, accounts payable, payroll, and reimbursements. It makes their banking experience seamless. The platform provides a corporate card with a dynamic credit limit of up to Rs.20 lakhs, keeping the needs of startups and small businesses in mind.
These corporate cards are ideal for expenses such as SaaS subscriptions, cloud services, and marketing expenses, as these can only be made with a credit card.
Additionally, the cards make compliance and reporting much easier for growing businesses that need to focus on their core areas.
The cards work like any other credit card, and transactions can be easily seen in statements from accounting tools, making it easier to spot fraudulent purchases and non-business expenses. The cards are issued based on business performance and potential instead of fixed deposits or collateral security. They integrate with the Razorpay payment gateway and RazorpayX banking hub to make repayments and usage easier with better visibility.
To be eligible for a RazorpayX Corporate Card, you must be an active user of the Razorpay payment gateway, RazorpayX Payroll, or RazorpayX Current Accounts. A high credit score is not necessary to get the card; business performance visible through Razorpay or RazorpayX products is the most important factor.
The application process is straightforward and requires no complicated paperwork, and approval is almost always instant.
Also, Read: A complete guide about corporate credit cards

RazorpayX reviews
RazorpayX has received positive and constructive reviews from its user base. Many reviewers praise the ease of use and efficiency of RazorpayX's services.
On the other hand, some customers feel that there's a vast improvement opportunity for Razorpay to integrate with other third-party software and tools.
Let's deep dive into Razorpay X features and see what users like and dislike.
1. RazorpayX review: Corporate cards
RazorpayX helps businesses manage their expenses by providing them with a corporate card to use to make purchases. It helps them simplify the expense management process, making it easier for businesses to track and manage their spending.
RazorpayX corporate cards provide real-time visibility into expenses and ensure businesses stay within their budget. However, the platform charges a registration fee of up to Rs. 1499 and an annual maintenance fee of up to Rs. 1499 on every card.
It offers a credit-free period of 50 days, standard late fees of Rs. 1000, and interest charges apply after the due date, i.e., 20 days after the bill got generated.
Suggested Read: 5 Best Corporate Credit Cards in India
Let's take a look at what users feel about RazorpayX corporate cards.
Corporate card pros and cons
| | |
| --- | --- |
| Pros | Cons |
| Expense visibility in real-time. | Bug in check-in logic. (G2) |
| Supports international transactions. | Lack of proper support. (Trustpilot) |
| Security features. | Delayed account activation (GetApp) |
2. RazorpayX review: HR and payroll management
RazorpayX simplifies the task of business owners by providing them with an effortless method to monitor daily attendance, request leaves, and modify individual check-in and check-out times.
Apart from managing payroll, it also handles employees' taxes and generates invoices, depositing payments directly to the bank. In addition, employees can conveniently request reimbursements and store their documents securely on the platform.
Let's take a look at what users think about RazorpayX HR and payroll management.
HR and Payroll management pros and cons
| Pros | Cons |
| --- | --- |
| Easy to maintain employee attendance. | Absence of a feature to download leave or attendance reports in PDF format. (G2) |
| Ability to pay with a single click. | GUI modifications are required. (G2) |
| Maintains tax deductions and payslips with clear data. | Absence of a feature to capture location when a remote employee signs up. (G2) |
3. RazorpayX review: invoice management
With RazorpayX, businesses can effectively manage invoices from one place. You can see all your invoices on the dashboard with the necessary details. You can easily stay on top of vendor payments with just a few clicks.
The invoice management feature allows you to bulk upload bills, forward invoices via email, provide self-serve access for vendors via a dedicated portal, and automate manual processes to a great extent.
Suggested Read: 5 Ways to Improve and Manage Invoice Processing
Let's take a look at what users like and dislike about the RazorpayX invoice management feature.
Invoice management pros and cons
| | |
| --- | --- |
| Pros | Cons |
| Easy to manage invoices. | Claim status needs improvement. (G2) |
| Make quick payment requests. | Complicated tax assumptions. (G2) |
4. RazorpayX review: Integrations
RazorpayX directly integrates with Quickbooks, Tally, and ZohoBooks. You can easily check your account balance and approve or decline payments. You would get notifications on Slack and also Apple watch for every update.
Let's take a look at what users think about RazorpayX integrations.
Integrations pros and cons
| | |
| --- | --- |
| Pros | Cons |
| Reduced time spent on bookkeeping. | Limited integrations. (G2) |
| Creates simple and efficient workflows. | – |
RazorpayX pricing
RazorpayX presents two subscription plans, enabling businesses to select a plan that fits their requirements. These plans are "RazorpayX with Current Account" and "RazorpayX with Virtual Account." Both plans necessitate a base charge of $1.5 per employee.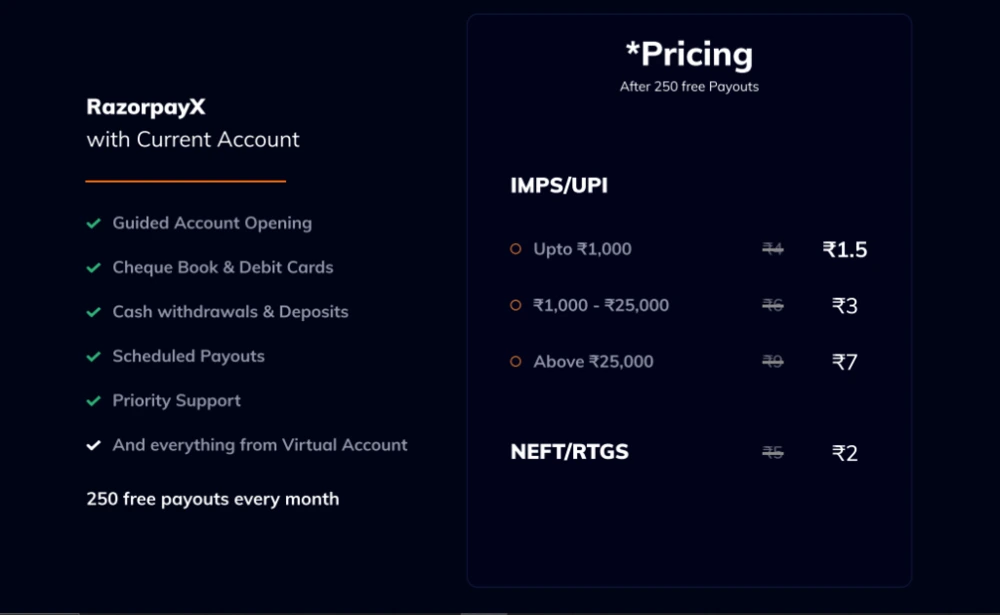 "RazorpayX with Current Account" provides 250 free monthly payouts, a guided account opening, scheduled payouts, and priority support. This subscription plan is perfect for businesses that regularly make payouts and require a current account to handle their finances. The 250 free payouts simplify the process of starting with the platform and evaluating it before committing to a paid plan.
The second subscription plan, "RazorpayX with Virtual Account," does not include free payouts. However, it facilitates vendor payments, approval workflows, and API payouts. This plan is suitable for businesses that do not require a current account and prefer to use a virtual account for their payouts.
It is noteworthy that with the Current Account plan, RazorpayX offers its Payroll for free for six months. The company's pricing plans are competitive. However, there are better options available on the market.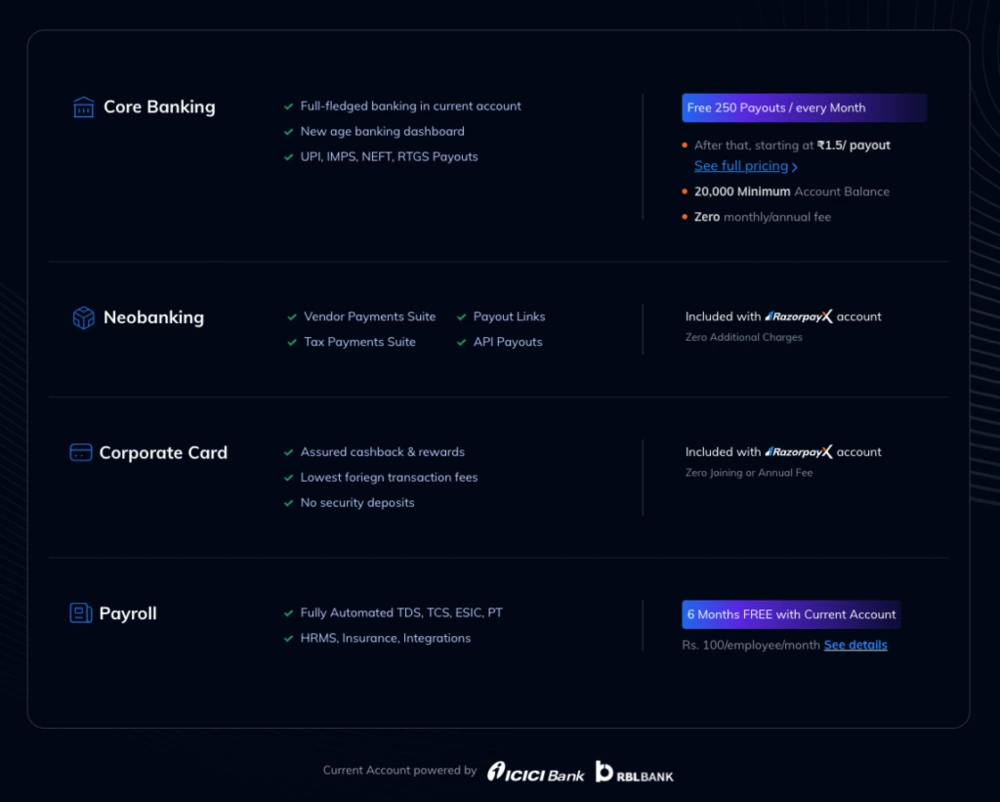 RazorpayX alternatives
RazorpayX has a broad market presence and credibility. However, better alternatives are available on the market when it comes to pricing, quality of support, integrations, and other features.
Happay EPIC card
Karbon card
Enkash corporate card
Kodo corporate card
Volopay corporate card
Let's look at RazorpayX alternatives to find the perfect corporate card solution for your business.
Name

Pricing

Forex Charges

Credit Limit

Merchant locking

24/7 customer support

Joining fee- ₹0

Card fee- ₹0

Annual fee- ₹0

Lowest 1% + GST

High/scalable

Yes

Yes

Joining fee applicable (contact for info)

1.5% + GST

High

Yes

No

Set-up fees applicable (contact team for info)

Applicable

Dynamic

No

No

Card fees: 0; Annual fees: 0

2.25% + GST

High

No

No

$50 to $800 per month

1.6% + GST

High/ Scalable

Yes

No
Based on the above table, it's clear that EPIC by Happay is one of the best corporate cards with low pricing and better features. Compared to RazorpayX, with a Forex charge of 1.99% + GST,  and a lack of proper and satisfactory customer support, many customers are pivoting toward other RazorpayX alternatives available on the market.
Why Happay EPIC Card is a good alternative to RazorpayX?
Happay EPIC Card and RazorpayX are digital payment solutions catering to business needs. Happay EPIC Corporate Credit Card is a high-quality payment solution for enterprises that provides efficient spend control and improved security with 256-bit SSL encryption. Happay EPIC does not have any charges, has a low foreign transaction fee, and comes with a high credit limit.
Users of Happay EPIC can leverage modern burner cards that can be securely used for online transactions. Additionally, vendor-specific virtual cards come with the merchant locking feature for added protection.
Happay EPIC Card is considered a good alternative to RazorpayX for the following reasons:
Hassle-free onboarding process: Happay EPIC Card has a simple and quick onboarding process, which makes it easier for businesses to get started with their payment solutions.
Comprehensive expense management: Happay EPIC Card allows businesses to set employee spending limits, track expenses in real-time, and generate detailed reports. This makes it easier for companies to manage their expenses and ensure their employees spend within a budget.
Reliable security standards: Happay EPIC Card is ISO 27001 certified and PCI DSS compliant. It uses 256-bit SSL encryption and fraud detection mechanisms to ensure that transactions are secure and free from fraudulent activities. This makes it a reliable and secure payment solution for businesses.
Satisfactory customer support: Happay EPIC Card provides efficient customer support. It has a dedicated customer support team that is available 24/7 to assist businesses with any issues or concerns they may have. It ensures that businesses can get the help they need whenever needed.
Pricing: Happay EPIC Card excludes joining, card, or annual fees, unlike RazorpayX. If we look at forex charges, they're also significantly low (1% + GST) for Happay EPIC Card. Simply put, it's the lowest among all alternatives of RazorpayX.
Both Happay EPIC Card and RazorpayX are excellent payment solutions for businesses. You can make an informed decision by determining which one best suits your business.

Conclusion
Both Happay EPIC Card and RazorpayX cards offer digital payment solutions catering to business needs. Overall, Happay EPIC Card is a good alternative to RazorpayX, offering a more comprehensive, secure, and hassle-free payment solution.
Businesses looking for a reliable, secure payment solution that is easy to use and provides better expense management capabilities should consider Happay EPIC Card as their preferred payment solution.
FAQs
1. What is RazorpayX account?
RazorpayX is a comprehensive platform that businesses use to improve their finance operations.  It enables businesses to perform various tasks, including opening a current account, monitoring invoices, planning payments, fulfilling tax obligations, requesting loans, and accessing financial reports, from a single dashboard. This enables businesses to manage their finances efficiently, with complete transparency and control over their company's finances.
2. What is RazorpayX Corporate Card pricing?
The RazorpayX Corporate Card charges a card fee of up to INR 1499 and an annual fee of INR 1499. Late payment and interest charges apply to all payments made after the due date, 20 days after the bill is generated. It also has a transaction fee of 1.99% for every overseas card transaction.

Other fees include 

1. Cash transaction interest rate: 48% p.a.
2. Overlimit Fee: Rs. 500
3. Physical statement fee: Rs. 500
4. Late payment fee: Rs. 1000
5. Surcharge fee: 1%
6. Interest rate charges: 36% p.a.
3. Is RazorpayX current account safe? 
RazorpayX offers a Current Account and VISA corporate credit card that are powered by RBI-licensed banks. A partner bank in compliance with RBI regulations provides the RazorpayX account. It's important to note that RazorpayX is not a bank and does not have a banking license or claim to have one.